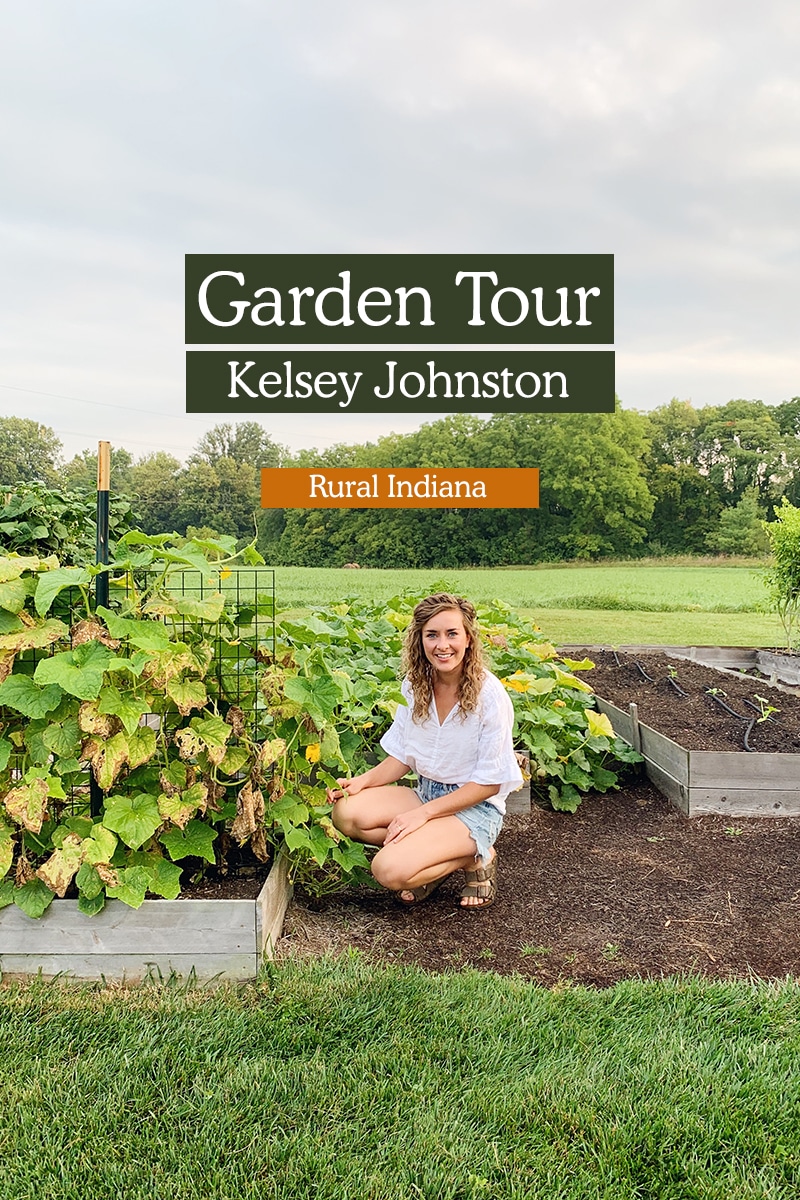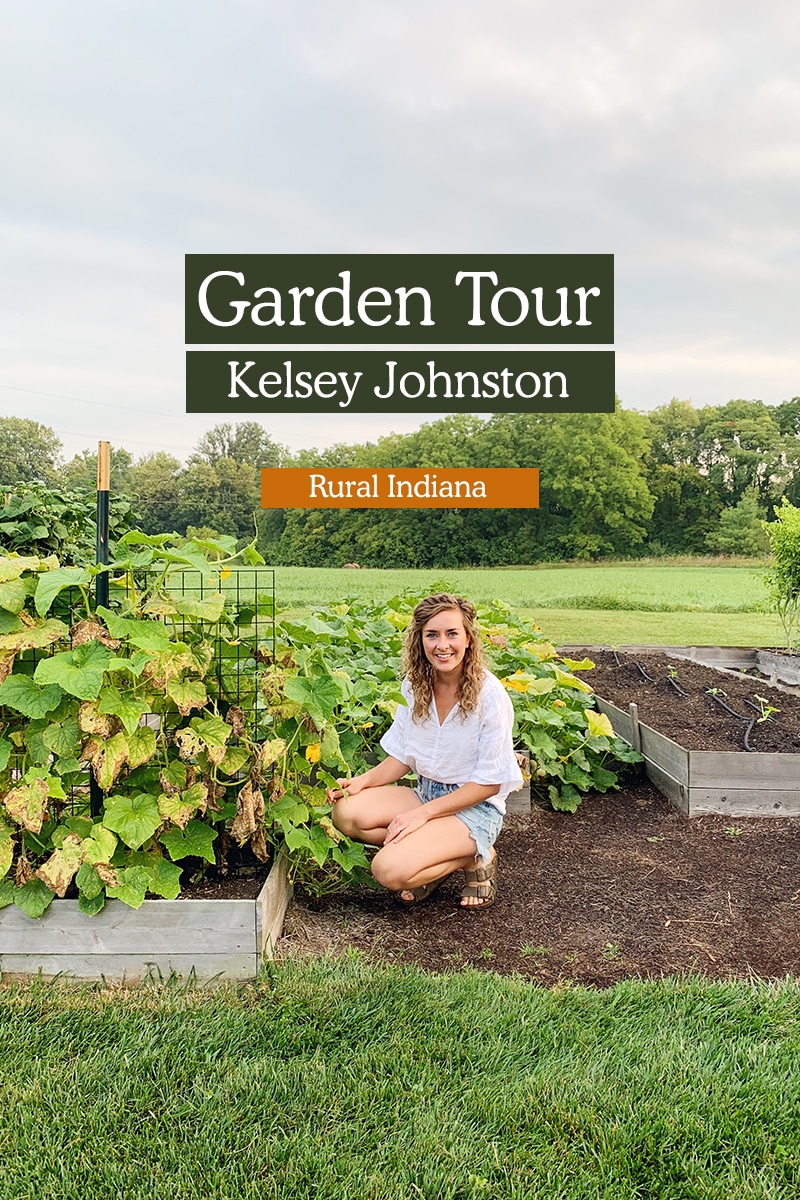 Garden Tour with Kelsey of My Simply Simple in Indiana is our next garden tour. We continue today in our garden series to talk to other gardeners all over about what they are doing and growing. The challenges they face and how their garden connects them to the natural world in a far deeper way.
Today, we have Kelsey Johnston of My Simply Simple who is located in Rural Indiana just outside of Indianapolis. Her and her husband built their modern farmhouse home with energy efficiency in mind. They love being outdoors and designing and creating their own sources of food right on their 8 acres they have.
I sat down with Kelsey on the podcast to talk further about her garden, motherhood, her home, and more. So tour her garden and listen to our conversation to extend learning from her even further.
Where do you live (zone is helpful as well):
East Central Indiana. We border zone 5b/6a.
What do you do for a living aka tell us about who you are:
I'm an engineer and have worked for a healthcare consulting firm since graduating from Purdue University 8.5 years ago. I decided to leave my corporate job at the end of February 2020 to spend more time with our little girl and to pursue a few passion projects. It's been a whirlwind amidst the pandemic, but I've never been more grateful that I finally took the leap – even though I'm still very much navigating what's next for me. I've quickly learned that traditional forms of success don't lead to happiness or content in my life, and although it may be a slightly unconventional path, simple is always the answer for our family.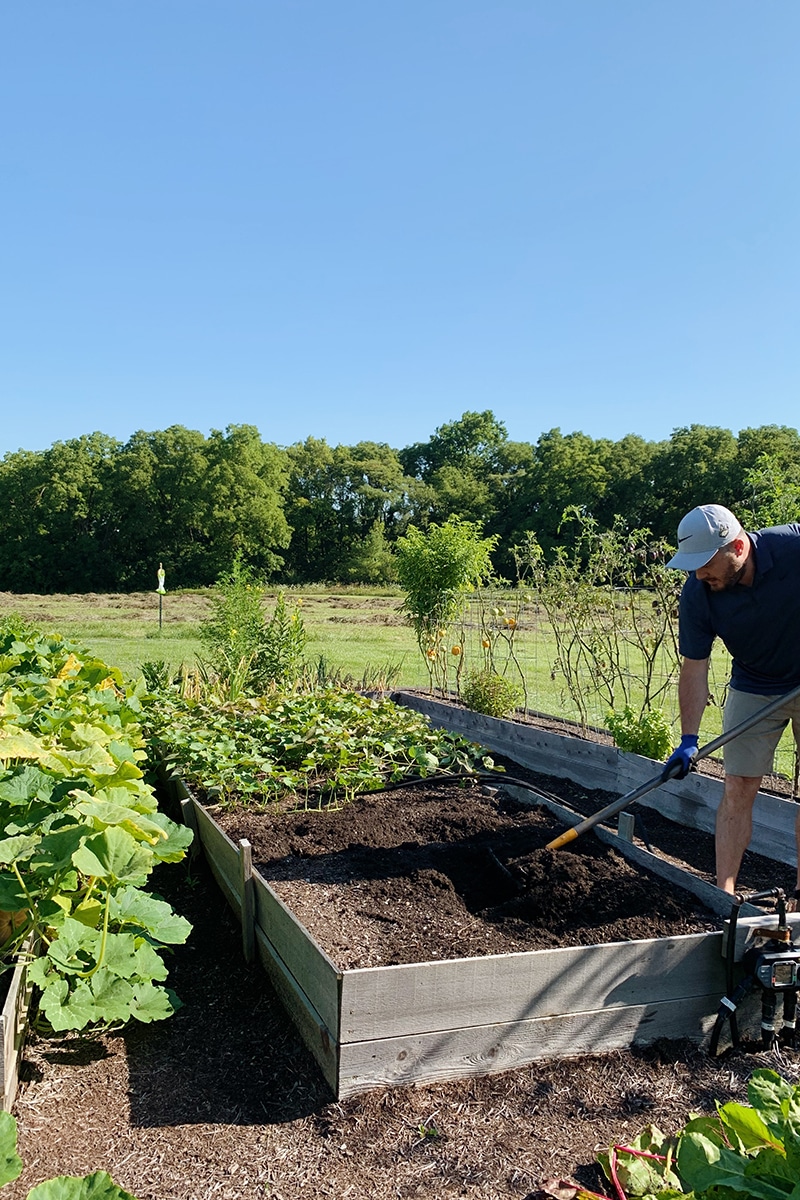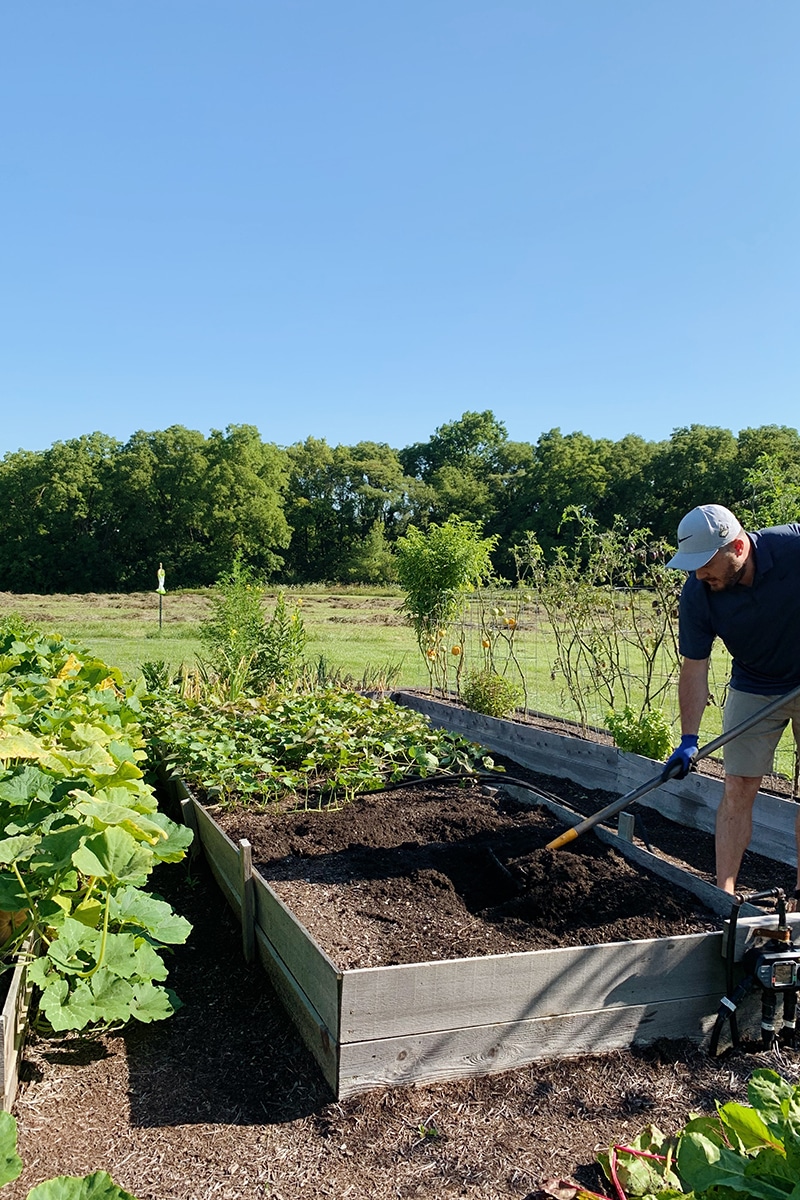 How many years have you been gardening?
On and off my whole life, but we finally put some dedicated time and effort into gardening when we moved into our home in spring 2017. Our garden, as it stands today, has been a continual work in process for the last four summers.
What first got you into growing your garden?
My parents. My Dad has the ultimate green thumb and was always experimenting outside when I was a child (& still today), and my Mom is the best cook I know. She can make a delicious meal out of anything!
Do you have books or spots you find inspiration and answers?
Instagram has been a wonderful resource, but I most often ask my Dad or simply Google random questions as they arise. I love research, and the garden is no exception.
Your favorite thing(s) to grow in your garden?
Everything! Anything! I love the experimentation of it all. No two growing seasons are the same, so it's always an adventure.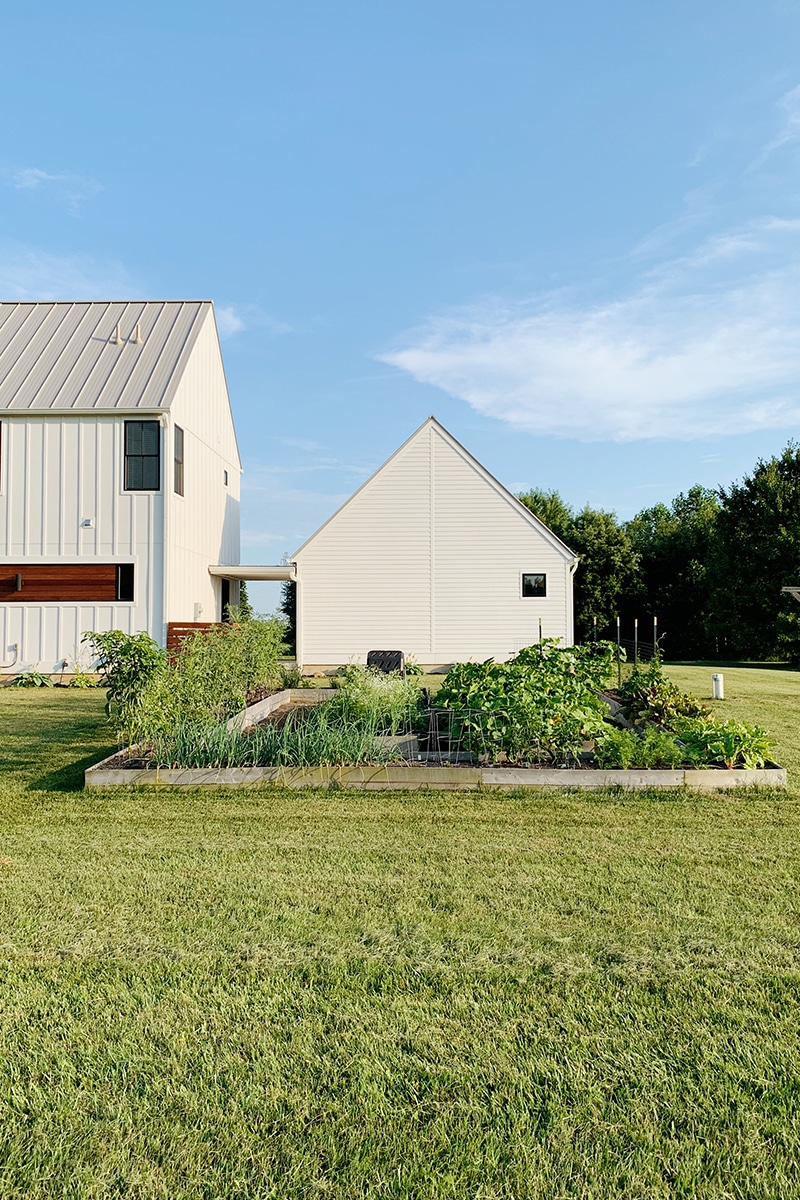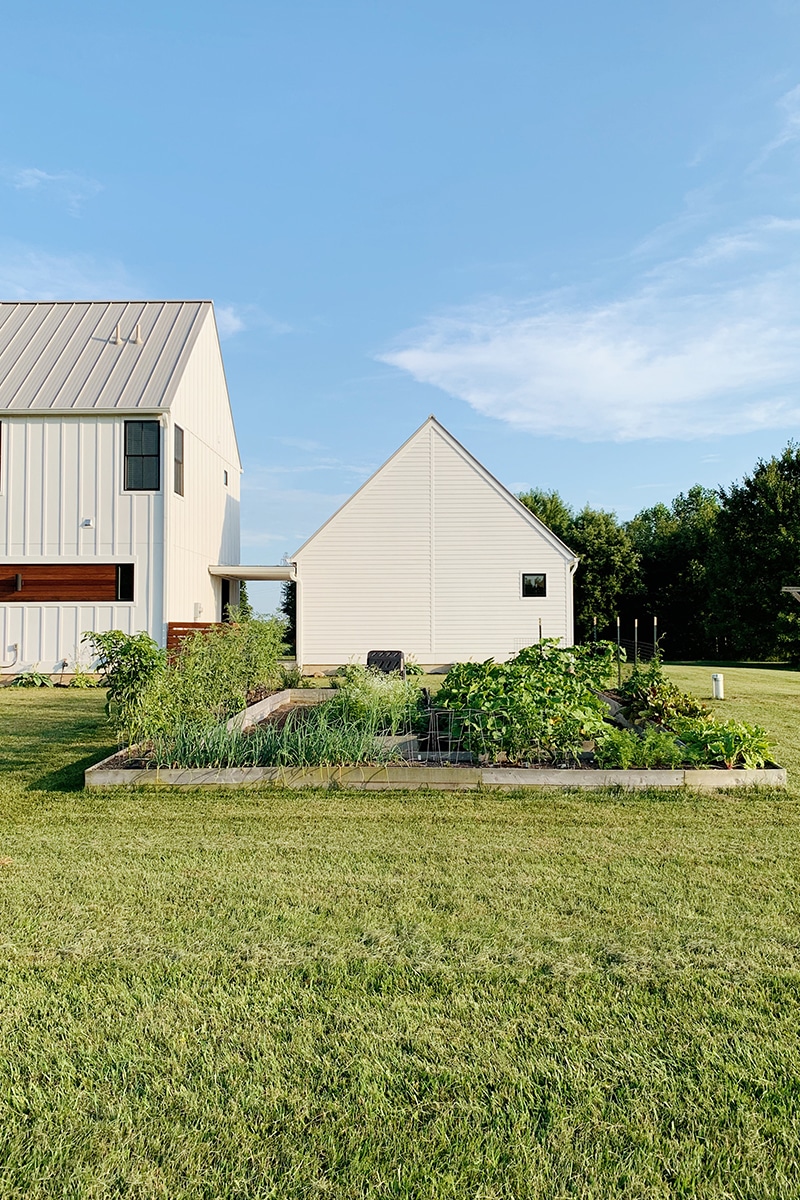 How has your garden improved your life?
I've always loved the outdoors and creating something from nothing, but it has really been put into perspective since bringing a little one into this world. Her curiosity and inquisitive nature are infectious. The garden helps calm my mind, and she helps me stop and appreciate just how much time, effort, and love a garden takes and gives.
Why would you encourage someone else to garden?
Understanding where your food comes from and the effort put into a quality product is one of the best lessons to be learned in life. I will never be able to look at the items I put in or on my body the same again, as well as the impacts each has on the environment around me. Everything in life is connected, and the garden is an excellent place to start & learn.
How would you describe your garden or your style of gardening?
Simple and kitchen-friendly home garden. We eat what we grow, so our garden consists purely of what we can enjoy at summer's peak and preserve for later.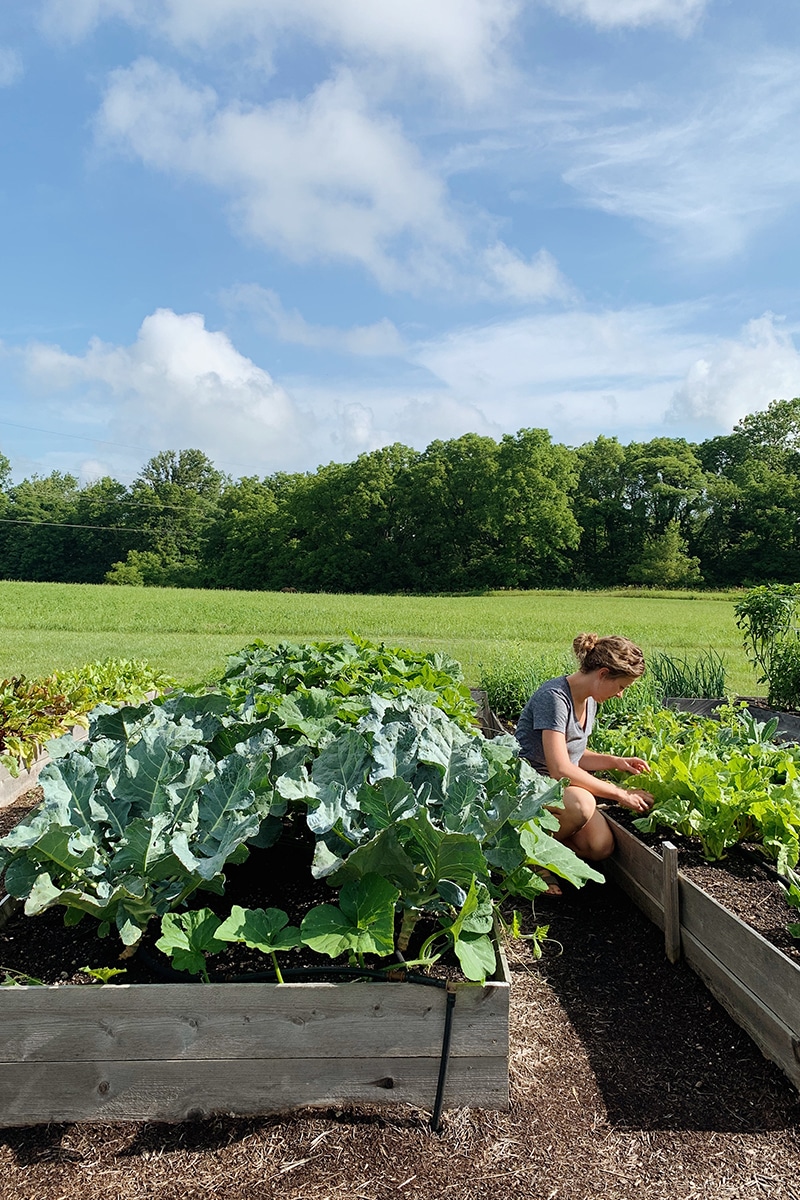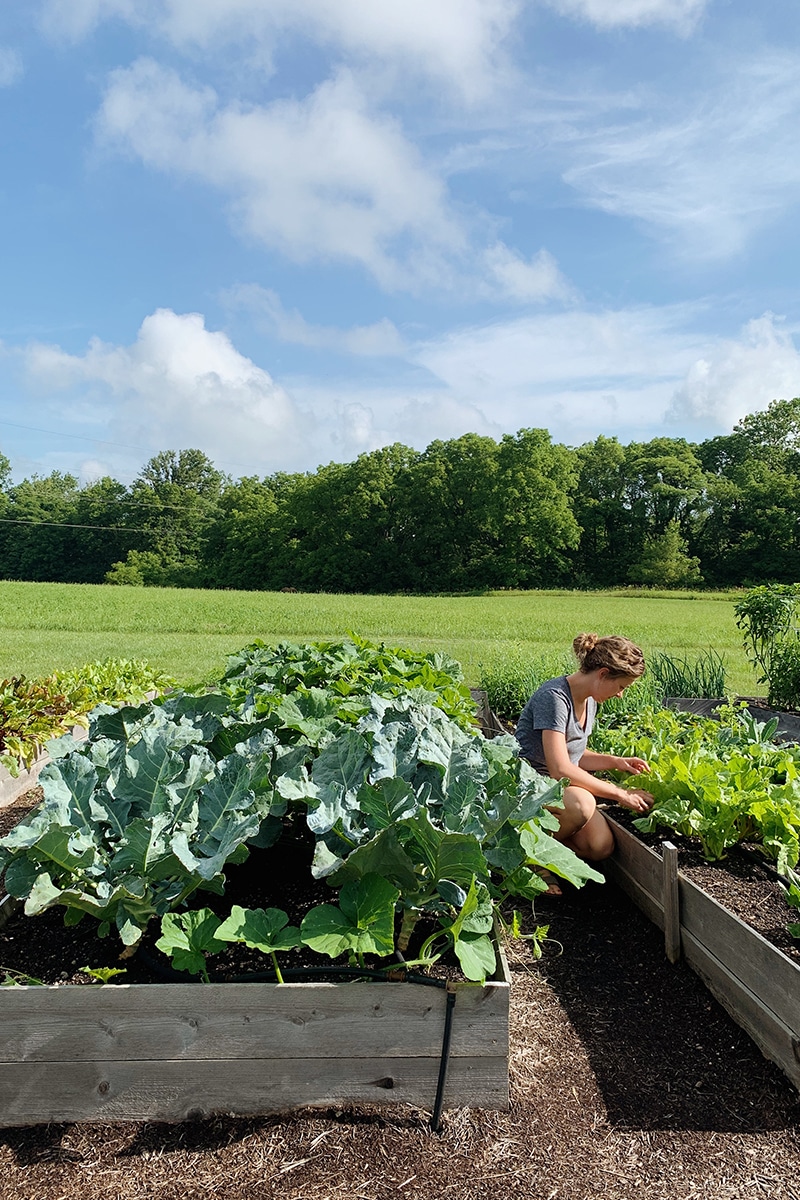 As a mother what has the garden come to mean to you? How do you feel motherhood and the garden work together or challenge each other?
A flourishing garden takes an incredible amount of time, effort, patience, and love. I suppose it's our first child, in many respects. We actually weren't sure if we would have kids. If it happened, great. If it didn't, that was okay too. But as soon as we found out we were expecting, I had dreams of being in the garden with her. Teaching her where her food comes from, how a tiny seed can grow to feed a crowd and the amount of love that is poured into a meal. The garden has been one of my greatest teachers in life, and I hope it can be the same for her.
What would you say is the thing you do best in your garden?
Consistency. The garden is in a constant state of change, and what can look like a flourishing ecosystem one day, can turn into a wild mess a few days later. I've found success inconsistency. We check on the garden each evening – pulling a few weeds, picking ripened fruit, pruning the dead, watching for critters, and wrangling the vines. When done regularly, the tasks are quick and enjoyable. If left for too long, you'll enviably have a jungle on your hands, quickly taken over by the elements.
Have you found ways to grow things organically that you swear by?
I've found the best thing you can do for a garden is organic compost. Whether by adding your own or supporting a local nursery, it's food for the soil and the plants love it! No need for chemical-ridden fertilizers. We add fresh compost each spring and our plants have only gotten healthier and more productive with time.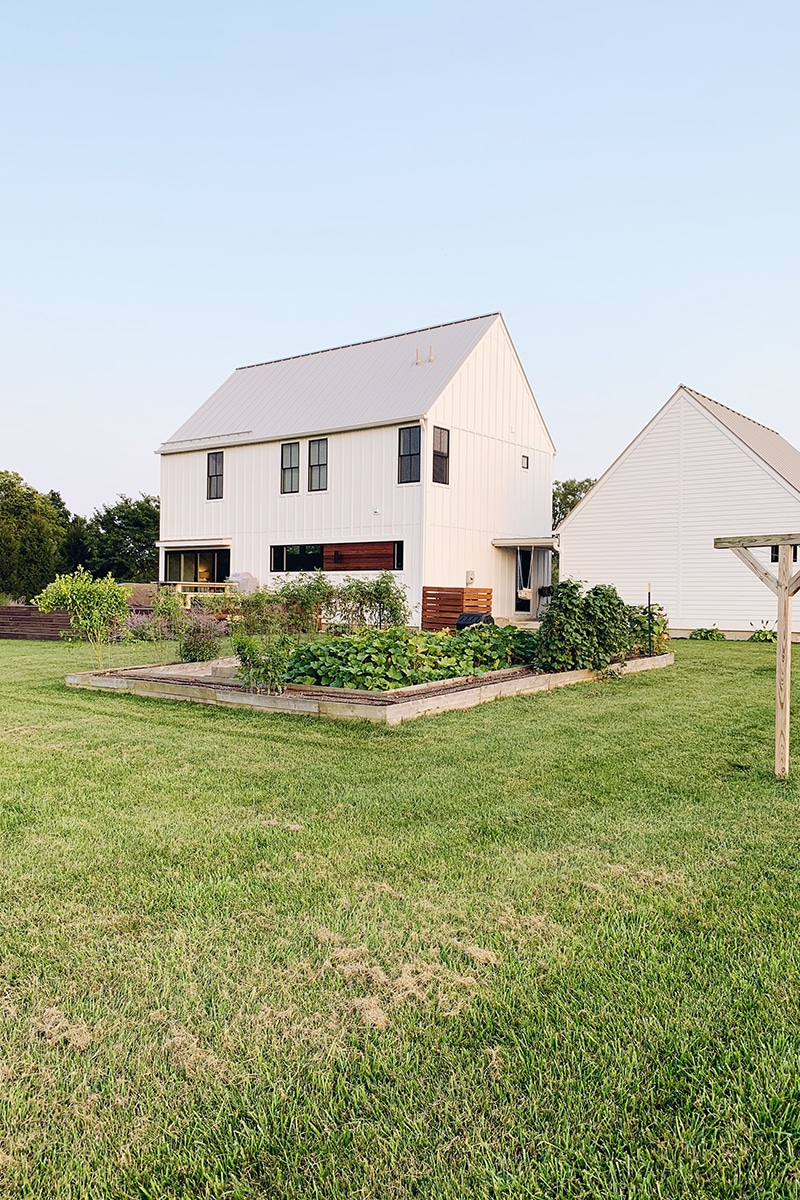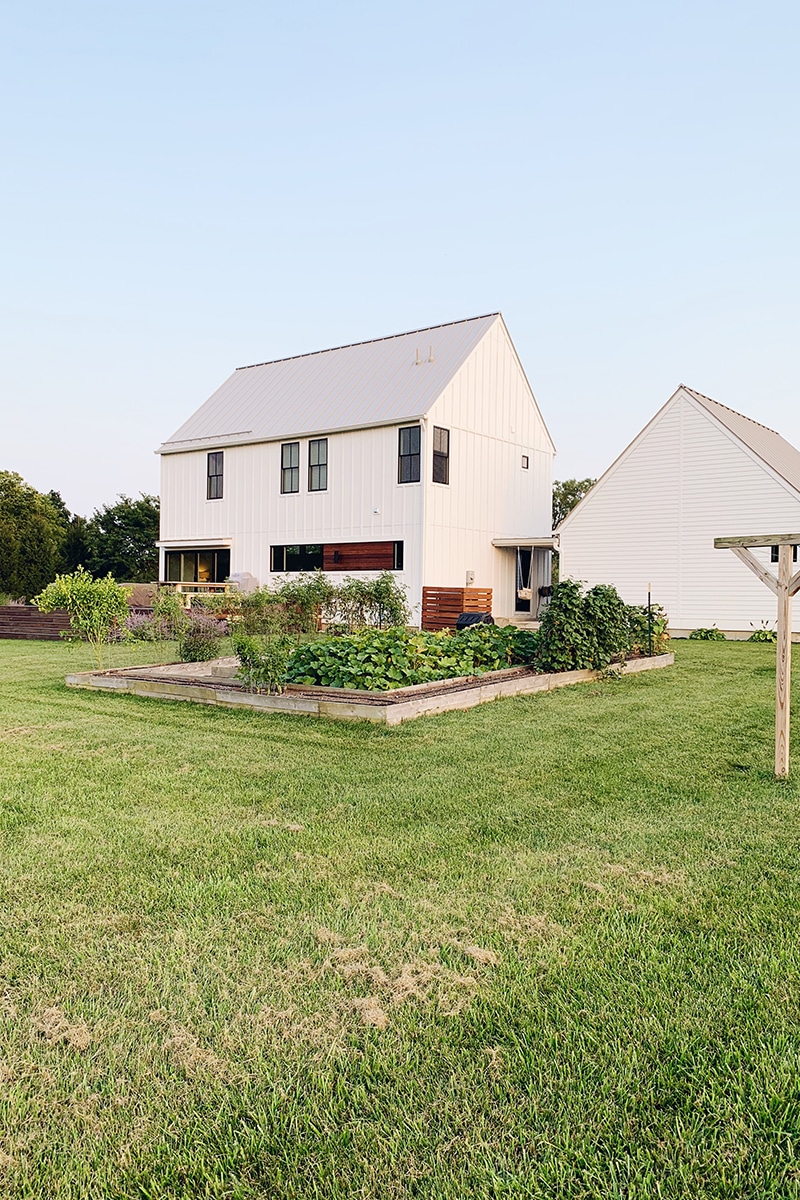 You and your husband are so smart about little things in your garden like your watering system and such. I love it! Where do you learn or get inspiration for these solutions?
We are both very analytical people, debating the function, efficiency, and cost of projects first and foremost. I often dream up ideas and Tyler's always there to punch holes in them. Ha! I like to think we're good at seeing both the forest and the trees.
What are your big dreams for your garden and land?
If there is one thing I'm never short on, its ideas. 🙂 We have 8.5 acres with tons of potential. I'd love to revamp and add to our existing orchard, expand the garden, get chickens, add bee hives, build a barn, replace all energy sources with renewables (wind, solar, etc.) with advice from the best energy Companies Calgary, add more trees, and build a fun relaxation/play spot at the creek in the back of our property.
How do you feel gardening coincides with your gorgeous home?
We built our home with a focus on energy efficiency and the ability to experience the change in seasons year-round. We kept the indoor decor simple in an effort to draw the eye outside, and to create a truly indoor/outdoor living experience – or at least as much of one as you can have in Indiana! The garden is a direct extension of the house – my grocery in the summertime. It's in close proximity so that I can easily run out to grab some herbs for dinner or take out (yet another) bowl of scraps for the compost.
What is your greatest challenge and your greatest achievements from this last year?
Two words: Marin Mae. We welcomed our little girl in July 2019, and it has been the wildest ride of my life. I've never experienced such intense highs and lows in my entire life, or a love that could run so deep. She is our entire world.
What are some upcoming goals for your garden?
We continue to say, "this is a good size garden for us, no need to expand", and then we scheme up new plans and want to add more beds. Ha! We didn't have a lot of money to invest in fancy raised beds when we moved into the house, but we also didn't want to wait to get the garden going. We decided to do what we could with what we had, knowing full well we would need to upgrade our design in about five years. Well that five-year mark is nearly upon us, so we're hoping to upgrade our existing beds as well as add another perimeter bed around the entire garden in the spring. We keep throwing around the idea of chickens as well, but we really need to invest in a barn first. The list of projects never ends around our house!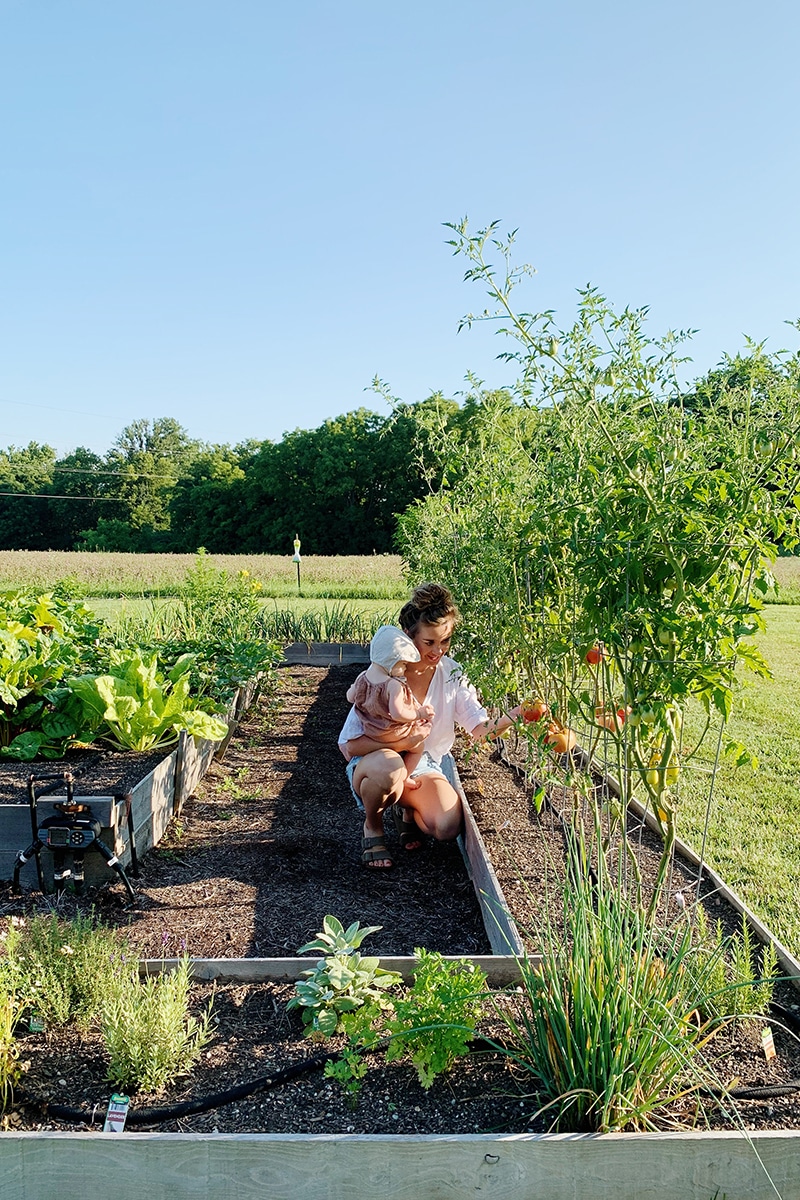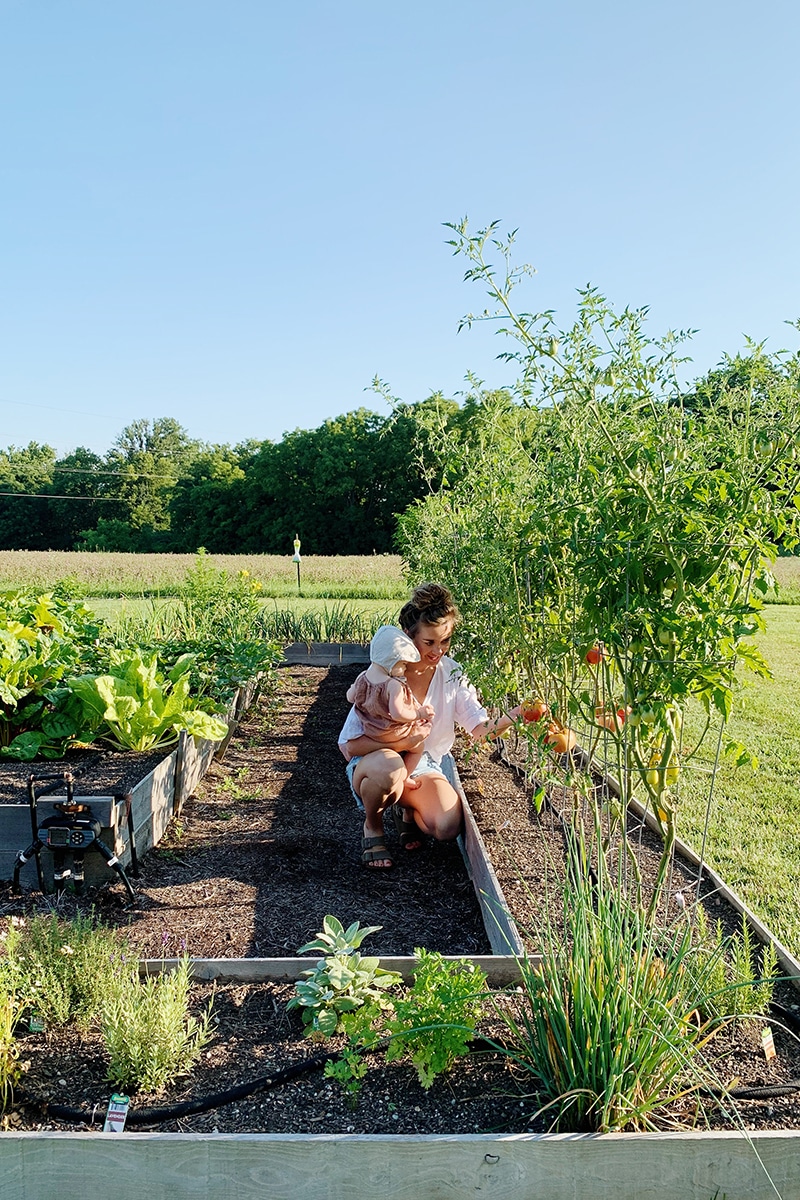 If you want to follow along more with Kelsey on her garden journey and pursuit in minimalism, being environmentally friendly, and more you can follow her in the following places:
Her Blog
Her Instagram
Tour her Modern Farmhouse 
See her 2020 Garden Recap (highly suggest!)
See more Garden Tour's and get Garden Tips in our Gardening Section
Don't miss our episode on the podcast where we chat about gardening and home as well. I think all of you will deeply enjoy it!