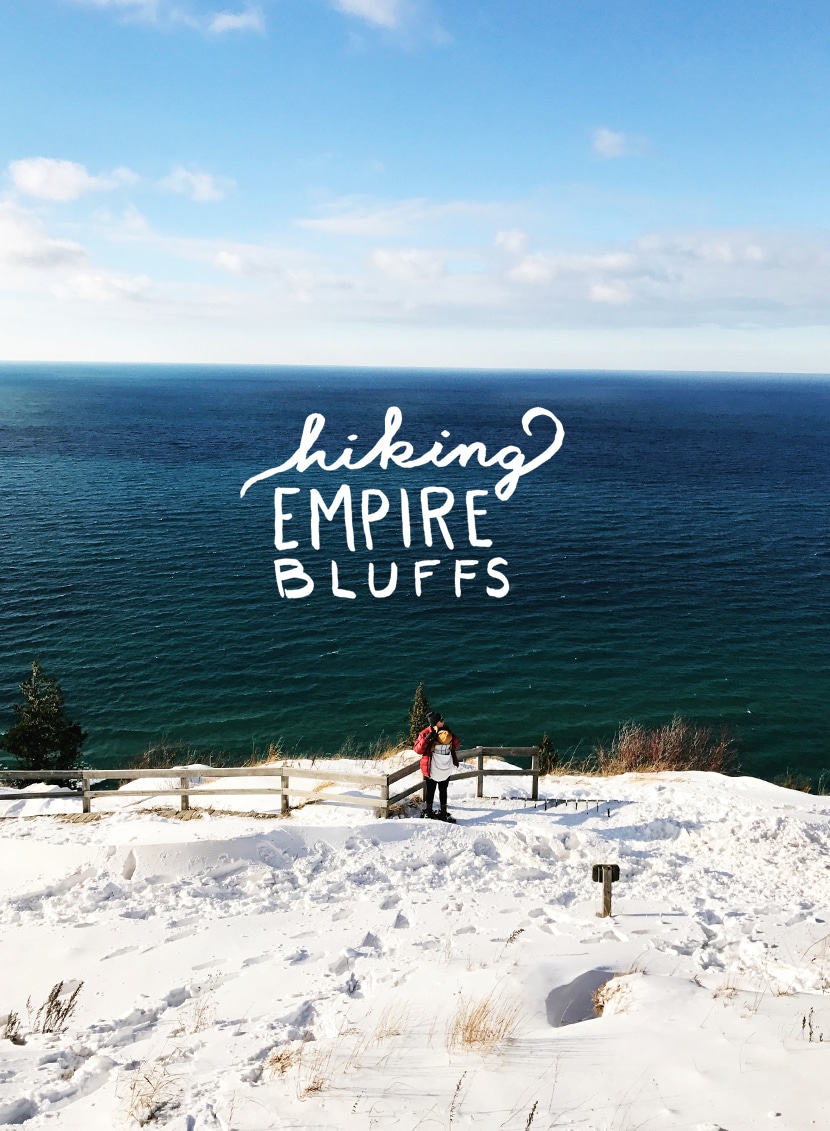 Last weekend it was sunny. The air was crisp, but the warmth of the sun was a bit of heaven coming to our little corner of the world. It had been a long week and we had another long week ahead of us full of design deadlines. It was just a few days before my birthday and Mike wanted to make the weekend special. We knew my birthday would be a rainy day and all I really wanted to do to celebrate 30 was to hike in the place that inspires me. That Saturday it was the perfect January day. The kind that surface just enough to get you through the tough dark days in winter. It was the kind of sunny day that seems brighter than the warmest summer day because the sun reflects off of the snow. These days always seem to surface this time of year. So, all of us, including the dogs, hopped in the truck and we made the haul over to one of my favorite trails, Empire Bluffs along Sleeping Bear Dunes.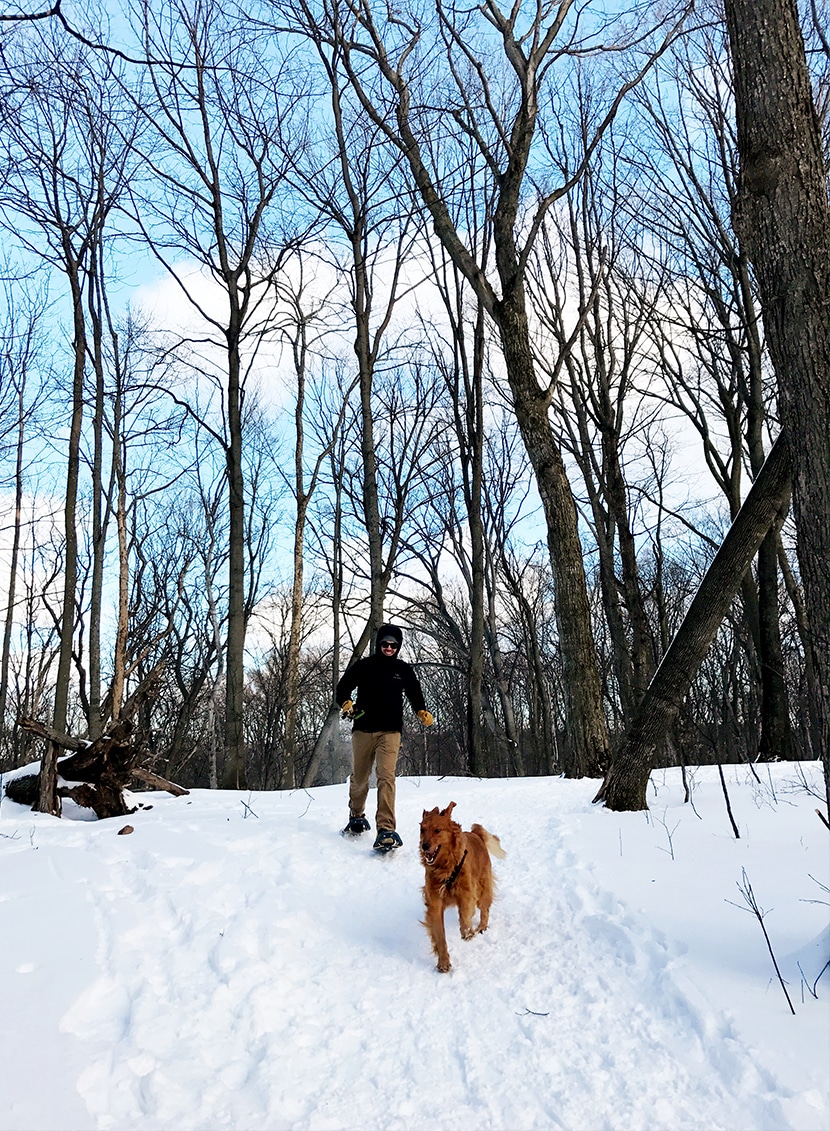 I had wanted to head here in the fall, but with Hayes hating long car rides and our rental a good hour either way to these magical places it made it a little hard. Eventually, our new home will only be 15-20 minutes from places like this.That said, right now to go to these places has to be very intentional and planned. Typically it takes all day with a 1-year-old to go to a place like this for us, but getting in that car and knowing we would hike to a view that brought us all a lot of joy on a sunny beautiful day was the perfect way to enjoy our weekend as a family before I turned 30.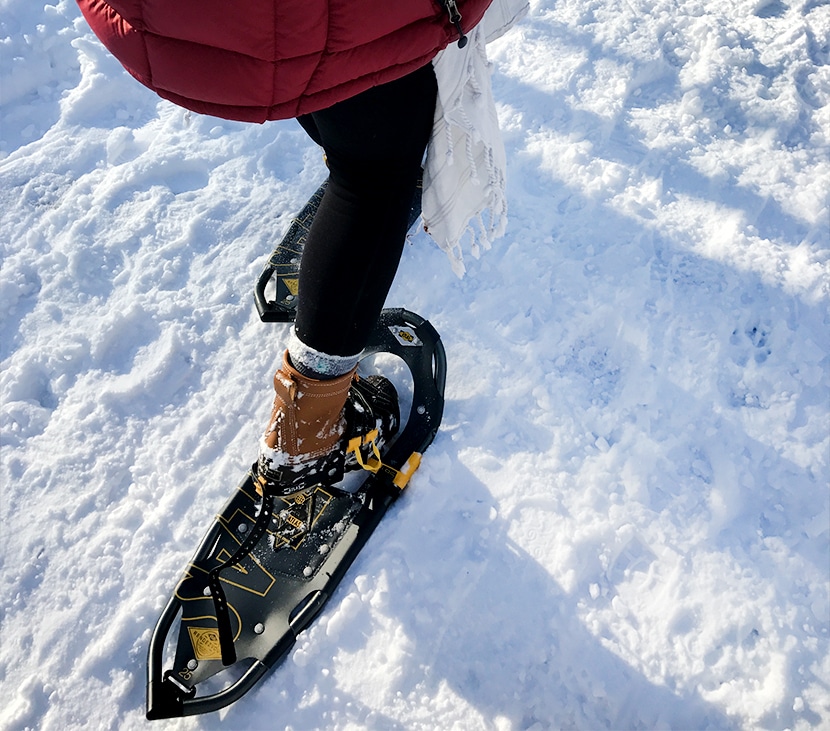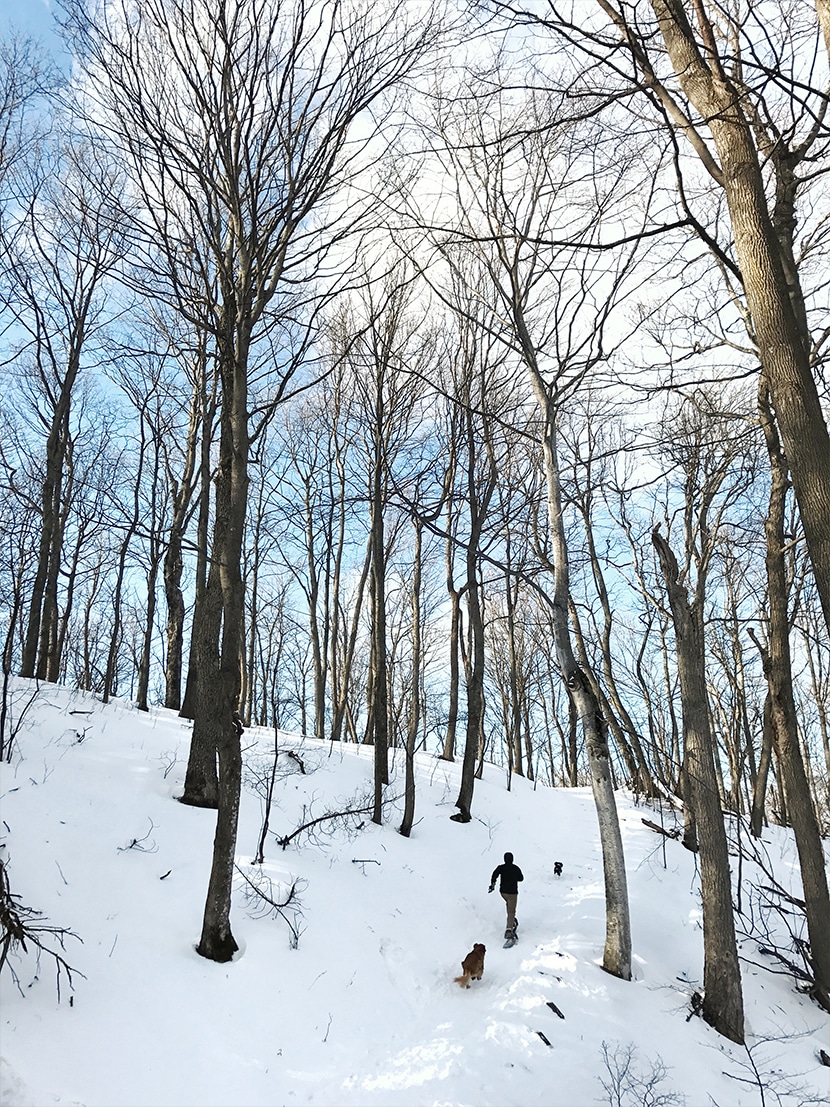 We took our snowshoes knowing that the grips on them would help on the snow that was warming up on these sunny days. I strapped Hayes into his Baby Bjorn and instantly he fell asleep on me. I knew it would be a great workout for me as well as a great way to stay warm.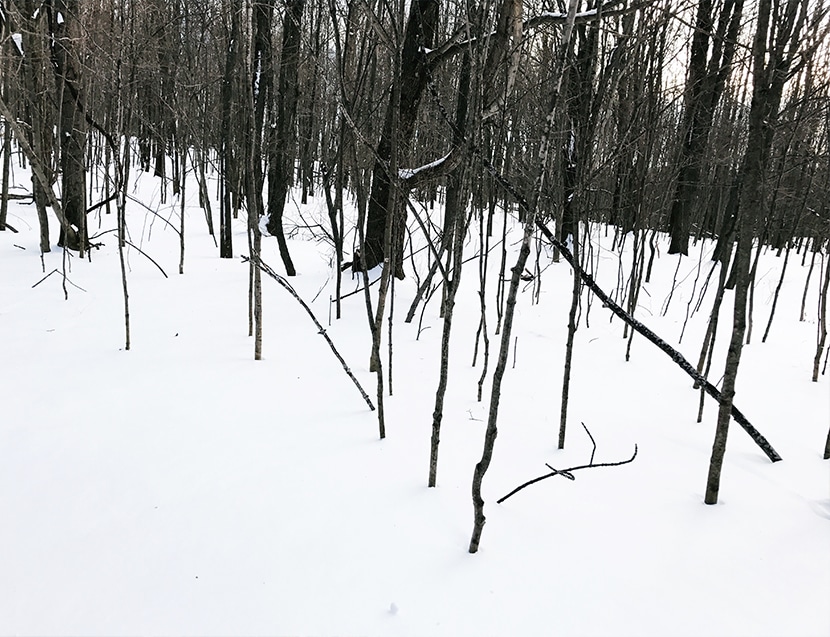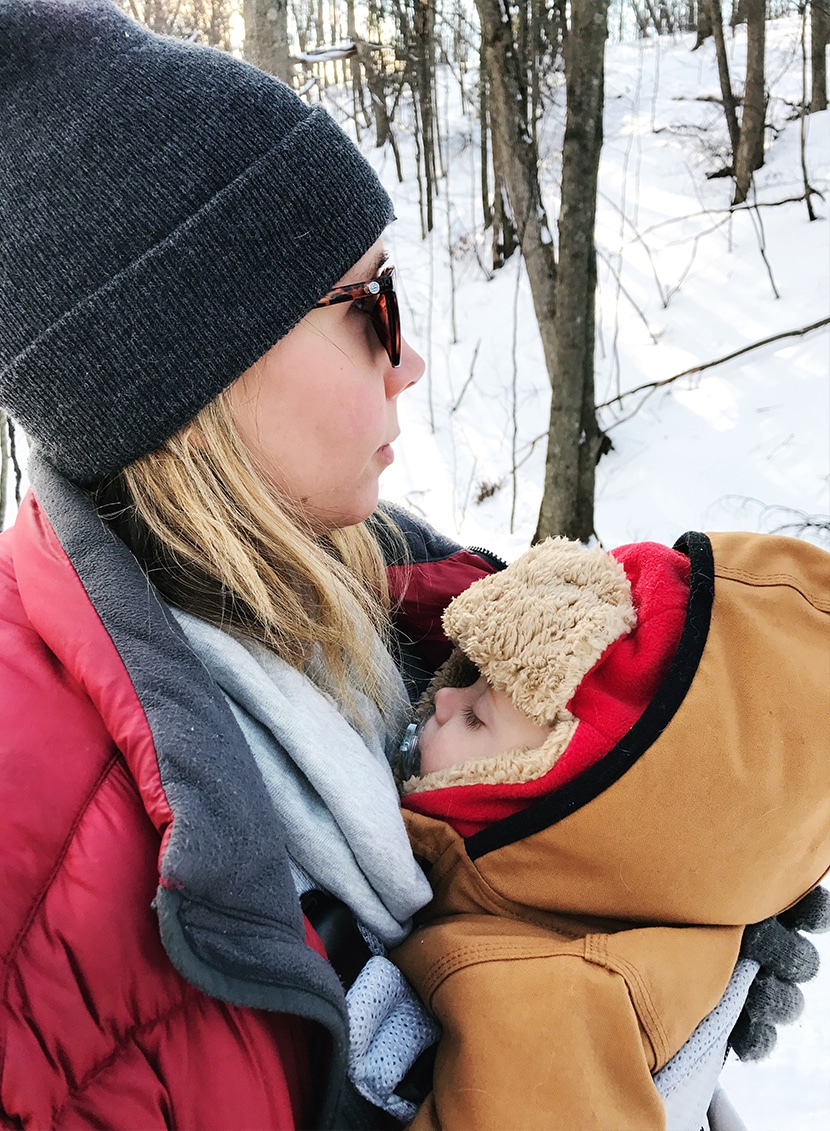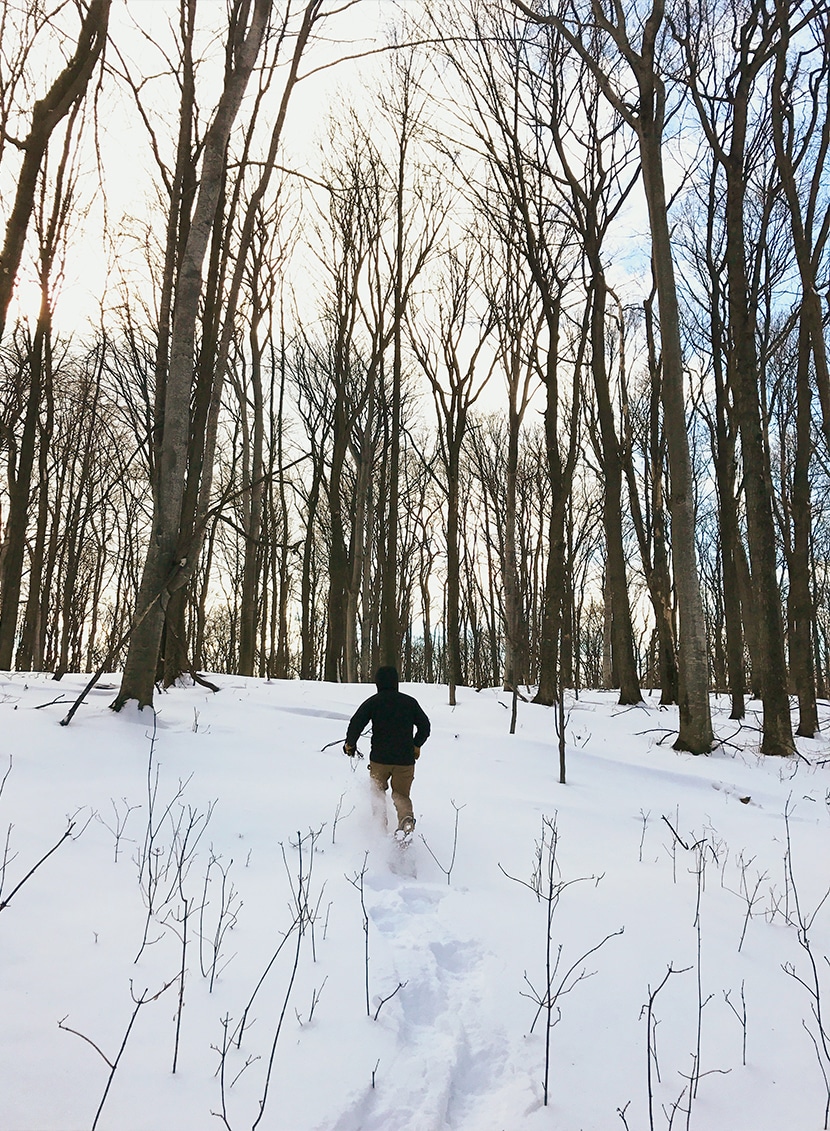 As we have been approaching the half-way point of winter we feel so energized by the days here. Even on the busiest work days, we can walk out the door or wake up to a gorgeous view of a place that we love. It makes so much stress, anxiety, and anything else that clogs our heads fall away leaving us inspired and excited.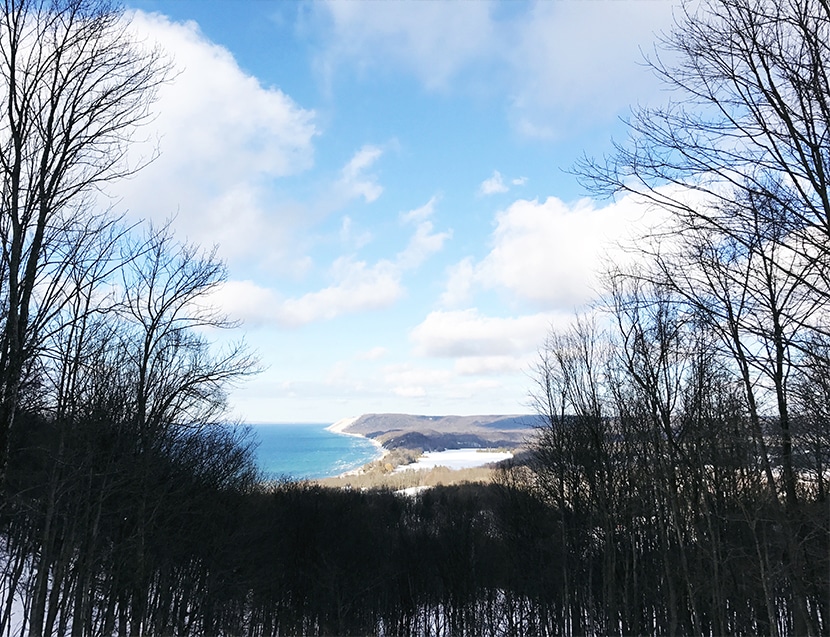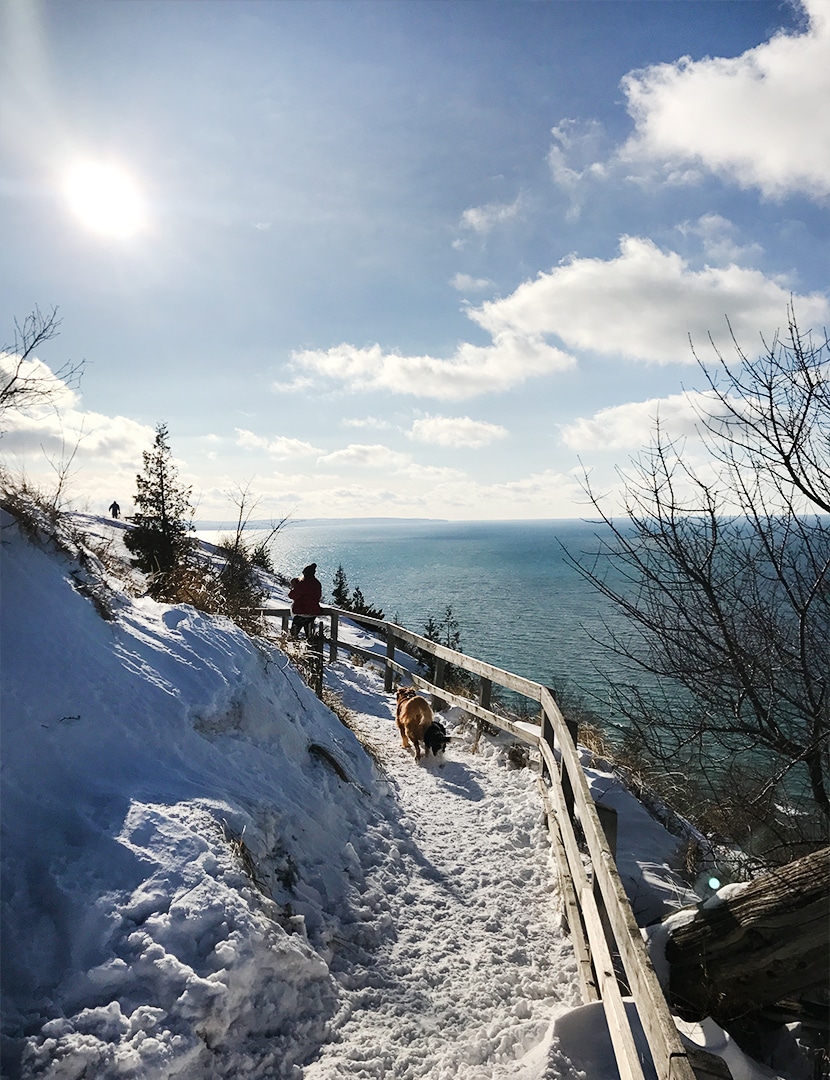 I remember taking this walk for the first time about 8 years ago. It was in the summer on a warm day and I fell in love. There are not many places that inspire me like this shoreline does. The way she endures the harshest storms, opens her arms to all that will care for her, always shines beautifully and colorfully even on the toughest days, and how she always feels like home. As a mother, I have found such inspiration from this shoreline because in many ways I see her as a mother to so many who have had the privilege to walk along side of her. She always is welcoming, warming even on the coldest days, and brings you a smile no matter what. Just the kind of mother I hope to be.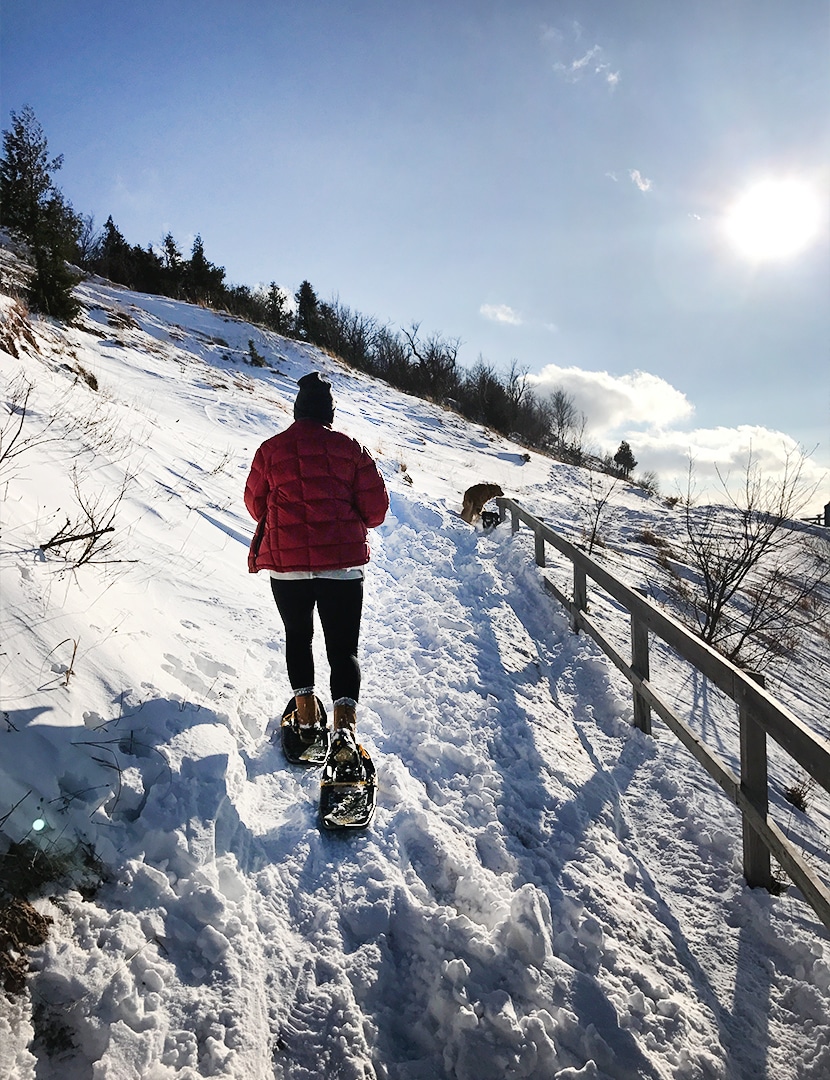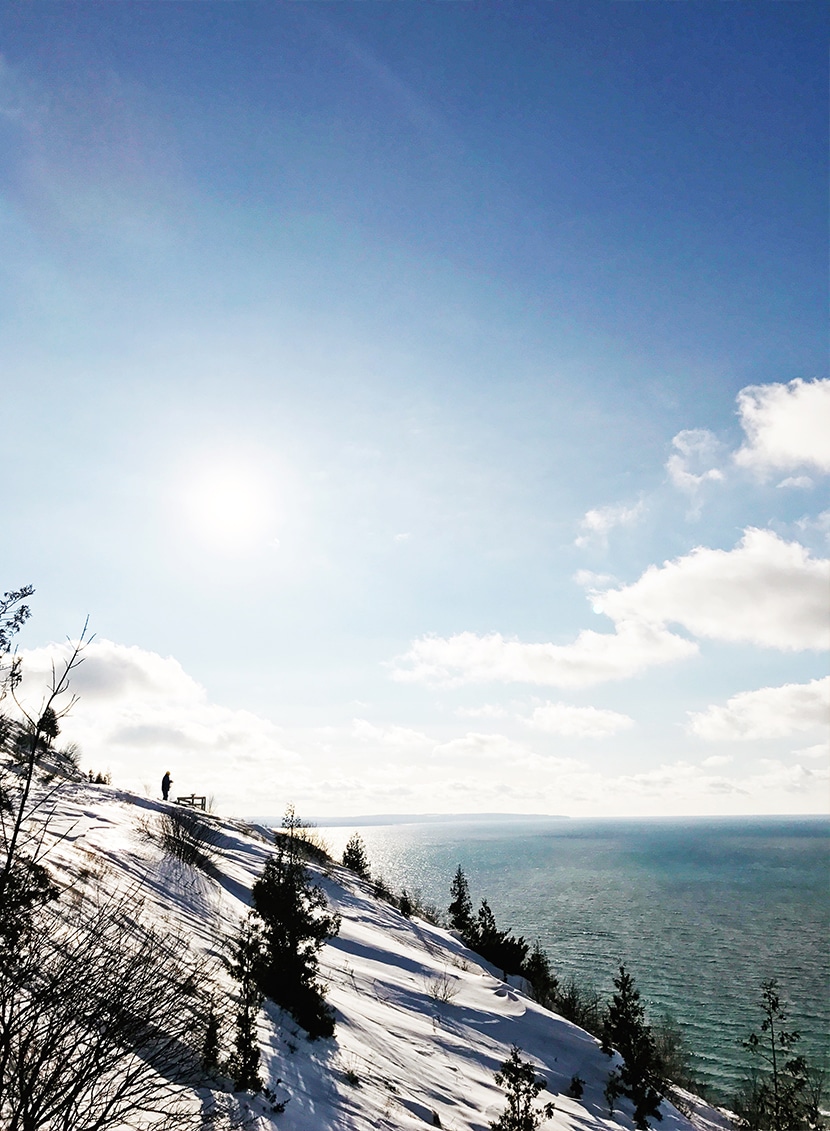 When people come to visit us, this hike along the bluff is always top on my list for hiking. The well-maintained trail offers sweeping views of the lakeshore where you very easily can see Sleeping Bear Dune as well as North and South Manitou Island. Though the best views are from within the National Park areas, this is still one of the most amazing views.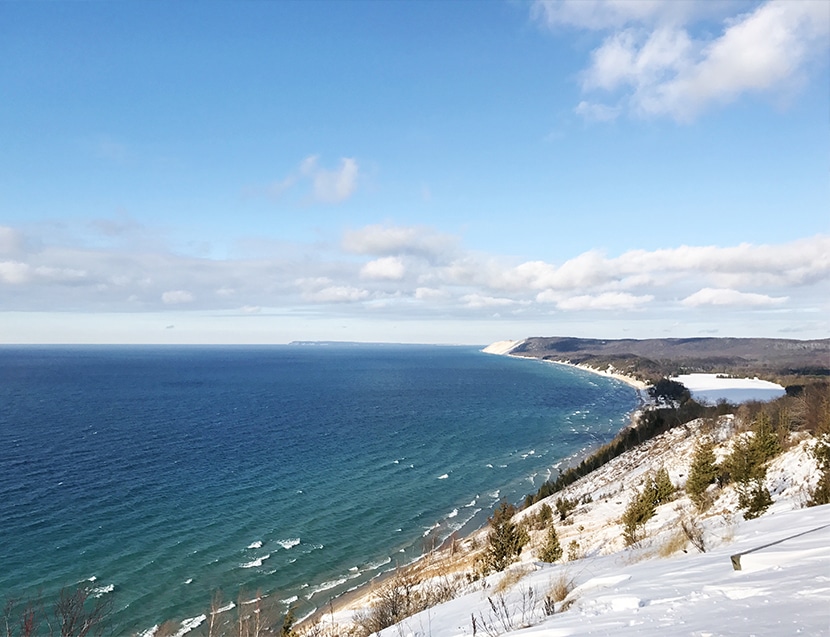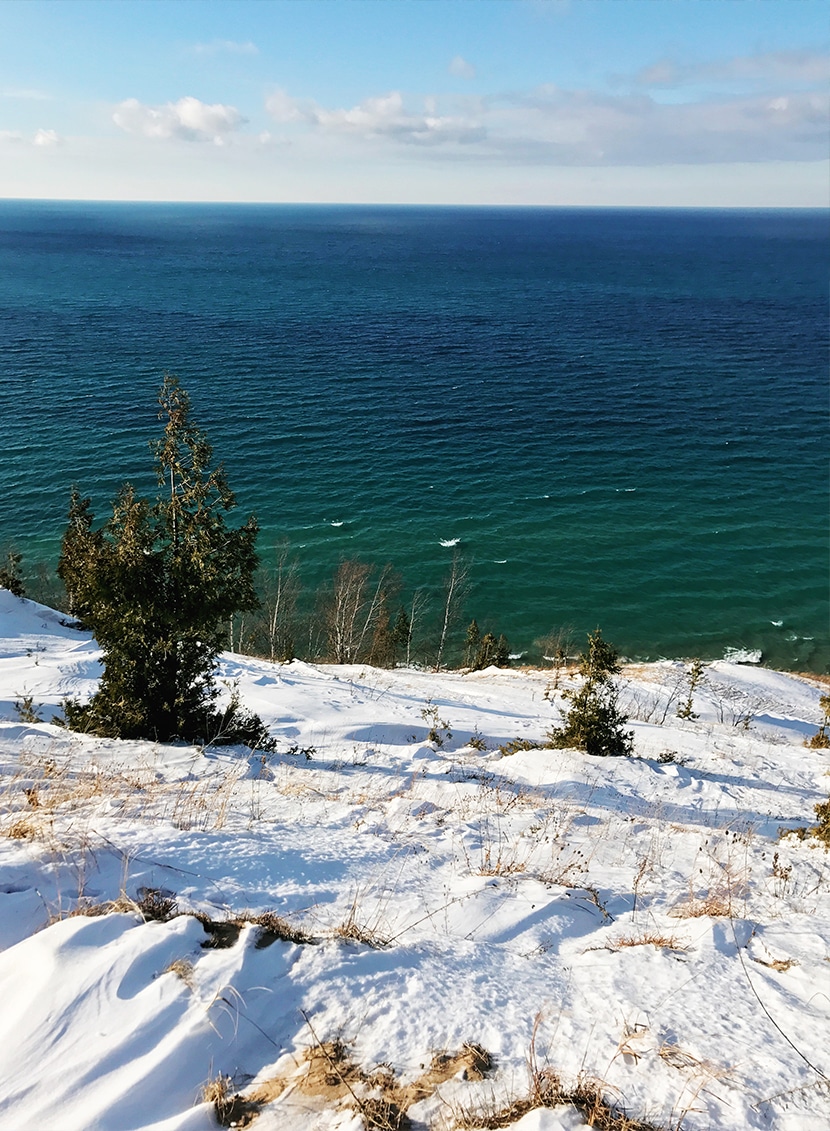 Coming here I always know I am home. The colors of the water and the curve of the land hugging Lake Michigan takes my breath away every time. No matter how cold or warm it is I could spend a whole day watching the sun rise and fall on the shore. There is never a doubt that this is home.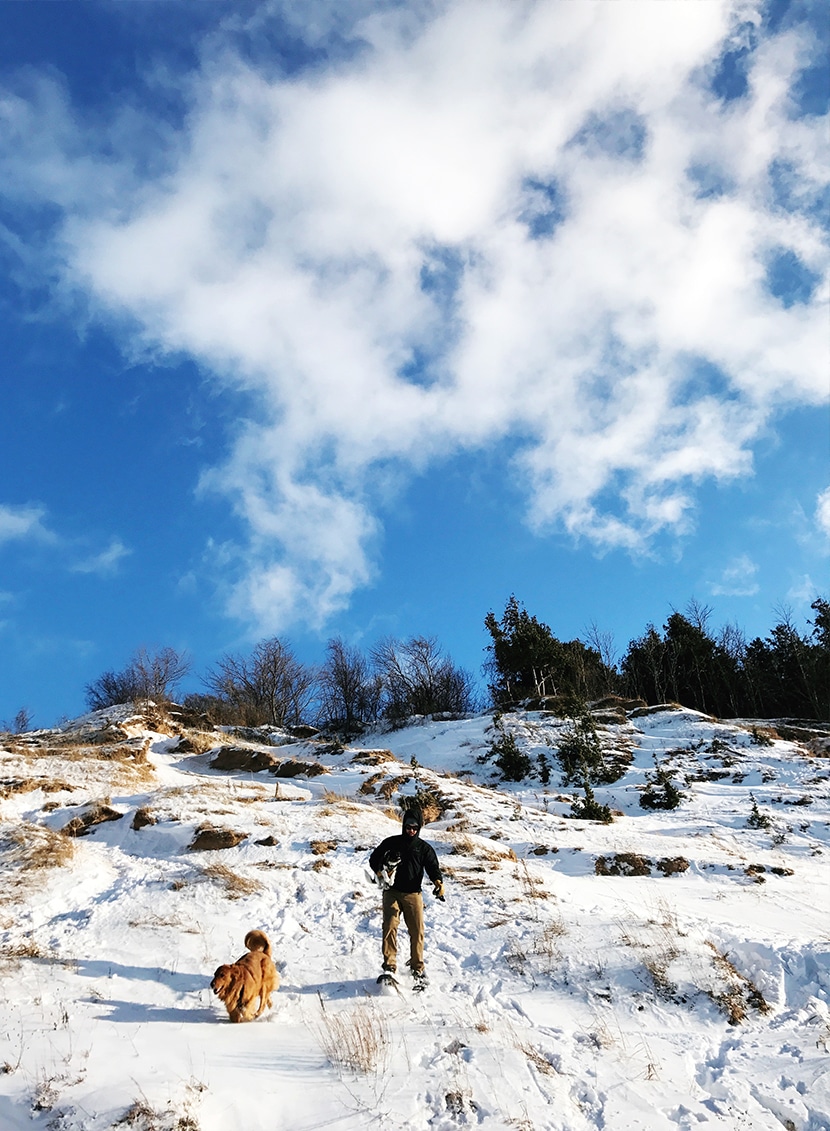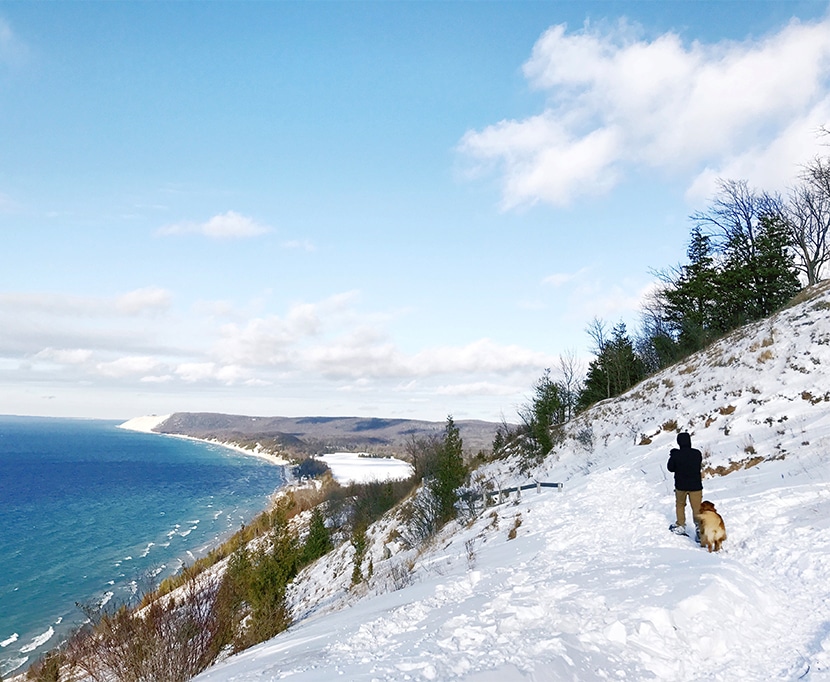 This hour long hike with a baby cuddling close to me fast asleep while I snowshoed along the dunes in the snow with my husband and dogs was the perfect way to spend a birthday weekend. Thank you, Michigan for reminding me that there is beauty in every season of life.