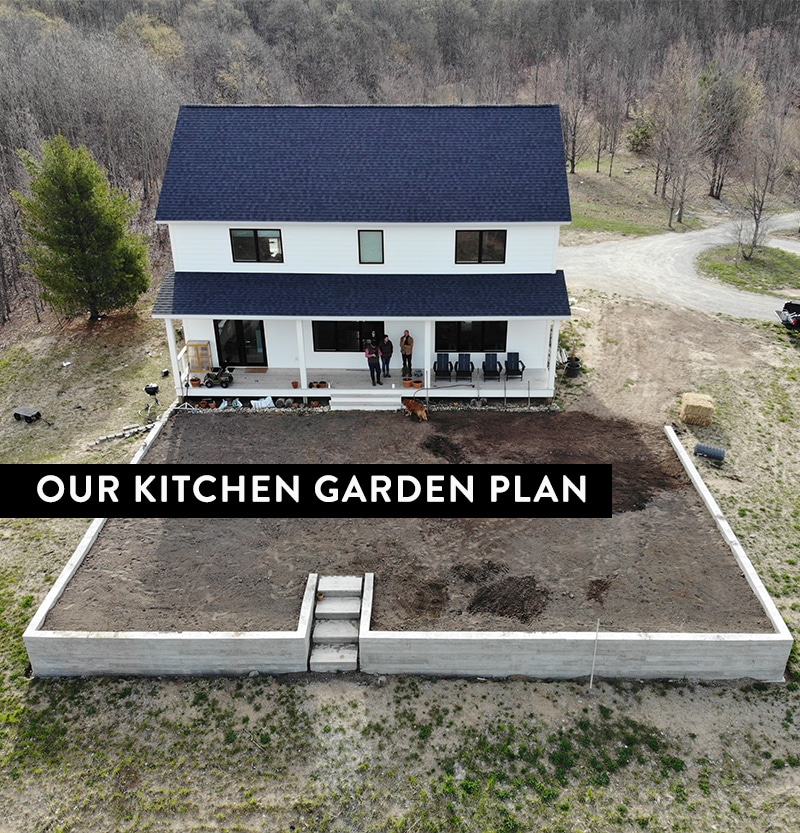 Since before we built the house or even designed the house we have dreamt about our kitchen garden layout. When we purchased our 10 acres, we knew we didn't buy land that was rich soil. It was sandy, rocky, and a glorified gravel pit. So we knew we had a challenge on our hands to make our dreams come to be. We also were overwhelmed by how to create the space we wanted while be mindful of native plants and creating a healthy eco system here that may have never existed otherwise. Since our hill was overrun by species both invasive and ones that tend to overtake when not tamed like Russian Olive, Aster, Sumac, and Bracken Fern, we knew we would need to tackle this with a mindful concept and within phases. So here is our simple kitchen garden layout.
After the house went up we gave our now friend, Tracy of Essential Dirt a ring. His name was passed to us as he had done gardens for friends of our's and created the one that started my whole dream; Northport Farmhouse by Hygge Stay. So we knew he was the guy for the job. We needed guidance because our experience wasn't this and we had learned while building the house, to know your skills and your weaknesses. He came and surveyed the area snow covered and all. He listened to us, got our ideas and 3 weeks later came back with a grand plan for the next 5 years. Yeah you read that right…5 years. Landscaping and kitchen garden layout building isn't a one and done situation. These things don't happen over night especially on newly built properties. To take care of the soil and to build something sustainable both environmentally and economically it takes time. So we looked at it all and decided to first start our kitchen garden layout. So here is where we begin.
Last summer after getting our grass to come in finally, Tracy came over and started building our board form retaining wall. We did this because our biggest challenge was that we live on a hill where we get some sometimes rather wild southwest winds especially in the fall when the weather starts turning in October. So we knew we needed to protect our kitchen garden and he suggested building up the wall, creating a dedicated space and then growing a hedge. I loved the idea and thought it helped to clearly define our spaces, which can feel like a challenge on a large amount of land. So around the first snow last year we poured the concrete and let it sit all winter. Since the winter we have filled it up with dirt and are now here, ready to share more about this space we are focusing on creating this year.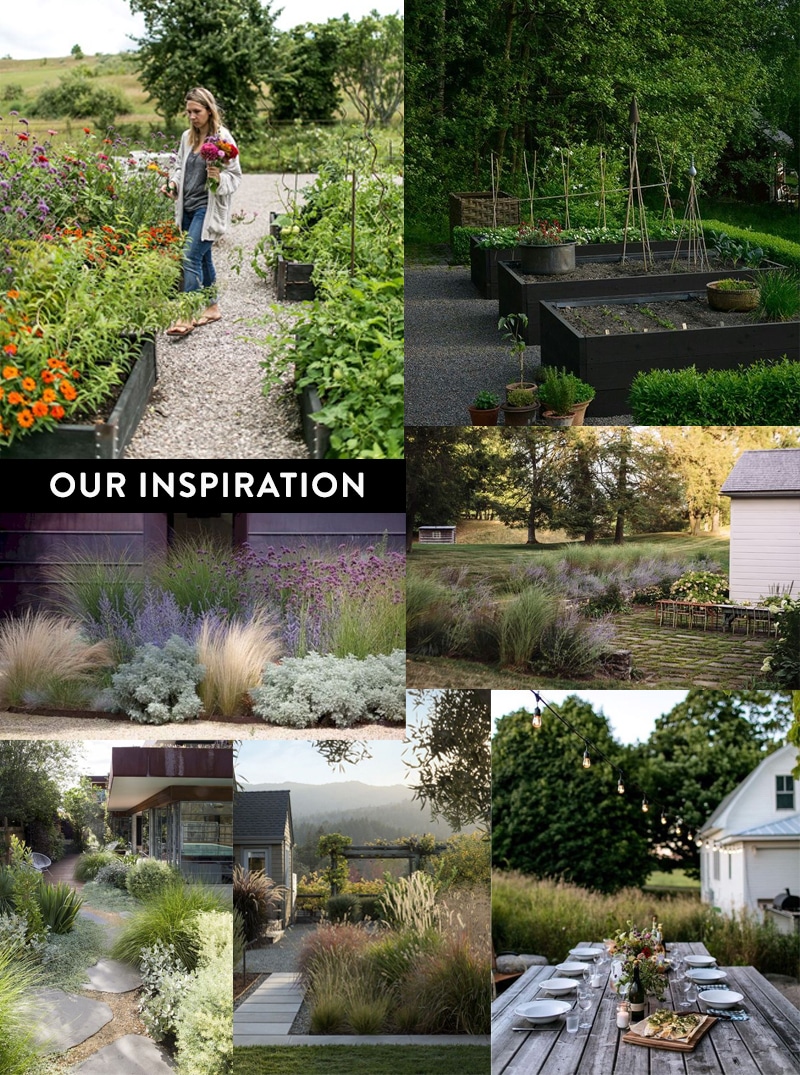 Images Via (clockwise from the top left): The Fresh Exchange | Zetas Kitchen Garden | Gardenista | The Fresh Exchange | Gardenista | In Natural Style | RenoGuide |
Our dream and vision for the kitchen garden here was to create an oasis for family life day in and day out during the warm months of the year. We wanted a space where we could grow the easy grab and eat things we would want in the kitchen every day. This wouldn't be our huge producing garden but it would be our beginning. We also wanted to be able to enjoy sunset and dinner in a space close to the house. Having a toddler/small child it is nice to have a space to eat outside and relax without a big walk back and forth to the house. We plan to do a proper larger dining area for big dinners, but we have a temporary setup for now. Our other goal was to create a space to remain away from ticks. Since this is a huge conversation these days we wanted to have a grassy area that was protected. By placing lavender around the perimeter and placing many anti tick herbs around in our open beds, this space should remain safe from ticks for us as a family. Though we still venture out into the woods and do regular tick checks every night, this was still important to us.
We also really wanted to bring in as many pollinator friendly plants and native plants as well. We love a tame and wild look to our kitchen garden and I am not someone who enjoys things like Hydrangeas and so on. I prefer wild flowers more than anything. So I wanted to bring in as many of those as possible to this area.
So the space came together pretty naturally, but we are now at the most exciting phase of filling it all in!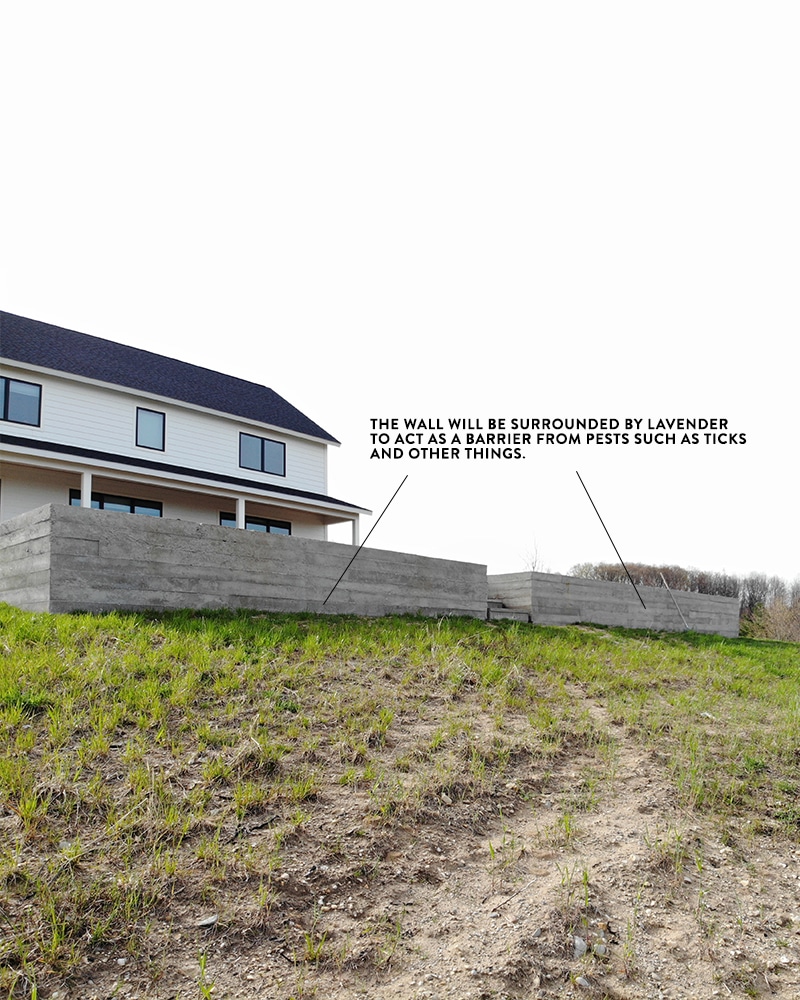 From the outside, we have stairs leading in and out as just outside the wall here on the hill we have grapes (wine) growing that a previous land owner had planted. There are about 10 of them from what we have found recently. So we plan to integrate those into our land more and trellis them. We may also add other grapes for eating as well in the next year or so. but we wanted this access to it all. We will be planting lavender around the perimeter of the wall and doing some outdoor lighting on the wall as well. We want to soften the wall some. Not to mention we also need to seed more grasses here.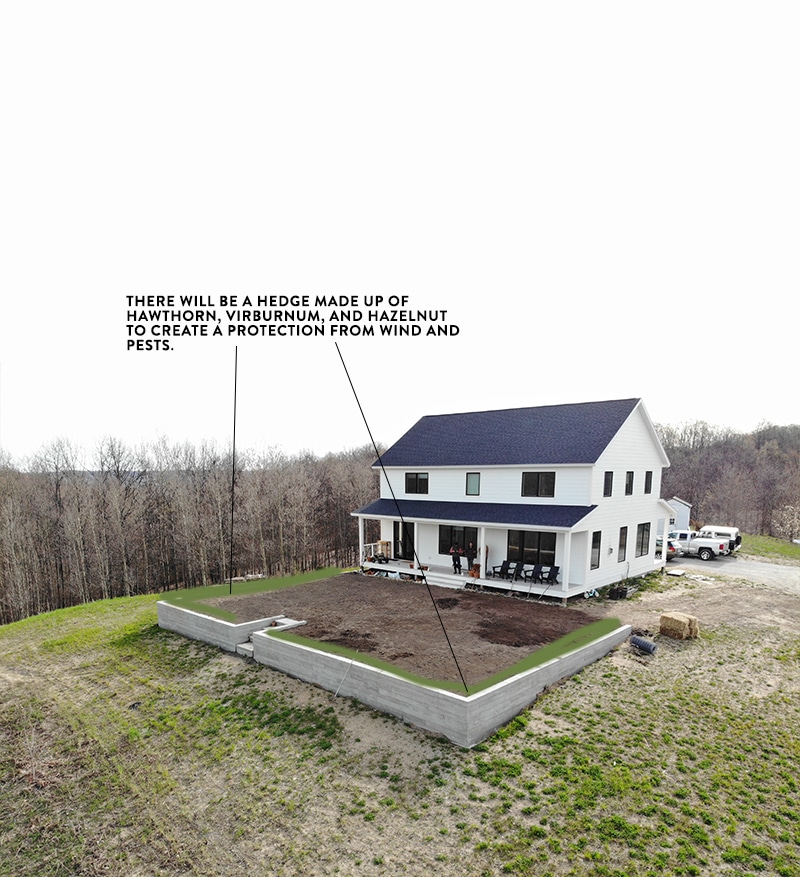 To protect the kitchen garden we are putting in a hedge of Viburnam, Hazelnut, and Hawthorn that overtime will fill in and get super thick and we can trim as we see fit. This will create a wind protector from the winds that come in and eventually create some privacy to the space as well. We will also be placing thyme between the wall and stairs. Overtime this will fill in and creep abundantly over the stairs. We planted a mix of English and Lemon Thyme between the stairs in random patterns to mix in textures.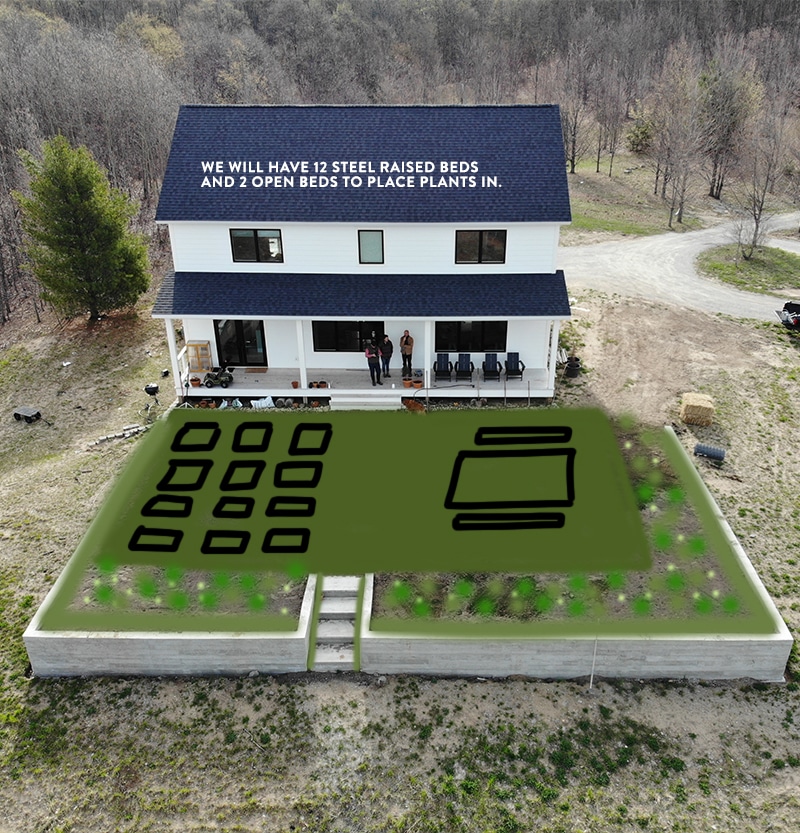 This gives you an idea of how things will be laid out. Our open beds will take time to build up and shape. They are a moveable piece of the whole picture for us. We want to see how some things do and then maybe move or transition things through the space as needed. I am excited to play with these beds over the years and see what happens with them. In the raised beds we will be growing easy to grab throughout the season food. This year will be a slower garden year I am assuming, but hoping by next year we will have everything a little more cued in and we can get on schedule earlier than this year.
We decided to fill in between the garden and the beds with grass both for financial reasons, but also because of having a small child. We felt it was nice to have a grassy area for playing every day instead of gravel, even though it sounded really nice aesthetically. We also plan to place a table out in the grass for dinners and casual dining with friends and guests for daily use. Here is our simple kitchen garden layout.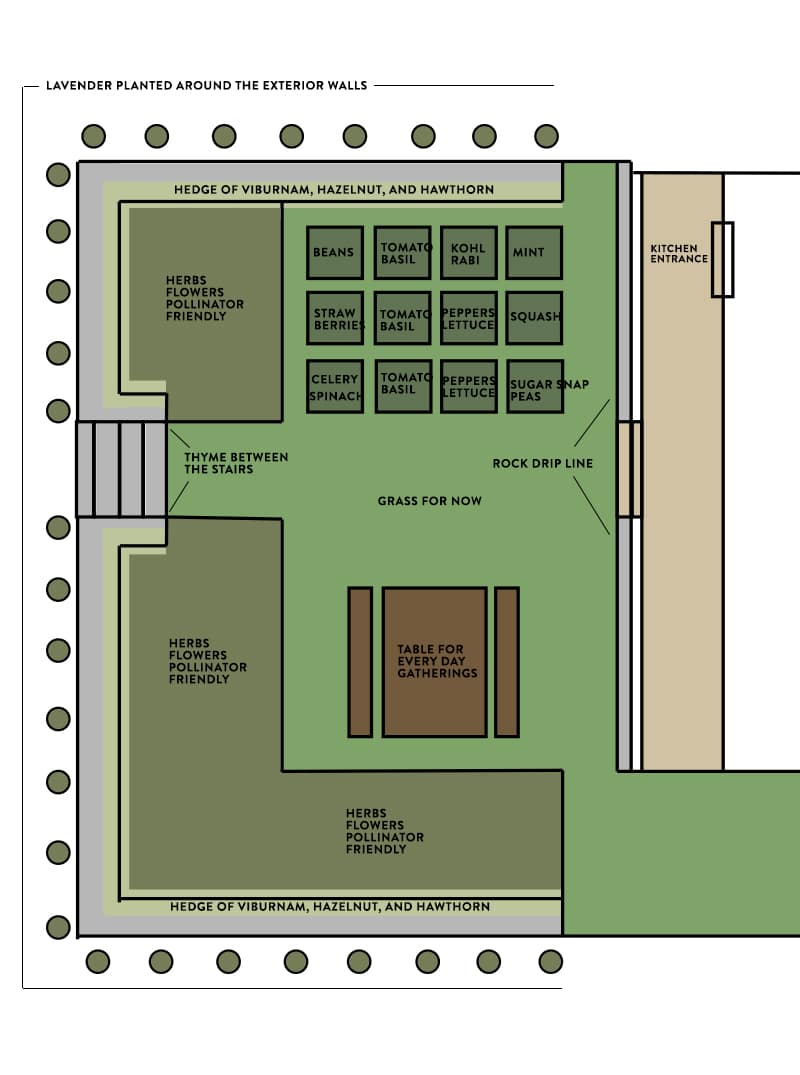 Above is the full plan to give you an idea of how this will all fill in over the next few years and the vision that is at hand. Outside of this space we will be adding an orchard but one that isn't in lines but in random placement to feel as if it naturally happened (it won't produce for 3-5 years though). We also are adding our garage on the other side and most likely next year we will be deciding how to candle the backside of the house.
If I have learned anything in this process of owning a home and building one, it is simply, great things take time and attention. Owning a home is a privilege and an ongoing project that offers many challenges and opportunities. Your home is your haven and where you build all your memories, so I think it only makes sense it takes so much care and attention. In a world of immediacy I love how this all takes time.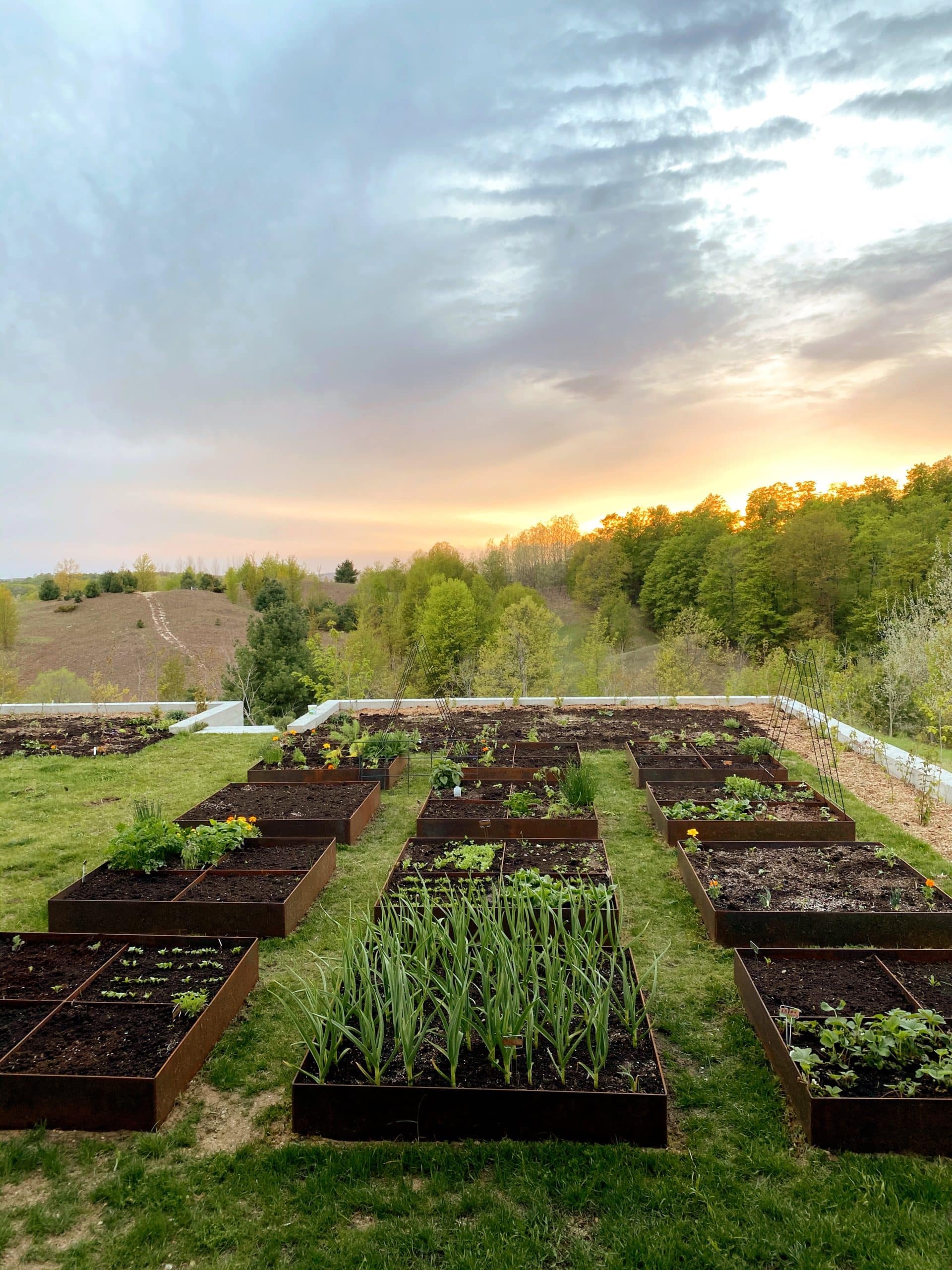 Okay if you have questions, thoughts, anything leave them below! Happy to answer for you!