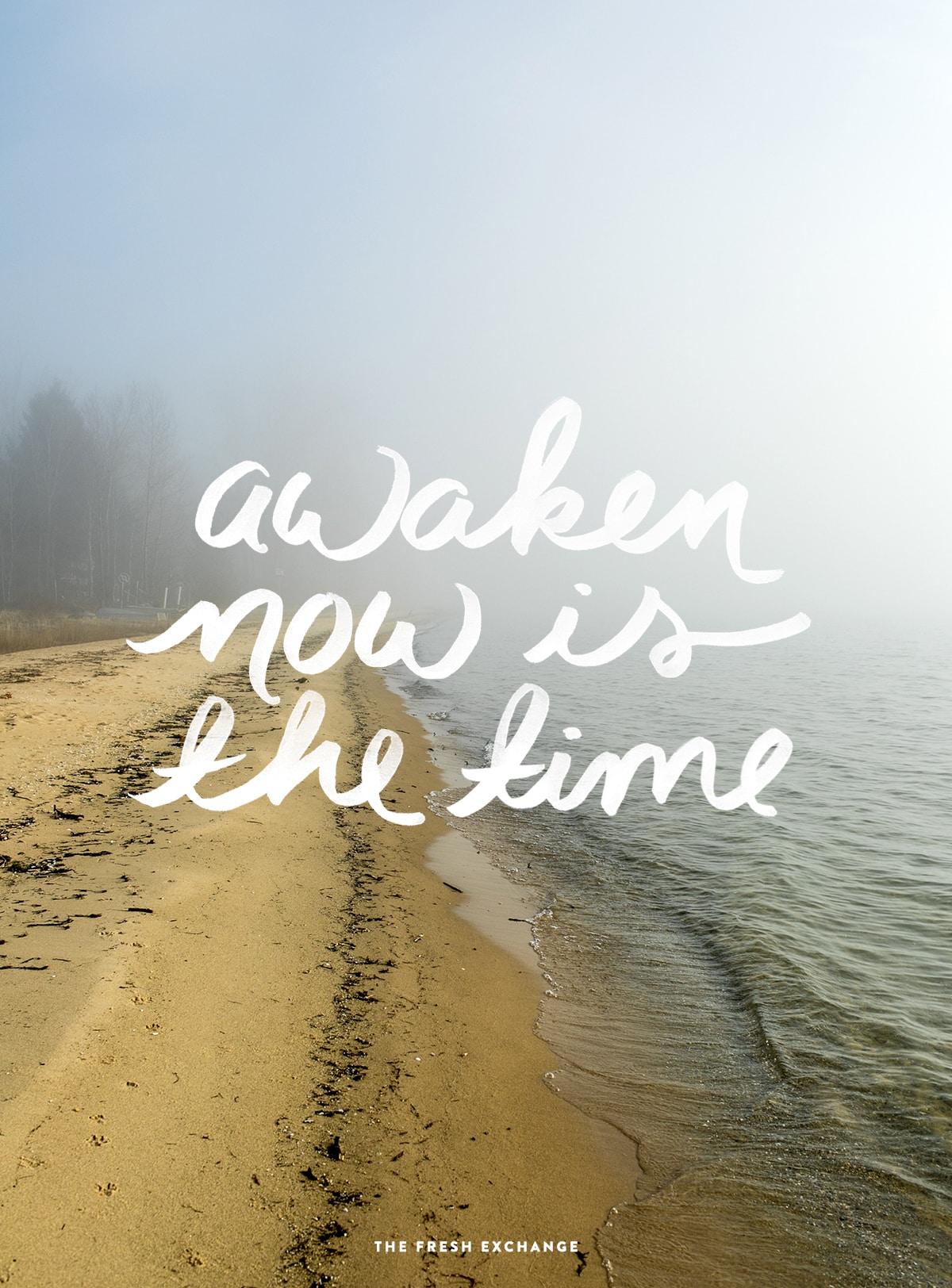 March has arrived. The sun will be shining more. The days will begin to get longer. The warm winds are bound to blow in. The days will still be filled with a chill reminiscent of the darkest days of winter and our coats will not be packed away just yet, but today marks the beginning of the promise of a new season. So, now is the time to awaken. Put your shoes on. Hop on a plane. Find some sun. Cleanse your mind. Brighten your skin. Reorganize your shelves. Brighten your space. Let go. Start new. Open the windows on a bright warm day in between the chilly ones. Watch as geese fly in over the lake, rabbits frolic in the last dustings of snow, and chickadees wake you with their sweet chirps as the sun begins to rise earlier and earlier each day.  Take in the smell of the crisp clean new earth filling the air. Spring is arriving.
As I shared on Monday, today marks our first Intentional Season here on The Fresh Exchange. A new way we are approaching our lives and the blog. You can read more here, but March is the first month of not only this season, but this new approach to TFE. Honestly, I couldn't imagine a better month or theme to begin with. After years of dreaming up this new direction for TFE, I couldn't imagine a more perfect time to begin. The winds have shifted in Northern Michigan lately. The sun is shining more and I feel after months of short days and cozy evenings spent inside laying out how this would come to be. These brighter days feel as if I am walking out of my cave and showing you all just what has come from all these winter days.
The last few months I have thought deeply about what this first month's theme should be and though I had others I came up with awakening became the perfect fit. The word awakening is an interesting one. I meditated on the word during many cold walks on the lakeshore this winter. I thought about what it meant to come back to life after the winter. I thought of the first feeling of warmth on your face after the bitter cold months. I thought about what it means to come out of hibernation? Over and over again awakening came back to me so I knew this was where we would begin it all.
As I thought of who I would want to contribute, I instantly came to my dear friend and recent Leelanau County neighbor, Mae Stier. This month you will hear her story of her own personal awakening and how as a young, single, 20-something she packed her city life up and came home to the place she loves. It is an amazing story and she tells it well. Expect to read her post on the 8th this month.
As for the rest of the month, we will be carrying the awakening theme through most of our content from skincare posts to help you bring your skin back to life after the harsh winter to making the perfect low-key brunch for friends to celebrate the first day of spring. I am so excited to begin this journey of intentionally living amongst the seasons from our food, to our thoughts, to our gatherings, to our bodies, to our home, and more.
If you want to keep up with all of our exclusive email content we will be doing every month make sure you sign up for our emails. We are pouring a lot of passion into our emails these days. So we hope to connect with you there.
Over the month we cannot wait to hear your thoughts and perspective on what we have been working to the last few months and years. See you tomorrow as we give you our top list of must-have rain boots for spring.
Welcome to March, my friends! Wake up it is time to go!