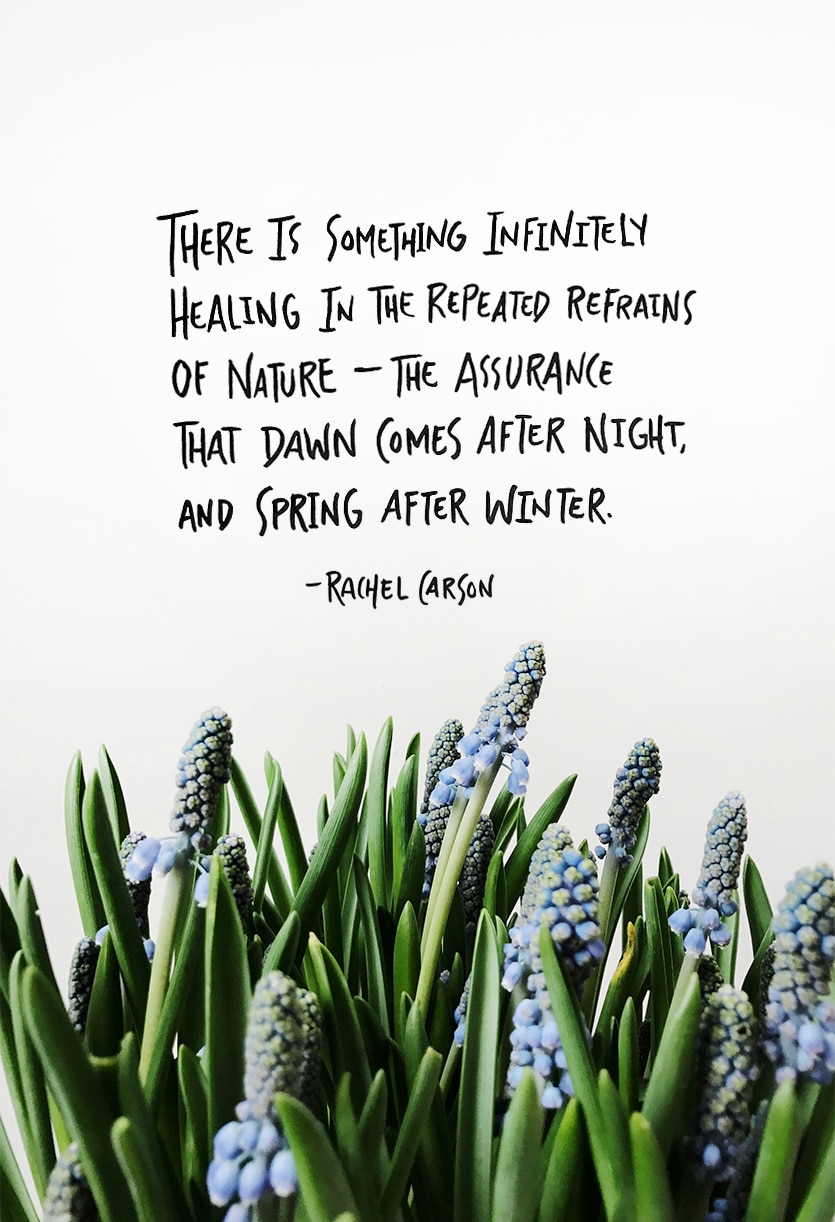 Happy Monday my friends, I have wonderful news! Today is the beginning of spring or better known as the spring equinox. It will now become sunnier with each passing day. Today is one of two days in the year that the sun will rise due East and set due West, which is a pivotal point in a seasonal life. We have been watching for signs of spring the last few weeks as we began March (have you been doing your Mindfulness Practice), but today we are now promised that spring is beginning. Though spring does not always begin exactly in the way we think it should. We may not see tulips and daffodils (we aren't here) or it may even snow today for some people, but today we can know that the promise of spring is real and warmers days are ahead of us. So, as the season begins to take shape and becomes full of blooms and buds and baby birds, we must also look for the ways our lives are shaping with this season.
The other day I was driving into town. Outside the air was chilly as can be, but the warmth of the sun streaming in the windows of our truck was almost overwhelming. The feeling of the sun alone felt renewing. It made me realize how beautiful it is that we have gray days that remind us of the absolute joy of a sunny one. Life isn't without challenges. In fact, we should welcome them, because challenges present the opportunity to more greatly enjoy the beautiful and simplest pleasures in life. This is why I continually and will always find comfort in the rhythm of the seasons. They are the constant promise of change that ultimately offers us the chance to grow as the seasons themselves shift.
As I have pondered this season the last few months, I have realized that spring is all about becoming. The world around us is shifting, reshaping, and changing sometimes subtly and sometimes drastically. We find ourselves frustrated with how it may still snow next month or the month after or maybe we cannot put away our winter coat just yet. I look at this as a reminder that when we ourselves are becoming we many times desire the things that lie ahead forgetting that the reason they haven't arrived is that we aren't ready for them. Spring is the best reminder of what it means to become. Some years it comes sooner and spring is smooth. Other years spring can be hard, trying, and heartbreaking just like a hard season in our own life of becoming. Watching the seasons, especially spring, is a wonderful reminder of learning to wait for things to arrive when they are meant to. It is the reminder that in the meantime preparing in anticipation for the moment we are meant to bloom is the greatest thing we can do as we wait. Today, I challenge you to think about spring as your own season of becoming. Write down one thing you can do each day to help you step closer to a goal. Post it somewhere you will easily be reminded. Maybe it is to eat healthy. Maybe it is read a chapter in a book of a new skill you are learning. Maybe it is to go to the gym. Maybe it is to call someone you love. Maybe it is to spend 30 minutes on a dream project. Whatever it is, think about this season as your chance to practice becoming as you watch and anticipate the warmth of this new season. If you want, don't forget about March mindfulness worksheet as well to help you stay focused if spring is just taking its sweet time.
This season is a beautiful one, but many times the beauty is missed in the longing for what hasn't arrived. This in turn, causes us to miss the important steps we take to arrive at our vision of spring. So today, open the curtains, let in the sun, note how the spring light shifts across your unmade bed, notice how the color temperature has changed, make a promise to yourself for the season, and then do something to celebrate the onset of a new chapter in your year. Today things are new. We start again and spend the rest of this season becoming and shaping ourselves in new ways.
Happy first day of spring my friends. Beautiful things are ahead because that is what spring promises us and she never disappoints we just sometimes must be patient enough to let her show her beautiful self when she is ready.
Tomorrow, I am going to be sharing tips for organizing and styling your open shelves so you have the inspiration you need to refresh your space most likely with things you already have. Make sure to sign up for our newsletter to not miss a single post each weekday.