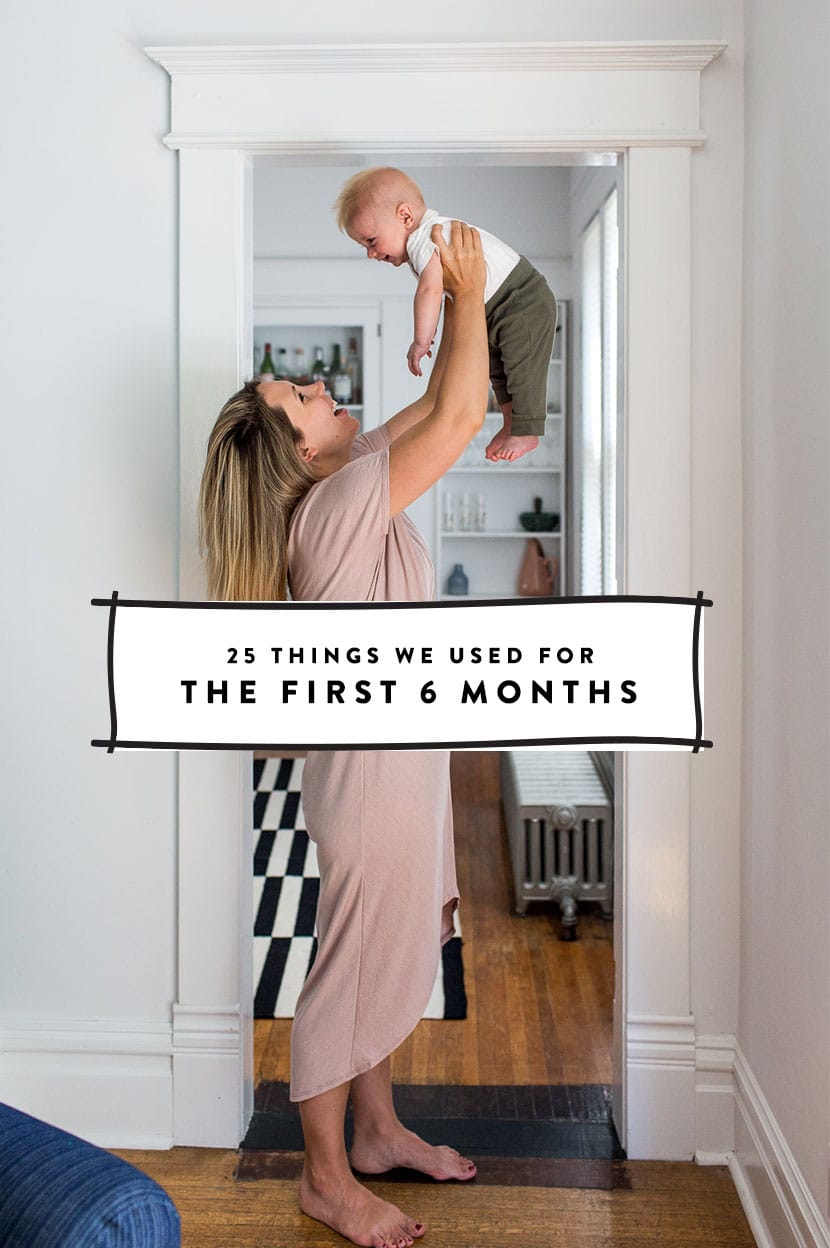 I have received a lot of questions about the exact items we ACTUALLY used during the first 6 months of having a baby. I was putting together this giant list of all the things you could possibly need and then I realized that is no where near as important as the really essential pieces we couldn't have done this whole baby thing without at the first half of this year. So, I have gathered up the essential items we think you need for the first 6 months from our own experience.
5 Tips When Choosing Essential Items For 6 Month Old
First though, I am giving a few tips about things we learned in the last 6 months about the things you do need for babies for those first months.
1. Function over form
I wanted everything to be beautiful when I had a baby and there are MANY great products that are beautiful and functional, but sometimes there is an equal none beautiful product that works equally well for half the price. Weigh what matters to you. Sometimes we went the expensive route and sometimes we opted to not. Where we compromised the most was with things we knew had less life in his first year such as a jumper, travel items, monitors, etc.
2. Keep their clothes simple
The first 6 months aren't for dressing them up in "outfits" stock up on cotton and comfy clothes. They sleep 4 -5 times a day and so they basically just need pajamas 24/7. Don't make yourself miserable or them by putting them in things that they have to change out of for nap times. We had about 3 outfits that were nicer we could put him in and that was about it. Everything was basic, cotton, and comfy but still extra cute.
3. Leave Room in your Budget
You will have bought something you think that will work great, but then you will bring that baby home and they will hate it. I think we dropped nearly $100 trying different swaddles for Hayes that he couldn't pull out of. I am not kidding. So leave room for trial and error in your budget to find the things that work for you and your baby.
4. They grow VERY fast
I mean in 2 months Hayes went from newborn size to 3-6 month sizes. In 2 MONTHS! Yeah. So don't drop a lot of money on clothes for that first 3 months and then they spike in growth again between 5-6 months in a big way. I know things are cute but instead invest in things that will bring sanity such a great toys like that children's outdoor playhouses for sale, gear, and so on that when baby #2 comes along can be reused as well.
5. Give in some
I was very much in the arena that all of Hayes's toys will be perfectly Instagram perfect toys. Then, he turned 4 months and I realized that the pretty toys held his attention for 2 seconds and the crazy ones with colors, sounds, and more were his favorite. So find some kind of compromise for toys. There are lots of great companies that make cool toys but are still going to keep your baby entertained and learning.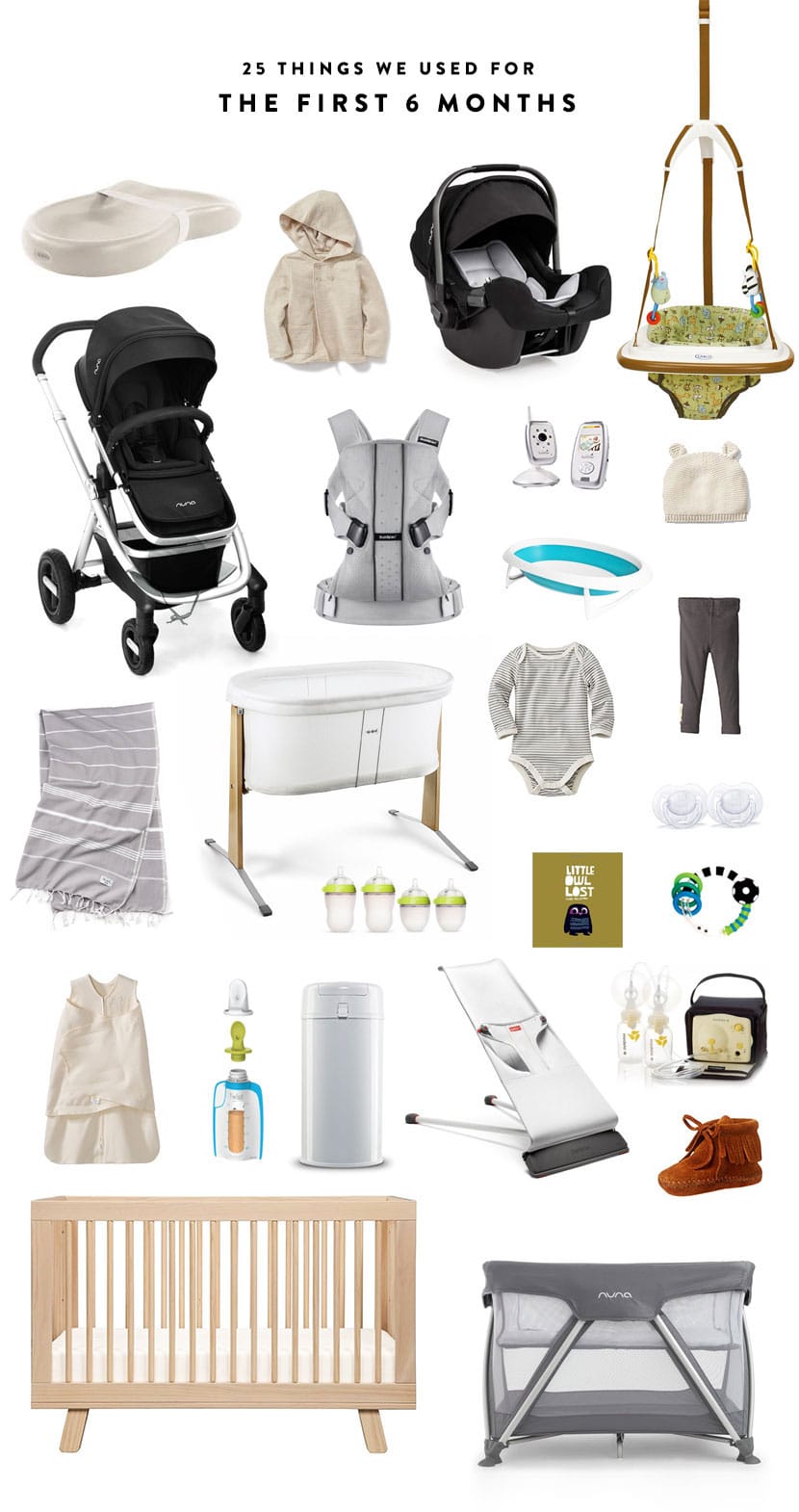 25 Best Essential Items For 6 Month Old
Now here are the 25 items we HIGHLY suggest having. I also have given multiple options of things for you and not just the ones we purchased. Many of these other items were ones we considered instead of the one we chose.
1. Turkish Towels
This probably sounds SOOOO weird…or maybe not, but really. This is one of my top tips to new moms. Turkish Towels are absorbent, large, soft, dry quickly, wash well, and come in great patterns and colors. We always have one EVERYWHERE we are these days. What I love is that I can wrap up Hayes in them anywhere and they will breathe well, are soft, warm, and cost under $20 a piece. Sure as a towel they seem a little much for the one season you might use them, but as a baby blanket they will be your best friend. Here are 3 I love!
One: Morning Culture (We have this one) | Two: Aria Gray | Three: Black and White
2. A Baby Jumper
We purchased one of these probably earlier than we should have, but Hayes was exhausting us with his desire to jump so we let him start using it around 3 months. Since then that jumper has gone EVERYWHERE with us because it is the best babysitter for us and he LOVES it. I mean like complete joy on that boy's face everytime. We didn't spend a lot and got the safest and most affordable option. There are cooler ones, but in all honesty this is the classic style and it works SOOO well that it is hard to justify more than $30 for it in my mind. Sometimes function outweighs style in my book.
One: Graco Jumper (We have this one) | Two: Jolly Jumper | Three: Evenflo Jumper
3. Baby Carrier
I tried other carriers and i loved this one because of the 2 positions you can have them at as they grow. Hayes seemed to love it as well. Now, I may try our other one that he is bigger, but when he was very small the inward facing newborn position was perfect for him. He loved it and so did I. It was SOOOO easy to take on and off and keep him safe. My only thing with this was that I wish it had a pocket somewhere and a cover I could pull over for the airport and sunny days especially now that he is hyper aware of his surroundings. But for real, do not go into motherhood without one of these. I liked the wraps but Hayes HATED them. I am hoping baby #2 will have other opinions because it is really nice to have them close. Either way, this is how you grocery shop, run errands, cook, do laundry, work standing up…for REAL. It is your third hand.
One: Baby Bjorn Carrier (We have this one) | Two: Ergo Baby Carrier | Three: Solly Baby Wrap
4. Transitional Sleepsack and/or Swaddle
Oh, the swaddle and sleepsack struggles of the first 6 months. I feel like I have learned so much in this area. My gosh. We started off by just normal swaddling and then discover the Halo Sleepsack, which sufficed till 3 months. Then I tried beginning the transition and he hated it, so we regressed and then tried again with this 50/50 sleepsack a month later and it worked. We removed the arms when I started noticing him putting his pacifier in and out through the sack so I knew he was ready, which was at about 5.5 months. Now at 7 months it is the perfect sleep sack and we have two. I probably will transition to something else as the weather cools down till he is ready to be just in pajamas as he gets closer to a year.
One: Halo Sleepsack | Two: 50/50 Swaddle | Three: SwaddleMe
5. Bassinet
We had two bassinets because we needed one for travel and one for at home. The bassinet was so important to me because Hayes so little when he was born that I couldn't bear the idea of him being in a giant crib. We had our at home bassinet which was the Baby Bjorn one. It naturally rocked if he wiggled at night or i could soothe him easily with just a finger while I stayed in bed. It was so nice. I could also see him. It lasted till he was about 3 months only because he became mobile far earlier than I think most babies do. He could have stayed in it till about 4 or 5 months from the weight limit on it. Then after that we used the Chicco bassinet for traveling or if he came to nap out in the studio while we worked. He loved it as well. If you get this one buy this sheet and these waterproof pads for it…it took some trial and error to figure that out. This was our crib most of the summer as well till he started reaching for the sides and moving all over and wanting to sleep on his stomach.
One: Baby Bjorn Bassinet | Two: Chicco Travel Bassinet | Three:
6. Onesies
Hayes lives in onesies of all kinds. I hunt for them on sale all over and made a rule to never spend more than $5 for one. I found my favorites were from Loved Baby and H&M. The designs from Old Navy are also great. I buy onesies in mostly neutral colors, which worked out extremely well.
One: H&M | Two: Gap | Three: Old Navy | Four: Hanna Anderson | Five: LovedBaby
7. Baby Monitor
We actually planned to not buy one because our home is small and we thought we didn't need one. But we went on our first trip to see Mike's parents and I realized we couldn't really keep going without one. I was freaked out about it after hearing all these things about the two-way talking ones being hacked that we decided to go for as basic as possible while still having video. In all honesty, I really love the one we got and it isn't fancy. I don't think I would do anything different.
One: Summer Infant (We have this one) | Two: Summer Infant Wide-view | Three: Motorola Monitor
8. Food Storage System
One of the best most versatile things we purchased was a food storage system like this one from Kiinde. The packets can work for breastmilk but then as we have progressed into solids. I can use them to make a couple days worth of food and if we are on the run at meal times, I can just attach the spoon spout and feed him anywhere. It has been so simple and great for traveling this summer.
9. Travel System (Stroller and Carseat)
There are TONS of options when it comes to a travel system, but let me give you a few thoughts. We love our Nuna Ivvi system with the Nuna Pipa car seat so much. I debated about whether to get a convertible seat or an infant one, ultimately the infant option won out and I am still happy with our decision. The convertible we have been using while with my parents has been good, but when he is napping it is no fun to have to get him out. But especially during the first 6 months the infant seat with stroller attachment is worth all the sanity in the world. We could go grocery shopping, he would sleep, we pop him back in the car, and he would sleep till we got home….Oh those were the days! But it allowed us some hours of peace to do errands or just get some things down around the house. It was great. Now, as he gets taller and longer we are seeing the advantage of a convertible that reclines and has positioning options. He also will no longer stay asleep in the car seat when we remove it, but while it lasted it was wonderful. Below I chose three great travel system options that are at three different price points and still look great!
One: Nuna Ivvi System with Nuna Pipa Car seat $$$ (We have this one) | Two: Uppababy Mesa Carseat and Cruz Stroller $$ | Three: Chico Bravo System $
10. Bouncer/Soother Seat
This seat was basically how I got anything done in the house. Hayes from the get go was an active baby. He didn't just want to lay around anymore after 2 months. He wanted to move and move as much as he could. That is why this seat was so important to us. I would cook and he would bounce. I would work and he would bounce. It was a savior. Here are a few bounce seat options to consider.
One: Baby Bjorn Mini Bouncer (We have this one) | Two: Mamaroo | Three: Nuna Leaf with Wind Attachment
11. Baby Toys
This goes without saying, but the toys are necessary after about 1 month. Once they are more aware of their world they want something to do. So I found some different toys that still even at 7 months are still doing the trick for him.
One: Sassy Teether Rattles (Hayes's Favorite) | Two: Musical Rattle Set | Three: Wood Blocks | Four: Stacking cups
12. Pacifiers
I couldn't wait to get a pacifier going for Hayes. Our pediatrician suggested waiting till he was at least 2 weeks, but the day he got one made his day. Since then we have one in nearly every room, every bag, and every pocket. They go everywhere with us though he only uses it during naps or when he is teething. It has saved many moments, to say the least. I tried all the different natural kinds, but ultimately he liked Avent's pacifiers. I read later babies take to the pacifier that most represents the nipple they are the most use to. Not sure what that says about me, but hey, it works and that is what matters.
13. Cotton Leggings
Since day one cotton leggings have been a go to. Hayes is a skinny lanky kid (who would have thought that would be our kid), so it is hard to find pants that are the proper length and the proper waist size. I was given a pair from Nui Organics and they are now our go-to pants for him. I mean he was still wearing 0-3 month size from Old Navy at 6 months because they were the only size that would stay on while he scooted around even though they were more like capris on him. Either way, cotton leggings are comfy, great for them to wear all day, and are easy to keep on hand. Here are some favorite pairs:
One: Zara | Two: Nui Organics | Three: LovedBaby | Four: Old Navy
14. Cotton Hat
When they are super little hats are super important since most of our heat escapes through our heads. Since Hayes was born in the winter, we used a lot of hats to keep him warm. Here are a few we liked.
One: Gap | Two: Bitte Shop | Three: Beanie hat | Four: Old Navy
15. Sunhat
We use this almost everyday especially during the warm months. Lots of cute ones but we went for the iPlay one.
One: iPlay | Two: Zutano | Three: Gymboree
16. Crib and Mattress
This is basically essential. Though we didn't make the transition to a crib till about 4 months, I still think it is nice to have a crib. I would place hayes in there to play when I ran to the bathroom or when I was putting his clothes up. I knew he was safe and he could play with his activity center in there. We went with a Lullaby Earth mattress with a breathable mattress cover. Our crib we went with the Babyletto Hudson in Natural. We highly recommend them both but here are some other options in various price ranges.
Our Selection: Babyletto Crib and Lullaby Earth Mattress $$ | Two: Newton Mattress and Oeuf Crib $$$ | Three: Ikea Crib and Dream On Me Mattress $
17. Bottles
We tried a few different bottles particularly ones for breastfed babies. I found Hayes was always frustrated with bottles and after a while I realized it was because my flow was WAY faster than the bottles. I didn't figure it out till he was ready to attempt to hold a bottle though so we have struggled on the bottle front to find the right one for us, but we have liked the Medela ones and the ComoTomo ones as well. Now we are using a training sippy cup from Nuk and he loves that so we are just jumping in that direction now.
One: Medela Bottles | Two: Comotomo Bottles | Three: Lifefactory bottles
18. Playard
This has been an essential piece to traveling this summer and we love our Nuna playard, though it is very heavy and large. I am not sure if there are better options in terms of weight, but it is very easy to setup though so there is that. We like it, but it is all about finding one that fits your life the best.
One: Nuna | Two: Cosco Crib | Three: Baby Bjorn
19. Board Books
We are always playing, eating, patting, chewing, and more on books around here. They are an essential part of life and Hayes has his favorites. I have a few of the ones we take everywhere with us below.
One: Little Owl Lost | Two: Hello Animals | Three: DADA | Four: The Hueys in the New Sweater
20. Button Down Sweater
We have two button down sweaters for Hayes and they have been essential to life with him. It is hard to stuff a little baby into a coat and these when paired with layers and blankets do the trick well when they are under 6 months for most weather conditions. I picked a few favorite ones for you.
One: Gap | Two: Old Navy | Three: Zara | Four: H&M
21. Booties
Even in the summer, their little toes get cold so make sure you have some. Below are five pairs we liked.
One: Gap | Two: Old Navy | Three: Freshly Picked | Four: Minnetonka | Five: Zutano
22. Bathtub
We got the Puj tub and have liked it, but I would say there are a few others I would have gotten as well. What I don't like the puj is that can be wobbly in larger sinks which isn't something that made my life easier. Also, as he has wanted to sit and we wanted to transition to a bathtub it has been hard with this tub, which means we have to take a bath with him. All fun, but sometimes can be a lot to do on a busy night. As we have traveled it has been wonderful though. So to give you options, I have a few others I have thought would have worked even better.
One: Puj (we have this one) | Two: Boon | Three: Munchkin
23. Diaper Pail
This was the best thing ever especially during the early days of what seemed like dozens of diapers he would go through in a day. Now, it isn't as big of a deal, but it is still really nice to keep the smell is great too.
One: Bubula (we have this one) | Two: Playtex | Three: Munchkin
24. Changing pad
We have LOVED our Keekaroo to the point we brought it with us to Michigan for three months. Yeah…serious. It is the best thing we have in our list of products. I don't know why you would go with anything else considering it doesn't need any added sheets or covers. When it was cooler out I would toss down a burp cloth but I would then use that to clean up the Keekaroo when needed. It has been amazing for us.
25. Breast pump
If you plan to breastfeed then you will need one of these. Even if you plan to not use a bottle still get one because they will help you stimulate production and more. Plus, if you have insurance than they give you one for free. I was told by everyone to go with Medela and man it is my best friend as a mom trying to run a business. It offers me a lot of freedom so I highly suggest one. I don't have another option to recommend to you because no one has ever mentioned they use anything other than Medela.
So other parents, what do you think was essential for your first 6 months? Did we forget some of the big items outside of the obvious ones like diapers and so on? Would love to hear!