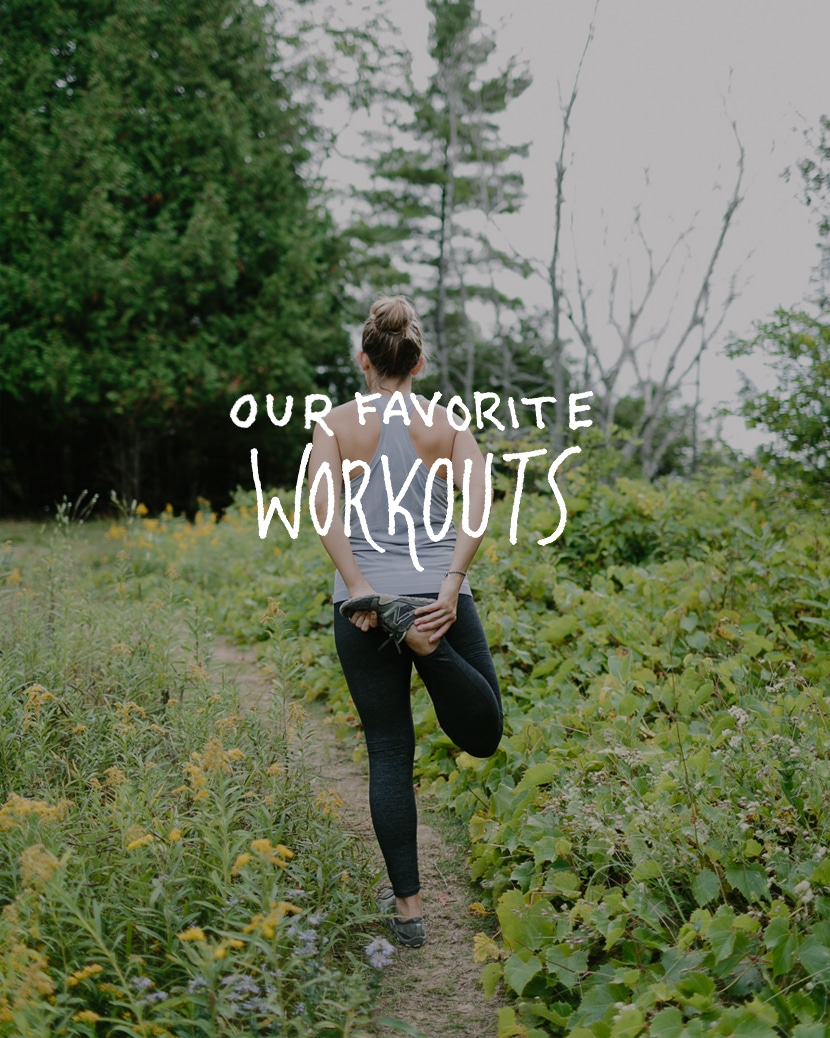 Do you sense a small theme this week?! Fitness is all over the internet and on everyone's mind, so we figured we would jump on the train and put in our two-sense since we are very much into a fit lifestyle. When Mike and I were in college, he was a hockey goalie, and I was an outside midfielder on the soccer team. We had played sports our whole lives. Then when college finished up, we also stopped working out because we had never had to do anything outside of our workouts for team sports. A pant size bigger later we realized we needed to get serious about taking care of ourselves. We also knew we weren't as happy as we were when we were staying fit playing sports.
Over the last six years of our marriage, we have taken it upon ourselves to find a workout and system with both our workout life and food life that makes both of us our best. This is a continual process even now, but after this last year, we feel we are starting to find that we have found some system that works for us.
Both of us are people who need to work our bodies to feel both mentally, emotionally, and physically our best. The varying levels of that depends on many factors but between that and eating a whole foods diet low in sugar and processed foods and carbohydrates, we both have met goals for ourselves over the span of the last six years. We also can attest to the positive results of a clean lifestyle for our creativity and ability to be better entrepreneurs.
We have gone through a journey of finding our perfect workout, and we found committing to a workout together was our best way to stay strong and focused in order to accomplish. We have tried a TON of workout plans, and we thought we would share the ones we both loved, saw the best results from, and helped us become our best selves. Sweating is good for the soul and moving your body is even better in any way especially if you find yourself at a desk all day. We believe planning a workout into your day is one of the most important meetings you take all day and can make all the difference in your life. Workout can help you create more confidence, which leads to better work in the long run.
Okay so let's jump into our list. The way we put this one together is we are sharing from approachable to the hardest and most difficult. The further you go down the list the harder and more effort the workout takes and challenge goes up as well. Here we go:
Born to Run:
Now this isn't exactly a workout plan, but this is where it all began for us in terms of finding ourselves as previous athletes in a whole new world of working out on our own without teams. We both read the book. I hated running even though I was a soccer player. I thought it was the worst thing in the world and saw it more like a punishment. You can read some about my thoughts in this post, but what I learned from the book was the importance of establishing a workout that you can stick with. Running is simple, natural, and breeds so many healthy benefits when performed properly in the right form. Reading case studies of people and cultures who run makes you a fitness believer not only in running but the act of moving. If anything this is a great motivational book as well as a great first stage of getting your cardio levels up so you can workout best.
10 Minute Trainer: 
And you thought a workout routine had to take you 30+ minutes every day. WRONG. Tony Horton is one of the many trainers through the Beach Body collective. He began that super extreme workout of P90x, which we will get to, but this was brilliant when we found this workout. It came at a time when we were slammed with work, but didn't want to give up an active life. If you are just wanting to start to make an impact in your day with working out, he offers up workouts that literally are done in 10 minutes. This is great for busy people, and we stuck with it because of that. We got pretty darn fit and during our SUPER busy time in life, we were still able to remain healthy and get a little sweat in everyday. This would also be an awesome workout for moms who literally might only have 10 minutes to spare most days…if that. The workouts are also very approachable, so nearly anyone can do them as well if you aren't ready to jump into anything too hard just yet.
Kayla Itsines: Bikini Body 12 Week Program:
Okay, let me just tell you how I am a Kayla believer. She is one cool chick, but I probably love her more because of her workout system than anything else. You pay and download the PDF workouts, keep them on your phone, and you can do them just about anywhere. The workouts are three times a week, and you alternate with low-intensity workouts (walking, elliptical, cycling, yoga, etc.). The program takes about 30-40 minutes out of your day and gradually works you into a lot of intensity over the weeks. Though it is a female based workout, Mike loves it. Most of it is based in plyometrics and using your own body weight. The key here is the recovery you do on the alternating days with stretching and using a foam roller. I had always been of the mentality you need to workout hard everyday, but Kayla showed me differently. This is the workout I was doing right before I got pregnant and I owe my abs to her. I am looking forward to using this program to get back in shape again post baby. For now, Mike is using it himself at the gym and sees great results. The workout is an investment, but if you have struggled to find results and enjoy your workout time this may be a great answer. I cannot speak more highly of this program as a former athlete and someone who has seen the results first hand. I felt so comfortable with my body. I never got bulky but I did get strong, and I trimmed up. None of the other workouts I have done (especially with such little effort and time) offered that level of happiness with my results. Plus, Kayla is awesome to follow on Instagram. She is a very positive person and has great encouragement on those leg days you just don't know if you will make it through.
T25 with Sean T:
Oh, how I love Sean T. Right before we discovered Kayla's workouts we were doing T25. We had originally done his Insanity workout system, which was literally insane and I suggest but only if you want that type of intensity. T25 is a five day a week program that takes 25 minutes. It is very intense for that 25 minutes but nothing if you are fairly fit on any level you cannot do and if there is a move you are struggling with there are alternatives to most every move. Sean T is pretty awesome to workout with as well. Best part you don't need a gym membership, and if you have a good space in your house, it is easy to set aside time each morning and evening to fit this one in. We made it through the whole program, and I loved it, and my cardio levels were higher by the end. I was for sure fit, and I felt very tight all over, but I would say the big thing I felt I needed was off days to recover. I know that better now after doing Kayla. It is a lot every day. Some days I would go on runs because I felt my body needed to shake out the workout from the day before. That was the only downside for me. Other than that it was a pretty great way to get fit and was easy to fit into my schedule daily.
P90X:
This was the workout you get into pre-CrossFit. Tony Horton is one intense guy. His workouts are just as intense. His ten-minute trainers are just a warm up for the hour and a half commitment of P90X. We made it almost all the way through P90X. The workout was intense there is no doubt and sometimes it was everything I could do to finish it, but I loved the intensity. If you are someone that wants to get your butt kicked this is a workout I would consider. I saw results with this workout, but not the exact ones I wanted. I started getting bulky in my arms and legs not long and lean, which left me leaving the workout behind. I have a tendency to bulk up quickly, so I need more cardio than weight in my workouts, but if you are someone who wants to build muscles this is a great way to do it. Mike saw very few results from this one in comparison to the others, and this was his least favorite of them all.
Outside of these fitness systems, we have found that yoga and pilates are huge in creating a healthy workout lifestyle. These workouts help to build strong muscle connection, balance, and flexibility which are important in feeling confident in more difficult workouts. I have found that interchanging my days between yoga and a high-intensity cardio workout gets me the greatest results and giving me the leanest body. We have done cycling and CrossFit as well. Neither were my cup of tea. Mike enjoys them more than me, but between the cost commitment in comparison to one of these workouts, we felt it wasn't worth it. I have loved using Kayla Itsines programs more than anything over the last six years of research we have been doing. It is still hands down the best workout I have experienced and suggest it to everyone I meet.
We would love to hear what has worked for you? What your experiences have been with working out and if any of these workouts you have done as well? Let's hear it!