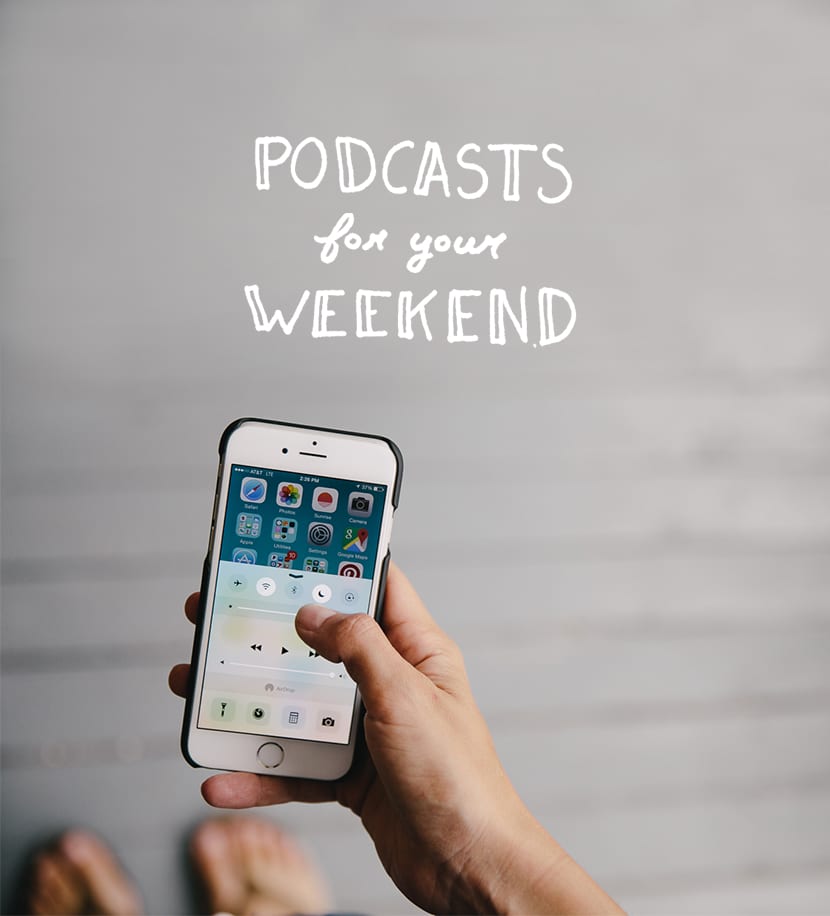 Mike and I are very into listening to podcasts. With all the car travel we did this summer we really got into listening to them on the road. The truth is there is only so much music you can listen to and only so much talking that can happen when driving for 2-3 days at a time, am I right?!
We love using Stitcher as our source for finding podcasts and keeping up with our favorites. Since we have been slightly bingeing quite a few of podcasts while traveling, we have been on the hunt for new ones. We thought we would share a list of a few that have recently caught our eyes and ears in hope to hear about some of your favorites! If you have a road trip planned this weekend or just some weekend projects, a podcast can be the perfect accompaniment to make the time pass more quickly. Here are a few we are starting to dig into. Let us know what you have been listening to lately.
One Part Podcast:
Jessica Murnane runs a lifestyle blog and also interviews top lifestyle voices. She is a mom and also has used plant-based eating to help her fight endometriosis. In her podcasts, she gets real with some of the top names in lifestyle content creation and many entrepreneurs.
Well Aware with Lindsay Mueller:
I love Lindsay's calm and relaxing voice along with the beautiful imagery that accompany each posts and podcast on Well Aware. She does a great job of sharing content centered around mindfulness and living a life of mental and physical health. Since getting into meditation and essentialism I have loved her blog and podcasts as accompaniment.
Here's the Thing with Alec Baldwin:
Some days I still wish 30 Rock was on the air. Since it is not I now can get a dose of some good ole Alec Baldwin on his podcast. Yeah, that's right. Alec has a podcast where he interviews celebrities and all sorts of interesting people. A recent good one was with Dustin Hoffman.
The Dinner Party Download:
If you are dinner party lover like we are think of this is as the perfect dinner party every week. I have always loved a little bit of The Splendid Table especially on a lazy Sunday, but think of The Splendid Table meets the humor and fun of Stephen Cobert. Tons of interesting guests, knowledge to keep you on trend with new food and drink recipes, a weekly joke, and even some classic etiquette questions. You can't say no to a good dinner party.
Being Boss:
This one is run by Emily Thompson and my friend Kathleen Shannon. Both are girl boss entrepreneurs with tons of experience and thoughts about what it means to rock at entrepreneurship. They interview some great people each week and cover some great topics. They also hold some fun events. I highly suggest give them a listen if you run your own business or have ever thought about it.
Love+Radio:
The first Love+Radio story I heard was actually on 99% Invisible in a piece called "Living Room." It was the most intense storytelling I had heard outside of Serial. I won't ruin the story for you but it was an honest and deeply personal view of human life and love. Since then I have wanted to dig into more of the stories that Love+Radio is telling each month.
Call Your Girlfriend:
A podcast for long-distance besties as they say. Two best friends call each other cross-country and chat about everything you can imagine. If you love Broad City this may be a great alternative when you are waiting for a new season to come out.
Startup:
Is all about the truth behind starting and launching a business. In the first season, the writer and producer of the show, Alex Blumberg shares his story of getting his own business off the ground. In the new season, they follow an entirely new business. If you are a business geek or just thinking about starting your own company this is a great listen.
Have a wonderful weekend friends! Thanks for all the congrats about our little guy and the great recommendations for London. Lots of fun ahead!