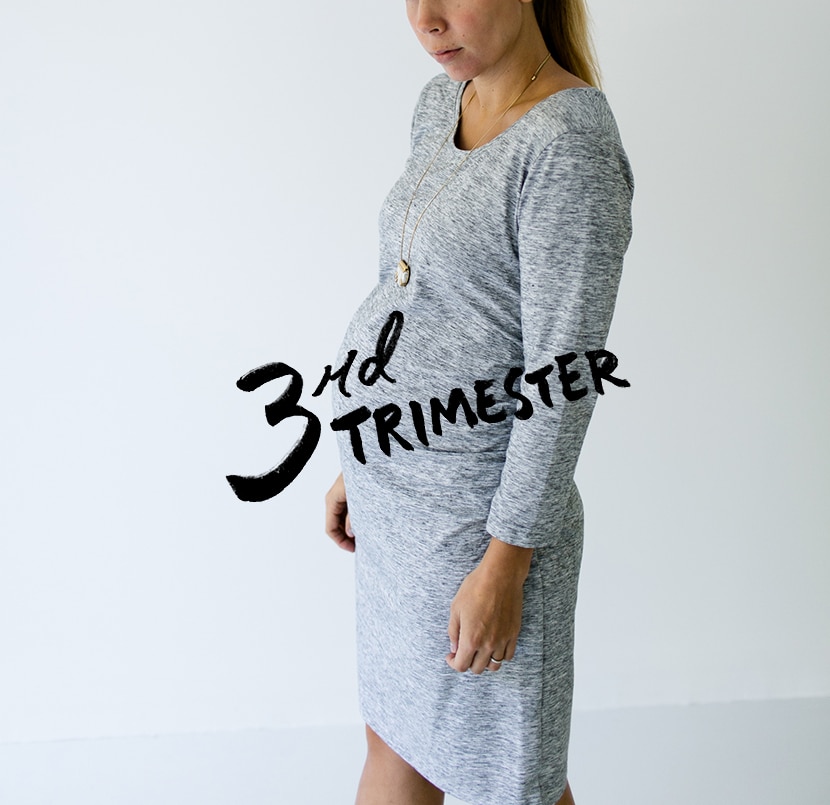 I've been asking myself when does my third trimester start? Entering this last three months is both exhilarating and frightening in all the ways you may expect. We are preparing a room, taking birthing classes, visiting my gynecologist, and beginning every other week appointments these days. But internally we are soaking in how special these quiet moments are as just the two of us. Sure they will come again, but not in our 20's, and not in this stage in our life. It feels a little like ending a book in a series you have dearly loved and aren't sure if you are ready to end, but you are excited for the next book to start all at the same time. There are a few tears a lot of laughs, but mostly savoring. There is this beauty to the life we have right now just as there will be a completely unique beauty to the one about to start in just three short months.
Mike and I feel lucky to work together everyday, to have a relationship of openness both creatively, emotionally, and physically. I have cherished these last three years where we have fought to start a business as a couple. There have been huge ups and downs, but this year has made us the strongest we have ever been and I feel so thankful to be welcoming a new life into a world of love, openness, joy, and creativity. The last three years have made me excited to start a whole new adventure together. Though, there is a small part of me sad to see life change. I think that is normal and healthy to mourn one time in life when entering another. I am sure these emotions will ebb and flow as we become closer as well.
What has amazed me the most about these last 6+ months is how I have changed. I don't mean physically though that has for sure happened as well, but I mean emotionally and mentally. I never anticipated to look back at a picture of me from April and May and say who I am has become different in this process. A lot of growth has happened for me in terms of relearning what it means to be me, trust people, know where I belong, where I don't belong, and accepting these truths. But within the journey of growing a baby I have learned so many things that it seems who I was before all of this is so distant to who I am now in all the best ways. I started reading a book called The Mindful Mom to Be and the tag line of the book was "You aren't just birthing a child you are birthing yourself as a mother" Those words have stuck with me over the last few months. I have had to allow myself to embrace who I am in a way nothing else in my life has forced me to do yet. I never expected this part of pregnancy or becoming a mother, but it has brought me such calm to see myself become more of who I am meant to be. It is hard to gauge these things in the moment, but looking back I now look at photos from months ago and then I look in the mirror today and see a very different woman. I see someone who knows herself, has more grace for others, accepts life in a gentler way, and knows what she wants. In order to document this time I wanted to share the things I feel I have accepted, learned, and become in these last few months. I know there are more to come, but for now these little changes in myself feel so amazing and I am sure only that only entering into this journey of bring life into the world could have done for me.
Everyone should do what is best for them and so should you:
This was an early on thing, but the deeper I get into pregnancy, birthing choices, and parenthood I realize how everyone needs to do what they need to do. Everyone is extremely different and my experiences aren't other people's, my choices aren't right for others, and vice versa. We all have different perceptions of the world and that means our choices need to be different. Knowing that my choice is my choice and trusting my intuition is just as important to be confident in as it is for me to accept someone else's decisions and intuitions. This has bled into life outside of pregnancy. Watching other people make life decisions I may not agree with isn't always easy, but I have come to learn that we all make them for a reason and we cannot judge someone or make them believe what we believe. All I have to do is focus on my choices alone.
Life is far more meaningful than I ever expected:
Gosh my 20's was so full of things that felt so monumental. Relationships shifting, moving, decorating my house. Not that those things aren't important or major because they are, but a few months into growing a human I realized how meaningful life really is. Instead I find myself making quicker decisions, moving past something faster, and letting things go more easily. Nothing seems quite as important to me as what my body is doing and how all of these things will affect that little life. I have never felt more meaning and purpose in my life than I do right now. Sure the kid thing changes your life, but I have no doubt even in this moment it will be the thing that makes me a great human. It for sure can make you miserable if you allow it, but the gift of being trusted to raise another person to see the world, grow into someone who loves, has empathy, can create, knows independence, and sees beauty in the world both seems like the greatest gift and scariest at the same time. We are choosing to see the beauty in it all even amongst the mud of the early years ahead. Too often having a child is made to sound terrible, painful, and challenging but when hasn't something hard and challenging been rewarding beyond measure? I am thankful these days for the meaning that this little life has brought not just to me but to Mike and I's life together already.
There aren't words for this kind of love:
I love Mike so much. There are barely words for the love I feel for him, but the love I have for our little guy is so intense in a different way than I feel for Mike. The two of them together oh it isn't even fair to my emotions right now. The English language sucks with expressing emotions and feelings properly. Love is too broad to narrow in on how large your heart becomes so quickly. I have never felt more compassionate and protective at the same time. I know this is all about to expand and expand, but right now I am just loving this level of love we are all experiencing. It is really amazing and completely unexpected.
Our bodies knows what to do:
In the first 10 weeks I was freaked out all the time, but after seeing him for the first time kicking around in there I felt instantly at ease. There is a lot of scary things out there and things go wrong, but I purposefully worked to focus on trusting my body to know exactly what to do. There are days I still have to work at that especially as I approach thinking of his escape route, but these days I trust my body so much I typically can forget that it all is going on. I have never been good about trusting things I don't understand and in fact it can give me a lot of anxiety, but these days I have more trust than ever.
Things are simpler than we think:
I have a tendency to overcomplicate things or overthink things. The last few months I have found intense clarity and direction for what I want and need. I can quickly see what belongs and what simply is just complicating everything. It feels very good. Blame it on feeling more meaning to my existence or whatever you may want, but I am not complaining. There is a lot in our life that can tend to cloud direction and more in life. Lately, I let things go that are unnecessary far easier than ever. I realize clutter only causes stress, which none of us need, but what brings calm is keeping it all very simple.
I am excited to begin this journey into the final trimester and then to very soon welcome our little guy into this world. I wanted to mark this moment, because it feels like one. I wanted to share how this process is changing me. Years ago I was frightened of this time and the changes that would come. Even when it arrived I wasn't ready, but here in this moment and looking ahead I am not fearful. I am looking forward to this new chapter even if it means letting go of another.
Life is amazing and precious. It is meant to be celebrated, documented, and preserved.
Other moms and moms to be I would love to hear how you changed for all the better during pregnancy and into being a mom.