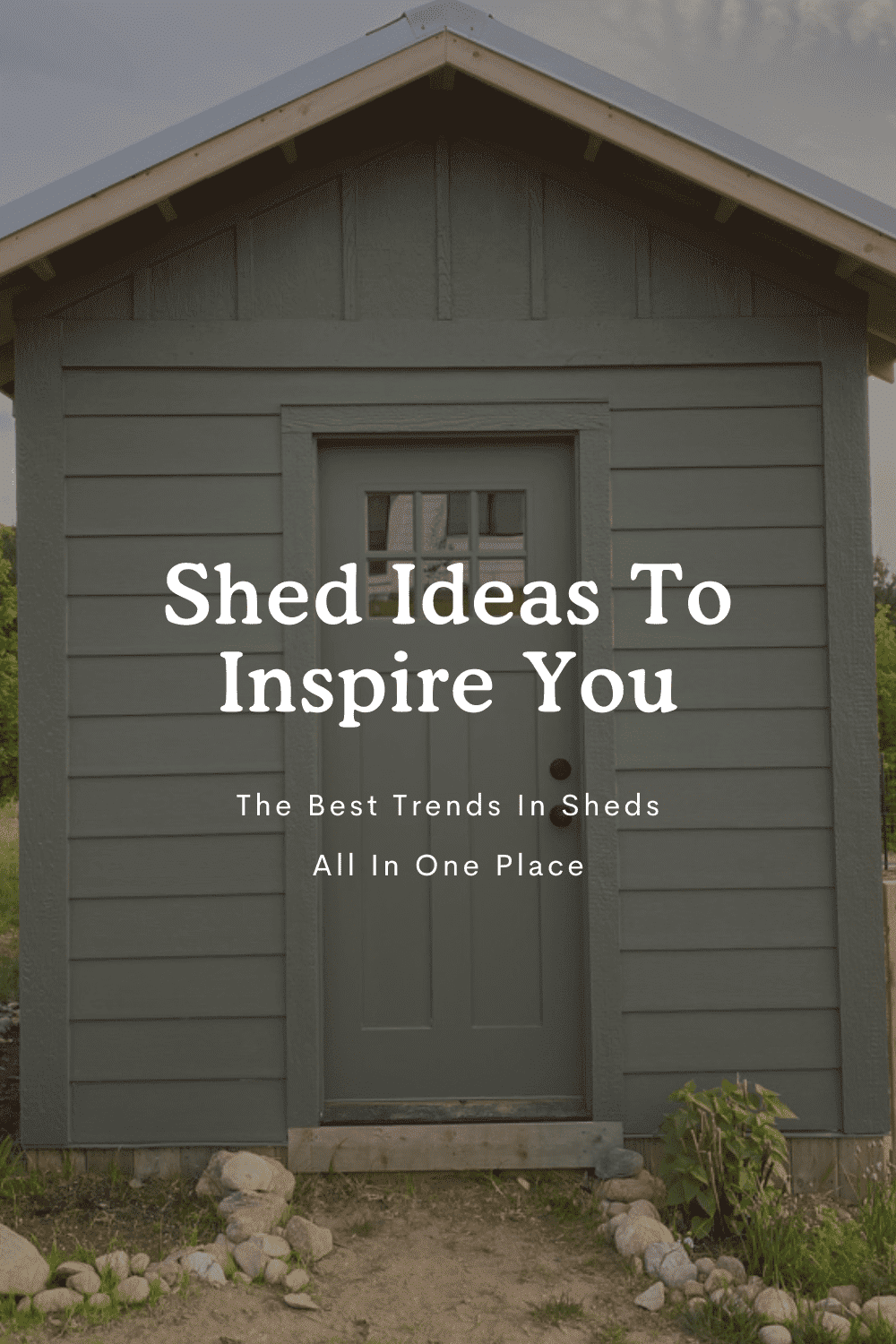 A shed is a great way to bring storage, function, and interest to your yard. The idea of a shed is a fun way to create space to create outside too. They are a versatile addition to any outdoor space, providing storage, workspace, and even a place to relax and unwind. There are so many different types, designs, and features to choose from, it can be tough to know where to start. That's why we've put together this list of some of the sheds that inspire us.
This post will cover different types of sheds and what we love about them. This should help you narrow in on what you are looking for. So you can design and build the right shed for yourself.
Looking for some other ideas, our Chicken Coop Buildout is a great inspiration for building out shed ideas. Though our's is a coop, it could easily be a shed considering its size.
Key Features of a Great Shed:
Designing a good garden shed begins with some forethought. So before we get into inspiration for you, let's nail down some key details that make a great shed.
Size: The size of your shed will depend on how you plan to use it. If you are using it to pot and store things, make sure it is at least the size you can fit inside and move around.
Material: There are many different materials to choose from when building a shed, including wood, metal, and vinyl. Each material has its own advantages and disadvantages, so consider your budget, aesthetic preferences, and climate when making your choice. You may consider using materials that are repurposed as well. Leftover construction materials can also be a great thing to use.
Roof design: To design a garden shed to look right aesthetically, the pitched roof will be key. A good pitch will ensure it has a great look and design to it. If the pitch is too flat, it won't have the same aesthetic appeal.
Windows: Windows are such a great way to add visual interest and bring in natural light to the space.
Flooring: Make sure you choose the flooring that will be resistant to the wear and tear of a garden. You will also want it to most likely to be able to have a drain or washable flooring. This will make it easier to keep clean.
Doors: Make sure to have at least a single door, but in some cases, a double door is a great idea so you can move a wheelbarrow in or out.
Lighting and electrical: If you want electricity to run to it, you hire a professional to install fixtures and plugs.
Landscaping: To complete the look of your shed, making a landscaping plan is essential.
If you think about all these things, you will have a great shed! Now let's check out some ideas I am loving for sheds.

Modern Garden Shed:

Modern garden sheds are the new thing! I love this trend of adding really smart prefab buildings into our gardens. It brings architectural contrast to the wild landscape of a garden. It may be one of my favorite trends. This shed is from Victoria Sprout, who should be one of your top follows on Instagram. Her shed was built in a day. She has a whole story about it! I highly suggest checking it out.

Add a Potting Bench Inside or Out:
I love thinking of a shed as a multi-sensory space. Contrasting the cedar of a potting bench with the white or black interior is so nice. I highly suggest making sure you have this sort of space in your garden shed. You can easily put it inside as well. You can see more from this feature on Hunted Interiors.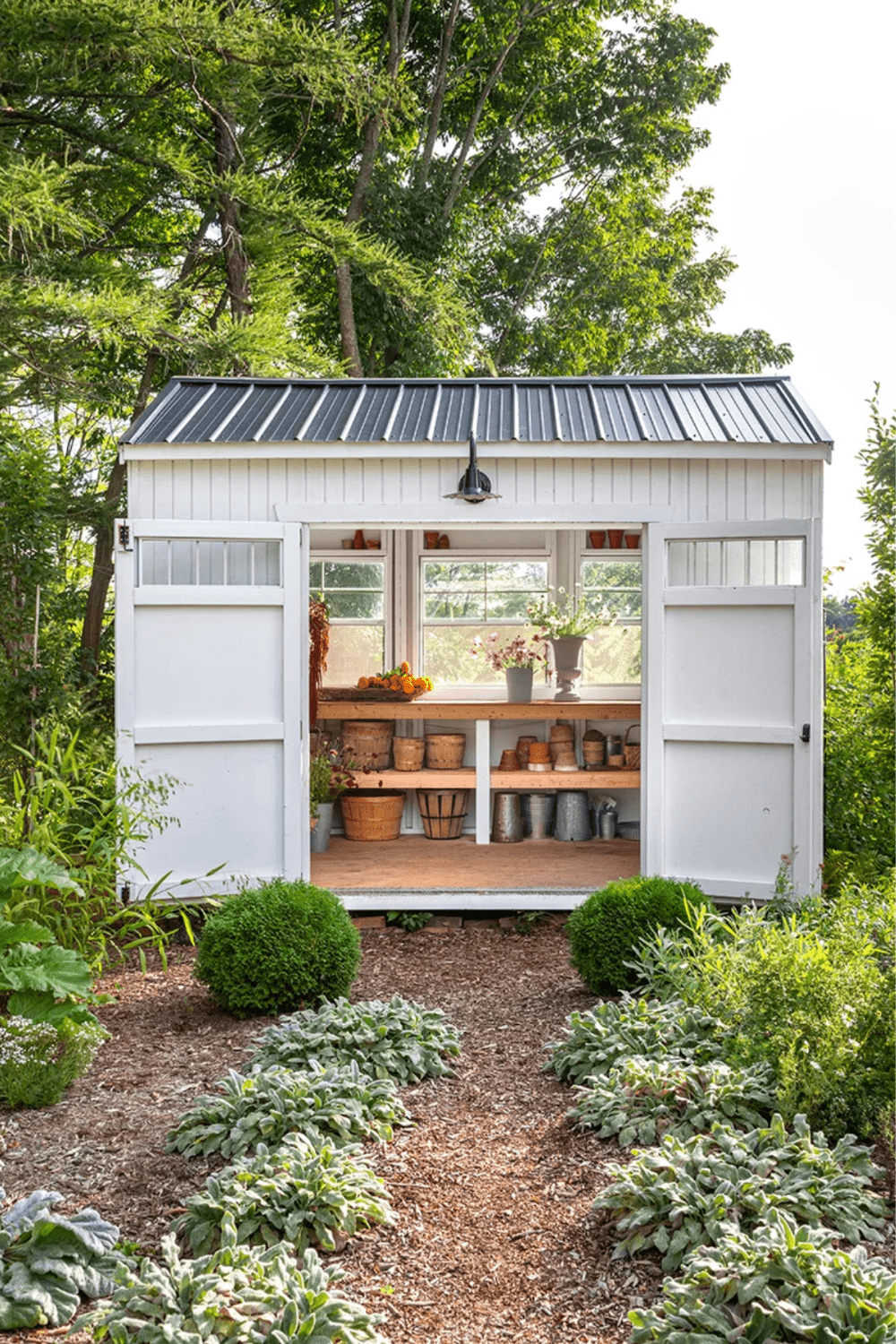 White Garden Shed:
The white garden shed concept will always be cool to me. I love how white counteracts the green. Plus, the white makes it a cooler space as well as reflects light onto all of your plants during the growing season. I love how the wood and white look together. This one was a feature in Domino Magazine of floral designer Cynthia Zamaria.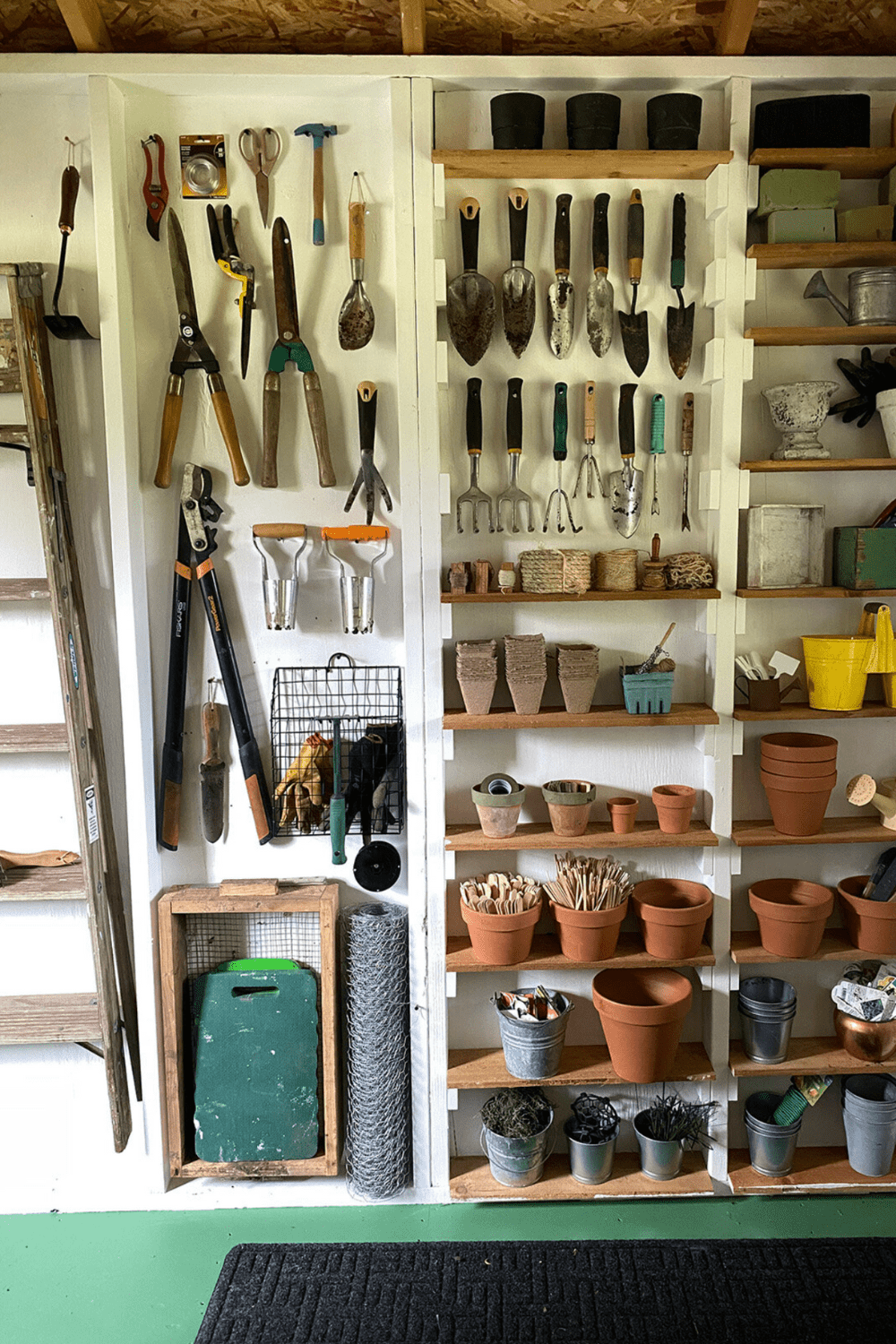 Smart Shed Organization:
Are you even making a great shed if you don't think about the organization? Oh gosh, this is the best part. Make sure that your garden shed has a place for every single thing. It's the best part. I think more gardens should think about this. That said, I love how terracotta pots were used in this updated shed by Made on 23rd.

Add a Greenhouse To Your Shed:
I dream of building a garden shed with a greenhouse like this attached. One day the time and space will be right for me, but just not yet. Till then, I will swoon over these ones like this one from Greenhouse Megastore for inspiration.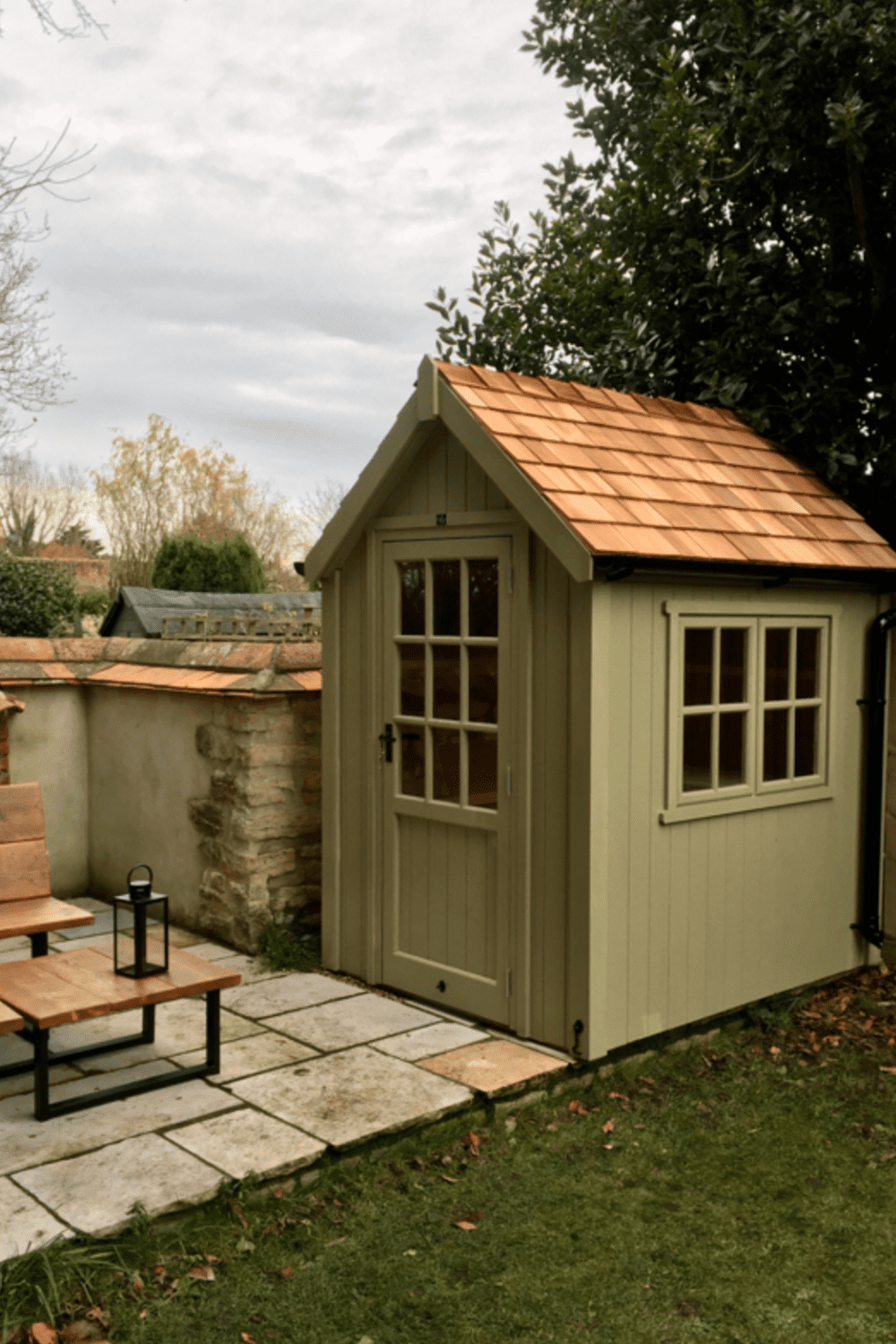 Painted Garden Shed:
We see garden sheds in black, wood, or white, but what about color?! I think a great shed plays with the landscape around it. I love the idea of adding a tone of green to make it play with the growing flowers and grasses, and vegetables. I love this one from Cosy Shed Company.
All these garden shed ideas are so great to get you going in a great direction for designing and building your own shed. If you want more ideas for how we constructed our Coop, which is the size of a standard garden shed, you can head to the post about how we designed and built our shed ourselves. This post also details how to build your own DIY Garden Fence.