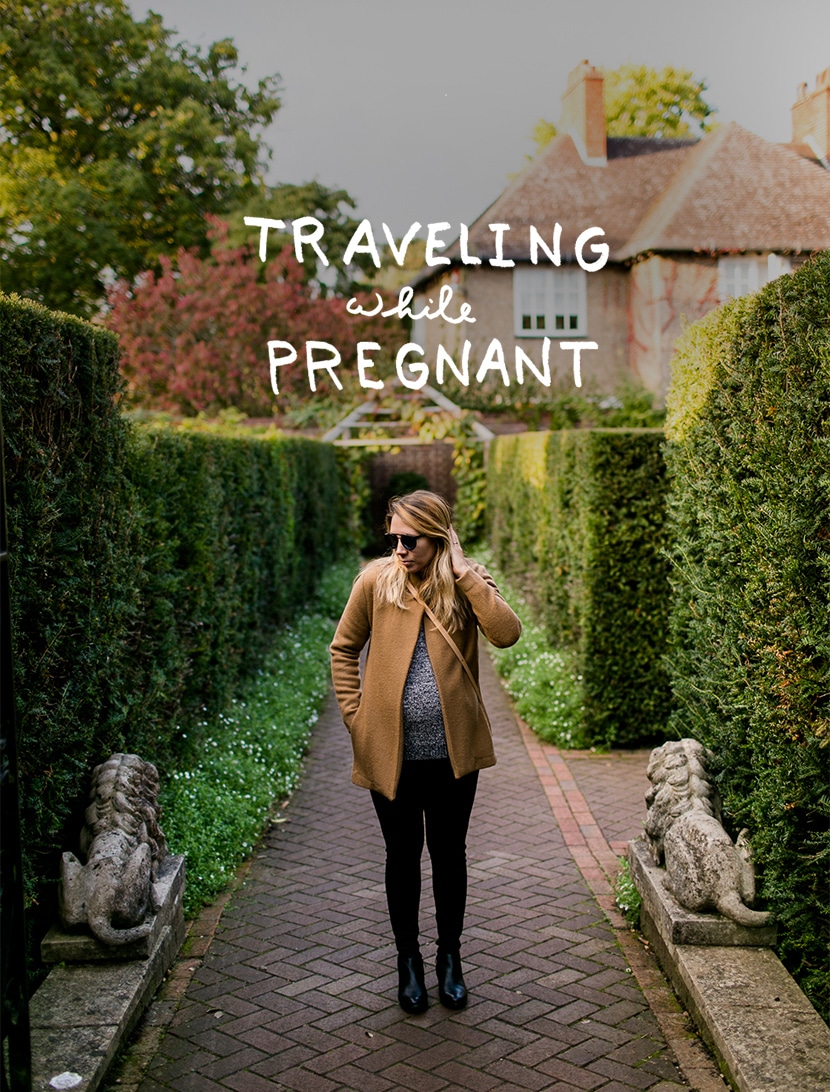 When we booked our trip to London, I had no reservations. I was about 12 weeks pregnant, and I figured this was going to be an awesome thing for Mike and me to take our one last trip without a little in tow or that we would be worrying about back home. Though I knew it would be a different trip, I wasn't quite aware of how different it would be. I felt fine at 12 weeks, and my body was cool with just about anything other than I just breathed heavier. Speed up to the week before our trip and I was a basketcase searching the internet for tips and reasons to cancel. My doctor had given me the go-ahead without a second thought, and I had no reason to fear what was ahead. Nevertheless, there I sat with Google trying to figure out if this was going to be the best thing for our little one and I right now. Never a good place to be when pregnant.
After much talking and discussion I realized I was simply just being fearful, and since that was my only reason not to take the trip, I was encouraged by Mike to take the leap. We made plans on how to make this a comfortable time for me and we teamed up knowing this was going to be a new thing for both of us. I remembered I wasn't navigating all this alone. This was something new for Mike as well, and he would be pulling extra weight during the trip, quite literally with our luggage, to help make it easier on me. He also was going to be giving up some of how he typically would travel even because of me. Things were going to be different; there was no doubt, but along the way we learned some awesome things about ourselves, our relationship, and how important it is just to enjoy the ride.
Ultimately, I had a great time on the trip, and I couldn't have been happier we went. Sure I was sore some days and went through a growth spurt. There were times I was pretty uncomfortable and I caught a cold on our way back, but I faced the fear of it all and everything came out perfectly fine. A few days later I had a checkup, and our little one was happy as a lark in there and so active they could barely catch him long enough to get a good heart rate reading.
That said, I wanted to put together this post for all of you who may have felt like me and were/are frantically Googling for reassurance that it will be just fine. I put together a list of tips that I know made the trip easier and more comfortable without a doubt. I would love to hear any you have as well. I know many of you have traveled while pregnant and have great tips of your own to share. Some of you probably think I 100% overreacted, but mom worry is so real sometimes, isn't it? We all get it for the most personal and random reasons. This was mine. Now the fact I have yet to schedule a hospital tour is another story, that may be a legit thing to start getting serious about. That is for another day, though. For now, here are my tips and any that you would be willing to hand over from your experiences would be great as well.
TRAVEL DAY:
Pack comfortable shoes:
I always want to go for the cute shoes, but learning first hand it only results in me losing at the end of the day. Nab some cute Nike shoes or a favorite slip-on to pair with your leggings or loose fitting pants. You won't regret it.
Don't skimp on water:
I literally drank twice the amount of water I normally would. Before we got on to the airport (we had a later flight) I had drunk 2 liters of water. By the time, we arrived in England I had had a total of 4 liters easily and still felt I could have consumed more. I learned a long time ago while traveling abroad not pregnant from so many long flights that survival was all about water consumption. I would nab the largest water I could before getting on the plane. I don't like being at the mercy of the flight attendant for my water pregnant or not. So, when I began thinking about heading abroad while pregnant, I knew my water game was going to need to be strong to help avoid some of the awful side effects like cramping, swollenness, fatigue, jet lag, and the list goes on. It is amazing the power being well hydrated has no matter what while traveling. Sure this means trips to the bathroom very frequently, but I will take the constant standing (good for the circulation) over feeling jet lag, sickness, swelling, and nausea any day. Before I got on our seven-hour flight from Toronto to London, I bought two huge Fiji waters. I drank both on the plane as well as any water offered by the flight attendant as well. The only other drinks I opted for was a little ginger ale and apple juice to break the monotony of water. Water consumption is my #1 travel tip on a plane, especially when pregnant.
Board early:
They won't tell you this, but most airlines will let you board early if you are pregnant. I don't like accepting special treatment while pregnant, but this was a luxury we grabbed on to with open arms. It meant we had a place for our suitcase, gave me plenty of time to fit in an extra trip to the bathroom before takeoff, and for us to get well settled.
Bring snacks:
You have no idea what the plane food will be like. Being starving on a plane is the last thing a pregnant woman needs so load up on snacks either before you get to the airport or before you get on the plane. I chose these protein bars, organic dried fruits, nuts, and bananas to keep me filled in case the meals didn't work for me. I also brought some green powder packets to help supplement nutrients. Nootropics are becoming increasingly popular with younger generations. As shown in this Qualia Mind review, these supplements can be effective IF they are formulated with the right ingredients and dosages. I find when my body is without key nutrients my symptoms of pregnancy increase so simple things like pouring this into a cup of water can make a huge difference when traveling.
Give yourself plenty of time:
We normally are arriving at the airport right when we need to, but this time we planned in all the extra time we felt necessary. We knew I couldn't make a dash to a gate like I used to be able to, and Mike would be carrying most of our bags, so I wasn't straining my body on such a long day. It made for a more relaxed and comfortable trip even though it meant a little extra waiting around.
Stretch every hour while in flight:
I thought my doctor was crazy when he said this, but he was right. Plane seats aren't the most comfortable and stretching was key to making it through those seven and eight-hour flights across the Atlantic. I would walk slowly to the bathroom since I had to go every hour from all the water I was drinking. Once in the bathroom area I would stretch while I waited for a stall to open up. I felt like an old person, but it always shook out the soreness I was feeling. I figure it worked because I developed little to no swelling during either trip.
Invest in a good seat:
I heard from some friends certain airlines will offer you priority seating when you are pregnant, but our airline wasn't so kind or accommodating (that's what you get when using air miles). Thus, we paid the extra fees for the economy seats with extra legroom. We got bulkhead seats, and they had a huge aisle in front of us so I could stand, stretch, and move as I like very easily. It made all the difference. On the way back we had an exit row with extra leg room as well.
Pack lightly or get help:
It is really important to be conscious of not straining too much on travel days. You are putting your body through a lot so don't make it harder on it than necessary. Pack only what you can carry knowing you will be carrying it with you all day. If you do have to take a little extra, make sure you have help. Mike was a trooper with our bags. He made the trip so easy on me, but without him it would have been very difficult.
Wear stockings and don't try to be cool:
You heard me right; I wore stockings. They aren't cool. Putting them on is even funnier than how they lake you look so be ready for a good laugh at yourself. They make your butt look funny, but when you already struggle with varicose veins before pregnancy, and then you hop on a plane across an ocean they are necessities. Though you may not need medical grade ones if you aren't struggling with varicose veins, I would suggest to any pregnant woman traveling on a long flight to wear them no matter how itchy they are. I wore mine under my leggings for our long flights. I couldn't take it much more after each of the flights and ran to the bathroom to get them off of me, but they did a great job during the flights. I had no vein pain during the whole time we traveled, which according to my doctor I should have had at least some. It was wonderful. I also think it had to do with water intake as well…have I convinced you of drinking more water than you have dreamed of drinking, yet? But for real, if you aren't getting prescription level stockings from your doctor I would suggest these ones for a long slight and these ones for shorter trips or car trips. I have both, and they work very well. You never thought you would get a recommendation like that one from TFE did you? Ha.
Make sure you have vitamins on hand:
I hate when I get off of my vitamin regiment. I always feel icky, so I made sure I had all I needed on me through the whole plane ride and trip so I could feel my best.
DAY-TO-DAY
Choose one major activity a day:
The first day we didn't do this, and I thought my round ligaments and hips were going to kill me the next morning and that night. I got ambitious and, of course, needed to learn the limits of my body. Typically Megan. It didn't help I had a major growth spurt that first few days we got to London. After that, we decided each day we would choose one activity and a couple things right in the vicinity of that one activity. I loved going to the museums because they had bathrooms, food, and places to rest when needed. Once we got down this trick of choosing one major activity, I didn't feel like a cripple each day. It made all the difference for my body. This was a hard realization as someone who has actively been working out the whole pregnancy and being active prior. Everyone is different, but this was how I survived.
Wear comfy shoes:
I already mentioned this, but for your walking around a city, your cute ankle boots aren't going to to cut it. This is where my high top Nike shoes were my life savers. I was so happy I brought them. They made my life so easy throughout our whole trip. I wore my ankle boots for dinners out or things where I wouldn't be walking as much.
Sleep in and don't overschedule yourself:
Each day we allowed ourselves to wake up when we wanted. I found myself sleeping far longer each night because of all the activity. One day we slept in till nearly 1 PM. I figured my body needed it. I didn't feel I was missing out when I kept this mentality. It is hard when you want to fit it all in, but I just had to tell myself this wasn't the time to fit it all in, but to enjoy the fact we came on the trip and got to do it at all.
Leave yourself chill days:
We would average about two days in the city to one day chilling outside the city. It was good to have days for me to recover and not need to travel in and out of the city. It made the days in the city far more enjoyable.
Go to the bathroom whenever an opportunity presents itself:
When you are in new places, you have no idea what your accessibility to a bathroom will be. Drinking the proper amount of liquids you need means you obviously will need to find a bathroom. I also have a baby who believes that sitting on top of my bladder is the best idea in the book. Holding it is no good so whenever you have an opportunity use it. If you find yourself in dire need, London is very kind to pregnant women and most pubs will let you in to use their restroom and many subway stops have bathrooms as well. The bathrooms at subway stops do cost 30 cents so you can plan ahead. Other cities I know aren't as accommodating, so you may want to do research to figure out the best way to navigate it in different cities when traveling.
Listen to your body:
The most important thing when traveling. You know your body. If something is different or not right use your gut. Figure out what you need when something isn't right and don't try to push through it. Eat when you feel hungry and consume water when you need it. If you need to rest, find a good coffee shop or restaurant. It isn't worth pushing yourself. Trust me.
Use Google Maps to star locations you are going to minimize too much walking:
To help minimize the wandering we would find good restaurants and shops before we left wi-fi near the one activity we had chosen for the day. It made it really easy to insure we weren't getting lost.
Ask for extra pillows:
I didn't have my heaven sent preggo pillow with us or my memory foam mattress so having an extra pillow was wonderful to help between my legs at night for my hips. Comfort is key when pregnant so don't be ashamed if you need something. I am really bad at being open about these things. I have a tendency to tough it out thanks to my years as an athlete, but in pregnancy being tough does no one any favors.
Wear comfy clothes:
I pretty much lived in a thick pair of leggings and soft layered shirts and sweaters each day. They are all items I would catalog in the extra comfy category in my wardrobe. I was so thankful I packed this way. Finding the balance between staying stylish while comfy was my daily job, but thanks to the pieces I packed it wasn't too hard. You can see what we packed in this post.
Enjoy a hot shower each night:
To ease the tension and soreness in your muscles from walking around and traveling on a subway, I highly suggest a hot shower. It made all the difference for me. I enjoyed taking a hot shower and the process of going to bed each evening. It helped me get good sleep and fight any jet lag I had, especially in the first few days.
Be understanding of him:
I knew how much Mike was giving up to keep me comfy, so I was always checking to see if there was something he wanted to do or experience during the day. Usually, it involved a pub and a Guinness, which though wasn't the most exciting thing for me, it meant I could rest my feet, experience the culture, and get some water. Some of my favorite moments were in the pubs he wanted to hit. Most importantly it made him feel accommodated which he was making me feel nearly 90% of the day. It was the least I could do.
NAVIGATING FOOD
Learn the proper words and phrases:
This was easy in England, but when we were debating about going to Paris, I was very nervous about making sure cheeses were pasteurized, and I wasn't consuming something strange or raw I shouldn't be. The rules are already difficult enough and then adding another language can make it very stressful. Being able to communicate your needs is very important so make sure to do research on navigating foods when pregnant in various countries.
Eat only what feels safest to you:
Even being able to speak the language I still was probably hyper conscience of what I was eating. I chose foods I knew were hot and had been thoroughly cooked. England's foods are pretty perfect for pregnant women, but none the less I used my gut to figure out what was best for our little guy and me.
Stick to bottled water:
I read this somewhere and thought it was silly at first especially when we were heading to England, but after a while I figured it was a safe bet. Back in the states at home we get reverse osmosis water to drink. Sure it is a $5 add-on to our grocery bill every week, but I know the water isn't full of chlorine and impurities that aren't good for either of us. Also, the water tastes better, which makes it easier to drink and consume what I need. So when we were out and about I purchased bottled still and sparkling waters even at restaurants. This may be a personal thing, but I was more conscious of the amount of water I was consuming every day on top of knowing I was putting good quality liquids into me. Both were important to me.
Be demanding:
I hate saying this one, but if you are anything like me you hate feeling "special" during this phase in life. I hate asking for the seat when my legs are tired or making everyone stop because I need to eat, but the truth is you are special right now. You are doing some majorly hard work. It doesn't mean you have to miss out on everything or make everyone around you bend to your every need, but it does mean you have to communicate your needs. I am still working on this one even back at home. I have always been someone that toughs it out, but that doesn't work well when you are pregnant. Maybe it will come in handy during labor or postpartum, but right now it is all about taking care of thyself.
Okay ladies, what are some tips you can give to others who are planning to travel while pregnant. Did I miss something? I would love to hear some from anyone who has done the more exotic traveling. I think that would be pretty challenging and comes with its own set of tips.
Now go get those sexy compression stockings and drink all the water you can and enjoy the trip!
See our whole trip to London and our trip to Bath if you haven't seen it yet.