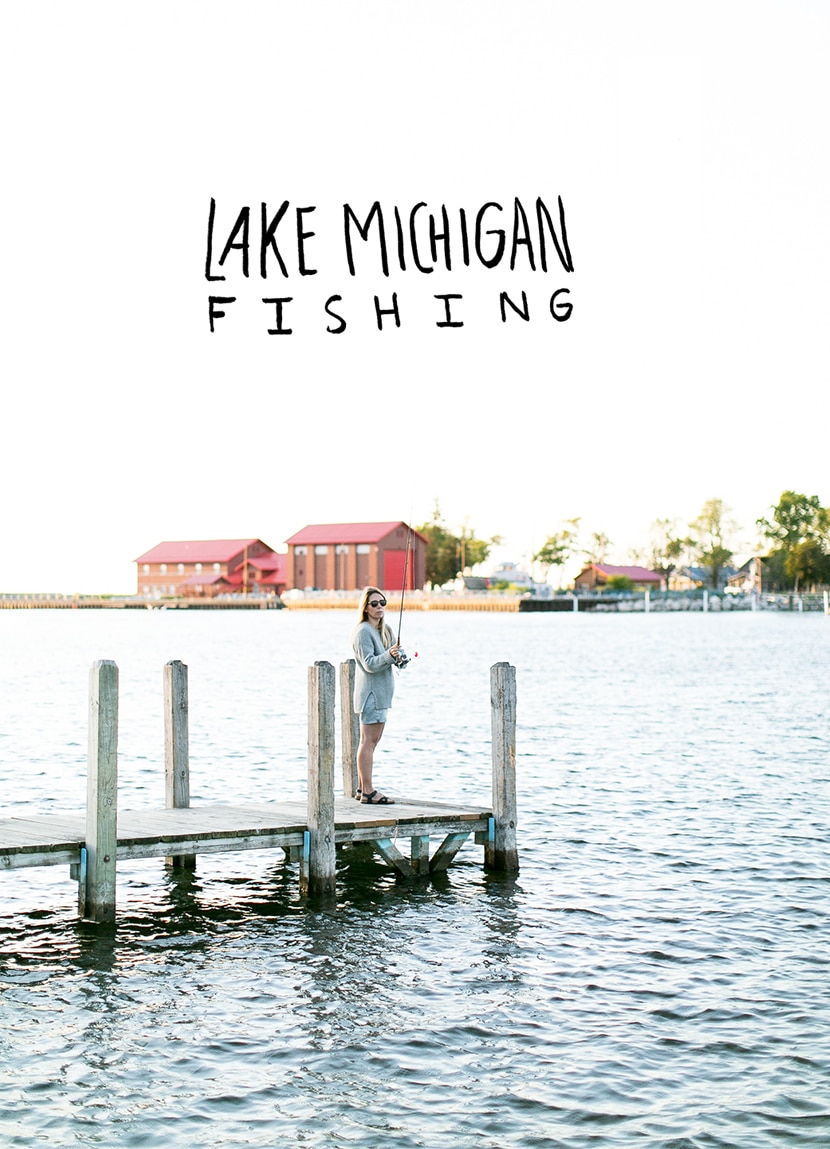 I spent many summer days on the dock when I was younger. I loved watching the fish swim under my toes floating over the water. From a young age, I would find myself at my grandparent's cabin sitting on the dock, stringing a worm on a hook, and catching fish. Sometimes I was alone. Sometimes with my cousin. Though, my favorite times were with my dad. In his college years, he was quite the fly fisherman and still fishes on a regular basis in his 50's. My dad bought me my first fishing pole, showed me how to hook a worm, and most importantly how to cast well. All the tricks I know about fishing including how to catch catfish with hotdogs are from him.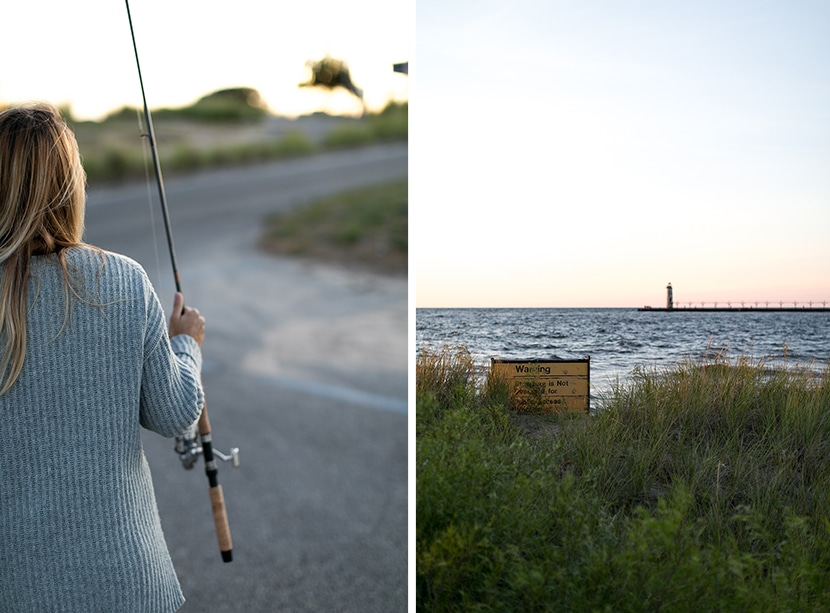 Fishing is a really beautiful thing that seems to be forgotten about these days. I hear about fishing more as being an event where you hire a boat for a day, get a little seasick, and maybe catch a big one to eat that night. I see it quite differently. I have fished very rarely from much more than a canoe or a rowboat. Most of my fishing has been done from a dock. There are stories of me as a young girl sitting on the dock most afternoons at my grandparent's cabin with our family dog pulling in quite a few fish everyday. I would stun them and take them up to the house for my dad to cook up. They weren't big but I was proud and the small amount of edible meat my dad could find on them he would cook for me to have that evening. Those moments are some very fond ones. Many times I miss that little lake and that cabin.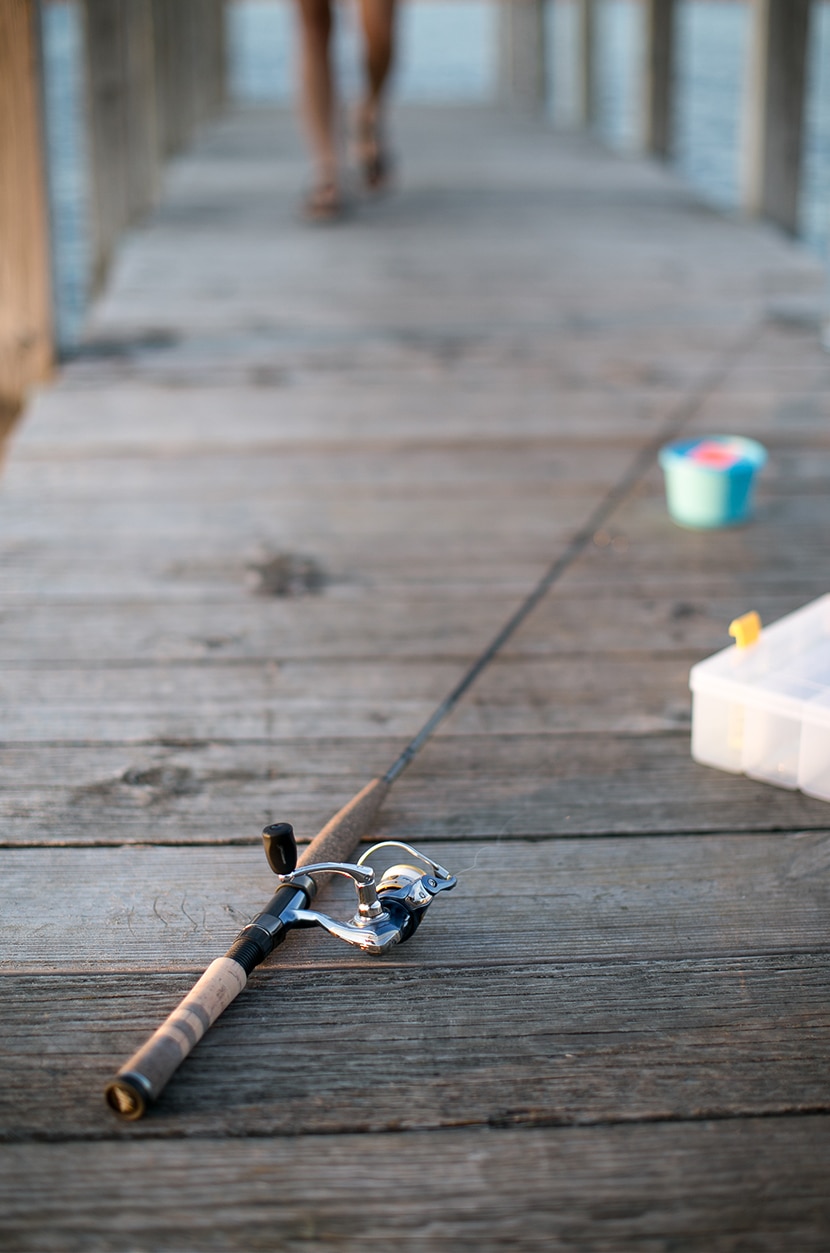 It has been years since I found myself on the dock watching the water ripple, the sun lower, and a bobber hop around and move with the waves. So, when my dad suggested we go one evening with him, we jumped at the chance. We bought our 24-hour license and jumped in the truck to head down to the mouth of the Manistee River that flows in from Lake Michigan. This time of year the Salmon are coming in, and the water is warm enough that the evenings are still a good time to catch fish.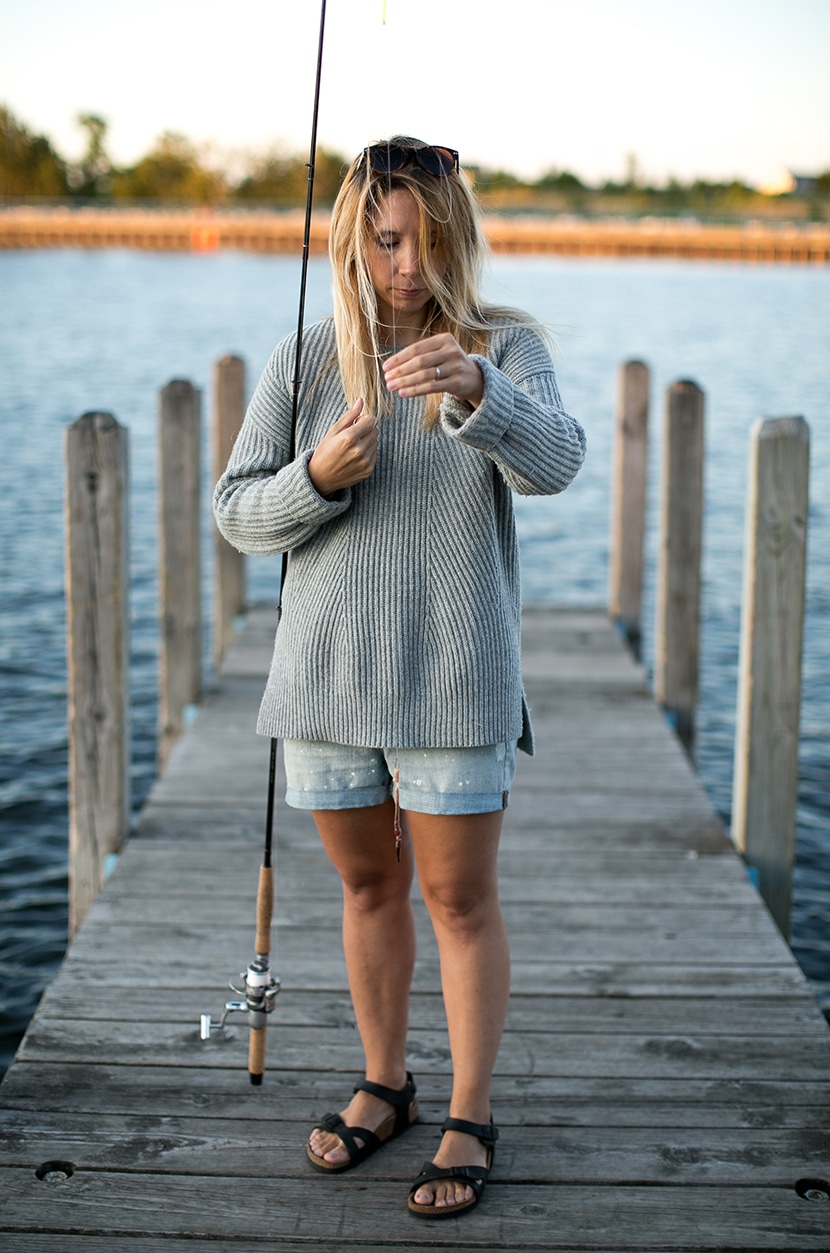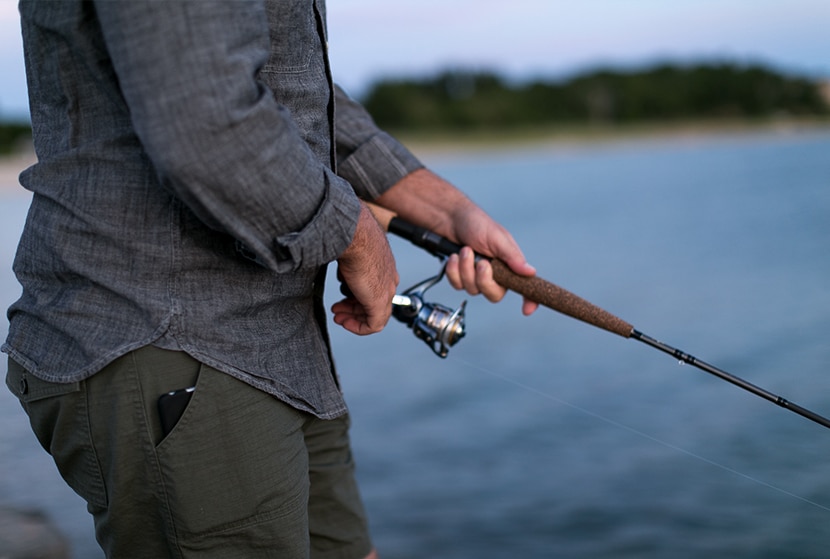 We took our places on some small docks and casted out waiting for a bite. I had a few, but it wasn't anything worth writing home about at the end of the hour. My dad suggested we move over to the lakeside of the break wall. As the sun began to dip below the horizon, we walked down the break wall where the waves were crashing and chose the calmer side to cast into.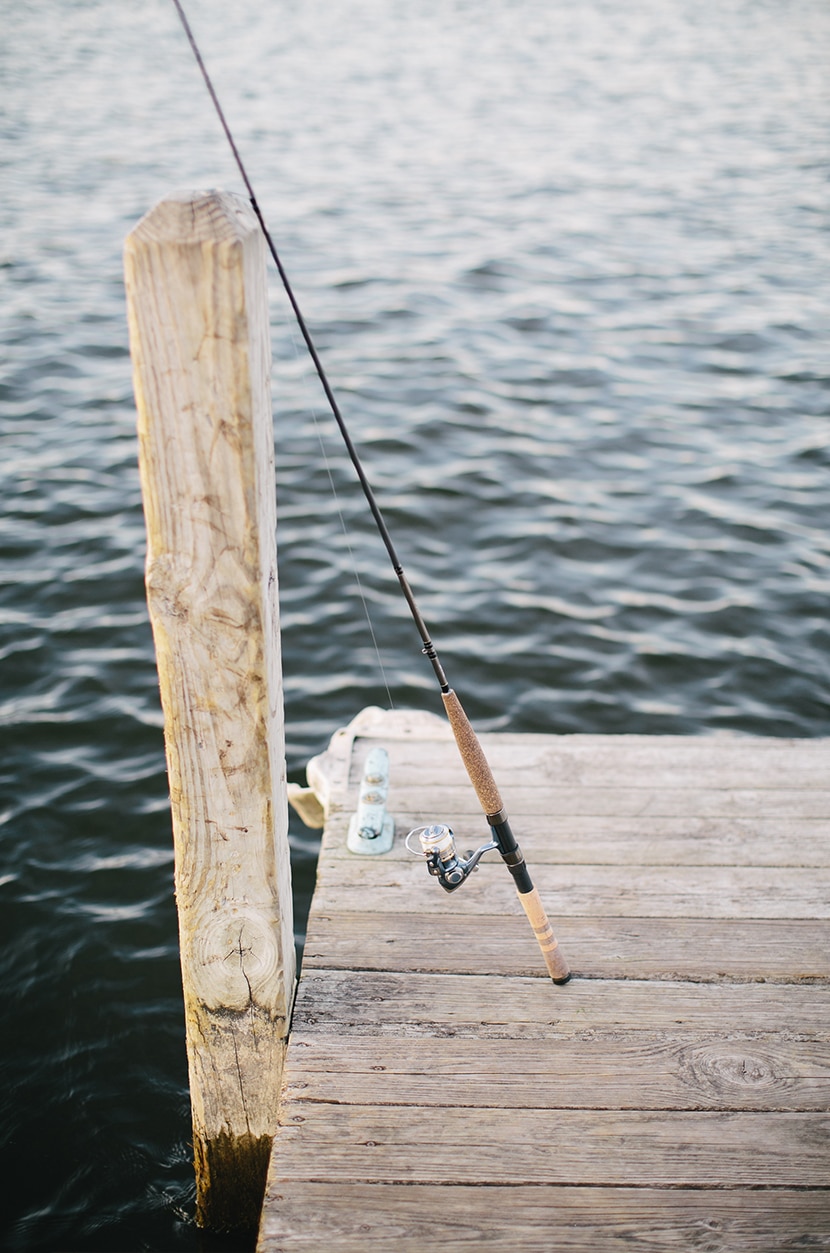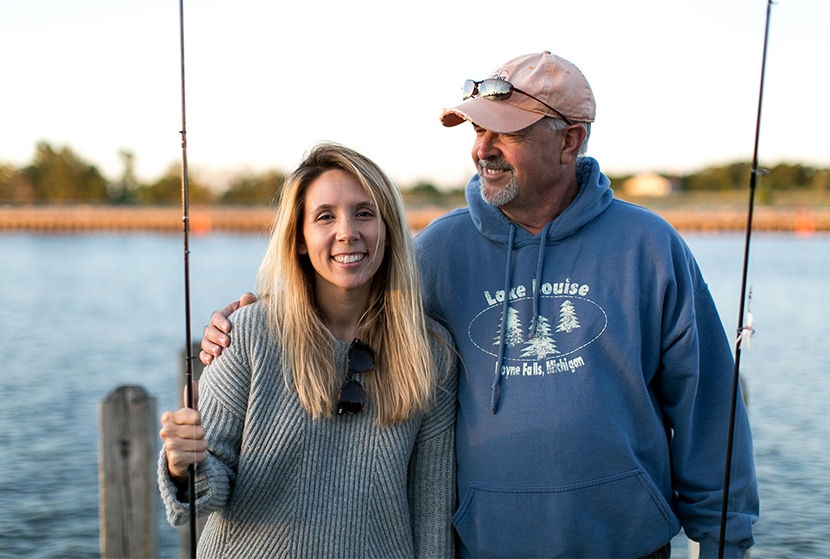 It was a chilly evening. The kind that I associate with the August days in Michigan. It was the kind of evening where you needed a wool sweater by the water, but it was still warm enough to wear your favorite denim shorts and sandals at the same time. I have always loved that combination.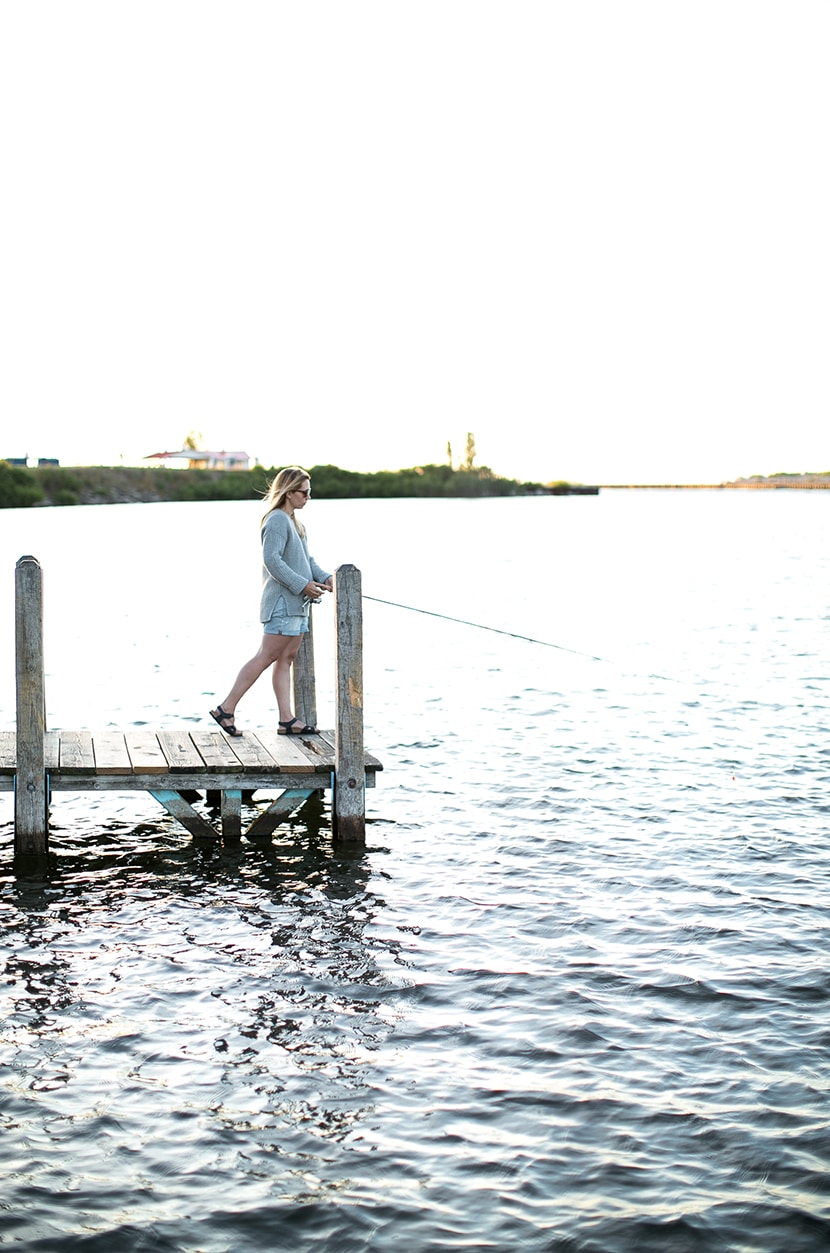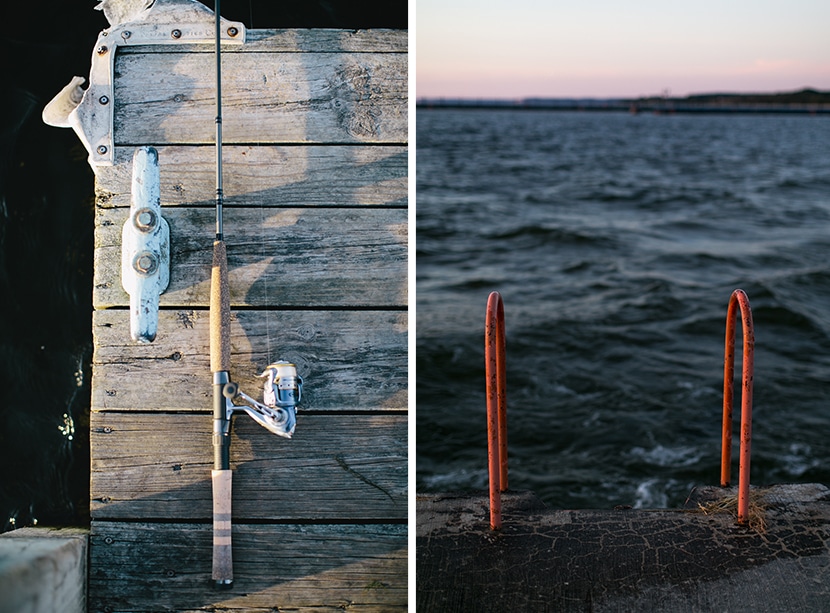 The thing I enjoy about fishing is the stillness. It is a purposeful time away from everything. In its simplicity, it is meant to provide food, but these days when a good fish isn't too far away in a grocery store, it serves for a very different reason for someone like me. Fishing, much like sailing, connects you back to the earth. You have no control of what is lurking beneath the water you are casting into, so you have to ride the wave and focus on the present. It gives you time to think and enjoy the simplest of things.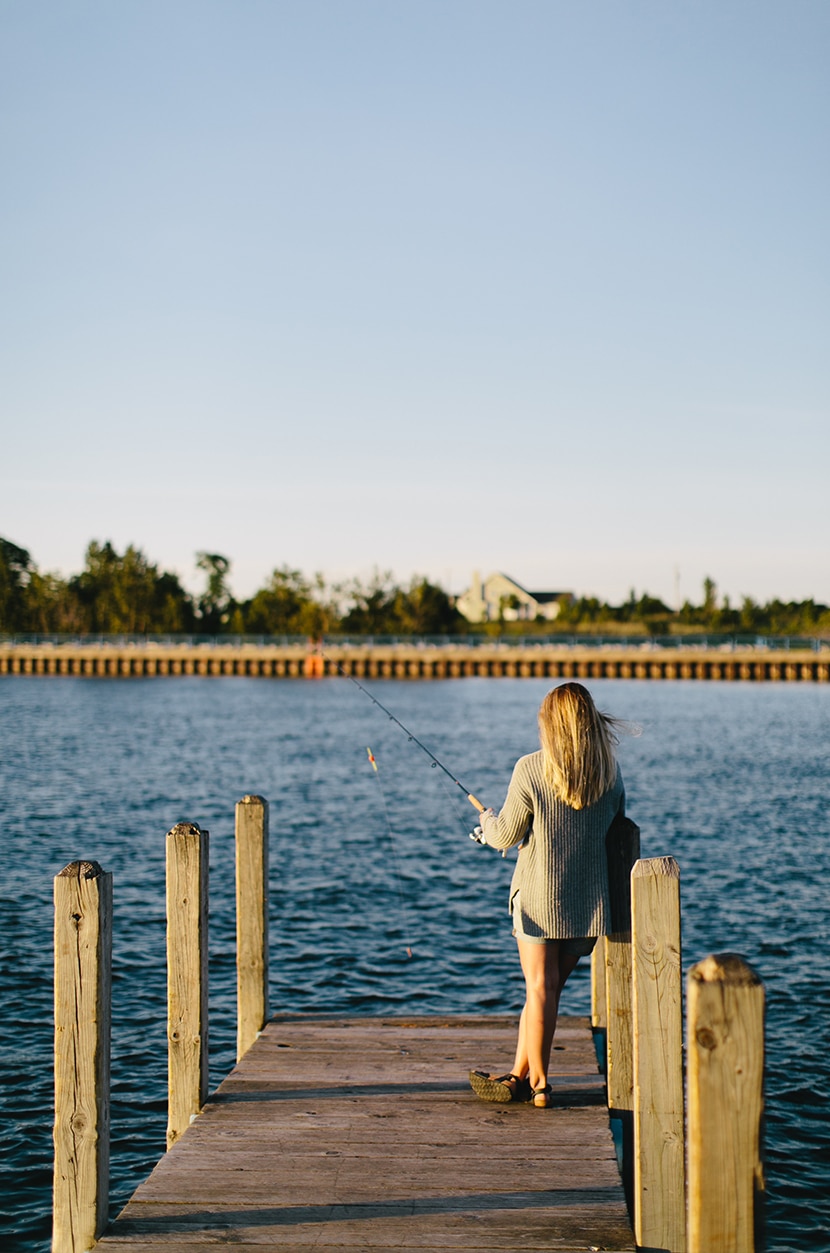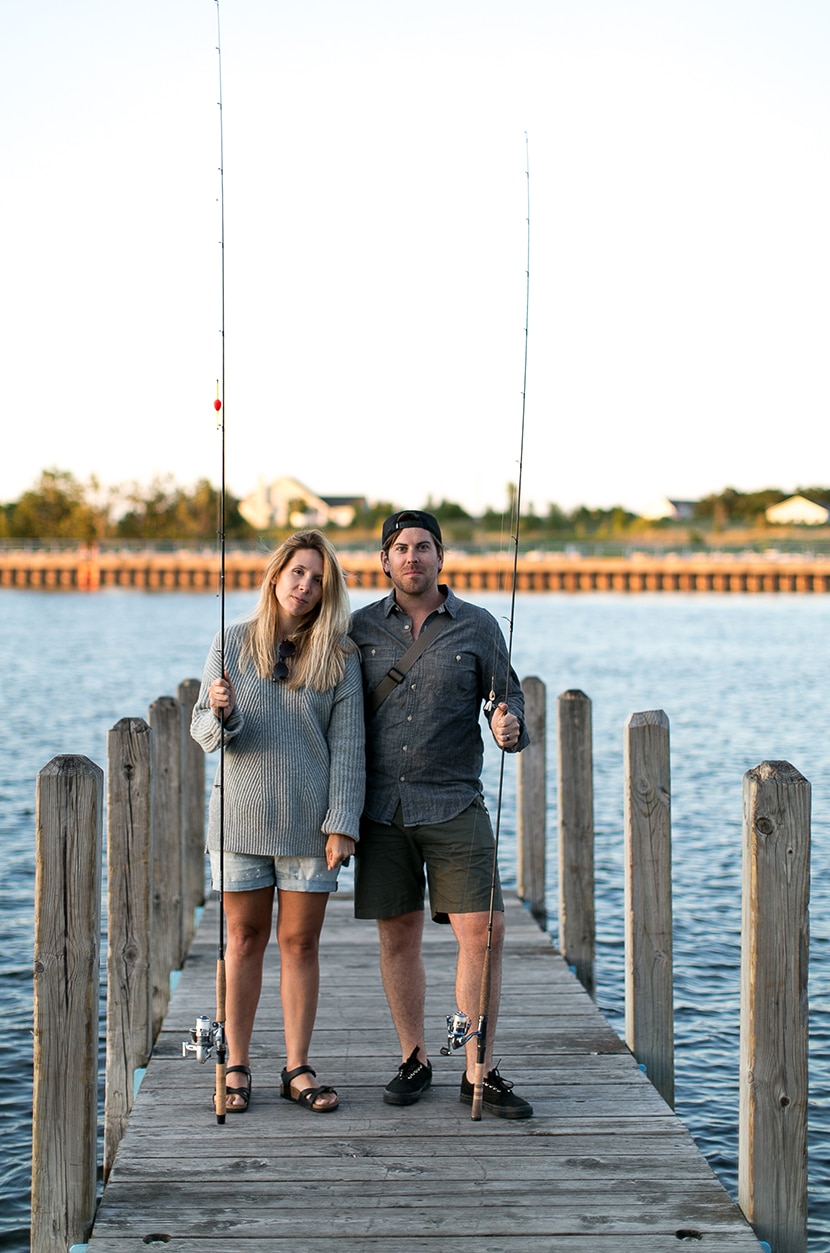 Maybe that is why I love it. You know how I am such a sucker for the simple things in life? It is an uncomplicated activity that takes you outside and forces you to watch the light on the water. Could there be anything better?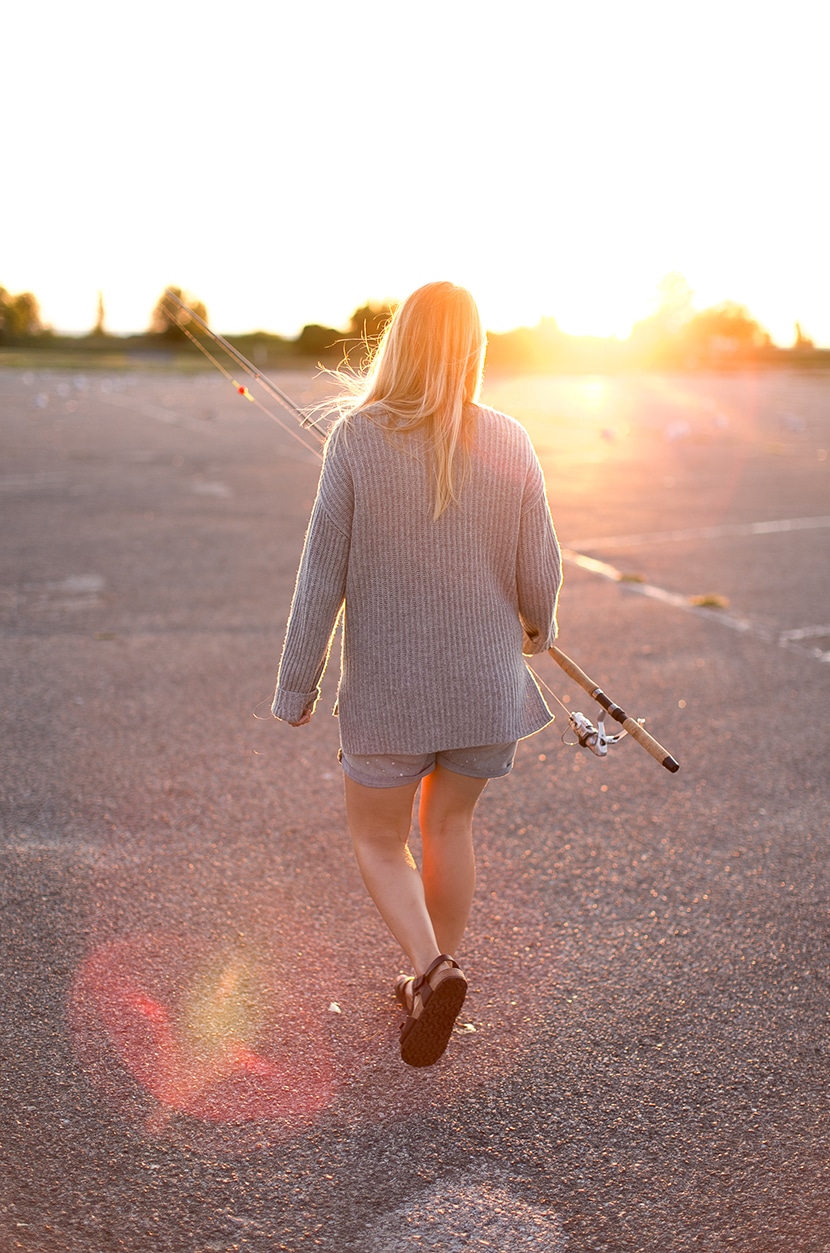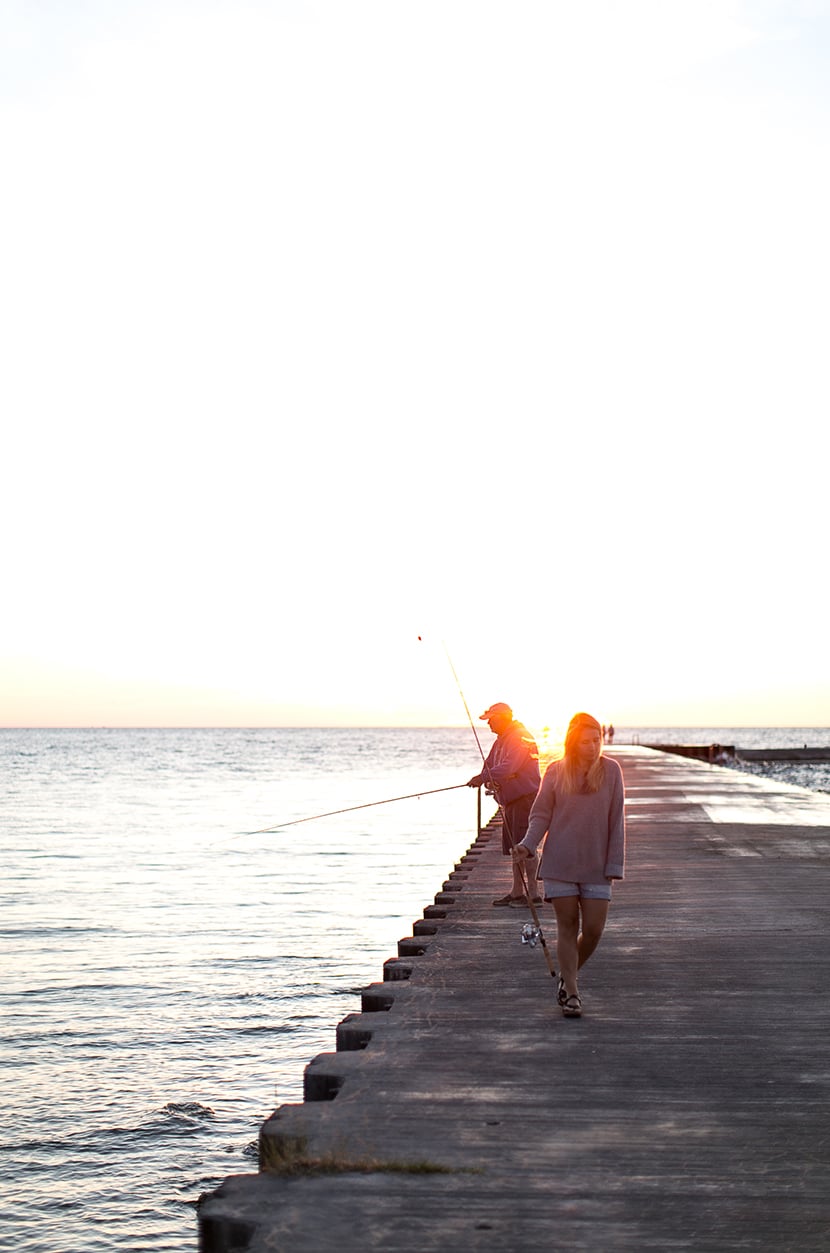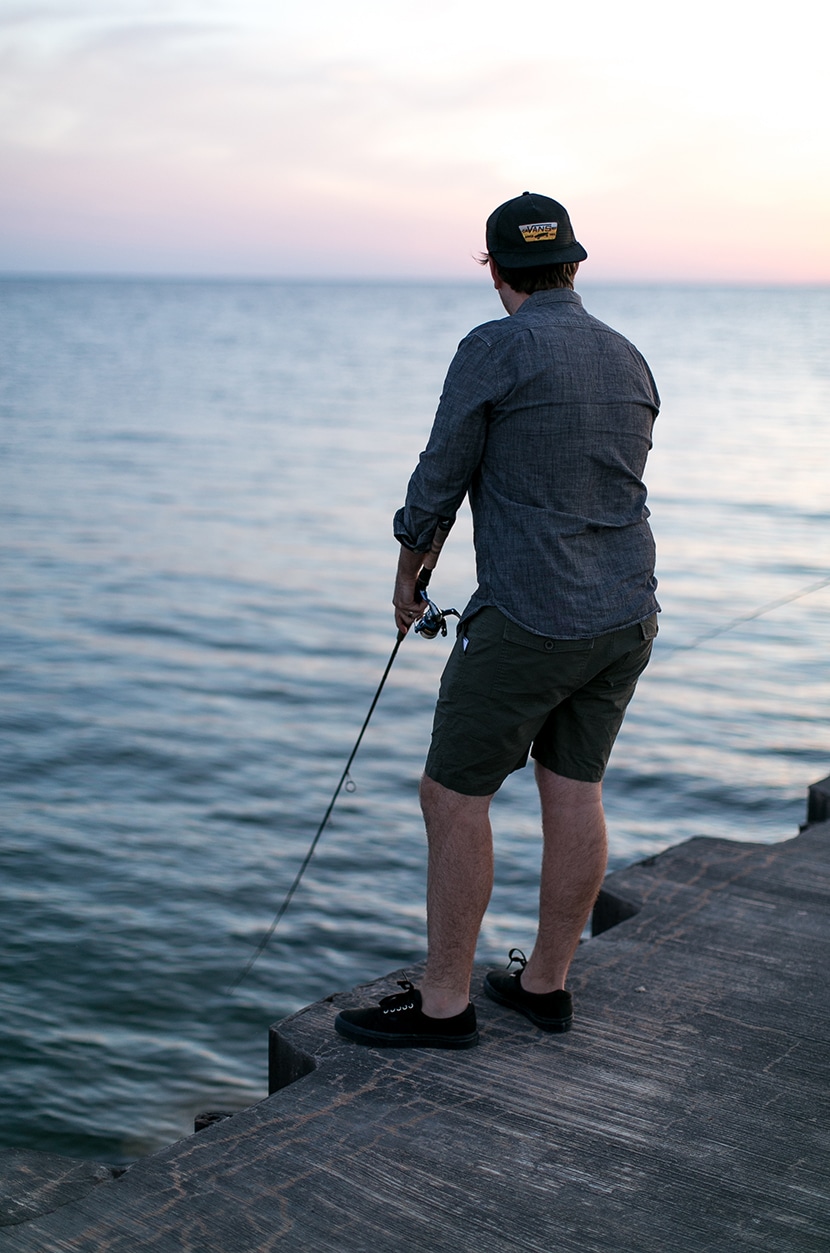 When we arrived over at the break wall, Mike and my dad began casting right away. I snapped some Instagram photos of the water (my favorite pass time it seems…I might have a problem.) Then my dad and Mike saw a few fish swimming down amongst the rocks and I hooked up a worm and plopped it in. Used my old favorite techniques and told Mike, just watch I'll get one.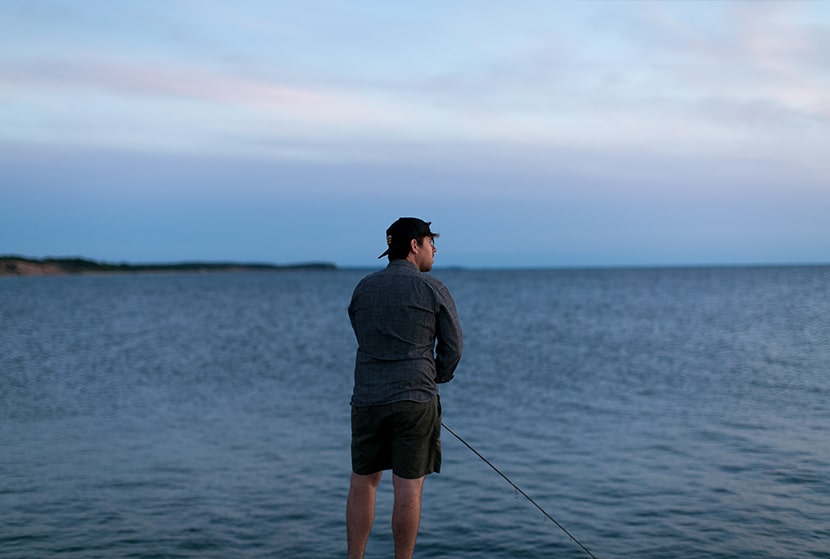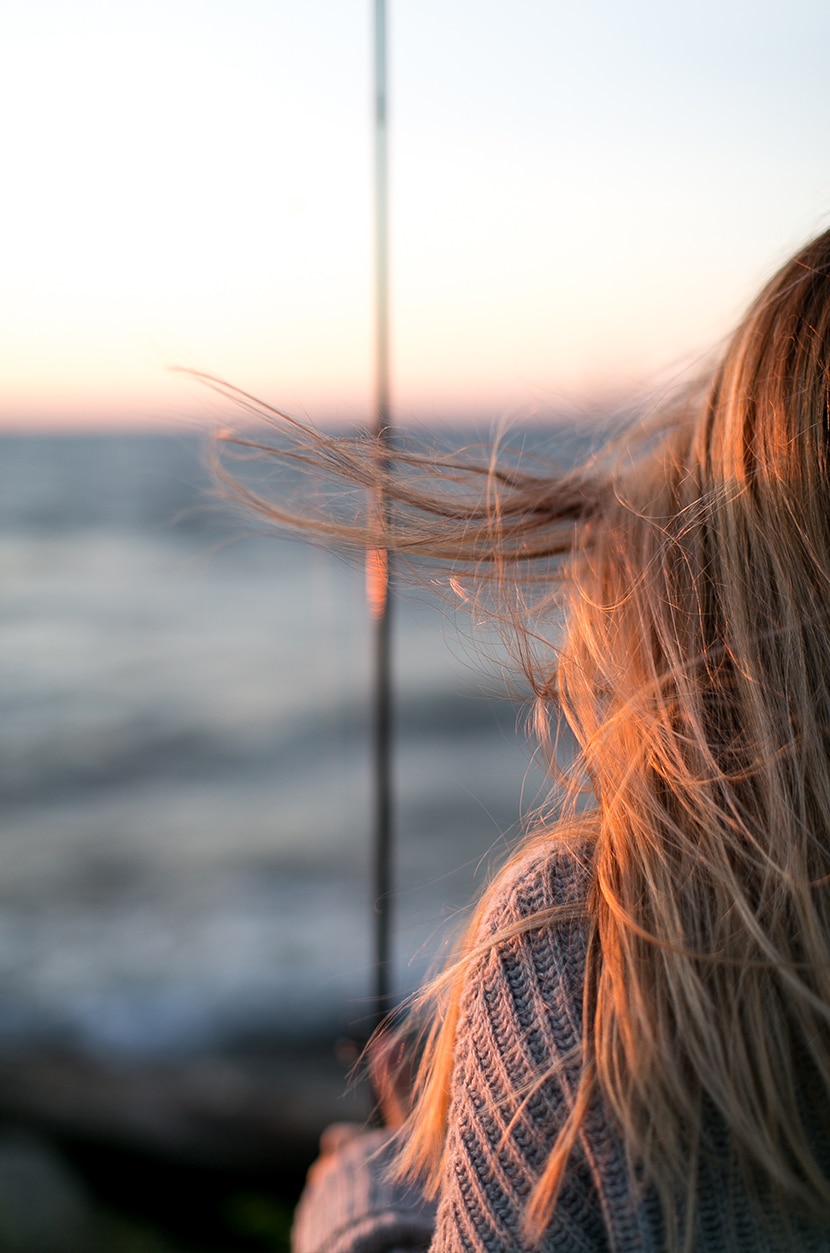 While Mike and my dad kept casting far out, there I sat watching the fish swim nearer and nearer to my worm. Sure enough, I got a bite but didn't hook one that time. Sometimes they like to play with you. Do you blame them?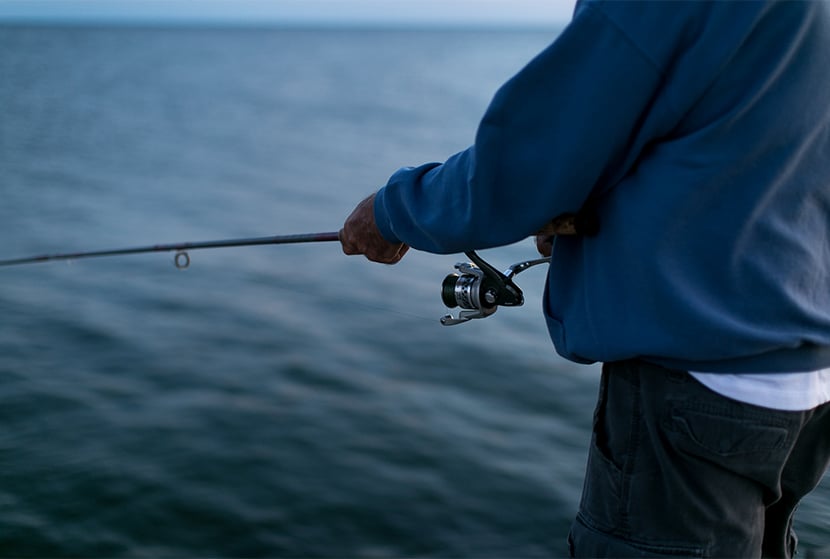 The next cast I did, I sat and waited. Sure enough, I got another bite and this time I hooked it. I pulled it in, and I had gotten a Rock Bass that was on the small side. We pulled him in, unhooked him and let him back into the lake. We didn't expect to get anything too big that evening. The big guys are all further out in the lake, but it was fun to hook one.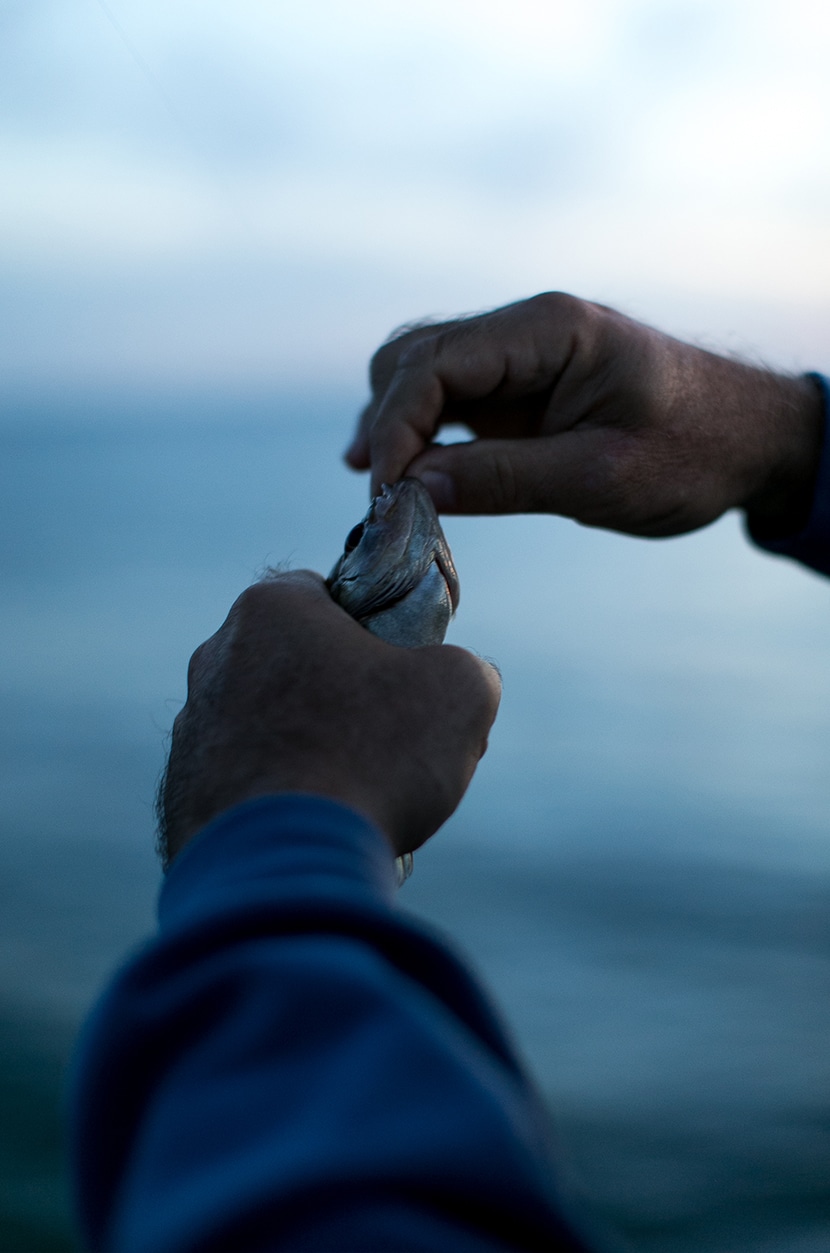 Personally, I loved that I nabbed one over the guys, but let's keep that between us. I have always been a tomboy at heart. My mom struggled to get me to wear dresses, and I spent more time collecting frogs and turtles than I did playing dress up. I have always loved being outdoors, getting dirty, and soaking in nature for everything it has to offer. It felt good to have an adult moment that reminded me of the freedom of childhood. Stand on a dock and not caring about much more than whether or not my bobber went below the surface. Simplicity in its finest.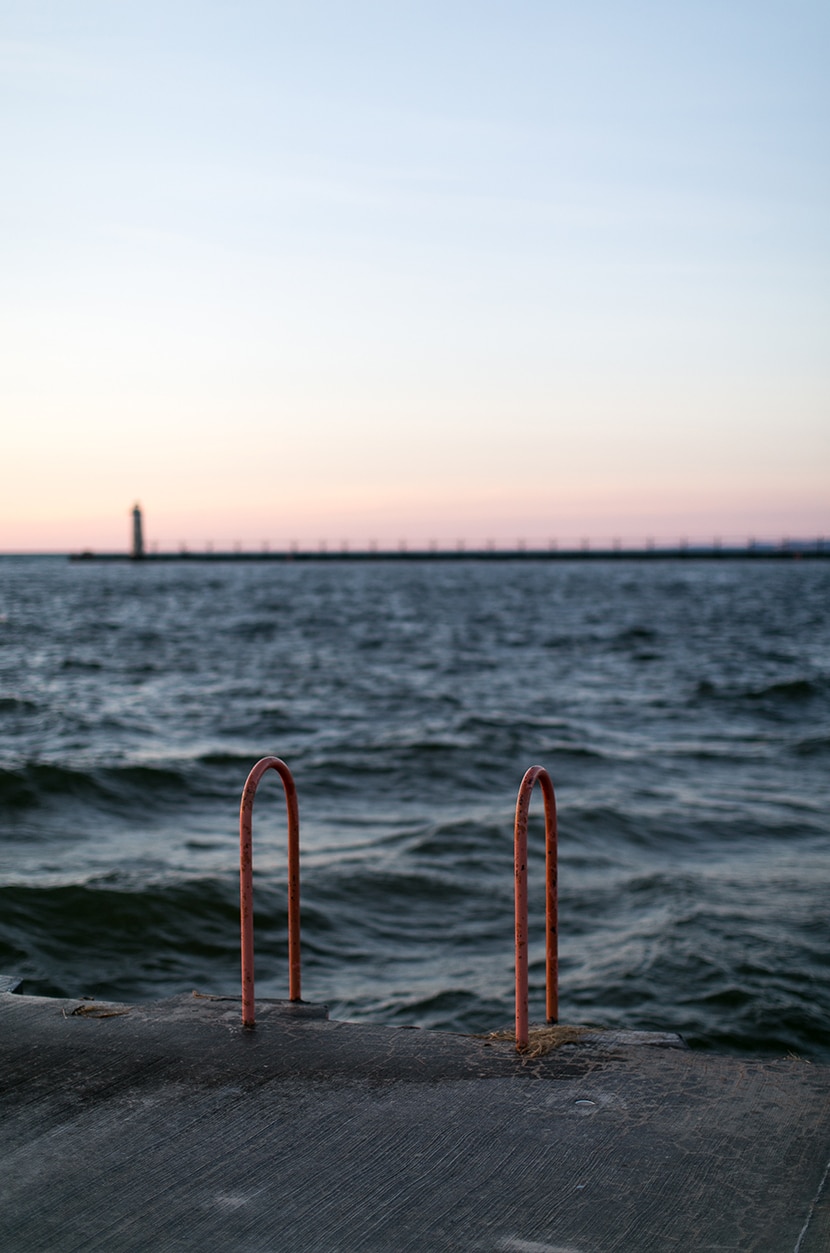 Have any of you gone fishing? Share your memories?! I would love to hear! You can give me even a big fish tale if you want 😉