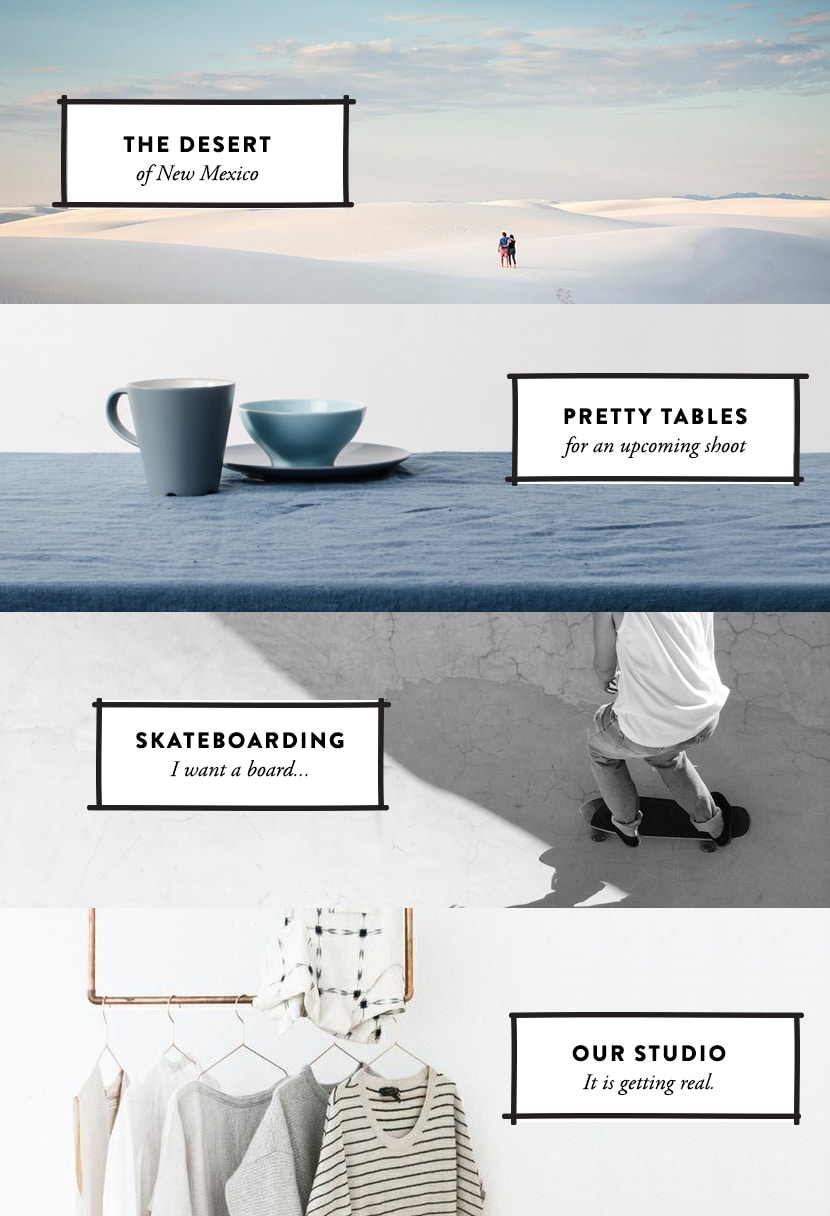 Every week there is something that is swimming around in my mind. Actually it's probably more like half a dozen or more things swimming around. From meeting deadlines to creating new pitch ideas to finding furniture for our house, my thoughts are an endless creative swirl. We all have things that wander and swirl through our minds: things that makes us smile when we wake up. So, today I wanted to share a few things I have been thinking about this week.
The Desert: 
I know I have talked a lot about the desert, but this topic isn't going away anytime soon. I was so inspired while we were driving in the desert heat that I am now wondering what the desert looks like in other places within the United States. The more I travel within our country the more I want to explore. That being said, I saw this awesome post from Travel Mindset about New Mexico. The photo I found of White Sands National Monument struck me. It is so gorgeous. I cannot stop thinking about visiting one day. I hope it's sooner than later!
Pretty Tablescapes:
As holiday season approaches, I have a lot of shoots that involve food (Forget the presents. Let's party with family and friends!). The stream of shoots begins next week. I am feeling a little anxious about how to make this all happen especially since we only have an outdoor table. When I have a vision in my head, I always worry that the photo content won't come out how I imagine. With our resources being scattered due to the move, I am trying to wrap my brain around what is possible to capture. I will say that Mike and I are getting better with translating our vision through the camera's lens with limited resources. I know the stress is natural because it is my work. I know that everyone has these feelings. The great thing about working with scattered resources is that I get to discover new, beautiful things for looks and ideas. I am really loving the linens from notPerfect Linen Company. So dreamy!!
Skateboarding:
I know this seems out of the blue, but I have been thinking about getting a board. Maybe Mike and I will treat ourselves at Christmas. I had a board in college and got rid of it because my soccer coach found out. He gave me a lecture about my scholarship and my responsibility to the team. He was totally right, but I have always had dreams of boarding. Lately this desire has been a lot stronger. I am blaming it on our recent trip to the West Coast. Do any of you board? I have been so obsessed with the idea that I even started a Pinterest board. Out of control, right?!
Our Studio:
This space gets me out of bed every morning. I dream of what it is going to become over the next 6-8 months as we bring it to life. Currently, it looks like this, but this month we are beginning the planning process with our friends at In Situ Studio in Raleigh to devise natural light solutions, functionality, and exterior aesthetics. Mike and I have been pinning like crazy to our studio board as we begin to narrow down what we need this space to offer. Hard work and patience are going to come in handy as we move toward completing this part of our business.
What have you been thinking and dreaming about this week? I have a list a mile long. It includes hiring a contractor to sister beams in our basement. It's not super exciting or worthy of an image for the above graphic, but it does keep me up some nights thinking about the beams under our bed…haha. I would love to hear what you are up to this week and what is keeping you awake at night or making you get up in the morning.
Hope your week is going well my friends!
Images via: Desert from Travel Mindset  |  Table Setting from notPerfect Linens  |  Skate boarder from Tarafirma  |  Clothes Rack from Wide Eyed Legless
PS. I am working on a post about our house buying experience as two business owners. If you have any specific questions or thoughts please let me know! I plan to be as open as possible about everything we went through when purchasing our home. I feel like there is so much out there that no one tells you, so I want to shed some light and give you a look at our before photos of the house.