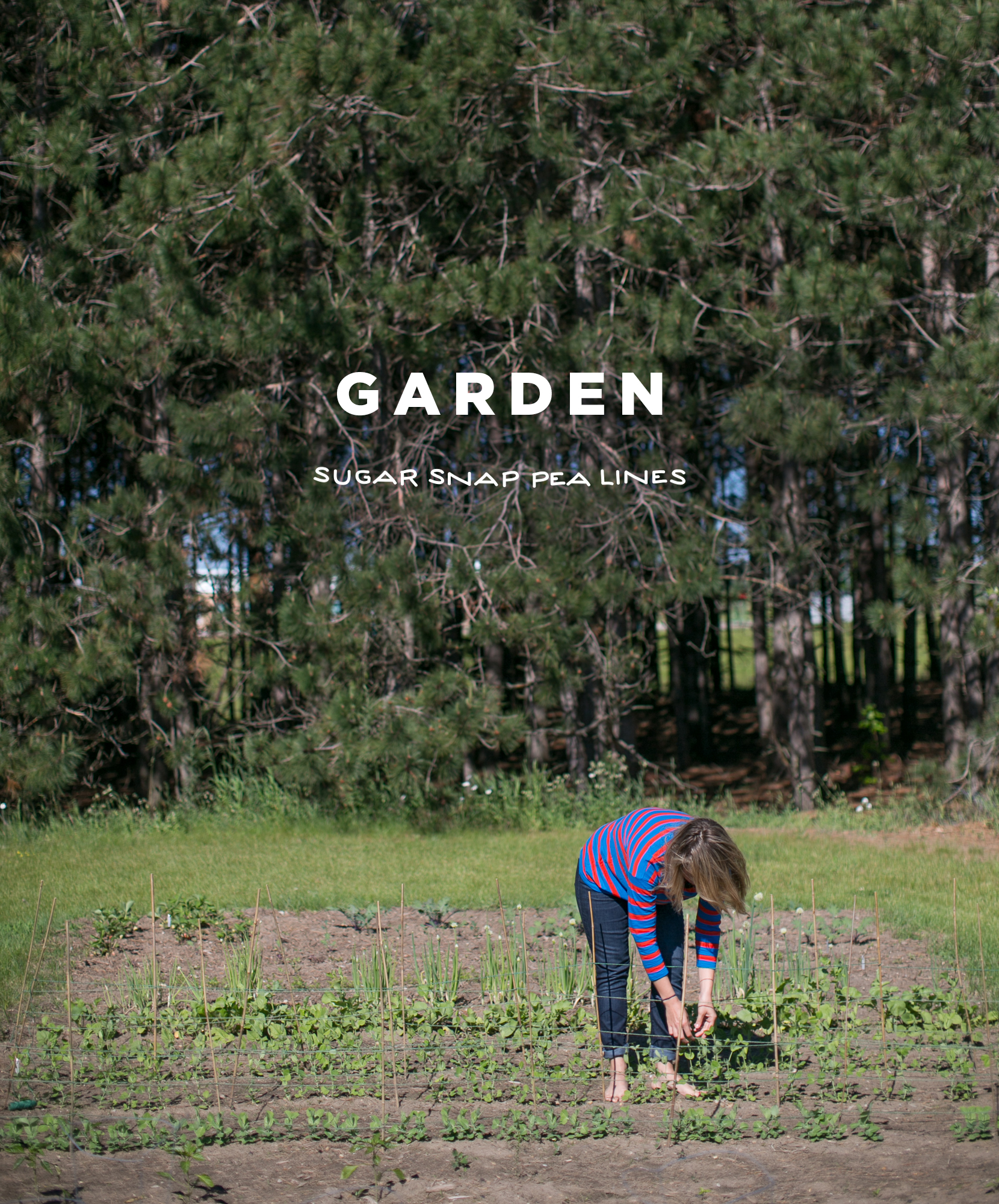 When Mike got hurt, we got a little behind on posting about the garden if you had not noticed. Things are changing fast now that it is 75-85 degrees everyday, so I am going to try to get you all caught up on what we are doing and where things are at. I know some of you are far past getting your Sugar Snaps the lines they need for support, but I figure this will be a great reference post for many of you in the least.
If you are anything like Mike and I are you are obsessed with these little-pull-straight-from-the-garden snacks, so this means you want to make sure they grow good and healthy in order to reap all the yummy benefits you can.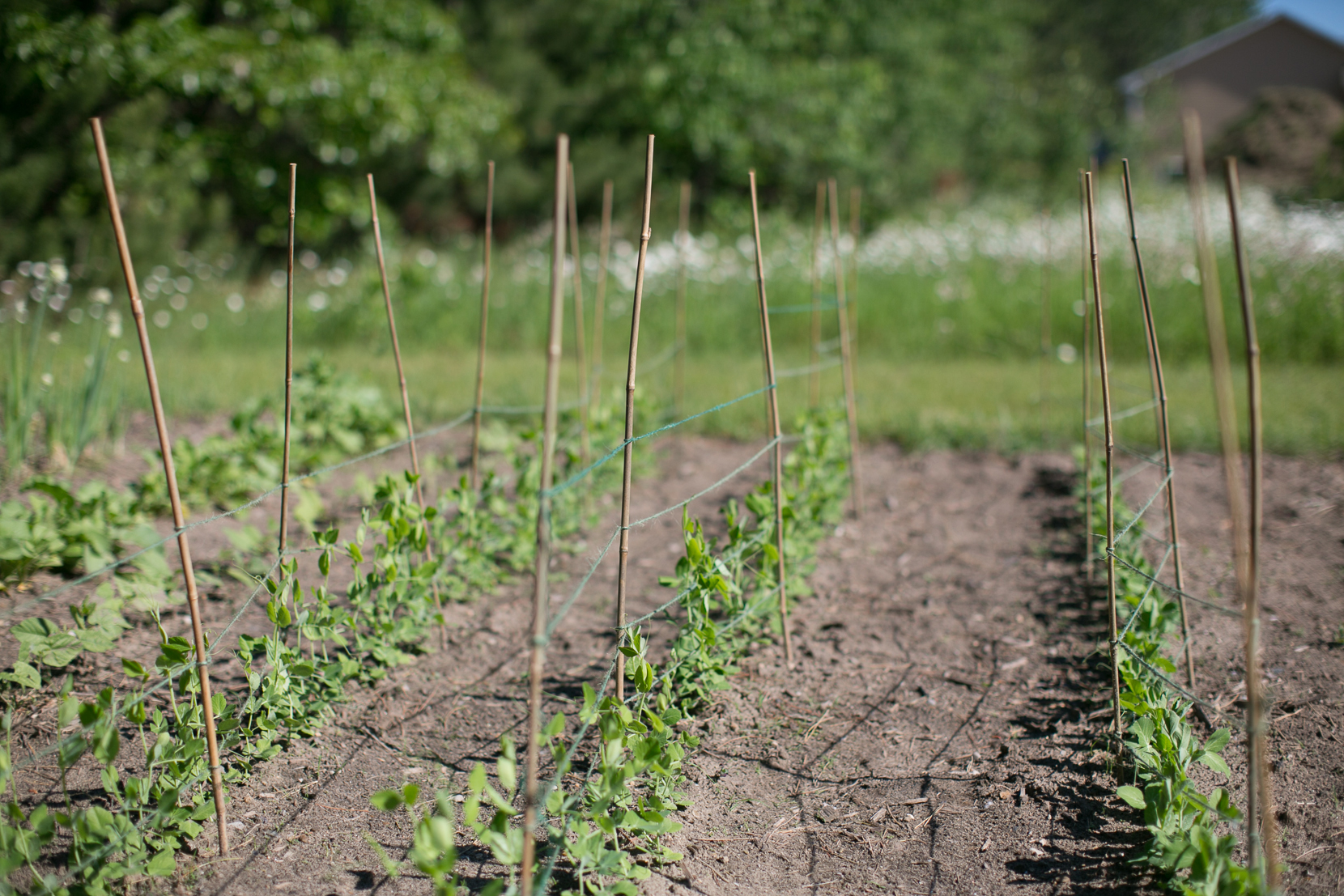 I sowed all my sugar snaps right in to the ground right around the time of our last frost, which was the first week of June. Within 2 weeks we had sprouts and a week later these guys were growing above the ankles so I thinned them (pull the smallest one so there is only one every 2 inches or so). Once the little guys are thinned they are going to grow like crazy. Most breeds of Sugar Snaps grow upward, which means they need a good support system. Every year I like to try something a little different and so this year I decided I wanted to use bamboo rods and natural twine to build a system for them.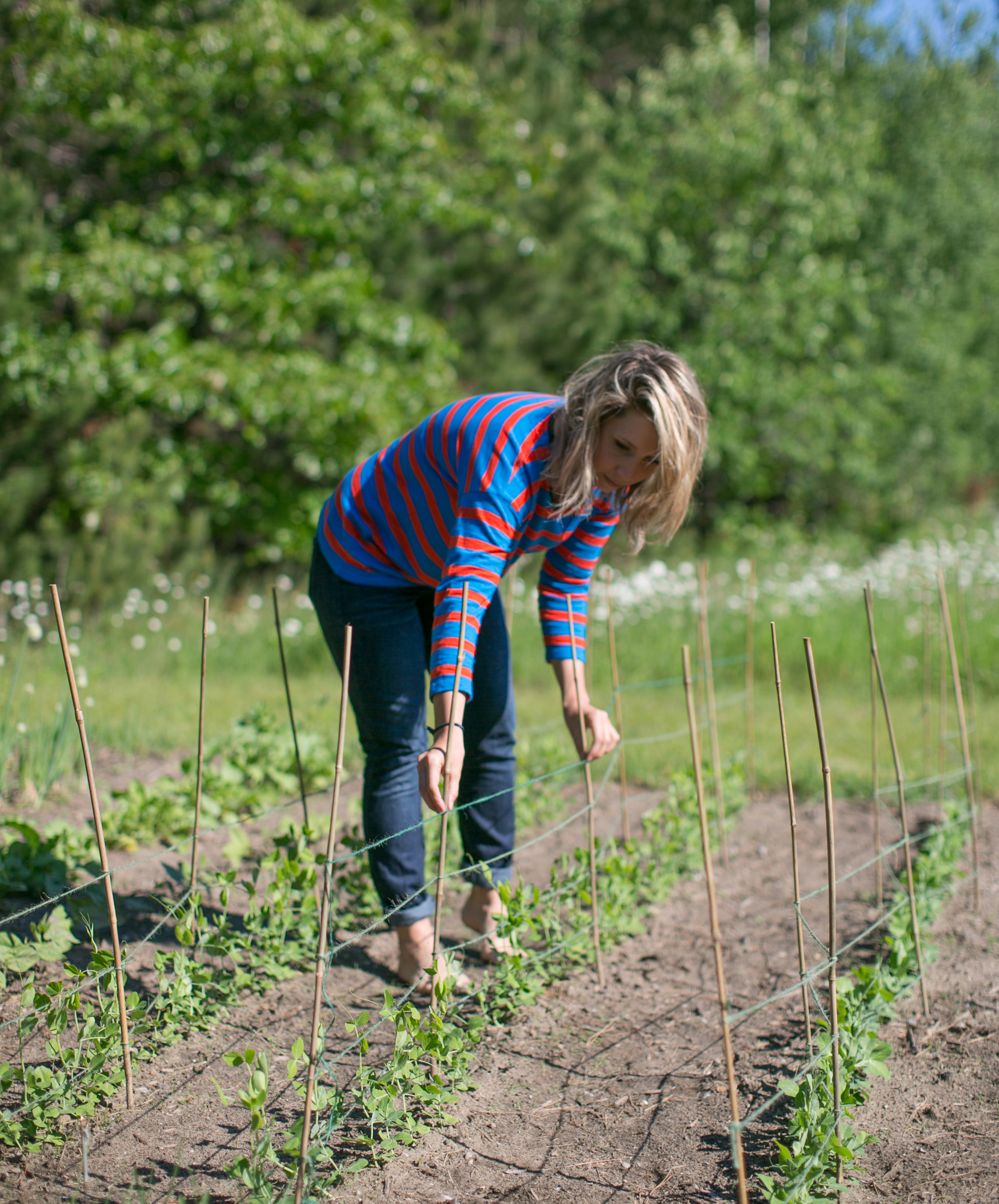 The whole cost for the twine and bamboo rods was $10 for three rows. Yeah that's right…seeds and system cost a total $15 all together. Mike and I would easily spend $15 on buying these at the grocery store in one month if we did not have our garden.
I place each rod of the bamboo a foot apart down each row. It was super easy. Then once the rods were in I grabbed scissors and the garden twine. I began by wrapping 3 lines down each row. This gave them a good foot of growth (about a week or 2 of height to grow up). It was very simple.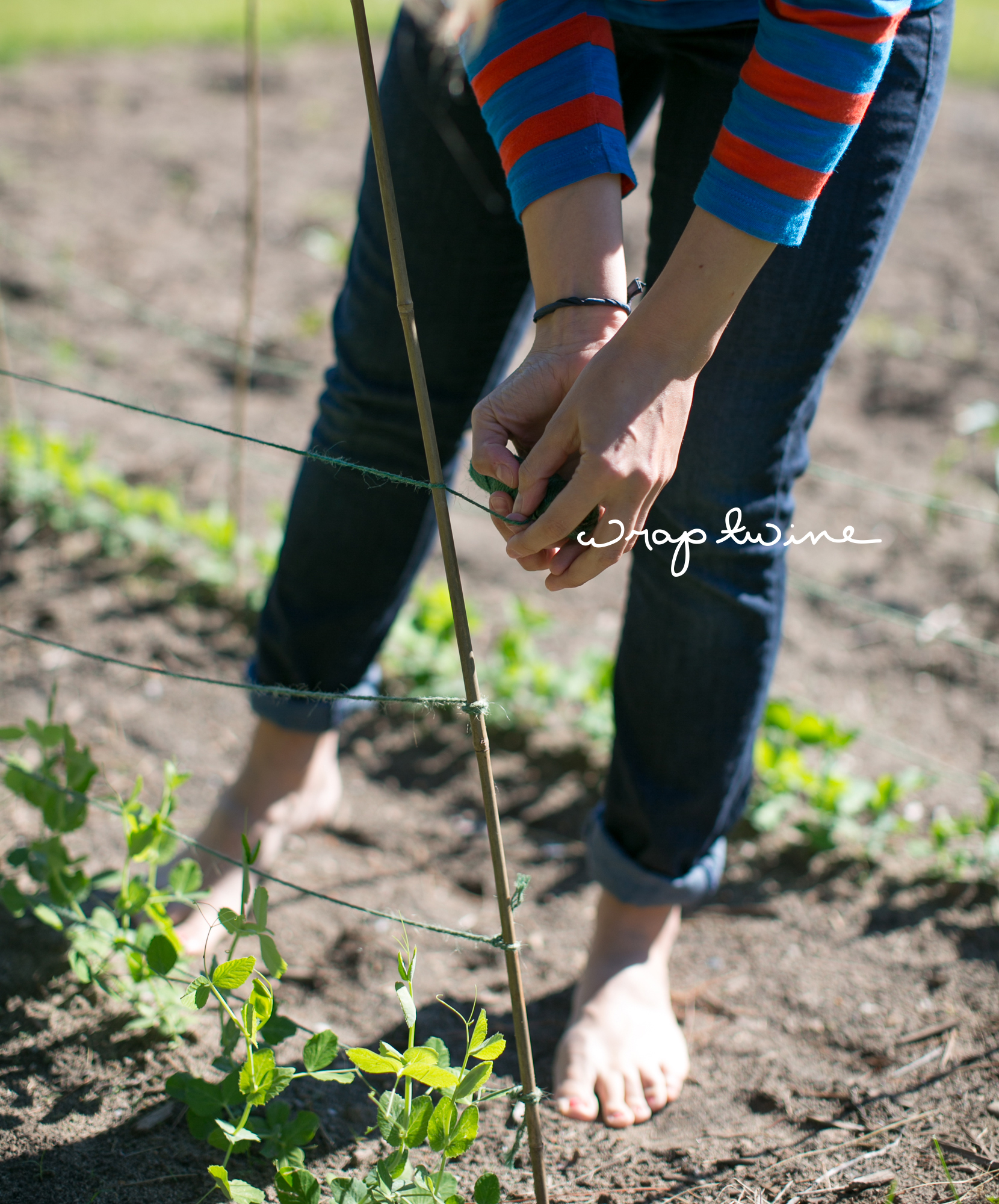 Once I created the support system I went back through each line and helped teach the plants where the twine was so they could know where to go. A lot of times they will naturally figure this out but giving them a little extra help will help them progress faster in the right direction.
It kind of is amazing to watch them find their way as they they grow upward. If you have never witnessed it…just wait!
Since I shot these images about 3 weeks or so I thought I would give you an update where these guys are now.
They now are nearly 3 feet tall and I am questioning why I did not buy the 5 foot poles verse the 3 foot poles. They are heavily producing right now and within the week or so we should be ready to harvest. Though they certainly have a mind of their own, as they are grabbing across the rows at one another, they are very healthy and happy plants to say the least.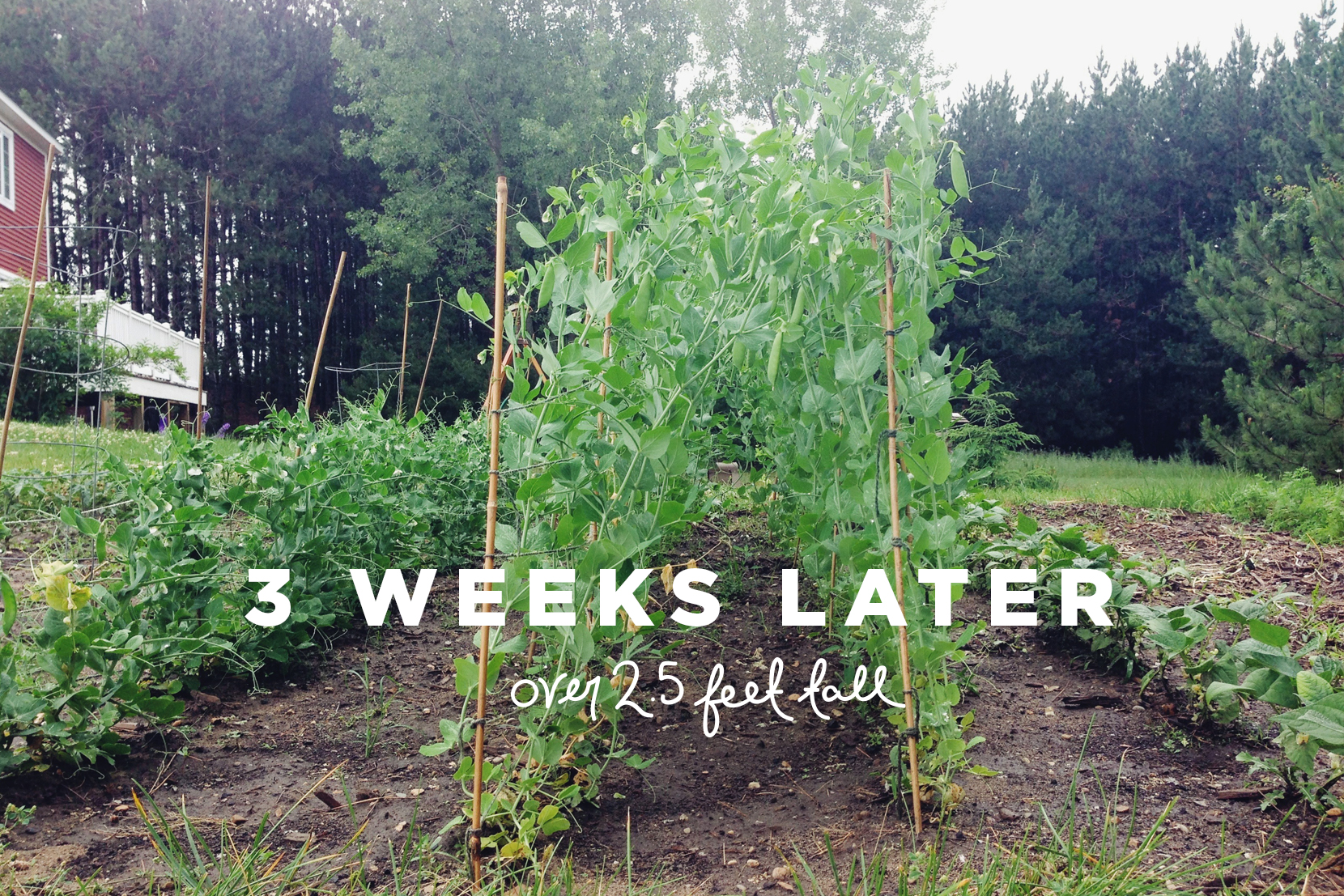 More updates to come on the garden as we just ripped out the rest of the radishes that never fully took and the final green onions. We are planning to plant some lettuce and wild flowers that will be great for tilling in to the garden before winter.