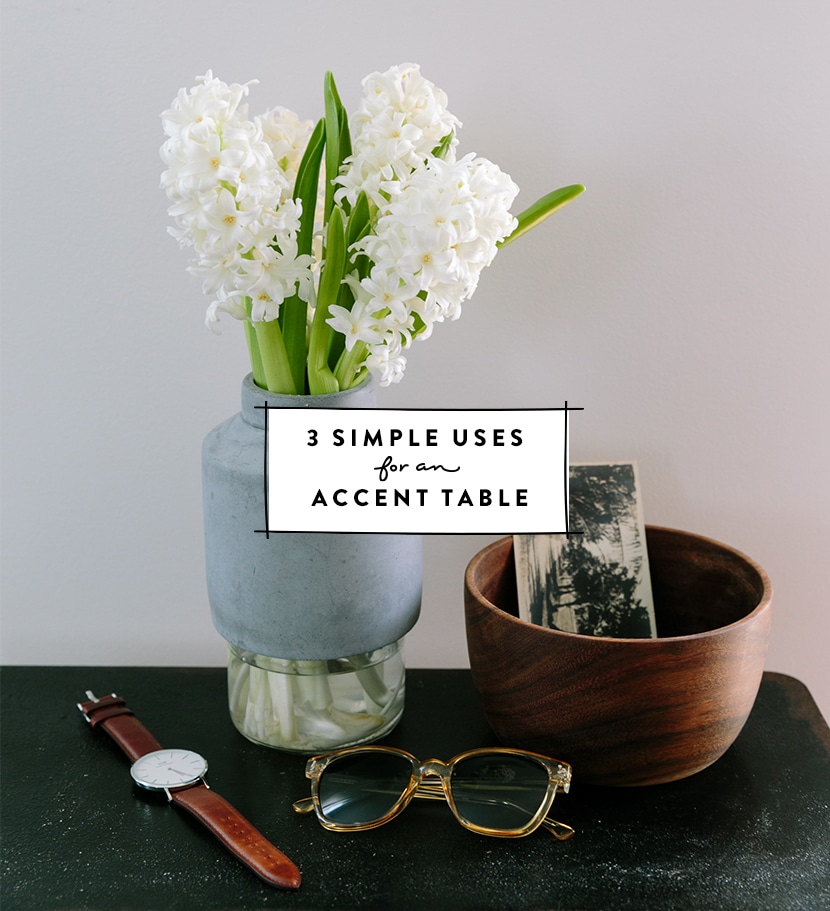 As we have been putting together our home, we are running into the same issue almost everyone runs into. We want our home to feel cohesive and unified, but we cannot purchase everything we want at one time. Nor would that create the true feeling of home. So as we are on the lookout, and saving up, for the big pieces we want to get, we need some transitional decor and furniture to fill spaces right away. So, in the meantime I have found ways to use and reuse smaller investment pieces as our home comes together. One of those extremely valuable pieces has been a good accent table. These versatile tables can serve so many purposes and come in all shapes, sizes, and heights. We have some that could be stools and some that lean more toward a bench, but all of them serve a purpose and place in our space. I find myself moving them around every so often depending on if we are having friends over for dinner or as seasons change. I wanted to share some ways we have been using this great accent table from Pottery Barn as a versatile piece in our own space.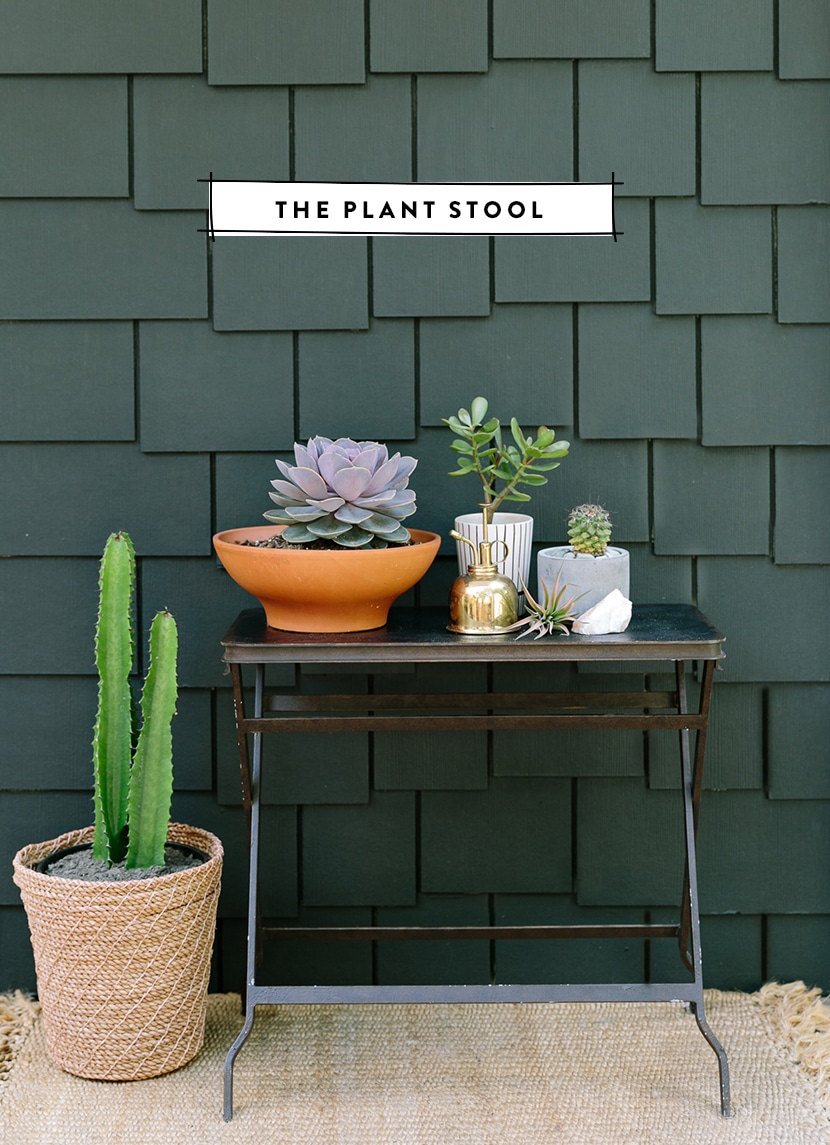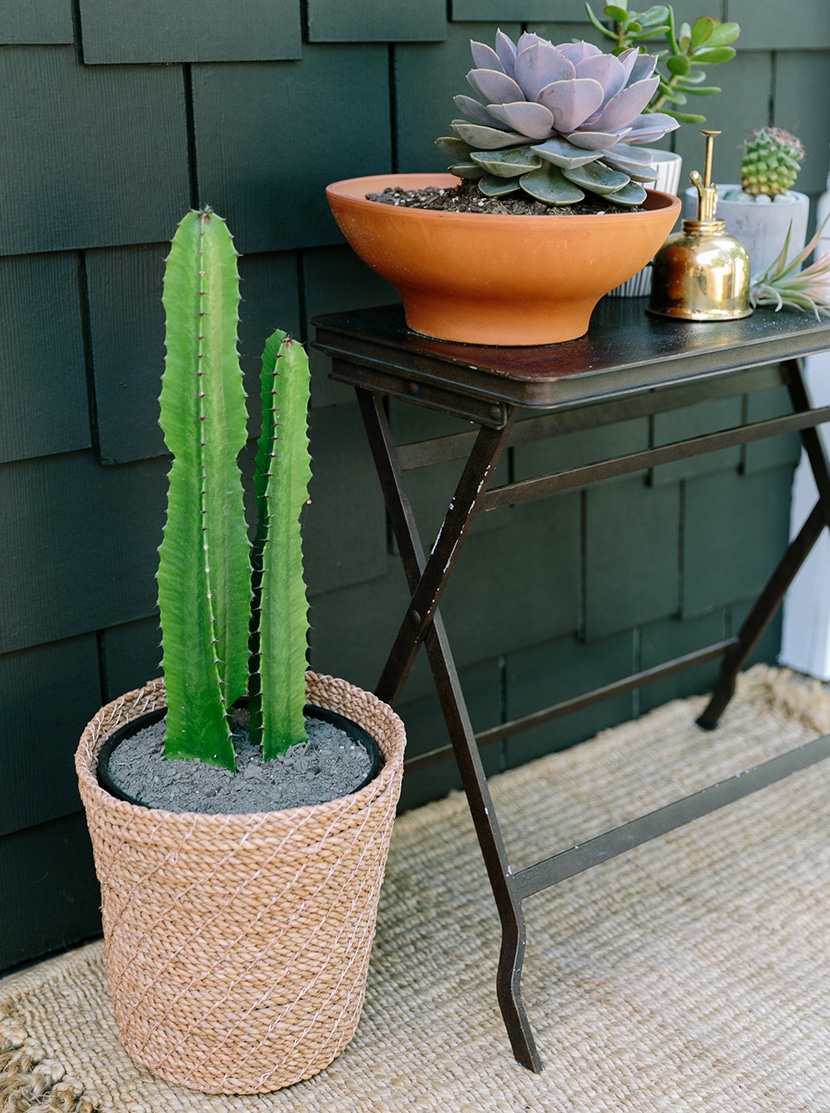 The Plant Stool: This time of year there are layers and layers of plants around both inside and outside, but how do you keep them interesting? Having a great layering stool or accent table, such as this one, is a great place to begin. Once you have a great table and/or stool to use to add height to your vignette it is about adding in plants that vary in height, texture, and color. I find sticking to certain plant groups, such as desert plants, is an easy way to create a layered vignette that feels connected, but also varies enough to keep your eyes interested. I also love adding in a few collected items from our travels and maybe a favorite watering can such as this one helps add some character and personalization to the space.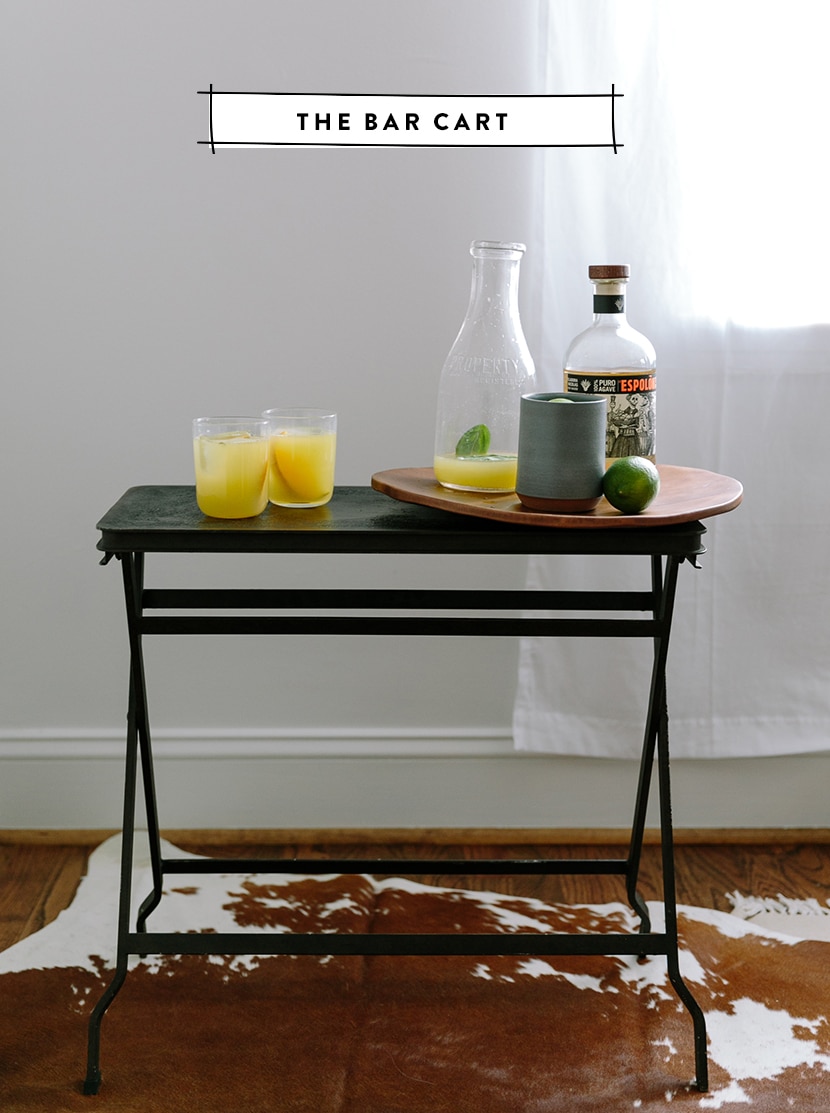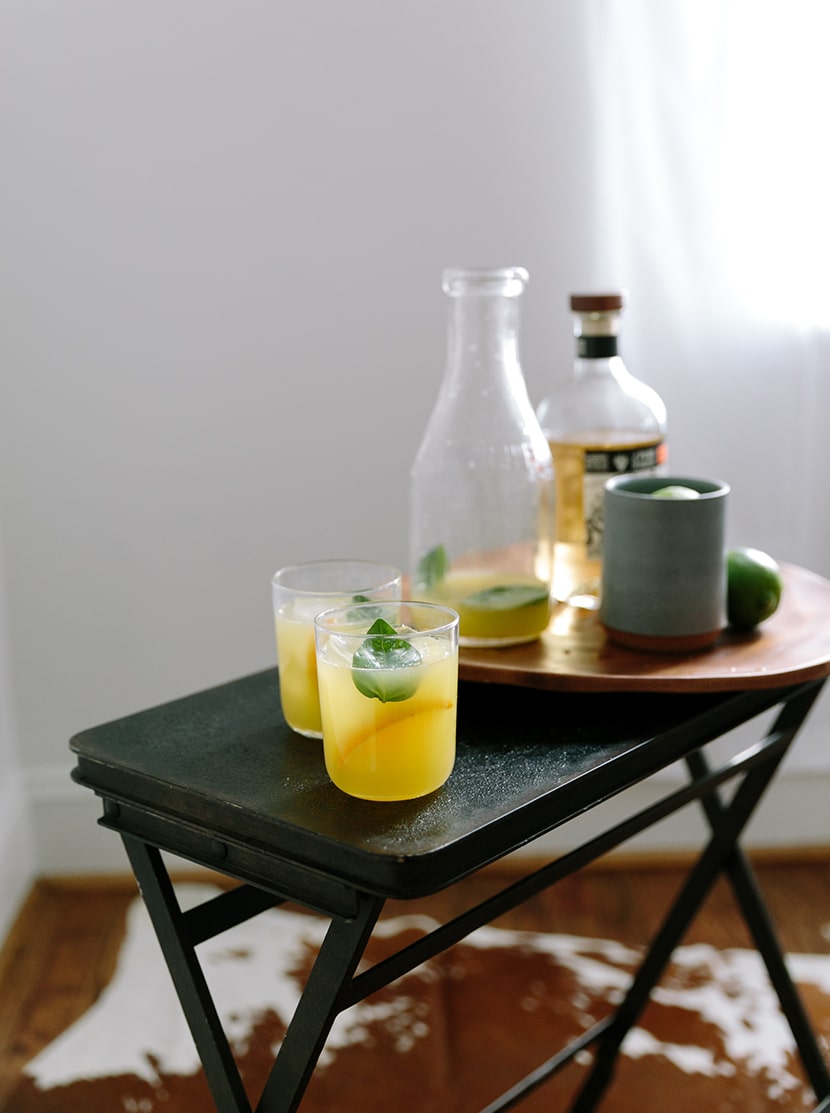 The Bar Cart: Accent tables come in all shapes and sizes, you should be able to find one that may offer you the exact kind of surface you need for a bar cart. The key is making sure it is both sturdy enough to hold a set of bottles, yet visually light enough to let the bottles be focal points. We are always moving around the house and therefore having a bar cart that can move with us is very important. This keeps us from heading back and forth to the kitchen to grab a fresh drink for our guests. A table like this one is the perfect option for moments like that. We grab what we need to keep drinks going and set it near the couch, table, or patio so we don't have to leave the conversation for a refresh.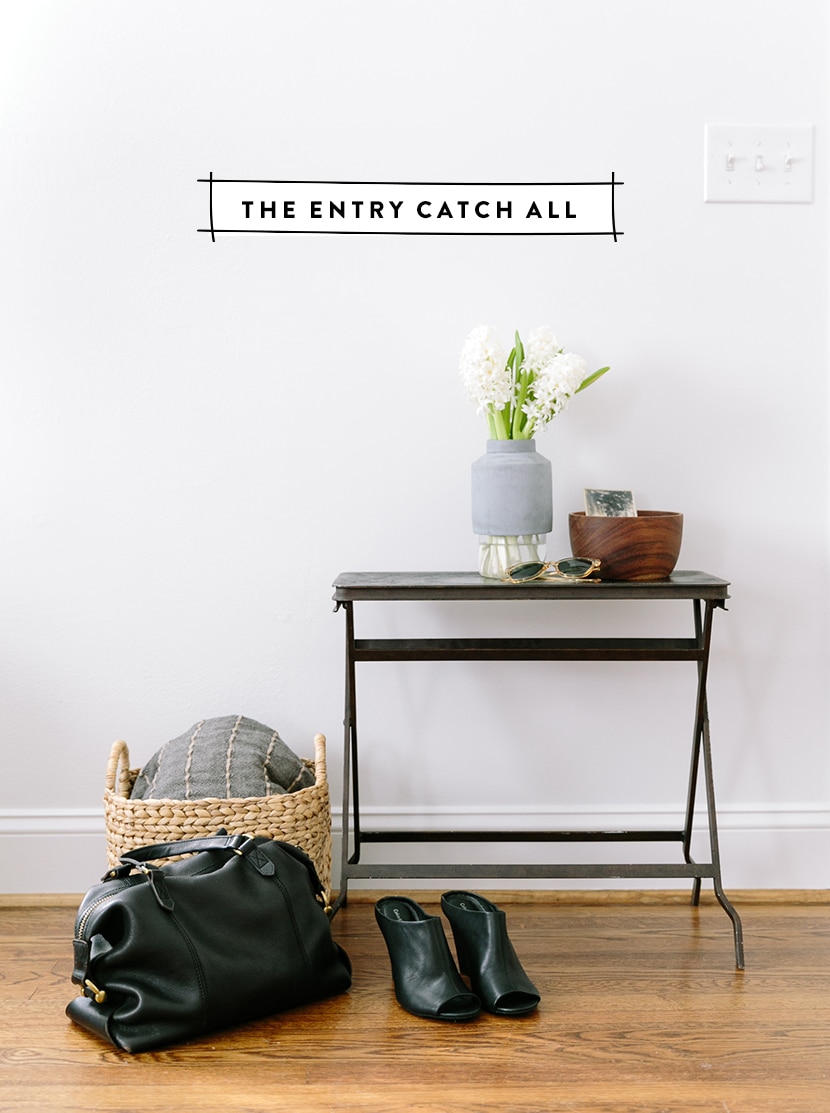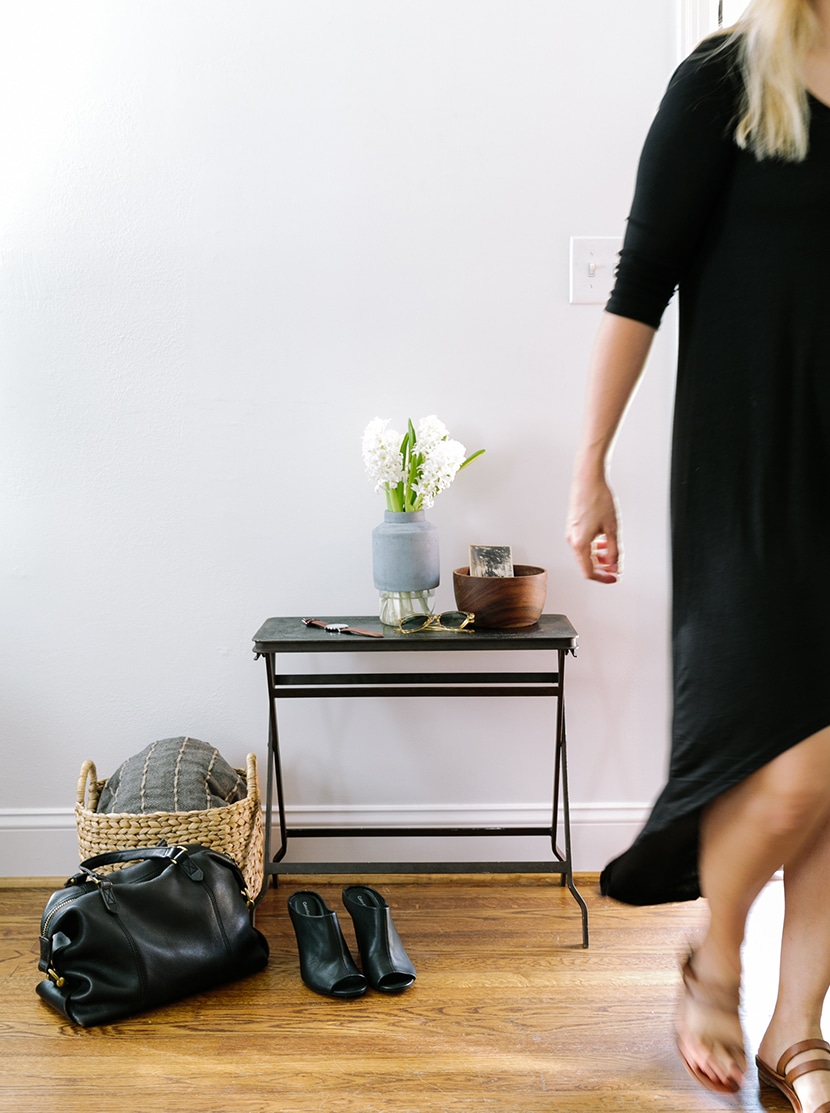 The Entry Catch All: When you have a fast paced day it is easy to lose keys, wallets, sunglasses, and accessories. This is why we make sure our home has a purposeful catch all for the important life necessities. This helps to keep clutter to a minimum. We aren't fully sure right now how we want to put together our entry way, so for now we have a catch all area that always has fresh flowers, a pretty bowl like this one to collect all the important things, and baskets for other accessories needed for life on the go.
I would love to hear some of your favorite ways to use an accent table in your space and so would Pottery Barn. If you snap a photo on Instagram of how you styled your own accent table or other spaces in your home and tag #mypotterybarn and you will be entered into their giveaway for $1,000. Just remember to include your favorite Pottery Barn piece in the photo and post before 6/10. I would love to see your creative ideas for making the most of some versatile pieces in your home. If you place a link to your post below in the comments section that would be so wonderful! At the very least, your photo could be selected to appear on the Pottery Barn contest page. You will be able to see everyone else's ideas on their contest landing page. Good luck and excited to see your ideas.
This post is brought to you by Pottery Barn. All thoughts and ideas are our own.
This is a sponsored conversation written by me on behalf of Pottery Barn . The opinions and text are all mine.