With many ways to organize toys, here's a few of toy storage ideas! It can be hard to decide where the best place is for them. Find a few ideas here and save yourself quite a bit of time.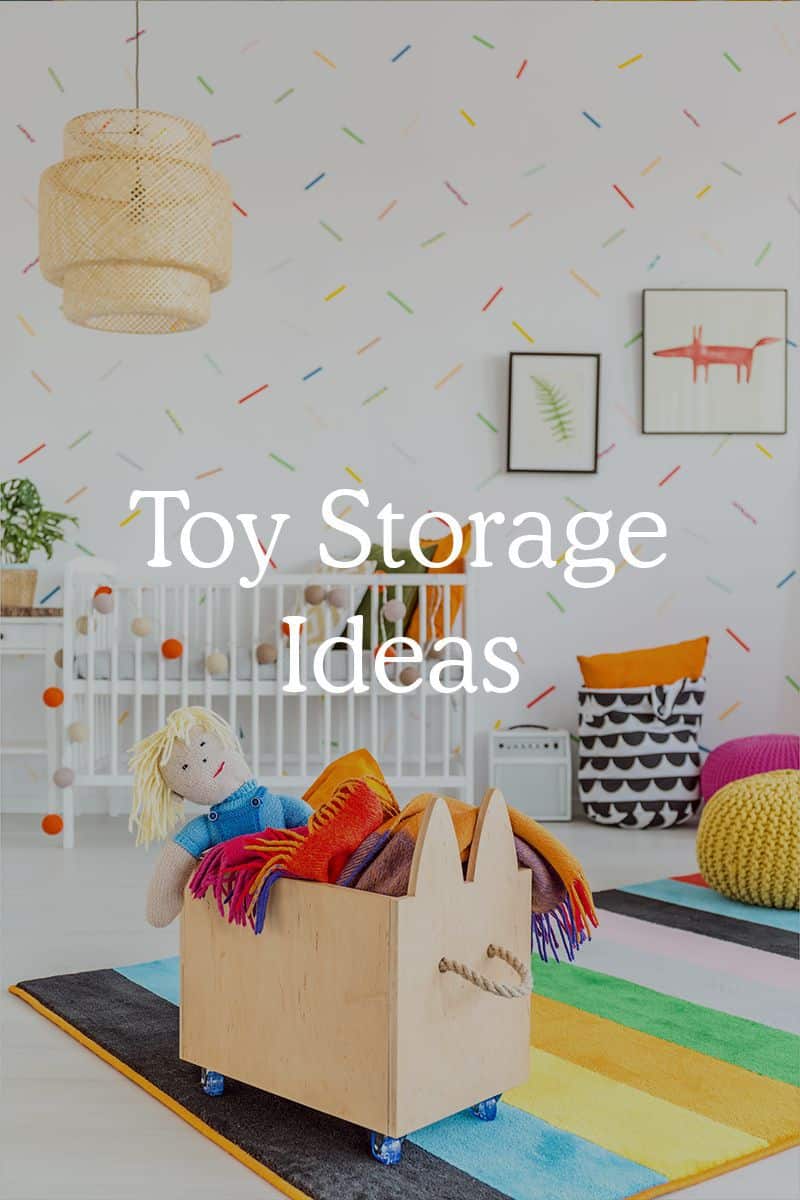 Kids are tough. What doesn't need to be tough is storing their toys and trinkets around the house in clever ways that keep the house clean, teach the kids to stay tidy, and many double as toy storage and another piece of usable furniture, too! But when you're looking for gorgeous furniture like a bedroom collection, a sectional, a vanity dresser, or a full bunk bed for you and your loved ones, then look no further!
16 Easy Toy Storage Tips And Ideas Kids Will Love
To start this about toy storage ideas, thus doubling as a two-in-one piece of furniture, this bench also has drawers that can be used to store children's toys in it. It's also easy enough to access height-wise for the kids to pull out and put away their toys.
This tutorial gives you a great step-by-step process for making this useful storage bench. However, while this is a DIY project, make sure you – or someone you know – feel comfortable working with power tools, plywood, and construction.
A nifty thing about this project is that you can color coordinate with your home, so the bench fits perfectly in with its surroundings, making it the ultimate tidying-up furniture piece.
While metal cars are great fun to play with, they aren't great fun to step on – especially in the dark.
A perfect solution to keeping the house tidy and those cars from being stepped on, use a metal knife holder to keep them held upright (on the wall) for safekeeping but easy (and safe) access for kids to take them down to play with.
While this is a great solution, it only works on metal cars, and most play cars have plastic bottoms. While purchasing the magnetic strips, be sure to purchase some magnets you can glue onto the bottom of the cars to help them stick to the magnetic strips.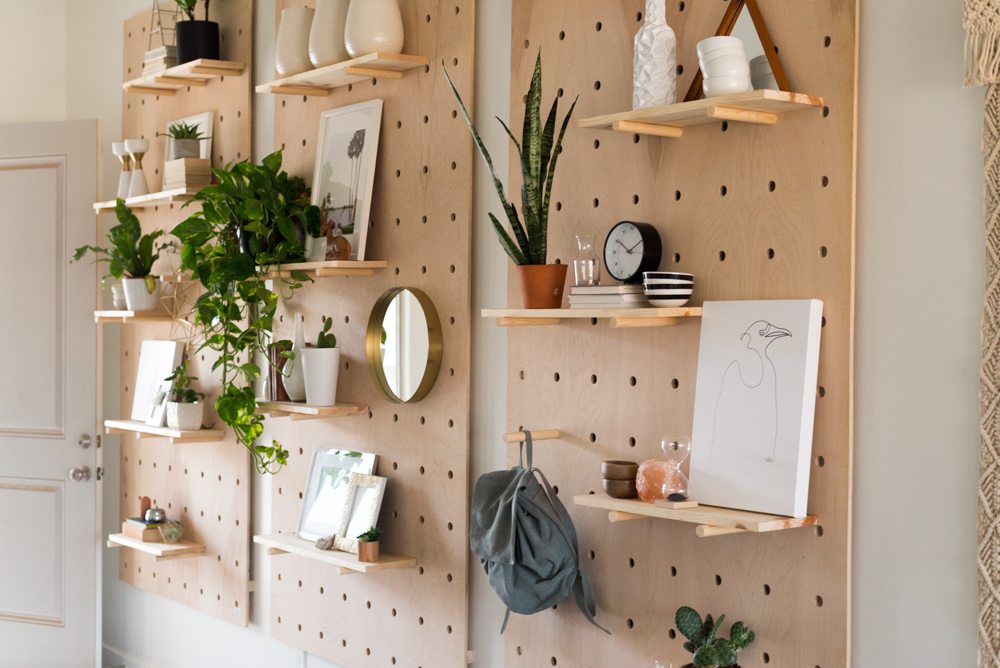 Craft supplies make a mess – whether it's during the craft or simply their existence around the house. A good way to keep them orderly is to use a pegboard to pin them up. What's great about this storage method is that you can switch up the pegs to different places to get creative or change things up. You can also install shelves to help carry items incompatible with pegs. Whether you make it at a child's height for easy access is up to you, making it a great way to keep dangerous craft items out of harm's way.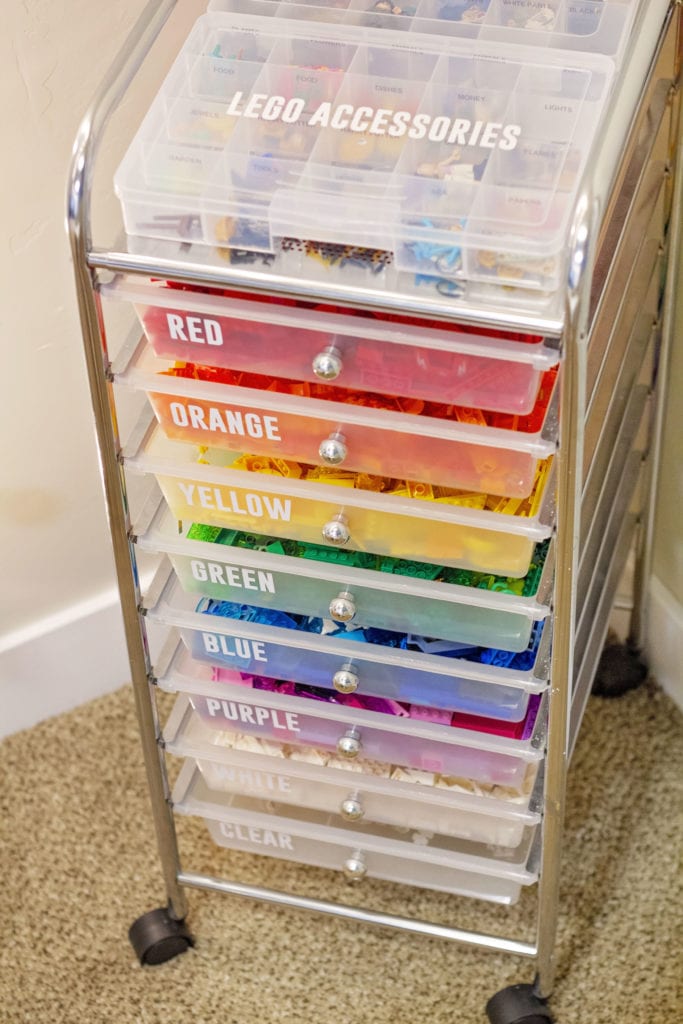 Legos, like little cars, is everyone's worst nightmare to step on in the middle of the night. In order to save your feet and the Lego's dignity, this Lego storage cart makes an awesome toy storage idea.
This post gives you seven different ways in which you can store your Legos depending on how your home setup is. Plus, it looks really nice and organized, which adds to your home's feel.
View this post on Instagram
A classic way to keep things stored is under the bed. What's classier is having an organized way in which to store items under the bed – not just shoving them under when company comes over.
This idea, in particular, takes it one step further and has the storage unit be a little train track with the toys also stored in the drawer under the bed ready for playtime whenever. This wouldn't be difficult to make and definitely helps in organizing a kid's room (which already probably has a few chests or drawers).
A new trend that goes with any age group is cube bookcases – often not used for books. This idea also is great for homeowners who place a great emphasis on color coordination.
It's a great way to have organized storage on a budget while also offering yourself a lot of size options to store all of those toys. This article gives you a step-by-step idea of how to DIY a cube bookcase yourself while staying on a budget.
View this post on Instagram
Open shelving, like with the cube bookcases, is a trend that everyone is getting on. It's a great way to show off your favorite toys or give easy access to the bedtime reading of the day.
Plus, open shelving offers the option of using woven baskets or different types of boxes to help organize the shelf contents while also keeping it appealing to the eye. Furthermore, it's simple to put together and rotate occasionally to change things up.
Everyone needs furniture; so, why not make that furniture doubly useful and have some of that furniture work as a way to store toys?
Using furniture such as coffee tables, benches, ottomans and footstools, or end tables with drawers is an ideal way to keep toys off the ground but also keep them within easy reach so you can be ready for playtime any time.
9. Use Baskets to Organize the Toys and Hide them away
Baskets are one of the best things to ever walk this Earth. They work for such a myriad of situations from carrying fruit to baby pictures to picnics it's hard not to have them around. Plus, they also are fantastic for toy storage.
They not only keep the toys in one place but having several baskets, such as on a bookshelf, can help keep the toys sorted and orderly. What could be better than that? Plus, they can come in different sizes, tilts, and shapes, and can be at kid heights so kids can easily reach in and start playing.
10. Plastic Tubs with Lids for Stacking
For a cheap yet very efficient way to store and organize toys, look no further than plastic bins or tubs with lids – especially if they are a uniform size and shape and can be stacked many on top of the other.
These are great because they can also be labeled so you know what's in them, come in a variety of color choices, and can be found at most dollar or discount stores which makes them budget-friendly, too.
11. Shoe Racks for Toys
Shoe racks work wonderfully for shoes and for toy storage. Whether it's the shoe rack that hangs over the closet door and toys go inside the plastic pockets, or it's the grounded shoe rack – toys will be organized.
A big plus about the grounded shoe rack is that it is often sizable enough to put bins or baskets in and become a mega-toy storage unit since it not only can fit many toys but the toys can be organized into the bins as well as be reachable by kids of all ages.
12. Stick it to Wall or Fridge
As per bespoke furniture Perth, vertical toy storage is great because even if you have furniture against the wall, the storage can go above it or it can serve as a way to take up an empty, blank wall. The fridge storage (or magnetic wall) is even better, though. Using a suction cup or a magnet, and a small container, these storage containers can be filled with craft supplies or teeny tiny toys that are off of the floor and organized. Plus, this can be made into an art project for kids and they can decorate their little containers.
13. Rolling Toys In and Out
If you have the space to store a rolling drawer caddy, this is an amazing toy storage idea to keep the house clean and a bit more kid-free looking than some of the other toy storage idea options above.
Using a plastic drawer caddy on wheels (for example) the toys are stored and organized but can be cleaned up, put away, and rolled away into hiding (such as in the laundry room or the closet) after playtime is over.
14. Portable Toy Caddies
Similar to rolling caddies, portable toy caddies have a similar effect on a space. They can be filled up with and organized by type of toys, craft supplies, or stuffed animal collection and stored in the caddy in the corner at the end of the day. Caddies can also become an art project for a child or you can buy some colorful ones at most art and storage stores.
Pegboards and wall hooks are great because they can either be right in the eye's view, such as on a wall, or out of sight and out of mind, such as in a closet or being a door. They can be useful for hanging up clothing and jackets, hanging baskets of toys, or even stuffed animals.
16. Maximize Space Outside of the Living Room
Kids definitely have the tendency to take over the space where they are. To help keep your house kid-friendly, but also not a house that looks like only kids live in it, try using up as much space that isn't in the main rooms of the house as possible.
This includes maximizing closet and shelf spaces, using mesh bags and hammocks inside closet corners to keep stuffed animals off the beds and floors, and/or a bed skirt in each bedroom to allow for a "secret" space under the bed full of toy storage and games that aren't used as often.
Conclusion
Stepping on Legos in the middle of the night, tripping over toys in your way, or walking into a messy house after a long day at work is never fun. To combat those scenarios, having toy storage ideas to keep in mind or implement is an absolute necessity and these toy storage ideas are here to help.
If you find this list about toy storage ideas helpful, kindly see our posts below —