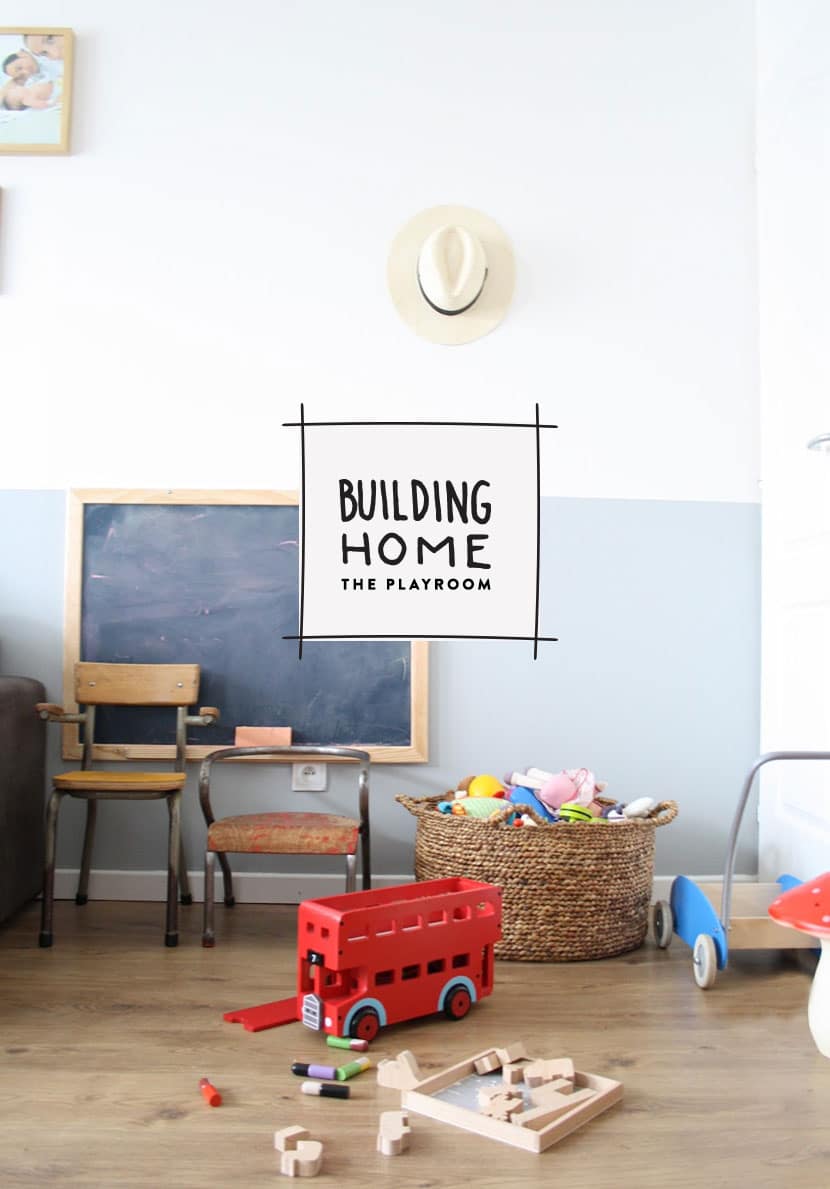 Image via:  Petit Sweet Blog
When we were designing the house, I was so excited to put together a playroom. I had all these grand ideas for this space, but nearly 2 years into designing this house and along the way watching our son grow and change, I am realizing how transitional this space will need to be for us. So, as we approach the final stages, I am seeing a different space. I am seeing one that acts as a play space for our whole family. I am wanting something that transitions and changes and is open to creativity and cuddling. I want this space to feel relaxed and calm without too much clutter. So, as my expectations of this space have changed so has how important it is to create a family space over a "kid space."
When we originally designed this room, it was going to be our office. The longer we lived with that idea we didn't like it, so it then transitioned to a kid's room. In our current rental, we have a room off of the main living area that acts as a family room/guest room/play space. I love it. I love that we can close it off with a barn door and the mess can wait till tomorrow and we have a calm clean living room. It is incredibly nice to have especially as our family grows. I love that Hayes can be in there playing but I can still see him too. It is a bright and light-filled room getting the most sun all day in our house so I am excited it will be where we spend our family time together.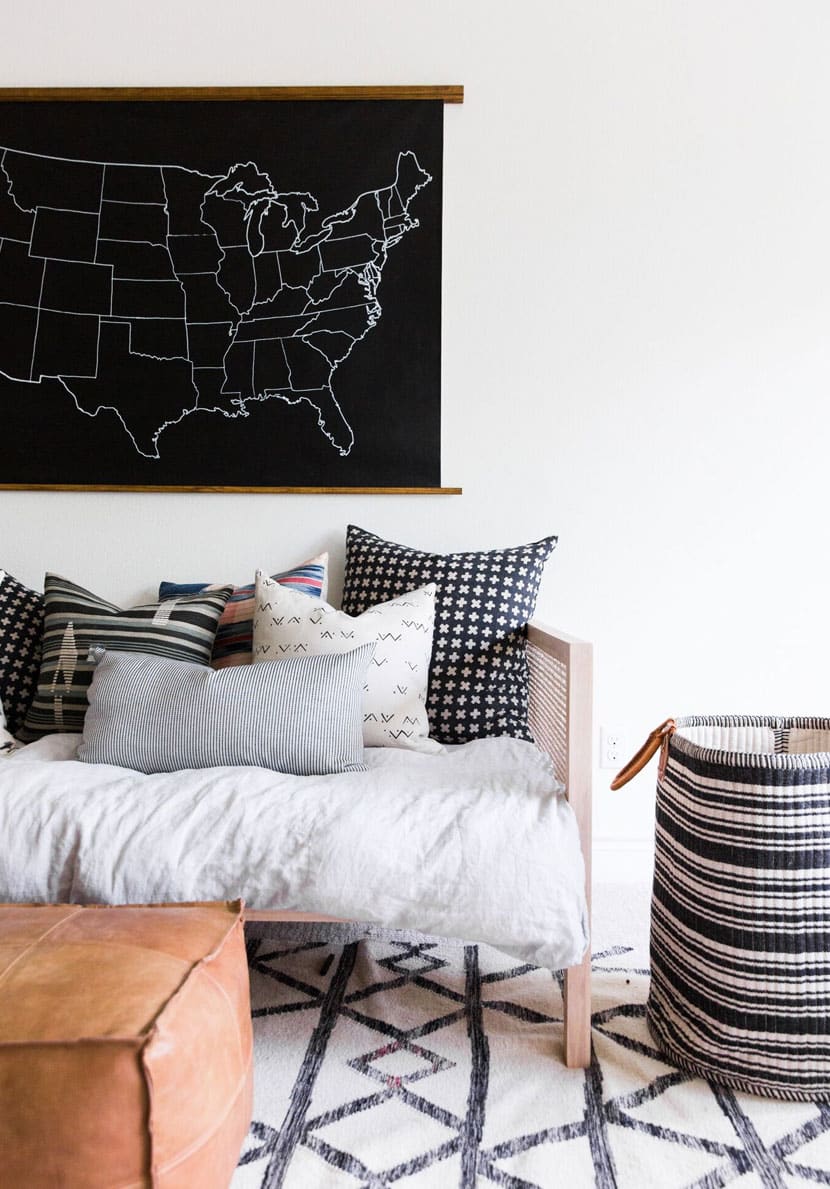 Image Via: Studio McGee
Mike and I had quite the fight about a TV in our house. I could go without. Sure I love a good binge, but I am okay watching it on an iPad or computer, why buy another screen? I also do not like having TV's in main spaces in the house. It becomes the center of attention right away and since we aren't a sports watching household it doesn't make sense. Mike and I lived without a TV the whole time we lived in Raleigh. Then moving here our rental had a small one. I love the small one for when Hayes wakes up grumpy and wants to lounge after a rough nap or for when everyone just needs a break. Mike and I have one night a week where we sit together and watch a few episodes of a show to relax at the end of the week, but that is about all we use it for. We honestly don't even have cable. So, this debate became hot when we designed the fireplace. I voted a hefty no. He put in a plug on the mantel. I still held firm. Then I showed him we could have one TV in the playroom. A small one and then he suggested the Samsung Frame, so we are now in a debate about this as you can assume. I want to note, our basement will have a projector for a movie space down the road. We both grew up with a space like that in our home. We figure when our kids are bigger they will enjoy having a similar space to lounge and watch a movie at home on a snowy night, so it isn't like we will be living without an option our whole lives. As you can tell we have slightly varying opinions on TV's. So we will see what happens as we move in and get settled.
The rest of the room I wanted to be very neutral but still playful and have pieces of the world we live in. So I found a neutral rug with an organic pattern on it. I found some artwork and we have a basket of driftwood I plan to make into a garland to go over the couch. Since the room has all can lights in it, I wanted some side lamps. We have very dark days in the winter and low light helps create a more relaxing and natural environment during those months. This is why we have floor lamps and other such light help create that light in spaces when you cannot have natural light.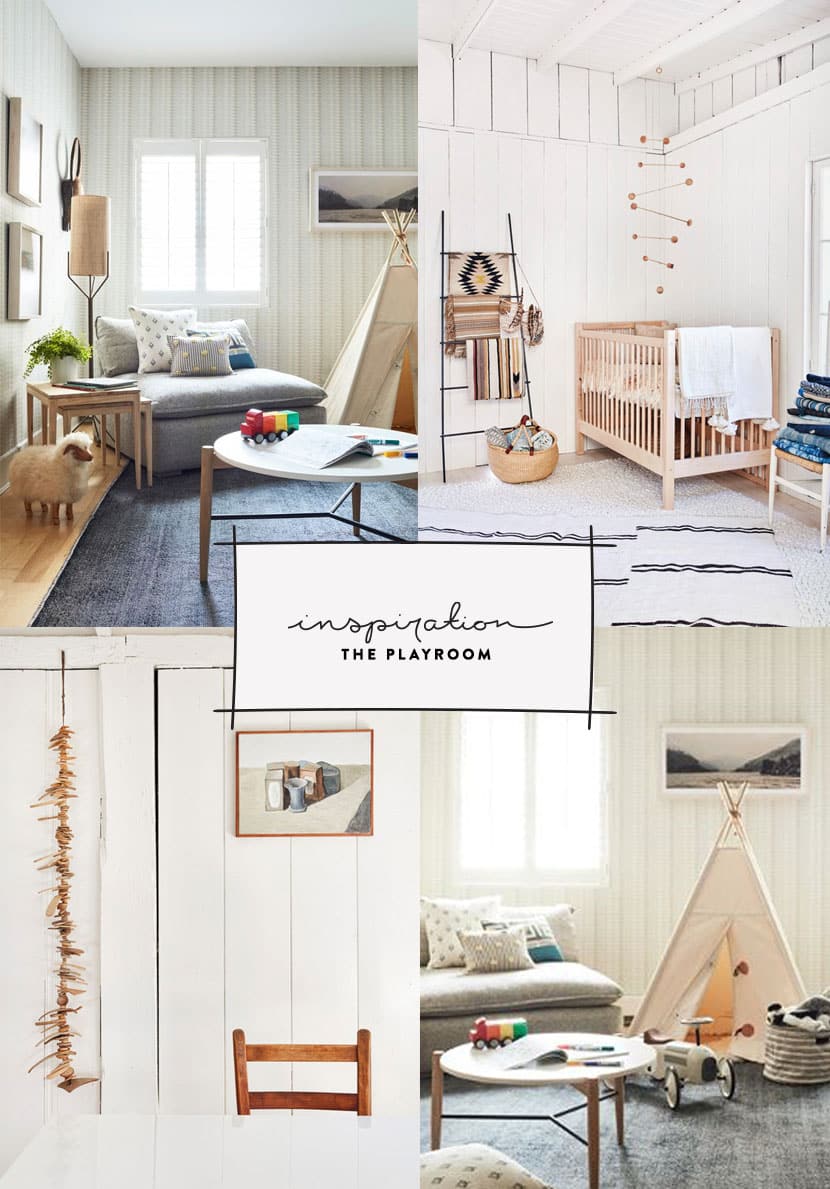 Images via (top left to bottom left clockwise): My Domaine |  Domino Mag  |  Domino Mag |  My Domaine
Another thing I have learned is that having kid-friendly furniture is important. Hayes is a climber so we need things that are sturdy, won't tip, and can be fun too. Though I am not a huge fan blocky side tables, I know they will serve our family well. They will be fun for play and easy to use as tables and so on when pushed together.
Finally, we wanted to have some sort of sleep sofa couch in this room, especially while we waited to finish our basement where we will have a proper guest room. So we found this low leather futon that is modern and appears kid-friendly. If we don't go with this one it will be something similar.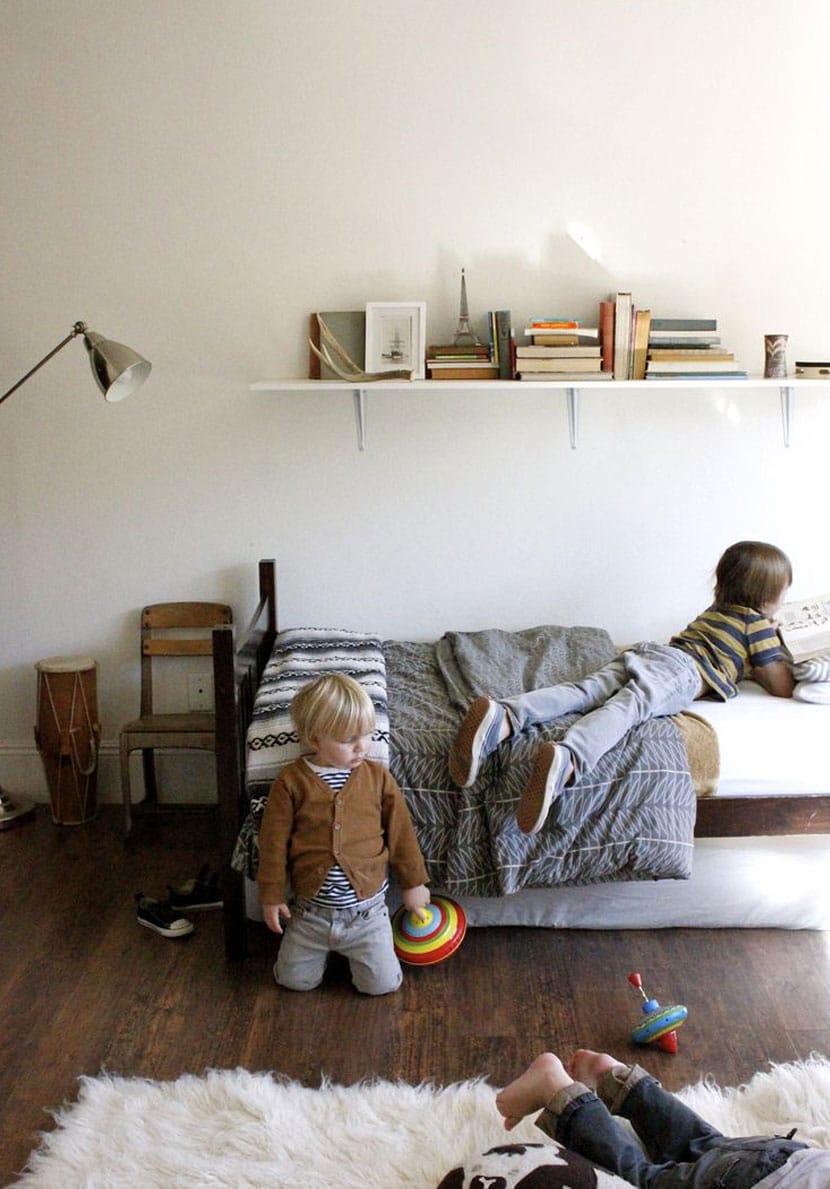 Image via: A Beautiful Mess
I am so excited to see how this comes together as we move in. We are excited to have spaces for our family like this and most excited about pulling out everything in storage for Hayes. To have all his books in one room will be so exciting for him. Below you can see some of the exact or similar items we will be placing in the room.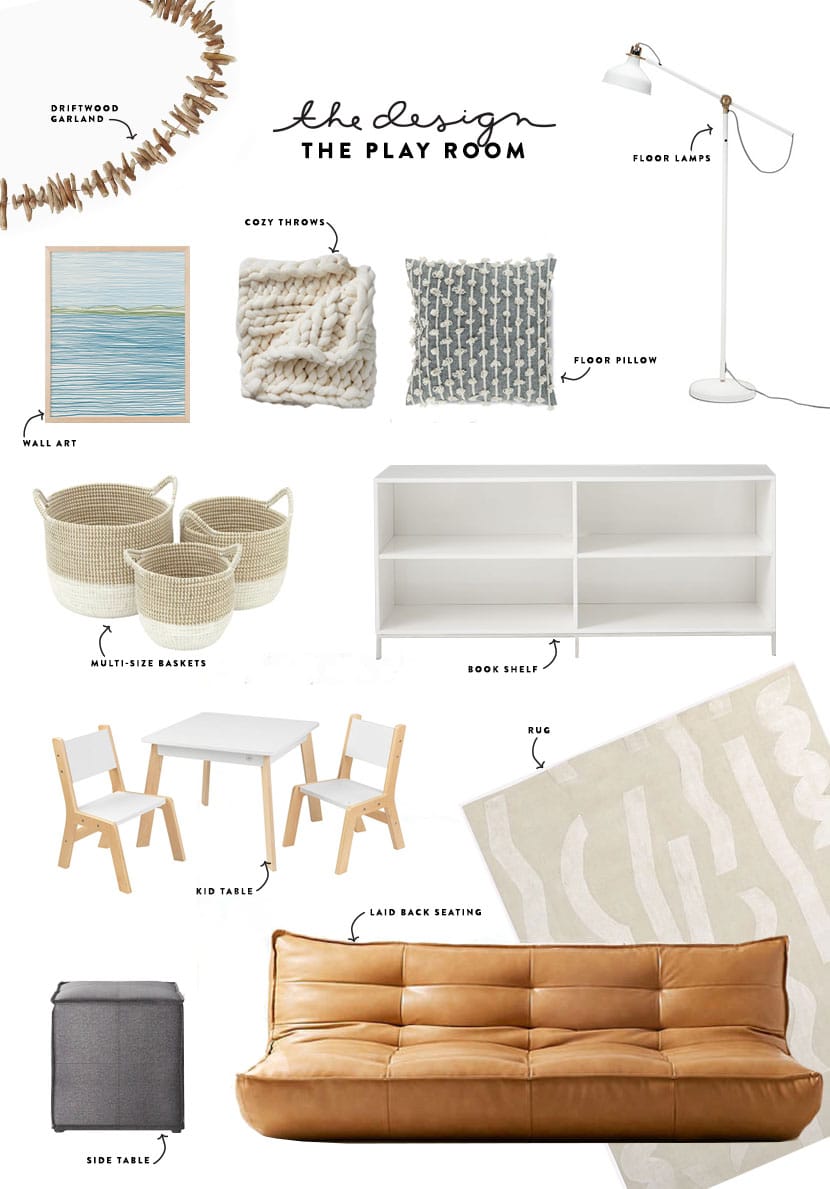 Driftwood Garland (we plan to make our own)  |  Wall Art from Jorey Hurley  |  Cozy Throw from The Citizenry  |  Floor Pillows from The Citizenry |  Floor Lamp (one for each side of couch) from IKEA |  Multi-Size Baskets from Wayfair |  Book shelf from West Elm  |  Kid's Table from KidKraft  |  Rug from West Elm  |  Side Table from Target  |  Couch from Urban Outfitters 
So tell me, what do you love having in your kid's playroom? What tips do you have for a family friendly and kid friendly space? I would love to hear any other tips.