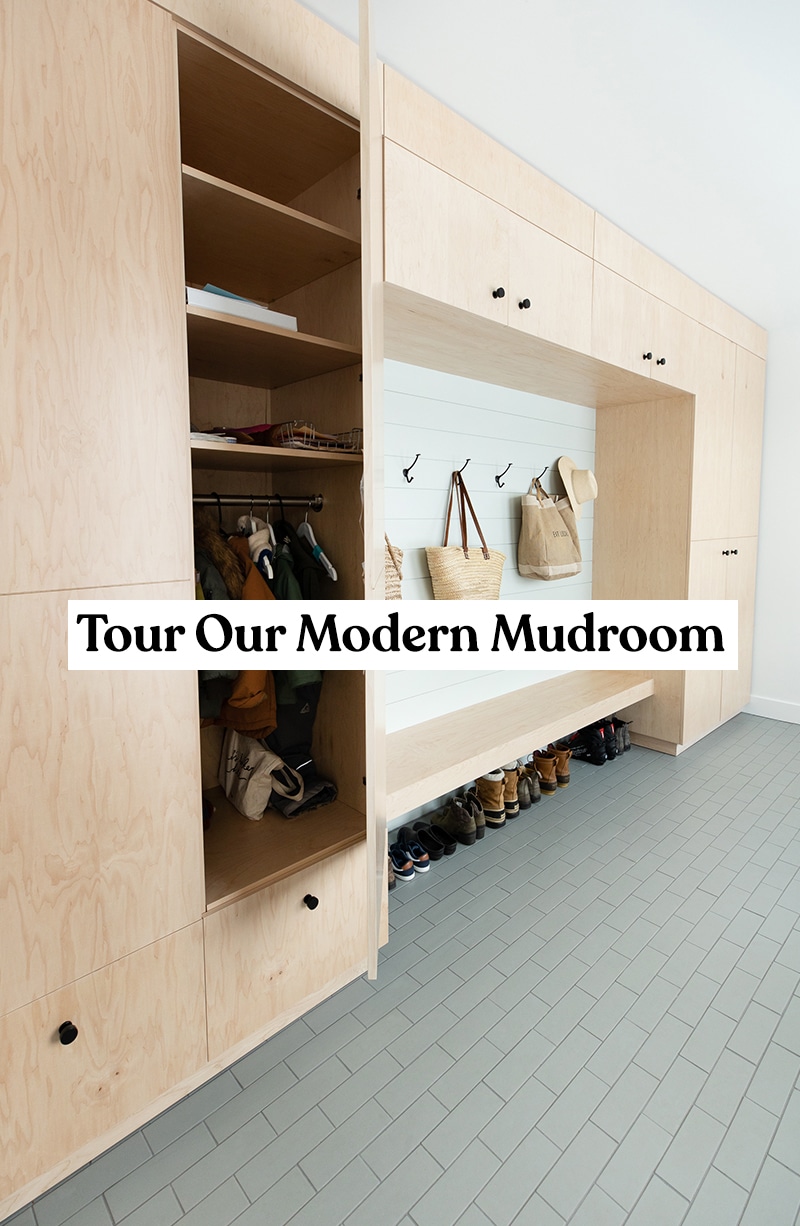 Our mudroom is completed and we couldn't wait to share the addition and finished mudroom with you! Many of you have followed as we designed and planned the mudroom to connect to our garage addition and have had great questions as we put the space together but now we are sharing all the details of the mudroom with you today. We will share more about the rest of the addition once it is warmer and we can get outside. You can catch up on all the details and plans on this post, but in this one I will be giving you a tour of our modern mudroom design that we created full of smart and hidden storage for our life here in Northern Michigan.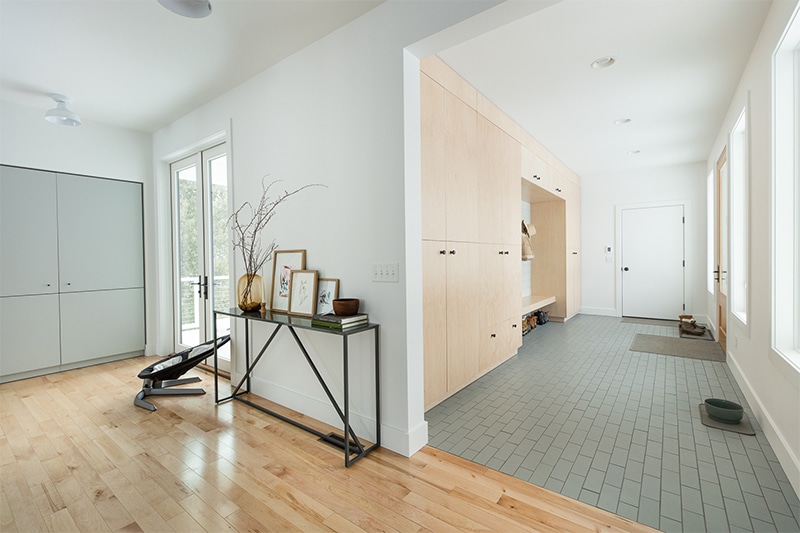 If you caught in our previous planning post, you know what the design for the mudroom was intended to look like…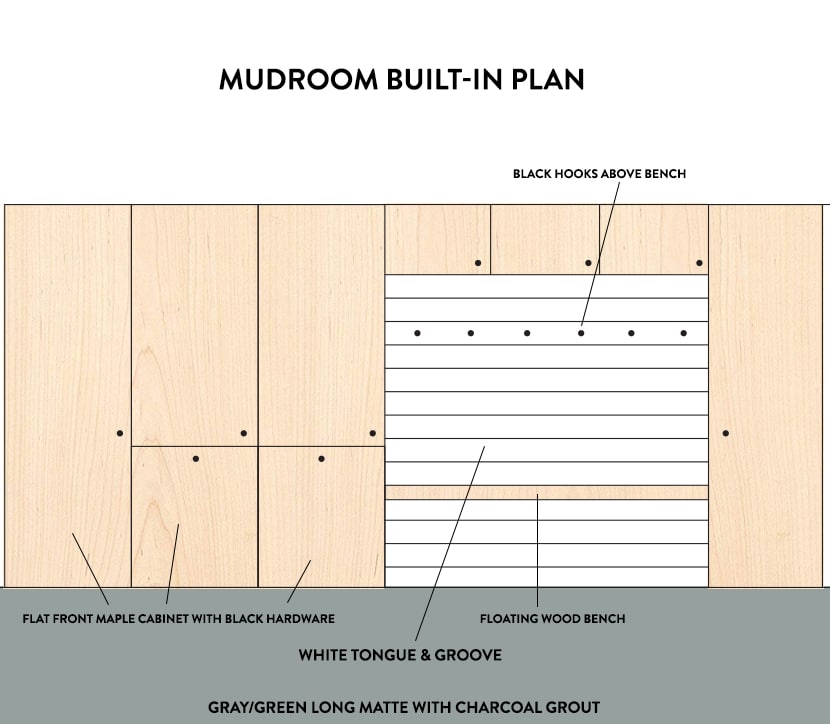 This was the original design I gave to our contractor and his team to create this vision. Now I am not a professional at this at all and when I created this I had done no measurements. And since I was living here while they were creating all of this, I was able to work with them one-on-one as they built it this Fall for us. You can also check out new homes in Brunswick, GA to get an idea.
Designing a space like this is a ton of work! We thought about 100 things in order to make sure it was functional and felt completely cohesive with the rest of our home. The goal was to switch things up some with the look of the cabinets and the flooring, but make sure the tones and colors of the space remained cohesive. We also wanted this space to be smart and durable for our life. We have young kids and we see all 4 seasons on our 10 acres in northern michigan so we wanted tile in the mudroom that would hold up, which is why we knew right away we wanted to work with Fireclay Tile since we have loved ALL of our tile in our home from them. They don't just make beautiful tile, but they also make extremely durable and environmentally friendly tile all in the USA. Check them out if you are thinking about tile for any space in your home. You can search our home posts to see all we have done with them in our home.
This time around though we didn't just use any tile from them. We kicked around a few different styles and types, but ultimately we decided to use their new Non-slip tile that has a matte finish and is commercial grade so it is EXTRA durable. The tile can hold up to a lot of wear and tear. With muddy paws, wet snow pants, sandy feet, and who knows what else that will see these floors over the years we knew instantly that this was the right fit. The non-slip tile comes in lots of awesome colors and plenty of shape options so you can make nearly any idea a reality while being completely safe when wet and ready to tackle any job that it comes in contact with. This tile has already seen a whole winter and some muddy days, so I can tell you it is exactly what we hoped it would be.
My goal with the design of the tile was to keep it simple and I loved brick floors in many older farmhouses and English countryside homes, but I wanted it to feel like it fit our modern aesthetic so I kept that brick subway pattern while using a crisp and cool color called Skyscraper from Fireclay that played off the color of our cabinets throughout our home. I love it because it feels completely neutral, but it still has a touch of color to it, which is my ideal sort of floor choice in such a busy space. We used the 3×9 size with a charcoal grout that was just a few shades darker than the tile itself.
My suggestion when thinking about floors in a busy space is to do a mid-gray to dark gray grout because it doesn't show traffic patterns. We have black or a darker charcoal in our half bath in our home as well and I would also say that is challenging as well because it shows any spots so be weary of that as well. Grout is super important to also seal properly as well so it can be cleaned an maintained easily. Choosing a color that is close in color is also ideal bc these choices determine style ultimately as well. A grout choice can make the same tile more bold, modern, or classic so make sure you nail that when making your tile choice as well.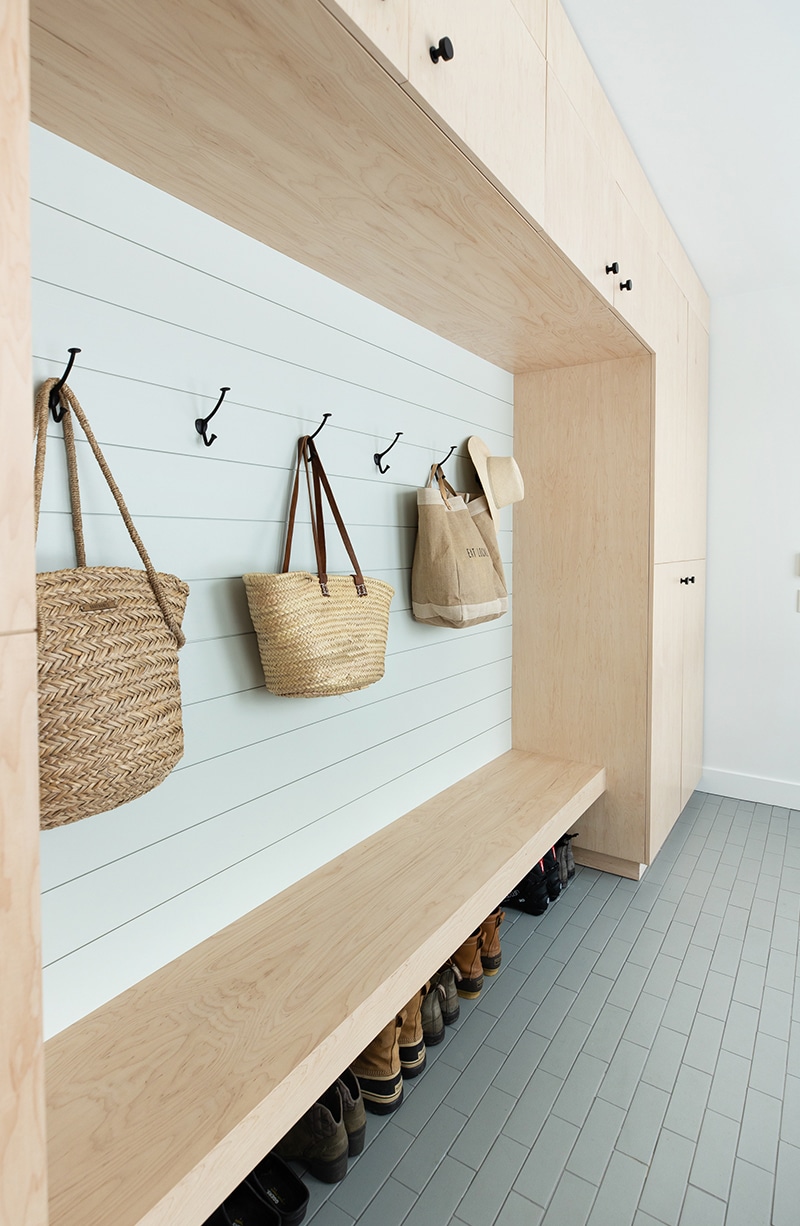 Among many of the design decisions in this space, we also made the choice to do in-floor electric heating instead of running our forced air and we couldn't have been happier to choose electric in-floor (get it now..) which was installed with the help of a professional company such as Electrical Synergies right after the electrical system was hooked up to new circuit breakers. We knew this space would get plenty of sun, but would be exposed to the cold from the garage so the balance of heating it would be interesting. Thus, the in-floor heating became our best choice and honestly our most affordable as well. We keep it at about 65-degrees and on sunny days it will reach higher on its own. Thus, it makes this space a very warm and inviting mudroom to walk into after a snowy walk outside.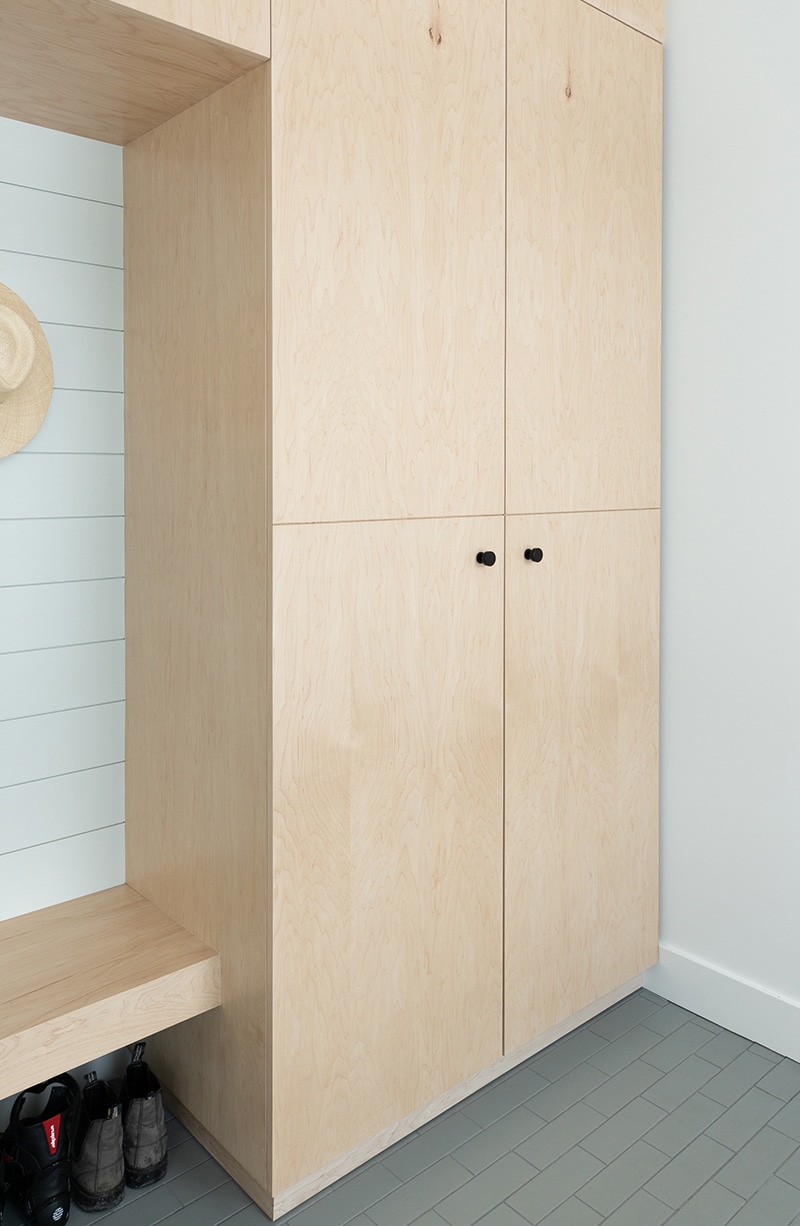 For the rest of the mudroom we decided to use a maple plywood for our doors. Our builder sent over one of their craftsmen who had worked on our home previously and he helped us design and construct the custom cabinets for the mudroom. You can see more about them in the video, but basically they are 8-foot doors on 24 in x 24 in cabinets with toe kicks and additional ceiling boxing to finish it to the 9 foot ceiling in the mudroom. The doors have maple veneer on them to hide the plywood edge. The line in the doors is routed to make it look like our other cabinets. They are finished in a clear matte seal to keep them nice and clean and protected.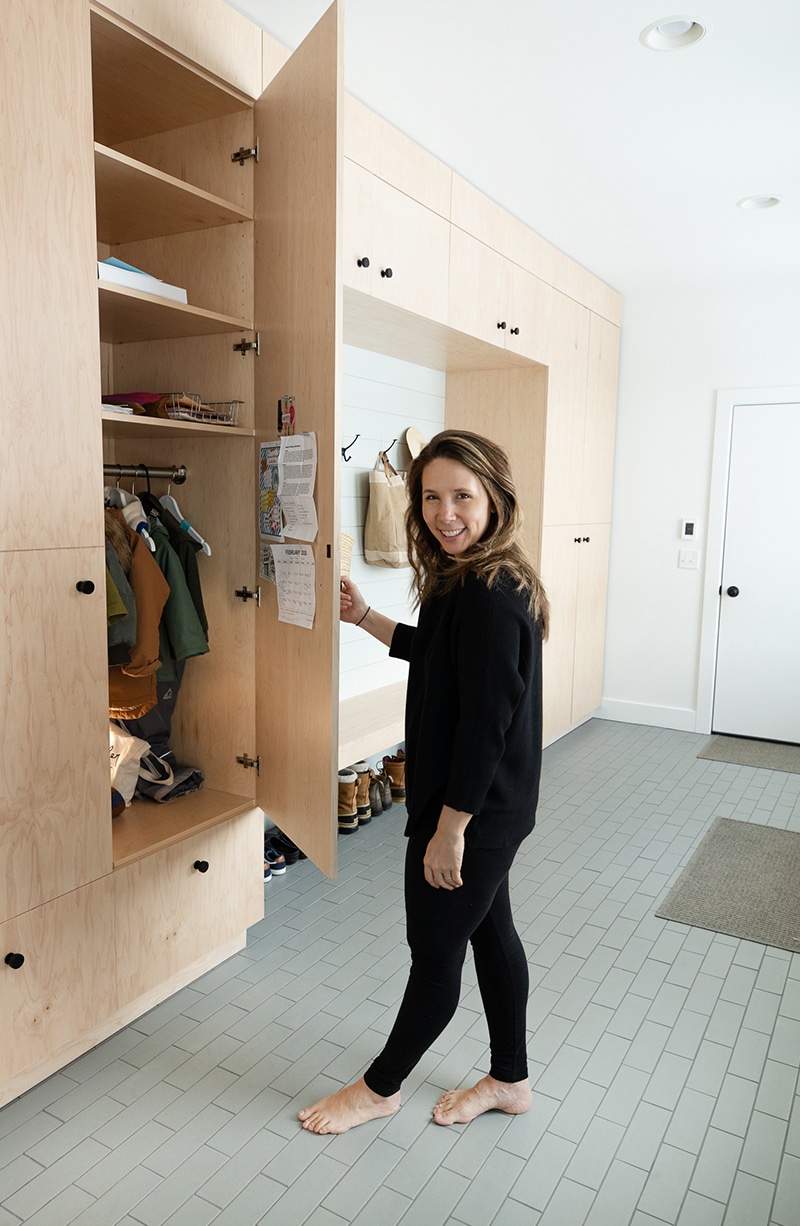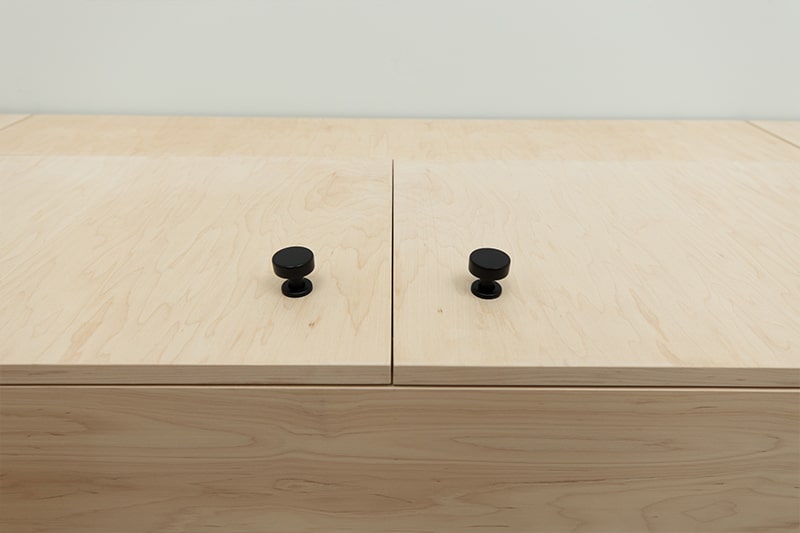 I share in our video tour the actual insides of every single cabinet, so if you are curious I highly suggest checking out the video. I talk about all of our decisions about organization and more in the video. So jump over there to see it if you are interested in more details about the custom cabinets.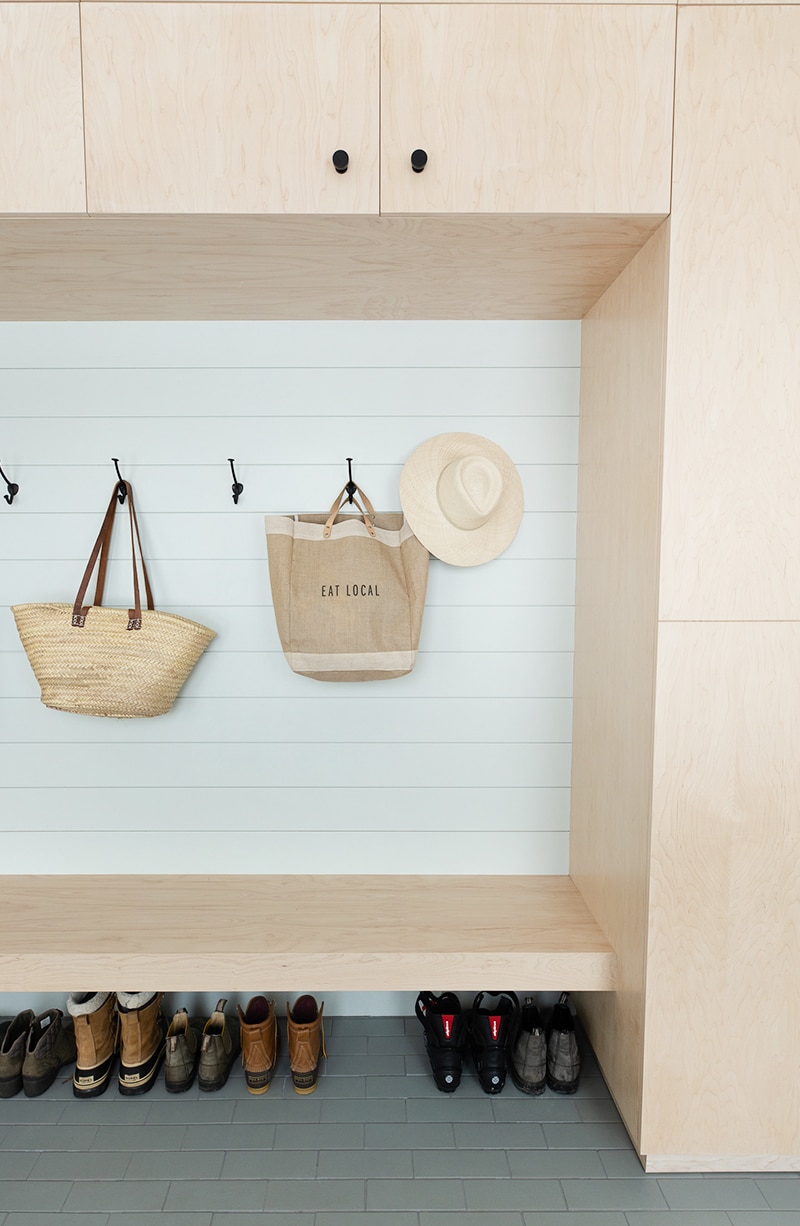 For the rest of the design, we focused on keeping all hardware black to tie into the rest of our home. Black is classic and simple but also brings a modern edge so it works perfect in our home. The hooks are from Schoolhouse Electric and the knobs are from Wayfair.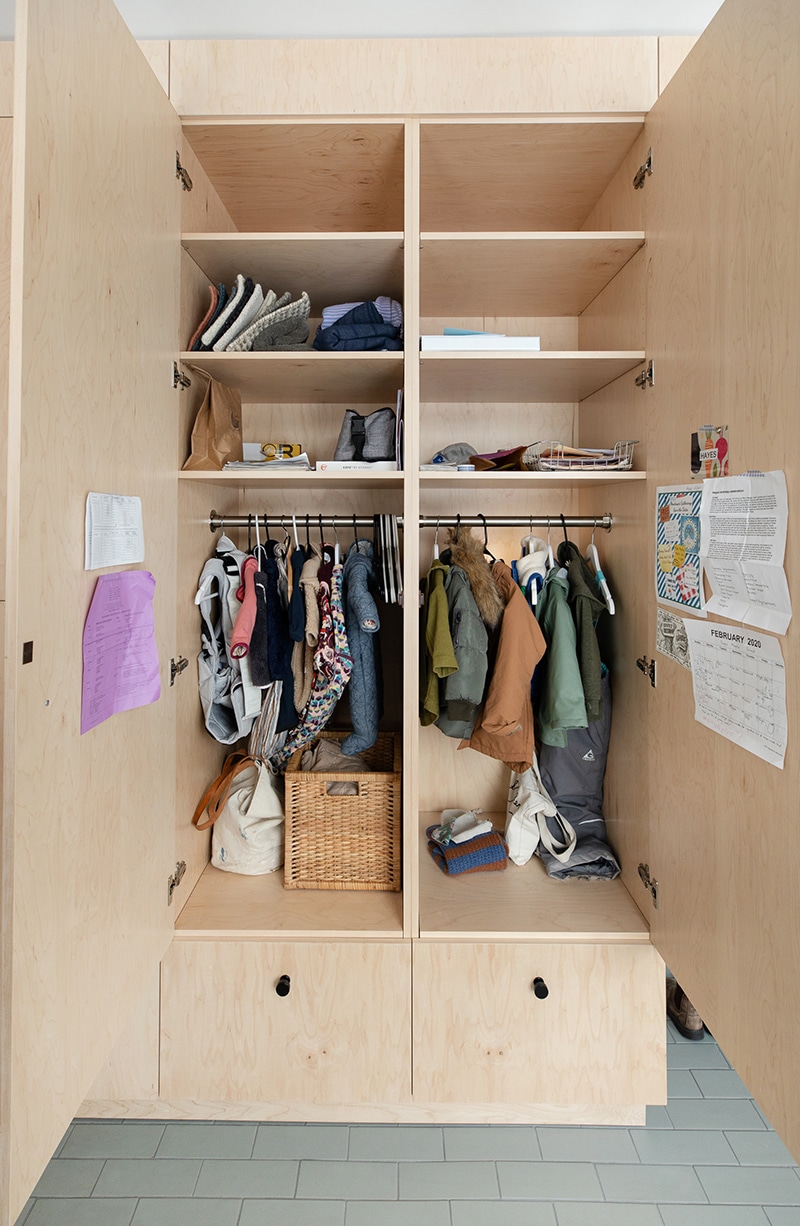 For the insides of the cabinets we wanted them all to have purpose. As I designed them I made note of what would go where and why. For instance, I wanted to move our vacuum into our mudroom from where it was near our laundry by the kitchen. This way it was concentrated and easy to access in our home. This all worked out perfectly.
We also made sure both of our kids had their own cubbies for hats, mittens, socks, etc for the seasons. We wanted our kids to understand where their items belong. I also wanted everything hide away and not be hung on hooks. I wanted our hooks to be for display and for our guests only. This way the mudroom would be less cluttered looking and feel cleaner and calm when entering the space. Something I enjoy about our home is how the storage allows this to happen.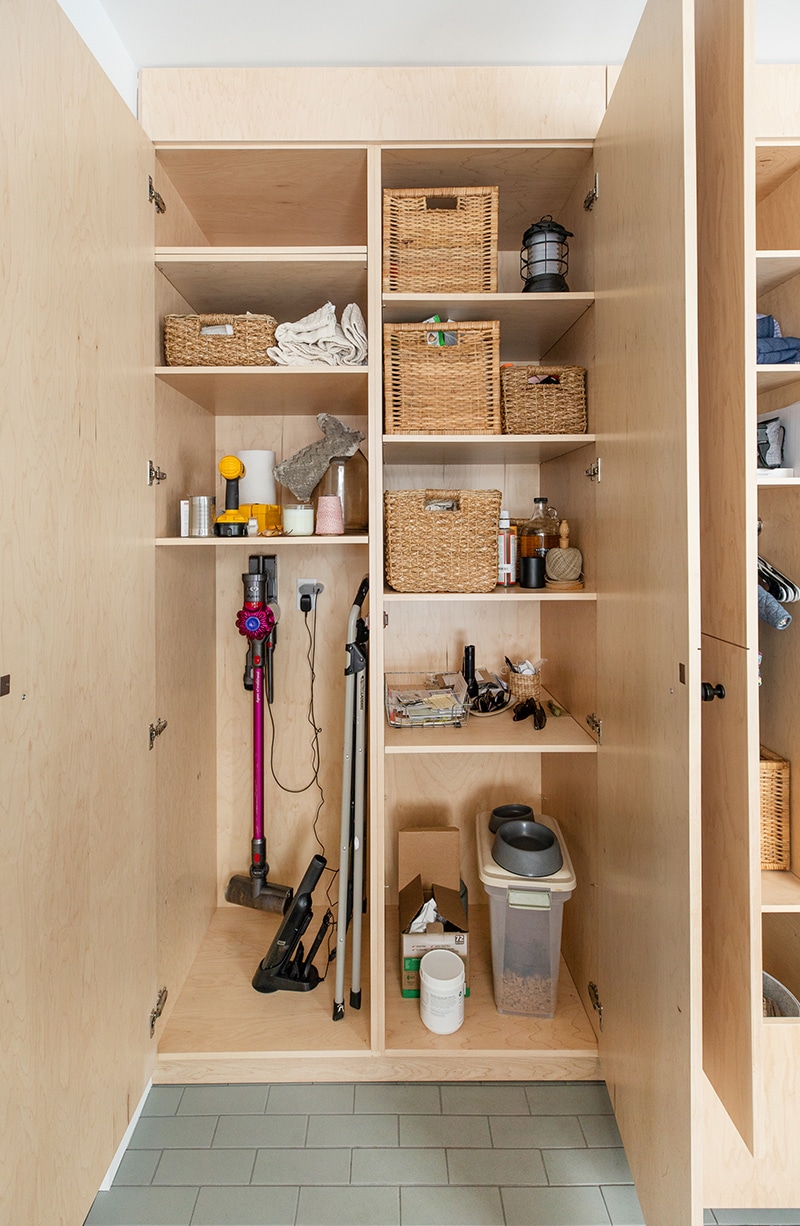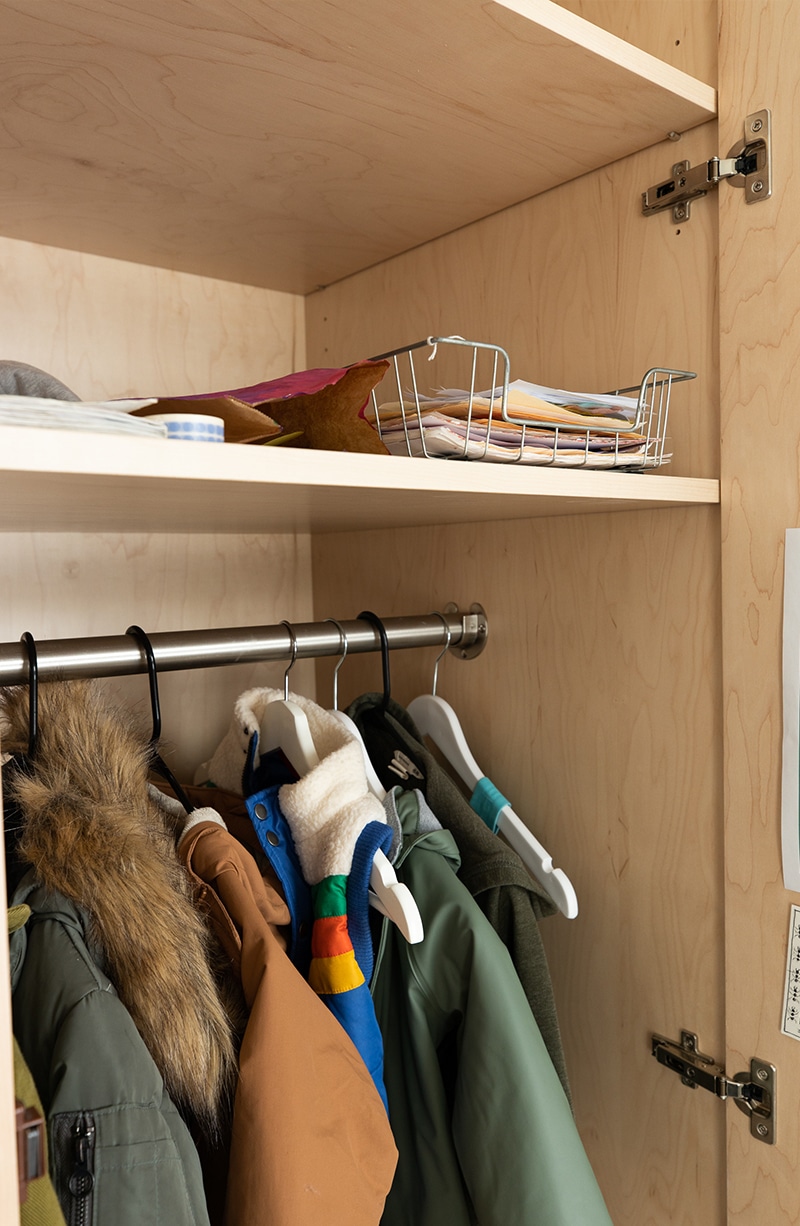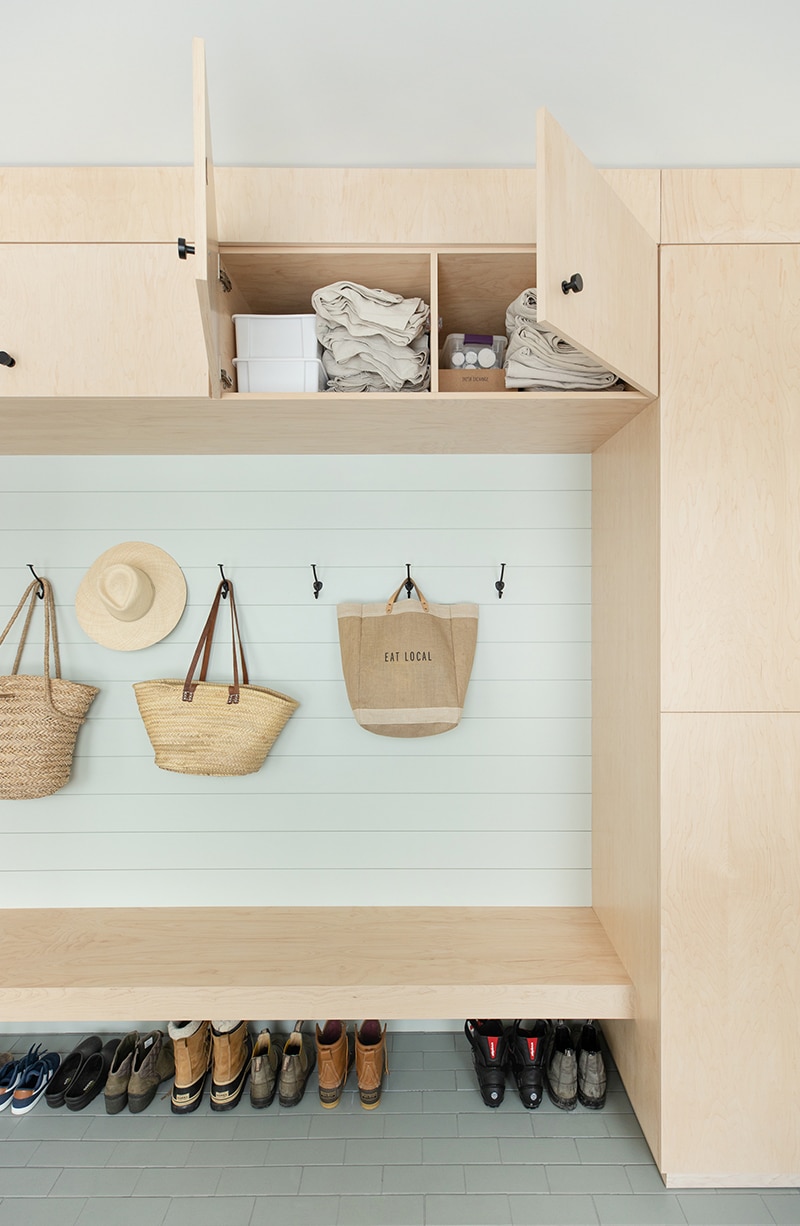 We use all the upper cabinets for keeping our items for outdoor dinners. Before we had kept these items in the basement. Instead, I wanted them closer to the car or the areas we would be dining. I spent a lot of time hauling things up and down the stairs the last 2 years. It was something I wanted to make sure we had room for when designing the space.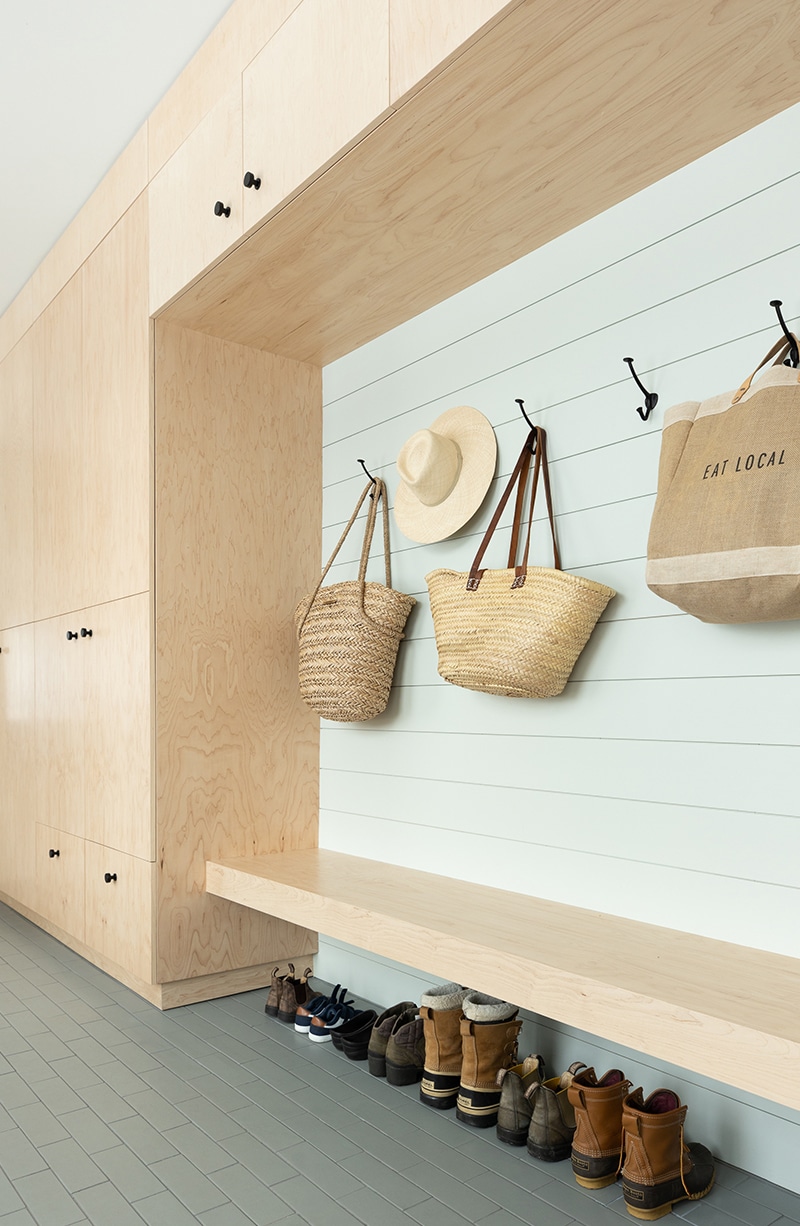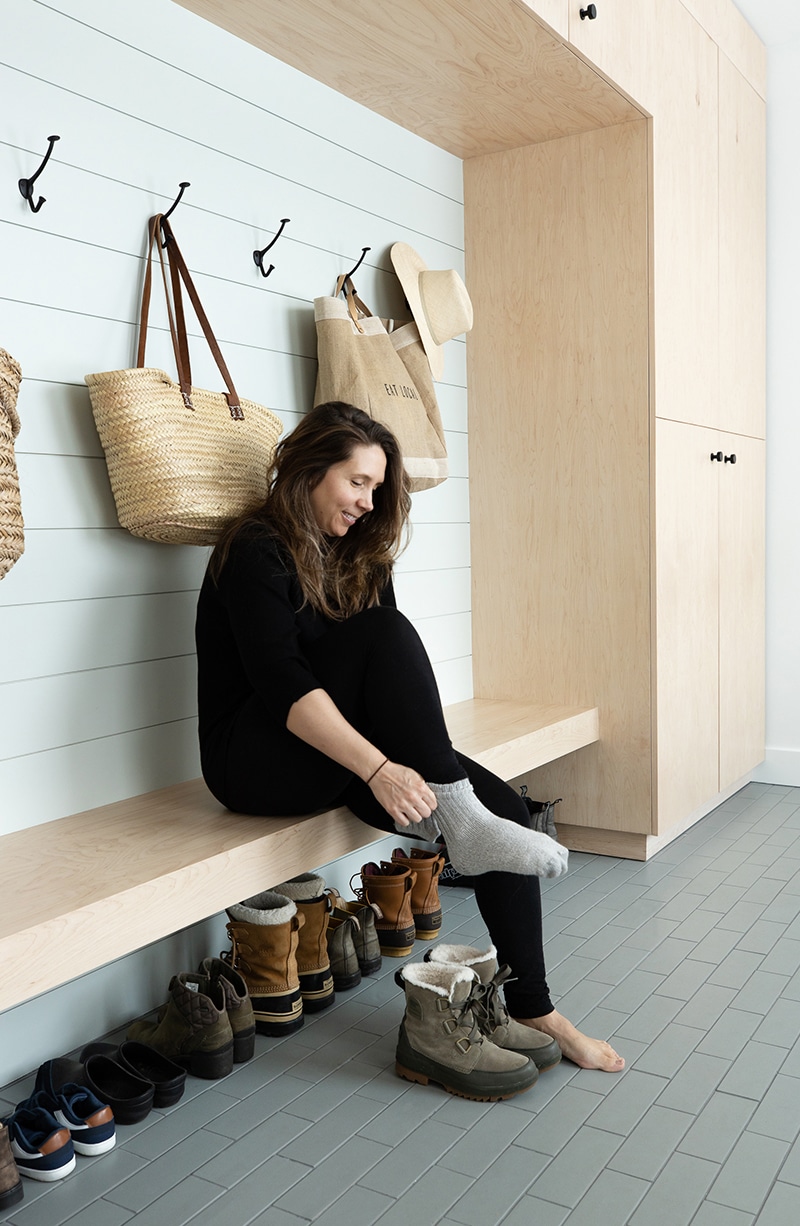 Our bench was one of my favorite parts of the design. In our video tour, you can see how it was constructed. Basically we wanted the bench to be the first thing you are presented with when you enter the mudroom. We also wanted it to look like a full piece of wood and the craftsman at Shugart. We wanted the bench to be floating, but we also wanted to make sure it would be sturdy. Thus, they designed this bench for us. The mudroom bench is made to look like a solid piece of wood, but it is 2 pieces of maple plywood mitered together. Underneath it is reinforced and setup to take some wear and tear. Check the video for the underneath of the bench.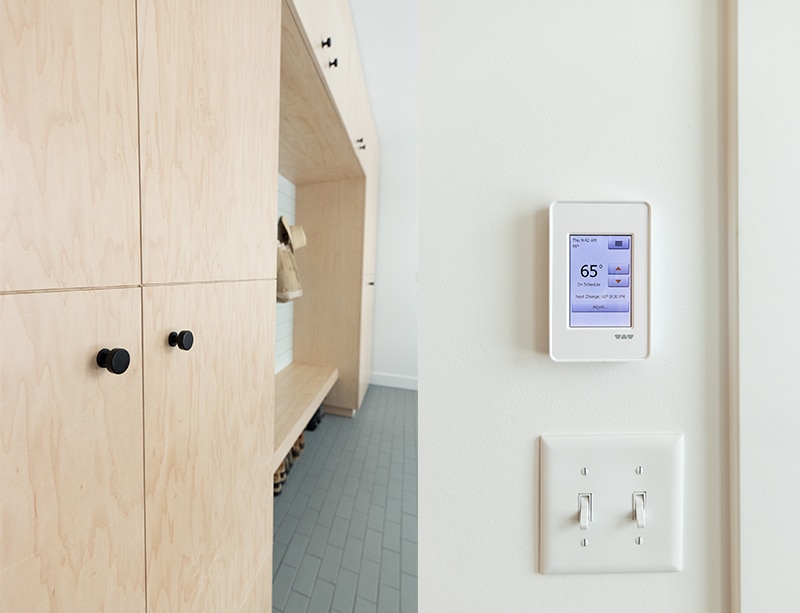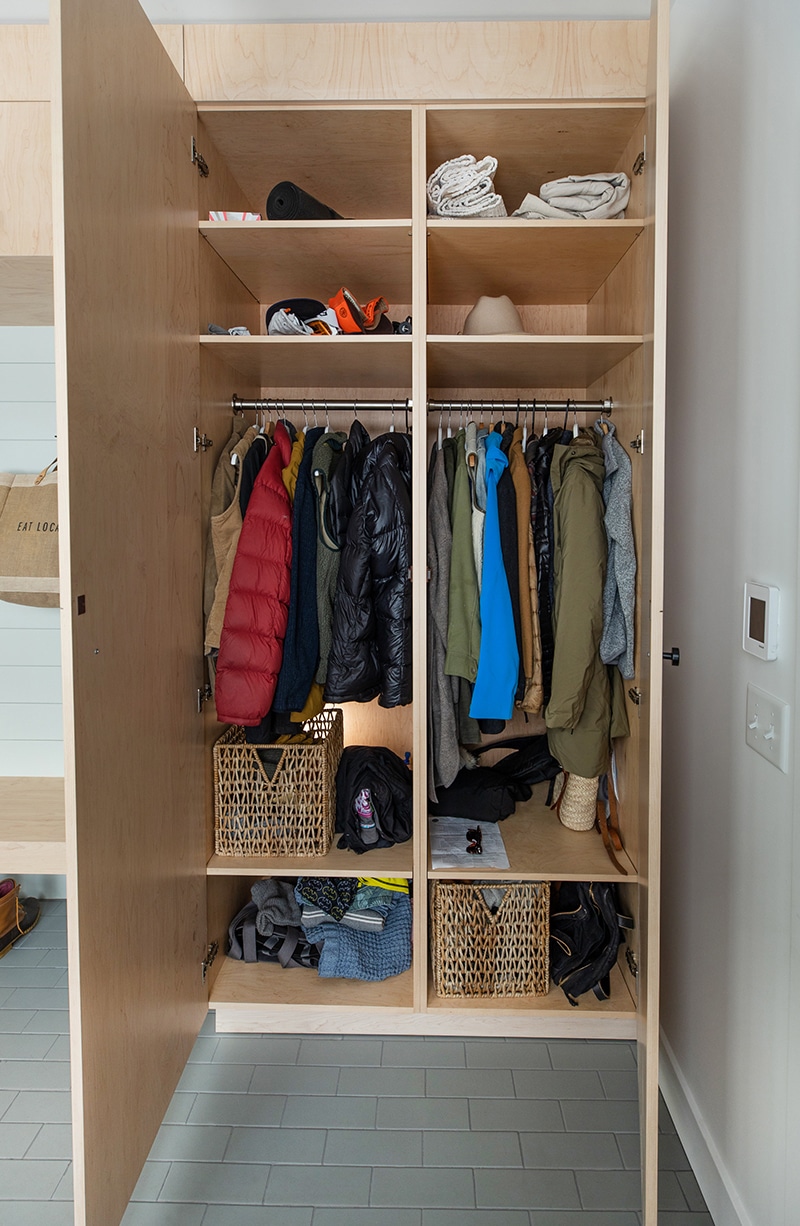 For Mike and I's cabinets, we opted against drawers. We don't have nearly the same amount of items we need access to as the kids do. We felt the drawers would be better for the kids to access rather than pulling out baskets every day. The drawers are easier for little hands to handle and find their things. It also means fewer dumped things on the floor because they can see into the cabinet as well.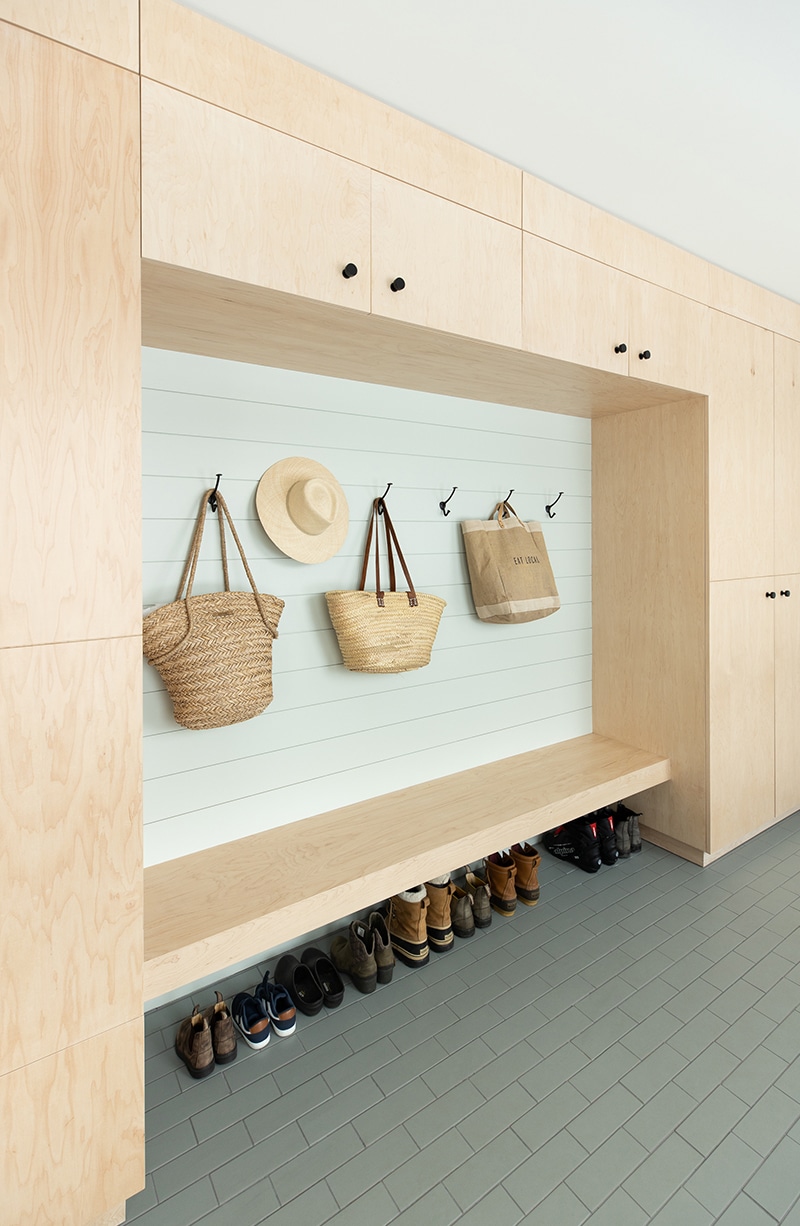 The final touch in this whole thing was our Tongue and Groove hook area over the bench. I originally wanted it all to be white. I wanted to add the "shiplap" look to create that farmhouse aesthetic but in a modern way to the mudroom. A key in designing a space is making sure to keep lines in the same direction; create visual lines that connect the space. Mixing up those lines makes for a busy and disjointed feeling. By adding this additional detail helped tie together the details of the mudroom. I felt pretty quickly that the wall needed to be a different color. So at nearly 9 months pregnant I went to the paint store and picked out swatches to review. I wanted something with a little touch of the tile tone but lighter and with a little chroma. I also wanted something with a touch of green. The Pearl Gray swatch from Sherwin Williams won as I watched it over the course of the weekend. The color felt right and I loved how it played with the wood tones as well. Once we added the cast iron farmhouse hooks from Schoolhouse I knew it was perfection! I couldn't be happier that I opted against white for the hook wall.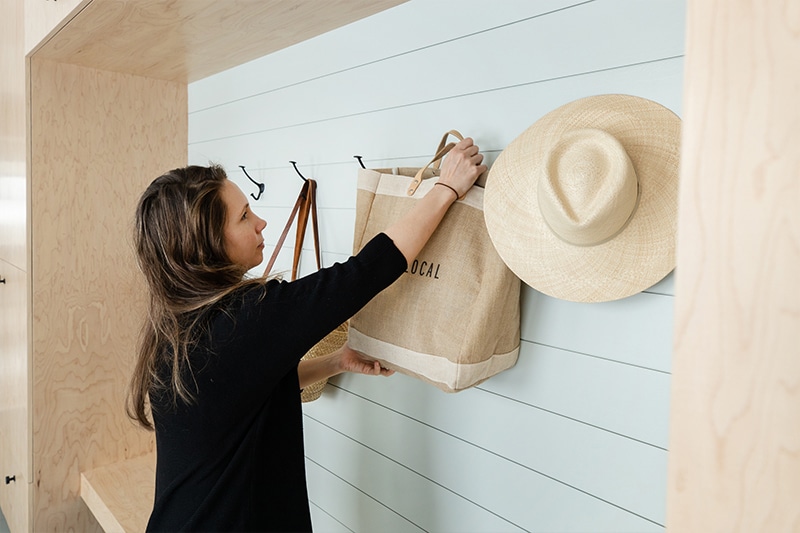 All the materials and details for the Mudroom are below:
Cabinets: Custom Built by Shugart Builders in Traverse City, Michigan
Cabinet Materials: Maple Plywood with Maple Veneer finished with a clear matte urethane
Floor Tile: Fireclay Tile – Matte tile in Skyscraper in a 3×9 size with in-floor electric heating
Coat hooks: Schoolhouse Electric
Eat Local Bag: Custom Apolis Bag
Front Door: Simpson Doors
Rugs: Waterhog rugs
Cabinet Pulls: Wayfair
Baskets: Woven Basket is Ikea, Felt Baskets are Ikea
Windows: Pella Windows
Wall paint: Sherwin Williams – Extra White
Tongue and Groove / Ship Lap Paint: Sherwin Williams – Pearl Gray
Heating System: Schluter
Vacuum: Dyson V7 Cordles
Advertising disclosure: We were gifted tile from Fireclay for this post but all thoughts and opinions about the product are our own.
If you like this post, you won't want to miss these other posts:
Mudroom and Garage Addition Plans | Our Master Bathroom Reveal | Our Basement Bathroom Reveal