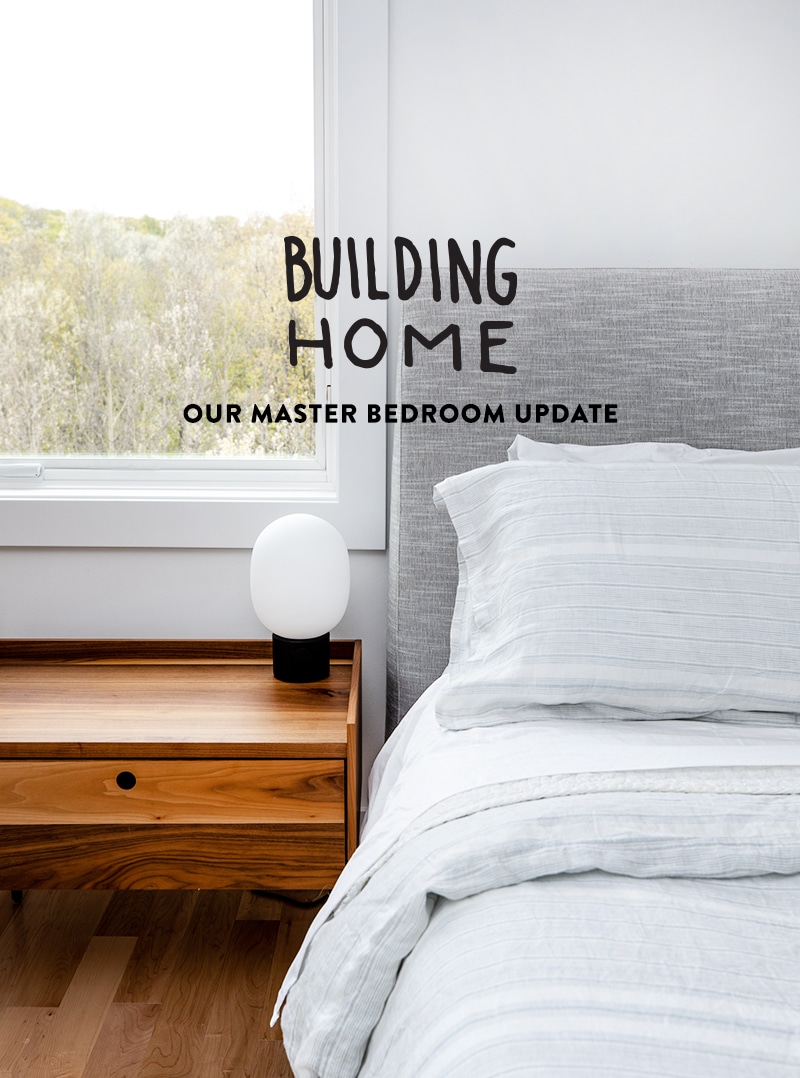 Sponsored: We received product for this story from Boll and Branch in exchange for a review of their sheets and bedding. All thoughts and opinions are our own.
Since we moved into our house over a year and a half ago, we decided to shop furniture and mattresses online! We have gone from a queen mattress on the floor that we got when we first married to that being moved into our guest room and a King size bedframe moving in and then a mattress after that, as we could get one of the best foam mattress – Gotta Sleep here. Then once we got our mattress and bedframe we kind of just slapped together some bedding that barely fit to make due till we could splurge on something we felt excited about. It felt like a low priority on our list. The master bedroom was rarely seen by anyone but us after all and there were other spaces that needed love more than this one. So we let it be for a while. Then one night I told Mike…"I think its time to get real bedding, let's figure out what we want."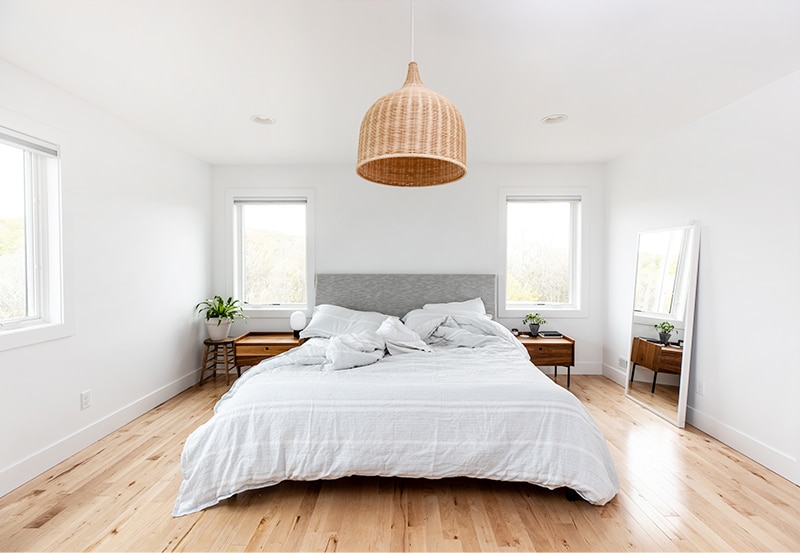 I started researching brands I loved and discovered Boll and Branch I loved their concept and commitment to being earth conscious. It fit us perfectly. A few months later before the days began warming, they shot us an email offering to send along bedding for summer and to try their signature soft sheet collection. I was so excited being such a fan, so I instantly said yes. We got their White Signature Soft sheet set along with their new Striped Linen Duvet made of Flax Linen. I was so excited to experience them in our home.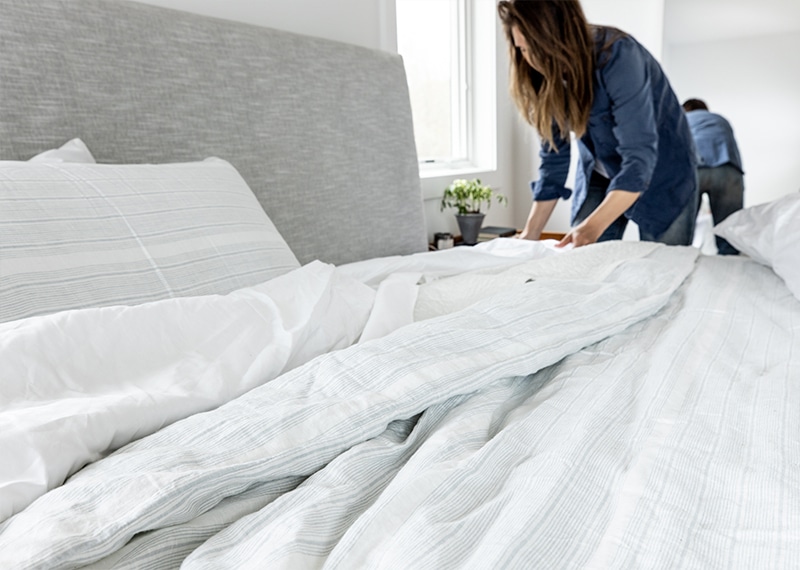 Over the last 3 weeks almost we have been sleeping each night on our new sheets and I am going to say the following things have been said "I feel like I am sleeping in a cloud", "It's like the best hotel sheets you have ever dreamt of", "They are just so soft", "I think I am sleeping better because of these sheets." Mike and I were pleasantly surprised to know that these sheets were even better than we had hoped and couldn't be better for these warmer days of the year.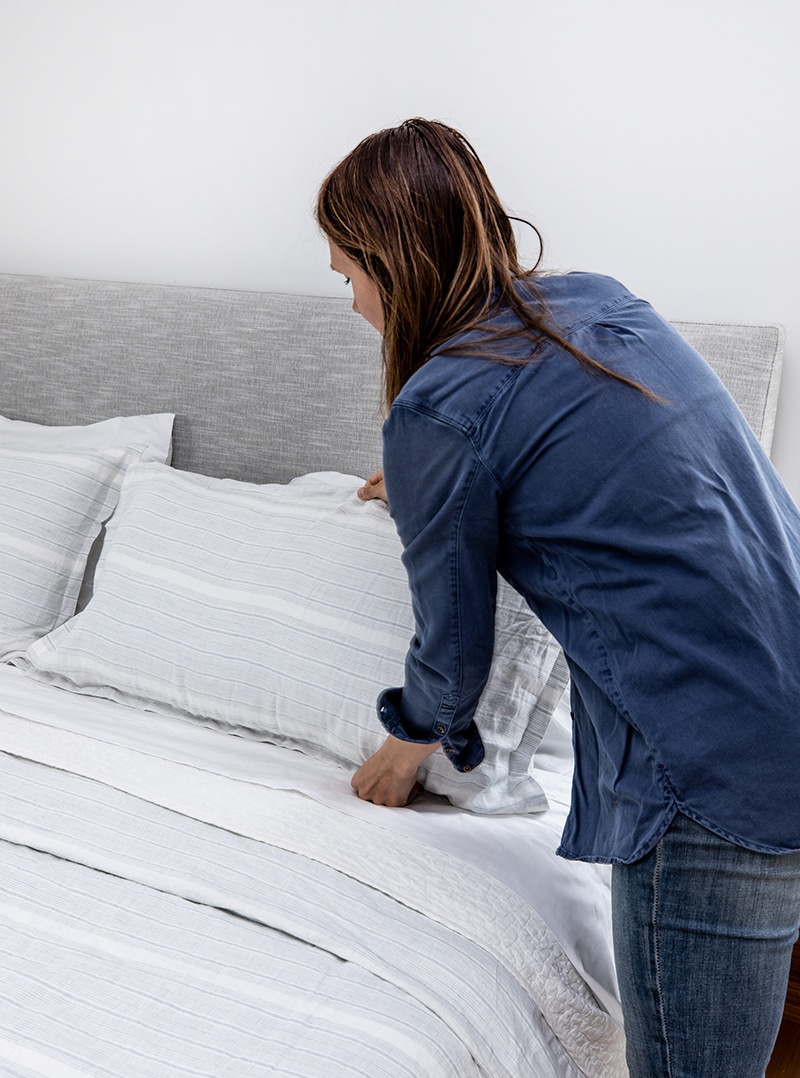 But let me step back a minute because these sheets for us weren't just something we were gifted. You guys know I like to tell you when we GENUINELY love something so I have to tell you what I also was really impressed by as what I care to call a "conscious consumer" these days. Since most everything in our bedroom has very serious intention behind it and the companies we have added into these space have such high expectations of quality, many are earth friendly or small makers so that each piece has clear design and impact in mind when entering our home. We have chosen things that might cost a little more, but they also are intended to last for many many years. So this is why I was most excited about these sheets gifted or not. Boll and Branch have a strong commitment not just to quality but environmental impact. All of their sheets are organic cotton so when they are growing their impact on our soil health is far less than generic cotton. The linen is made of flax which is an easy to grow and low impact crop similar to hemp so it has a low impact as well. On top of that, the sent everything in packaging without an ounce of plastic in it. Each item either could be recycled or repurposed that it all was shipped in. As a store owner, this impresses me because I know the work it takes to create this sort of packaging. I might have been most excited to see their packaging because of how thoughtful it was.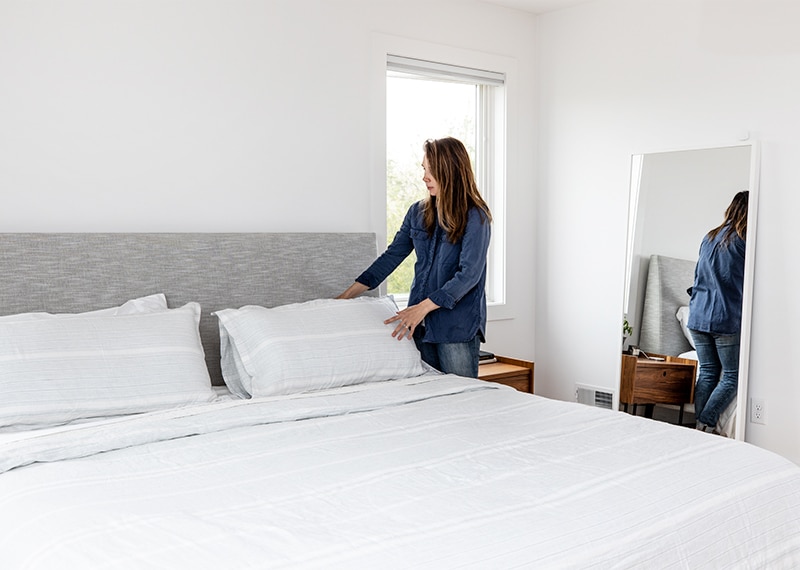 Our hope is that when we add new items of any kind that their impact on the environment is as minimal as possible, they will stand the test of time, and that once they do serve their time and need to be let go that they easily degrade and go back to the earth. It isn't easy to find products that hit the mark but Boll and Branch truly did all of that. I couldn't be more excited about the simplicity of our bedroom now with the new bedding and I hope if you are looking for a great new bedding option to invest you can know that I am truly in love with what Boll and Branch is doing.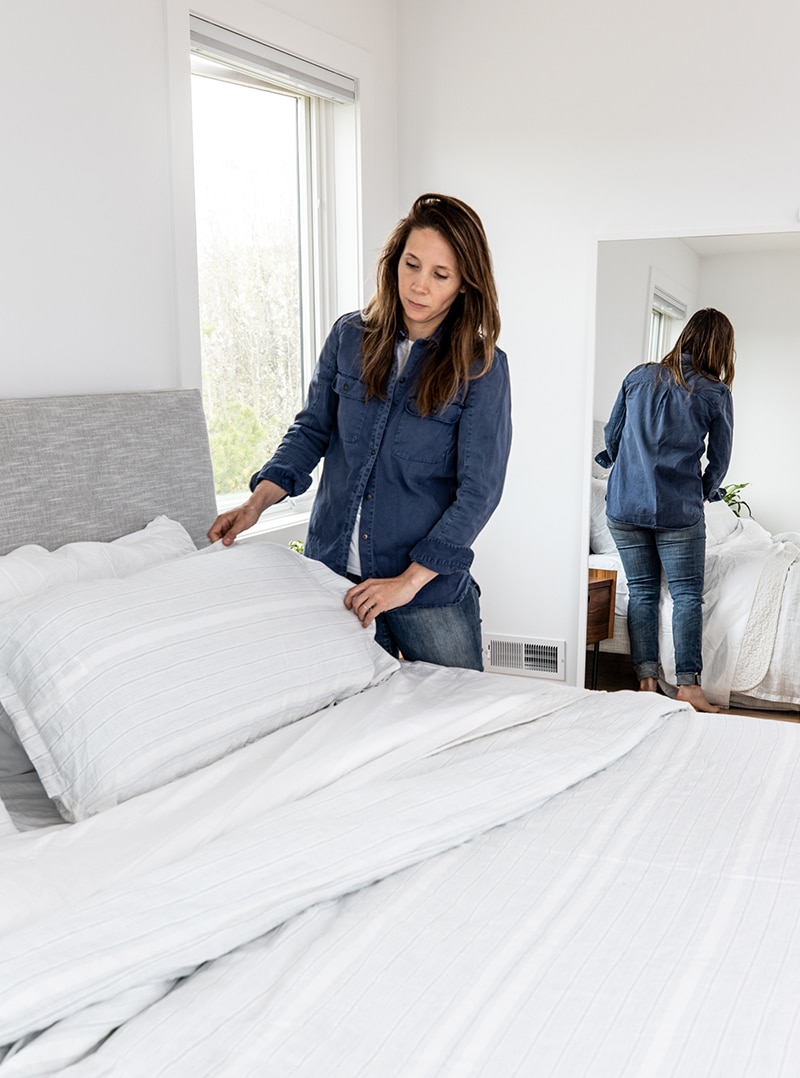 If you would like to test them out you can get $50 off your order of $200 or more using code 50FRESHEXCHANGE
So tell me what do you look for when consciously adding things to your home? What brands have you seen lately doing it really right?
Sources for bedroom:
Bedframe: Ella Bedframe from Room and Board in Destin Grey
Mattress: Leesa Mattress
Duvet Cover: Striped Linen Duvet
Sheet set:White Signature Soft sheet
Light: Reveal Home on Etsy
Side Tables: Peek Nightstand from Blu Dot
Side Light: JWDA Lamp from Menu
Mirror: Nissedal Mirror from Ikea
Stool: Antique found in Traverse City at Wilson's Antiques