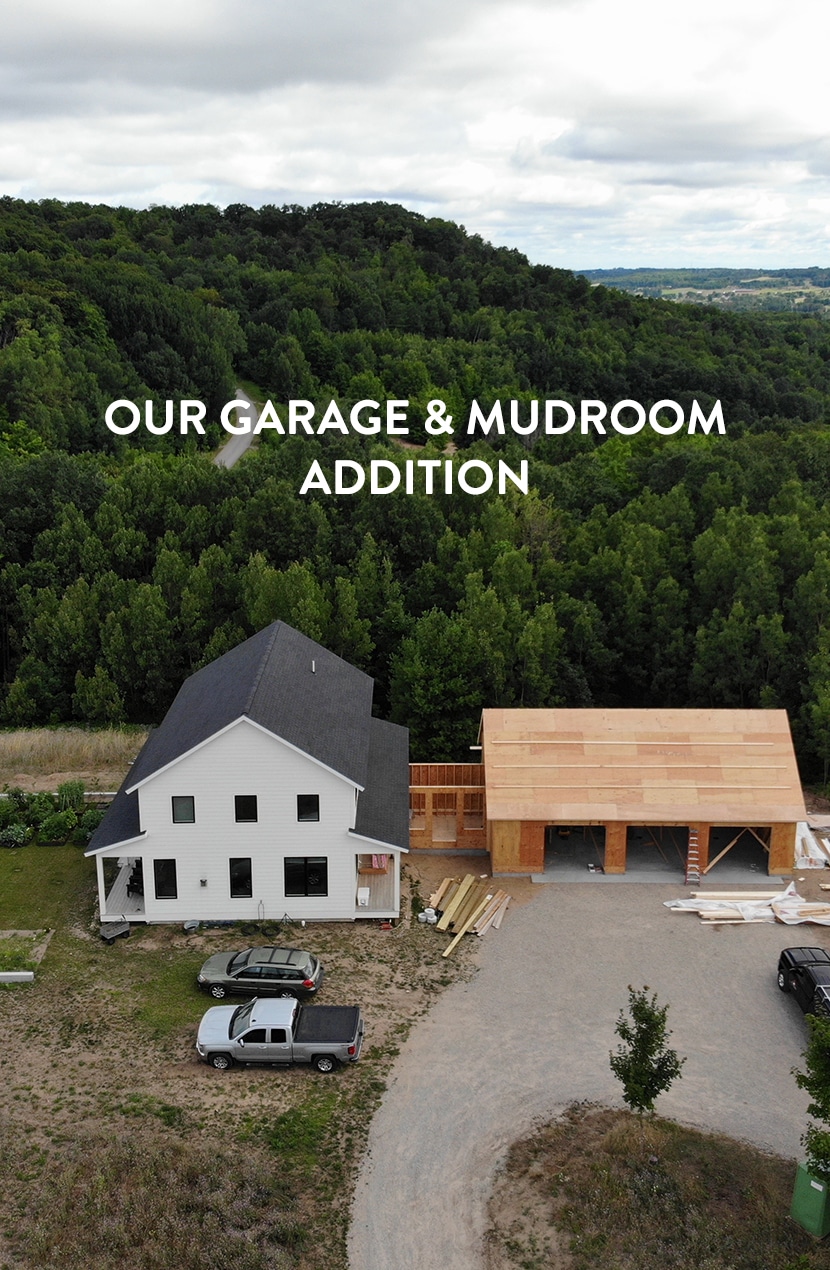 This is the long-awaited post about our current addition to the house. There have been so many questions from all of you and I am hoping this post is able to answer most of them.
Before we get into design let's talk about why we did this at all.
When we built the home, we only had enough budget to build the main structure of our home. Building in Leelanau County, and most of Northern Michigan is not the most affordable place to build. Most of the builders are incredibly high skilled craftsman who have built their trade over years, and rightfully deserve to be paid as they should be. In addition to high cost of labor, it was/is an expensive time for material costs. Trade tensions, natural disasters, and a building boom are all working against the price of materials. All of this affects what is possible within a loan. So when we built, we had to cut the garage design from our original plans, but we always knew it would come back later.
So after spending a full year in the house and investing a lot of time and energy into it we had built up enough equity to get the additional loan from affordable loan programs and we knew what we wanted to achieve with our design. We felt after a year we had figured out some issues that we never would have seen if doing this build all at once. You may look at this now if you need help financing your home improvement project. And for easy, quick and safe removal of rubbish from your home improvement project, you can check out this cheap skip bin prices in Perth for your best preferences!

One, our entrance exposed our home to the elements more then we realized and when we opened the door if you were sitting at the dining room table or in the bathroom and even sometimes in the kitchen you could feel the winter cold go straight up your pants and through your slippers. Winter also was hard to keep out and we had very naively placed wood floors at the entrance and they were getting ruined by the powder that would sneak in with each person in and out of the door. Two, we obviously had no where to store our outdoor gear, lawn and garden equipment, and other things necessary for living in northern Michigan and in the country. Three, we get a LOT of wind up here and when those winter storms come through they are wild and make for really uncomfortable days of heading back and forth to school or even just to run errands. So, when we got hit with the polar vortex this winter we decided we needed to make this a priority financially and literally started designing it and getting on our builder's schedule.
That said, we have had a lot of questions about financing and how we did this. Just know this did not happen overnight. For our entire marriage we have paid down debt as fast as possible and in ten years have paid off all loans to only have a home mortgage loan. This alone is the only way the bank would even consider lending us more money to add the garage. They do a very basic equation called your debt to income ratio. If your finances can fit into that ratio, you have a good credit score, and you have at least 20% equity in your home, you have a chance at getting an additional loan. One trick we used to help accelerate our home equity percentage came from our real estate agent in Raleigh. An experienced real estate agent who obtained his license from an on demand real estate licensing school, he advised us to always get a 30 year fixed mortgage, but to pay it like a 15 year. That way you can always lower your monthly payment if you need too, but every dollar you pay in addition to your set mortgage price is 100% principle focused. Which just means you own more of your home quicker. Another thing we did in the last year was some sweat equity. We completely finished the basement of the house so we had added finished square footage and equity to help us get the loan amount we needed. All of this helped. It is a rather confusing way it all worked out, but at the end of the day it all come together to make this dream happen.
Once we had the designs, and had secured the loan, we just waited till this summer to begin. While we waited, we picked everything out and designed the interior spaces of it all and so I will get to that now so you can understand what we have decided to do. I will do my best to explain but hoping the blueprints, before photos, and mockups will show it even better then I can explain.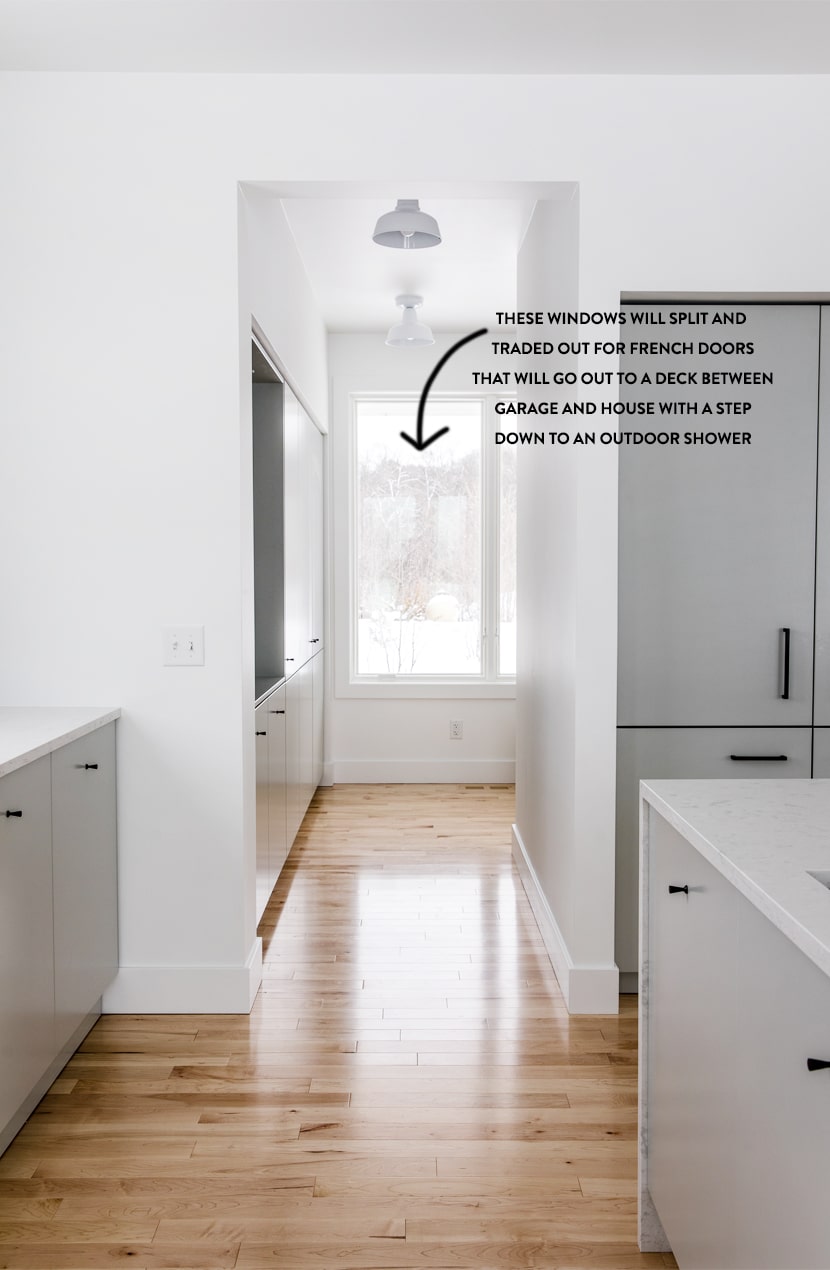 To begin, here are some shots inside to give you an idea how things will change. This view above will shift because the windows are being replaced for French doors that will open to the deck and offer access to the outdoor shower on the back of the garage. These windows aren't just being tossed though. Pella was awesome and charged a small fee to seperate them so we can use them on either side of our front door in the mudroom so we only have to purchase the French Doors and one other window for the mudroom/deck space.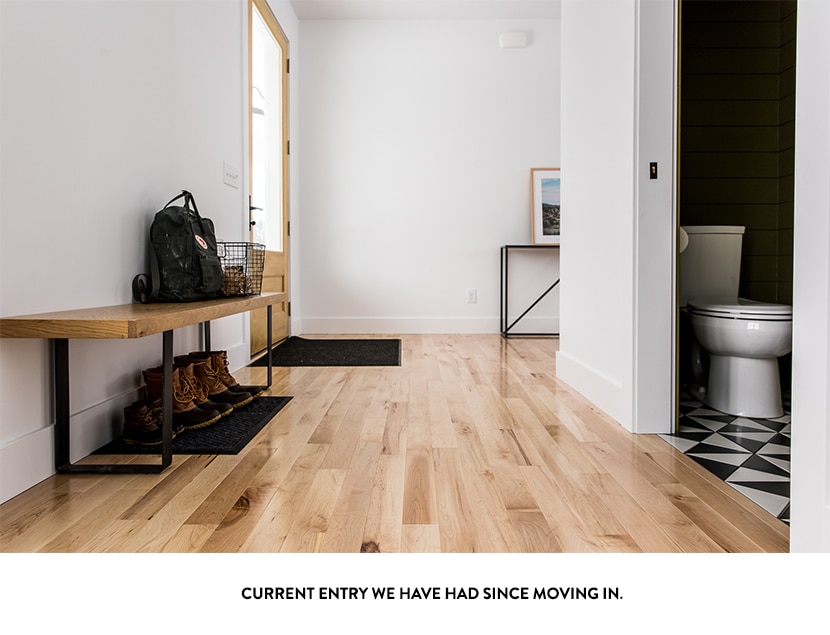 This has been our current "mudroom". If you live in a seasonal climate, don't place hardwoods by your front door. Our's will need refinishing in this area because they have gotten wet many times. When we first moved in and built the space, we had planned to do a built in bench and then eventually hookes and more, but then we noticed how much the weather was effecting our hardwood floors and we knew that wasn't going to work potentially. So we then went down the route of trying to think how we could rip the hardwoods out and create a space for a tiled floor. As we went through it all, the flow on the floor felt weird no matter what. We placed painters tape on the floor and each week tried something different and lived with it, but every single time it didn't feel right and the one thing that did, our builder told us it truly was a ton of reno and he said by the time it was all said and done, we would be basically not far off of the cost of building a connecting space. When we ran the numbers he was right. So, that is how we landed here. Many people have asked why we didn't do that, but that is what we came down to. We also talked to our real estate friends as well and they all agreed the addition of the attached garage with a mudroom was a HUGE value builder in our property. Thus, we decided it was worth the investment, so we hire a house addition contractor to help us.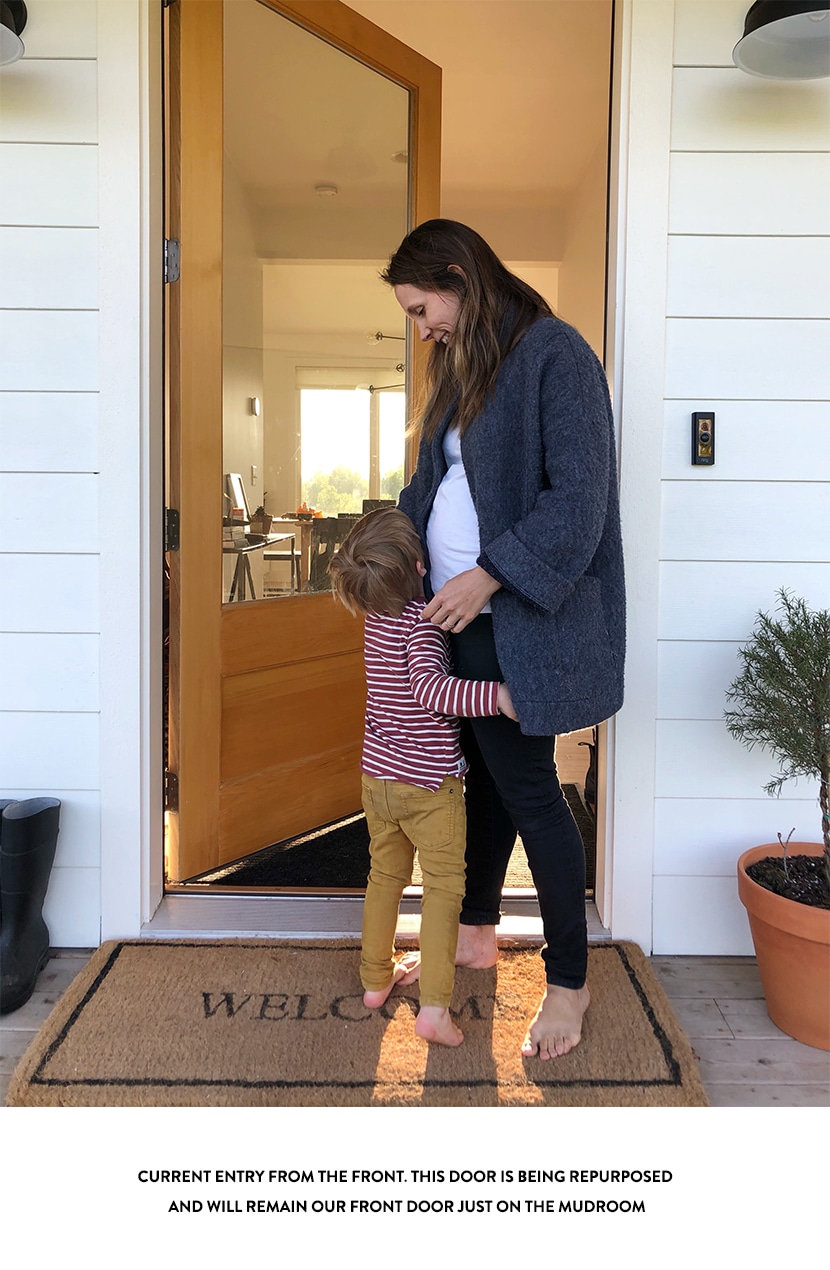 Our current front door is our favorite thing about our original build and it is such an awesome door! So we literally designed the header and everything for the mudroom to allow for this door. It was a big deal to us to keep it. We will refinish it because of the wear it has gotten on the front, but we are excited to keep it as the door that welcomes us home. However I've known that installing an auto door opener can modernize any residential space and these allow visitors to come and go without having to come into contact with a conventional door. So we are also considering this option.
Now on to our prints so you can actually see what is happening here. HA.
On the left is our existing home. Nothing is really changing other then the addition of the doors to the back deck that will fill the void between our garage. The 6 ft current porch will remain with the overhang but all the decking is being replaced to create the larger full deck space. This space will be where we eat dinners in the summer and on really hot days. We have other outdoor dining spaces, but during seasonal transitions (lots of wind) and the days the sun is intense this space will be shielded from the intense sun and the wind since the most exposed area is the north and we have huge Pine, Aspen, and Beech trees that break the wind here. I think we will really love having this space next year. It will include a cable railing like we already currently have and there will be a step down to a concrete path that leads to the outdoor shower. We will use it for showering off after the beach, washing dogs, and cleaning our veggies from the garden. We also wanted water access here since we plan to have chickens not too far from the garage.
The other major change is the movement of our front door. Currently the front door is in the place where the mudroom is being added on. But we are going to be moving it to the south side of the mudroom as our new entrance. Then we will be making this space feel 100% seamless between the current entry area and the mudroom addition/connector.  It should feel like one long hallway when you are looking toward the garage from the dining room. This will create a completely natural feeling addition as well as if it has always been there. We will also be wrapping stairs around the front porch area and the whole 20′ length of the mudroom will be a bench and cabinets, as we you will see in the plans below.
The garage is 3 bays which seems huge, but we own three vehicles plus we have other things we use for gardening and so on. There will be stairs up and though we didn't have the budget to insulate and drywall the garage, we left the option to fully heat and insulate the garage down the road if we wanted. Our original dream was to use the upstairs area as an office with dormers and more, but it just wasn't in our budget and truly we don't need that right now so we took that off the table and just simply had it trussed for storage. We also hired Affordable Roofing Contractors to repair some parts of our roof that's been damaged.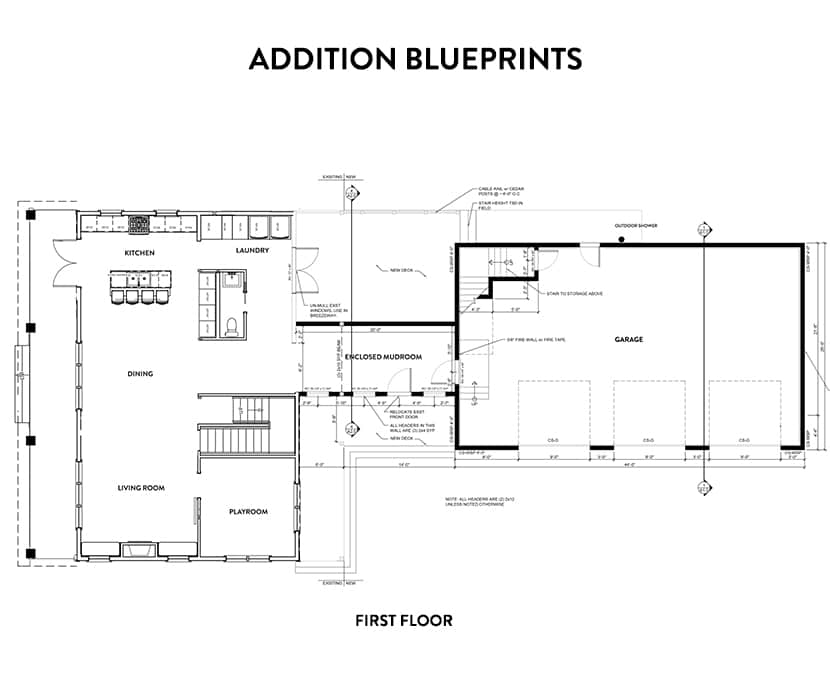 Upstairs, you can see how the roof shifts with the addition and how the upstairs of the garage will be. We have natural light coming in on either side on the East and West sides of the garage. We wanted more, but you would be shocked by the cost of a dormer…like really! So we kept with this and now being inside of it and having it framed, we feel it is just enough as is. But none of this really impedes views anywhere from upstairs. Our bathroom still has awesome views and I am excited to see how it changes through the seasons since this will be finished in late October/Early November.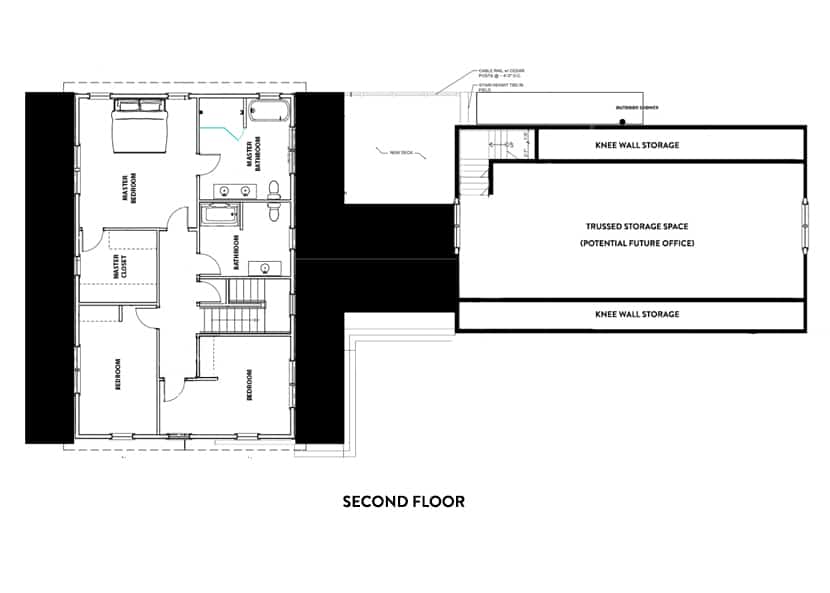 The thing that helped us visualize the addition were the mockups from the builder so I am sharing them with you. We are still working on pricing for our garage door opener and we may just do flat white paneled doors instead of the black framed glass doors depending on what they come back as, but everything else aligns.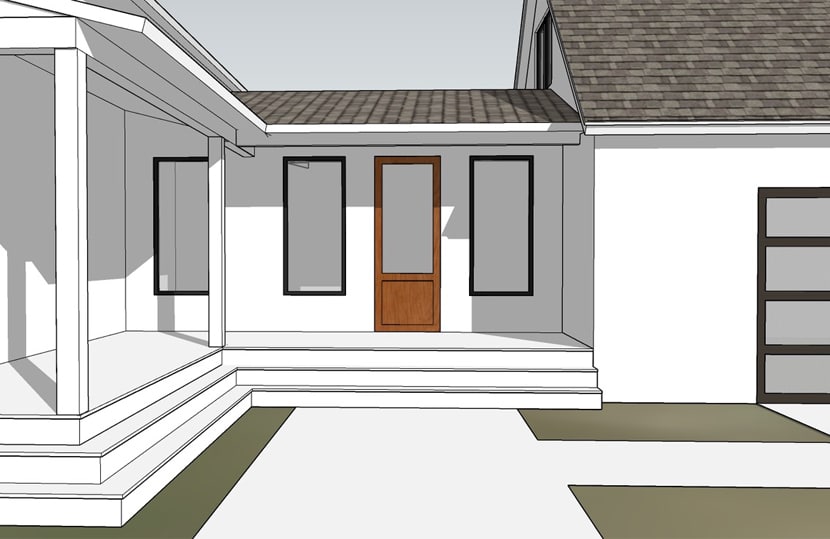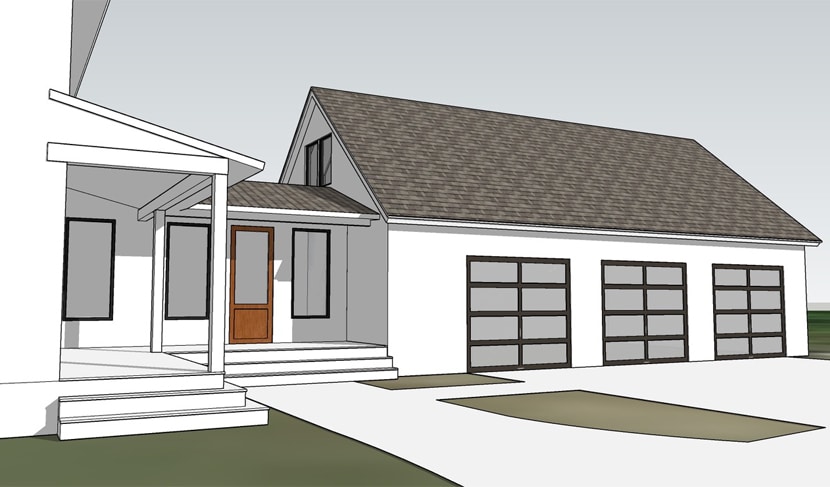 In the Spring we will finalize the landscaping out front of the property and probably the year after we will handle the back portion of the house. But for now my plan is to place perennial flowering plants around here so it feels natural to the current landscape but keeps our maintenance low through the years.
Now for the Mudroom and the finishes of the space….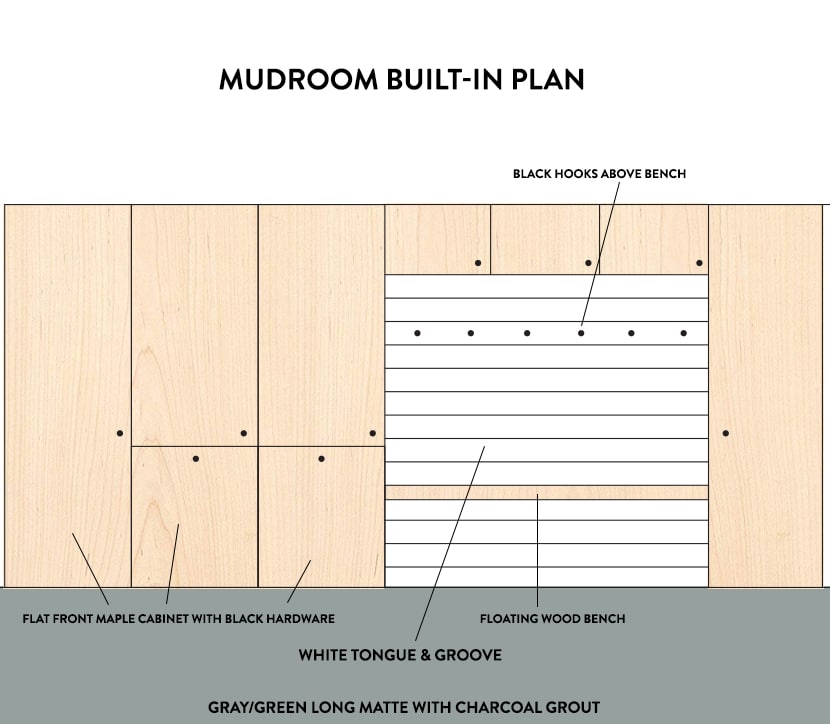 This is my rough photoshop/illustrator mockup of our mudroom cabinets. I went and ended up drawing and measuring it all out on the floor this last weekend and it will shift a little from what you see above, but it is mostly the same. We plan to switch the cabinet look we have and do natural maple cabinets in this space to play off of our floors throughout the house. These cabinets will hold cleaning supplies, vaccums, mops and so on in one. Another will hold everything for dogs and additional outdoor things and kid things. Then another will offer space for to store hats and mittens and winter things and then another everything for summer days. Within these two cabinets the there will be places to hang lots of other coats, snow pants and so on. The bench will be roughly 8 feet wide and we will leave all this space for boots and shoes underneath. We may have to place braces under the bench, but this won't change that it will just be for shoes that are wet. Then we will have additional storage up high for less used items for different seasons or activities as kids get older. We will be having hooks for every day use items. We also will have lower hooks by the door to the garage for the kids during their younger years that we can remove later on. This way backpacks and coats are at their height. After that, we'll have a garage door repair service come in to check our doors.
I wanted the floors to be SUPER durable. Right when we began designing the space with our builder, we learned Fireclay Tile (that we used throughout the rest of our home) had just released an industrial grade Matte tile. Since this space will see a lot of water from wet snow gear and more, I wanted the floor to look beautiful, but hold up to everything. So we went with a 3×6 tile that we will do in a subway/brick pattern on the floor with a darker grout close to the color of the tile. Super simple, but the color will play off the tones of the mainfloor and our current cabinets, which I hope feels neutral, yet still interesting.
On the wall where we have hooks, I wanted to just mix up all the dry wall and to make sure that when we placed things here it had more resistance then just drywall so we decided on doing a modern looking shiplap/tongue and groove similar to what we did in the half bath around the corner. We will use a washable paint from Sherwin Williams on the boards with a grade above matte so it is easy to keep clean over the years as boots kick it and so on.
That said, you can tell, my main goal here is to keep the style from our home, but to add in a lot of smart and durable materials. I want it to be neutral yet inviting and to mesh the modern and farmhouse. Most importantly though I want it to serve our family through every season. This means I started with function first and then form. I thought about how we would store things in this space first and then went for how it would be designed. It is more storage and space then we need now in our lives, but with another baby on the way and our kids growing up over the course of the time we will be in this home, I think it is going to do really well in giving us the storage and space we will need to keep an organized and functional space.
Below you can see the fixtures. I didn't add it, but the siding will remain the same. We don't plan to change materials, which was another big reason we kind of jumped on doing the garage. The siding we have on the house is no longer available the way it is right now (texture and size width). The company makes the same type of siding but the molds shifted. Thankfully our builder knew we wanted this to be added on eventually and held a ton for us so we could have matching siding (yeah Shugart is amazing! Thanks Nick!). Our main goal was to make sure this all was done together and as seamlessly attached as possible. Thanks to them it will be.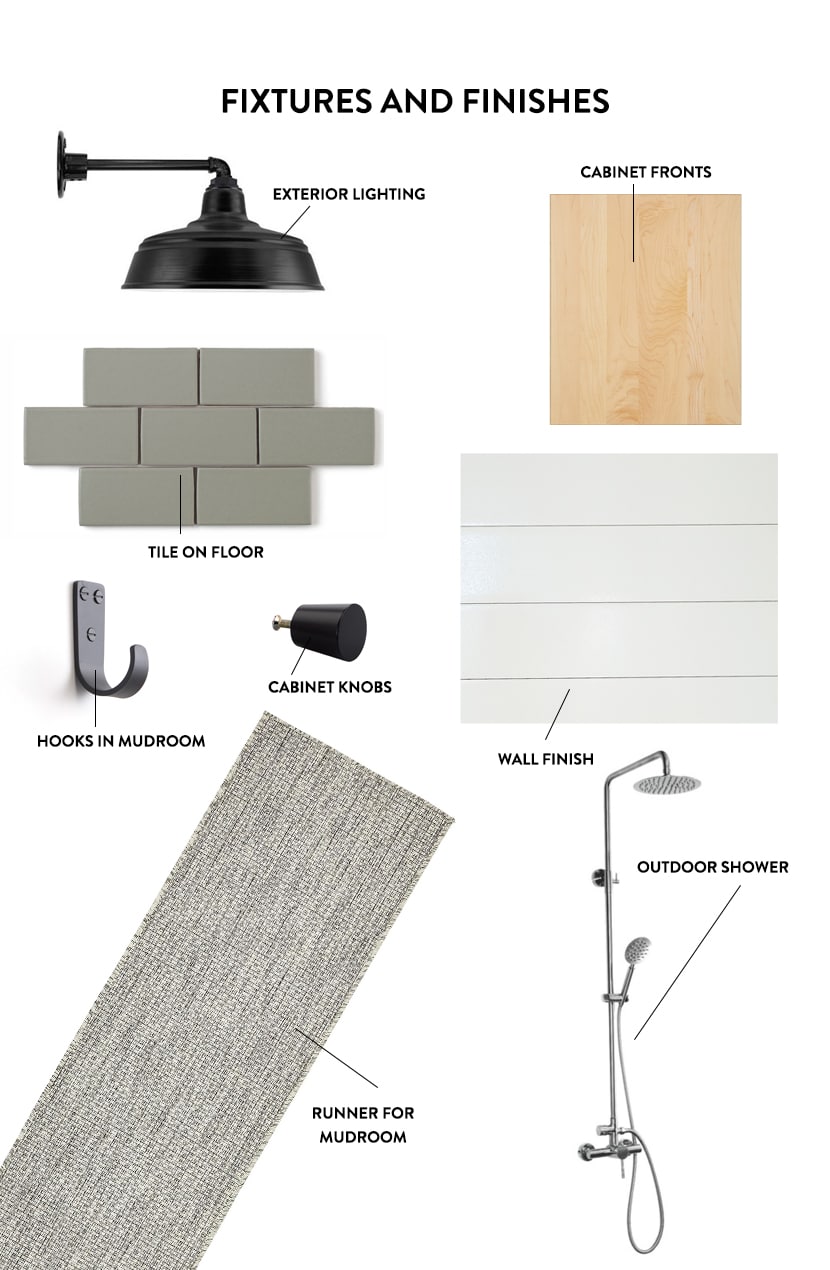 For fixtures, we will keep with similar textures and looks from our existing home. The outdoor shower does break the mold since all of our hardware and stuff is black but this will be Stainless Steel so it is more weather resistant through our harsh winters. You can get sources below for everything.
Exterior Lighting: Straight Gooseneck lights from Barn Light Electric
Cabinets: Maple (being custom built by Shugart)
Tile on Floor: Skyscraper Matte Tile 3×6 from Fireclay Tile
Hooks for Mudroom: Schoolhouse Electric
Knobs for Cabinets: CB2
Wall Finish: Custom by Shugart
Runner for Mudroom: Indoor/Outdoor Neutral Rug from Esale Rugs
Outdoor Shower Kit: Outdoor Shower Company
Now, I wanted to share additional photos for you to see where progress is at since beginning this in mid-June. The team at Shugart is amazing and have really been making this happen super quick!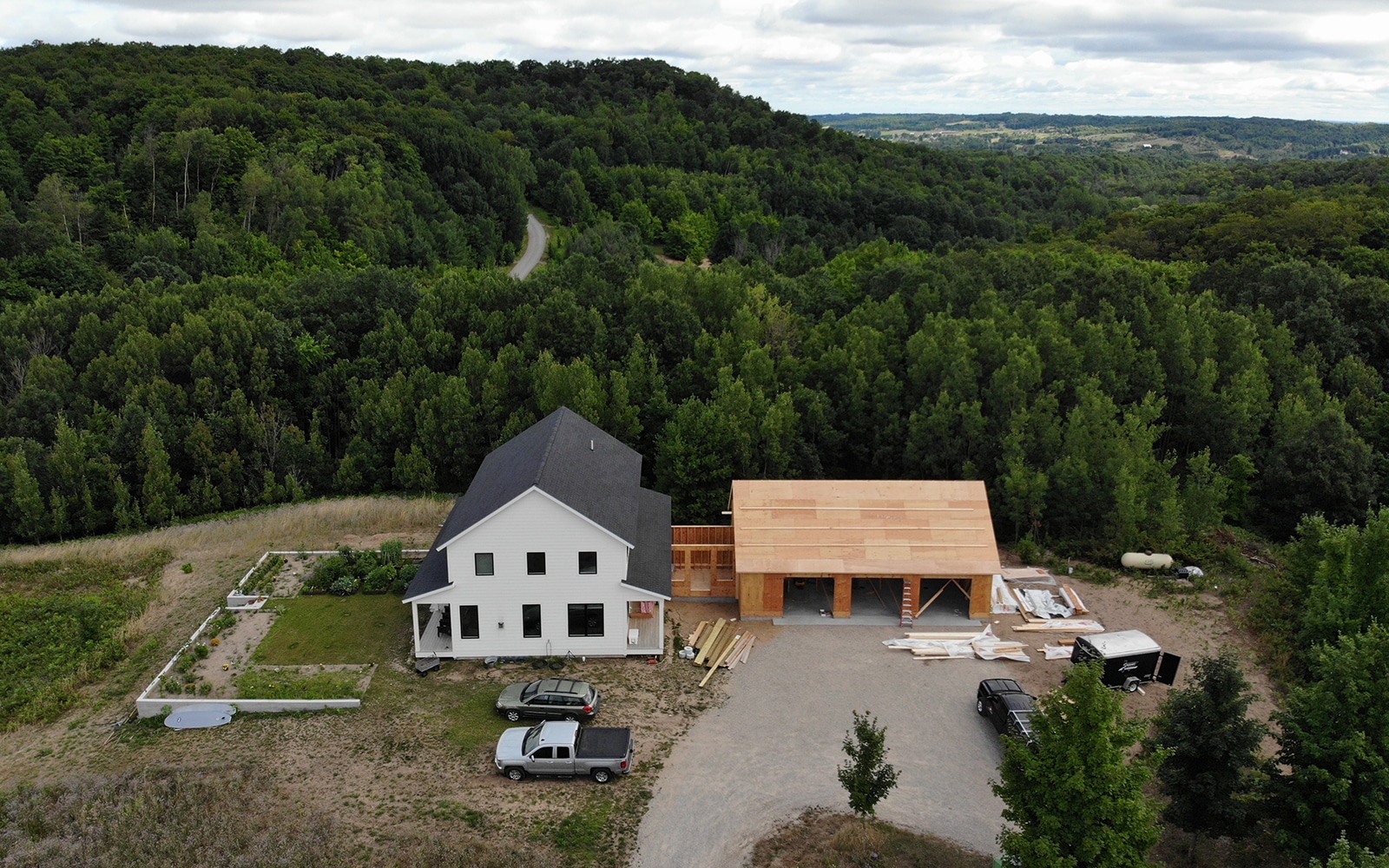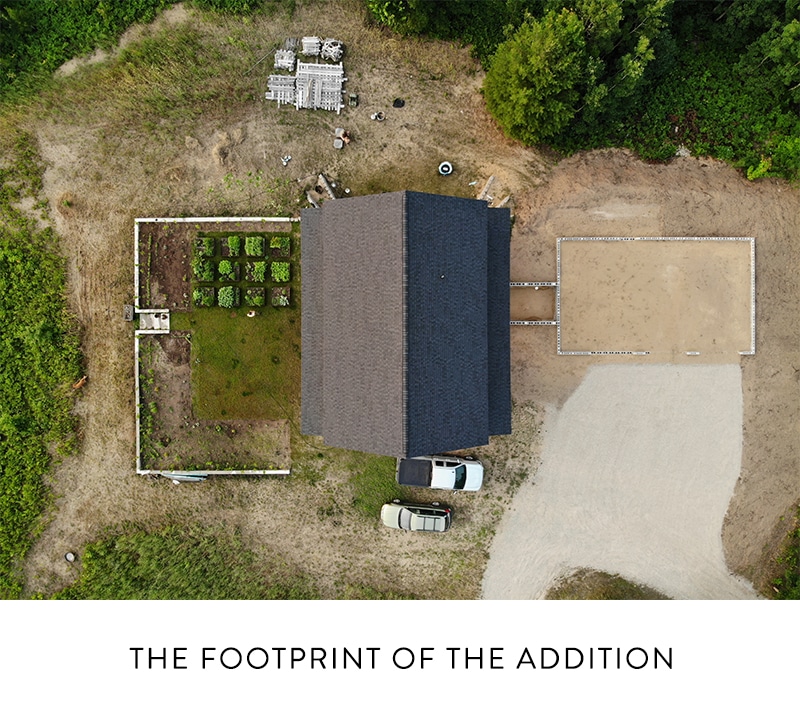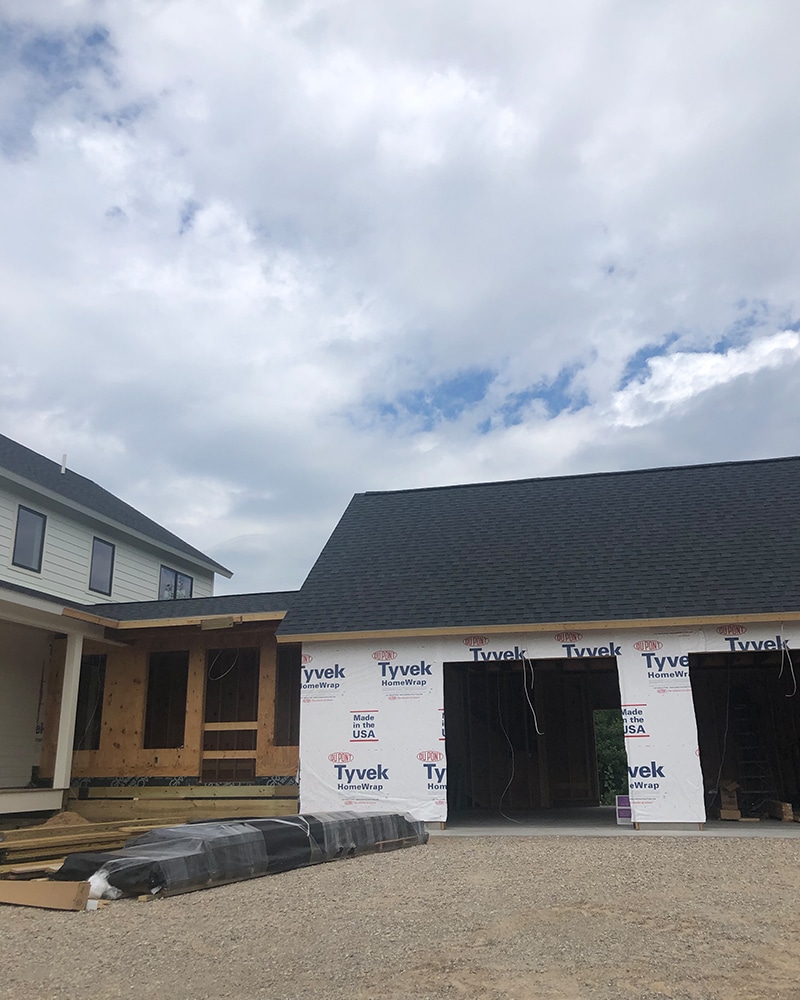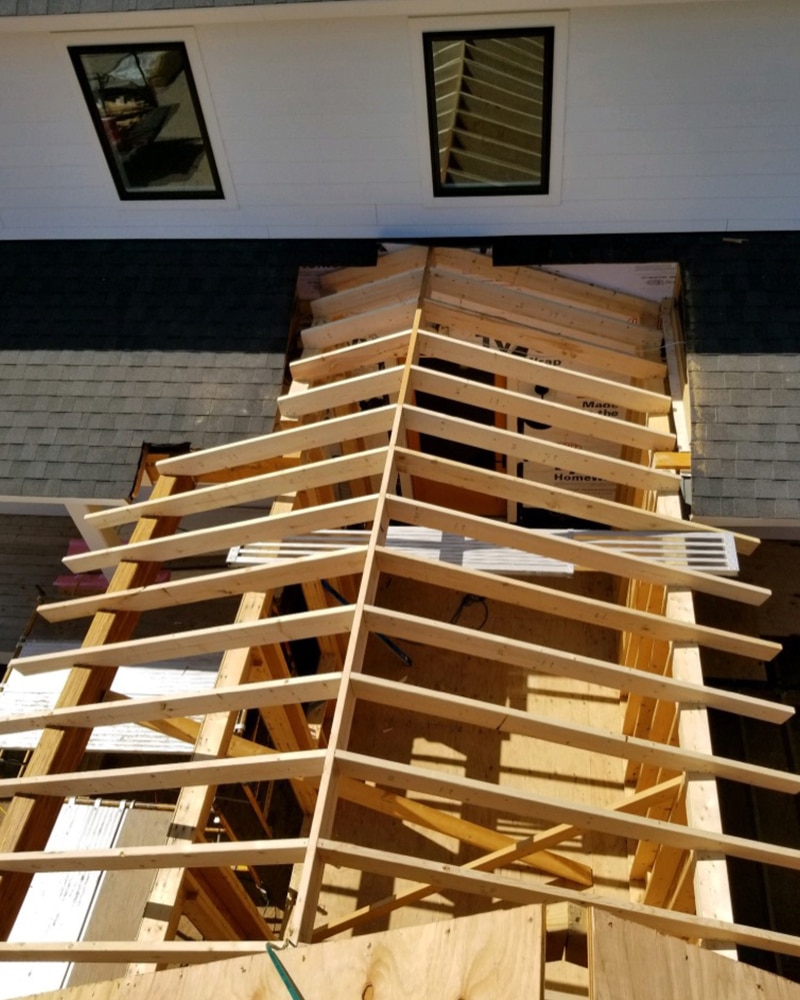 This was the trussing before they roofed it. You can see how it all meets and comes in here. A lot of you had questions about this. Thanks to our foreman Adam for being brave and standing on the roof to get this.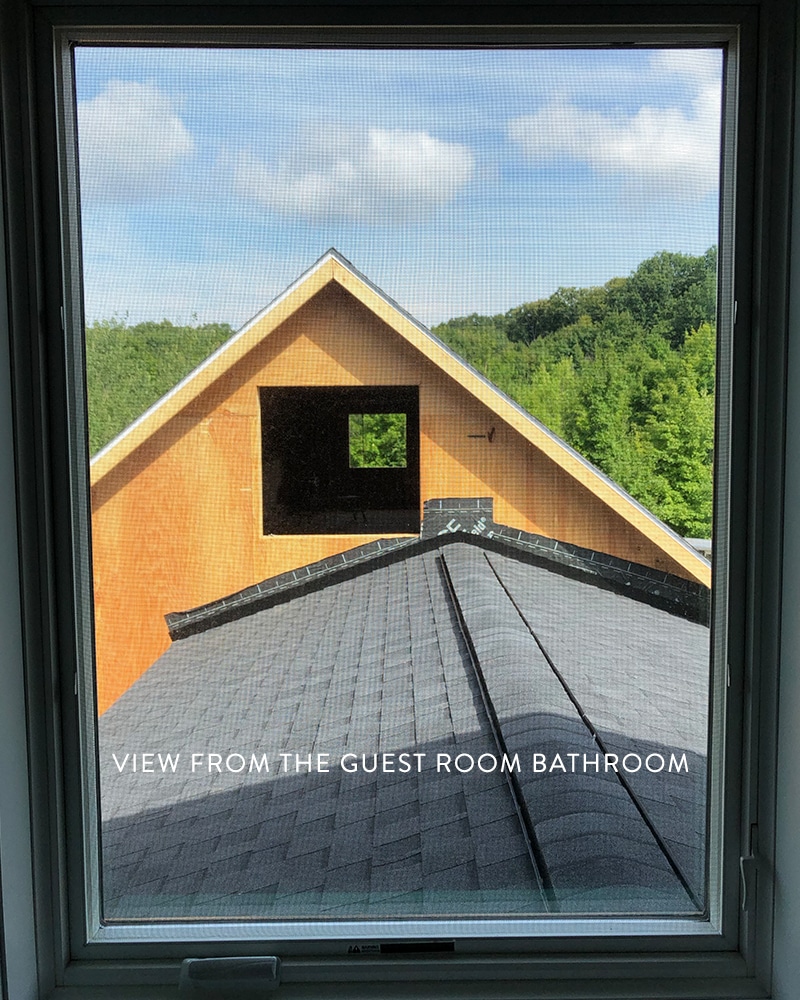 You can see how it comes together even more now that it is roofed.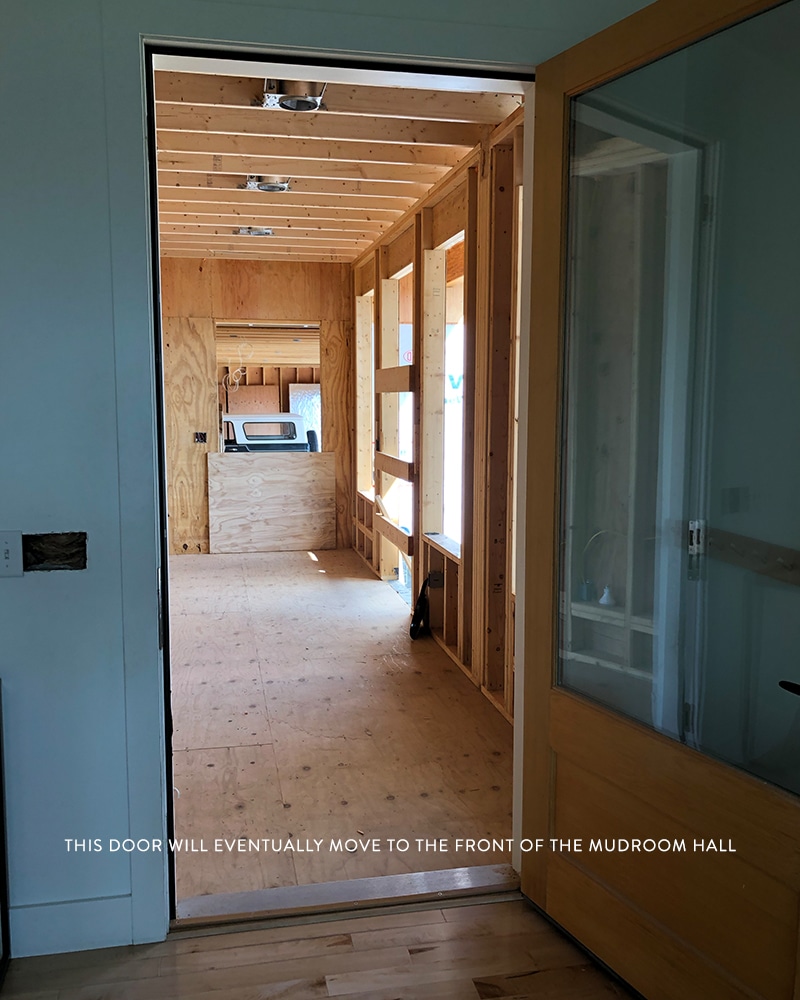 You can see more of how it will feel, but in the next week this wall will completely open up.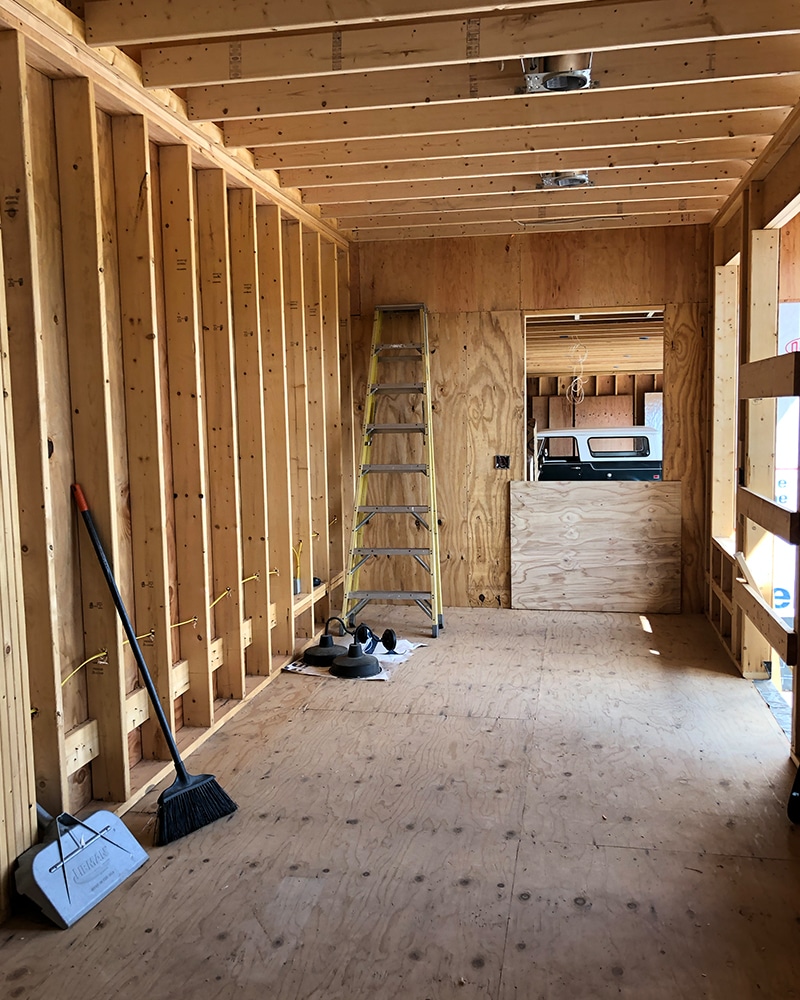 The actual mudroom space where we will have floor to ceiling cabinets and a bench with hooks.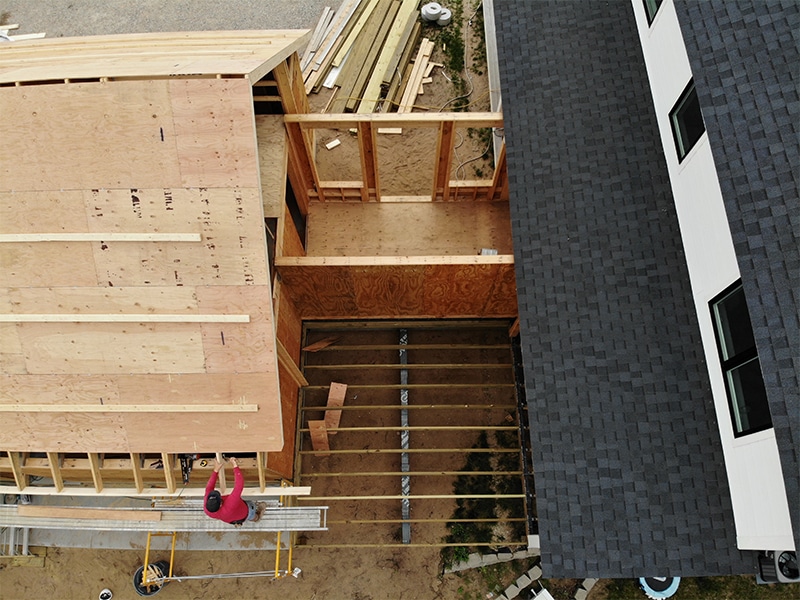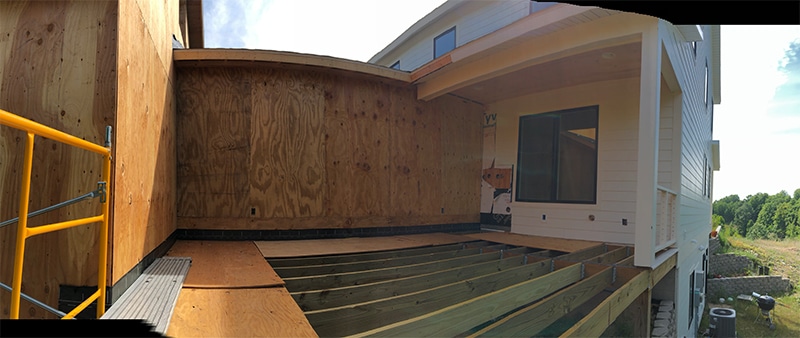 The back deck that will be nicely shielded from the wild south and west winds. Those windows will become french doors.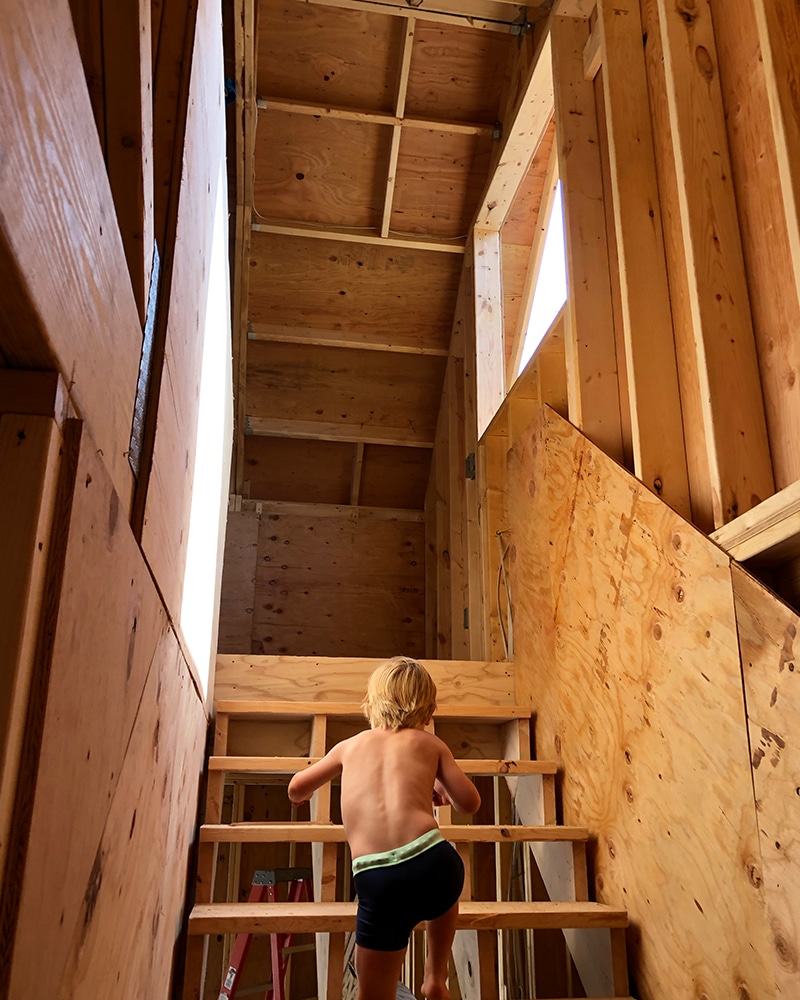 Stairs up to the upper trussed area. This space will remain unfinished and won't be insulated for now, but we will get attic insulation at some point I am sure.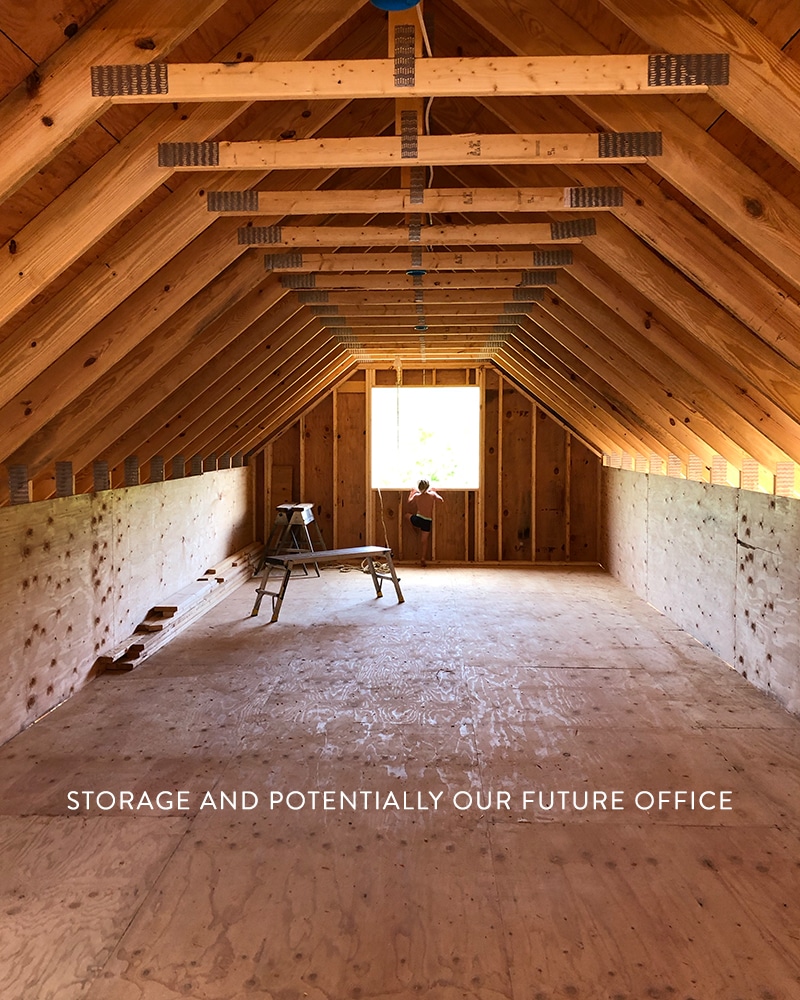 This will eventually be what we may turn into an office space. It is far roomier and awesome then we anticipated.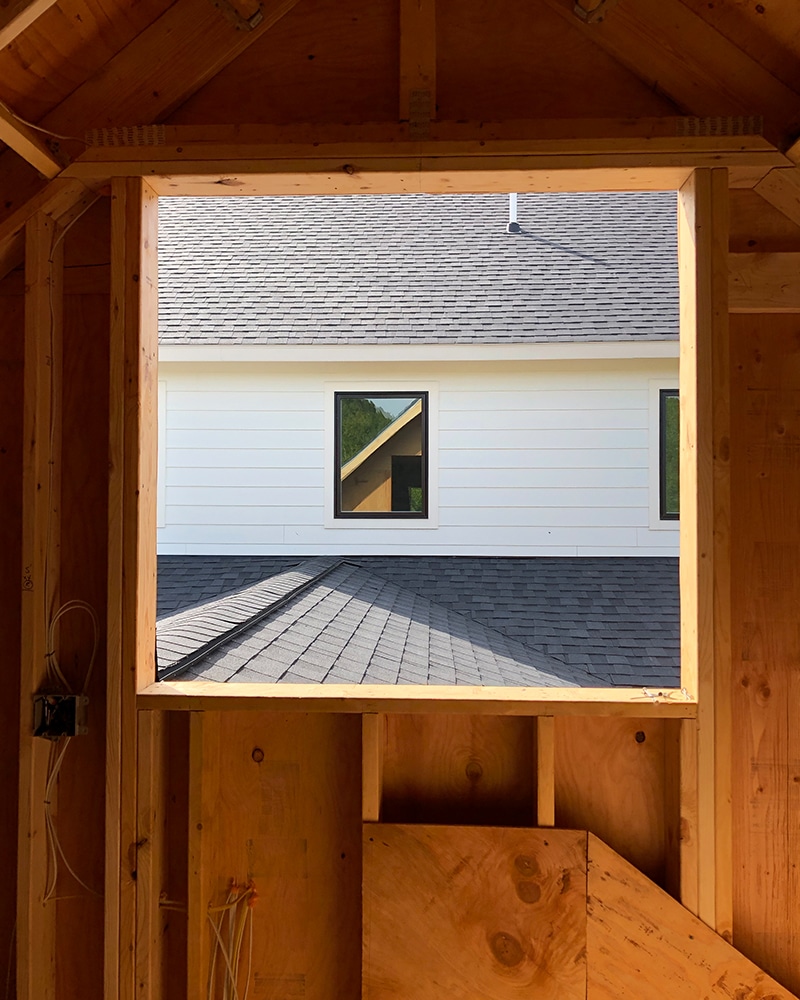 Window from garage storage space looking towards our second floor.
Within the next few weeks the siding will go on and decks will be added as well as the movement of doors and more. It is going very quick and it is going to be exciting to see it all come together.
I will keep doing updates on our Instagram and in stories for you guys so you can see the progress and then once it is complete I will share a final reveal of it all and walk through it with you on our Instagram. Hopefully, all before our newest little one shows up.
If you have any questions, leave them below. I would be happy to answer them!
A huge thank you to Shugart Builders, for making this such a relaxing and easy process. You guys are the best! Truly.