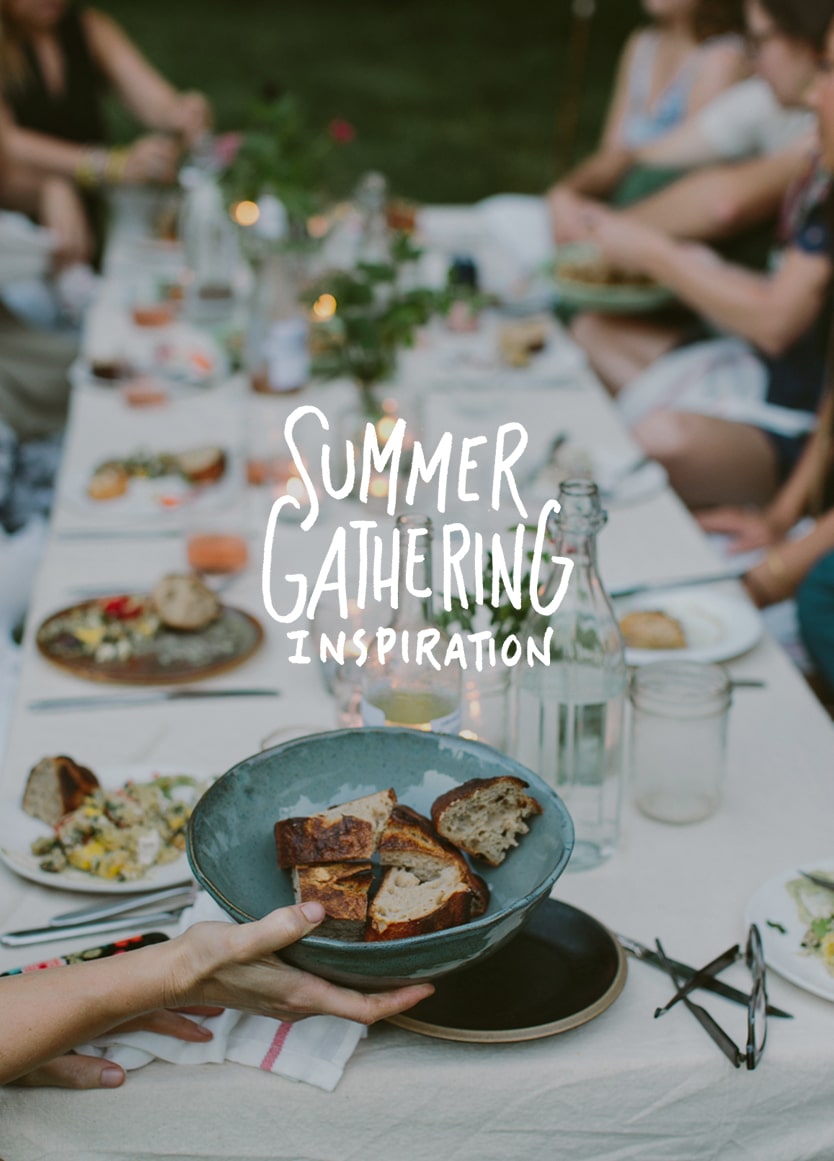 The season of gathering is upon us and in order to make this a season full of gathering experiences whether, on paper plates or handmade ceramics, I felt we all would need a little inspiration to get there. After over 6 years of gathering I have found that there a few key things that make for a gathering setup that can be reused season after season no matter if you have 10 acres or a small outdoor space. If you plan to do a lot of gatherings with friends this summer in your outdoor space, make a point to create a setup that can be reused and allows the food and the flowers be the focal points instead of expensive dishware or changing napkins out for every gathering. A simple setup can make for a gorgeous gathering over and over again. In fact, most of our gatherings I pull from a small collection of items we use over and over again.
So to help you get the right setup for you figured out, I pulled together three looks that can work for varying size spaces and varying lifestyles. See all three looks and get the item info below.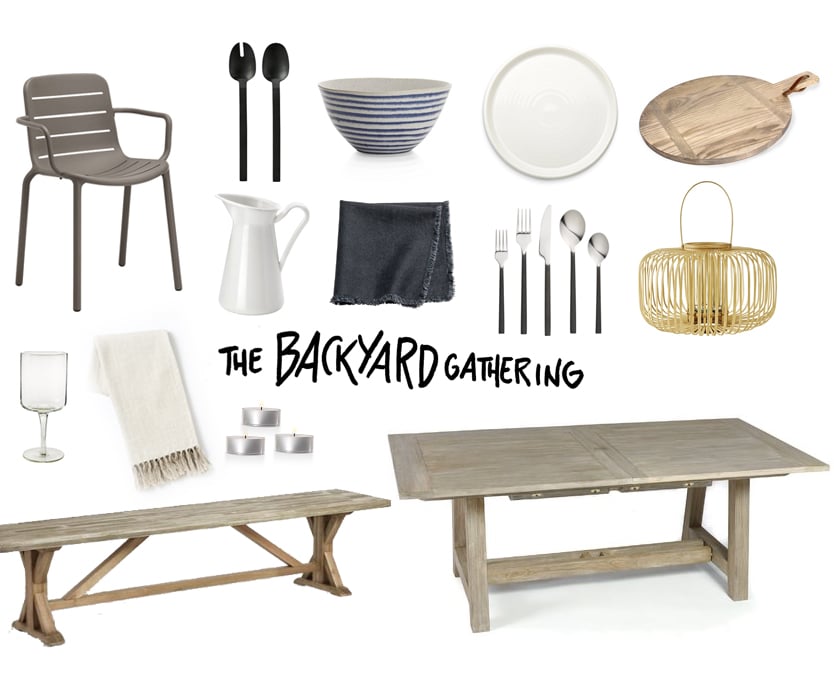 The Backyard Gathering:
These are the ones we do the most often for Simple Evenings. I love these style gatherings because they are relaxed and sometimes unexpected guests show up so I have come to use benches for seating at these gatherings. From there you can always scoot in closer or add chairs at the end of the table. I typically always have blankets that we use for outdoor gatherings as well so it is easy to keep people warm if it is a chilly evening. Then having a great set of white dishes makes it really easy to make any beautiful seasonal dish shine.
Grey Armchair $49  |  Black Salad Servers $35  |  Striped Bowl $30  |  White Farmhouse Dishes $8  |  Wood Cutting Board $70  |  White Pitcher $15  |  Dark Gray Napkins $6  |  Black Handle Silverware 20 piece for $60 |  Rattan lanterns $49  |  Green Glass Goblets $6  |  White Throw  |  Tea Lights $4  |  Wood Farmhouse Bench $208  |  Wood Expandable Table $1649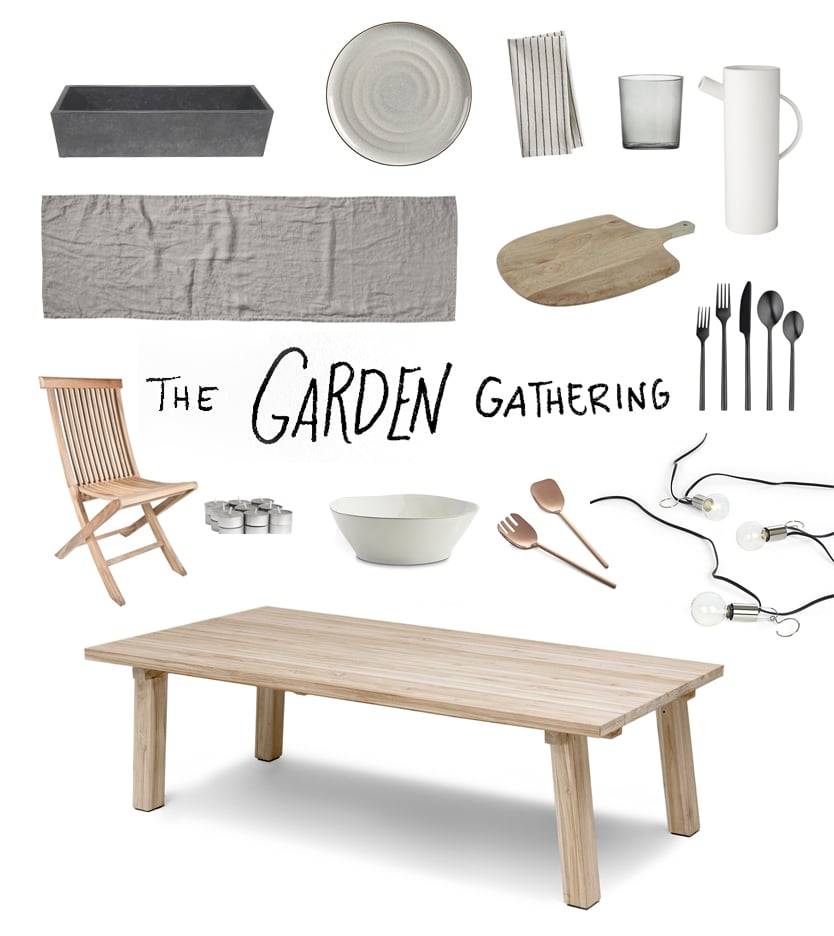 The Garden Gathering:
I have these dreams of the gatherings we will be doing at our new farmhouse in the coming years once we have it done and the garden started and more. I have these dreams of doing them amongst the garden very much like maybe something you see in Tuscan wine country. It gets me all heart-eyed just thinking about it. So I thought I would pull together inspiration for how I would do that kind of setup if and when I have the space to do so. I love this look because it is simple, rustic, but still very chic. Like I said, keeping to neutrals for your gathering go-to's is the way to go in order to allow both your surroundings, food, and florals shine. Don't overthink it.
Concrete planter for flowers or freshly planted herbs $16  |  Rustic Dishes $13  |  Striped Napkins $3  |  Smoked Glassware $3  |  White Pitcher $20  |  Wood Cutting Board $33  |  Linen Table Runner $13  |  Black Silverware  20-piece for $129  |  Bistro Lights $40  |  Copper Serveware $35  |  Salad Bowl $30  |  Tea Lights $4 |  Folding Chair $202  |  Teak Dining Table $1499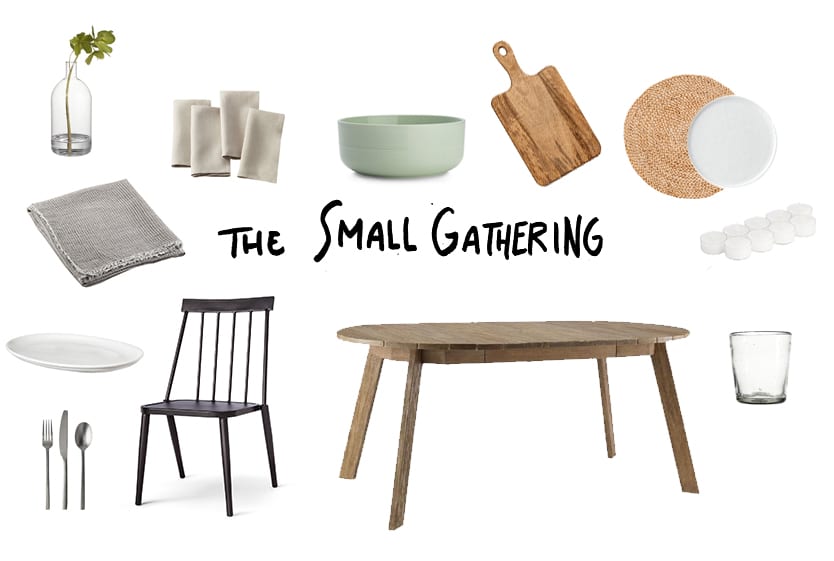 The Small Gathering:
This is a perfect setup for a small gathering or for everyday outdoor eating. It is perfect for 4 people with the option for two at the end as well. This is great for a small deck or patio area. Keeping these simple items available will make for easy and beautiful gatherings each night. If you have space, string some of those bistro lights up for even more magic.
Clear glass vase $7  |  Linen Napkins 4 for $29  |  Aqua serving bowl  $20 |  Wood Serving Board $17  |  Jute Placemat $9  |  White Dishes $6  |  Weave Blanket $63  |  White Serving Platter $20  |  Simple Silverware $15  |  Black Metal Chairs $39  | Wood Table $509  |   Rustic Glassware $6  |  White Tealights $6