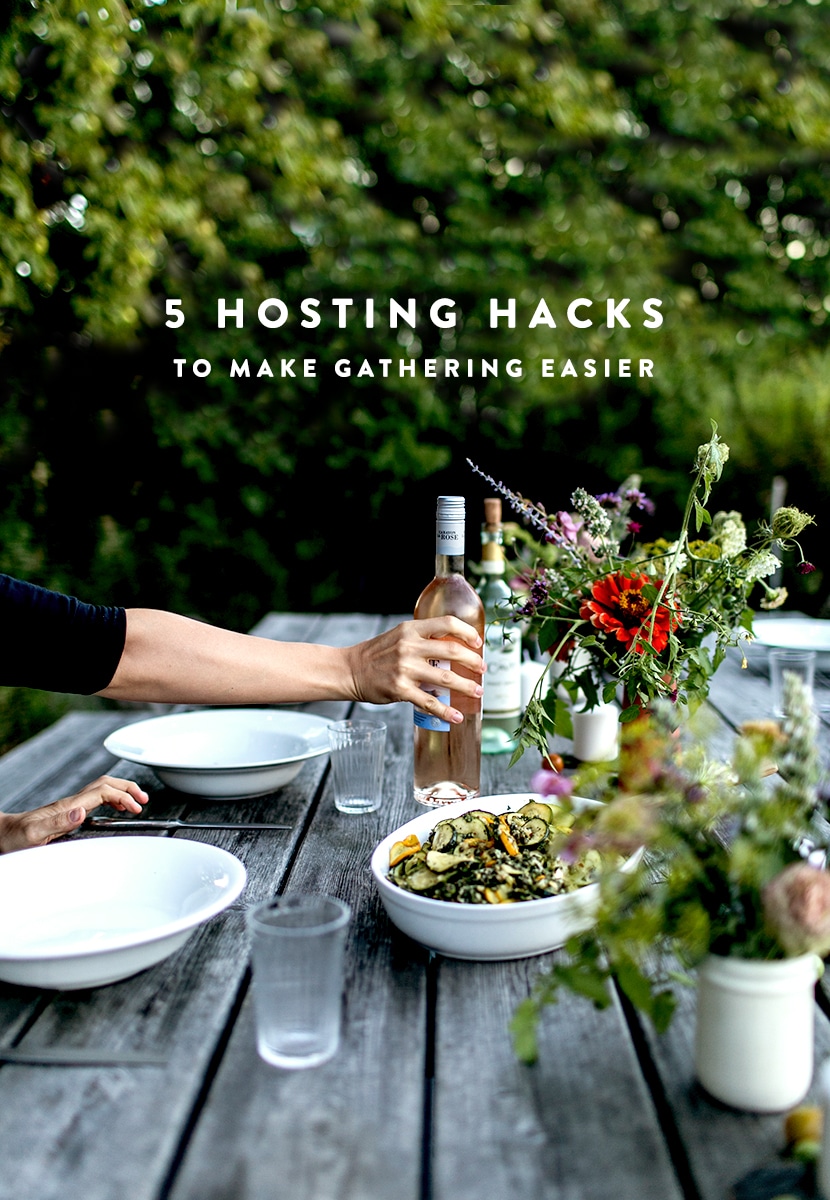 As we plan to gather around the table this week and as we lead into the rest of the holiday season, I am sure you will be in attendance at a gathering or holding your own of some kind. Over the years I have developed some great hacks for making it very possible and easy to bring it all together and I wanted to share a few things that have made all the difference for us coming together even on a weekday with friends.
Order it in:
Oh yeah, you heard me right. I am not joking about this. If you know you are hosting a group especially on late notice, sometimes it is easiest to have the meal catered. But doesn't that go against everything that it means to gather? No, because it is about getting people around the table and sometimes it isn't as much about the food. I will admit I have done it. Using Whole Foods or even a local restaurant you love their to-go options is always great. I will take what we ordered and replate and make it look less like it was ordered and special. The thing is gathering is meant to be about those around the table, the food is just a portion of the experience. Whatever allows you to be more present with your guests is what you need to do.
Get creative:
What I love about gatherings is that to make them extra special and unique it isn't about doing it to Pinterest level quality the most textbook way, sometimes it is about getting creative and finding everyday items that serve multiple purposes. For instance, I needed a linen table cloth short notice. I knew I was going to pay an arm and a leg for the kind I wanted. Instead, I ran to Home Goods and went straight to the sale section of the drapes. Sure enough, there was the PERFECT linen drapes. I layered them one over the other and ran greens down the center (see that dinner here) and for under $10 I had the ideal table cloth. I could go on about the times those mishaps turned into beautiful things. For instance, remember our first Simple Evening? That table ended up on the ground because we couldn't find enough chairs in time so we decided it would be best to do an elevated picnic. Now, it is quite a trend on Pinterest. Don't think you cannot hold a gathering because it isn't all fitting in the box or going as planned. Get creative!
Clip Your Own Greens:
If you have a yard or your friend does go and clip greens and blooms. Do not feel like you need some epic centerpiece in order to have the ultimate gathering. In fact last week I showed that sometimes you don't even need a centerpiece. But I have found that sometimes just wandering around your neighborhood or around your home can produce some of the most beautiful things to style your table and it costs absolutely nothing. To make it all come together, stick to a clear color palette so you know what will work and what won't. If you live in a seasonal area, this should be very easy since seasons help dictate the colors available depending on the time of year.
Prep a little bit every day:
The biggest secret to our dinners, is that it doesn't all come together in one big swoop. Instead, it comes together over a few days time. If you are cooking the meal, grocery shop one day, choose the items that can be prepped a couple days ahead and do those first, gather decor another day, place your table another…etc. It doesn't haven't to happen all in one mad dash and in fact it makes it far more enjoyable when you can just slowly enjoy the process of it coming together rather than rushing to get it all done the day of or day before.
Lighting is the real magic:
So you want that perfect end of the day lighting? Or the golden light on everyone's face? I get it. It makes me so happy to see our table perfectly lit at golden hour every day. But it isn't just about the time of day (ideally start dinner an hour before the sun is scheduled to set btw), it is also about the collection of candles on the table and/or setting up bistro lights strung above the table. The glow from candles and bistro lights changes everything about a dinner party and I think it is the most magical part. Spend $25 and either get a wonderful collection of candles or a string of bistro lights to make it come together just right.
Ultimately it is all about making it easiest for you to gather at the table with your guests without feeling you need to run in 100 directions. Enjoying the experience is more important than having the perfect Instagram shot or "memory" to coordinate with the day, so whatever makes the easiest is up to you. My top tip beyond all the above is to always ask for help. Don't feel you have to do it all on your own. That seems pretty obvious but it is fun to bring guests into the fun of it all. That is what has always made our Simple Evenings so fun. Having everyone have their hands in the fun of it is the best part of it all.
Do you have any ways you make gathering easier? What makes it easy for you to pull off a gathering at your home or even at another place? Tell us about your favorite gathering or what you have planned for the holiday season?