Use your fresh tomatillos at the peak of the season from your garden or farmers market to create this super easy homemade salsa verde recipe that makes it incredibly easy to enjoy a delicious tart and bright flavored salsa any time of the year.  This tomatillo recipe can easily be frozen to save for winter use as well.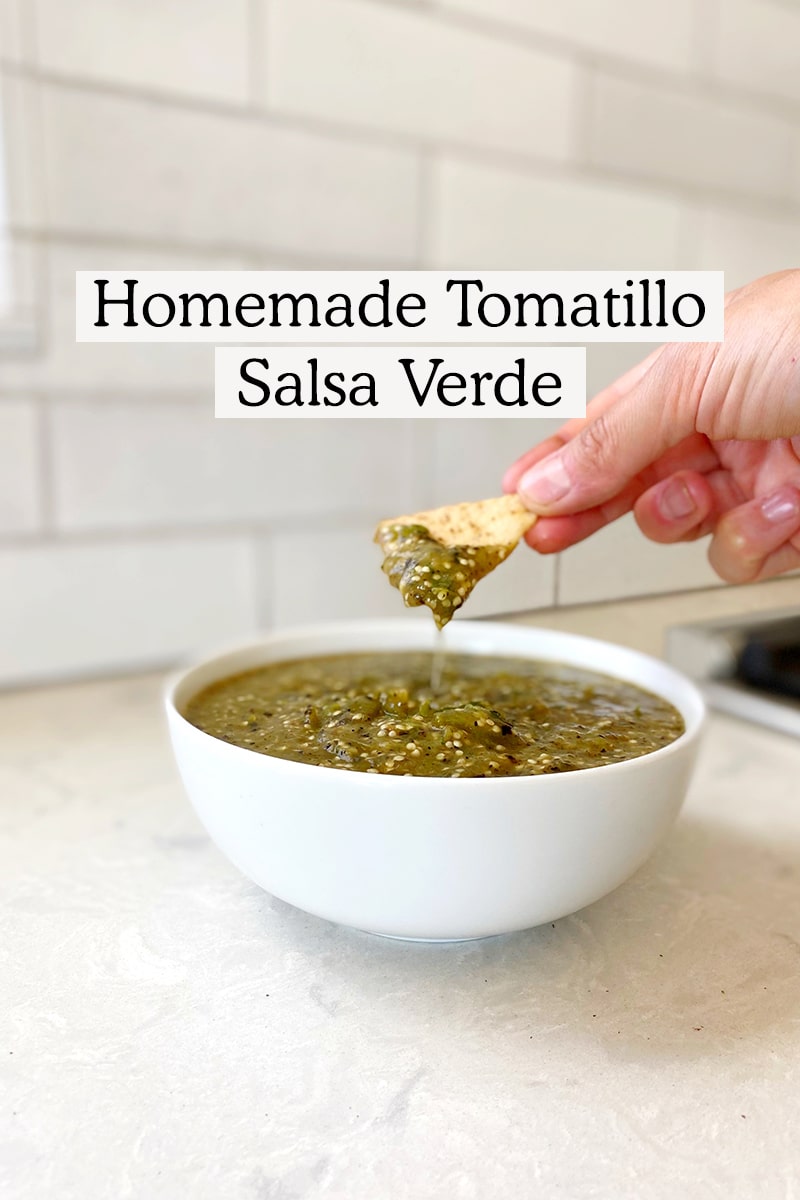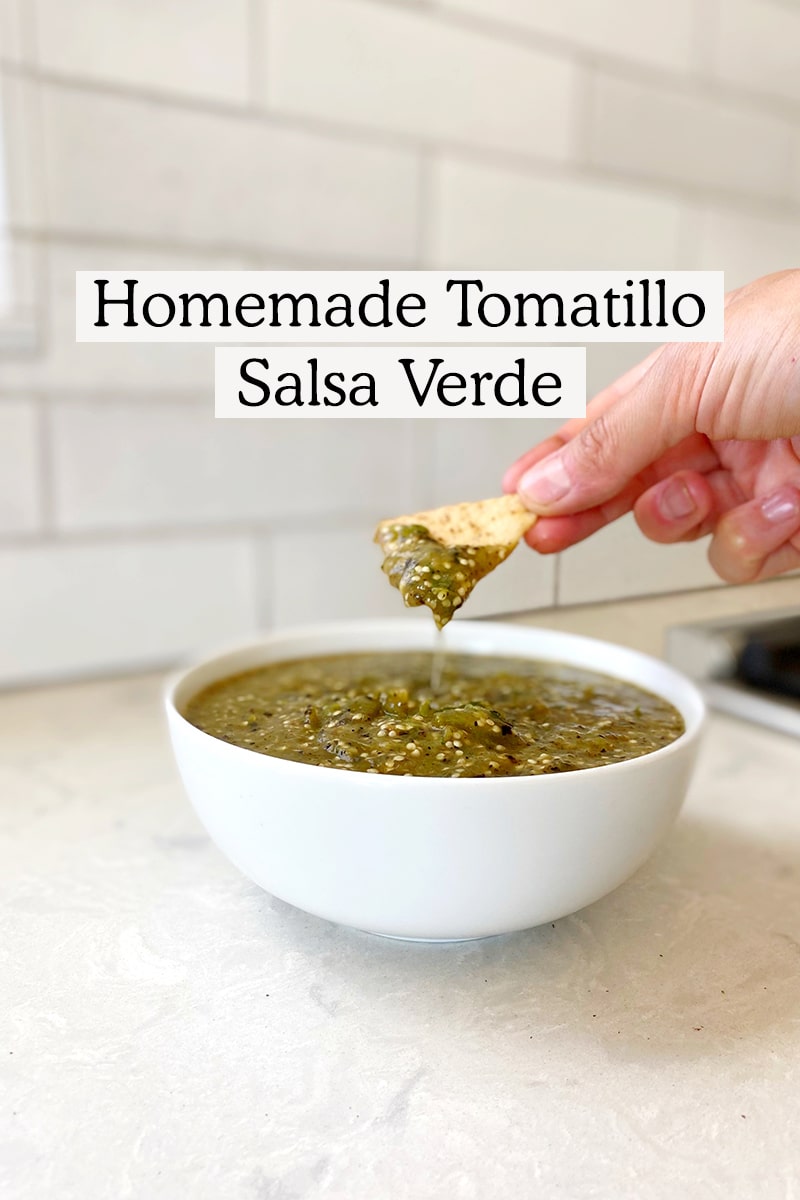 Tomatillos are one of the top veggies I suggest for beginners to use in your garden over tomatoes. Tomatillo means little tomato and they are extremely easy to grow for most beginners, thus why it is also important to know how to use the tomatillos in eating. If you have ever had tomatillo salsa may be at a restaurant or grocery store you know it is full of onions, garlic, cilantro, lime, peppers, and cilantro and blended together.
There are 3 simple ways to make this salsa and also simple ways to remove the husks. You can roast the tomatillos, grill the tomatillos (to create a smoky flavor to the salsa), or simply make this salsa raw.
It may also surprise you that you can make this green salsa by replacing the Tomatillos with green tomatoes just as easily if you find you had a lot of them come in at the end of the growing season.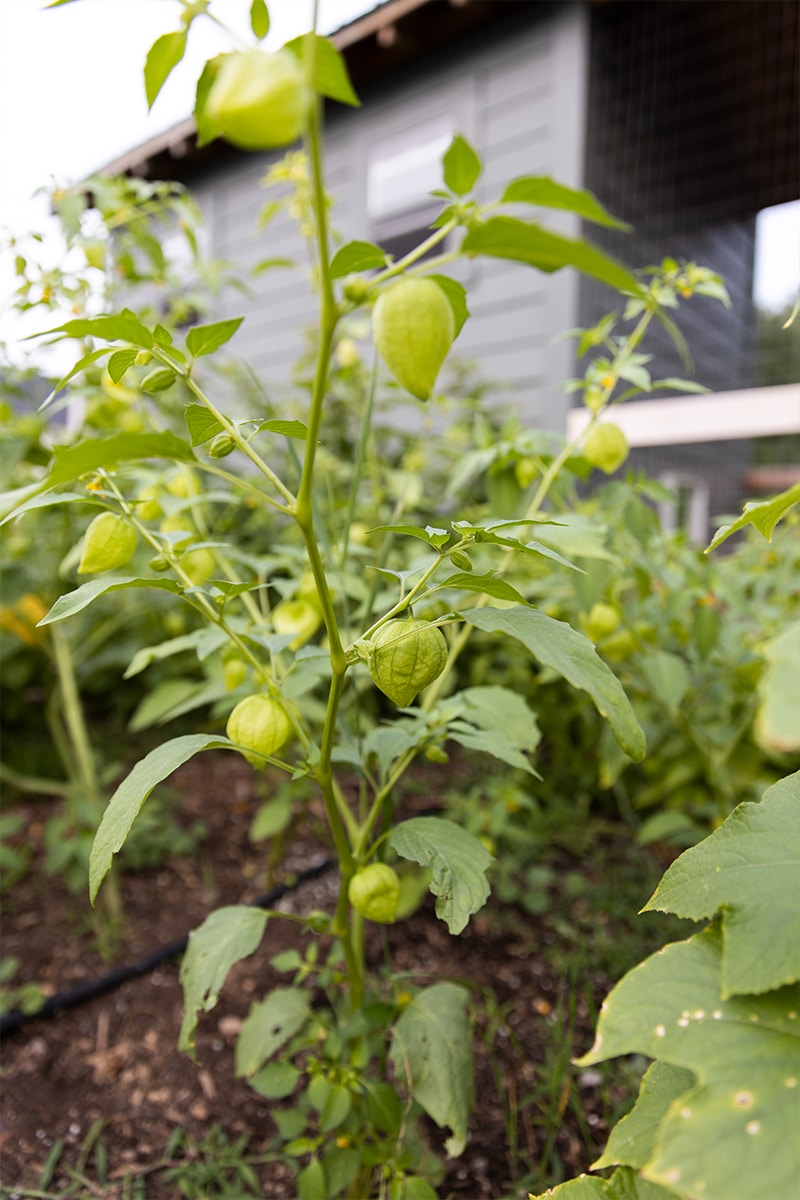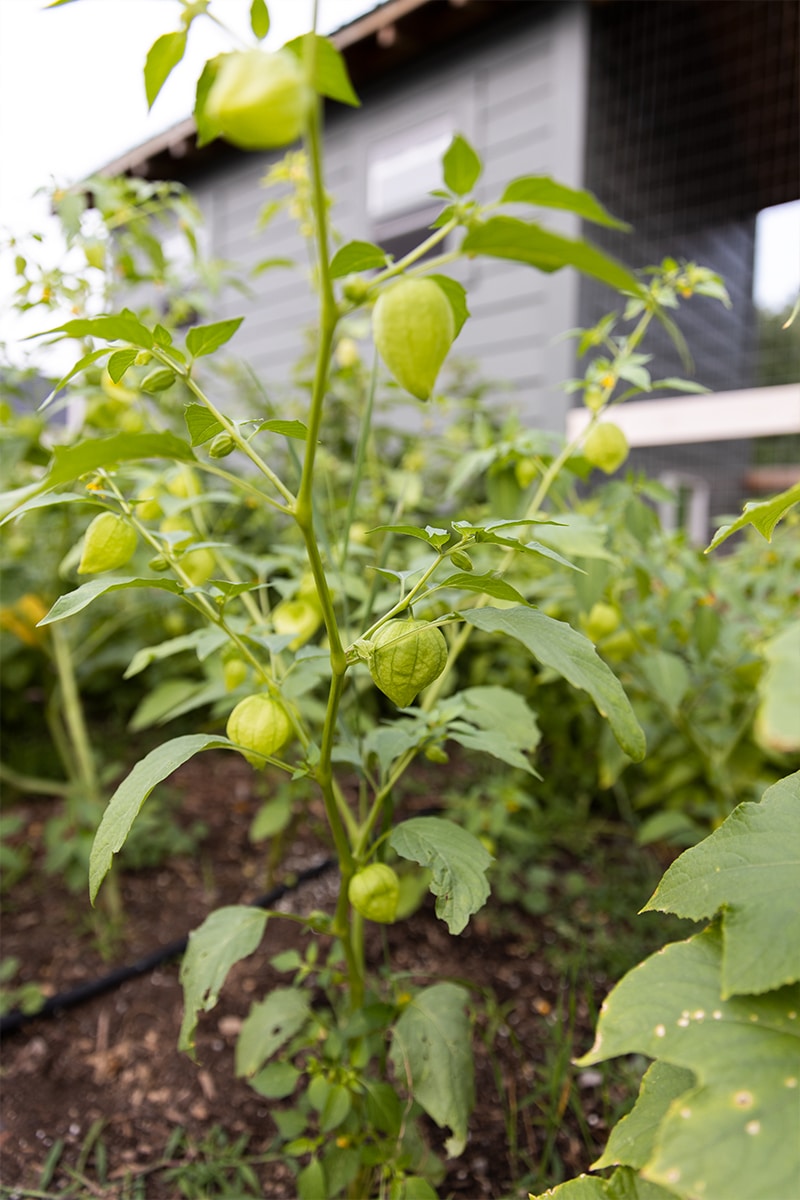 What is a Tomatillo?
A Tomatillo is a close cousin to the tomato. Yes, it is true! They are extremely similar. The main difference is that tomatillos come in cute little husks that make them look like lanterns hanging on the plants throughout the growing season. They are extremely prolific plants but need a quality partner in order to fruit properly. But once you have had tomatillo plants in your garden you will always have them without trying! Tomatillos are less known in American cuisine but are very common in Mexican Food and in Central American Food. This is because the Tomatillo was first domesticated by the Aztec people in Central Mexico. In some parts of the US the plant is actually considered invasive because of how prolific it can be, so if you decide to grow it keep a close eye on it in your garden because before you know it will be your garden from reseeding.
How To Easily Remove Tomatillo Husks?
If you have never made anything with tomatillos the husk removal may be uncomfortable. I had the pleasure to experience firsthand from a friend's mother who was from Mexico how to remove the husks easily without a lot of stickiness.
Place your Tomatillos in a bowl of cool water
Have another bowl for husks and another for clean tomatillos
Keep the tomatillo submerged and open the husk and twist the fruit portion out.
Place the husk in one bowl and tomatillo in another. You can clean it some in the water as well.
Repeat this till all the tomatillos are dehusked.
This makes it far more enjoyable to process a large batch without having very sticky fingers at the end of the process.
What Methods Can I use to Make the Best Salsa Verde?
Making a Tomatillo salsa verde is so easy and honestly can be done a few ways. The best ways are the following:
Raw: You can take all the ingredients in the below recipe and simply blend them together after the tomatillo husks have been removed and so on. This is going to be tarter and brighter.
Grilled: This is easily done with a basket or on aluminum foil on your grill. This is super easy and works really fast as well. So you can get a nice smoky flavored salsa verde very quickly.
Roasted: This will meld the flavors easily but not have a smoky flavor. You can add the smoky flavor with some smoked salt if you would like to.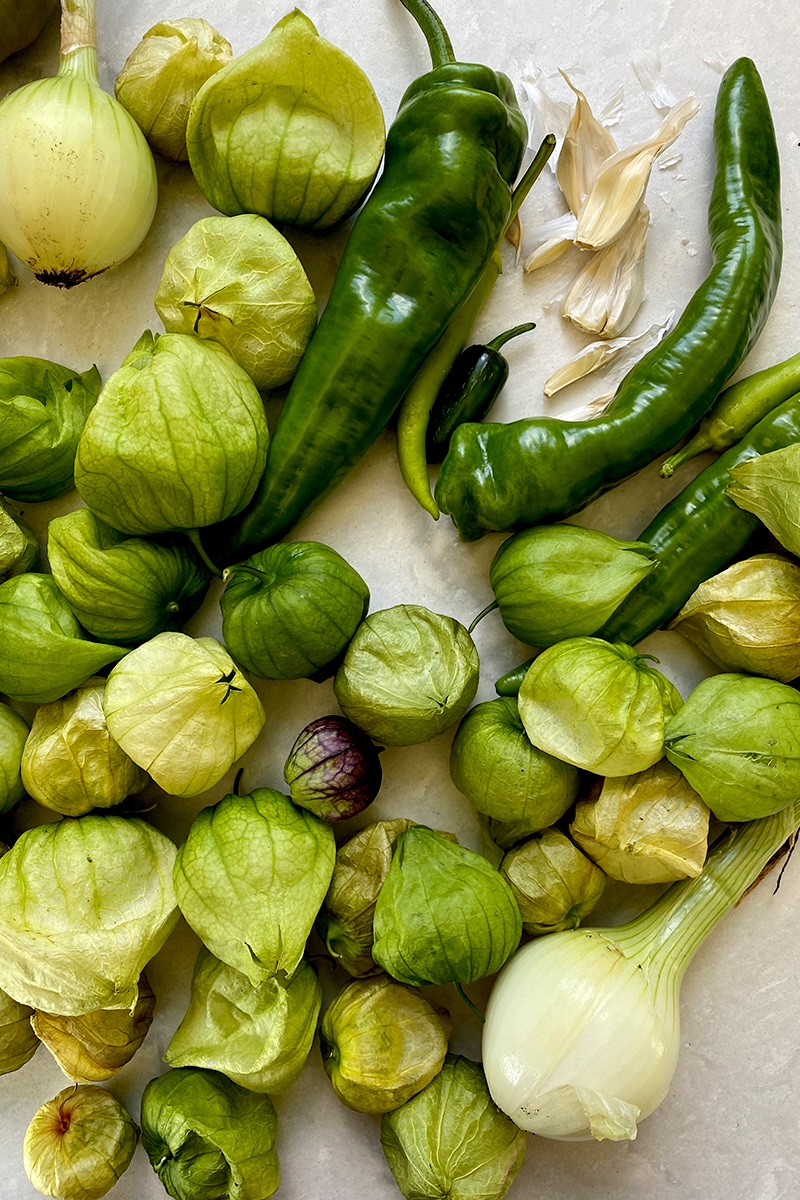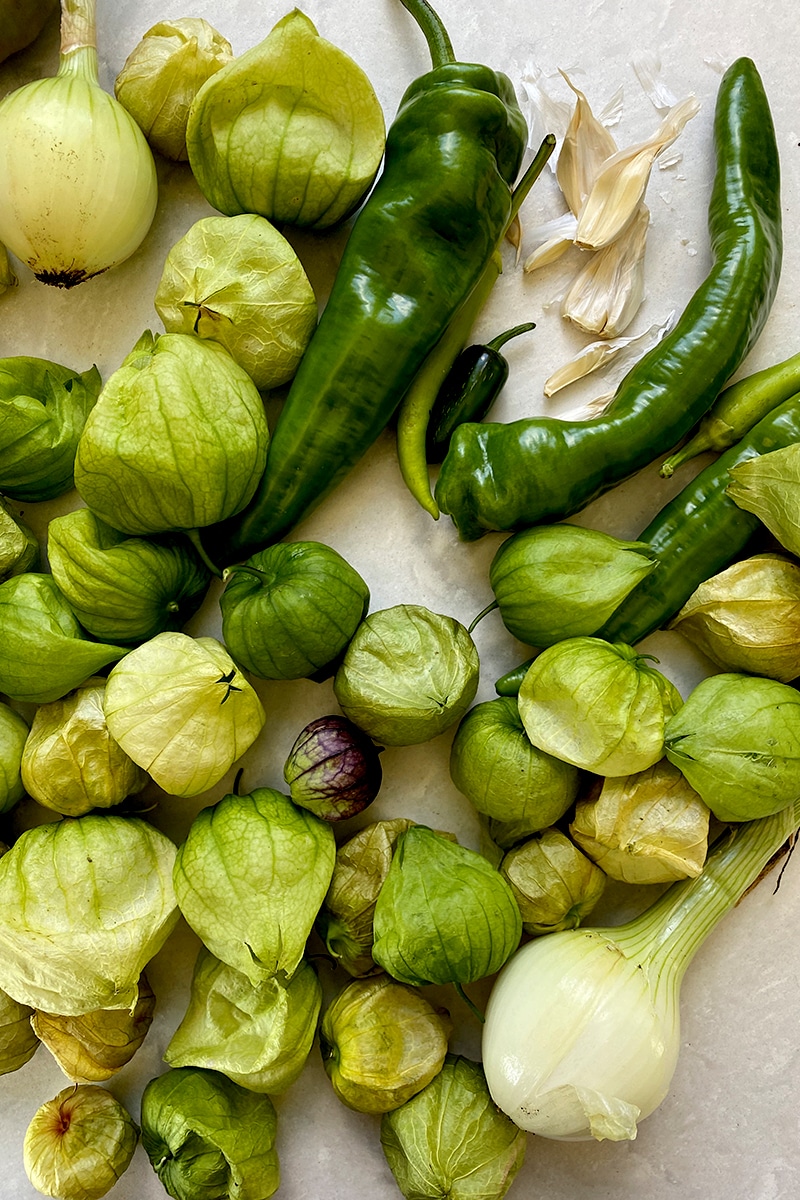 What Do I Need to Make Homemade Tomatillo Salsa?
Peppers: Most pepper is good here, but it all depends on the heat you want. I suggest jalapeno peppers but you can use green chile or serrano peppers as well. It all depends on the sort of flavor you would like. If you use a roasting or grilling method the peppers will become milder in the cooking process.
Onions: Use onions to add a great depth of flavor to your tomatillo salsa. Roasting the onions will make them sweeter as well.
Garlic: This is essential to making a great salsa is garlic. Use less if you are going with a raw version, but if roasting or grilling everything you will want a little more.
Tomatillos: The heart of the salsa verde is the tomatillo, but if you are without tomatillos you can use green tomatoes as well! Yes, you read that right. Though tomatillos are ideal you can absolutely replace them or fill in the gaps towards the end of the season with any green tomatoes you have lingering.
Olive Oil: This is what adds a nice creamy flavor to the salsa. Using a touch of great olive oil goes a really long way.
Cilantro: This element is the punch in the salsa, but if you don't like cilantro no worries you can skip it as well. It is all about making this the sort of thing you would like.
Lime Juice: This ingredient is one that is added just before placing it all in the blender or food processor. Along with Olive Oil, salt and pepper, and cilantro if you choose to use it.
Salt and Pepper: Everyone will add a slightly different amount but this is why we taste what we make as we make it. You will want to know how it tastes to you. So choose the amount of salt and pepper based upon what your salsa verde needs.
You will need a few simple kitchen items for this as well:
Read more about my kitchen essentials here for other great items to keep in your kitchen as an everyday cook.
Print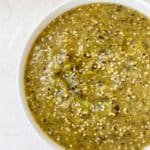 Homemade Tomatillo Salsa Verde Recipe
Author:

Prep Time:

10 minutes

Cook Time:

10-15 minutes

Total Time:

25-30 minutes

Yield:

4

servings

1

x
---
Description
Simple homemade tomatillo salsa verde recipe that can be used with any fresh ingredients and then eaten right away or frozen for later.
---
2–3 lbs of tomatillos
1 medium onion
1–2 jalapeno peppers (deseed to make it less spicy)
3–4 garlic cloves
1 handful of fresh cilantro
juice of one lime
1 tbsp olive oil
Salt and Pepper to taste
---
Instructions
Preheat oven to 425 degrees if using the oven or place in a hot grill. If doing raw skip this step and jump to step 5.
Prepare a baking sheet with parchment paper or a silicone baking mat.
Quarter or half all tomatillos and lay on a baking sheet. Half and deseed jalapeno. Quarter onion. Place whole peeled garlic cloves all on the baking sheet together.
Place in the middle of the oven for 12-15 minutes or until the tomatillos are losing their bright green tone and wrinkling on the skins and fragrant. If doing on the grill it will be slightly faster and they will get a char on them. That is when they are ready.
In a blender or food processor bowl place the cilantro, lime juice, olive oil, and salt and pepper to taste.
Once everything is cooked blend it in the food processor or blender with the other ingredients.
Pour and serve warm or place in the fridge to cool and enjoy throughout the week.
---
Notes
**** You can freeze this in Freezer ready ball jars very easily. Place in a jar to fill the line and cool completely before placing in the freezer. Take out and warm on the stove before serving. ****
After placing in the fridge you will find the salsa a little solid when removing…allow it to come to room temp or even warm it for a moment on the stove on low heat and stir well till it combines easily.
How to Freeze Your Tomatillo Salsa:
To Freeze Your salsa you can simply use this method I use for How to Freeze Zucchini or How to Freeze Tomatoes. Either one works really well in this situation. There are also simple tips on how to thaw out the salsa for us. I suggest cooking with it rather than just serving it or cooking it before serving just because it will meld better. Tomatillos have a gelatin texture when they are cold so they do best when warm.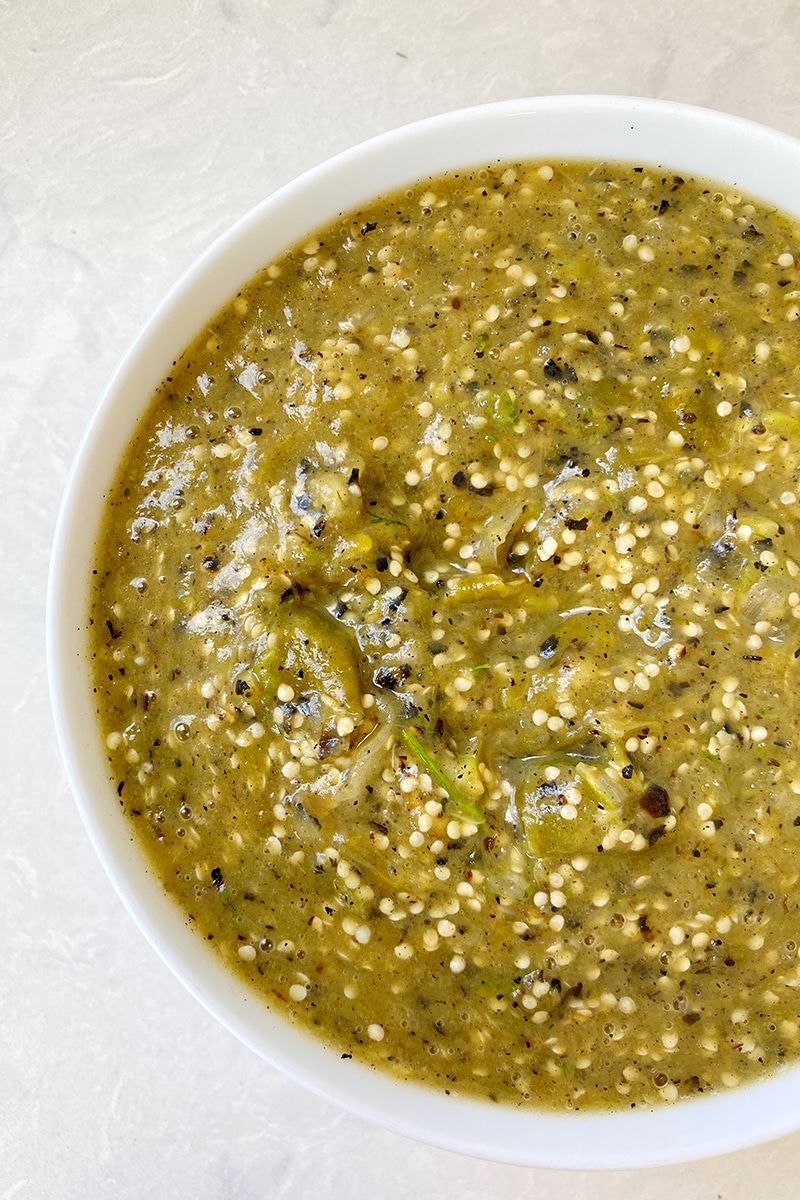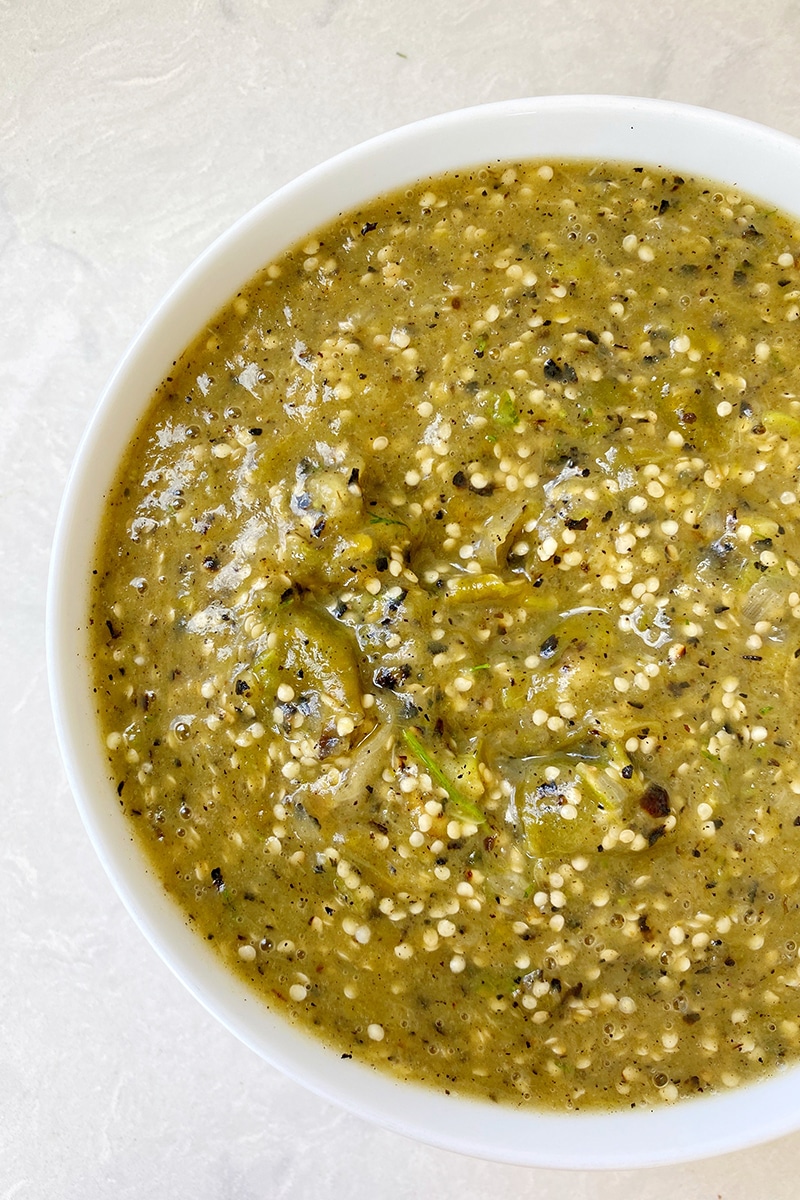 Great ways to use your salsa, is by making the following things:
Top Chicken Enchiladas with it instead of Enchilada Sauce
Top a bowl of chili with tomatillo salsa
Serve with Tortilla chips
Use it as the base to make Chili Verde this winter
Mix in a dollop of sour cream or even avocado to make a creamy dip or sauce to put on top of these roasted carrots
Other Great Posts to Check Out on Gardening and Tomatillos: