Freezing tomatoes is one of the easiest ways to get into saving your garden harvest in late summer. With the abundance of tomatoes it is great to take advantage of them and put them away in your freezer for the winter ahead. I am sharing how to freeze your tomatoes without blanching or cooking in any way. It is incredibly simple and can be done whenever you bring in a harvest. Literally this is the simplest way to freeze your tomatoes!
Why Freeze Tomatoes:
I love frozen tomatoes because the flavor is really nearly as close to straight off the vine in the summer as possible. The sweetness remains very well and does not heat up your kitchen during the hottest times of the year. Also, when you freeze tomatoes you can use a lot of different containers to store them instead of just jars. This gives you flexibility if you are limited on jars you have available to you.
When you go to use the tomatoes for cooking, it is easy to use them anything you want from pasta sauce to soup to even warm salsa recipes if you want. YOu can make any of those other things like tomato jar later during slower and cooler months when you freeze tomatoes this time of year.
What Should I Freeze Tomatoes in?
You can use various sorts of containers for your freezing method. Some of it will depend on what you have available to you and what you like to use. I always take a zero-waste approach to our freezing and saving as much as possible. It isn't always easy to do, but I find that these items are the best:
Freezer Ready Wide Mouth Ball Jars: These are awesome and you have to get the ball jars without the neck on them so they do not burst. You also do not want to fill over the fill line. I use masking tape and a sharpie to mark the jars with their contents. If you have a smaller space this won't be the most space-saving. Use one of the other suggestions.
Silicone Sealer Bags: These bags are awesome and we have used them now for a few years. Silicone can retain scent and color so be warned. That said, buy the bags that you will solely use for tomatoes and just keep them as your tomato bags. These come in plenty of sizes too so use what works best for you.
Ziploc Bags: These are not zero-waste even if you use them multiple times…they do not biodegrade over time like Silicone will, but they are very effective. I sometimes will even freeze tomatoes in large silicone ice cube trays and then pop them out into bags so I can use them in smaller sizes as well. You can actually just puree your tomatoes and pour them in and they are mushed and ready to cook…you do not even have to cook them before doing this if you don't want. Just core and remove bad spots on them.
Vacuum Seal Bags: These are also not zero-waste and typically cannot be resealed either, which is frustrating, so I don't suggest these but they work well if you are new to freezing. It can be a good way to save your garden with less work.
See me share on IGTV about How to Freeze Tomatoes
What Variety of Tomato works best for Freezing Tomatoes?
There is a lot of thought on this and this is my perspective…Not all tomatoes are created equal but if they are good for eating fresh they are good frozen. I do not like certain tomatoes in the summer and I am pretty specific about what we eat when it comes to varieties because of flavor and texture. It isn't a popular opinion, but I love cherry tomatoes frozen in this method. A lot of people never freeze their cherries but I have found they make the best pasta and pizza sauces. The larger varieties are wonderful to make other things but cherries are awesome for sauces. Like I said, not a popular opinion but it is what I think.
How do I get Tomatoes for freezing if I didn't grow any?
I love this question!!! Go to your Farmer's Market and ask your favorite farmers if they have seconds. This means you can get a large number of tomatoes at a good price in bulk because these tomatoes had little issues like weird formations, bruising while picking, or some broken areas in their skin. Basically they are not perfect ones they can sell at a premium. Also in a bunker crop year for farmers, they just want to sell them because they are coming in hot and heavy, so they are really happy to give you the end of the year tomatoes at a good price. For a 1/2 bushel, I can pay $5-$8 depending on the year and crops. If I do 2 whole bushels I can put away enough tomatoes for the whole winter and spring. As a result, I save a ton of money and waste not buying jars and cans that grew who knows where. Tomatoes are literally the best way and easiest way for a Midwesterner to eat locally.
How to use Frozen Tomatoes?
When you are ready to use your frozen tomatoes, you will want to thaw them or drop them in frozen depending on what you are doing. I store mine in jars so I will run warm water and set the jar in the water so it is there long enough to release on the walls and slide into the soup or sauce I am making. It is great because they are premeasured as well. Cooking with frozen tomatoes as cooking time if you don't let them fully thaw before dropping in, so if you want you can let them fully thaw in the fridge the day before and then strain with a mesh strainer. You can save the water to add to another dish that week as well.
Very simple to use! It is honestly surprising.
Once you freeze tomatoes you will never go back to jarred ones at the store again!
Print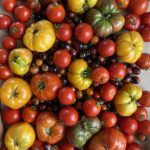 How To Freeze Tomatoes
Author:

Prep Time:

10 minutes

Total Time:

10 minutes

Yield:

6-8 cups
---
Description
You can easily freeze tomatoes with this simple recipe on how to freeze tomatoes. There is no blanching or cooking involved, which makes it simple to turn into pasta sauce later on.
---
Freshly picked Tomatoes that are washed and dried in any amount.
*** You can mix any varieties you want in this recipe. I use cherries and heirlooms together all the time***
---
Instructions
Begin by making sure you have a clean surface and plenty of containers for you to freeze in. See the notes below for ideas on what to use. 
Wash all tomatoes and place them on a cutting board with a great tomato knife. I like this one.
Core all your larger tomatoes and remove any bad spots. Then from there just chop them into quarters or slightly smaller depending on the tomato.
If you have cherry tomatoes all you need to do is half them.
Drop them into your container you plan to freeze in and fill to your fill line.
Label and place them in your freezer and they will keep for 6-8 months.
---
Notes
Suggested items to use for freezing tomatoes:
Wide Mouth Ball Jar
Ice Cube Trays and then remove and store in a container of choice
Freezer ready ziploc bags (not ideal but does the trick)
Keywords: freezing tomatoes, preserving
If you loved this recipe, we have other preserving your harvest recipes just click below.