This Grilled Corn Salad recipe is one of our favorite meals in our home. Every single person is filling their plates with this in the heart of summer, but whether it is summer or not you can make this delicious salad any time of year.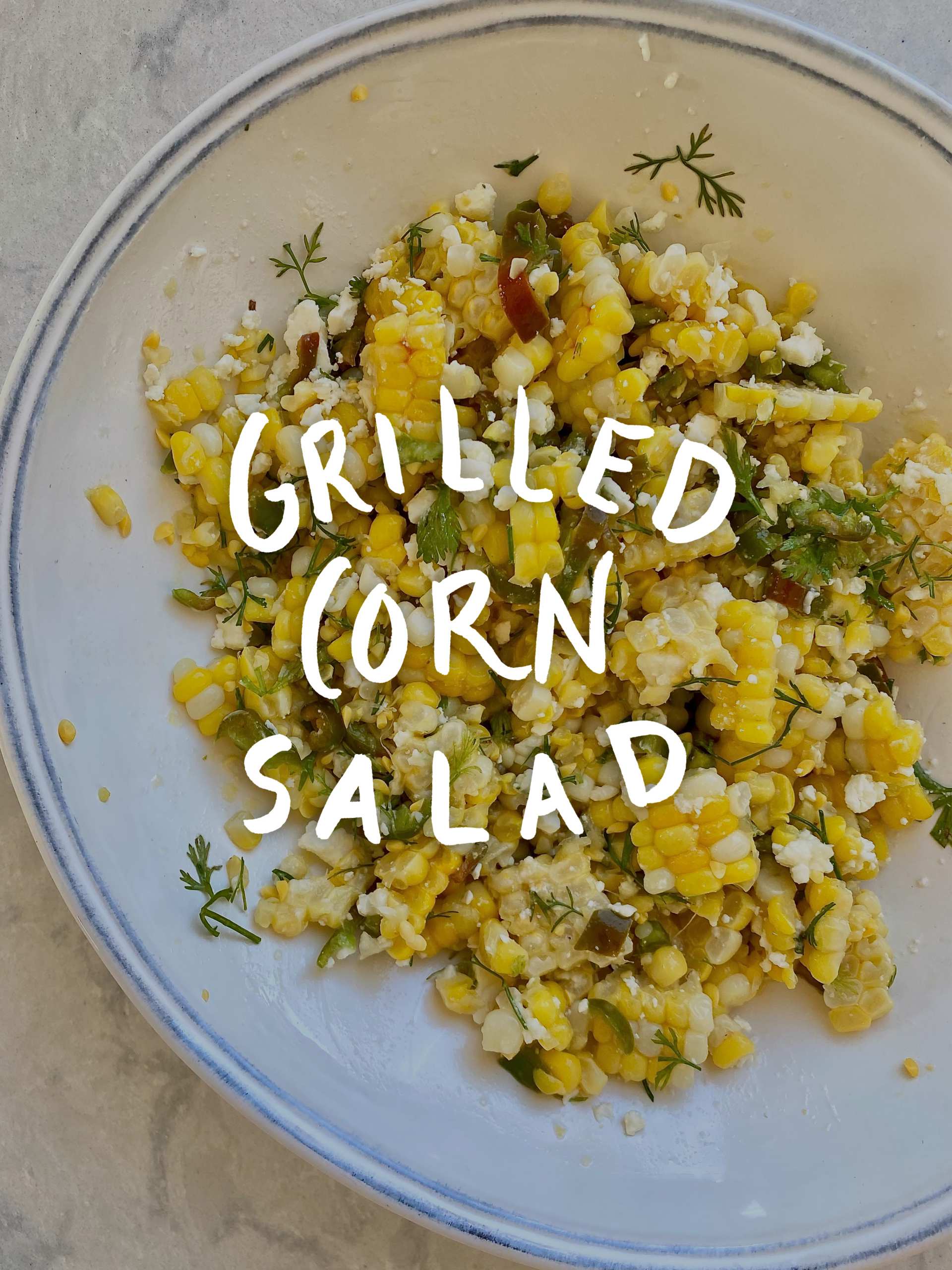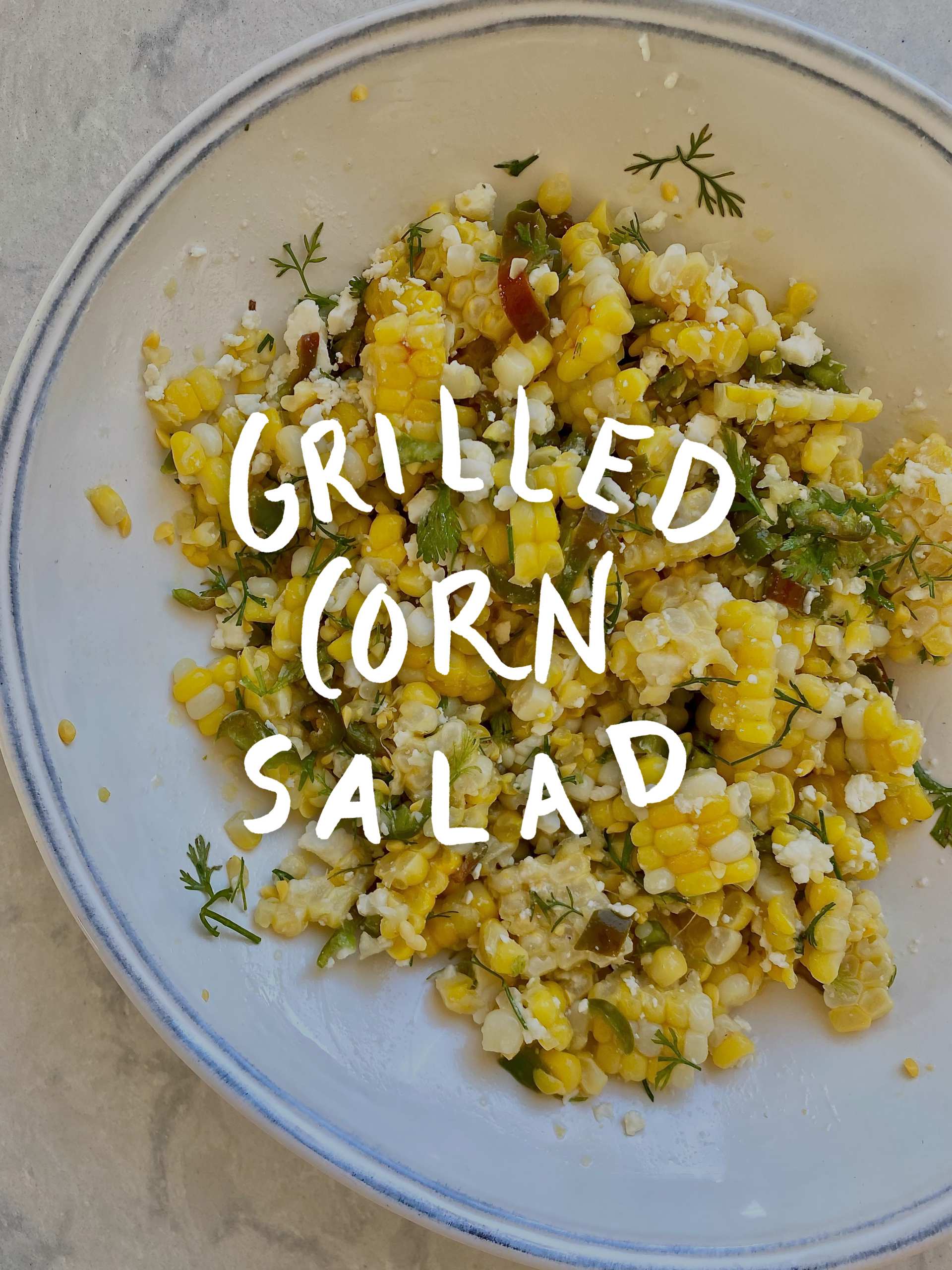 There is nothing that says summer more than grilled corn on the cob. The flavor of grilled corn is completely unique and the way it melts in your mouth compared to just boiled corn is what makes it the best way to enjoy corn in the summer. We typically grill our corn for this recipe at the same time we are making Tomatillo Salsa Verde. We love serving this recipe alongside our favorite cabbage slaw with tacos. Making this grilled corn salad is so easy and it will quickly become a favorite in your home as well.
Grilled Corn Salad Recipe Ingredients
The ingredients for grilled corn salad are super simple and pantry essentials that are easy to grab and use for this recipe without an issue. You can adjust them and add more as you desire or if you decide to make a big or small batch of corn salad.
Grilled corn: Making grilled corn ahead of time is easy or use up some leftovers from another meal. If you don't have grilled corn though, no worries! You can toss frozen corn in a pan to create the same effect or even use raw corn. Just cut off the cob if you want to make it even faster.
Peppers: Peppers are easy to get from the garden in the summer, or you can use jarred ones as well. To really pop the flavor, toss them on the grill for a short time with the corn. You can use any pepper you would like depending on the flavor and heat you desire. We like using mild peppers but Jalapenos work great here as well.
Cilantro: We are usually always able to keep cilantro on hand for this meal even late into the summer. If you don't have cilantro by chance you can use another herb like Basil.
Feta or Cotija Cheese: We love using feta in this salad to add that slight creamy touch, but if you aren't interested in having cheese you can use vegan varieties or completely eliminate it as well.
Lime juice: A good squeeze of lime juice goes a long way in this salad, but it is absolutely necessary to add that perfect tang to counter the grilled flavor of the corn. If you don't have lime, then try other citrus fruits. You can even substitute it with a juice like Orangina.
Rice Vinegar: One more little bit of tang since we aren't adding mayo to this. The vinegar creates a similar flavor without the creaminess. Rice vinegar is the best option but if you don't have it the best substitute is white wine vinegar.
Smoked Salt: It isn't necessary to use smoked salt, but I think it adds the final punch. If not you can use Maldon Sea Salt sprinkled in but their smoked salt is just amazing.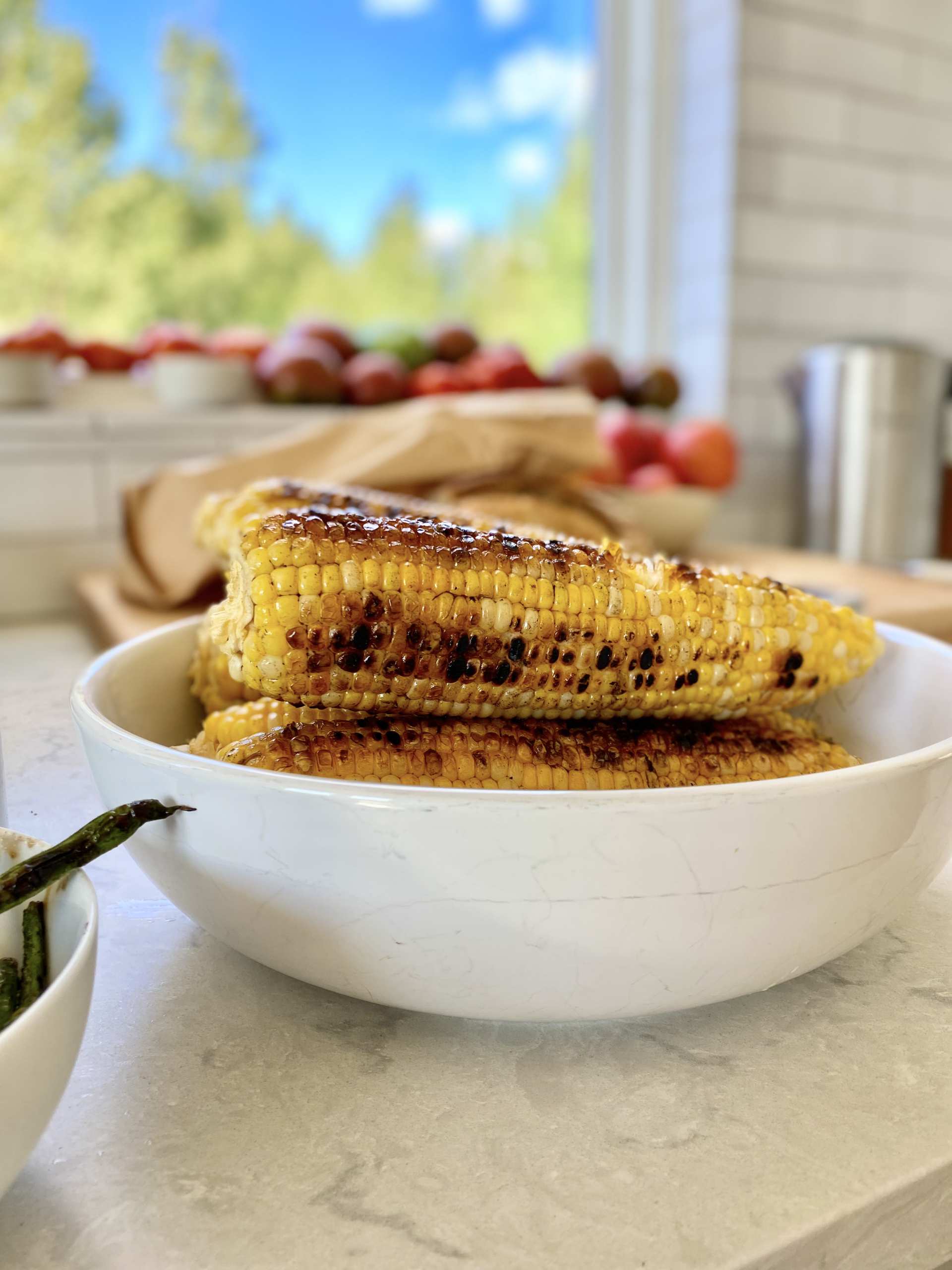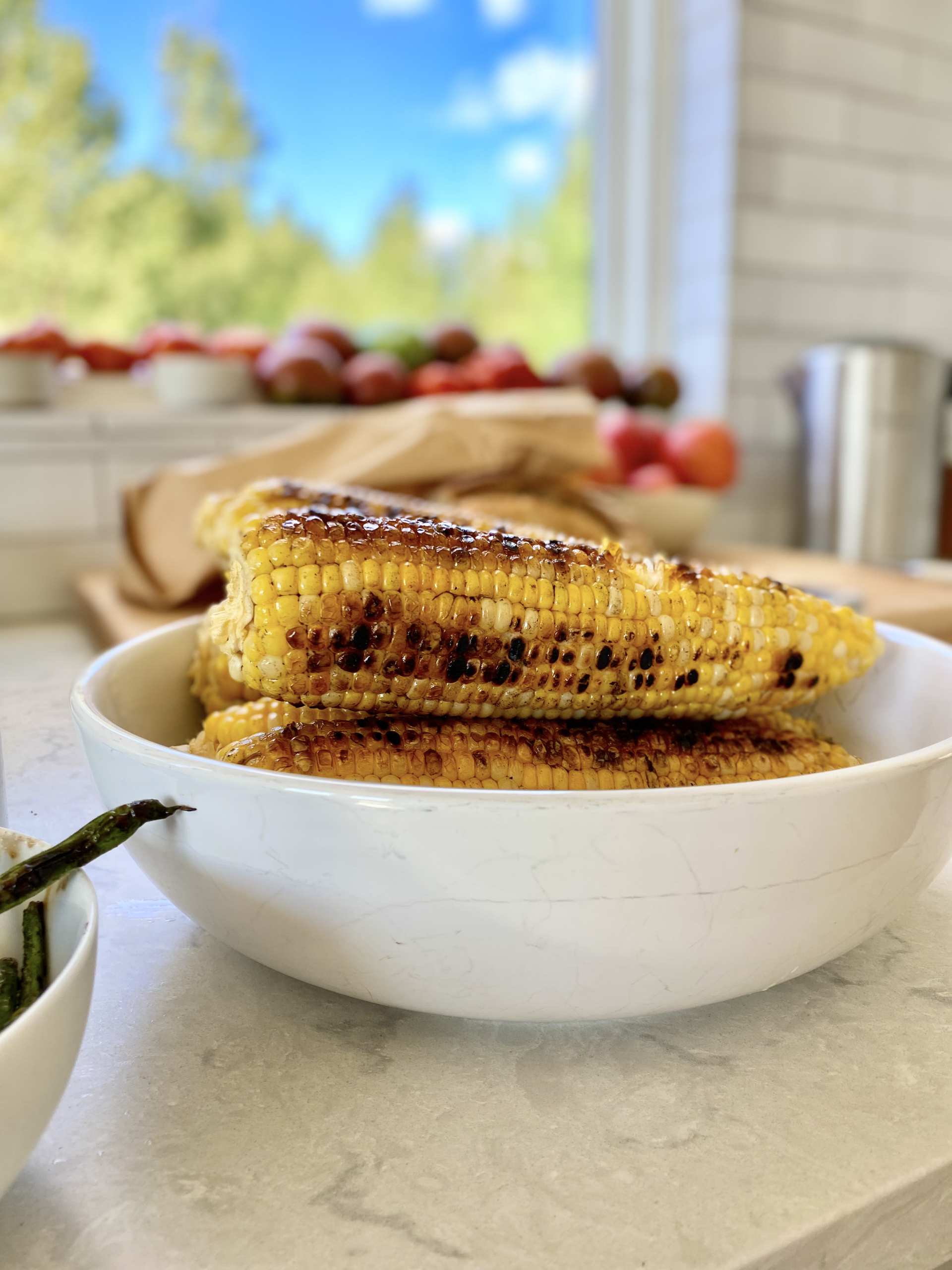 What to serve with a grilled corn salad recipe?
You want to serve the grilled corn salad with other things that are in season in the summer as well. The best things to serve them with are any of the following or even used as a topping for tacos.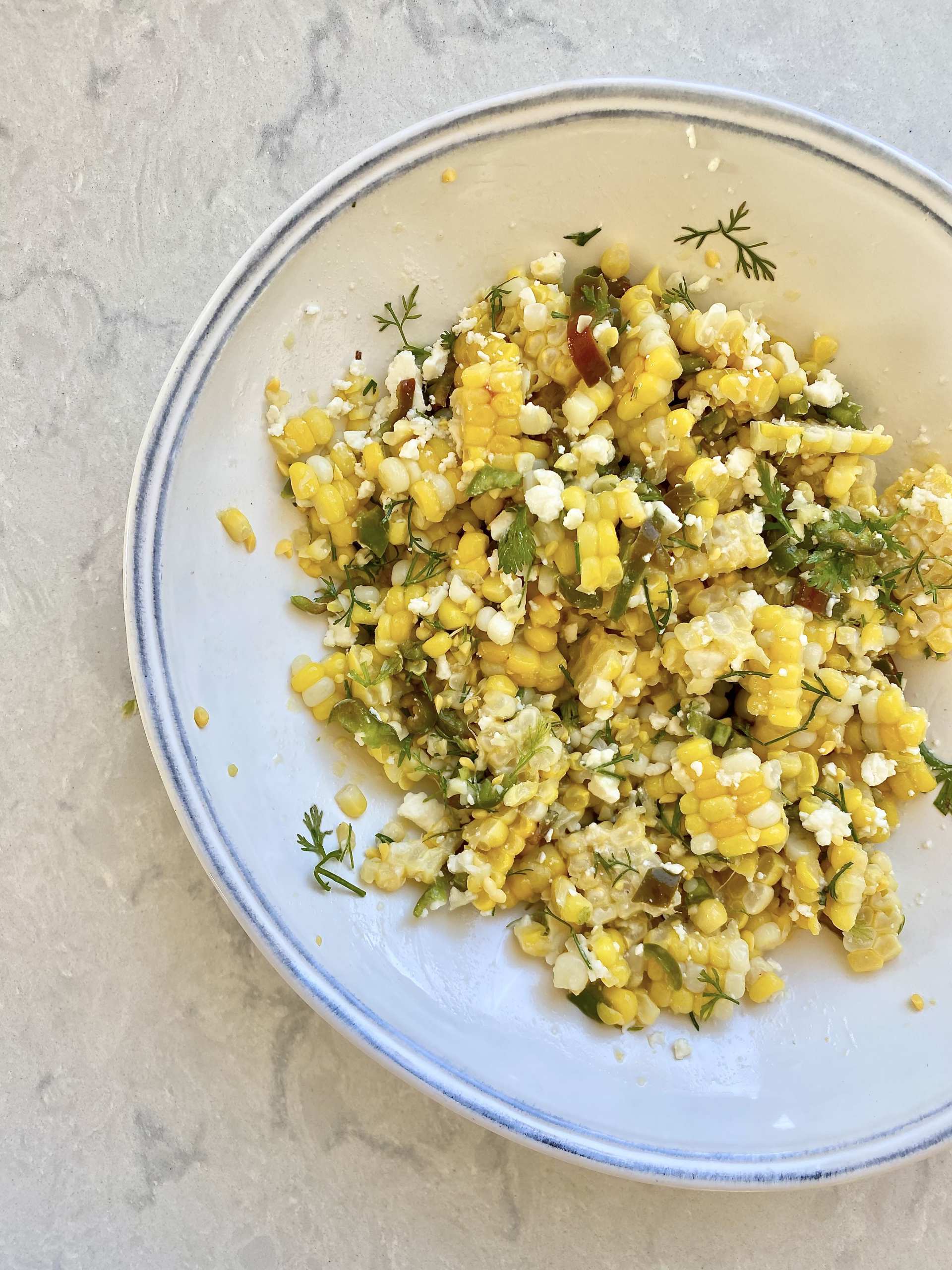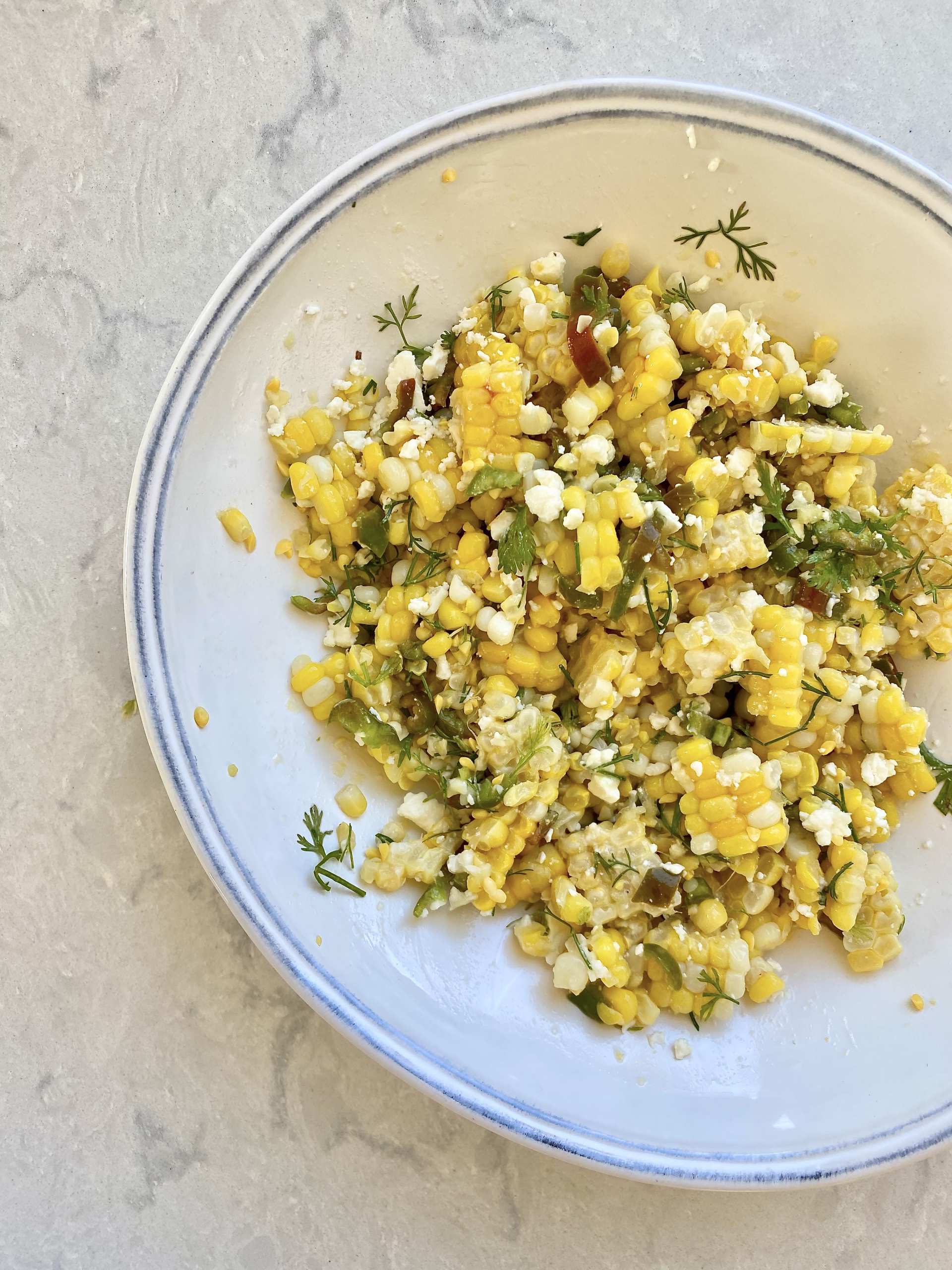 Print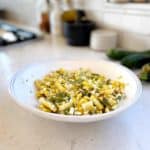 Grilled Corn Salad Recipe
Author:

Prep Time:

5 minutes

Cook Time:

10 minutes

Total Time:

15 minutes

Yield:

4

servings

1

x
---
Description
Grilled Corn Salad is one of our favorite means in our home. Every single person is filling their plates with this in the heart of summer, but whether it is summer or not you can make this delicious salad any time of year.
---
3–4 Ears of Corn (suggested to be grilled but can be raw)
2 Peppers (suggest using whatever pepper you like the heat level)
Juice of 1 Lime
1/2 Cup Feta or Cotija Cheese
2 Tbsp Rice Vinegar
1 Large Handful of Cilantro
2 Pinches Smoked Salt
---
Instructions
Grill your corn if you plan to do so. You can use this recipe for grilling corn properly.
Once the corn is done cooking or if using raw corn you will cut the corn off the cob into a bowl.
Add the rest of the ingredients to the bowl
Toss generously and taste to adjust salt and lime juice.
---
Notes
**** If you would like it to be a little spicier you can add red paper flakes. ****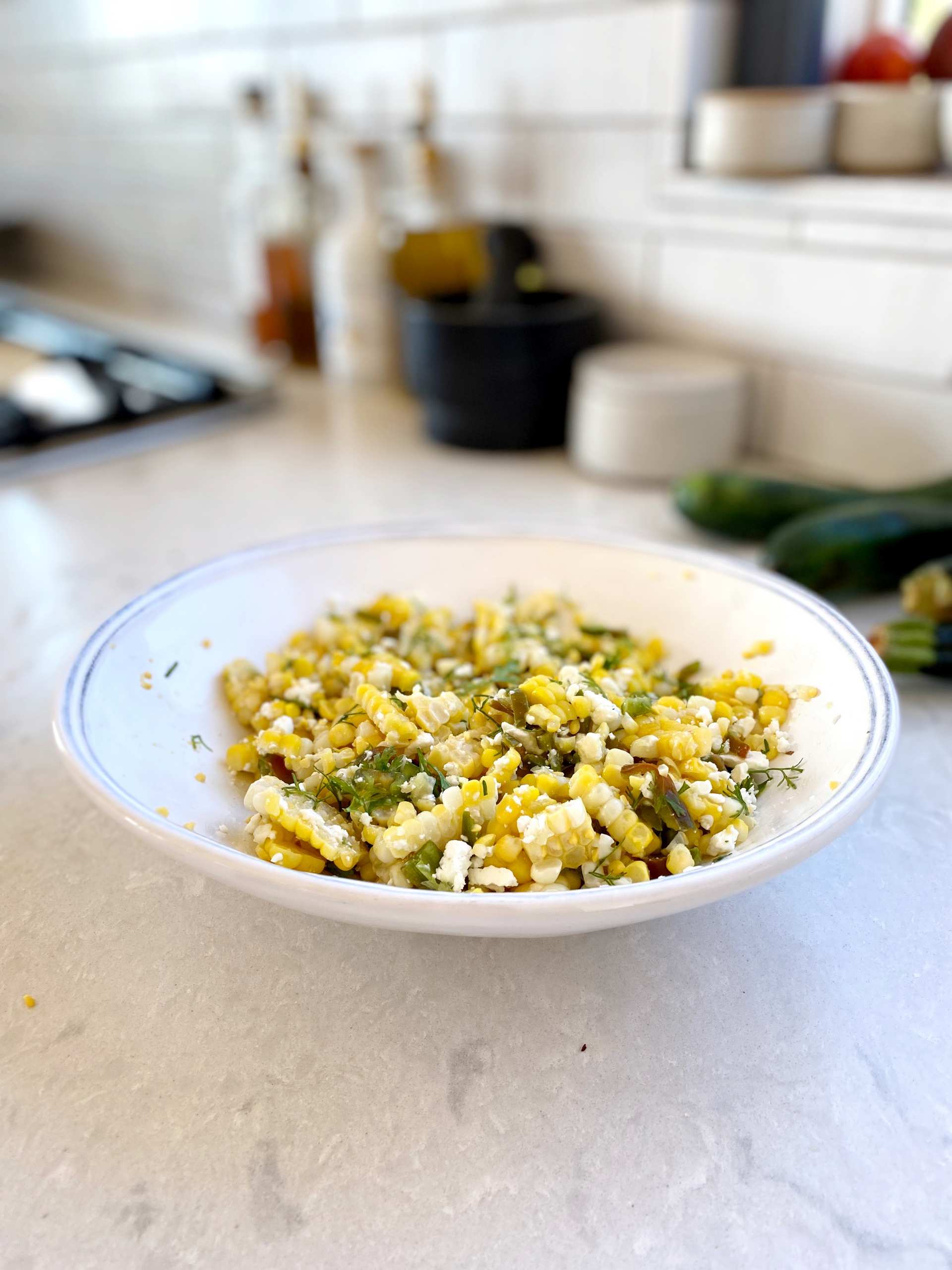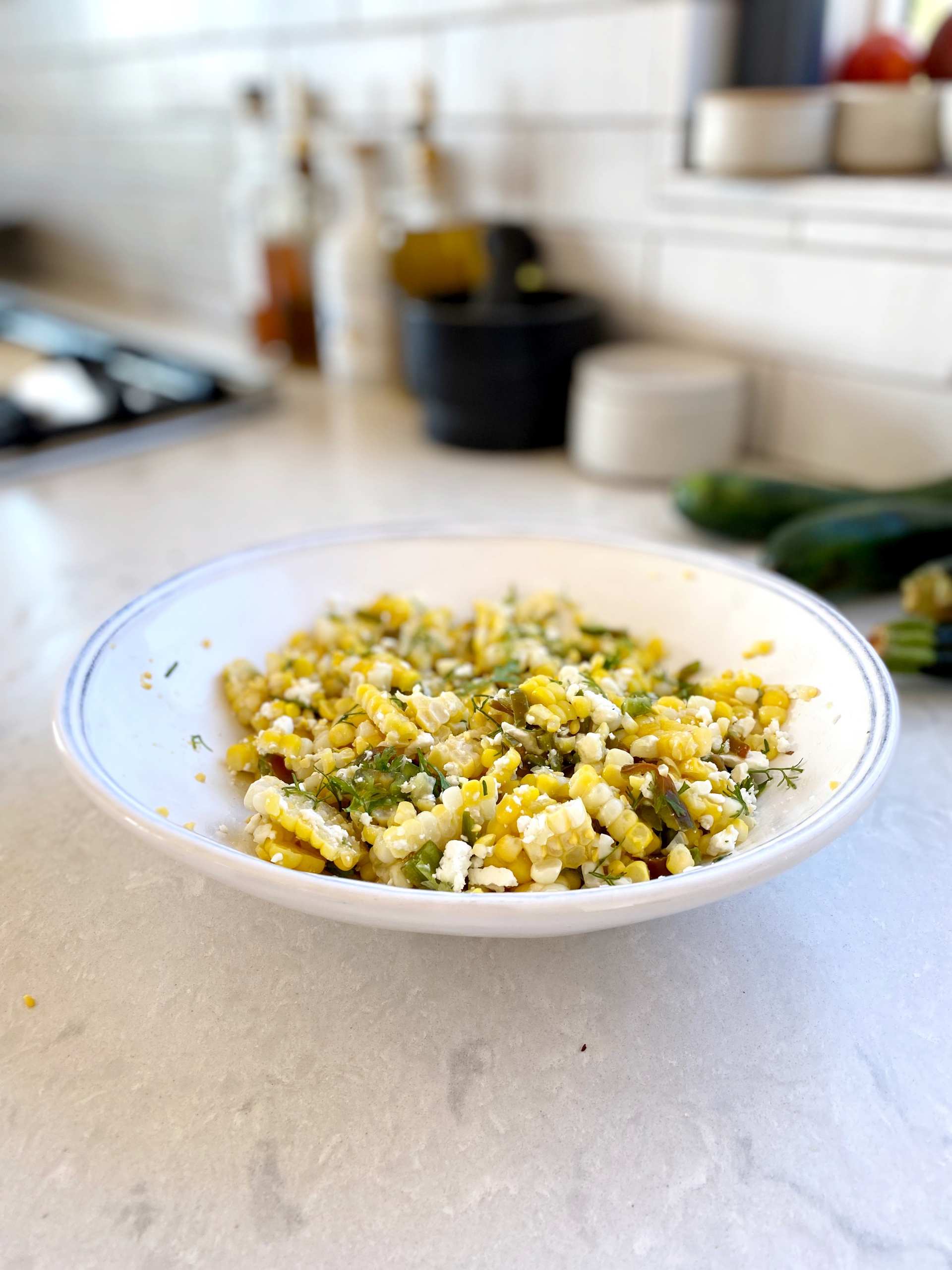 Frequently Asked Questions
Do you need to soak corn before grilling for this grilled corn salad recipe?
If you are grilling corn some people believe it can be helpful to soak the corn in their husk before grilling them to avoid charring. In my experience, this doesn't matter and is an unnecessary step needed to be taken when making grilled corn.
Do you silk corn before grilling?
Grilling corn in their husk or with their silk isn't necessary. In fact, I love the look of the corn far more if you grill them without the husk at all. They get nice and charred and smokey this way too.