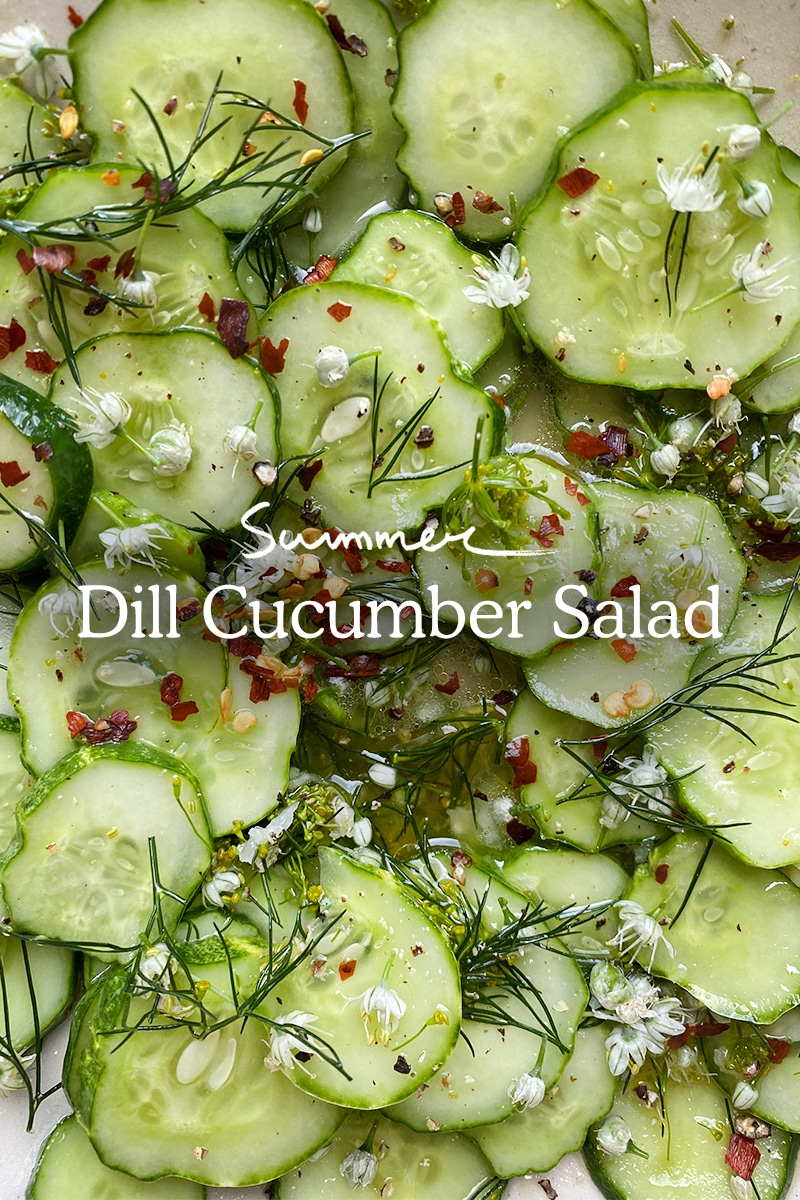 When summer comes on so do the cucumbers and if you need a simple recipe, this cucumber dill salad recipe is a great way to go. It is like a milder version of pickles but full of bright and fresh flavors that pairs well with any backyard cookout that involves no cooking and just a lot of fresh ingredients you can easily find in your garden.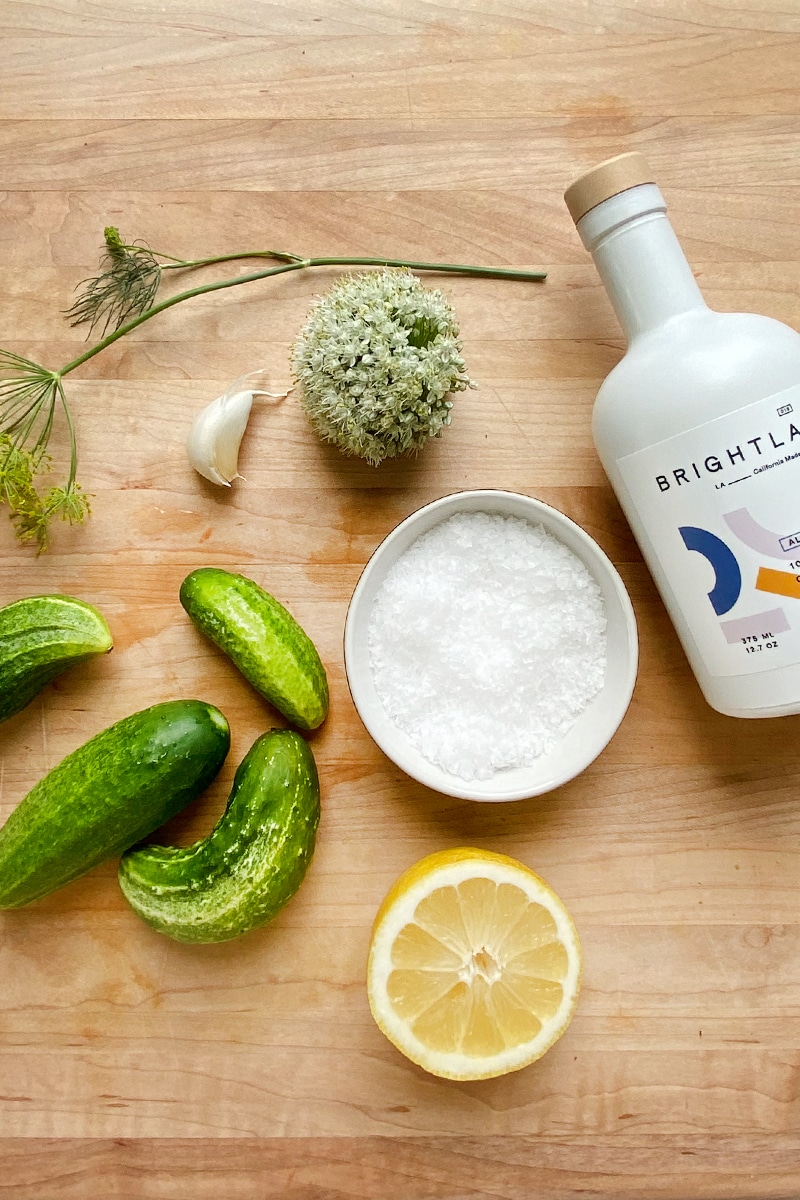 Ingredients for Cucumber Dill Salad:
Cucumbers: There are many types of cucumbers and all types of sizes. I love to pick them between the small and medium sizes as their seeds are small and easier to enjoy. I like the skins crispy too so pulling them smaller allows for that. They hold up in pickles and ultimately a salad very well. If you have other types you can choose whether or not you keep the skins or not.
Olive Oil: There are really two types of olive oil the kind you cook with and the kind you dress dishes with. The prices vary dramatically and I suggest putting some money behind a great olive oil for dressing fresh veggies in for spring and summer. The flavor is perfect for the garden fresh veggies you have.
Salt: Not all salt is created equal and there are MANY types. I always have three types available. Sea Salt is my favorite and I get it ground and then also get the course as well. These are best to use with fresh veggies but we also use Himalayan Salt as well.
Dill: I love growing flowering dill in our garden. Not only is it beautiful but it smells amazing. You can use the yellowing flowers or the feathery greens for this recipe.
Onion Flowers: These are the round balls at the top of a flowering onion. We see this in Mid to late July start and go through the rest of the summer. I love them and treat them just like chive blossom. If you do not have one you can easily use a shallot of red onion but sparingly. We don't want the onion flavor to overpower the dish.
Vinegar: In the summer I focus my vinegar usage on rice wine vinegar and white wine vinegar. They are brighter and fruitier and compliment fresh ingredients more than heavier vinegars like Apple Cider Vinegar and Balsamic vinegar do.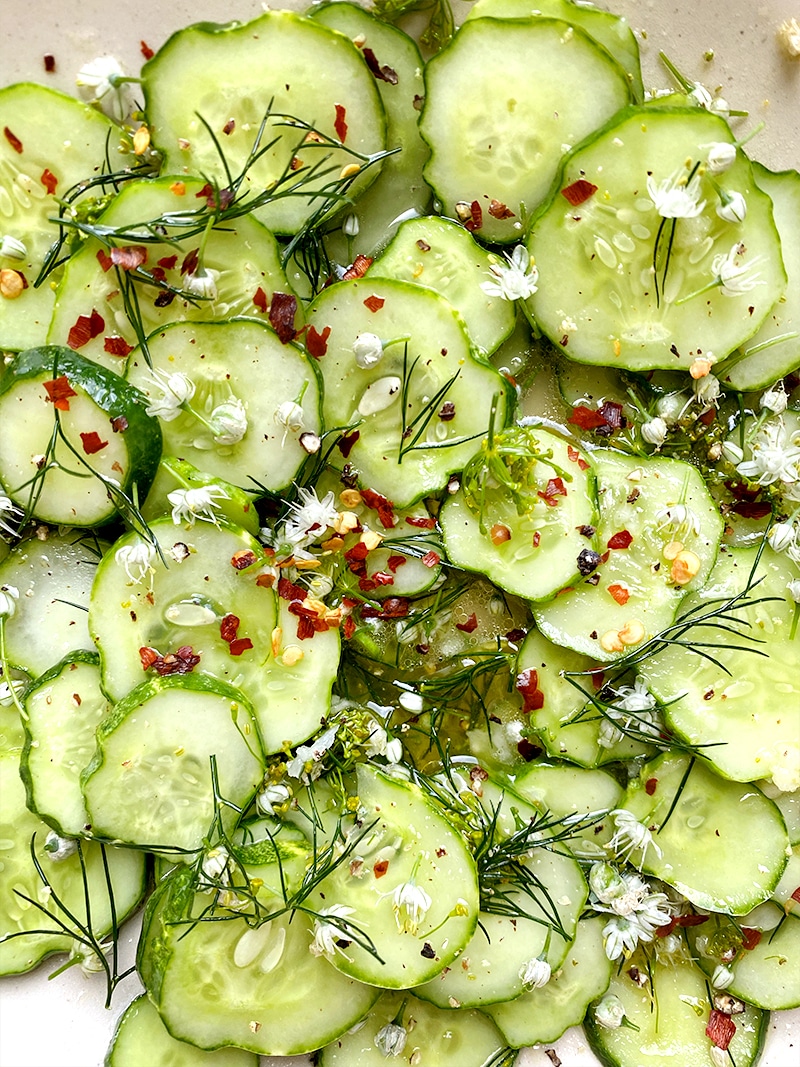 I love using cucumbers from our garden all summer. They are so easy to grow and love to trellis. Though they are prickly, our son loves to find them on the trellis and have me harvest them. I grow 2-4 varieties of them so when I make this salad it is always a mix of cucumber varieties and I love that.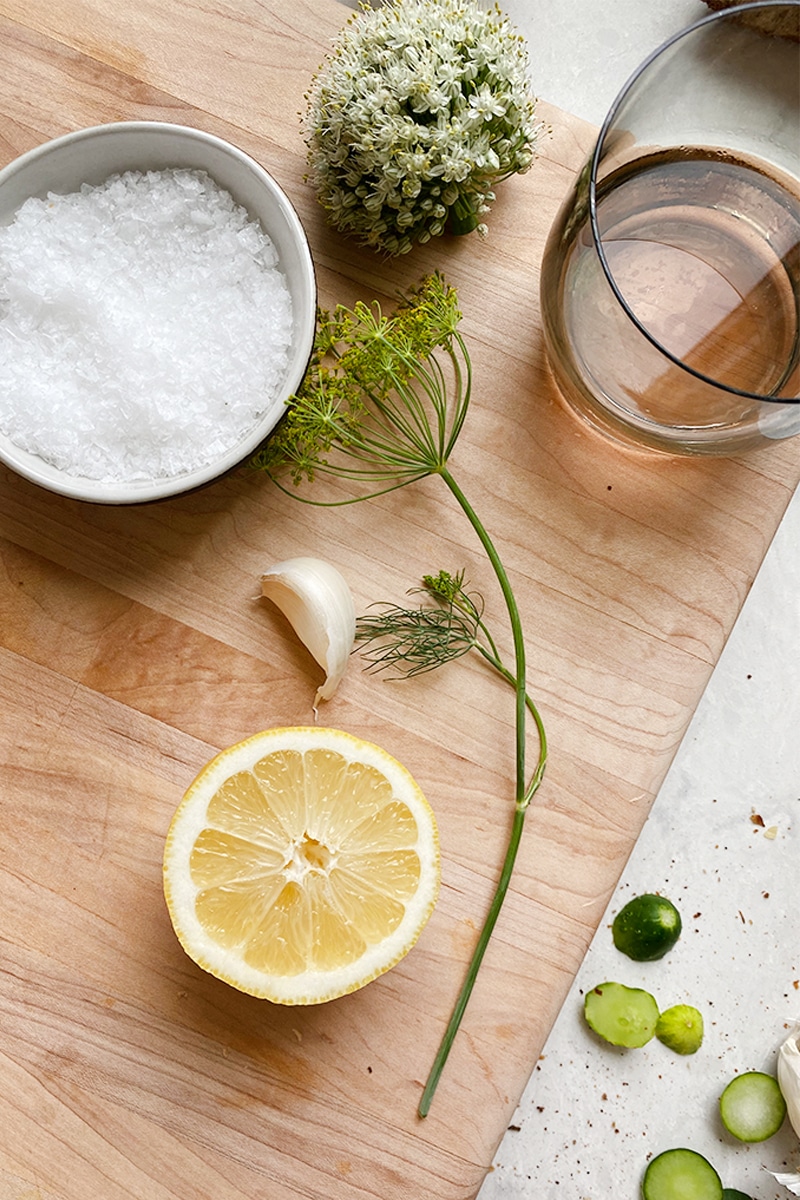 Print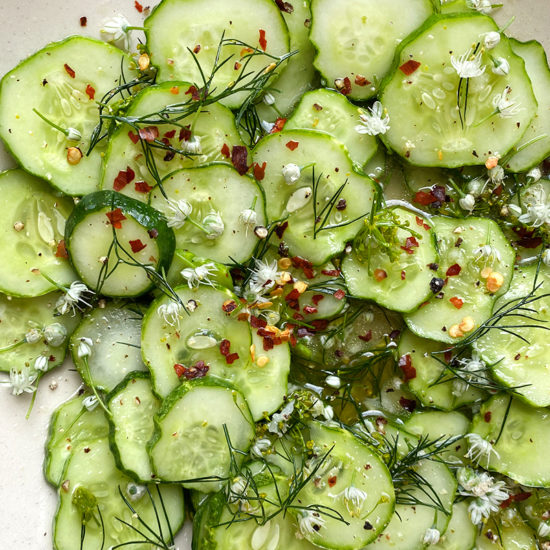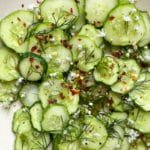 Cucumber Dill Salad
Author:

Prep Time:

20 minutes

Total Time:

20 minutes

Yield:

4

servings

1

x

Category:

Vegetarian
---
Description
A simple and healthy dill cucumber salad with plenty of flavor and spunk that is plant based and vegan straight from the garden.
---
3 cups sliced cucumbers (about 4–6 small or medium cucumbers)
1 tbsp fine sea salt
4 tbsp White Wine or Unseasoned Rice Vinegar
3 Tbsp High Quality Olive Oil – I suggest Brightland or similar
2 tbsp fresh lemon juice
1 large handful of fresh dill flowers and fronds work
1 garlic clove chopped finely or pressed in a garlic press
1 tbsp onion flowers but could also use a sliced shallot or garlic scapes or anything along those lines
1 tbsp Red Pepper Flakes (optional)
---
Instructions
Slice cucumbers thinly and place in a colander over a bowl. Sprinkle the cucumbers with salt and toss them by hand to make sure they are well covered and let sit for at least 10 minutes but ideally 20 minutes. This will create a quick pickling effect and release additional liquids from the cucumber.
While you wait prep all the other ingredients to go in the bowl.
Once the cucumber have set, discard the additional liquid in the bowl under the colander. Add the cucumbers to the bowl the salad will be mixed in.
Add all the other ingredients other than the red pepper flakes into the salad and then toss.
To finish add the red pepper flakes and toss on any onion blossoms or fronds from the dill to complete the dish and make it pretty.
Enjoy right away or even place on top of burgers if you desire.
---
Notes
You can easily add red onion into this salad if you desire.
Just like with anything fresh you may have to lightly alter or adjust as you see fit. These should taste bright, fresh, crispy, with a good touch of salt to them.
It is most important to use the freshest and highest quality ingredients for your olive oil and vinegar. I suggest using sea salt as well.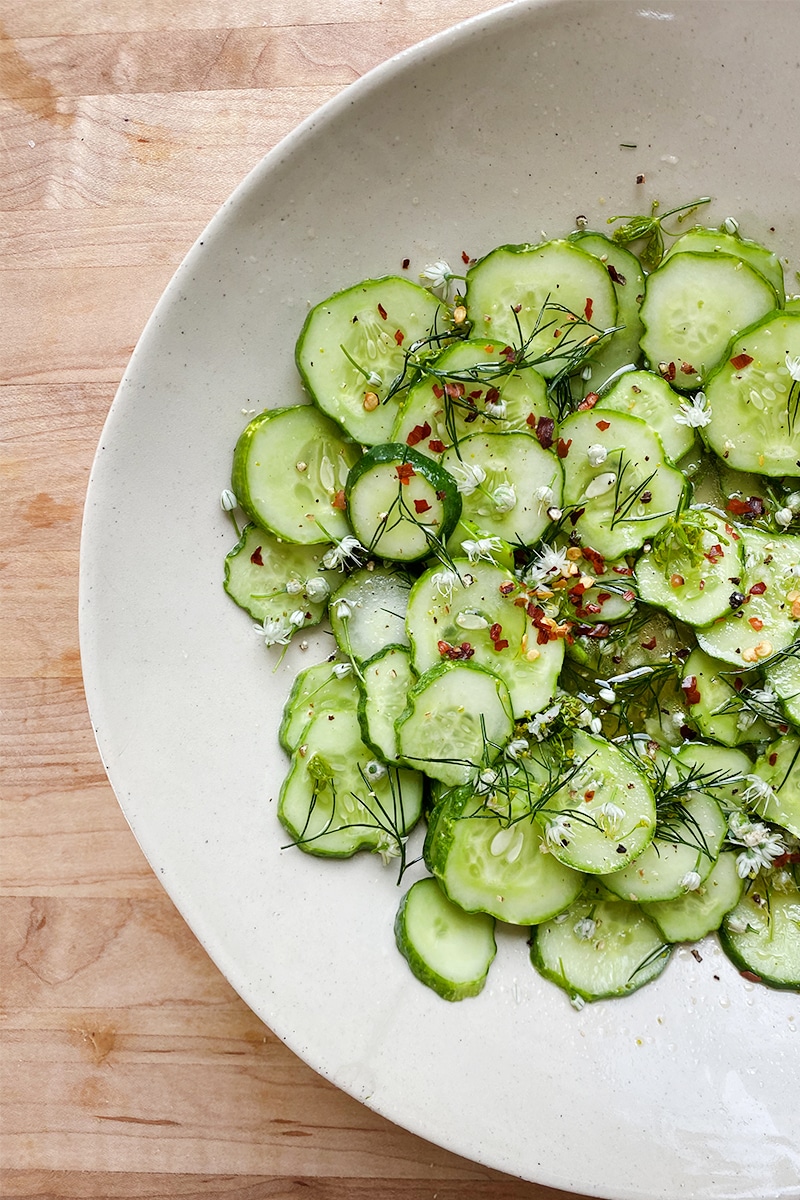 If you enjoyed this recipe for summer you may also like: