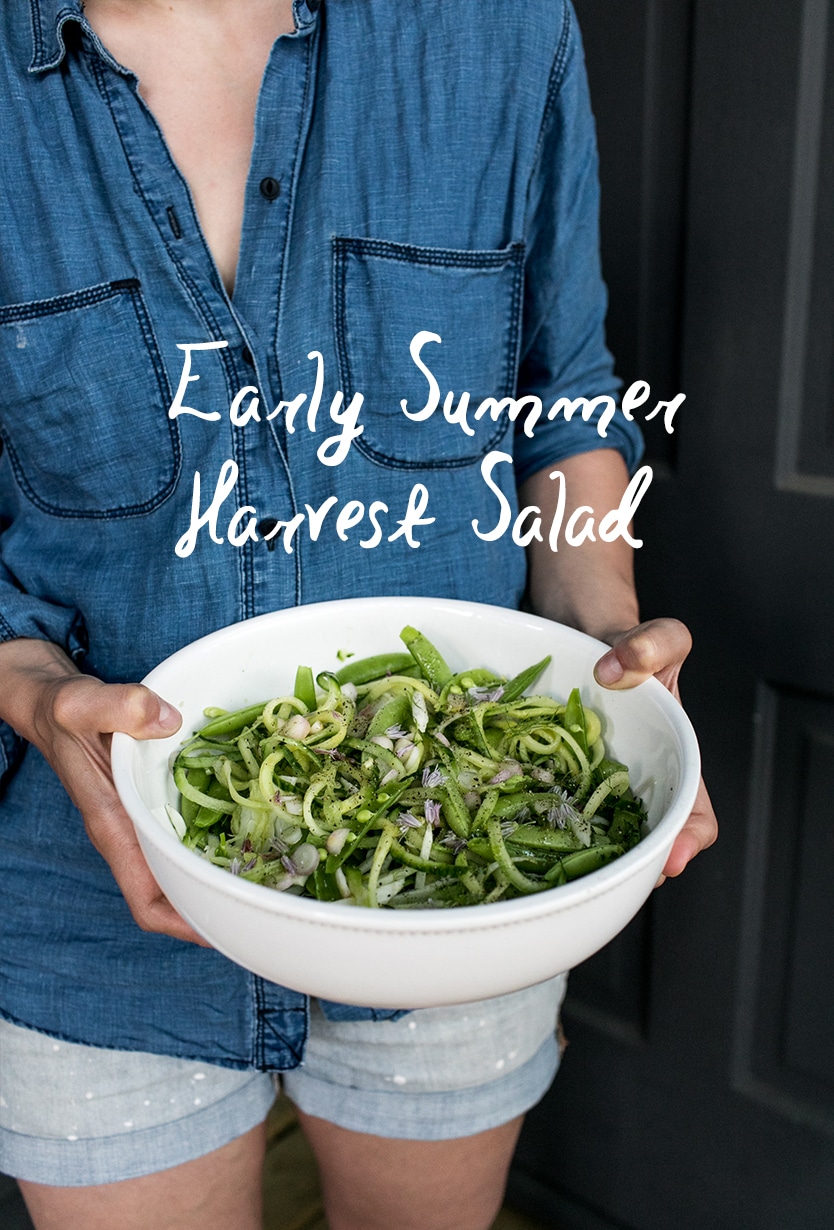 A simple summer harvest salad straight from your CSA or garden is just seconds away with this easy recipe. Tasty and Quick to make!
The last few months I have become obsessed with reading books about vegetables and herbs. I have an embarrassing amount of books that detail how to grow them, how they should taste and what to pair with them, when to harvest, and more.
I have long been obsessed with the flavors of each season, but now as we enter summer, have access to the farm market, and I am working on a farm for a few hours a week, I have become completely enthralled with spending my days cooking and creating in the kitchen.
What I have found is that this time of year in early summer the plants are tender, soft, and need to cooked in a similar manner. The vegetables are best with a limited amount of heat if any at all. They mostly are best raw and there is no better way to taste the flavors than crisp and fresh. That's why I love today's salad.
As I bring home fresh veggies, I have simply just been using vinegar, oil, and some salt and pepper along with fresh herbs and edible blossoms to dress dishes. It is amazing how simple preparing fresh food really is. So, I today I thought I would share one recent dish I threw together for dinner this week. I took what I had picked up and paired it with a few veggies that I had lingering from other dishes that week and mixed this early summer harvest salad up.
Ingredients Needed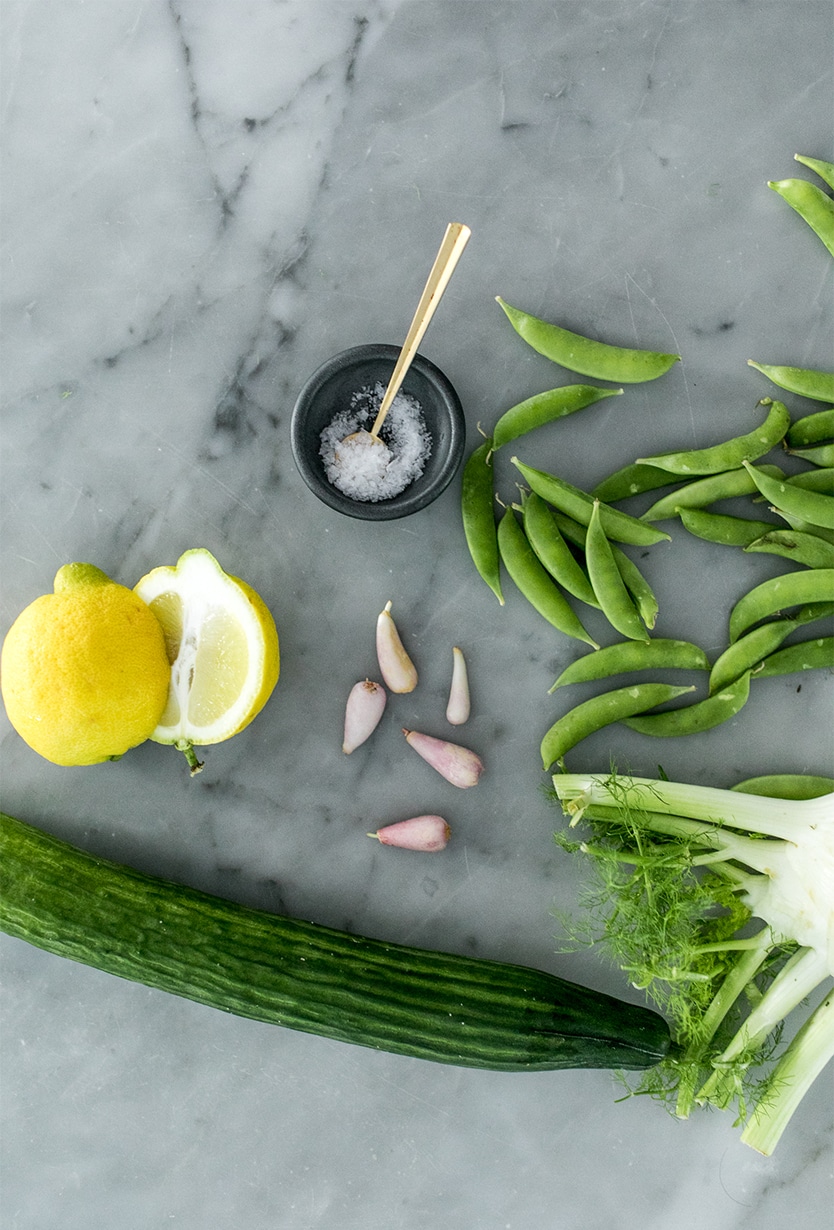 1 lb fresh Sugar Snap Peas
1/2 English Cucumber (not in season, but so good in this dish)
1 Fennel Bulb + Fronds (top)
4-5 Ramp Bulbs (could also use 1 or 2 shallots)
1 lemon
1 tsp EVOO
1 tsp Rice Vinegar
1 or 2 Chive Blossoms
Course Salt such as Maldon
Black Pepper
How to Make Summer Harvest Salad
1. To make the salad, I used a spiralizer like this one or this one to make strands of cucumber in the salad.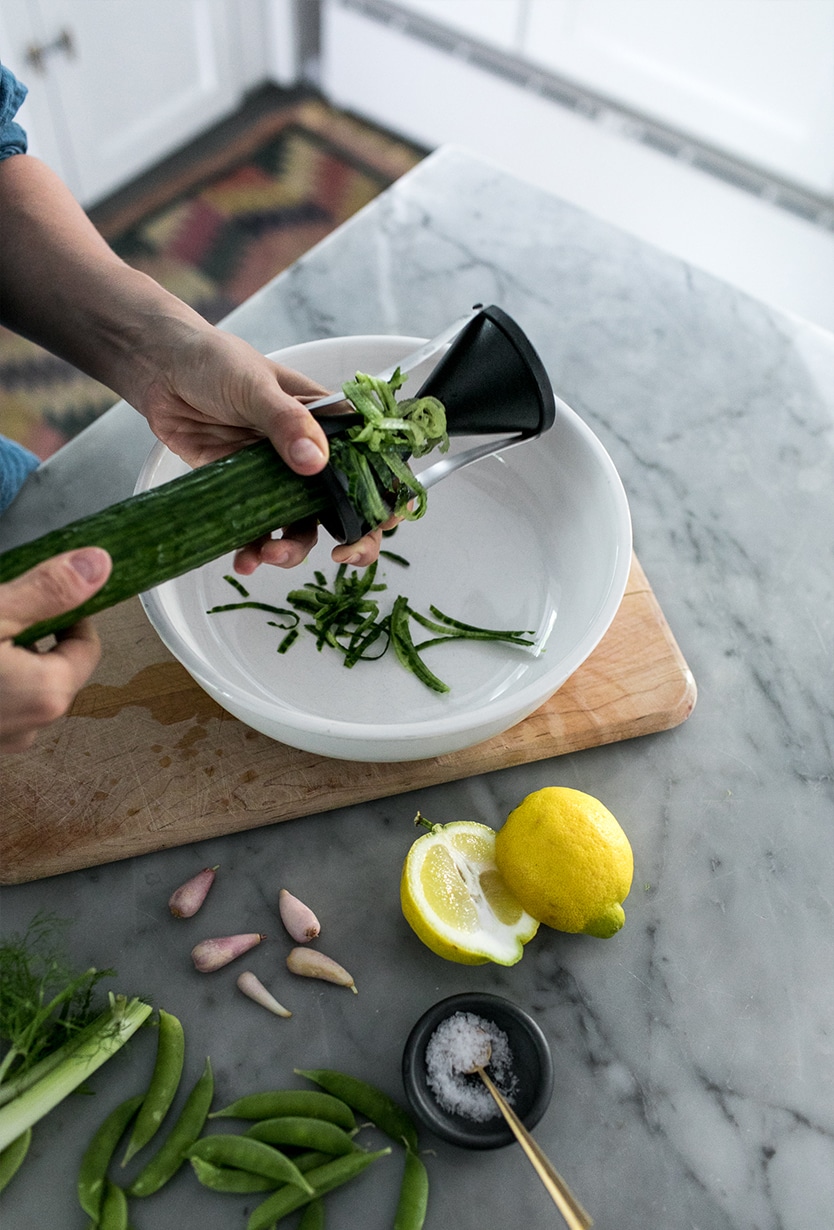 2. Next step would be to toss them apart and then rinsed and removed the edge strings (pull down each side) of the sugar snaps so they were easy to eat. I then mixed these in and also opened a few to expose the inside for the look of it. 
3. Trim and finely slice the fennel bulb. If you have Mandolin this is a great time to use it.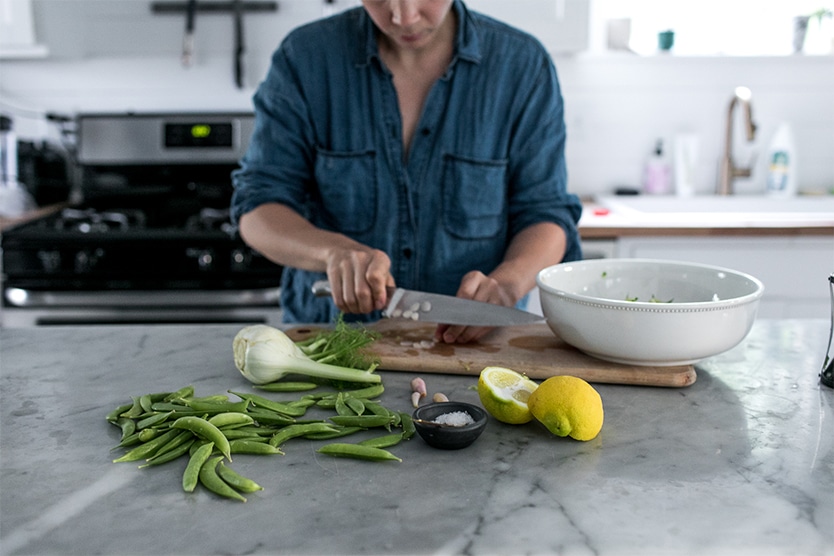 4. Take the fronds (the fluffy part of the top) and pull and scatter on top of the salad.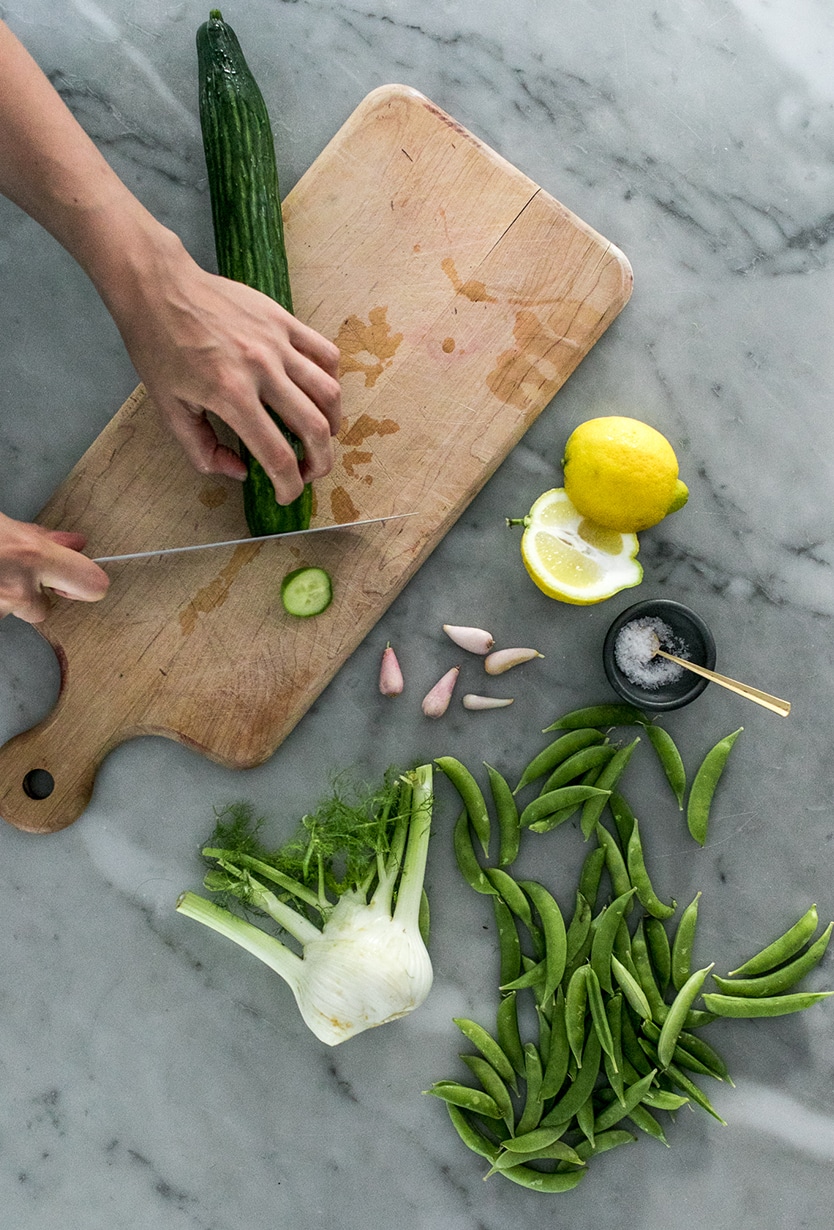 5. Toss everything with the EVOO, lemon, and the Rice vinegar. 
6. Scatter the thinly sliced ramp bulbs or shallots over the top.
7. Crack black pepper and sprinkle it with coarse salt. If you have them available sprinkle on some chive blossoms.
8. Serve immediately as it is intended to be eaten right away.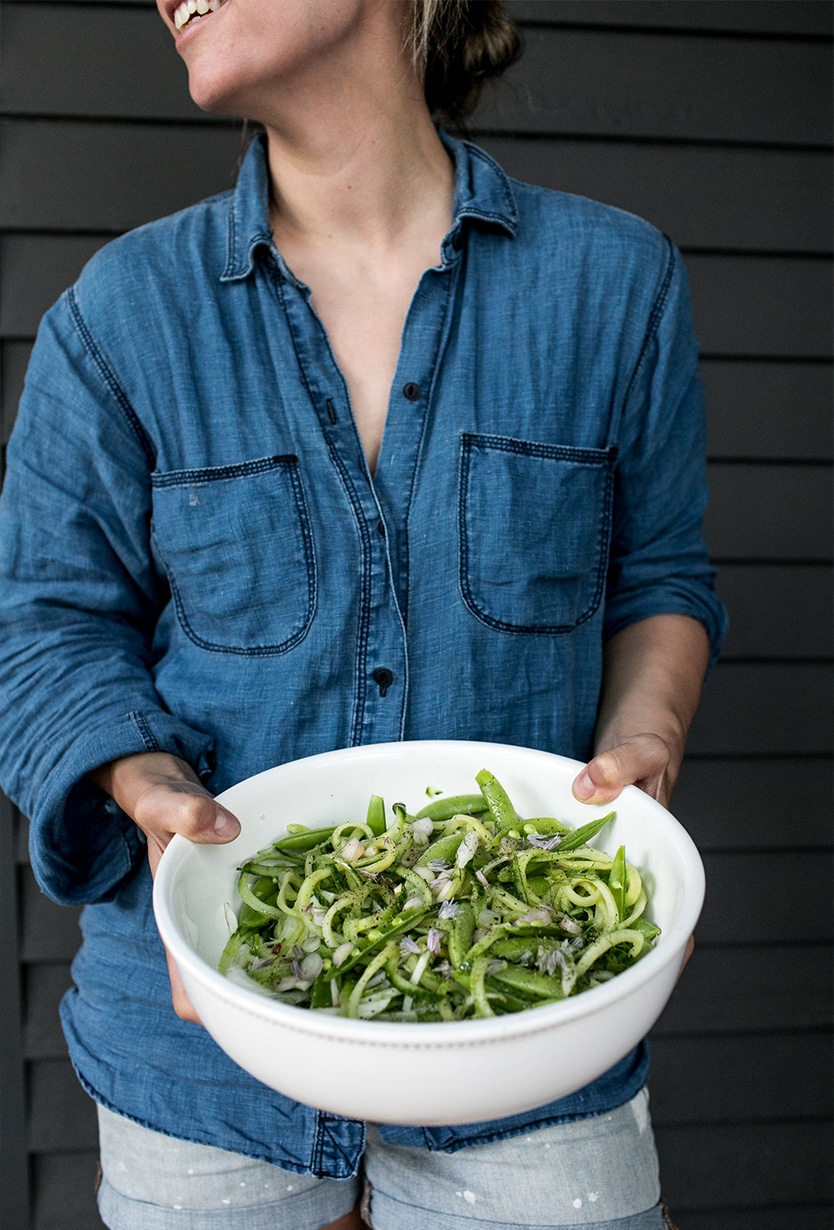 What ways are you using some of these first bites of early summer? Do you have a favorite way to eat what you find at the market?
If you like what you are reading, consider checking out our other recipes: