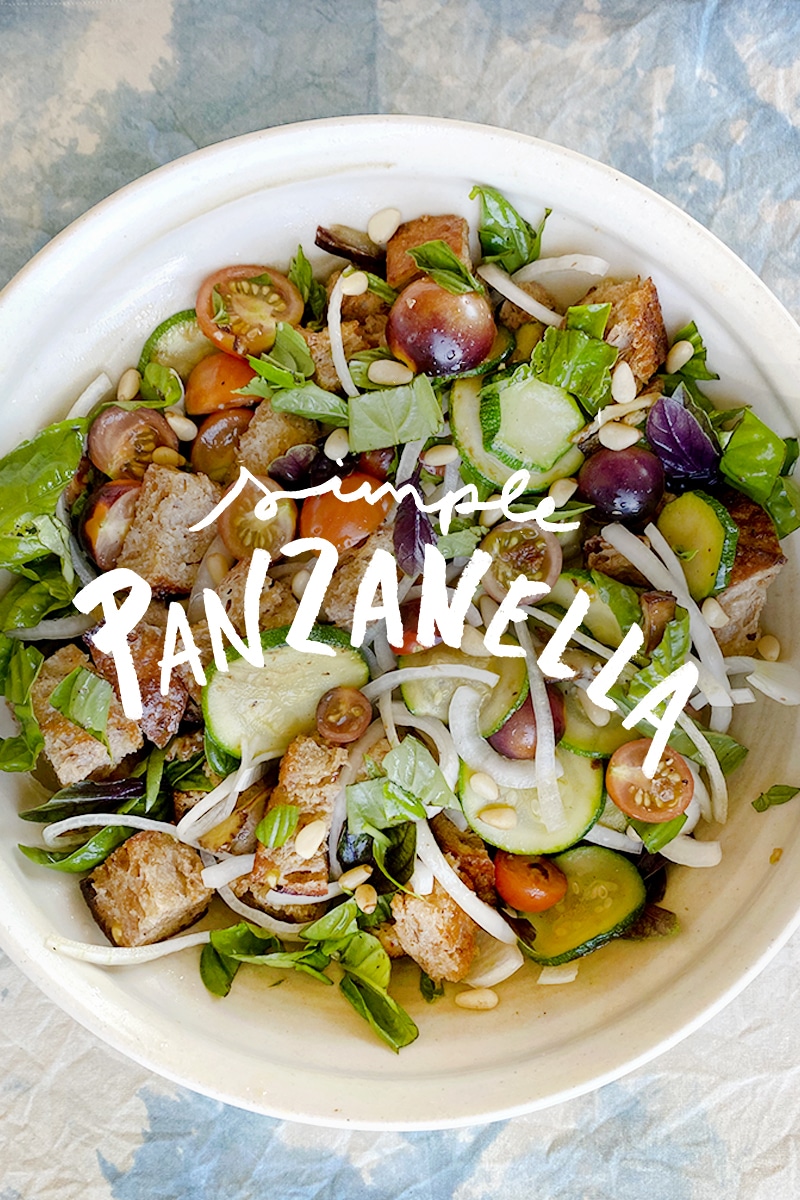 At summer's peak I love to make a simple Panzanella salad recipe. It is hands down a favorite in our home. We eat it at any given moment for lunch or dinner. I am obsessed with it but it is one of those things only great in the heat of summer when the produce is abundant.
This recipe is a take on the classic panzanella salad that Ina Garten does beautifully, but I made some adjustments. Sorry Ina! I just like it with a little heartier take because I think it compliments the flavors of the garden better.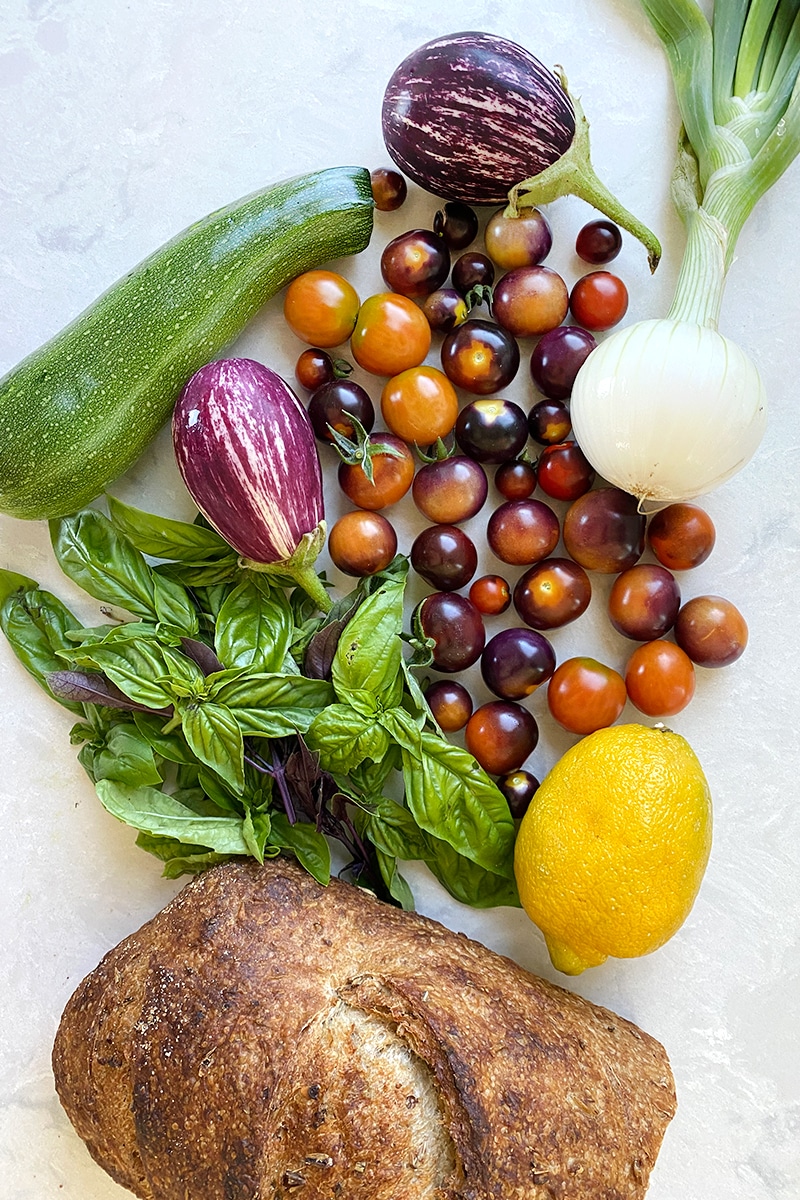 What is Panzanella Salad?
Panzanella salad is a traditional Italian dish comprised of bread, basil, and tomatoes. It is intended to represent the flag with the colors but it can take on other flavors very easily and be adapted. The word itself means bread soup referring to the way the bread soaks up the juices of the tomato.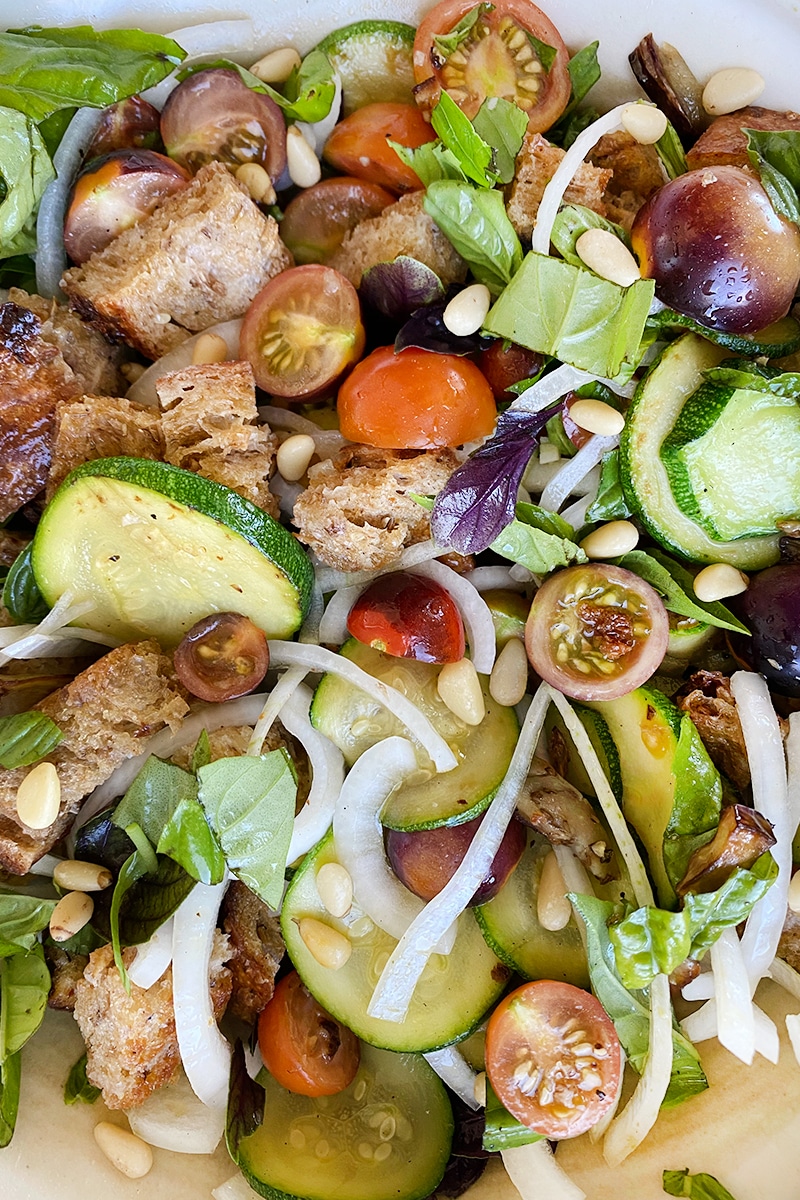 Here is what makes my simple Panzanella Salad Recipe different:
Zucchini: I swapped the cucumbers for zucchini here because I like the flavor they take on with the red wine and bread WAY more. I think you will agree.
Eggplant: This isn't necessary and easy to eliminate if you don't have it, but I have a theory that if it grows together it goes together and as abundant as tomatoes are right now so are my eggplant. I have small ones for this recipe, but you could easily just use a quarter or half of a larger one. The eggplant gives a nice umami flavor when sautéed. I like the addition but it isn't necessary.
Soaking the garlic in the vinegar and oil: I learned this trick from Joshua McFadden from Six Seasons that using the garlic to infuse the dressing to a salad is a beautiful way to incorporate the flavor throughout a dish. I chop or use a garlic press to really punch up the garlic flavor but you can always toss the garlic and use it for cooking something else if you want less garlic flavor.
Sourdough croutons: Listen you can use different types of bread but hands down using a great sourdough loaf is the best choice you can make in a panzanella salad recipe.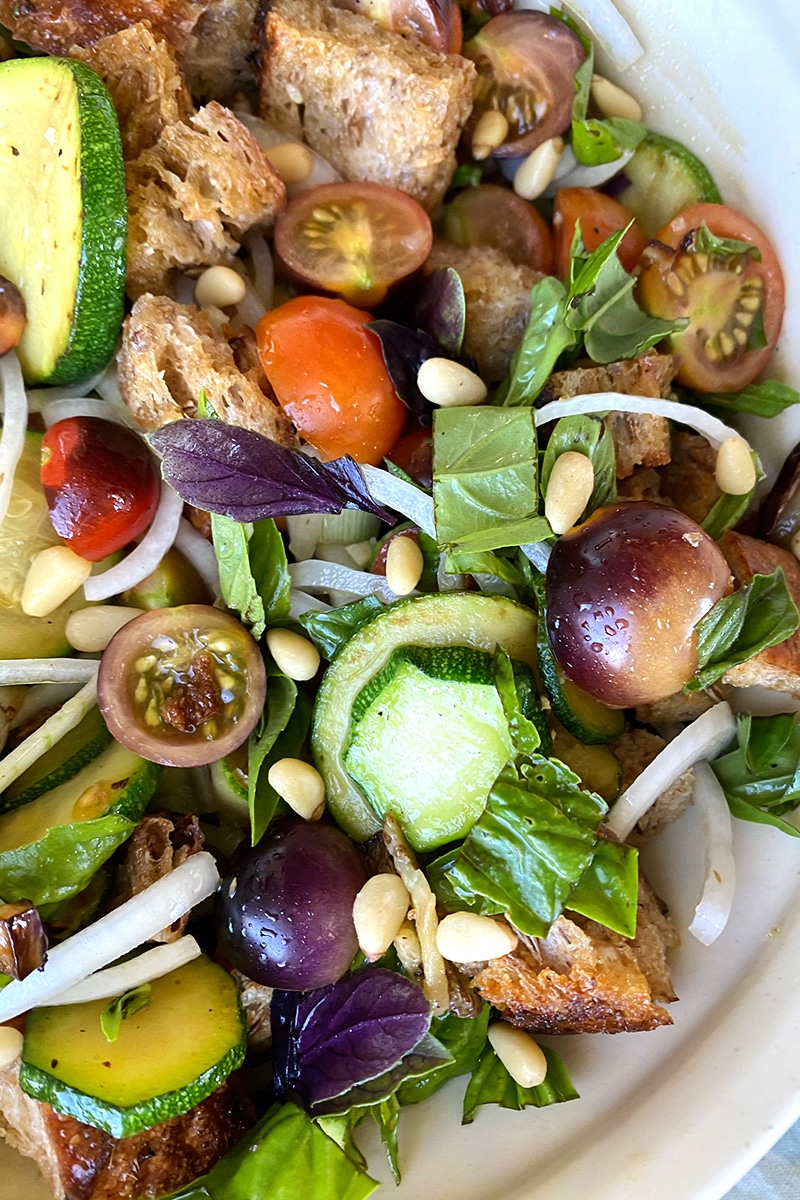 What tomatoes are best for Panzanella Salad?
I abosuletely suggest using a various mix of tomatoes for your panzanella salad. This means heirlooms of various colors, beef steak, romas, cherries of any kind…all of them! They are all good, but if you have to use one type I would suggest cherry tomatoes. They are sweet and the flavor just explodes in this salad.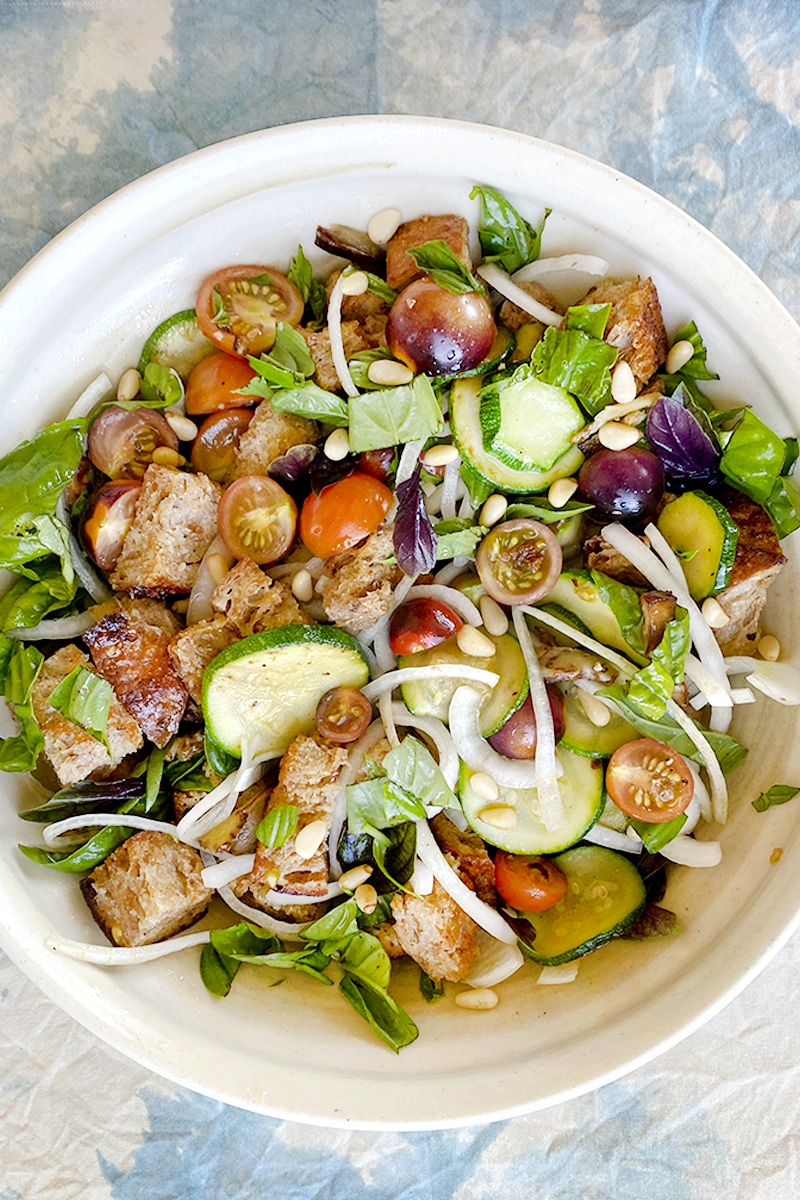 What should you enjoy with Panzanella Salad?
Typically I see panzanella salad as a meal all its own in the summer months, but you can easily pair it with grilled chicken or another veggie dish like these blistered shishito peppers or this cucumber salad if you wanted to.
Print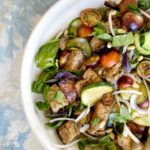 Simple Panzanella Salad
Author:

Prep Time:

20 minutes

Cook Time:

10 minutes

Total Time:

30 minutes

Yield:

4

servings

1

x
---
Description
Bring together the best flavors of summer in this easy to make panzanella salad that utilizes zucchini, fresh tomatoes, and onion to make the perfect yummy and filling meal on a hot day.
---
1

lb of tomatoes…a variety is the best but any sort will do. I think cherries do beautifully here.

1

small zucchini

1

small eggplant (not necessary but really good)

1

red onion but white will do really

2

garlic cloves
torn Croutons from old bread – 1 to 2 cups is all you need.

2 tbsp

red wine vinegar

4 tbsp

olive oil divided + a little more for fun
Juice of

1

lemon

1

large handful of basil
Course Sea Salt to taste
Pepper on top
*** Optional additions for topping – red pepper flakes and pine nuts. 
---
Instructions
Wash all your produce and heat your oven to 400 degrees
Smash garlic and place in a small dish with your 2 tbsp olive oil and your 2 tbsp of Red Wine Vinegar and let sit.
Chop up your bread into cubes or tear it depending on the texture of the bread. Place on a cooking sheet and hand toss with a good glug of olive oil and sprinkle of sea salt. Bake in oven for 10 minutes but keep a close eye on them check them after 5 minutes because sometimes they cook up quicker. You will know when they are ready when they are golden.
Cut your zucchini into half moon shapes and heat a pan with olive oil on medium heat. Let the pan get hot before adding the oil and then add the zucchini. Place in a single layer and get it just golden on each side (about 5-6 minutes)
Repeat the same process with your eggplant but instead of half moon shapes, cut them into slivers and cook them as well. You may need a little extra olive oil here. Good consistent heat will make them not rubbery.
While these things cook, chop up the tomatoes and place in the bowl. Chunks are ideal here.
Slice up the onion into thin little half moon pieces as well and add them with the tomatoes.
As things are done cooking add them on top of the tomatoes and onions.
Once everything, including the croutons are in the bowl, pour the olive oil/red wine vinegar/garlic mixture over everything and squeeze in the fresh lemon and toss really well either by hand or with tongs.
Salt and pepper and toss in freshly torn basil and toss one more time.
Top with red pepper flakes and/or toasted pine nuts if you would like to.
Serve at room temp!
---
Notes
This recipe is meant to be a feeler and taster. The ingredients are adjustable as you have more or less tomatoes. Use your best judgement as you make this.
For the croutons it is important to cook them and that the bread is hard. It is also best to use 2-3 day old Sourdough bread.
Have you ever made a panzanella salad? What is your favorite way to shift up the flavors?