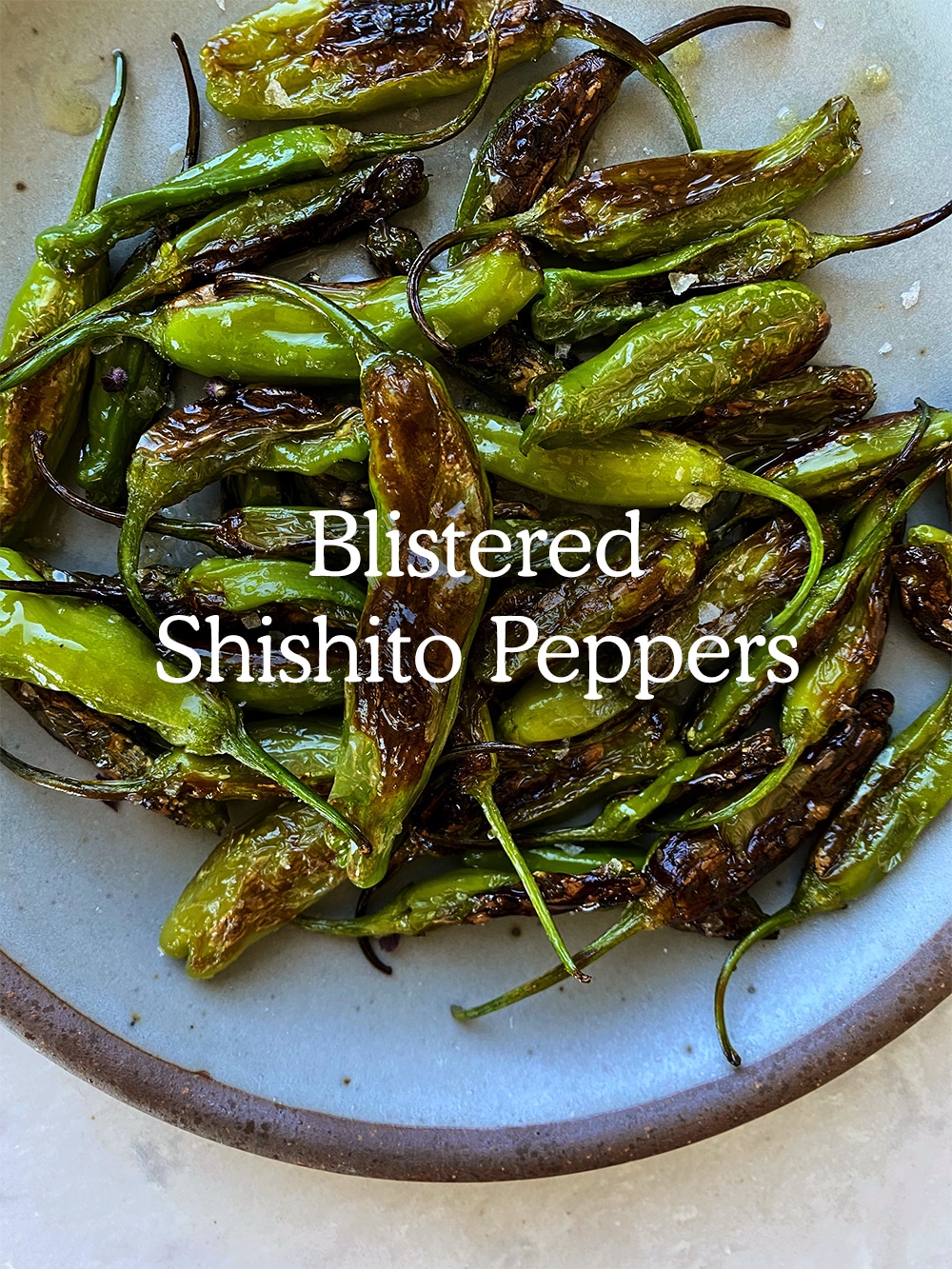 My favorite way to cook and eat Shishito peppers is to blister them. This simple blistered shishito peppers recipe will be your go to for these little peppers from your garden. We love to grow them in our garden in abundance because they are straight forward, really tasty, and most are mild in flavor. With this recipe it will be your favorite snack to enjoy this summer. I promise!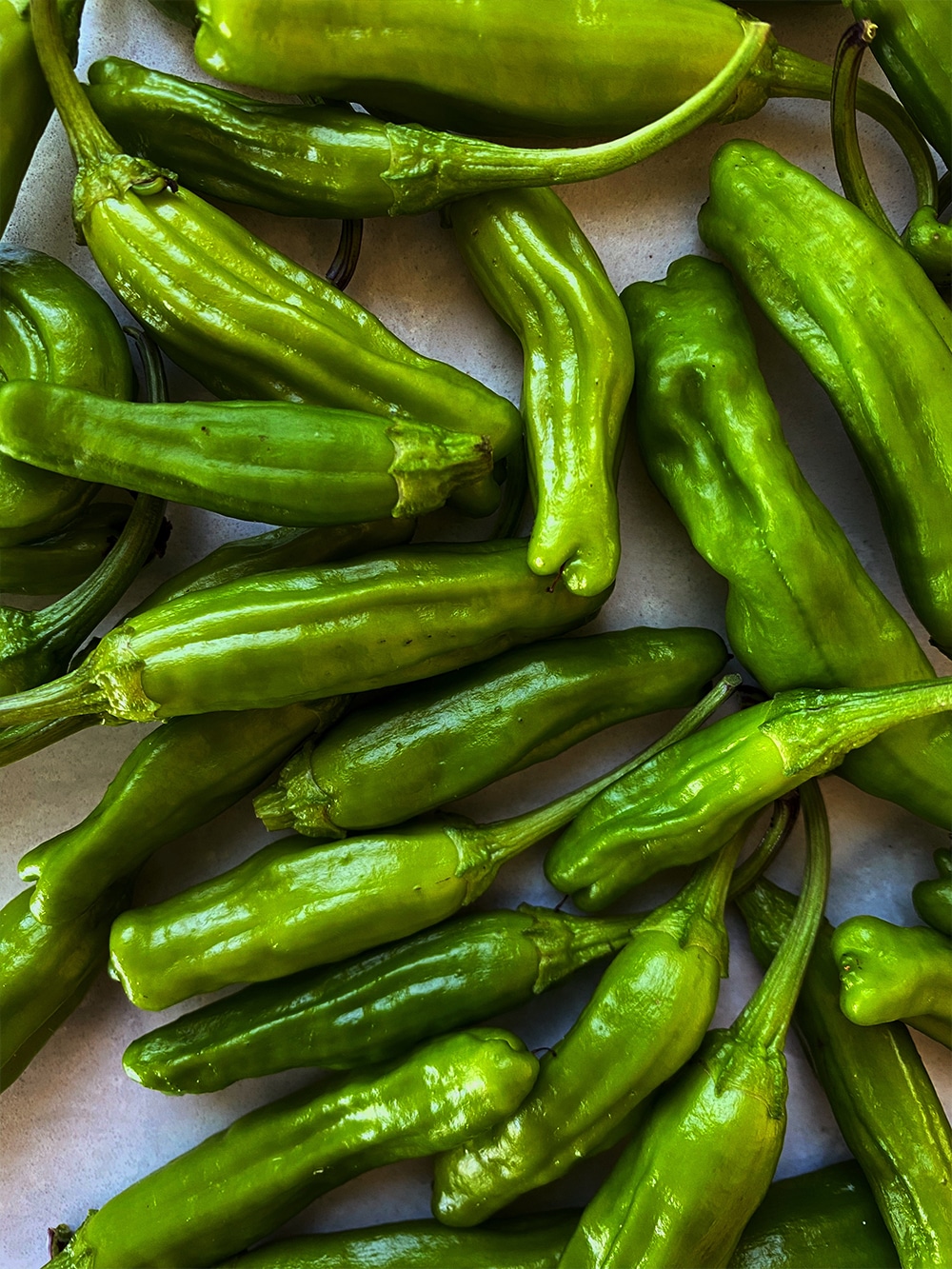 A few notes about Shishito Peppers:
Shishito peppers should be harvested when they are 3-5 inches in length for ideal flavor
You do not eat the tops but will cook them with them on the pepper
They can be used in salsa and sautéd just like any mild pepper would be
Every 1 in 10 of them is hot. We call them the rush and roulette of the garden world
The ingredients you will need to make Blistered Shishito Peppers:
Coconut Oil: I have tried them with other oils but I believe coconut is the best. If you aren't keen on coconut do avocado or Grape Seed oil instead.
Course Sea Salt: This is essential and I suggest using Jacobsen Salt or Maldon for these. Really amp it up with some course smoked sea salt!
Thai Basil Leaves: This is TOTALLY optional and not necessary, but I love finishing them off with some fresh herbs. You could also use cilantro flowers as well if you have them fresh in your garden.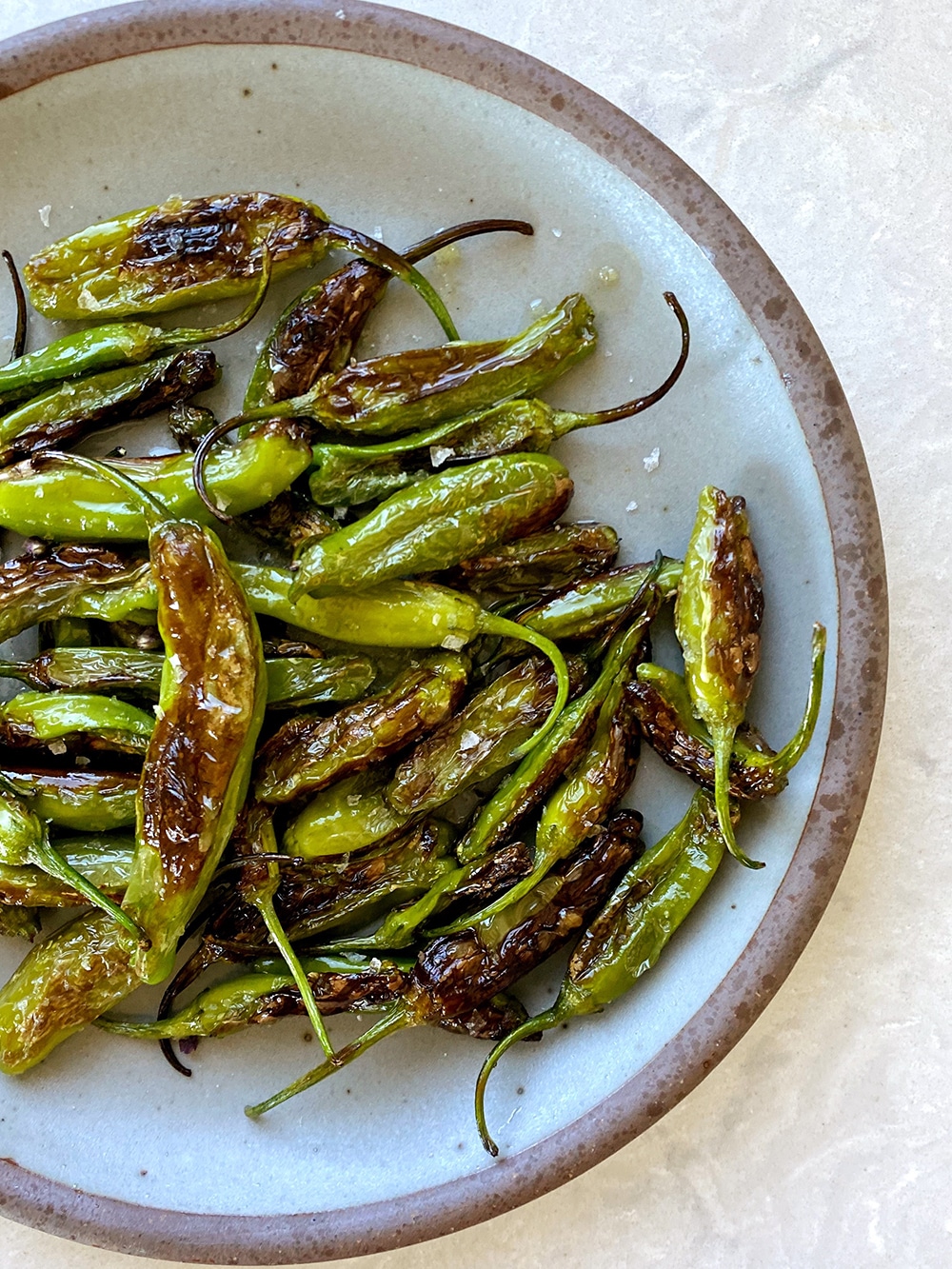 A few keys to making Blistered Shishito Peppers:
Heat your pan before cooking and adding oil. You want your pan nice and hot before you add your oil and then your shishitos
Use a Cast Iron or Stainless Steel Fry pan. This sort of pan will give nice flavor and consistent heating while also being good for your health
Medium/high heat is key to blister them quickly and evenly. Keeping the heat high but not above the smoke point of the oil is key and hard but when you get it right you will know because the blister is awesome!
Do not disturb them. Let them sit on their side so you can that blister going. About 2-4 minutes depending on your heat whether gas or electric.
Print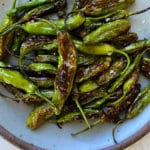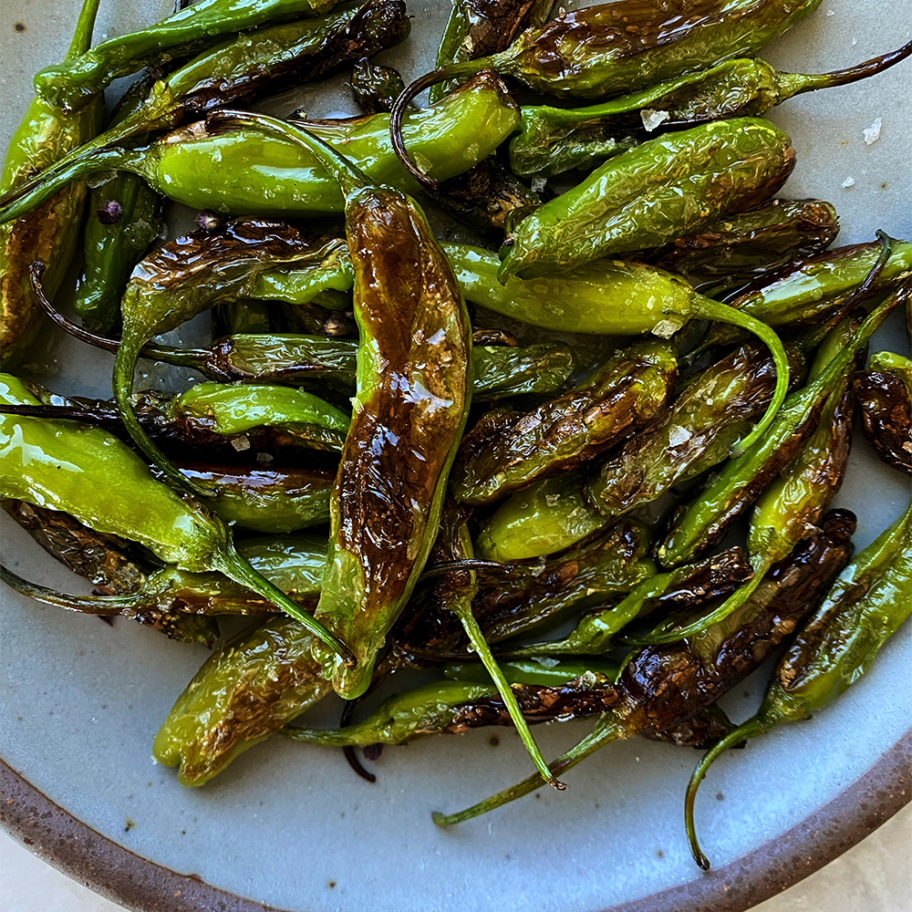 Blistered Shishito Peppers
Author:

Total Time:

10 minutes

Yield:

2

servings

1

x
---
Description
A simple way to cook shishito peppers in the warm days of summer. Blistered shishito peppers are great for a simple summer appetizer or snack.
---
1 lb of shishito peppers 
1 tbsp coconut oil 
a good pinch or two of course sea salt
**Optional: addition of Thai Basil or Lemon Zest but it is not necessary to enjoy these guys! ***
---
Instructions
Heat pan on high heat. Once the pan is hot add the oil and turn down the heat to medium
Add in the whole shishito peppers no need to remove tops
Keep heat consistent while you leave them in a flat layer and leave undisturbed for 2-4 minutes until blistered.
Flip them and let them blister on other side for 2-4 minutes
Remove from heat and toss with course sea salt to taste.
ENJOY!
---
Notes
You can easily do tons of these at a time this can be adjusted to accommodate. You basically are just sautéing them and giving them enough time to fry on one side.
Let me know what your favorite way to eat shishito peppers is because they are one of my favorites and currently I haven't moved too much further from this recipe haha.