This simple sautéed zucchini recipe will become your favorite without a doubt. All you need is a really hot pan and some fresh garden cut herbs for the rough pesto to make this the best sautéed zucchini you have ever had.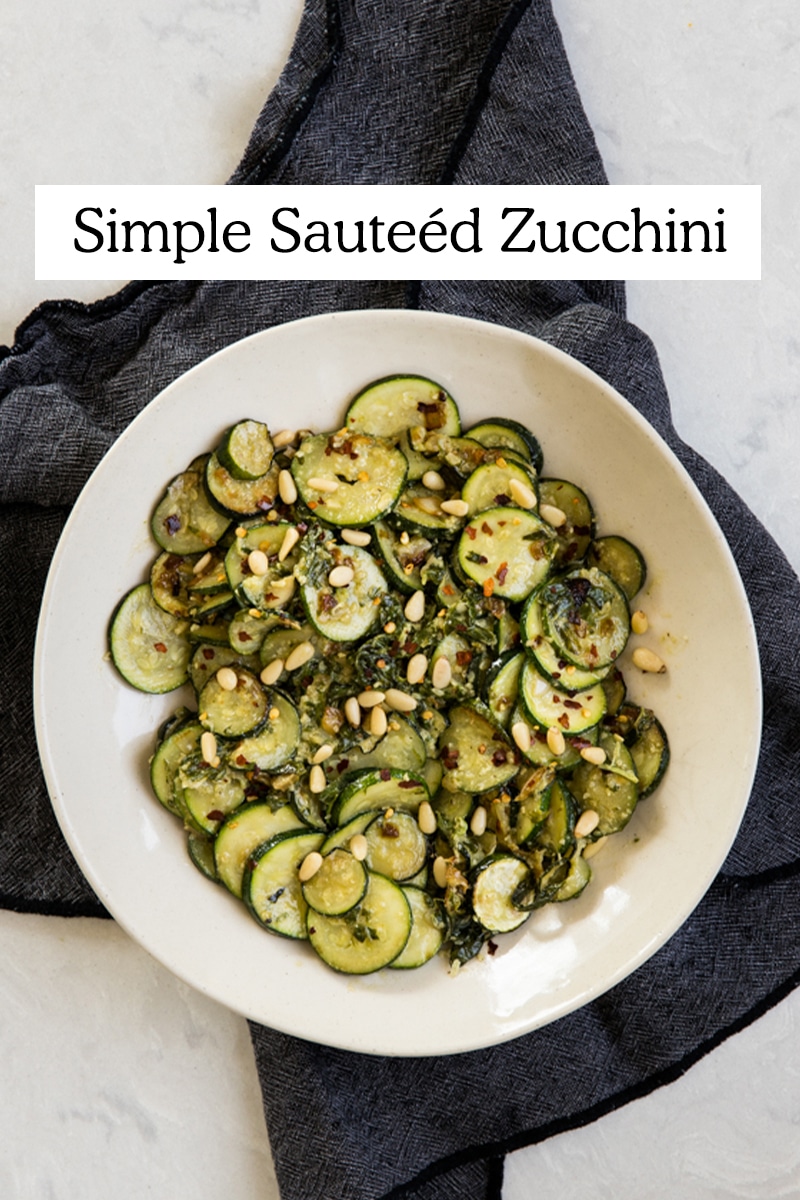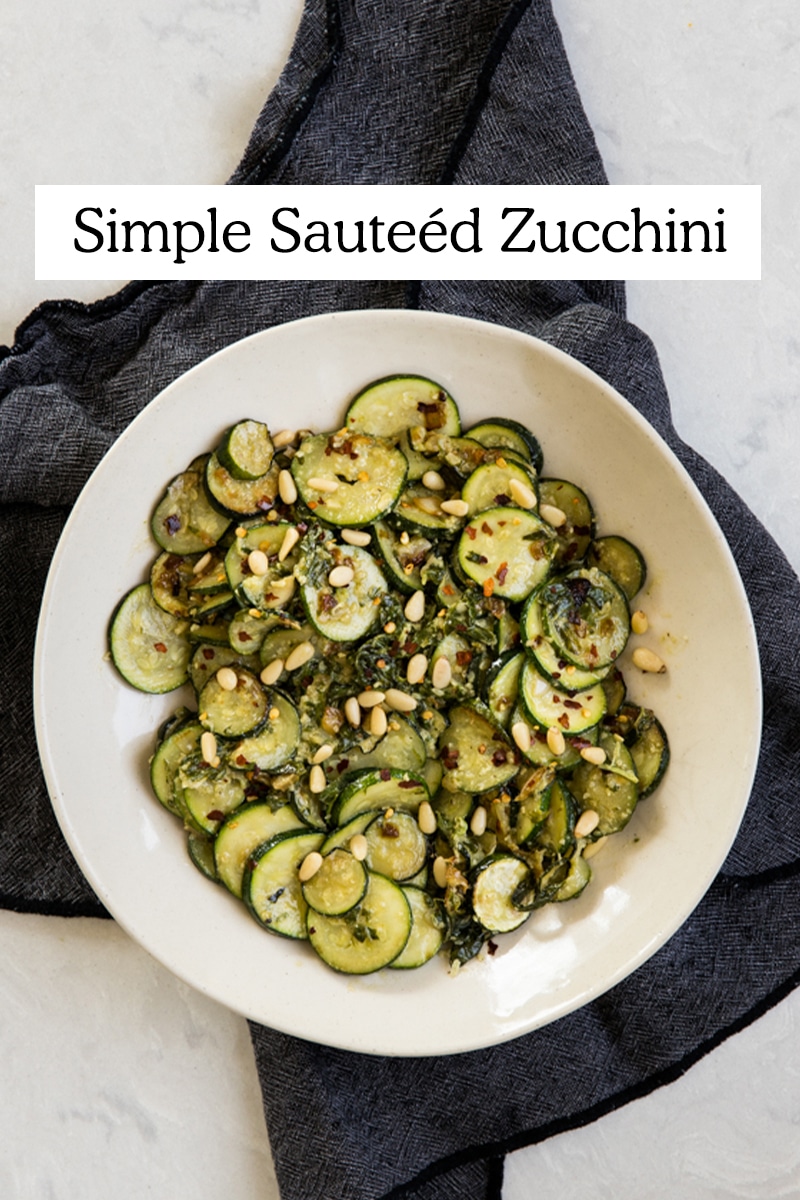 This easy sautéed zucchini recipe is a simple way to enjoy the abundance of zucchini right now! If you have an abundance though make sure you use this How to Freeze Zucchini tutorial to save it for winter as well!
This week marks the first time we harvested our zucchini. For a few summers now I have only gotten zucchini at the farm market because truly I don't enjoy having a zucchini plant that takes over my life. But I have learned that when you know WHAT to eat with Zucchini it actually is amazing. Many times I have avoided it because it can be soggy, seedy, and way too abundant. So I have tried for summer after summer to find a dish that doesn't get boring and gross within a few weeks but we all like in this house…even the picky eaters. So here it is and a super simple sautéed zucchini recipe with the best herb pesto to capture every bit of the goodness of the garden this summer.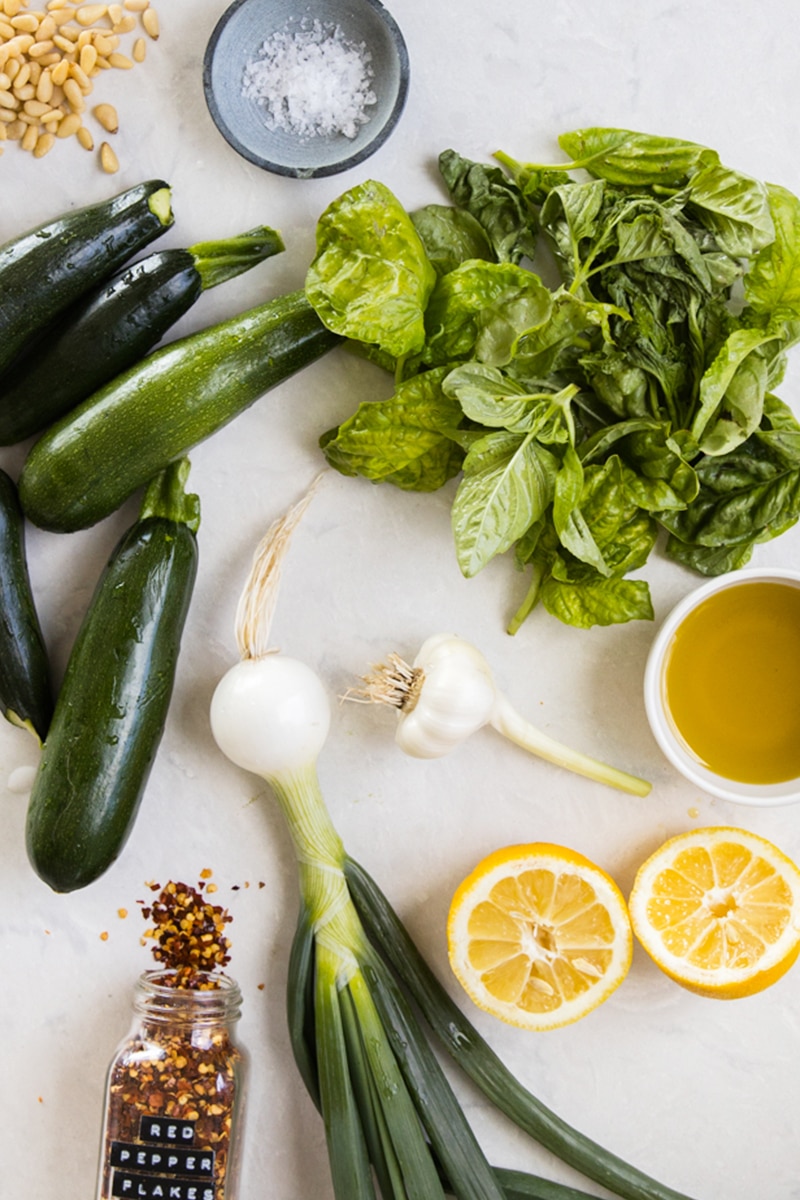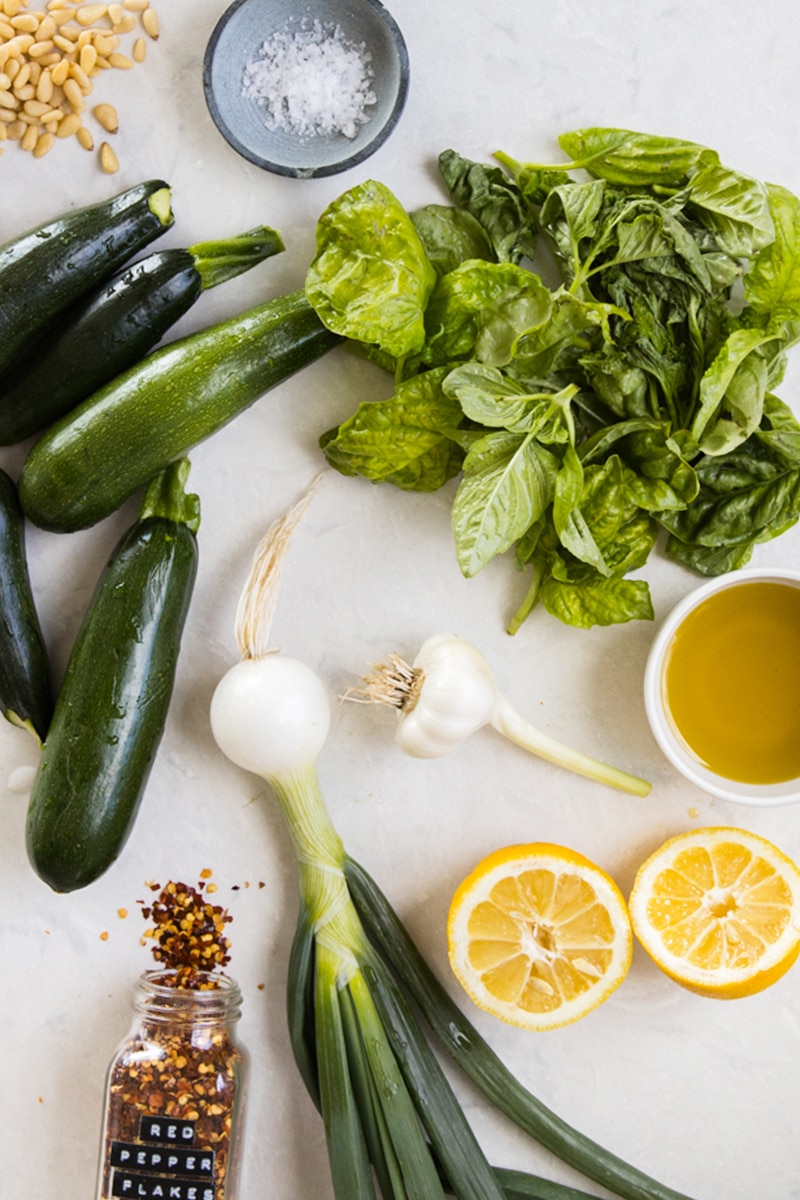 First though, to avoid the dreaded watery zucchini here are a few tricks:
Harvest or purchase zucchini that the blooms have just recently fallen off off. They should be about 5-8 inches and about 2-3 inches thick at the MOST. These babies are the very best of zucchini. Bigger is not better in this situation.
If you do get one that is slightly bigger, slice and then let sit on a towel so the towel can absorb some of the liquid before you cook with it.
If you have extra big ones, skip this recipe and head right to freezing your zucchini for winter.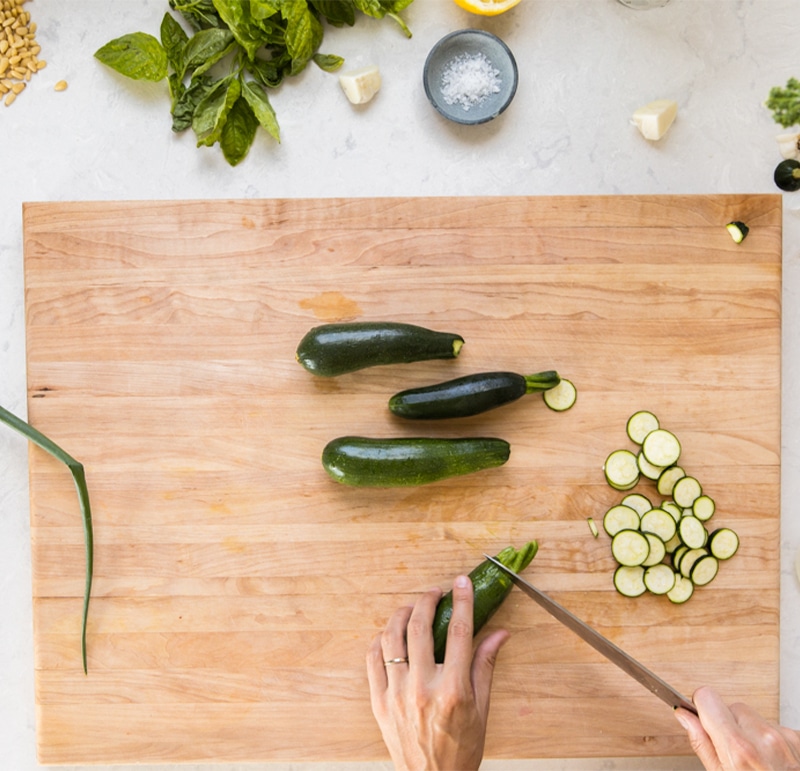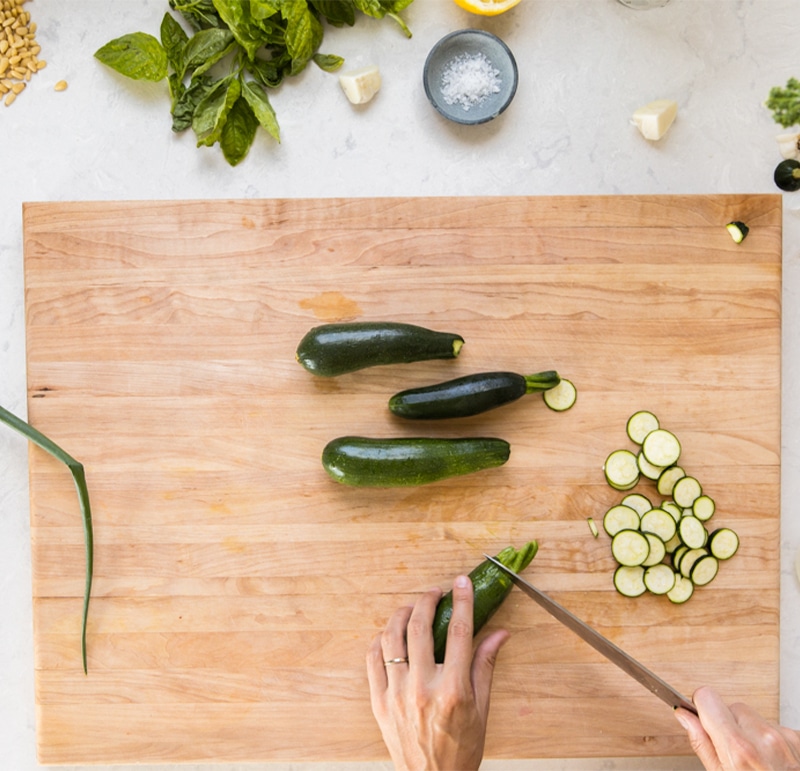 What Herbs Go Best with Sautéed Zucchini?
Basil
Parsley
Oregano
Arugula
Thyme
How to Best Sauté Zucchini:
You can easily sauté zucchini right on your stove. The key to success for the right char is simple with these tips.
Use a high heat oil: Skip the olive oil and lean towards ghee, coconut oil, or grape seed oil instead.
Raise the heat before you add the zucchini: Make sure the heat is going in the pan and then place them in.
Leave them in a single layer and don't stir: Make sure your pan is large enough to keep the zucchini in a single layer in your pan for 3-5 minutes depending on the heat you are using.
Flip, salt, and then place in a single layer once again: This is the secret to getting both sides. After one side is done flip them over and get them charred on the other side but this time only for 2-3 minutes.
Remove from heat: Once they are cooked on both sides you can remove so they do not burn.
Make this super easy sautéed zucchini recipe with fresh herbs that the whole family will love this summer.
Print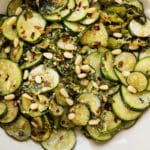 Easy Sautéed Zucchini
Author:

Prep Time:

10 minutes

Cook Time:

20 minutes

Total Time:

30 minutes

Category:

Vegetarian - Summer
---
Description
Simple and Easy Sautéed Zucchini that doesn't skimp on flavor but uses fresh herbs from the garden to make a big impact.
---
Sautéed Zucchini:
4–5 freshly harvest zucchini
2 tbsp Olive Oil – Cooking Grade
1 Small Onion
1 Garlic Clove
Salt and Pepper To Taste
Pesto Recipe:
2 large handfuls of Basil
1/4 cup pine nuts or other seed or nut of choice
1/4 cup olive oil
2 garlic cloves
Juice of 1 Lemon
1 tsp sea salt
Optional toppings: Red Pepper Flakes, Micro greens, pine nuts, or any chopped nut. 
See this recipe for herb or nut adjustment suggestions if you need it.
---
Instructions
Heat your skillet
Chop onion and place olive oil in pan. Once the pan is warm with the oil add the onions. Stir and lower the heat then sauté the onions. Once fragrant add the garlic.
Slice the zucchini thinly and layer in the pan in as much of a single layer as possible and bring them up to medium to high heat. Do not stir and let cook in that layer for 5-7 minutes or until becoming golden brown, but not burnt.
While the zucchini are cooking place all the ingredients for your pesto into a blender or food processor until roughly chopped or smooth. The texture is up to you.
When the Zucchini are getting crisp flip them to their other side and let them cook again till they are golden.
Remove the pan from the heat and toss the zucchini in the pan while still warm with the pesto.
Move to a serving bowl and top with red pepper flakes and a chopped nut of choice and enjoy!
---
Notes
It is best to use small or medium size zucchini for this recipe and not larger ones. They are less seedy and watery.
Use this pesto recipe for mixing herbs if you don't have basil on hand
Keywords: Zucchini, Pesto, Basil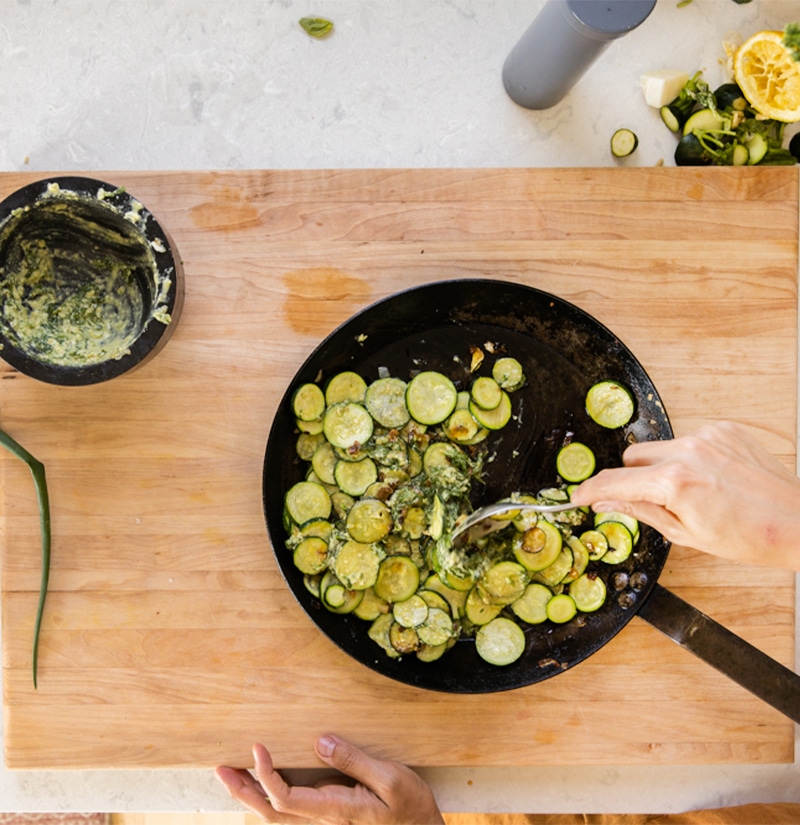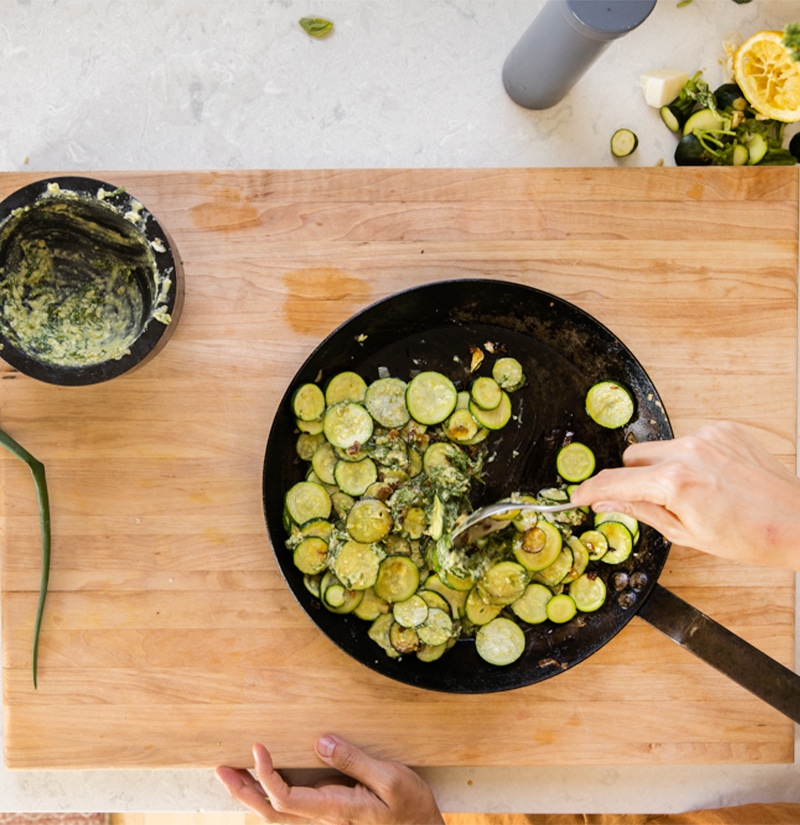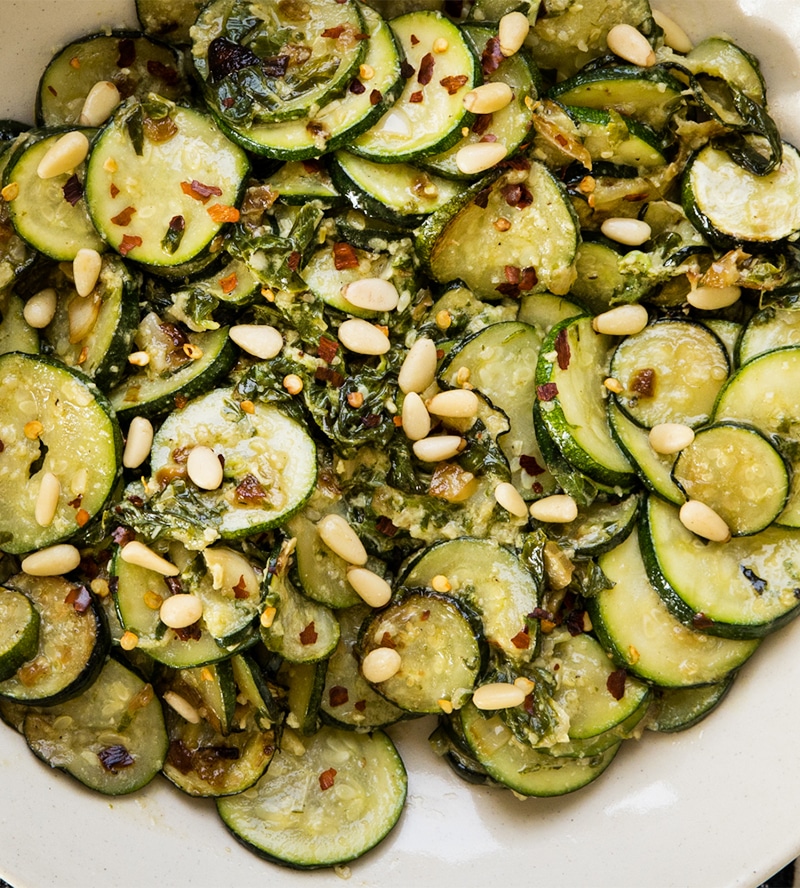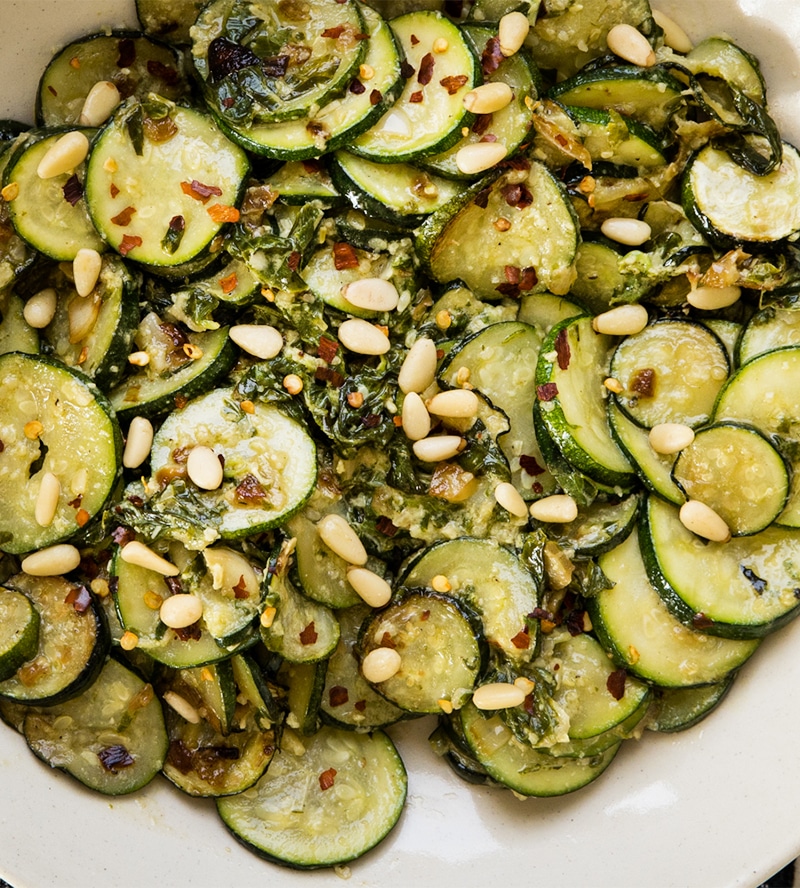 The recipe is that simple and I promise!!! You are going to love this. For kids I pull some slices for the baby before the pesto goes on and then pull some with the pesto on it for the 4 year old. They both eat it. Then we put the red pepper flakes on it for adults.
A very simple recipe and great way to do sautéed zucchini!
Now tell me what do you love to make with zucchini and what is your favorite thing to do with them.
If you have questions about harvesting. I did an IGTV where you can see when I harvest them and at what size. You can see it below if you are curious.