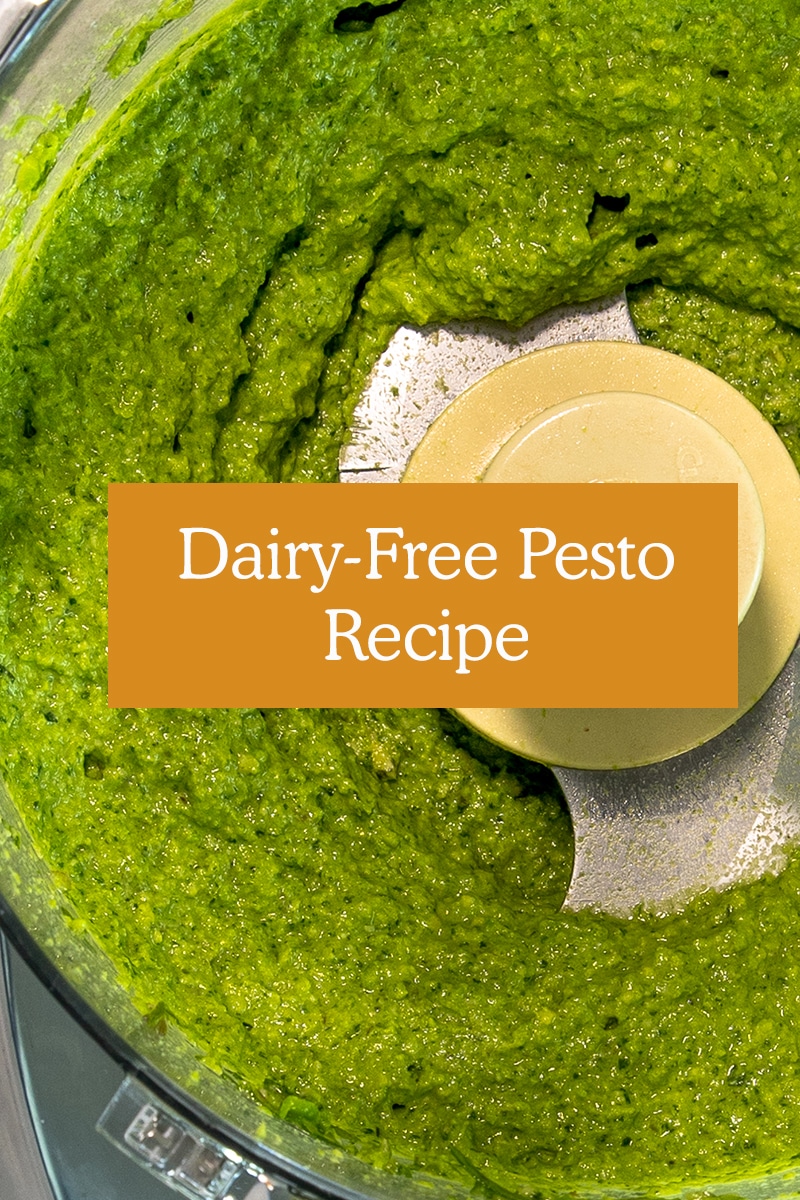 Did you know you can make dairy-free pesto? A few years ago I started eliminating the Parmesan from our pesto and I never looked back. Completely dairy-free, vegan, plant-based… however you want to term it, this pesto recipe can be applied to nearly any greens, herbs, nuts, seeds, and so on you have in your pantry and garden.
The History of Pesto
The history of pesto is long and filled with many twists. It started out as a sauce made from garlic, but we can't say for sure when it first appeared in Italy or who its original intended audience was – possibly royalty! Whatever the case may have been through this dish has come to represent Italian cuisine around the world because so much personality goes into each mouthful that takes on different personalities depending upon what ingredients are used.
What should I use Pesto for?
Pesto is basically the one sauce you should know how to make. It can be the way to transform any dish in a second, whip up pasta easily, make an easy salad dressing, or up any dish you have. Not to mention it is a wonderful way to save herbs, additional salad greens, and more. I am constantly making pesto and putting it into the freezer and always have a jar in the fridge. Each season brings slightly different flavors, which is what I love about it.
Before we get to my recipe equation for this recipe, I want to share how you can use this to save your herbs.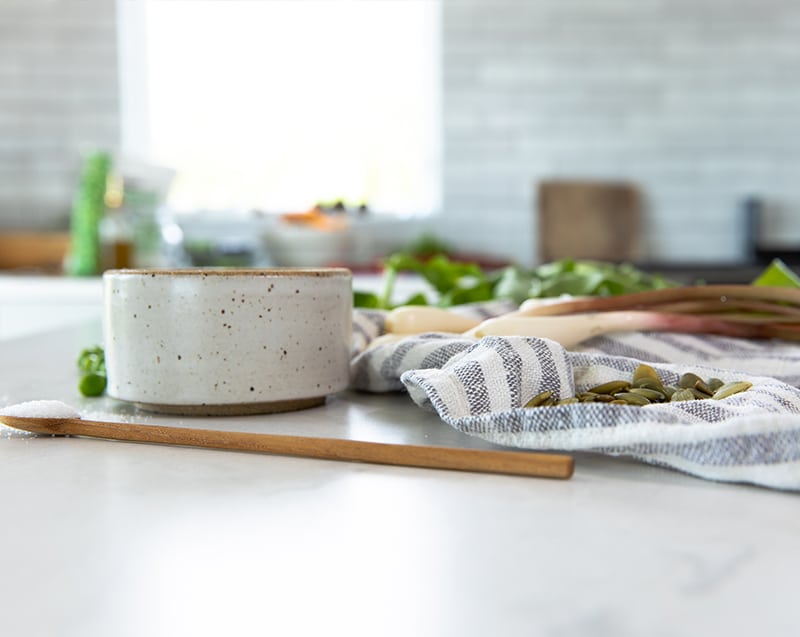 How to Freeze Pesto
Freezing pesto is awesome and extremely easy. You only need an ice cube tray and a container to save the cubes in. All you do is the following:
Make the pesto using the recipe below
Place into ice cube trays
place in freezer
Pop them out 24 hours later and store them in an air-tight container in the freezer.
Label them so you know the herbs and so on in each pesto.
That's it!!! Seriously so easy…now let me share what greens and herbs work well in a pesto recipe as well as nuts and seeds I use.
Greens and Herbs to use
Arugula
Basil
Parsley
Radish greens
Kale
Beet Greens
Spinach
Ramps
Green Peas can also be added particularly with more lively herbs like ramps and arugula or radish greens
Swiss Chard
Seeds and Nuts to Use
Sunflower seeds
Pumpkin Seeds
Pistachios
Almonds
Pine Nuts
Hazelnuts
Hemp Seeds
Brazil Nuts
Now, what else do you need? Let me give you basic percentages so you can make dairy-free pesto quickly and easily no matter the time of year. Once you get this down you are good to go!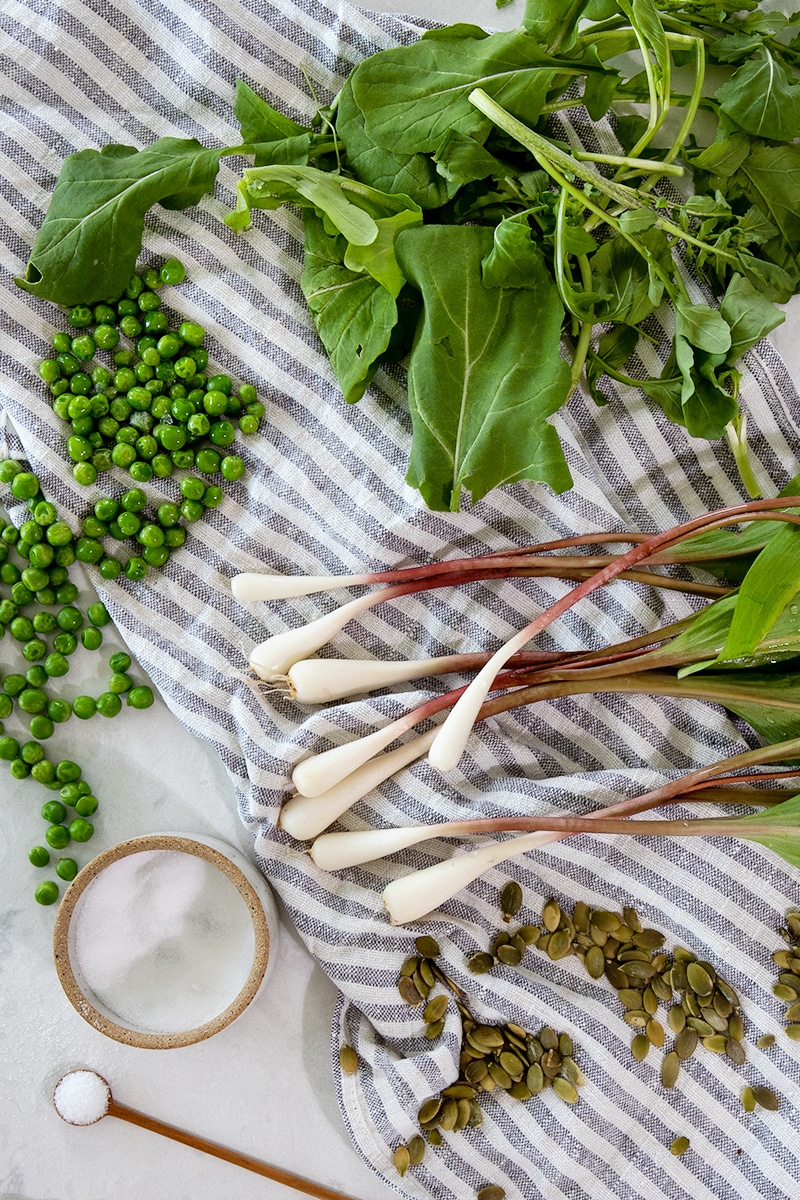 What you need to make dairy-free pesto
1/4 cup Olive Oil – Use the Good Stuff here
Juice of One Lemon
1 tsp sea salt
1 – 1.5 cups greens/herbs depending on what you use will determine the amount…meaning that potency will dictate how much you need.
1/2 cup seeds or nuts
pepper to taste
2 garlic cloves *** if you are using ramps (wild leeks or wild garlic) like I am in this recipe, skip the garlic cloves and use one or two bulbs depending on size ***
To make the Dairy-Free Pesto just do the following
Wash and prep all ingredients
Place all ingredients into the food processor or a high-speed blender like a Blendtec or Vitamix. Mix till reaches the desired texture. The longer you run the process the smoother it will be so it depends on your desire for texture in a recipe.
Place in a jar or in cubes and either serve or freeze.
That is it! So simple!!!!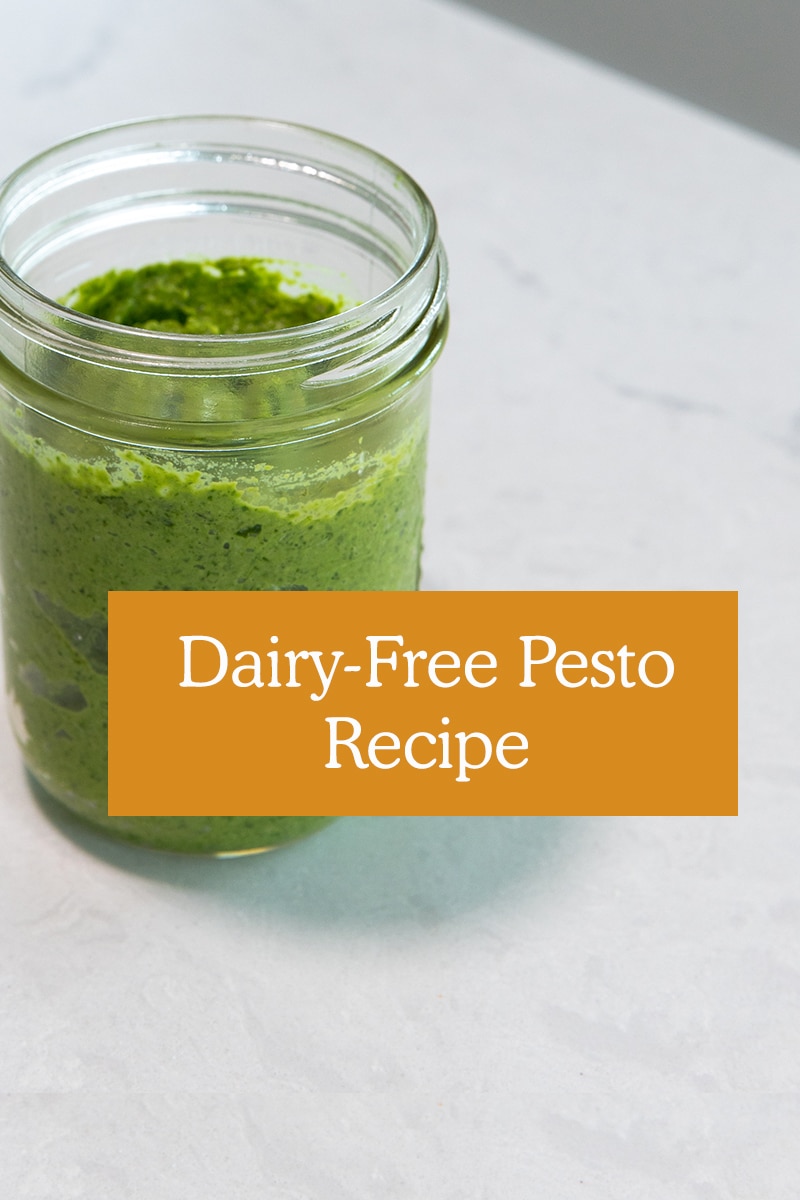 Now how to use it in the ways I suggested above:
To use in a dressing add about 1/4 cup to 1/3 cup of pesto to a ball jar. Add in another 1/4 cup of olive oil, a little water, and 1/4 cup vinegar of choice. Shake in jar and serve.
To use on roasted in veggies, I suggested making it more liquidy which is best achieved by adding water till you achieve the texture you desire. Dress the roasted veggies after they come out of the oven and serve hot.
To use pasta, just cook the pasta in salted water, cook veggies of choice separate, and then reserve about a cup of pasta water (highly suggest whole wheat pasta in this instance as well)…Add pesto cubes or freshly made pesto to the hot pasta and then add the veggies. Start tossing add a little cooking liquid and more pesto till everything is well covered. You can also add butter here as well if you aren't going dairy-free. Serve hot! I personally love this recipe from Bon Appetite for a Kale Pesto Pasta recipe.
If you enjoyed the recipe and want more, check out these posts on the blog: