Use your fresh tomatoes at the peak of the season from your garden or farmers market and create a homemade salsa by making this roasted tomato salsa recipe easily either in your oven or on the grill this summer. Easily freeze and put this away to enjoy deep into the winter months.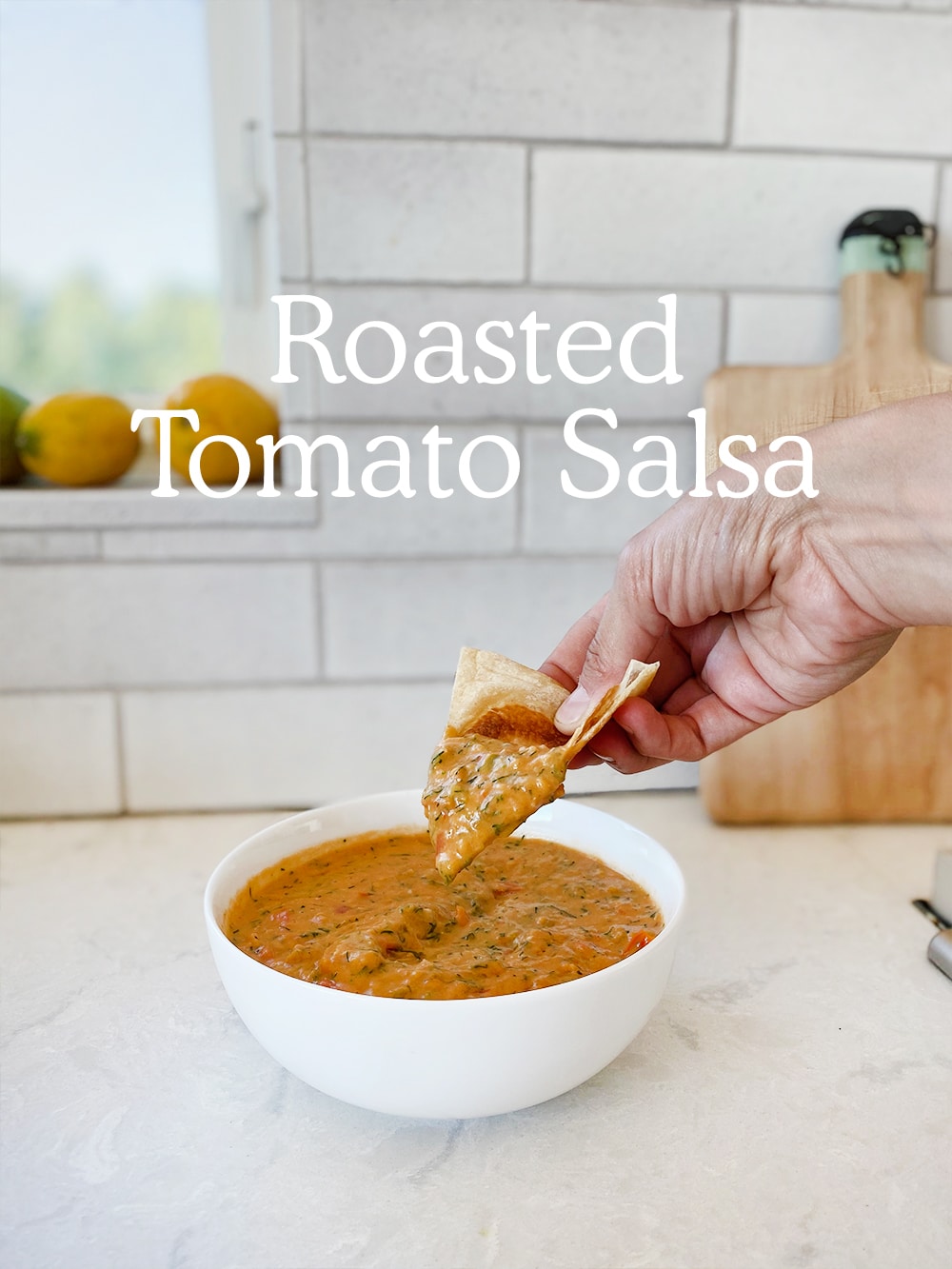 As the tomatoes pour in from the garden or the farmers market it is best to enjoy these beauties in all their goodness and making this favorite salsa recipe to either enjoy fresh or place in the freezer for a cold winter night.
Personally, I love this recipe which you can use with any type of tomato including cherry tomatoes, Roma tomatoes, or large tomatoes you may be growing in your garden or find at the farmers market. Any tomato will make this homemade salsa recipe taste great.
We love making salsa all summer and though fresh salsa recipes are awesome I LOVE the flavor of roasted tomato salsa in the summer to place on fresh veggies, eggs, and more.
It is so simple and I rarely enjoy canned or jarred salsa nearly as much as I love it freshly made from the garden salsa. Nothing really compares to the bright flavors.
What I love about roasted tomato salsa is that it has a brighter and sweeter flavor, which means it has a better depth of flavor than traditional fresh salsa varieties. Making your own salsa is easy and it is worth it since it tastes dramatically better than store-bought salsa.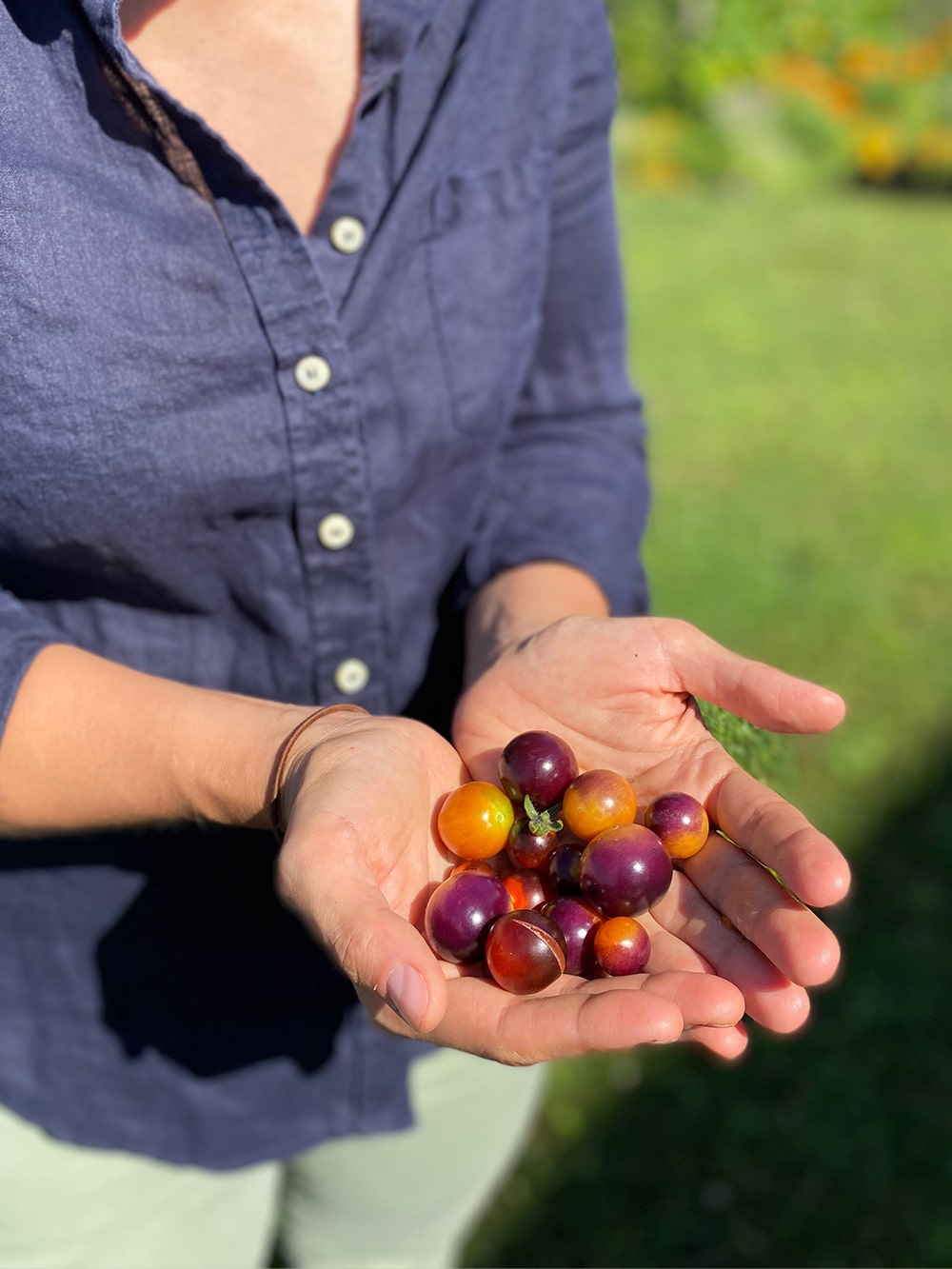 Here's Why I Recommend Roasted Tomato Salsa Instead Of Just Fresh Ingredients:
Tomatoes get extra sweet when cooked. You get to REALLY enjoy those sweet notes in the tomatoes when they are cooked just a little bit.
Tone down the heat of peppers. Jalapeño peppers are awesome but they can be really overpowering in salsa too. I love cooking them because they become milder but still give the earthy amazing flavor we love them for. You can use other peppers than jalapeno peppers as well. You can use banana pepper, shishito pepper (this blistered shishito pepper recipe is a great example of how they work), or even larger peppers like bell pepper for a milder salsa.
Deepen the flavor of the onions. Roasting an onion will open up new flavors in the onion and take out the sharpness of the flavor. This is particularly true if you choose to use red onion in your salsa recipe.
Meld flavors better. When we roast things together it makes them easier to meld together and they take on a little of each other in the process thus making a deeper and more umami flavor in your salsa. This increases the chances of your salsa hitting that "turned out great" flavor.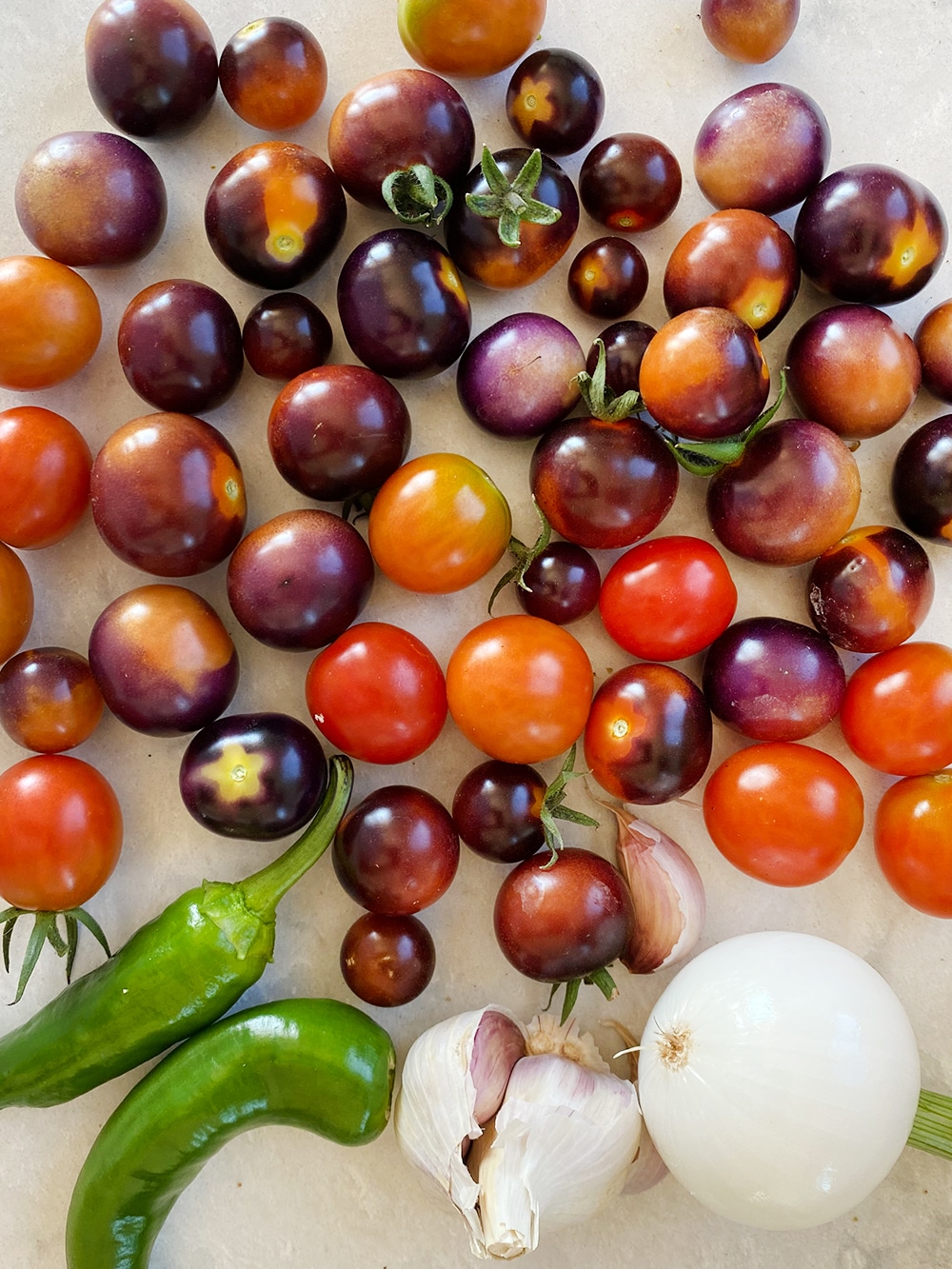 What do I put in my Roasted Tomato Salsa:
Cherry Tomatoes: so many people think you ONLY make salsa from the big guys…not true and I think you are missing the good stuff personally. Cherry tomatoes aren't just cute salad additions they are complex and amazing so use them in your salsa.
Jalapeño peppers: They are easy to grow and offer a lot of flavors but are amazing when roasted. We think of them as something to eat fresh but I have to disagree! They are amazing when roasted.
Garlic: If you haven't ever roasted garlic you are missing out. It is incredible. That's all.
Onions: If you are growing onions they can tend to be smaller than you would want for cooking, but this is a great place to put them.
Cilantro: The bright beauty of summer herbs. It is one of those things best eaten fresh and in the moment even with flowers on top.
Lime Juice: Not something we can grow in the garden, but it is essential to a great salsa
Extra Virgin Olive Oil: You know that whole thing about acid, salt, fat, heat? Well here is our fat to this salsa. We have plenty of acid in citrus and tomatoes so we have to balance it out with some fat here and the EVOO provides that and will add a creamy texture when it is blended.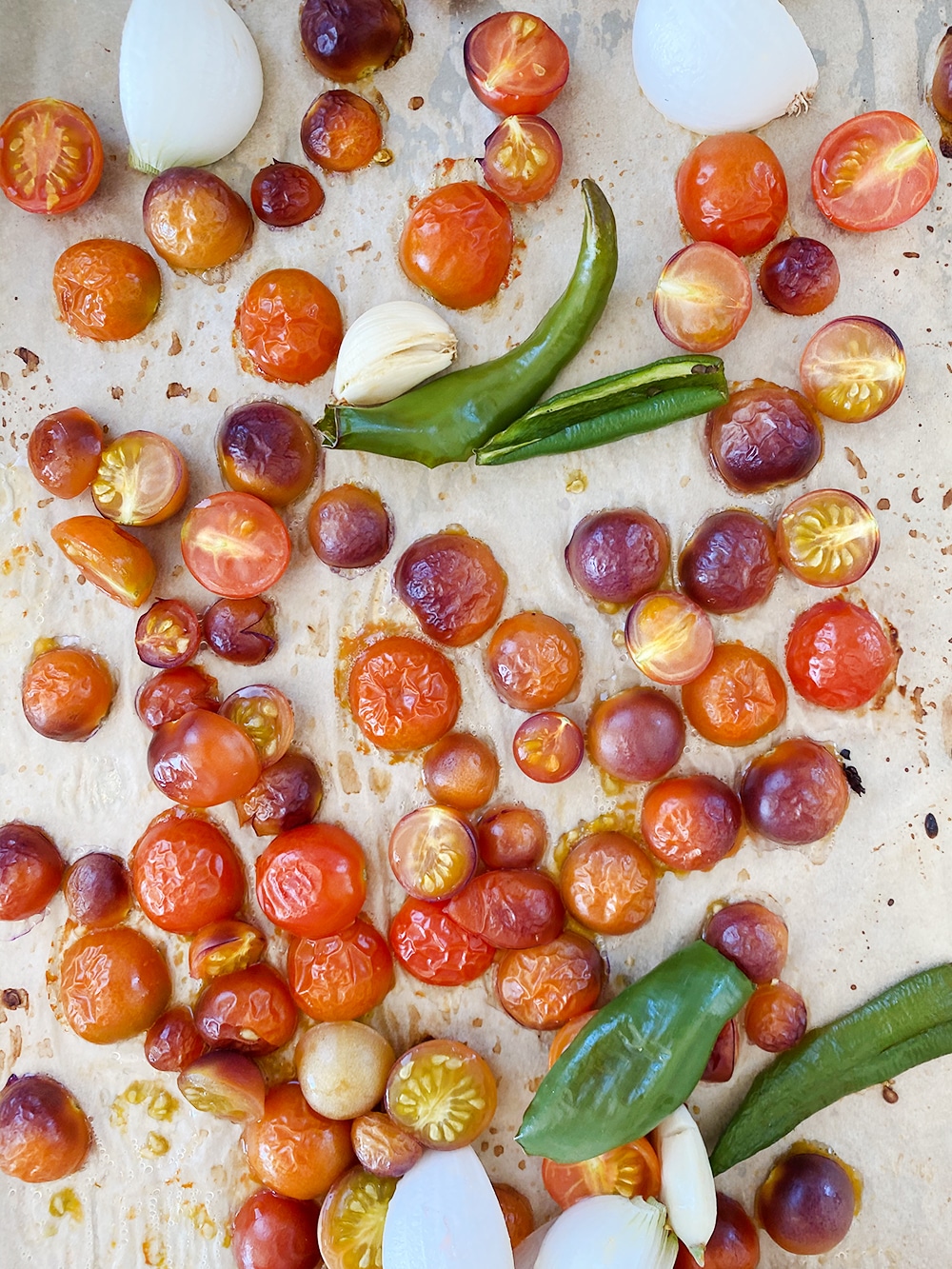 The equipment needed to make roasted tomato salsa:
Read more about my kitchen essentials here.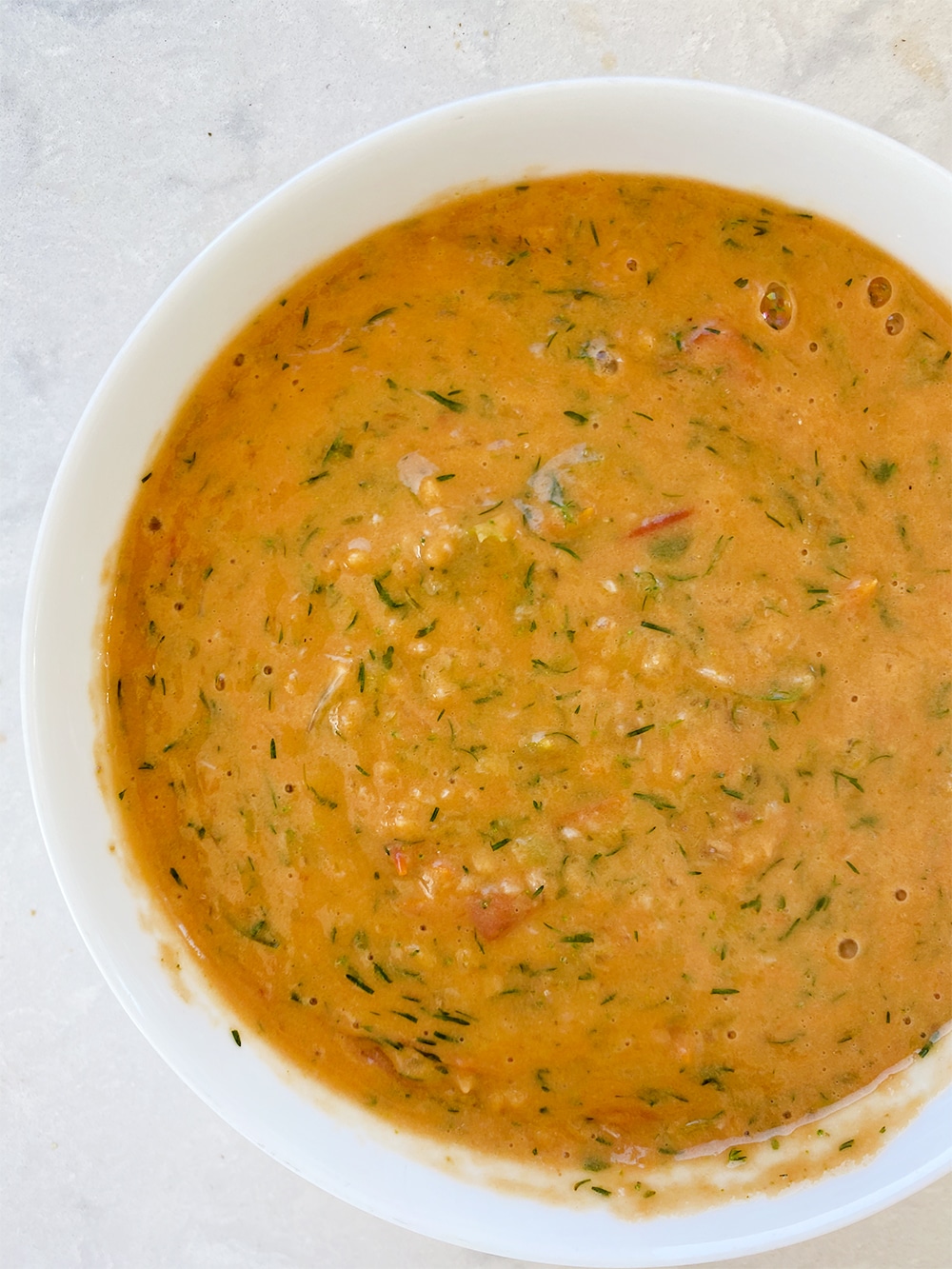 Print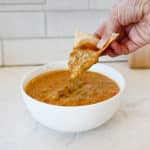 Roasted Tomato Salsa
Author:

Prep Time:

10 minute

Cook Time:

15 minutes

Total Time:

25 minutes

Yield:

4

servings

1

x
---
Description
Simple and Easy Roasted Tomato Salsa that can be used with any fresh ingredients and then eating right away or frozen for later.
---
2–3 lbs of tomatoes
1 medium onion
1–2 jalapeno peppers (deseed to make it less spicy)
3–4 garlic cloves
1 handful of fresh cilantro
juice of one lime
1 tbsp olive oil
Salt and Pepper to taste
---
Instructions
Preheat oven to 400 degrees
Prepare baking sheet with parchment paper or a silicone baking mat.
Quarter or half all tomatoes and lay on baking sheet. Half and deseed jalapeno. Quarter onion. Place whole peeled garlic cloves all on the baking sheet together.
Place in the middle of the oven for 12-15 minutes or until the tomatoes are goldening and wrinkling on the skins and fragrant.
In a blender or food processor bowl place the cilantro, lime juice, evoo, and salt and pepper to taste
Once the oven is done, add all the warm tomatoes, onion, jalapeno, and garlic to the blender and blend with the other ingredients.
Pour and serve warm or place in the fridge to cool and enjoy throughout the week.
---
Notes
How To Store Your Roasted Tomato Salsa

You can freeze this in Freezer ready ball jars very easily. Place in jar to fill line and cool completely before placing in the freezer. Take out and warm on the stove before serving.
What To Serve With Roasted Tomato Salsa:
How To Serve Your Roasted Tomato Salsa
Serving with Tortilla Chips as an appetizer
Make Black bean Tacos and place it on top
Serve it over Taco bowls with your choice of other items
Want Other Great Recipes and Posts about Tomatoes?
Tell me what is your favorite way to enjoy garden tomatoes in the summer? Have you ever made roasted tomato salsa?