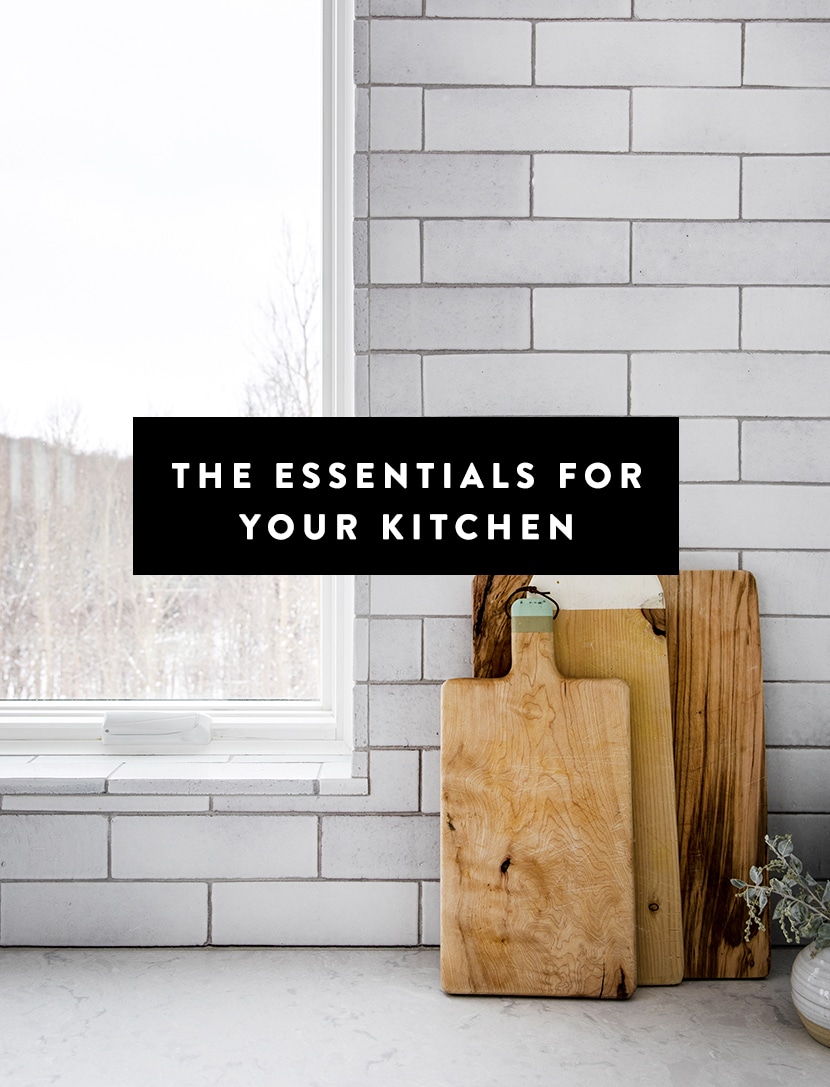 This is my ultimate list of kitchen essentials, look at this site for more info. Almost weekly you guys ask about what my kitchen essentials areor what I use for that while I am doing a Dinner Served Live on Instagram or when I am sharing a dish or even a gathering. I love giving recommendations for great items but I figured what better way to really share these things with you guys than with a great post full of EVERYTHING I actually have in my kitchen and use.
Yes, I went drawer by drawer through my kitchen to create this so you can know the exact items I use daily to cook every one of our meals from breakfast to dinner and preserve all the goodness of the seasons as well.
I have spent years perfecting what we use in our kitchen and simplifying to things that are neutral and fit our style and life. Mind you, I cook and entertain A LOT and more than the normal person so I will need a few more things than you might but my hope is this will recommend some great tools to you and let you know you don't always need the fanciest thing on the market but just the one that works well for the everyday cook.
Also, for so many couples getting married I am hoping this is extra helpful to building a great registry of kitchen essentials. Many of these items we actually received when we got married over 8 years ago. I know the struggle of knowing what you ACTUALLY need to put on a registry so I am hoping this will help you build a good registry whether it be for a new home or for your wedding. This way you will know what to place on their so you are actually getting things that will last in your kitchen for years. As I said many things such as our dishes and cutting boards and appliances were things we received from our wedding. I think when in doubt register for things are simple, quality, and neutral. The best thing we ever got was our white dishes. They go with everything every time of year and I never get sick of them. I have other plates for gatherings but these are the ones I use 85% of the time. I only use other ones for things that are just for shoots or other styled things or if I don't want to tote porcelain plates to a beach. The rest of the time we are using these plates.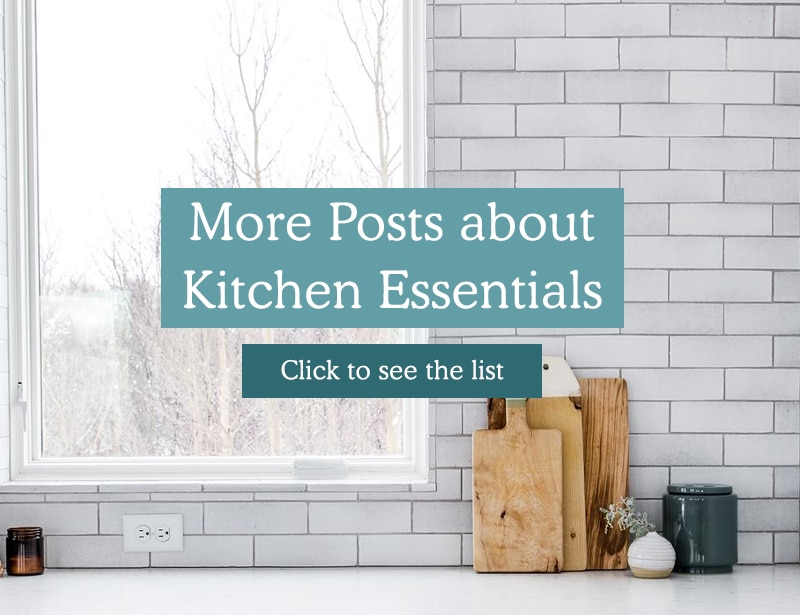 I also want to say, that I have suggested pieces and items below but I beg you first to take this list and go to a local kitchen store you love in your town to find these kitchen essentials. Spend time hunting on trips and so on for these items if you have the chance to. It will make them mean more and create a beautiful feeling to your kitchen. Many local artisans carry kitchen staples especially serving pieces in particular so go support them don't click these links unless you just want to see. I would beg you rather to go find them somewhere close to your doorstep.
Finally, I also have things for kids. Now that Hayes is older I want him to learn what it is to use plates and cups that aren't plastic. He seems to do well with them at the age of 2.5 and knock on wood nothing has broken. So we usually opt for these types of things for now though I am suggesting other options that worked well for us during the learning phases and first foods.
Okay so let's dive in. I have broken it all up by categories in the kitchen to make it easy for you.
What Cooking Tools You Need For A New Kitchen
I know this is a lot but if you cook like we do you know that it takes great tools to get the job done. These are some of my kitchen essentials that I know I couldn't cook without, at Spice Kitchen + Bar you will find details about the latest trends. I have learned over the years that great tools are what matter the most in creating food and feeling like I can eat healthily. Sure maybe there are a lot of them here, but these are my favorite ones.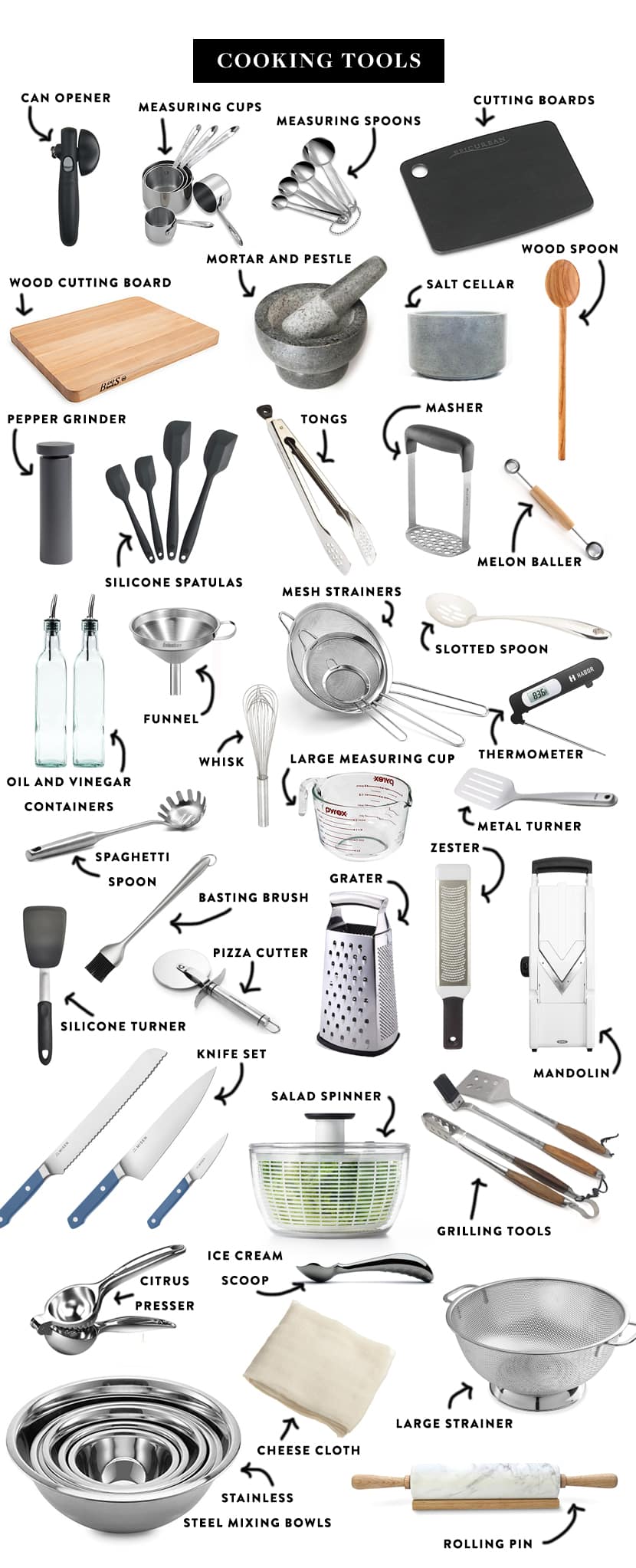 This can opener will make your life a lot easier. It has an oversized knob to make opening cans easy and stays sharp enough for the entire year!
These attractive stainless steel measuring sets will make cooking or baking with dry ingredients a breeze!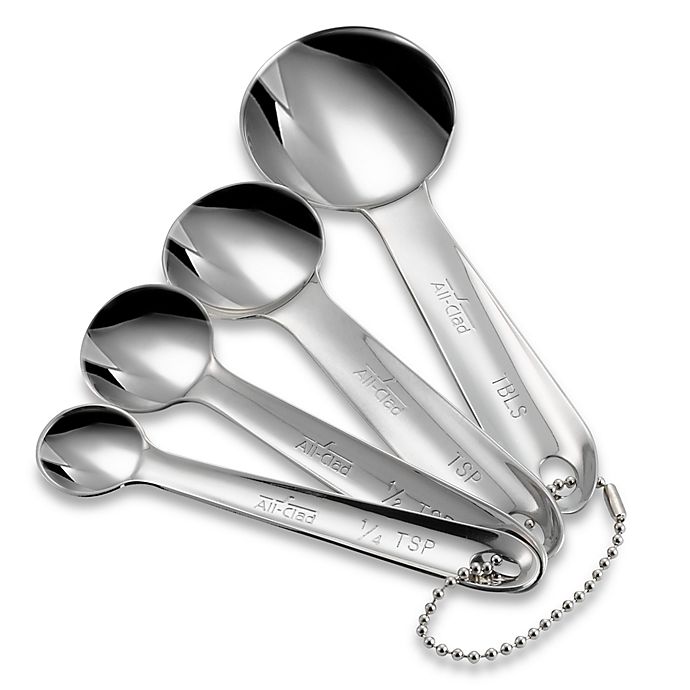 Heavy duty stainless steel measuring spoons with a mirror finish are perfect for any kitchen.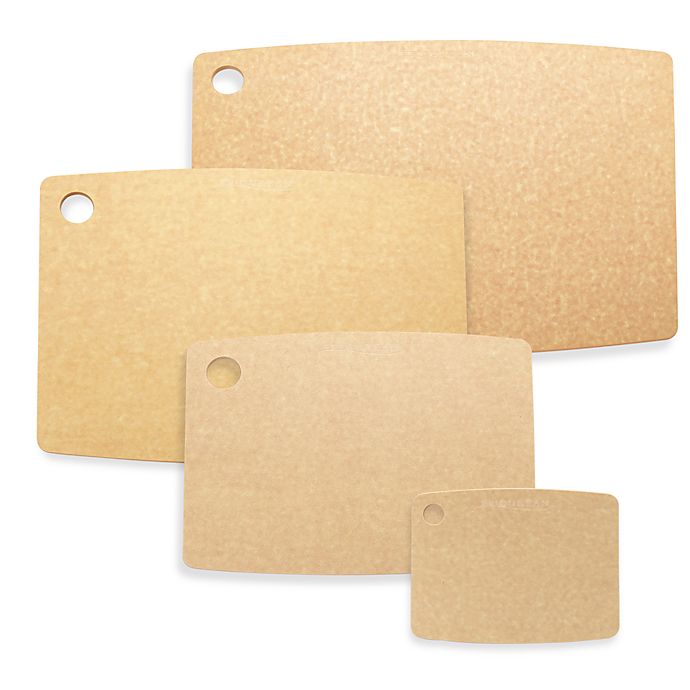 These high-quality cutting boards are made of the best materials and will last for years in your kitchen.
These premium grade cutting boards are preferred by chefs and commercial kitchens worldwide. They're ideal for all food prep, presentation or serving!
Makes cooking easy with its handy lid, so you won't have to worry about spilling any of those precious grains!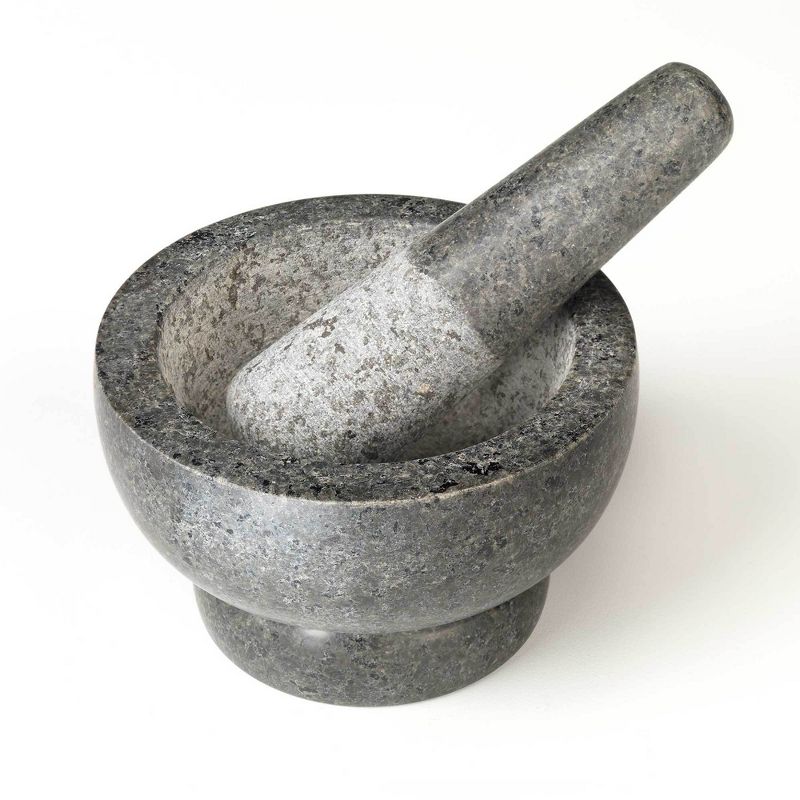 The granite construction makes it easy for you to crush herbs and spices, while the gray color seamlessly blends in with your kitchen décor.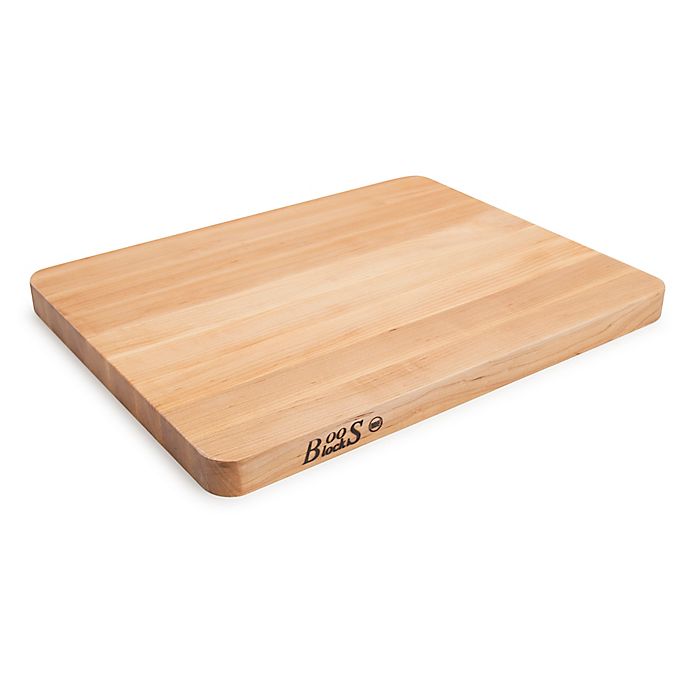 With its natural oil finish and reversible design, this maple cutting board is not just a convenience but also an investment for your kitchen.
It's ideal for grinding a variety of salts, peppers and spices while allowing the essential oils to maintain their full flavor you get when only fresh ingredients are used!
Who wants unhygienic plastic spoons that melt, warp or flake into their food? If you're tired of this then get some solid silicone utensils!
These cooking tongs come with a convenient locking mechanism that allows you to securely store them in either your drawer or crock.
The sleek handle is well-balanced and ergonomically designed for comfort, with a debossed logo that makes it easy to grip.
Ideal for removing seeds from tomatoes, cucumbers or apples. You can also use it as a cookie scoop and drop!
The Cuisinart Stainless Steel Slotted Spoons are as comfortable and useful in the kitchen, yet they're elegant enough for tableside serving!
Cuisinart colanders are perfect for sifting and straining ingredients of all kinds. With three different sizes, you're sure to find one that will fit your needs!
With this stainless steel funnel, you can cook like a pro without worrying about scalding yourself!
The olive oil dispenser is a great tool to have in your kitchen.
The best whisk to have in your kitchen is a stainless steel saucepan.
Keep your kitchen stocked with the perfect size for any task with this handy trio of measuring cups.
This high-quality stainless steel Turner features sturdy construction with a soft handle that cushions your hand while providing an anti slip grip.
The blade of this citrus peeler is designed to remove the flavorful rind from a farming grapefruit, leaving behind only white pith.
When not in use, the mandoline locks closed and feet fold in so you can store it compactly.
Fine grate, perfect for grating hard cheeses such as Parmesan or mincing vegetables like onion and carrots.
Grill your food to perfection with this silicone basting brush! The durable material is heat-resistant, making it perfect for outdoor use.
The best way to slice a pizza is with this efficient, easy-to use tool.
The silicone head of this utensil is designed to glide easily under food without damaging it.
The essential knives for a well-stocked kitchen. These versatile tools can do it all and leave you with plenty of room on your countertop!
It's so simple and easy to use, you'll find yourself using it all of your cooking days! This tool is an everyday kitchen essential.
The perfect BBQ set for any occasion, these tools are designed to work on most grills and will be with you whether in your kitchen or out camping.
The most amazing scooping tool! Cuts through smoothly and effortlessly so that ice cream curls onto itself, making beautiful scoops for cones or brownies.
The refreshing and innovative design of our citrus press will have you feeling like a total pro in no time! Juicing has never been easier.
If you're looking for the best quality cheesecloth, then this is it! Made from 100% Natural unbleached heavy Weight cotton and ultra-fine food-grade material.
The draining ring is made of high-quality material that won't break or bend.
The bowl is made of durable metal that will not break, chip or crack. This sleek finish makes it easy to clean and the attractive design looks great in any kitchen!
Stainless steel rolling pins are a much better choice for people who want their kitchens to look clean and neat.
Best Linens For Your Kitchen:
Linens are a huge kitchen essential even for the more minimalist among us. Last year I started working at eliminating our paper towel usage. Now we buy one pack of 12 for the whole year vs 2 to 3 times that. I now use Flour Sack cotton towels for all of our Kitchen cleanup needs. I love having these towels around and they wash up so well. I have about 24 for the week and just wash them as we go throughout the week. I also keep a slew of napkins on hand for entertaining and even daily meals as a family. Cloth napkins also help to eliminate waste so I enjoy having these to use. I typically look for linen or cotton based napkins. Soon we will have some in our store but for now these ones are the ones I would suggest. Finally, I don't get holiday focused with linens at all and stick to the basics. I use natural elements to create holiday decor instead of linens. I also stick to natural fibers like flax or hemp linen and organic cotton for all linens. This means they wear better and they can bio degrade later.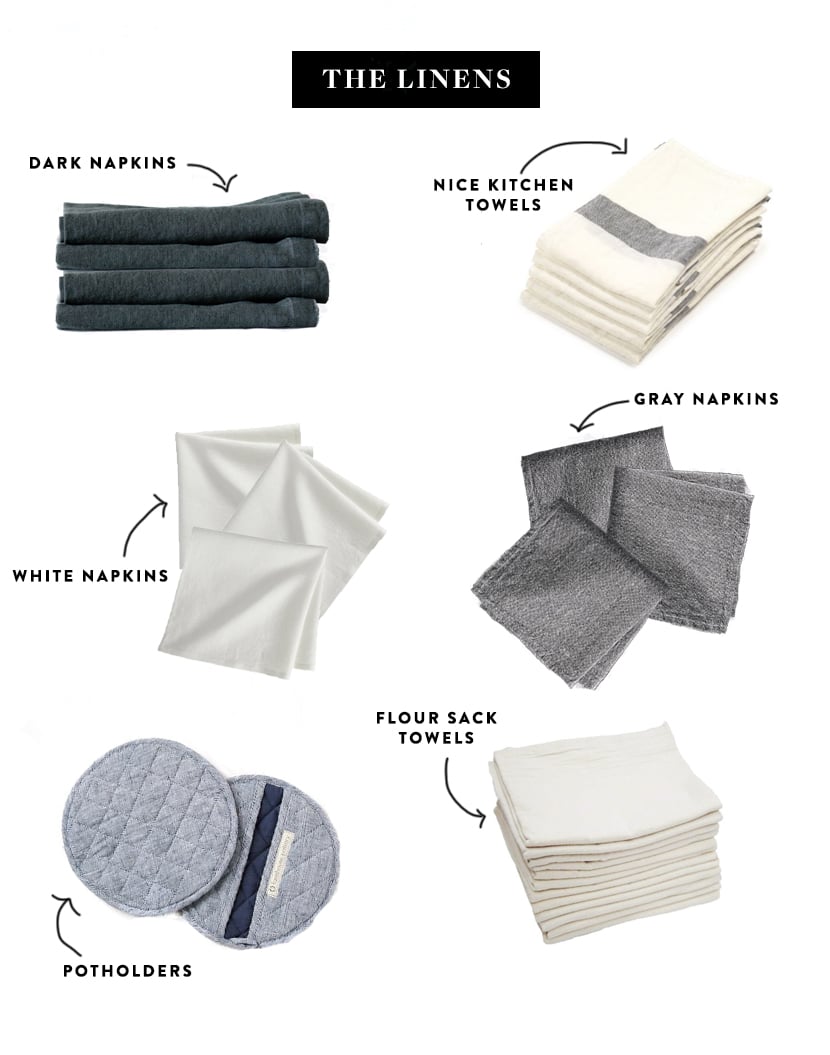 Dark Napkins $30 Set of four | Nice Kitchen Towels $24 | Gray Napkins from Crate and Barrell $7.95 each | White Napkins from CB2 $7.95 each | Organic Flour Sack Towels from Amazon $23.99 for 12 | Indigo Potholders from Farmhouse Pottery $55
What Serveware to Have In Your Kitchen
Your choices here realllly depend on how much you entertain. These are the things I make sure to have on hand for every dinner party and consider pretty much my kitchen essentials for gathering. How many of them I need depends on the gathering I am holding and many times I request guests bring things if I need more than I have on hand. That said, I think these are the basics. Some of the items may seem slightly weird but I make sure to have small bowls for instance, on hand for cheese platters and apps that need small dishes to place things in or even if you are doing a buffet and there is something that has herbs on top or salt or some of the like. I also make sure to always have tons of bowls. I feel like bowls are essential. I love hunting for them and keep them all in similar palettes so they can play together and go with almost any tablescape I am putting together. Once again I don't buy things for holidays at all. I use white because it allows the food to shine which to me is the greatest decor in every season.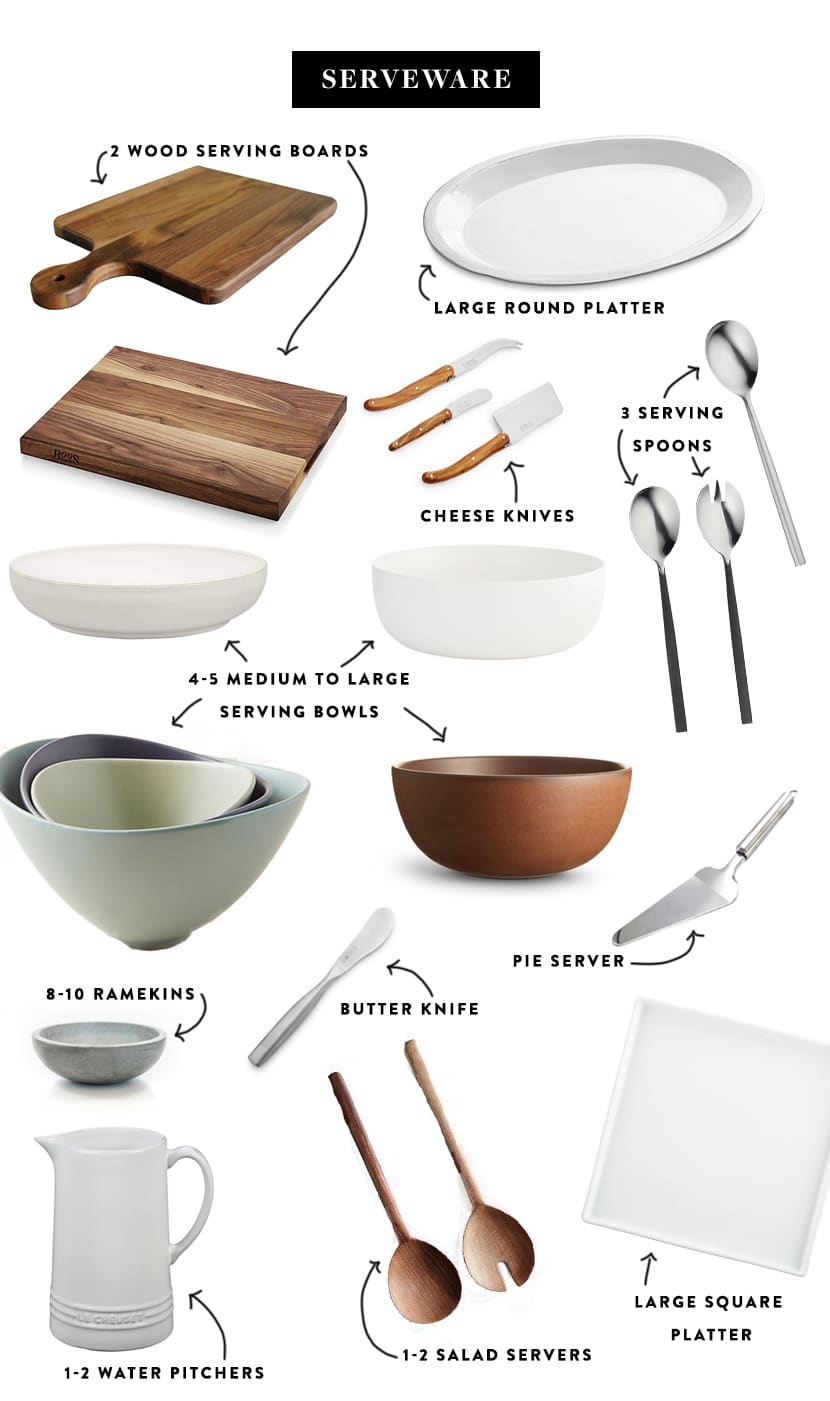 2 Wood Serving Boards — First from Virginia Boys Kitchen $49 and Second from John Boos $158 | Large Round Platter from Crate and Barrel $39 | Cheese Knives from Crate and Barrel $49 | 3 Serving Spoons from Crate and Barrel | 4-5 Large Serving Bowls in Neutral tones – Top Left from Denby $35 , Top right from CB2 $14.95 , Bottom Left from East Fork Pottery $120 , Bottom Right from Heath Ceramics $125 | Pie Server from Amazon $5.99 | Butter Knife from Crate and Barrel $5.95 | 8-10 Ramekins $10 | 1-2 Water Pitchers $36| 1-2 Salad Servers $20 | Large Square Platter with Rim from CB2 $14.95
The Essential Glassware for Your Bar
We have learned from lots of moving just what is actually worth the money and what isn't in the glassware department. We have broken more wine glasses and cups than I care to share with the world, but it is unbelievable. So I am giving this list with the knowledge that these things are great, hold up and if they do break are simple to replace. The only place I invest in my glassware is that I think you should have one REALLY nice set of cocktail glasses and in all honesty I actually drink wine out of our Mazama glasses as well. We currently only have 4 but hope to add some more in the next few years. They are gorgeous and heavy duty. They are our favorite thing in our kitchen so yes they are $44 a piece but they are heirloom pieces to us and I think you should have some of those in your kitchen. Other than that I love IKEA for glasses and these ones are great because they really hold up with kids and guests. I never worry about them because 1 they don't break easily and when they do they are simple to replace. I think we have lost maybe 2 in the years we have had them. Then the large glasses are awesome because you place lids on them and use them for storage when you run short on a week that has a lot of leftovers.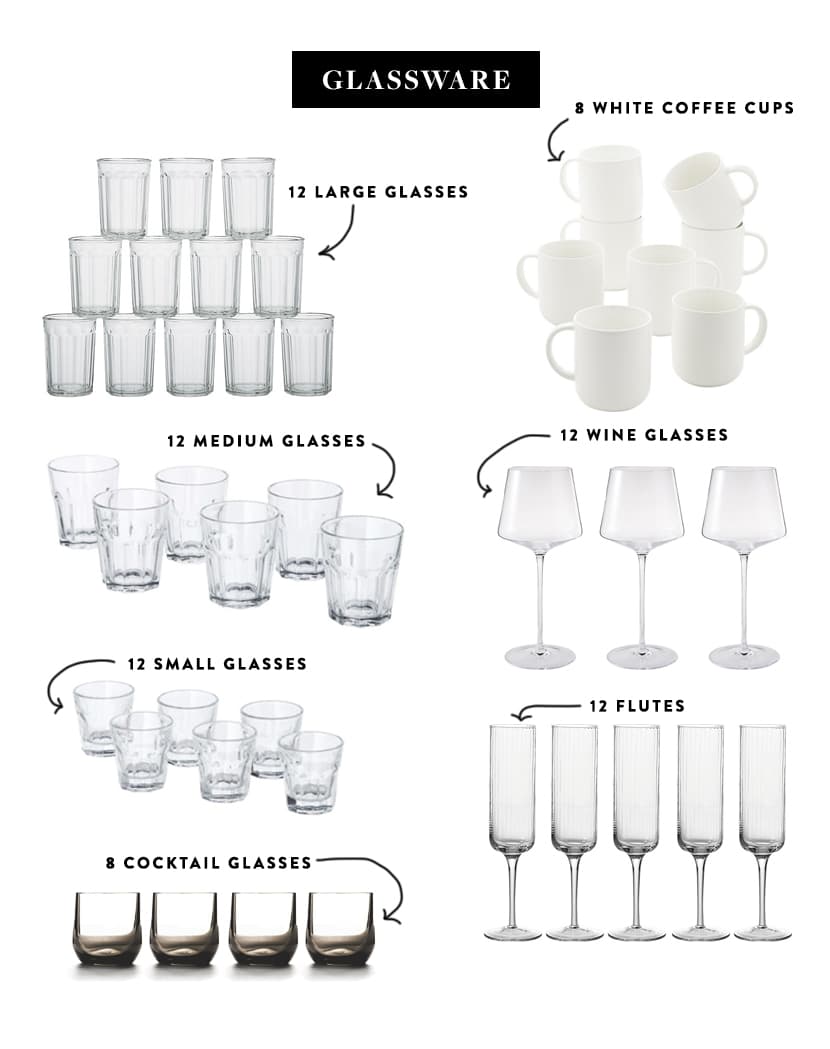 12 Large Glasses from Crate and Barrel (can also purchase lids) $21.95 for 12 | 8 Coffee Cups from CB2 $21.95 for 8 | 12 Medium Glasses from Ikea $4.95 for 6 | 12 Wine Glasses from CB2 $6.95 per glass | 12 Small Glasses from Ikea (we love these for Hayes) $2.99 for 6 | 12 Flutes from CB2 $12.95 per glass | 8 Cocktail Glasses from Mazama $44 per glass
The Essentials for A Home Bar:
If you are someone who enjoys making a cocktail or mixing up any sort of drink these are the items you actually need. We love making large ice cubes from drinks and having all the tools to make cocktails when the evening calls for it.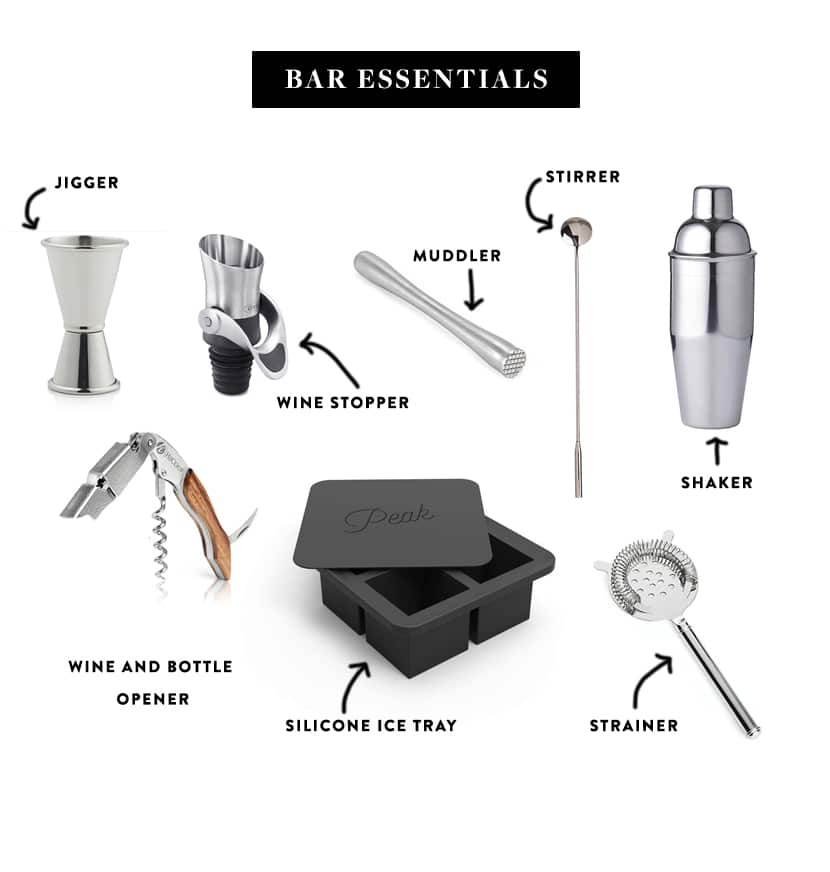 Jigger from Crate and Barrel $9.95 | Wine stopper from OXO $9.95 | Muddler from Amazon $9 | Stirrer $5.95 | Shaker from Amazon $9.79 | Wine and Bottle Opener from Amazon $9.95 | Silicone Ice Tray from W&P $12 | Strainer from Crate and Barrel $14.95
The Essentials for Baking At Home:
These are the items I swear by to have on hand for cooking everything we love to cook from Paella to Thanksgiving dinner to even a Sunday roast. The biggest thing to know is that when you are buying cookware be aware of chemicals and aluminum because they will transfer during the heating process of cooking.

5 Quart Cast Iron Dutch Pot from Lodge $40 | 2 Pie Pans from Emile Henry $30 | Parchment Paper from Amazon $10 | Ceramic Baking Pans from Staub in 7″ and 9″ – $50 | Cast Iron Pan $20 | 9×13 Glass Baking Dish from Pyrex $19 | Stainless Sauce Pan from All-Clad $100 | Paella Pan from Lodge $40 | Loaf Pan $12 | Muffin Tins $24 | Round Pan Set $14 | 5.75 Quart Soup Pot from Bed Bath and Beyond $29| Extra Large Stock Pot from Amazon $40 | Spring Form Pan $24 | Cast Iron Steel Pan in size 10″ and 12″ from Lodge $40 | Non Stick Pan $95 | Roasting Pan from All-Clad $160 | 4 Cooling Racks from Amazon $16 | Stainless Steel Baking Sheets from Amazon $40
Low Waste Food Storage Essentials:
When you cook at home, you usually end up with leftovers and need things to store your food. These items are the kitchen essentials I swear by especially for storing in ways that both eliminate waste but also keep our health in mind. Glass and silicone are the go-tos in our home and these items are the ones I love the most. I want to note though here specifically that I use these items for storing food both in our fridge and freezer. Getting the right containers for the freezer is important. When buying glass for the freezer get the freezer-ready jars or else they may shatter and pay close attention to the lines for liquids on the jars as well. I also use different silicone bags for storage depending on the place I am storing. The Stasher bags do awesome for fridge and dry snack storage but pop open more easily in the freezer. The ones with the runner on top work great for freezing but are more challenging for continual opening and closing. I also use the bins for storing and organizing our fruit and veggies in a drawer. These are easy to clean and store vegetables in that do not need to be in the fridge. It is important your bins keep things separated and allow for airflow. I use our liquid-ready Weck Jars for homemade nut and seed milk, broth, and any other liquids we plan to keep in the fridge that week.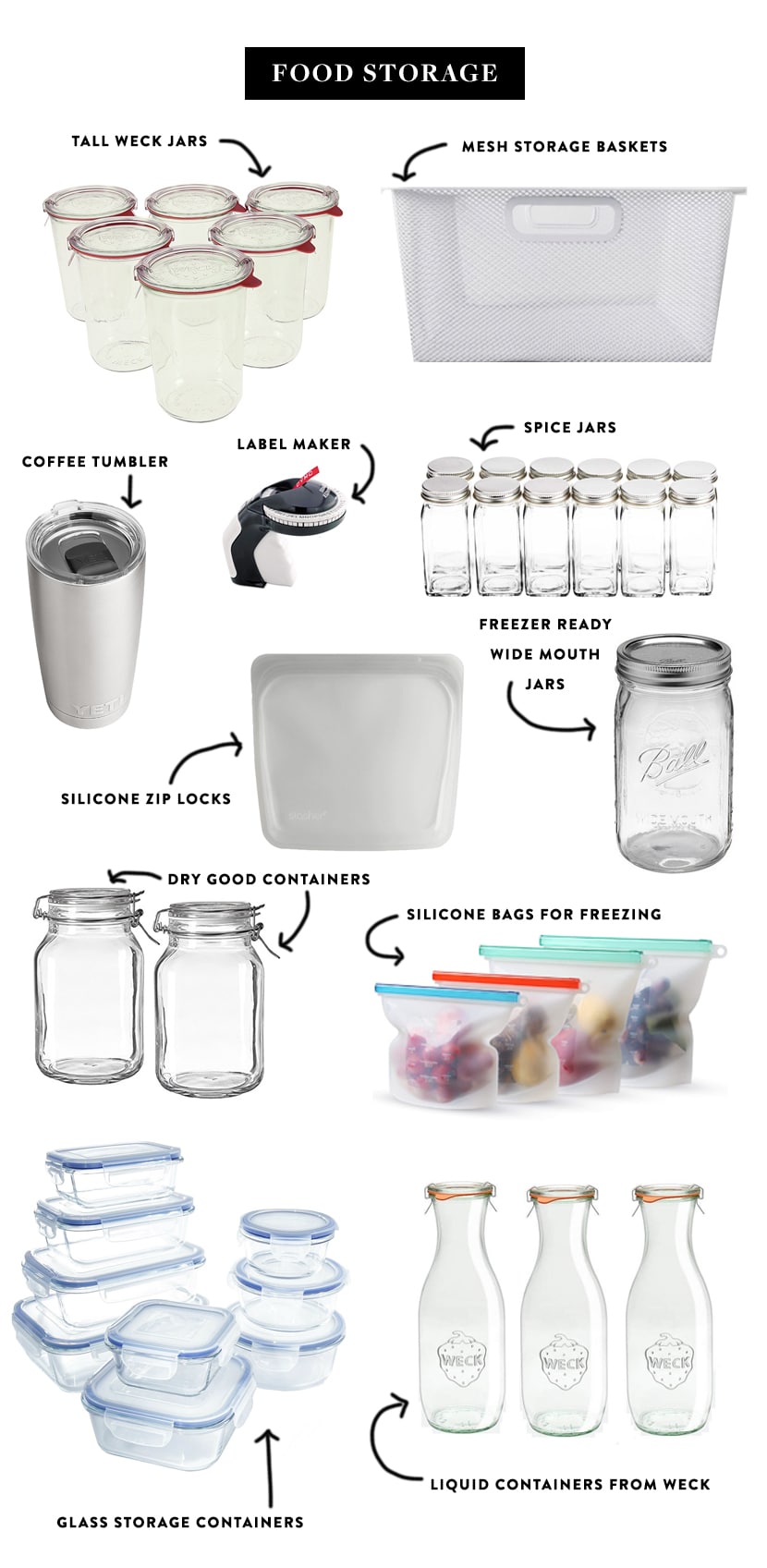 6 Tall Jars from Weck $35 | Mesh Storage Baskets from Target $13 | Coffee Tumbler from Yeti $30 | Labelmaker from Dymo $25 | Spice Jars from Amazon $18 | Freezer Ready Wide Mouth Jars from Ball $21 | Silicone Zip Lock Bags from Stasher $15 | Silicone Bags for Freezing from Amazon $24 | Dry Good Containers from Bormioli $20 | Glass Storage Container Set from Amazon $35 | Liquid Containers from Weck $18
The Necessary Small Appliance for Your Kitchen Essentials:
Depending on how you eat depends on the larger kitchen tools and small appliances that you need. Many of these items we use every week and some just for the occasional thing here and there. Either way, they are kitchen essentials. Though I have lived without a Food Processor for a long time, I do think it is a necessary piece in the kitchen that I need to get again. I could go through each one of these as to their importance and maybe I will:
Food Processor – Great for pulsing food and making lightly chopped things, making slaw super quick, creating dough, and more.
Stand Mixer – This is the ultimate mixer and has tons of attachments for pasta, ice cream, and more. I use it probably 15 times a year, but if you bake at all, this is the ULTIMATE. I also use it to make our butter instead of using a hand mixer.
Pressure Cooker – Save a ton of money by purchasing bulk beans, lentils, etc and cooking them without soaking in under 8 minutes or so. You can also quickly make rice and what I use it for most is for broth especially bone broth. You can do it in less than 2 hours. It is insane. People make meals in them but I just enjoy them for cutting costs and making it quick to make things such as beans, broth, and grains.
Crock Pot – We use this mostly in the fall and winter months for cooking a roast or making chili or soup at the beginning of the day and enjoying it at the end of the day. It is such a seasonal thing to have a meal slow cooking all day I think.
Water Heater – Makes it easy to make tea or coffee but also is what I use when making pickles. It heats our purified water fast and makes it quick to get veggies crisp with the boiled water. Also, we have had this same model for over 8 years now and it works beautifully still. If yours needs repair, visit the A-Lumination Electric home page and get help.
Immersion blender – I use this to make smooth soups mostly. It eliminates pouring hot liquid into a high-speed blender. For the price, it is worth eliminating the headache.
Spiralizer – To make eating healthy and easy it is fun to spiralize veggies so they have a different texture. I don't do it enough but I love having the options.
Hand Chop – I hate chopping garlic and nuts and this guy makes it SUPER fast and easy to do it.
Hand Mixer – I use this for quick muffin making or more or even when I don't want to haul out our stand mixer
High-Speed Blender – We went for years without one and I have to say I know the price is high but if you use your blender a lot it is WELL worth it. We use this every day if not twice a day for sauces, smoothies, dressings, you name it. I love it and in 4 years have used it more than 1,200 times…so we have gotten our money's worth out of it. For sure this is our most used appliance in our home.
Toaster – This is just a must to have but we don't use a ton. This is something we keep in a drawer for guests and for times we make toast but that is it.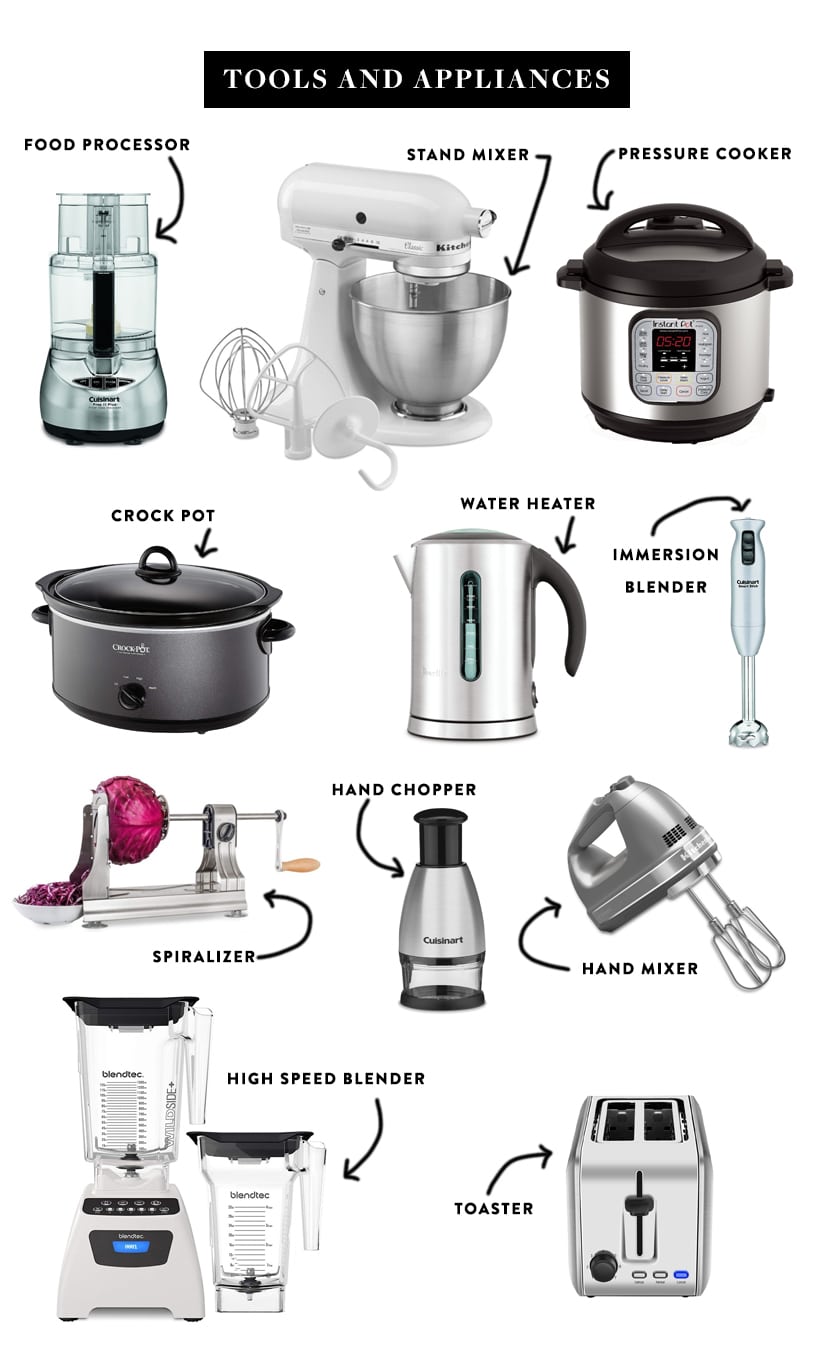 Food Processor from Cuisinart $161 | Classic Stand Mixer from Kitchenaid $190 | Pressure Cooker from Instant Pot $99 | Slow Cooker from Crock Pot $44 | Water Heater from Breville $80 | Immersion Blender from Cuisinart $25 | Spiralizer from Well to Be $35 | Hand Chopper from Cuisinart $18 | Hand Mixer from Kitchenaid $60 | High-Speed Blender from Blendtec $450 | Toaster from Amazon $29
The Kitchen Essentials for Your Coffee Bar:
We make coffee every morning like most people and we do Pour over style. Everyone has their way these days they make coffee but we love this method. It is very easy and simple. We love the flavor it creates since we typically are drinking very specific light roast beans so the flavor really matters and pour over lends to that. These are the kitchen essentials we use. We also drink decaf herbal tea at night and I love having a teapot around.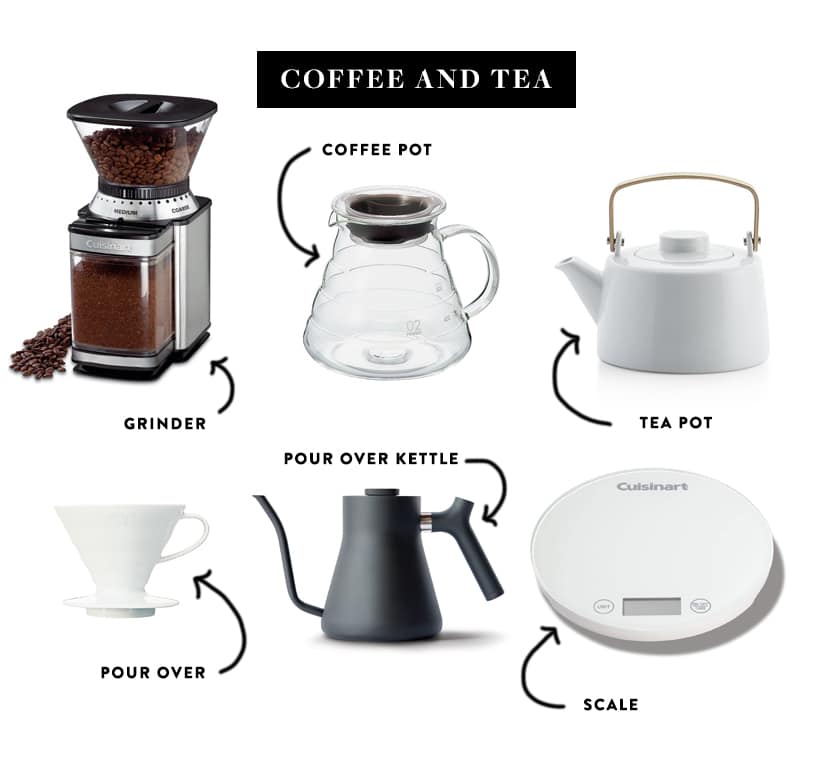 Grinder from Cuisinart $38 | Coffee Pot from Hario $23 | Tea Pot from Crate and Barrel $30 | Pour Over from Hario $21 | Pour-Over Kettle from Fellow $79 | Scale from Cuisinart $25
What Dishes and Tableware You Actually Need In Your Kitchen:
I believe in keeping our tableware pieces very simple and focused on the absolute kitchen essentials. Everyone should have a set of white dishes. I don't care what you think you want, a set of white dishes will last forever and work for EVERY occasion. We added white to our Wedding Registry from Crate and Barrel years ago and we still use them every day and for many of our gatherings. Not to mention they have held up over these years from countless gatherings. I cannot speak more of the importance. The other items are suggestions, but at the very least have white dishes. I like to add color to our table and gatherings with collected dessert plates in neutral tones. People love seeing different things after the white dinnerware and it is fun to eat dessert on something with a little variance I think. If you want another dishware then this great, but at the very least have a set of white dishes you will be extremely surprised by how well they work in a kitchen. You should also know you need to have 12 of everything in a kitchen that sets a table. Some people say 10 but the 12 is in case something gets broken. You don't have to unbox everything, but I really suggest 12. I highly suggest finding dessert plates over time. I have found mine at thrift stores and from potters over the years and people always comment on them. It is really fun.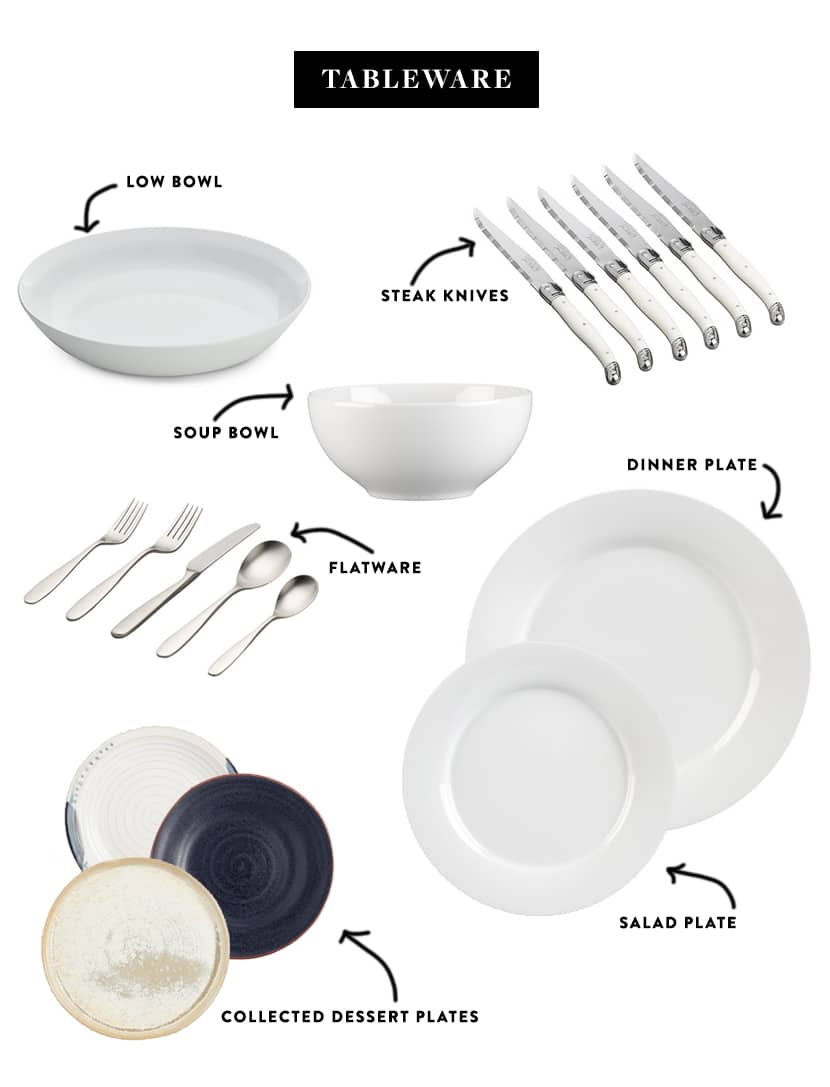 Low Bowl from Crate and Barrel $6 | Steak Knives from Crate and Barrel $49 for 6 | Soup Bowl from Crate and Barrel $5 | Flatware from Crate and Barrel $29 for each 5-piece set | Dinner Plate from Crate and Barrel $5 | Salad Plate from Crate and Barrel $4 | Collected Dessert Plates — hunt for them from artists and thrift stores
Phew! That is EVERYTHING we have in our kitchen essentials list that we really and surely use. My goal is to help you build a well-equipped kitchen whether you are creating a wedding registry or looking to slowly build a great kitchen in the coming years. These are the items to help you know what you actually need for a kitchen where you are cooking regularly and preserving your food. They say people who eat at home are the healthiest so hopefully having a smart kitchen full of these kitchen essentials will make you more inspired than ever.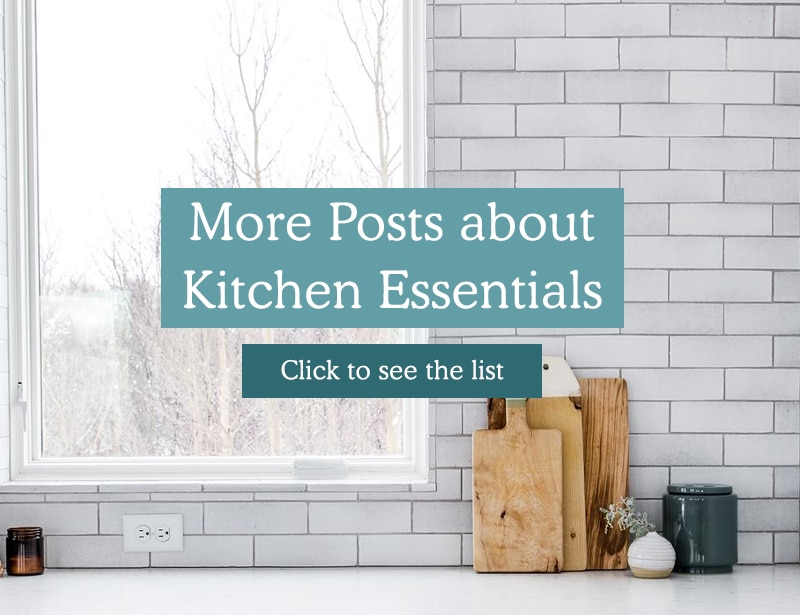 Want other Kitchen posts here are a few favorites.
Our Kitchen Reveal | A Simple Kitchen Update | Organizing Your Open Shelves