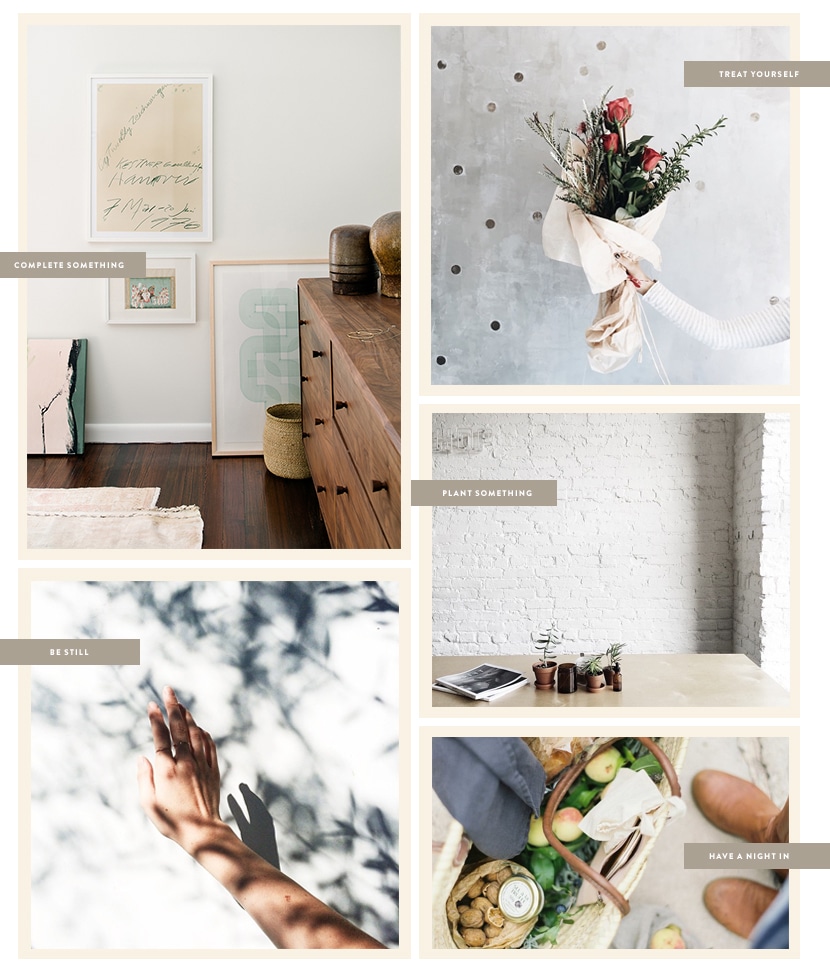 This is a busy weekend for many of us, with the Easter holiday, but it is also one of the first truly spring weekends as well. Which means it's time to enjoy it. I want to give you a list of ways I make busy weekends feel special. There is nothing like ending your weekend and feeling like it was the best 2 days of your week, right? I think so. I have found that on a holiday weekend, if I don't set aside time for myself I can feel like I lost the weekend. I think it is all about balance. So here are my 5 ways to have a perfect Spring weekend. I promise these will make it the best!
1. Complete something:
Maybe you have been dying to finish a book or get some seeds into your garden. Maybe you have been wanting to make dinner for your friends. Whatever it is, Spring is the time of doing and making things new and fresh so why not start there. You will be able to feel a sense of completion and accomplishment on Monday. This weekend, I am tackling the organization of our kitchen and bathroom. I have been wanting to do it for weeks, and this weekend is the weekend. Monday is going to feel awesome!
2. Treat yourself:
The weekend is a time to reward yourself for a long week of work and all that you have done. Sometimes, especially as entrepreneurs we don't take the time off on the weekends, and we should. We forget that weekends exist. It all runs together. Your life and well-being are more important than your work, but sometimes that can be hard to recognize. It can feel impossible to do any work without feeling rested and whole. So choose something to make the weekend feel extra special. Maybe you get a massage, take a yoga class, try a new restaurant, spend the day with a friend; whatever it is make sure it is something that allows you to feel special. Yes, I did just give you a reason to eat a cupcake.
3. Be still:
In the spring there are new sounds, new smells, new feelings. I love to fully take in seasons as they come. They bring different energy and also help to keep me grounded in the present. It isn't easy to slow your soul and mind enough to truly take these things in. Some of us do it more easily than others, but the weekend is a great time to take this seriously. I love laying on our back porch in the sun on a blanket and just taking it in. When we shut off certain senses such as sight, we can see things through scent, touch, and sound. It always slows me down. Maybe I'm channeling my inner hippie here, but give it a try and tell me it doesn't make your day better.
4. Plant something:
Whether you have a full farm or you live in a tiny apartment with no patio, this is a universal thing, plant something. There is something about getting your hands into the dirt in the warmth of the day. You may think you don't have a green thumb but make a point to talk to the person in the garden store and learn how to care for your plant. Take on the new challenge. Sometimes it's the little things of life that make the most difference in our day-to-day. I know that my favorite part of my days and weekends in the Spring and Summer months are tending to my plants and knowing that they either need a lot or a little of my attention. Plus, who doesn't love a good succulent on your window sill?
5. Embrace a night in:
So piggy backing off of #4, I have learned to LOVE nights in. It may just be Mike and I and the pups, but we will choose some days especially these Spring ones gathering all the supplies for a fun night in to make a good dinner and dessert. Normally we will choose a new recipe or two from a favorite cookbook, or maybe just make up a recipe. We will enjoy dinner on the porch, make a fire or maybe just listen to some records and drink tea on the sofa and talk late into the evening. This is a special time of the year, where there is nothing else that matters more than that simple moment. IT seems like we all have a universal desire to fill every night with something in order to avoid the stillness, but sometimes the best thing we can do is to make time and embrace moments.
I would love to hear ways you make these Spring weekends extra special, and restful. There is something so precious about the changing of seasons and watching your world slowly flourish with flowers and buds. I say enjoy it, embrace it, and allow your soul to feel the shifts of a season. Life is too short not to admire the small things in the world.
Above images from the following places (some of these are AMAZING instagram accounts you should follow!)
Complete Something: Charles de Vaivre
Treat Yourself: Liz Wang
Plant Something: Casey Lynn
Be Still: Taylr Anne
Dinner in: Ginny Au