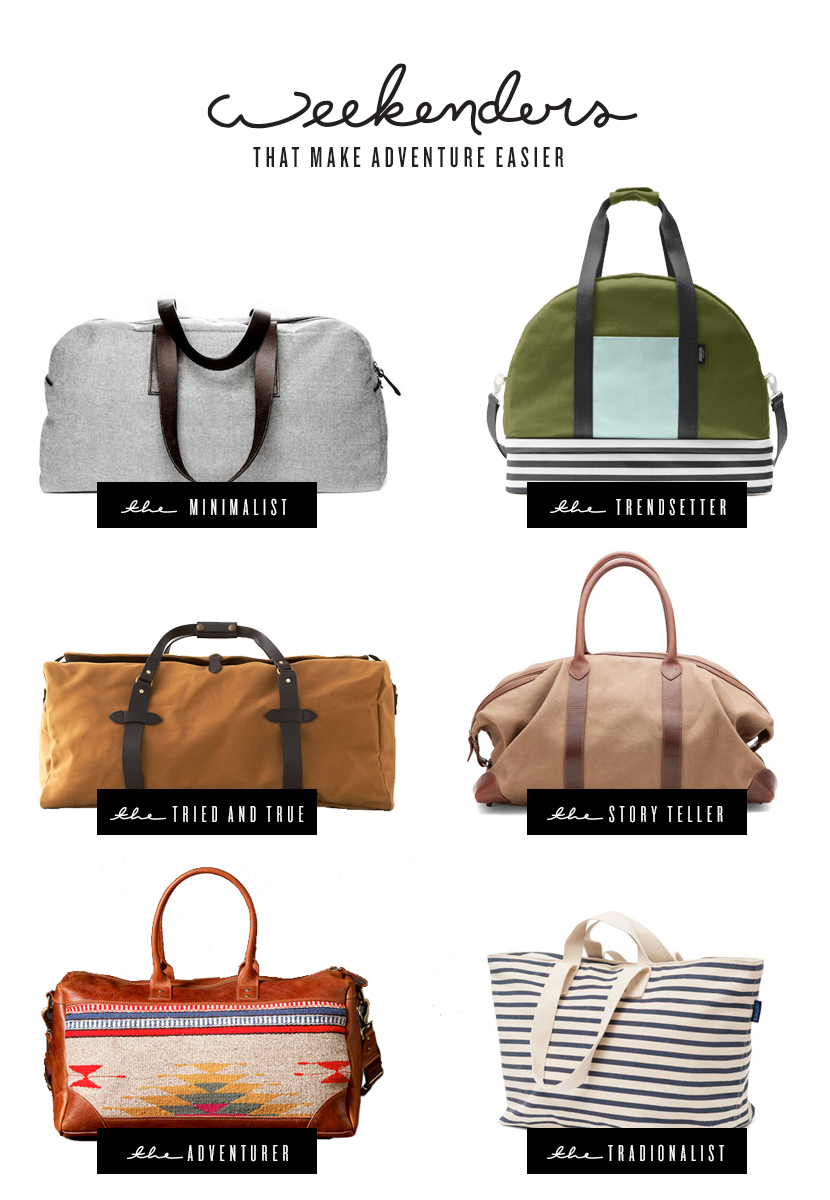 On the tails of yesterday's post about our Wild Weekend down to New Orleans, I thought I would share some ideas on how to pack for your own adventure. I am all about the minimal packing and I trying all the time to get better at it. This means choosing the right luggage  that captures who I am and what I love as well as functions as a great bag to bring along on my trips. After all the traveling around the world, with only a carry-on, I have found out a few things.
– I believe in the 4 wheel roller carry-on
– You can live on 5 days worth of clothes
– Always choose to pack multi-functional pieces
– When traveling close to home a weekender will always do.
Since most of our weekend adventures are weekend adventures we should be using a weekender, right? It only makes sense. So I gathered up 6 of my favorites to get you inspired to pack one up and head out on your own weekend adventure.
1. The Everlane Reversible Denim Weekender: Mike, just gave me this one for Christmas and it has my heart. It is even nicer/better than I expected. Great quality, simple design, and fits so much stuff! It may be more than a weekend but hey I am not complaining.
2. Design Your own Weekender from Kate Spade Saturdays: I am such a minimalist so this "design your own thing" just leaves me choosing all black, but for those of you who love to make a real statement this is a great bag that comes designed to your specifications and in 2 sizes.
3. Filson's Large Duffle: Is there any more tried and true name in travel than Filson? I don't think so. You know this is a bag that will hold up for years to come and to many great adventures. You probably will even be able to hand this down to your grandkids along with some great stories.
4. Cuyana's Weekend bag: Every product that Cuyana creates has a beautiful story behind it. If you are someone who wants your bag to have a deeper meaning than just the average weekender I highly suggest supporting Cuyana in their vision.
5. Will Leather's Oaxacan Duffle: Will Leather never creates a bad product, which means this amazing bag made of vintage kilims is going to be just as amazing as you might think it is. Each bag is slightly different so it feels even more handmade than their bags already are.
6. The Baggu Weekender Bag: Baggu creates great products that are simple, to the point, and well made. My ipad sleeve still looks great after tons of washes. So if you are someone who likes to keep it simple and traditional the stripe bag should do beautifully!
How do you pack when you travel? Are there any tricks you have learned while traveling near and far?
Happy Tuesday my friends!