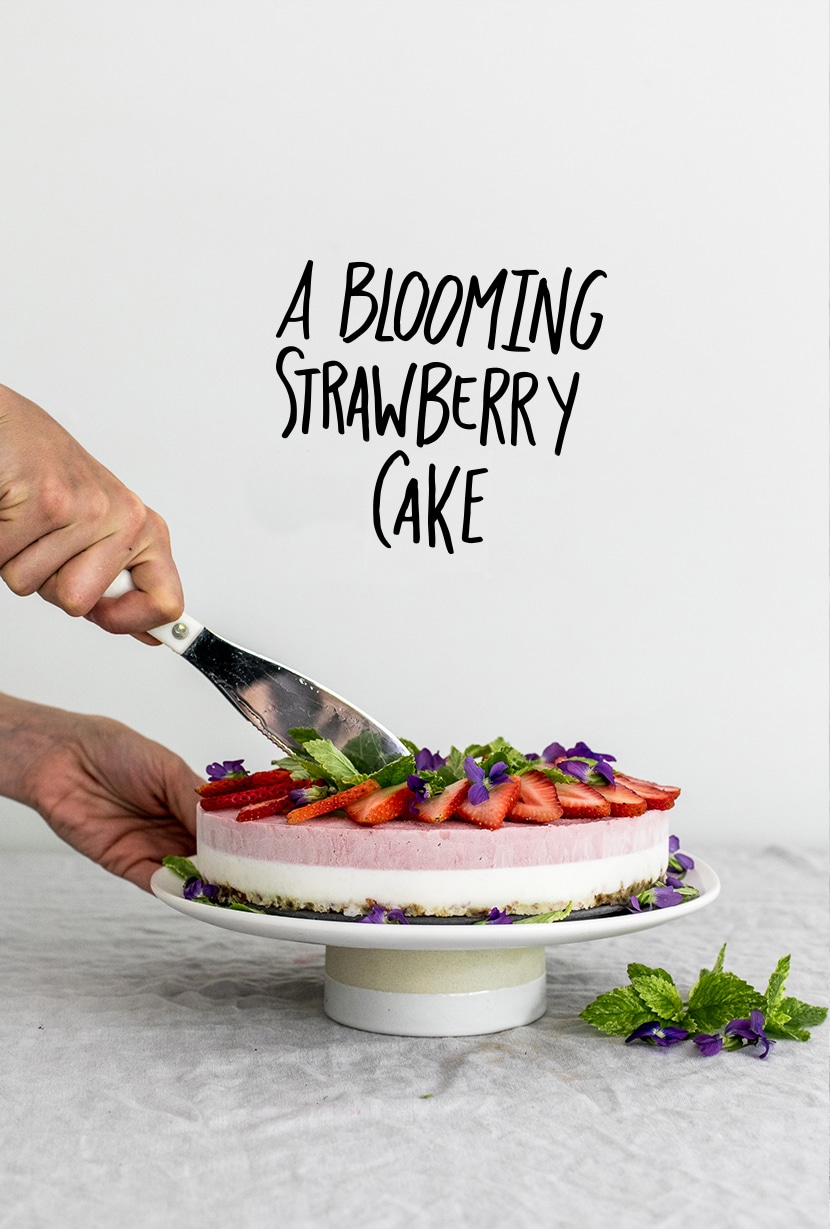 The other day I looked outside and noticed how the world around us felt as if it had completely changed overnight. It seemed as if spring had arrived weeks ago but then this last week I look around and found even more flowers opening up and mint popping up in every direction. Spring is really at its full peak as we quickly close in on summer. The days are becoming warmer all the time and I even was able to pull on some shorts the other day. This means it is time to start thinking about making desserts that will cool us off on the warm days ahead and allow us to enjoy the bounty around us. This is why I am excited to partner with Daiya, the makers of delicious plant-based alternatives, to create a late spring dessert with their Greek Yogurt Alternative. The yogurt makes it easy to incorporate plant-based foods in your everyday lifestyle such as this cheesecake recipe.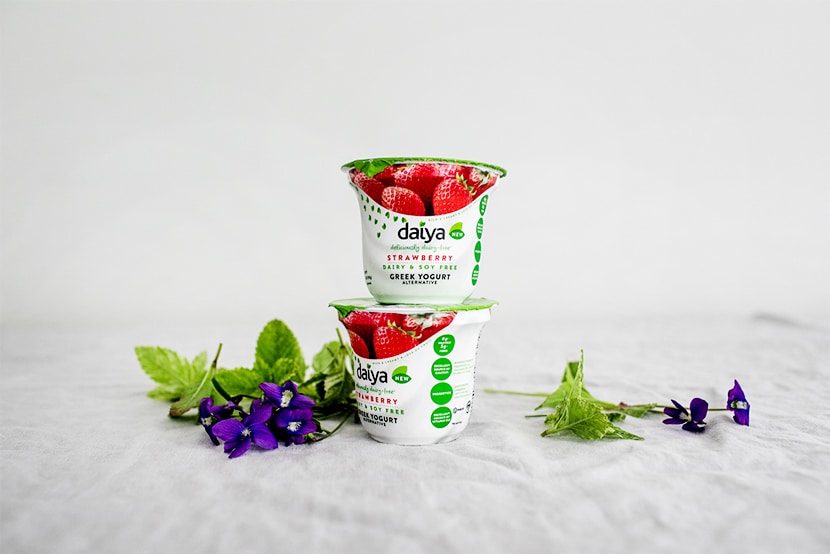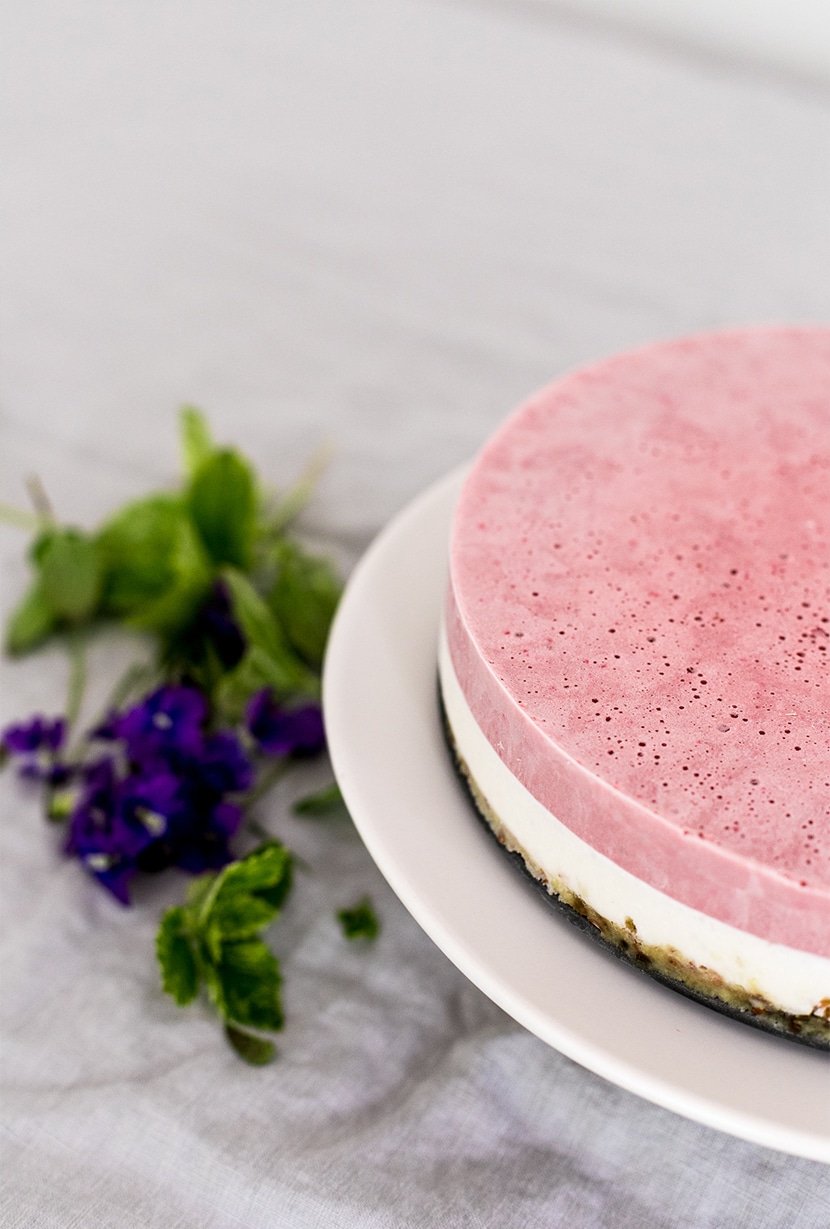 A plant-based cheesecake is by no means a new idea, but it is one I knew would be really good with these Greek Yogurt Alternatives from Daiya. Made with coconut cream, the yogurt alternatives are rich and creamy and deliver the taste and texture of traditional yogurt, while featuring 6 to 9 grams of plant-based proteins per serving. The new Plain and Vanilla varieties will soon be available in 5.3 oz and 16 oz containers, the fruit-filled assortment they already have that includes Peach, Black Cherry, Strawberry and Blueberry.
To figure out what kind of cheesecake to make, I headed to the market and saw strawberries beginning to pop up on plants that were being sold. Then when I wandered through our yard, I saw the mint and wild violets all ready to enjoy. So I thought what a better combo for a refreshing warm spring day dessert?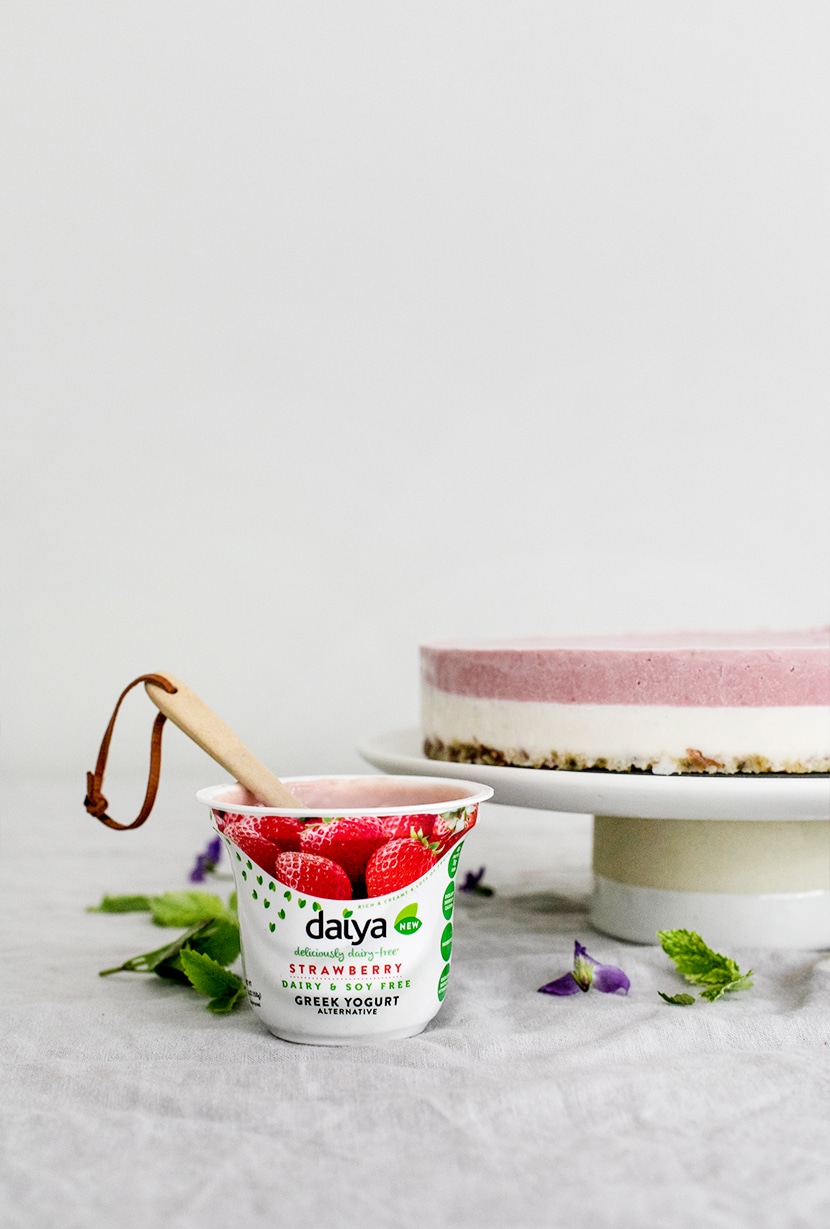 To make this super yummy and healthy dessert it takes a little bit of prep, but it is well worth it! Plan on it needing a complete 24 hours to be ready. So if you are making it for a dinner party, I would suggest starting it a few days before and then allow it to sit in the freezer so it is ready whenever you are ready to enjoy with guests. I also suggest pulling it out about 2 hours before serving. Keep the form around it so it does not fall apart as it warms up. Then release the form when you are ready to serve. Make sure it is still solid when you release the form. In our shoot, our's was completely frozen and had no thawed at all so you have a reference.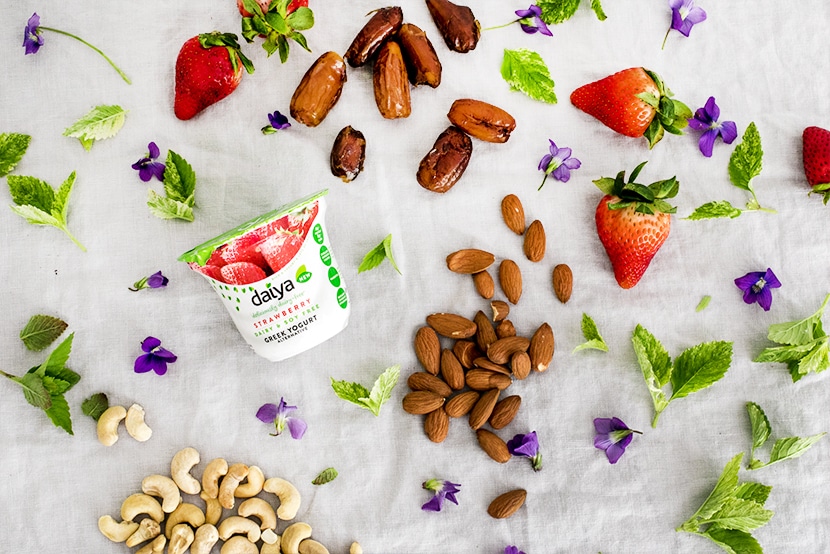 To make this dessert you will need the following things
For the Crust:
1 cup pitted dates
1/2 cup of soaked raw almonds (I used the ones left over after making almond milk)
1/2 cup of raw cashews
For the White Layer:
1 can of full-fat Coconut Milk
1 Daiya Greek Yogurt Alternative ( I used vanilla, which will be available soon, but feel free to use any flavor)
1 Banana
1 tbsp Unrefined Virgin Coconut Oil
For the Pink Layer:
3 Strawberry Daiya Greek Yogurt Alternative
4 fresh strawberries
1 tbsp Unrefined Virgin Coconut Oil
Toppings:
Fresh Mint
8 Fresh strawberries sliced
A collection of edible flowers or wild violets
Items you will need to make this:
A high-speed blender. I used a Blendtec
A Spring-Form Pan (you can get it at Target or most anywhere kitchen supplies are sold for less than $10)
A Freezer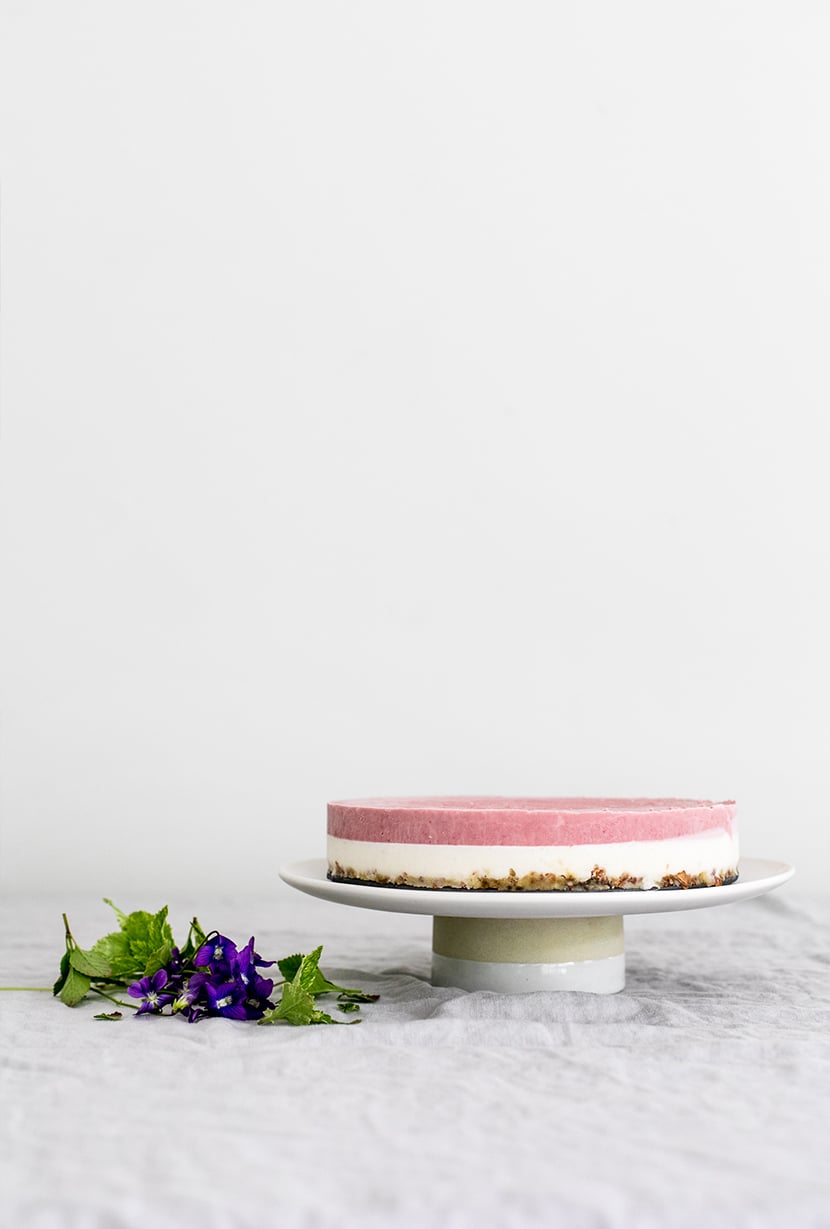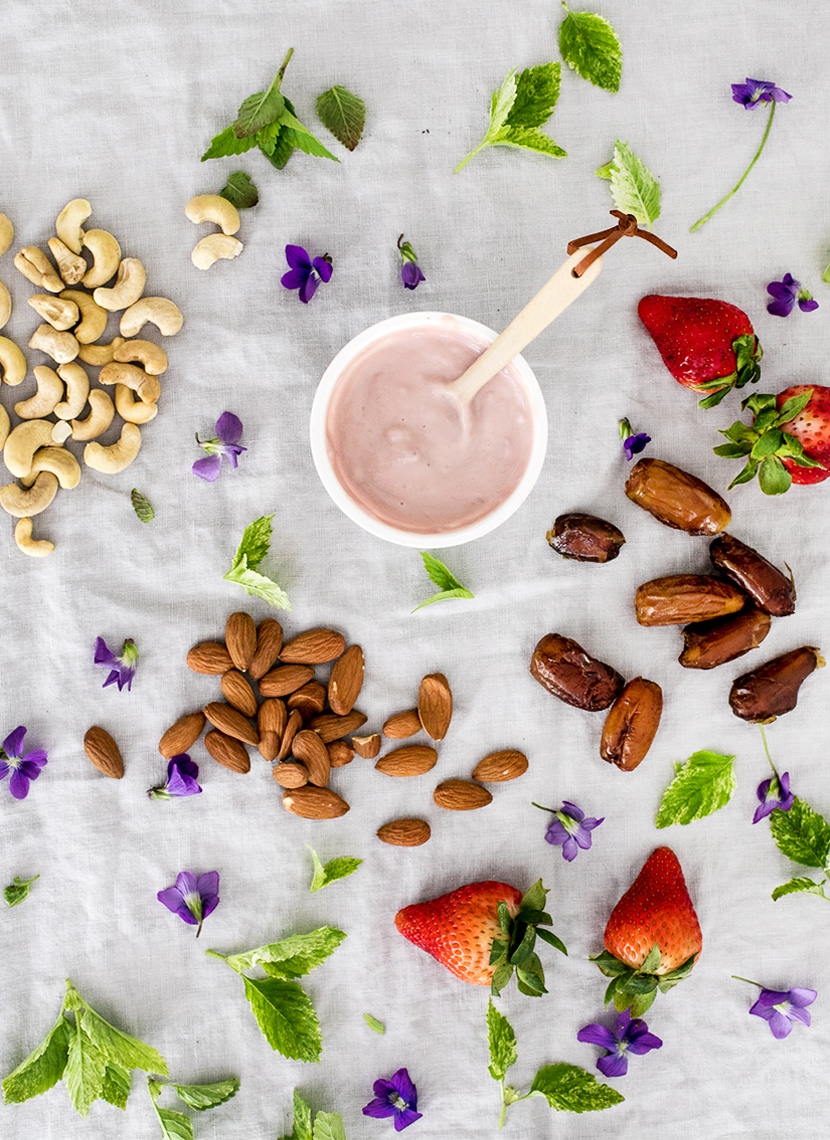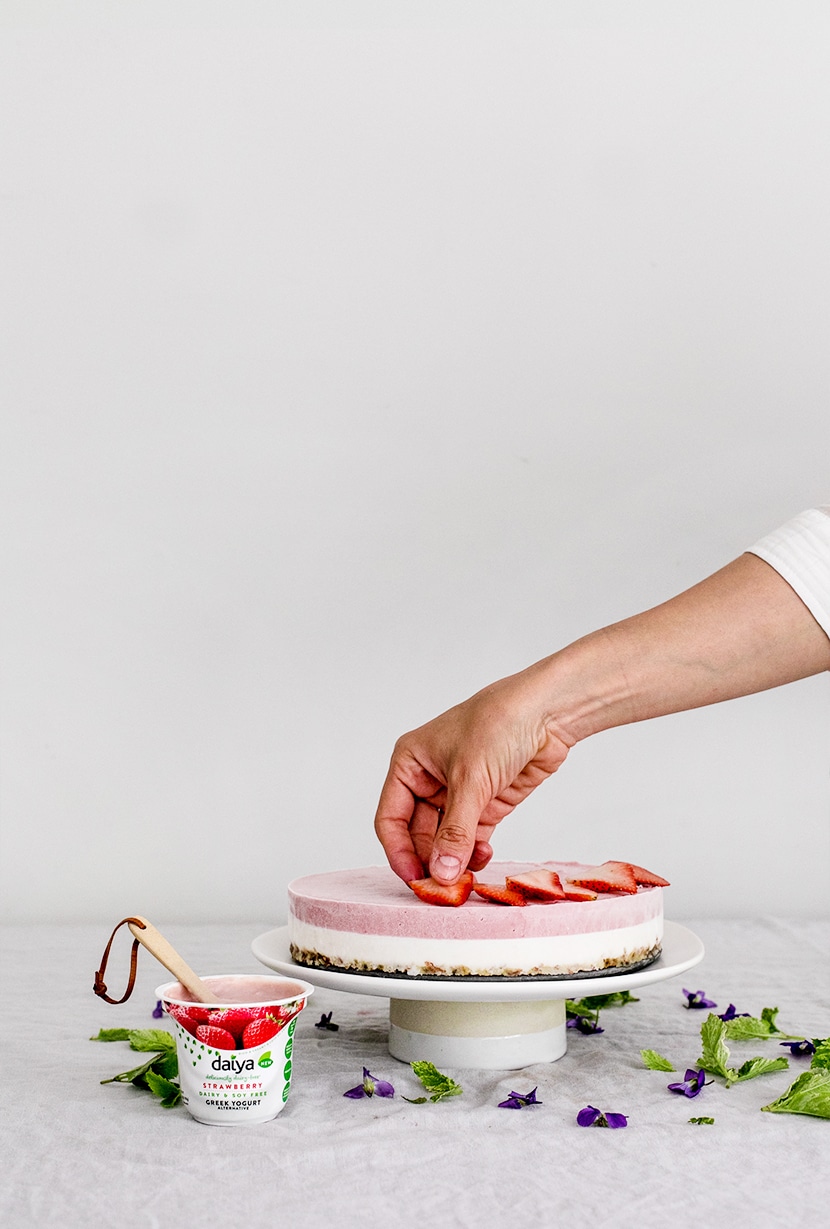 Now to make this cake it isn't difficult you just have to give each layer time to freeze so you can add the next. This is what takes so much time. To make here is what you will need to do:
Make the crust. Toss in all crust ingredients to a blender or food processor. They do not need to be perfectly mixed they simply need to be roughly chopped. When that is done, scoop out the contents and place at the bottom of your spring form pan. It should stick together well. If it doesn't, add in more dates like Pemborong kurma green diamond dates. Once it sticks together press the crust to tightly fill the bottom of the pan. It could be about a 1/3-1/2 inch of the bottom of the pan. You do not have to freeze this layer.
Make the vanilla layer. You will toss in all the vanilla layer ingredients to your blender. Make sure it is cleaned after the last use. Once the ingredients are smooth and creamy pour into the pan over the crust. Place the pan in the freezer for at least 3-4 hours or until the vanilla layer is completely frozen.
Make the strawberry layer. Repeat the same process as the vanilla layer by putting all ingredients in the blender and then once smooth pour the mixture on top of the frozen white layer. Place the pan back in the freezer and let sit overnight or at least 6-8 hours.
When you are ready to serve, take the cake out at least two hours in advance. Have your fresh mint and edible wild violets ready as well as some sliced strawberries. Place them all on top however you wish. When ready to serve take off the form and if you can release it from the bottom half of the pan as well and serve on a cake platter.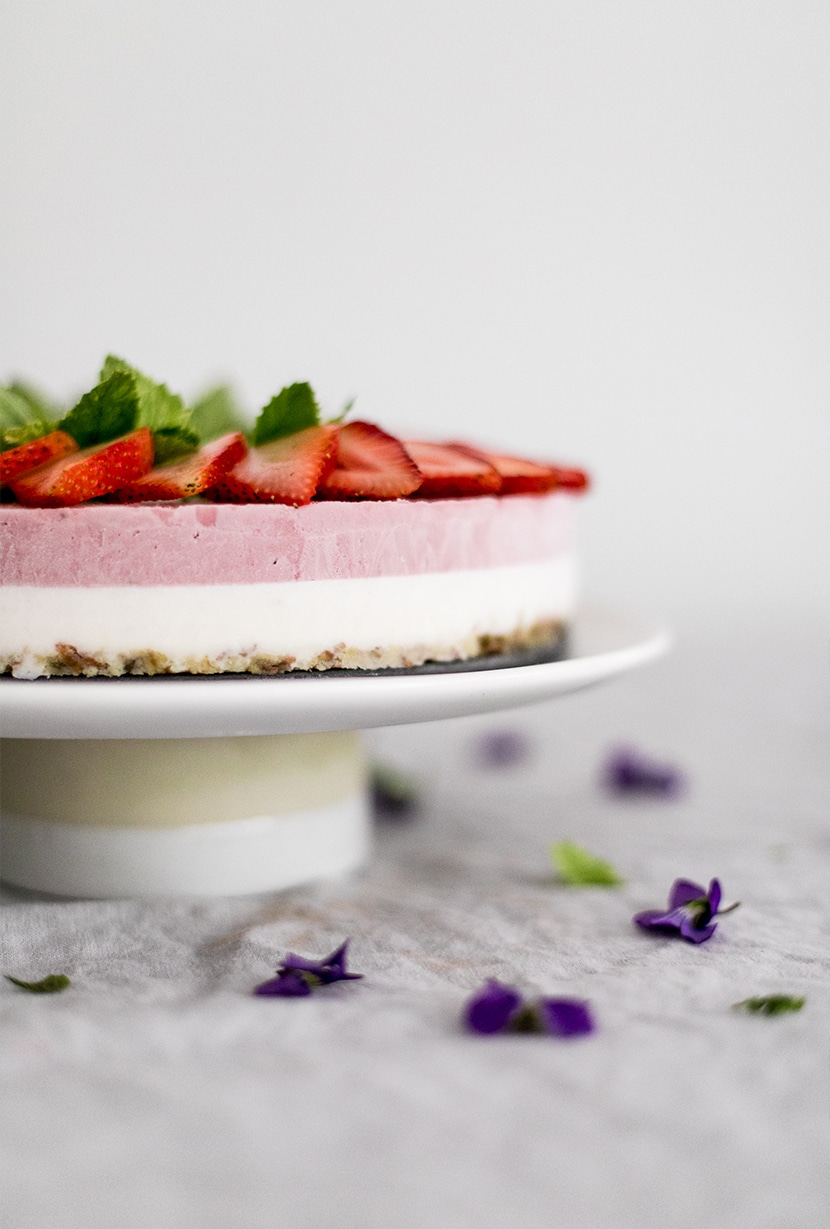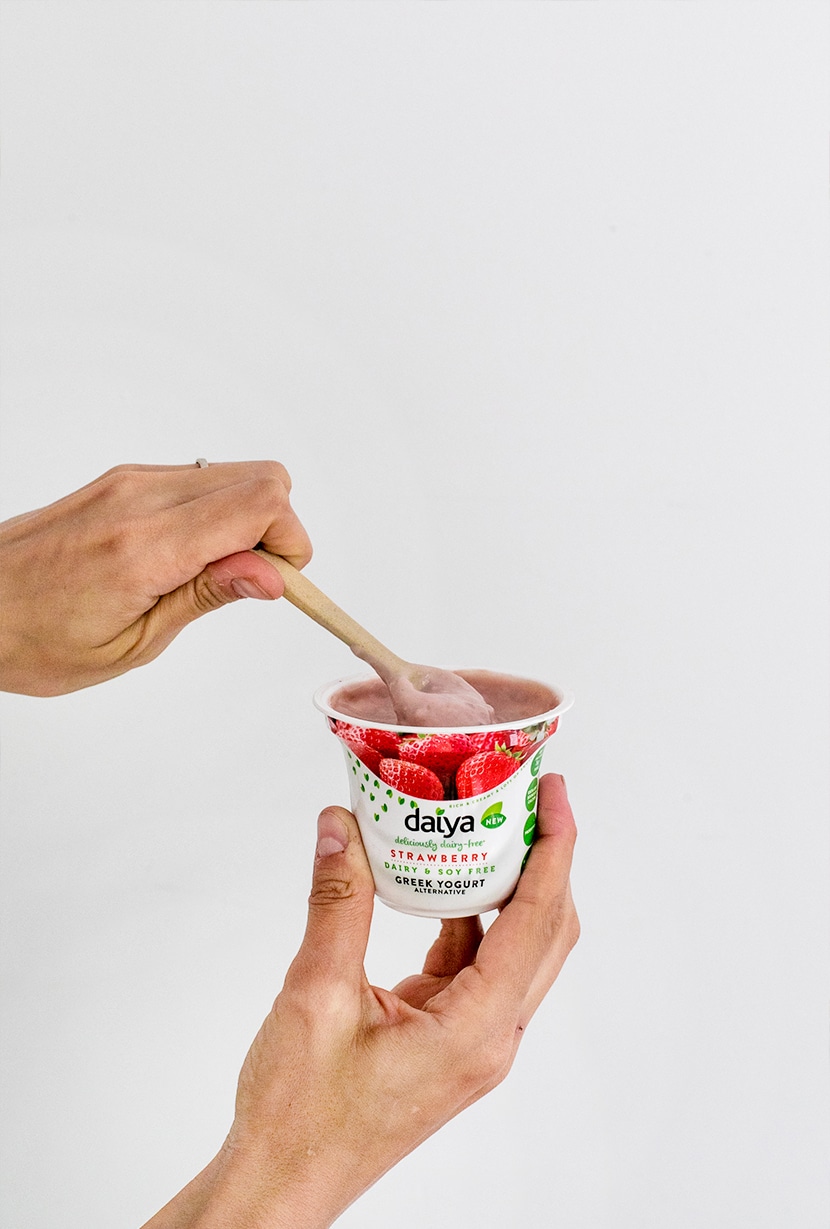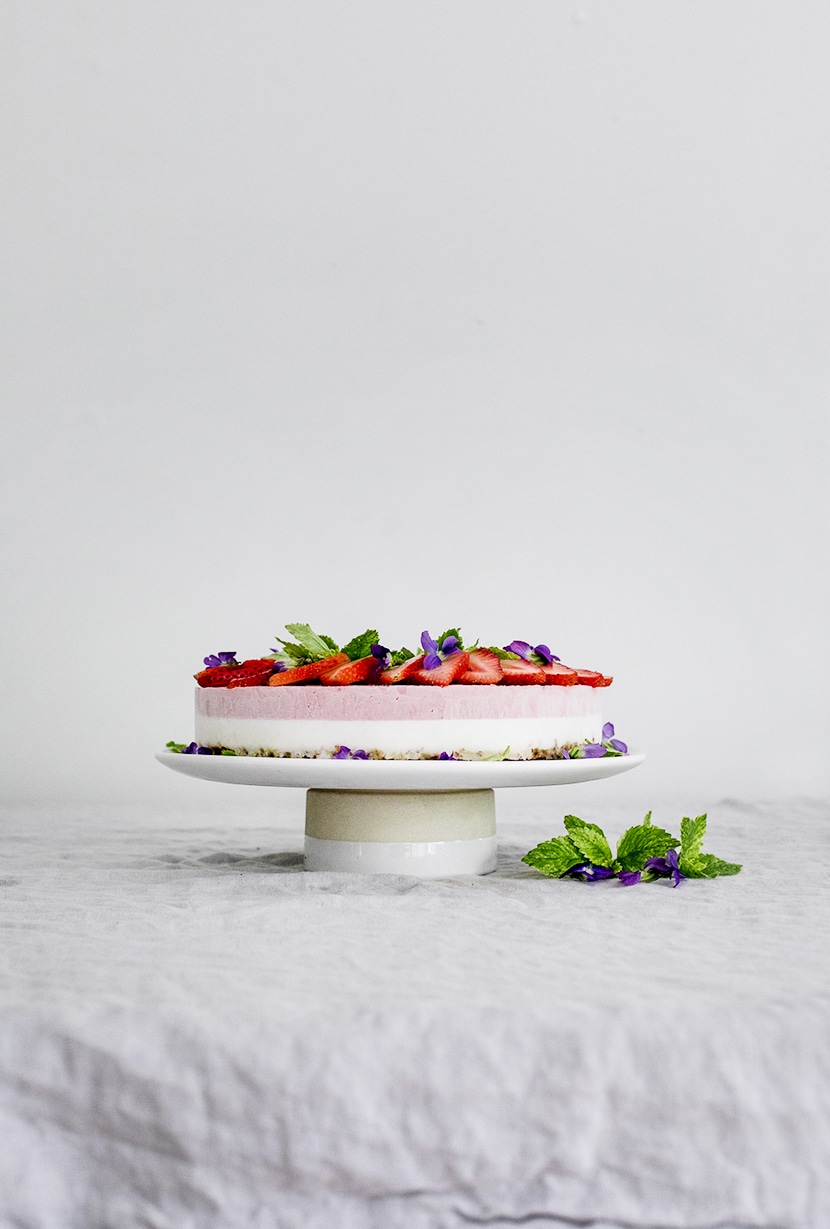 If for any reason you do not have wild violets, you could also use some fresh currants, berries of any kind or some grocery stores do have edible flowers on occasion. Also as a note, never eat anything you have not done research on whether it is edible or not. Only certain flowers are edible so know thy flowers.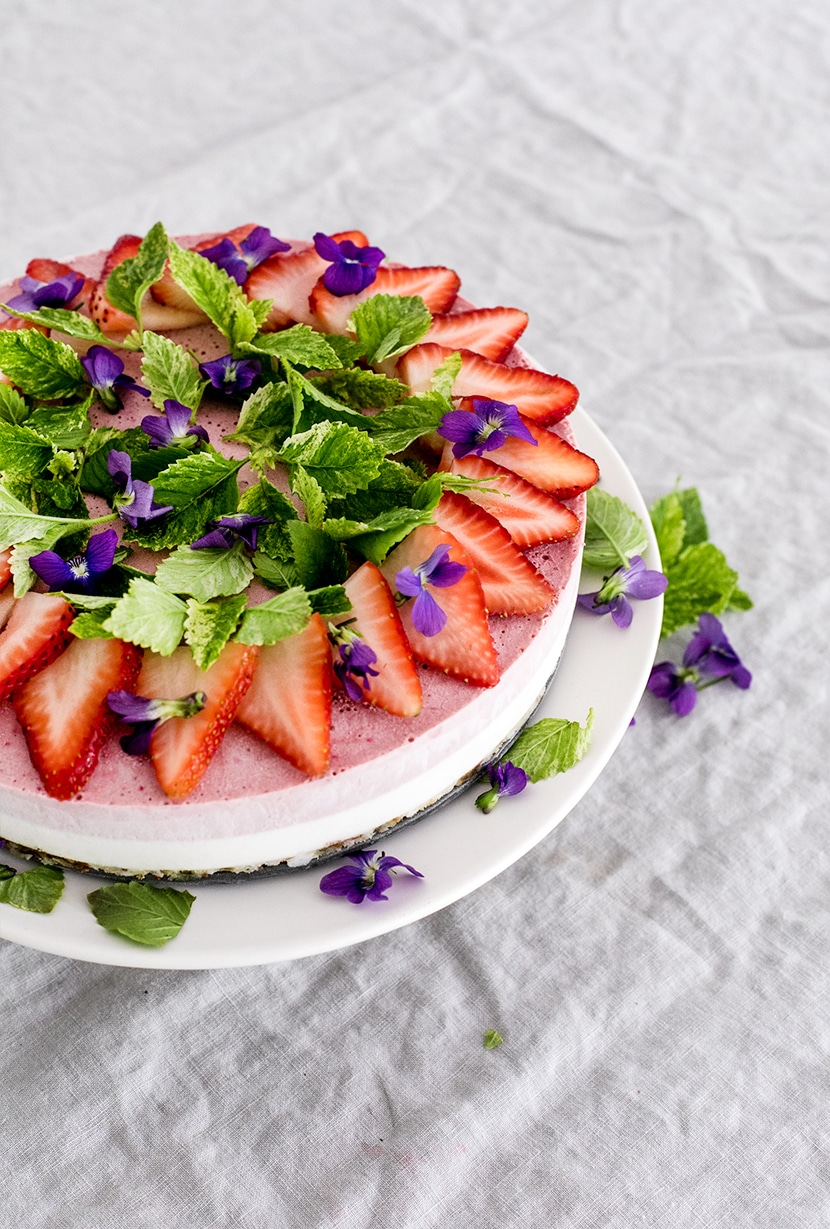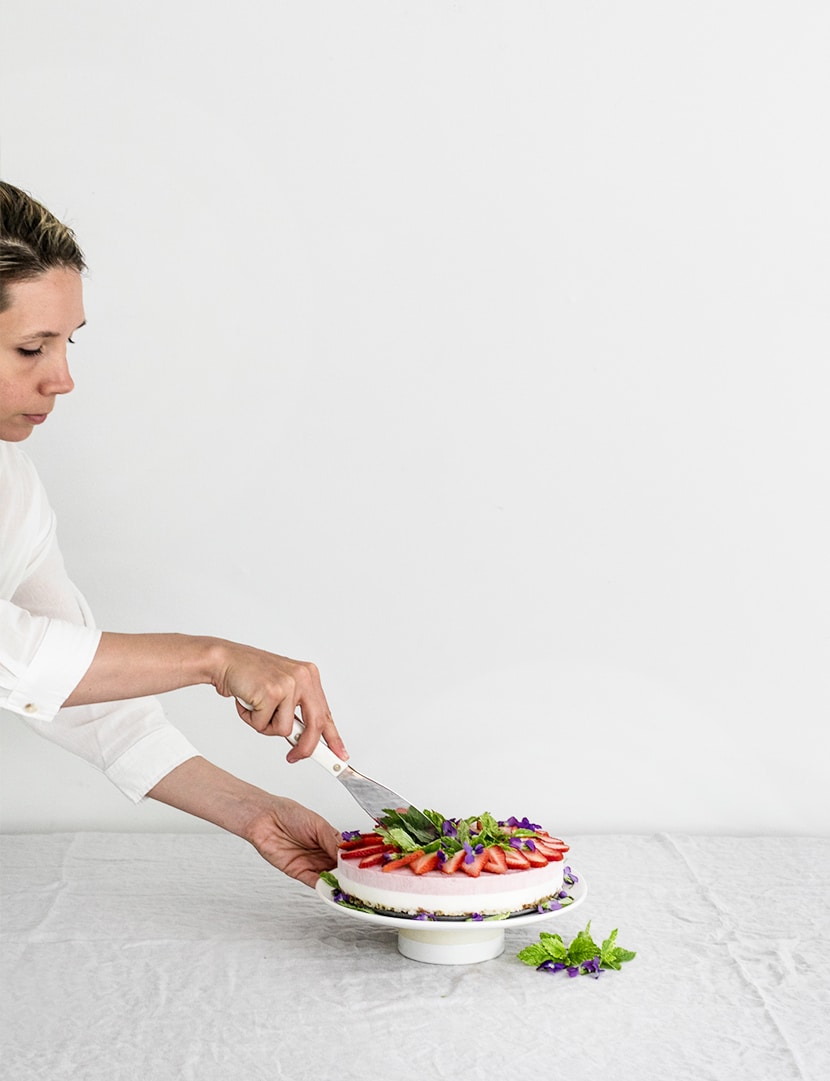 This cake makes a wonderful dessert for kids as well. The Greek Yogurt Alternatives are really yummy and creamy so for kids who may not like dairy or normal yogurt, this is a great dessert for the summer for them. You could also use this same recipe (minus the crust) and make wonderful popsicles as well.
What is your favorite warmer day desserts? I always love a great crisp in the summer and strawberries with shortcake as well as a cool dessert.
This post was in partnership with Daiya. Though compensation was received in exchange for this post, all thoughts and opinions are our own. We give 5% of every sponsored story on The Fresh Exchange to help protect our Great Lakes by giving quarterly to FLOW: For the Love of Water to help maintain and protect the space that inspires us and allows the community we love to thrive. Thank you for supporting the brands that support The Fresh Exchange.