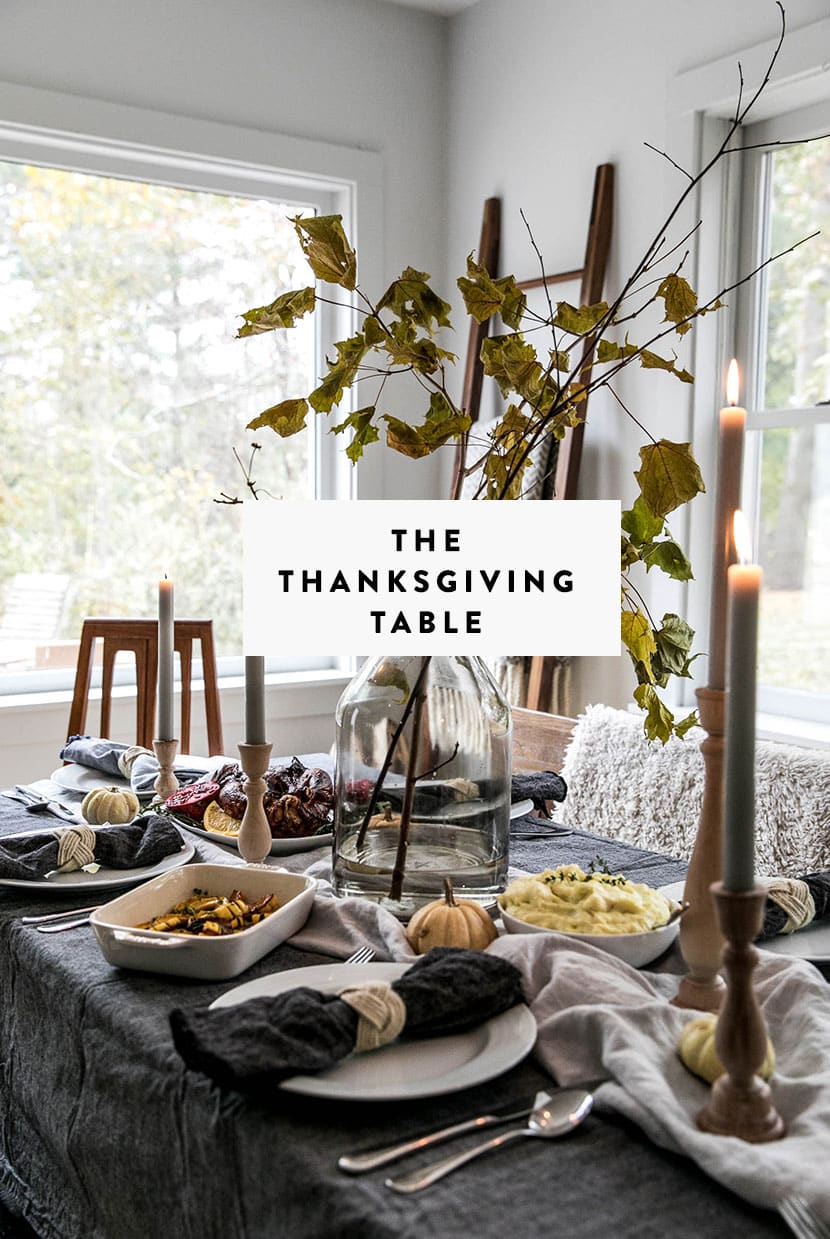 The time has come to gather around the table and it always seems the details of both setting a table and getting the food on the table can be overwhelming, to say the least. I love a great Thanksgiving dinner. I share this week some of my favorite healthy and easy recipes to help you plan your menu, but I had to share a few tips to make it possible to both get the food on the table and to do your own florals.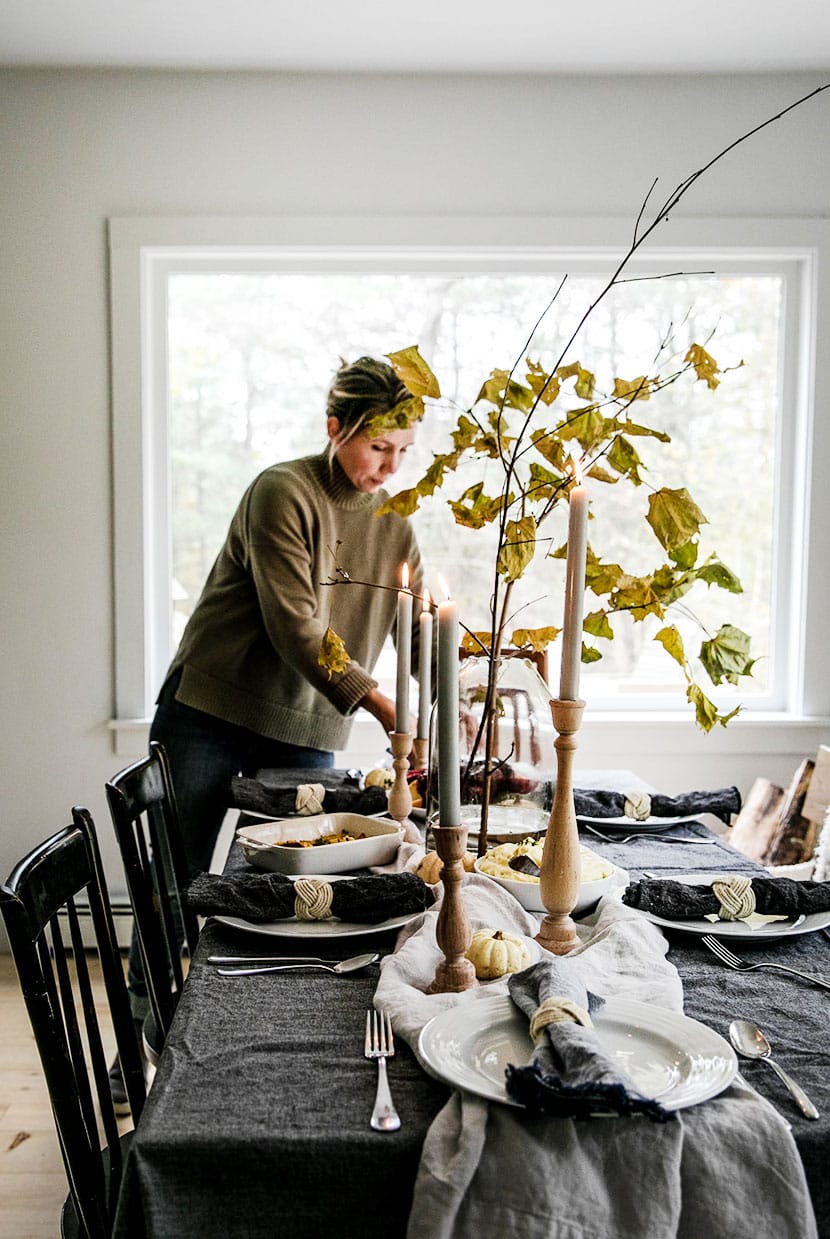 Though I am all about working with your guests to put together your table for a gathering, I know some of you love to create things all on our own. I get it. I am pretty independent and for most shoots, I am often creating things all on my own so I wanted to share just a few tips to make you feel less overwhelmed this next week if you are hosting.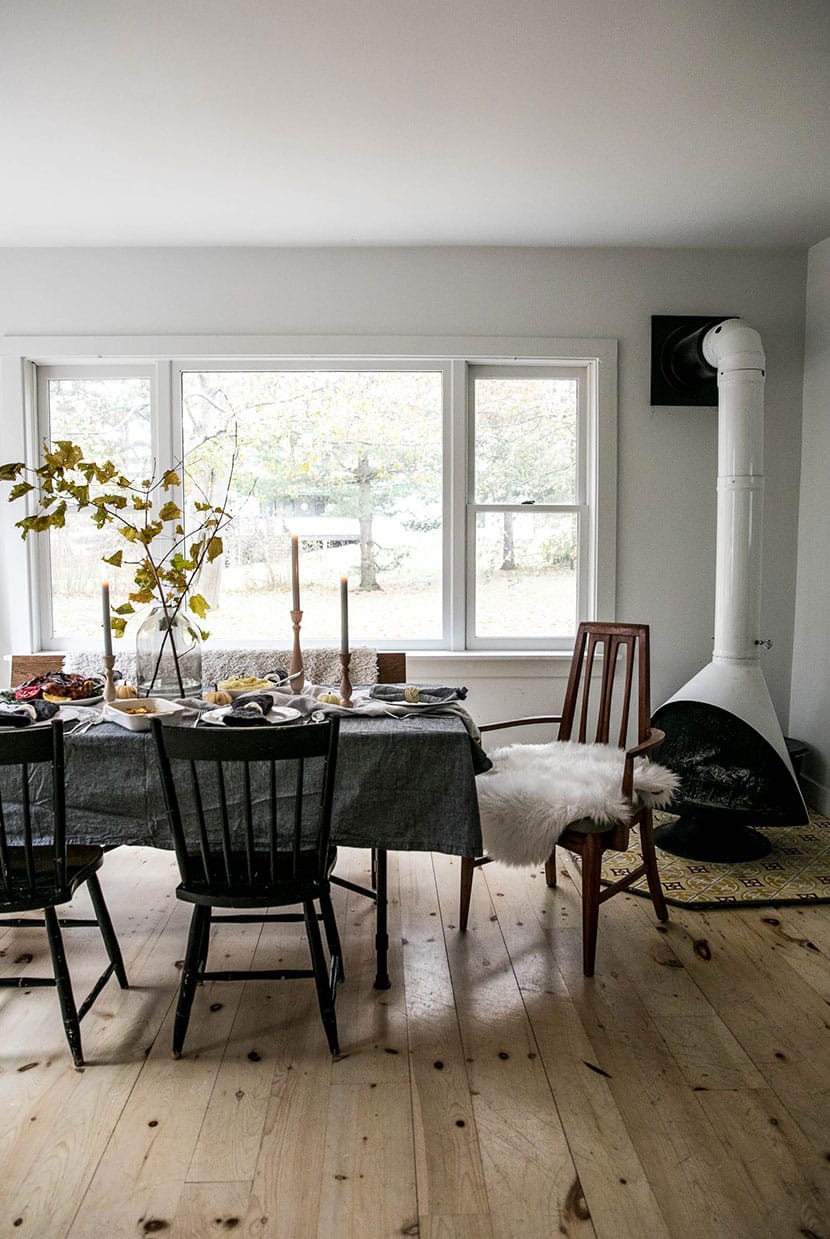 Keep the menu simple:
If I am doing it all either for Thanksgiving or any gathering I keep things very simple. I make sure there are items that can easily be prepped the day before such as mashed potatoes or applesauce or pies. I also find ways to outsource a few things such as bread/kaiser rolls and even cheese platters from local favorite cheese counters. You don't have to go all Martha Stewart with your menu. If you keep things minimal and back to the basics such as roasted veggies and a simple turkey recipe it will be amazing especially if you are using great ingredients. No one will care or even notice.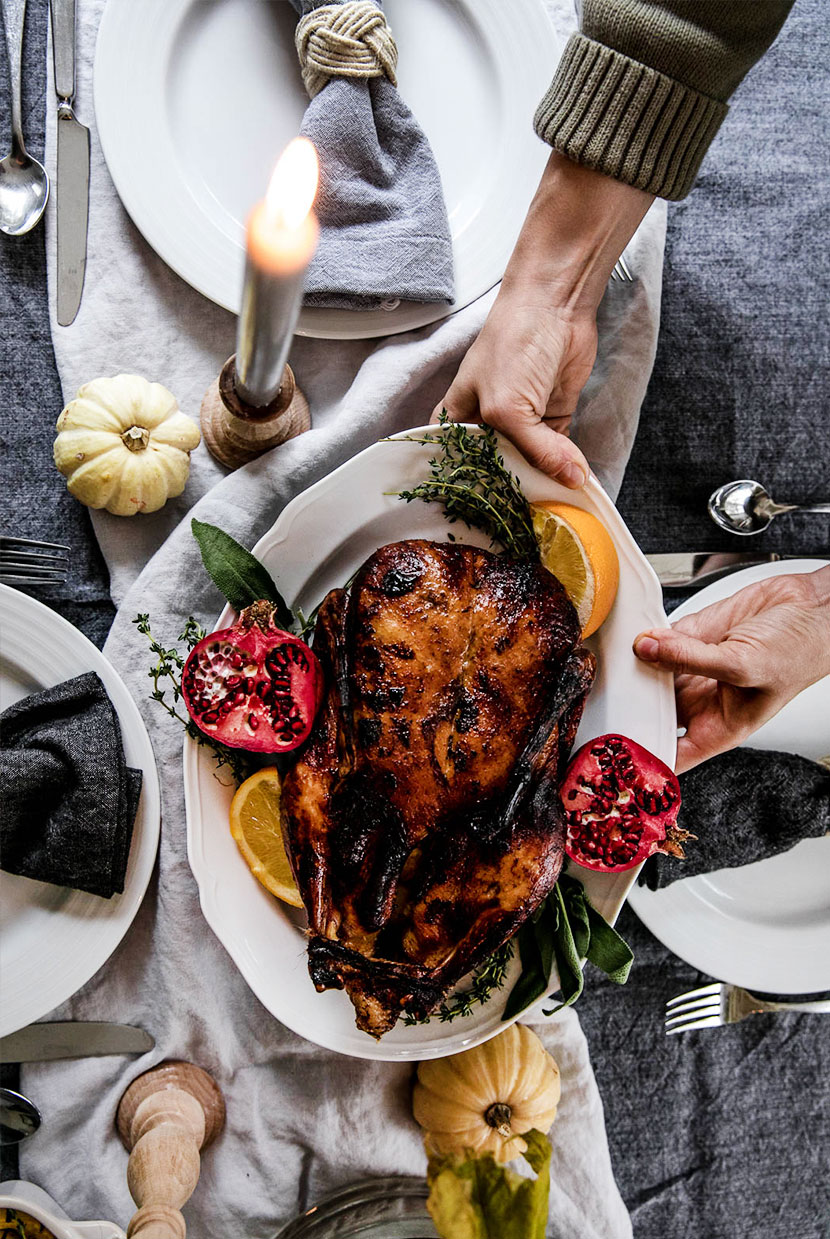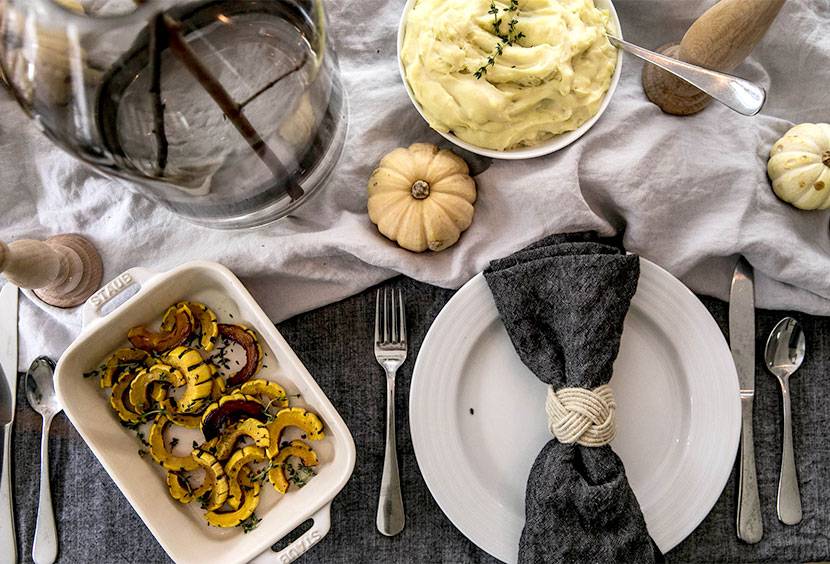 Lower Your Detail work:
If you don't want to spend time steaming because you have a child around who finds the steamer to be the most interesting thing in your home, find ways to keep it out of the mix. Using napkin rings like these will work with most any napkin. Embrace the wrinkles in line dried linen and if you don't want to worry about a runner, gather a second tablecloth in a lighter or darker tone than your main tablecloth. If you don't have two table clothes you would be surprised the power of some extra fabric or a drape can do in these situations. Eliminate name tags and polishing silverware. No one (other than maybe my grandmother and a professional stylist) notices once they are hungry and ready to eat. If you want to iron things you can find some awesome tutorials on doing it while it is on the table, but I honestly feel it is the least of the issues on Thanksgiving day.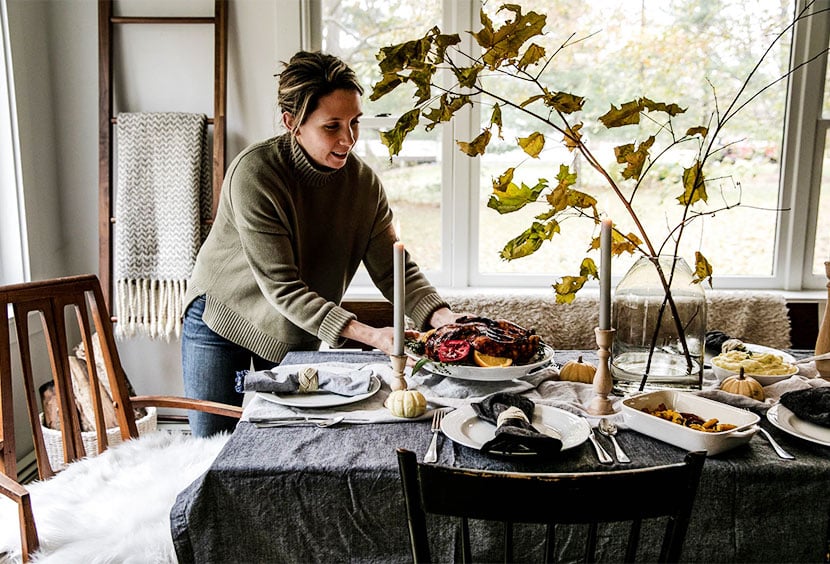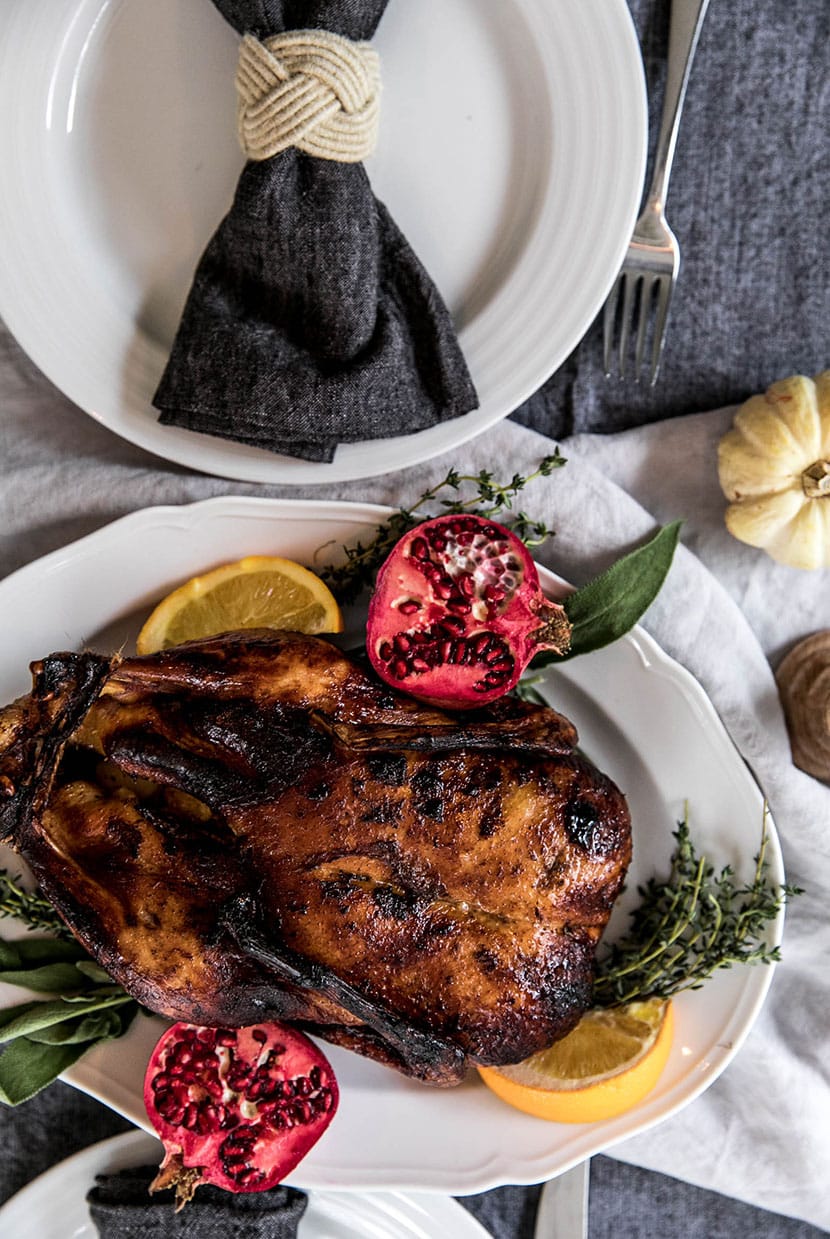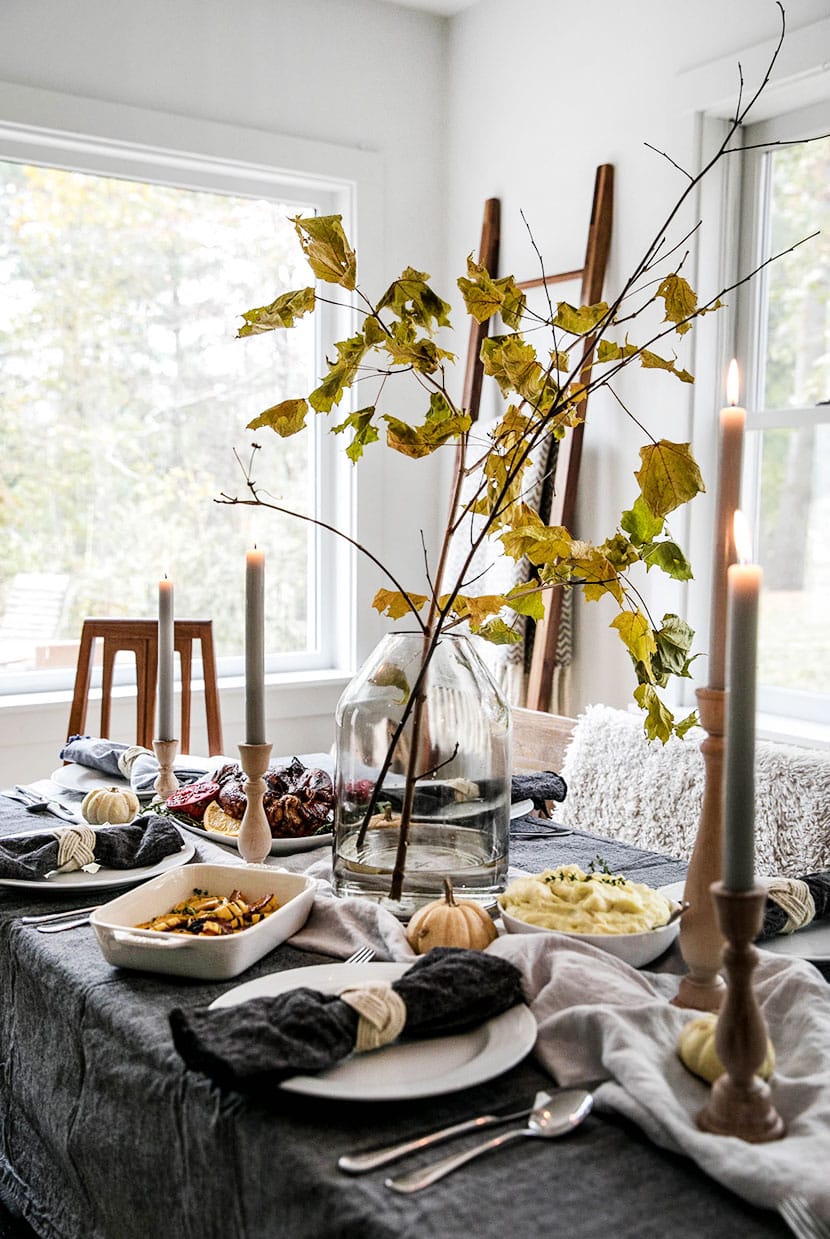 Keep herbs and fresh in-season fruit on hand:
When it comes to placing your dishes on the table it is amazing what some fresh herbs and some fresh citrus and pomegranates can do to a dish you prepped the night before and just warmed in the oven before serving. The fresh herbs will make it look like it happened only an hour before.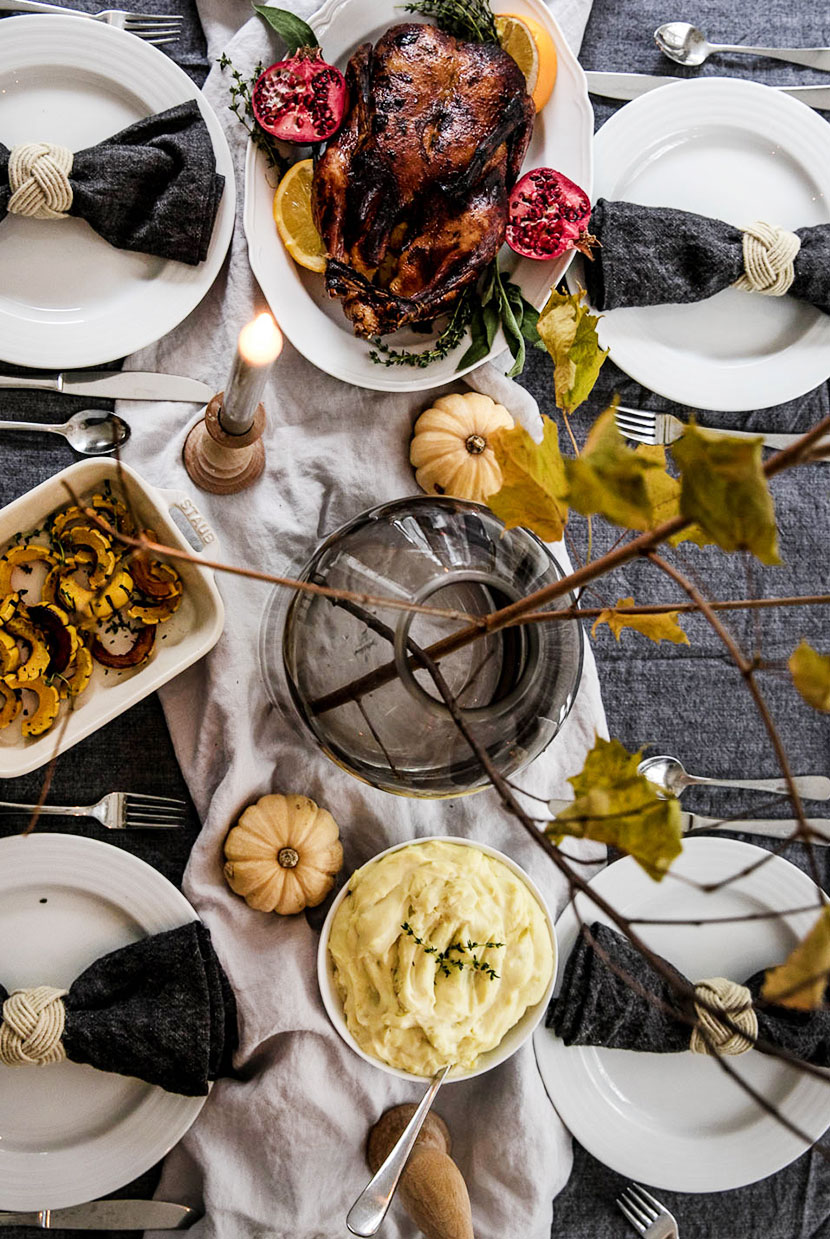 Sticks are your best friend:
Forget going to the floral market or buying an arrangement for your table. Head outside, pick up some sticks (bonus if they have leaves on them) and arrange them in a large vase such as this one. It will be festive and inexpensive. Best part sticks surprisingly style themselves. Just keep your candles away from them of course.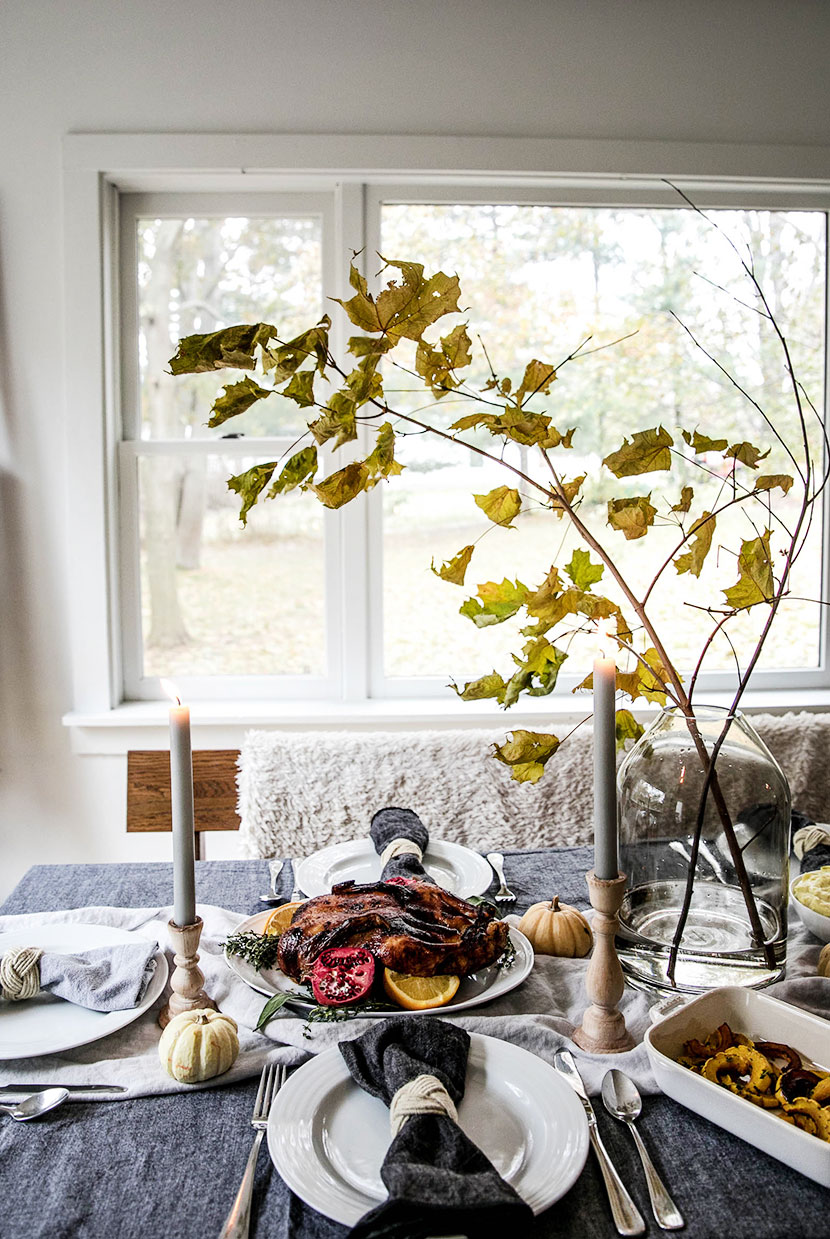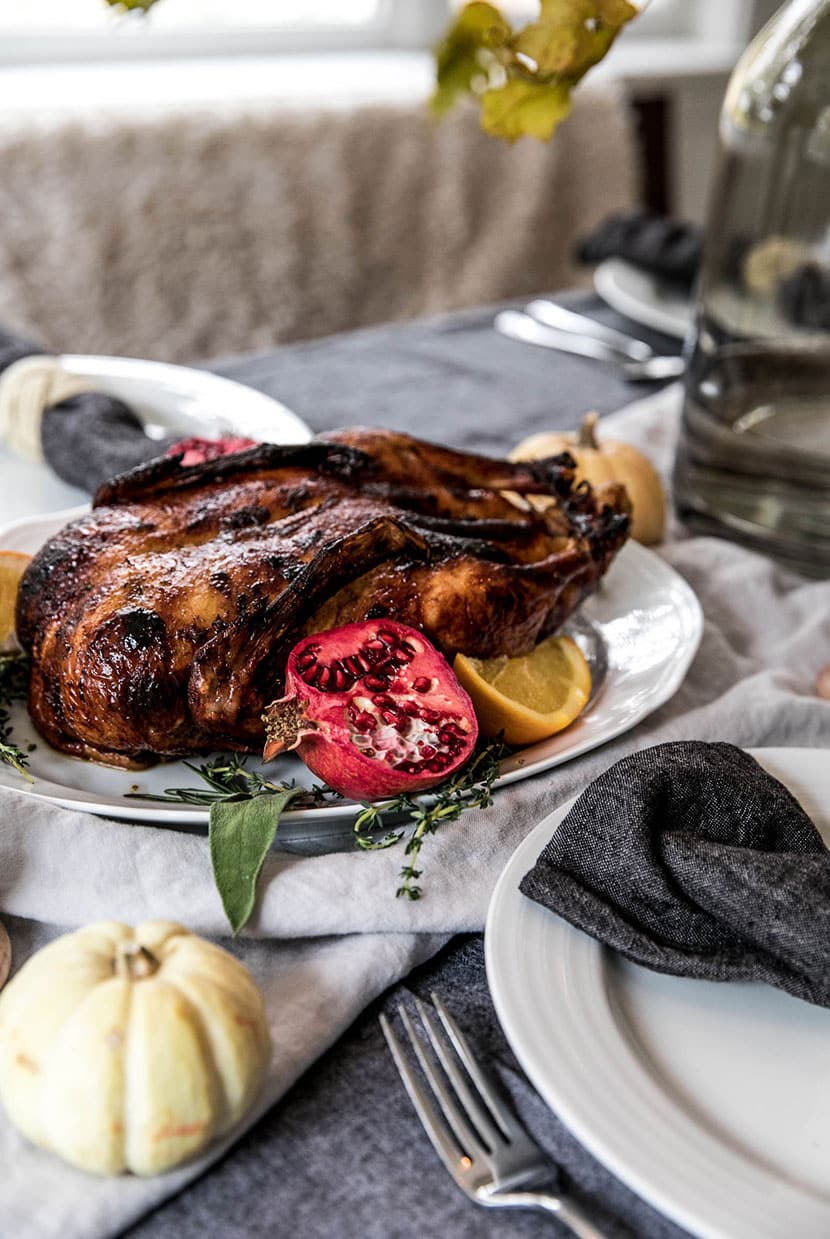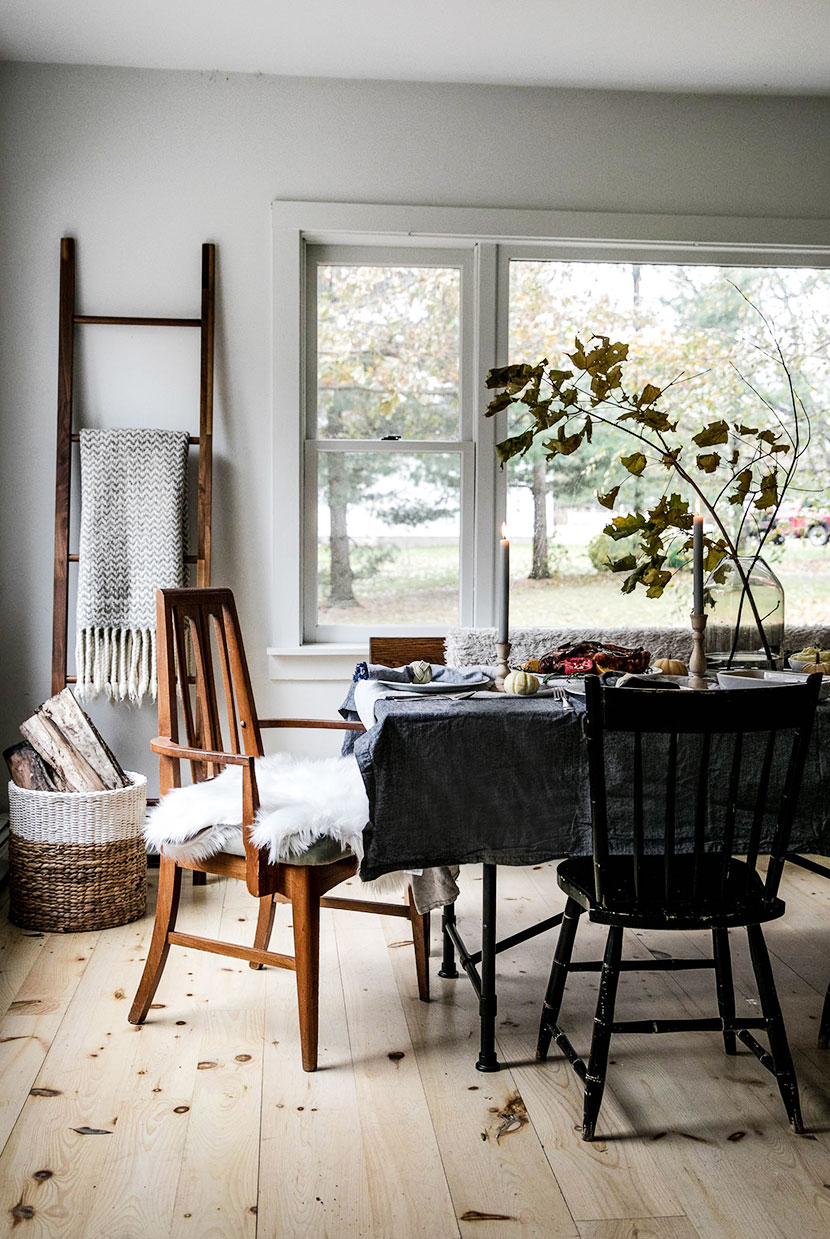 Don't forget the candles:
If there is anything that will make your table feel wonderful and magical it is just a little candlelight. No need for tapers such as this. Collect some small places and drop in some tea lights. It will instantly add such a polished and finished look to your table even if your turkey ends up being drier than you hoped.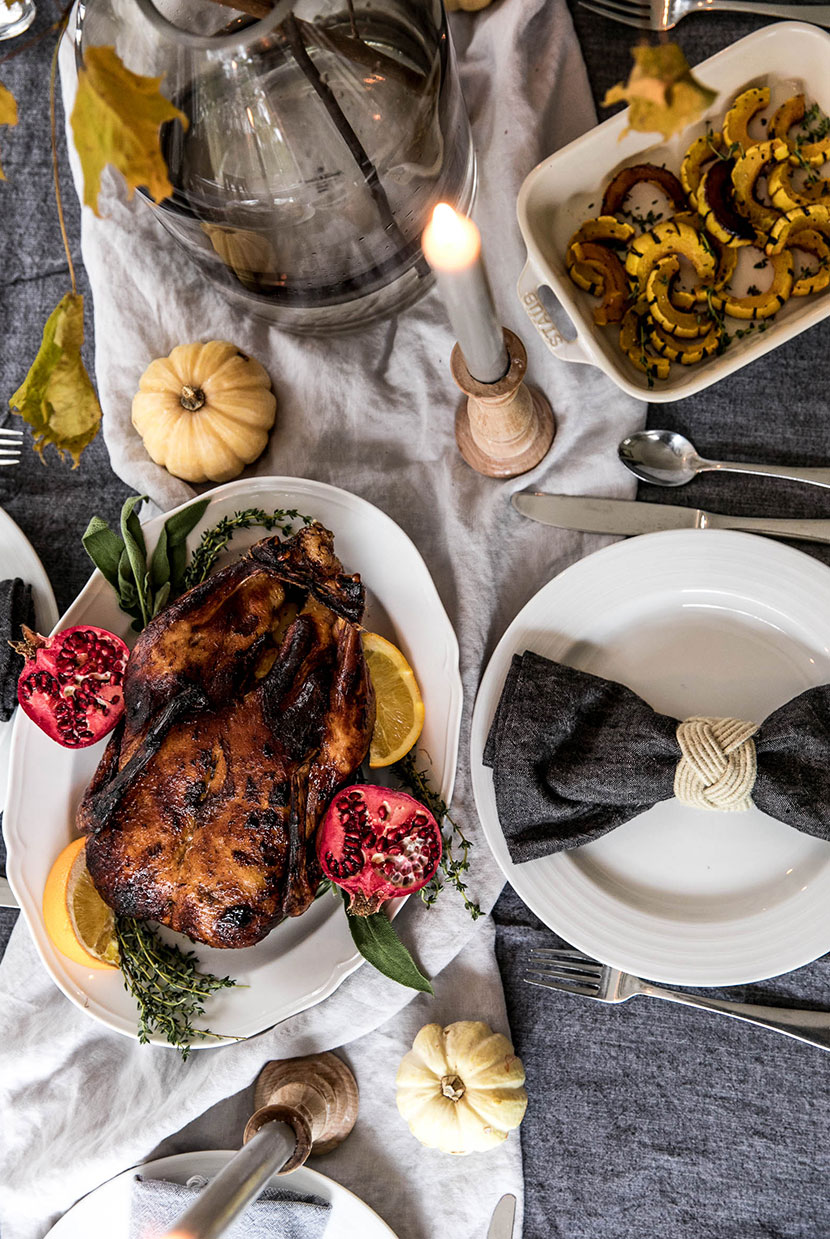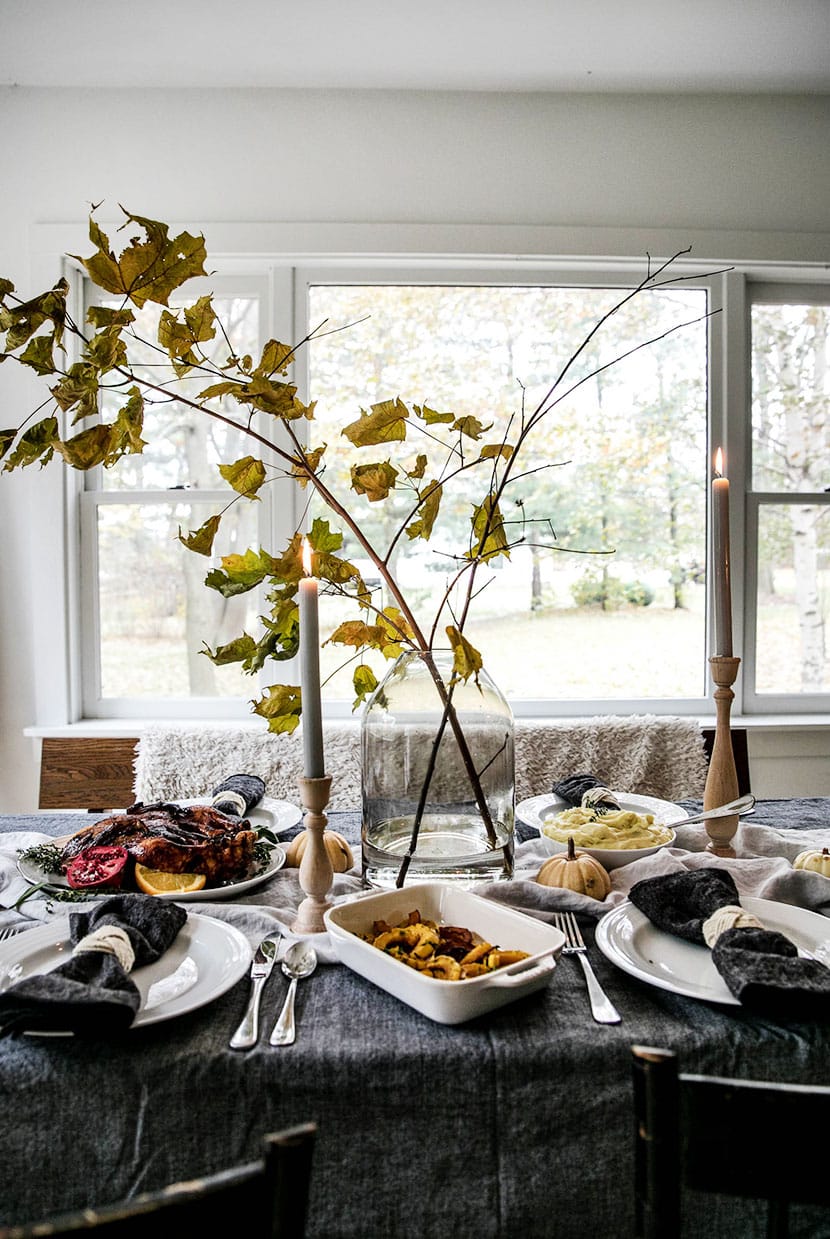 So tell me, what are your tips for getting everything on the table for Thanksgiving? I love hearing how people make things happen on days like Thanksgiving to get everything together.
Get the look:
Chambray Tablecloth | Linen Runner (drape from a thrift store) | White Dishes | Silverware | Vase | Baking Dish | Napkin Rings | Dark Napkins | Fringe Napkins | Faux Furs | Wood Candleholders | Gray Taper Candles