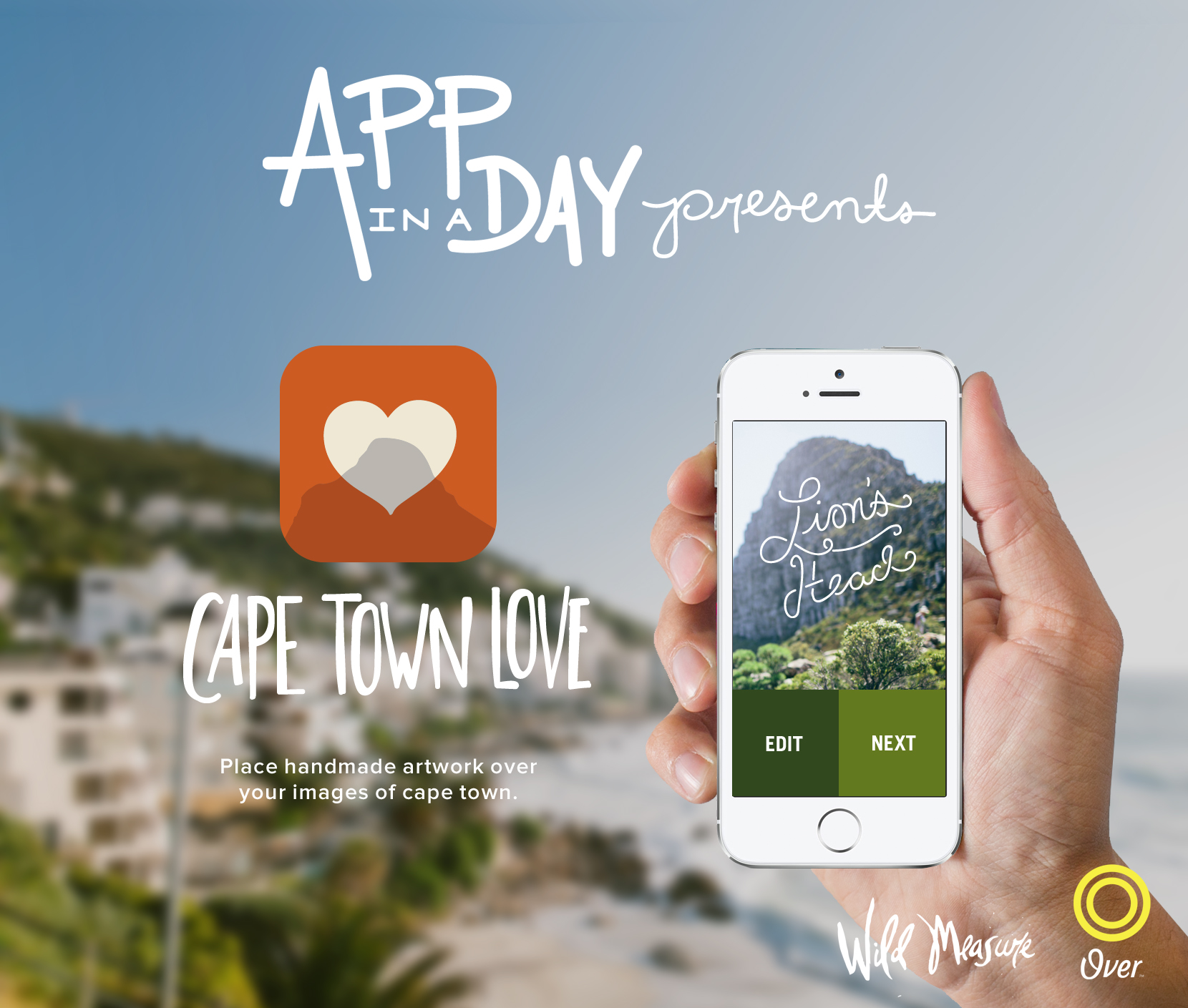 The 24 hours have passed and Cape Town Love, our app in a day, has been submitted to Apple. It has been a wild, fun, inspiring, and draining 24 hours. We have gone nonstop solid since 1 PM Cape Town time yesterday. It has been a night of espresso shots, African beer, random dance parties, break through creative moments, and exhaustion unlike we have ever felt. But it was all worth it to create Cape Town Love. The app was inspired by the city we have been working in for the past 6 days, and we wanted to develop something that did not just offer another pack of graphics, but meant far more. We wanted to find a way to celebrate the Mother City, and to help encourage people to discover the beauty that we have found in this place.
When we, Wild Measure & Over, first talked about the idea of concepting, designing, and from the ground up coding an iPhone app in 24 hours, we weren't sure if it was possible or if anyone else had ever done it. As far as we knew, we were the first! A Wild Measure for sure! I am a strong believer in challenging yourself, and this was a challenge. If you want to create your own app from scratch as well, with online resources and perhaps with the utilization of this tool, you'll be able to code in an organized way.
Because of the challenge, we not only learned something about our own respective workflows, but have also learned more about each other as creatives. Personally, I have discovered about a dozen new styles to my own hand lettering that I did not know existed until I created more than 50 phrases and graphics all within the last 24 hours, for this app.
This was a huge collaborative effort with both the Wild Measure creative team and the Over team from all around the world. We each played a part in making this happen, and it feels really good to see it completed and looking even better than any of us had imagined it would look when we first set our computers on this table to begin.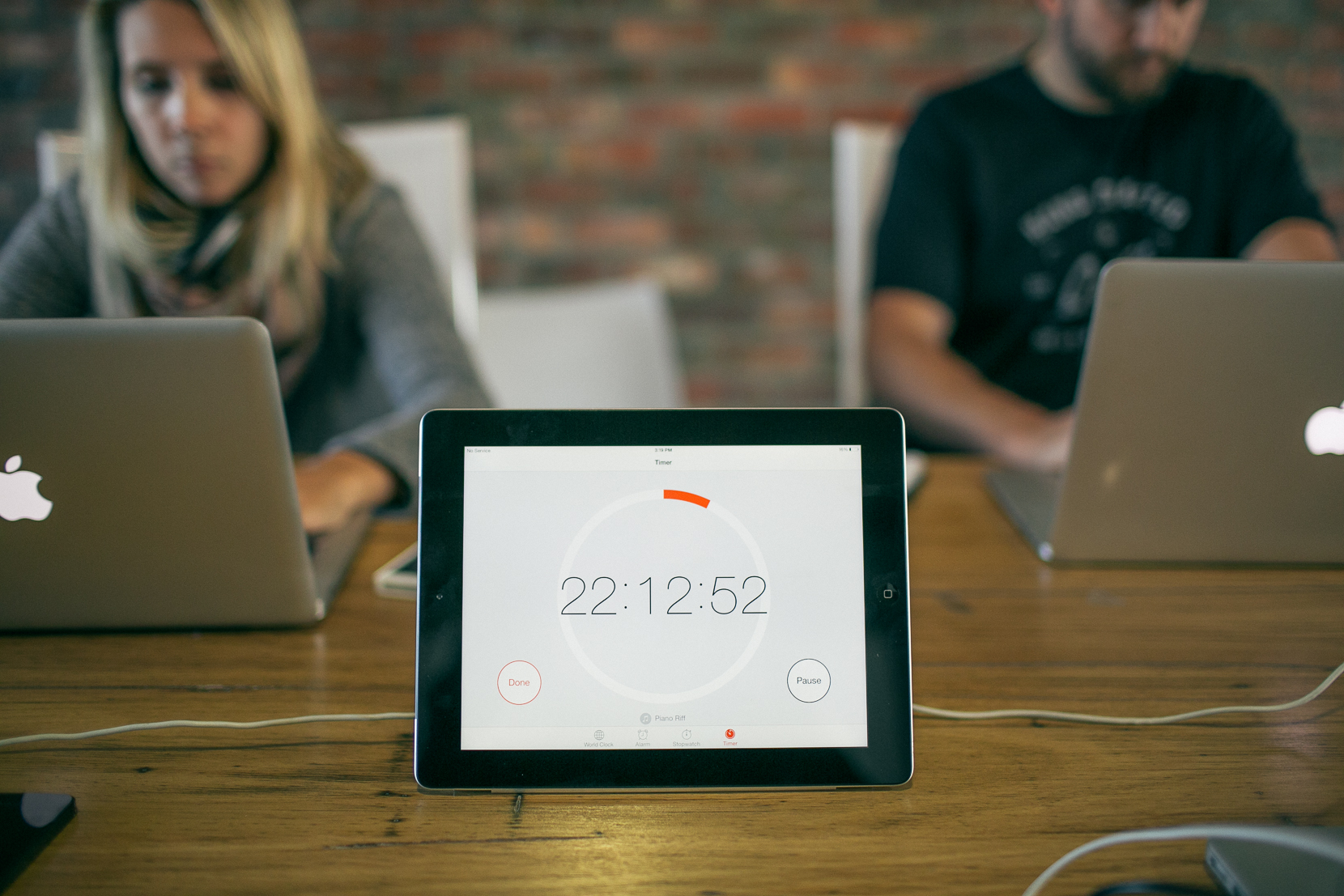 So here is how it began: we set the clock for 24 hours, then went for it. We didn't have a name or direction; we just knew we wanted to do an app that utilized some of the core functionality of Over while inspiring people to explore the amazing places we had just experienced in Cape Town. So we gathered some images and built a color scheme off of the landscape surrounding us. We then brainstormed a name and icon look for the app.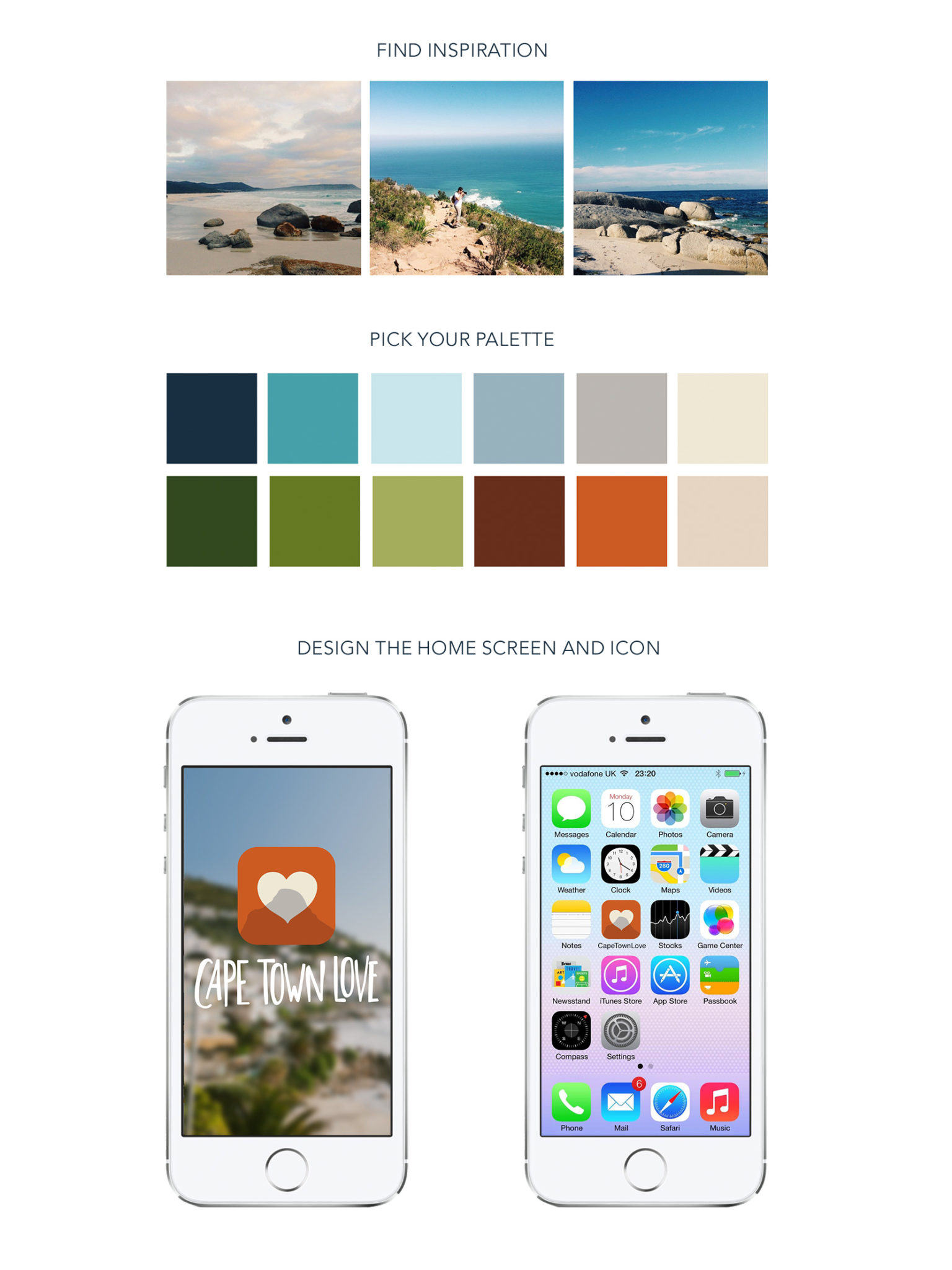 After we came up with a solid name and icon, Megan got to work illustrating the places and things that would inspire people to explore this amazing city. Check out what she created, below!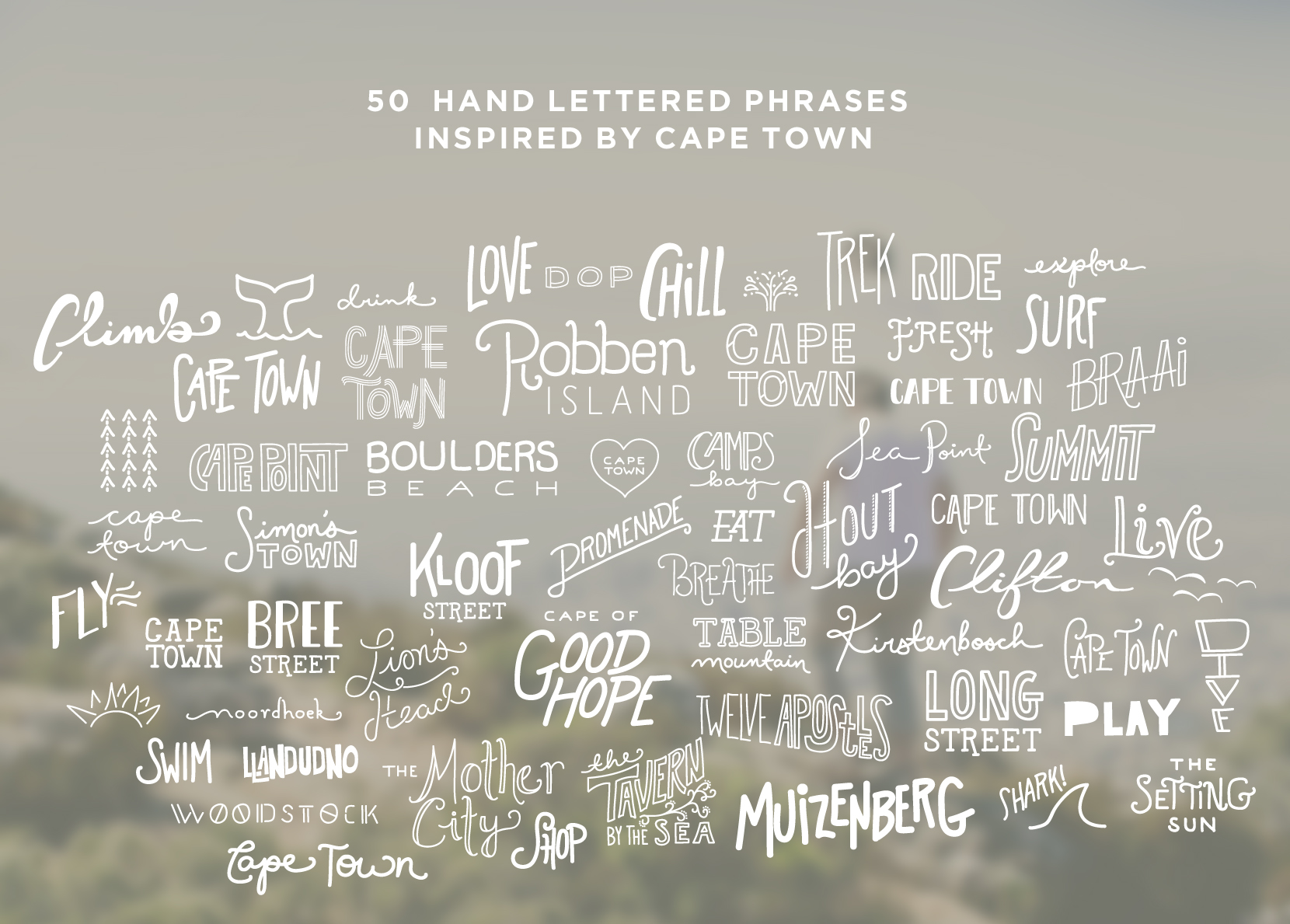 As we were working on the branding and illustration work, the Over team went to work on the UI flow. Aaron and Jeff blew our minds with the speed and creativity it took to come up with the app. They started out trying to simplify, then simplifying farther, until we got to the beautifully simple flow you see below.
It was an amazing effort to see all of this come together. From sunrise to sunset we were amazed to see this city move, sleep, and wake.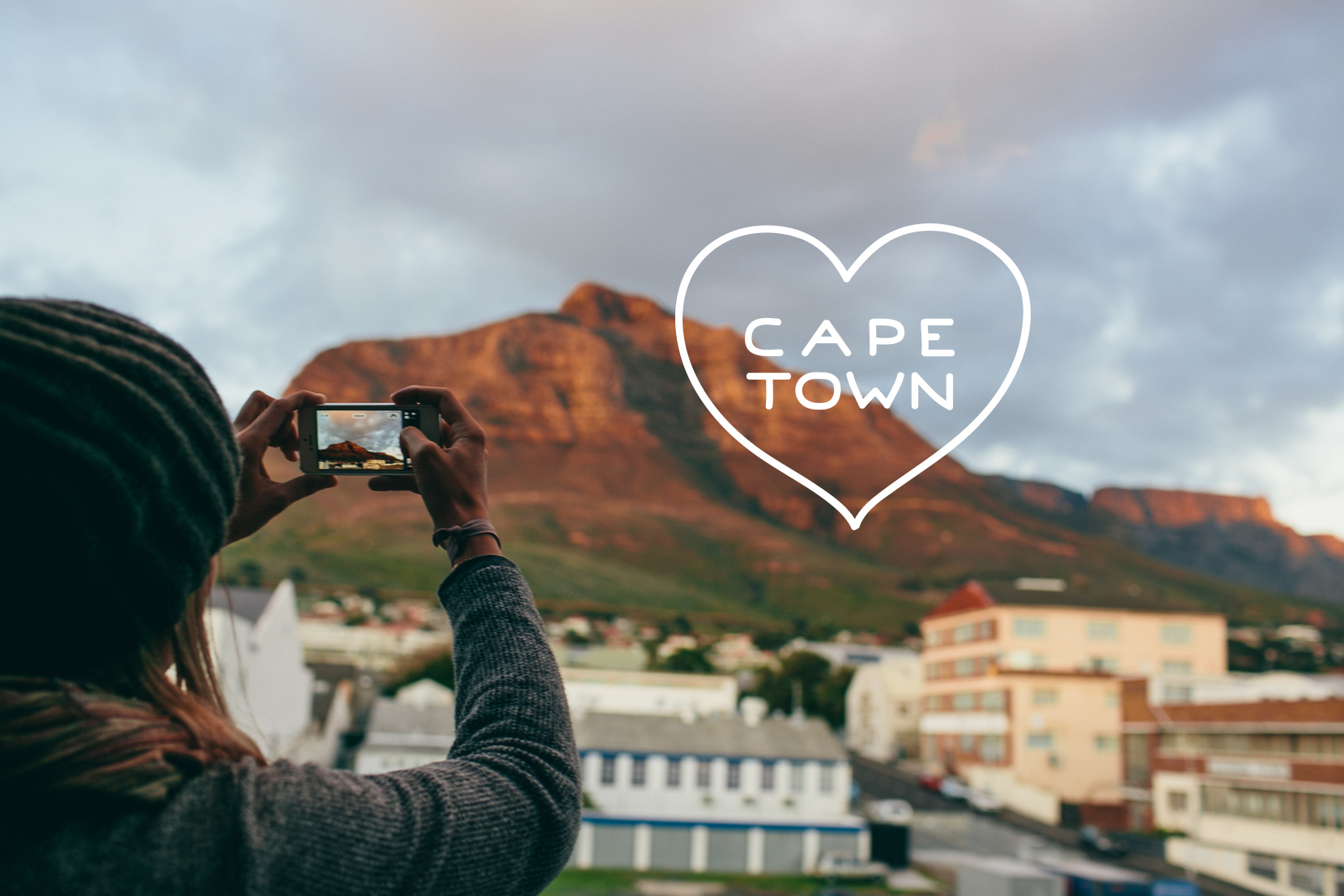 You can download Cape Town Love for free in the coming weeks and use it in a simple, yet beautiful way to help you explore, discover new things, and experience Cape Town for the beautiful and inspiring place that it is. The graphics Megan made reflect places we suggest visiting and experiencing for yourself. We expressed our creative inspiration in Paris through photos and type, and here we have done something similar with Cape Town. We took that idea to the next level by developing a way for you all to use this app and artwork daily should you live in the Cape Town area, or to help you discover Cape Town for the first time if you travel here.
It has been an amazing and crazy whirlwind to brand, hand letter, develop, name, market, and build a new app simply as a reflection of the city that has inspired us because of how alive and full of innovation and fresh design we are, and because of the high quality of life we've seen nestled amongst probably the most beautiful and unique landscape in the world.
As soon as the app is live in the App Store, we will let you know. If you would like to get an email when it is live, sign up here.
Thanks again to Over and their amazing team for dreaming big with us and being more than willing to take a Wild Measure with us.