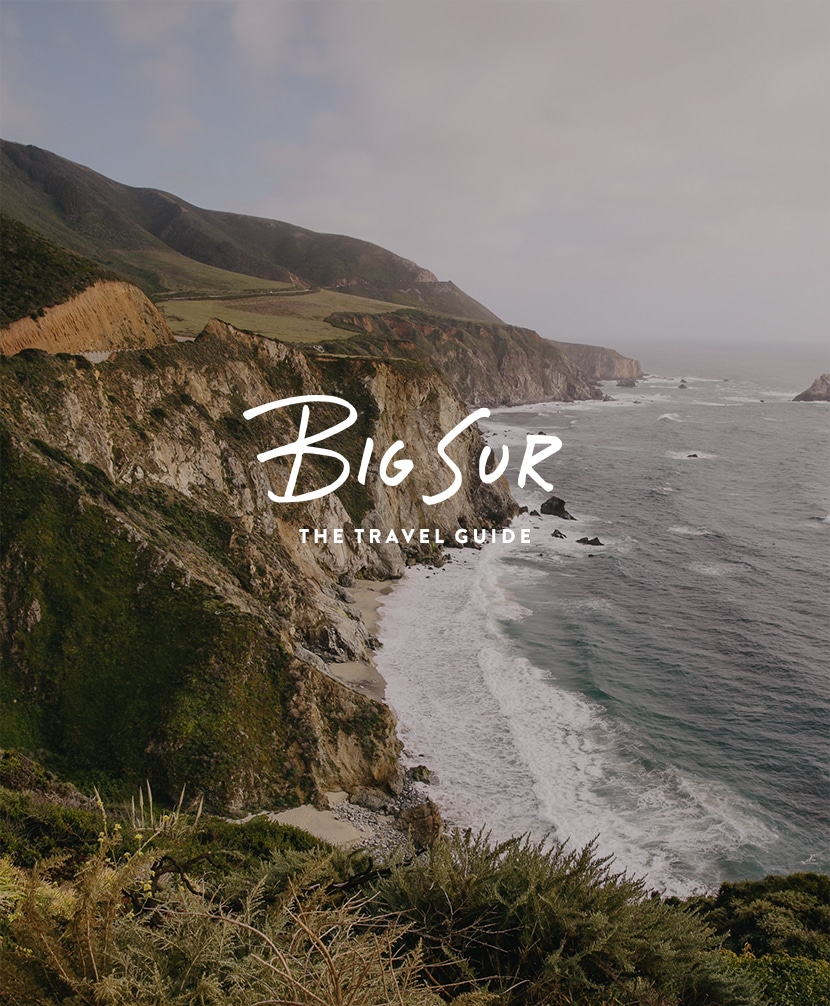 As promised, we have gathered all our must-do things in Big Sur, California into our "Big Sur Travel Guide". You already saw our trip in this post and in this post, but today we are sharing a list of the places we hit, didn't hit, and wish we had hit. Some of these came from our own research and some off of recommendations from other followers, readers, and friends. If you have a favorite that isn't on the list, add it in the comments below. We would love for any frequent travelers to add their thoughts and experience, as well, so everyone can truly have an amazing time traveling this precious area of our country. So let's dig in.

Eat:
Ventana Inn: The food is outstanding. Eat on the patio for dinner and have perfect ocean views around fire pits and heat lamps. It is truly a must visit for a nice meal one night or a breakfast early in the morning.
Deetjan's: The portions are huge. The fires are warm. The coffee is classic. Everything is outstanding and it is so quaint and classically Big Sur. Suggest the mimosas, coffee, and pancakes.
Treebones Resort: There are very few spots on the south end of Highway 1 to grab food, but this one is worth the extra curves down the road. Don't miss the sushi which is served between 4 and 6pm daily. If you miss it, they have beers and sandwiches and are awesome to any weary traveler.
Big Sur Bakery: Whatever you are looking for they have it. Order your lunch or breakfast at the counter and find a seat out on the patio or inside. A friendly little establishment with great baked goods.
Nepenthe: A great lunch or dinner stop just up from Deetjen's. Some of the best views from a restaurant in Big Sur. The food is great for you and has all the vibes of Big Sur you can imagine.

Glamping/Hotel:
Ventana Inn: On the expensive side, but it is gorgeous, catered to a luxurious crowd, and the morning breakfast is great! We stayed here for a couple nights and loved the option of for the spa experience and Japanese baths.
Treebones Resort: You name the type of experience you want to have and I am going to bet you that Treebones has it. From ocean-view yurts to human nests. You can have an amazing outdoor or indoors sleeping experience on the most beautiful coast in the country.
Deetjan's Big Sur Inn: Didn't get to stay here but if you can book ahead, you should.
Glenoaks Big Sur: If you are looking for a place to stay right on the highway for easy access to all the Big Sur draws this is a good one. Modern and clean little hotel off the road.

Camp:
Pfeiffer State Park: A classic campground with amazing trails and beach access. It is the mini Yosemite some call it. $30 a site it is fairly reasonable for campsites in Big Sur. They have fire pits, bathrooms, and you can wake up smelling Redwood trees, what more could you want.
Limekiln Park: Sleep right by the beach and then hike up to the most amazing falls! It is a small camping area, but really neat.
Kirk Creek Campground: Book ahead of time for sure! This small camping area has great views
Plasket Creek: A small campground just down the road from Kirk Campground that if you cannot get in there, this is a great alternative.
Riverside Campground: Rent a cabin or a riverside campsite on the Big Sur River. A really cozy and family oriented campground.
Big Sur Campground and Cabins: Rent an eco-cabin or a campsite. It is a great place. Plan to pay a little more than you will at a state park though.
Roadside camping: Yeah that's right. There are places all over where you will see people pulling over, parking, and sleeping each night. Claim your spot and setup camp before sunset to get a really good one. The one rule, no camping on Highway 1. You will see people do it, but online it is pretty clear you cannot. We camped off of side roads. You will see some of these places off Highway 1. You can ask locals for suggestions as well.  Check your map and see where they lead first and don't push your car to go up wet or steep roads it shouldn't. Be smart!

Get Lost:
Tide Pools In Monterey: I could have spent hours here. Stop at low tide and you will find many micro-ecosystems all along the coast in Monterey. It is so fun and the colors of the sea life are inspiring.
Old Coast Road: If you have all wheel drive and it has been dry make a point to drive this road. Still one of our favorite 45 minute drives through the hills we took
Sand Dollar Beach: Didn't make it here because of how cold it was, but this beach is beautiful. On a warm day take a surfing lesson.
Point Lobos: Located in Carmel, this place is pretty special and the colors of the water will blow you away. Take your time and take it in.
Garrapata State Park: Hike through the layers of succulents above the cliffs and then head to the beach to experience the coves and wander the beach for as long as you desire.

Hike:
Andrew Molera State Park Hiking Trails: Tons of trails that lead to the beach, falls, cabins, and other beautiful things in the area. Choose a path and you shouldn't be disappointed.
Julia Pfeiffer State Park: On the opposite side of the road from Mcway Falls, there are tons of trails that lead to beautiful views of the coast.
Pfeiffer State Park: Take in the Redwoods at this park. Take trails down to the water or up into the hills. So much to explore the options are nearly endless.
Partington Cove Trail: A nice hike off the coastal drive that is a great break from driving.

Adventures:
Molera Big Sur Horseback Riding Tours: You saw our adventures riding horses in our first Big Sur post. This is the place we went to and rode from. They do a really great job.
Kayaking in Pebble Beach: If you want the sea otter experience and the possibility of seeing a whale spout even, check out this awesome company for a good adventure in Monterey or Carmel.

Don't Miss:
Bixby Bridge: Its classic. It's the shot you have to get for your Instagram. Let's just say it. You won't miss it and it will be one of the busiest stops on the road.
Pfeiffer State Park Beach: The beach is gorgeous. The mist at sunset from the ocean is otherworldly. This is a must that I wish I hadn't missed it.
McWay Falls: The Fall is small, but gosh the water. It is something you will only see and experience in Big Sur. Even if you cannot get down to it, you can still soak up the beauty of it all.
Limekiln State Park Falls: Another one we missed and I wish we hadn't. Head up the trail and see some of the most amazing streaming water. It is really amazing on a good day.
Lastly, don't miss our essential playlist for the road. Download it into your Spotify so you have it even if you lose service.