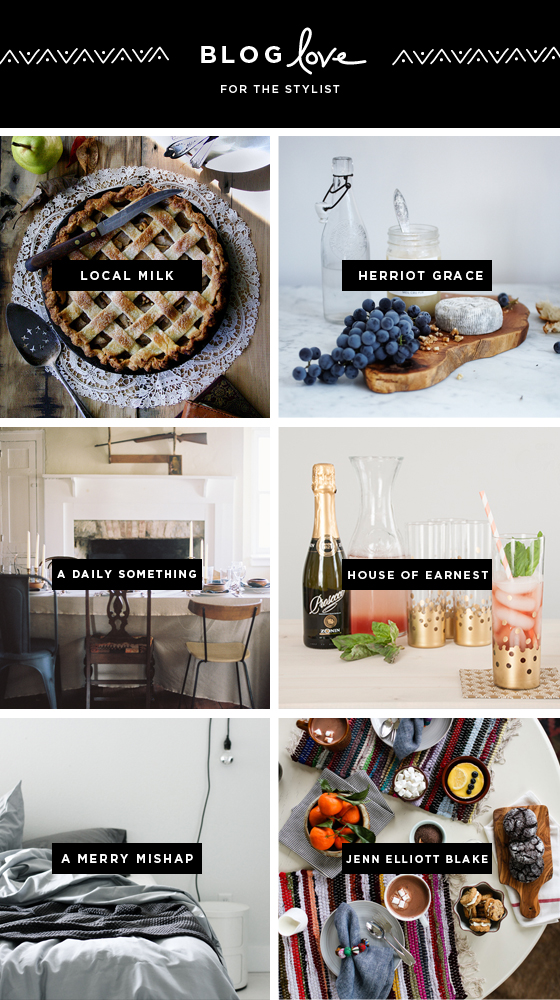 Let's be honest and straight I am no stylist and I want to share more on this with you all but I have a thing for bloggers who are either stylists or just hella good at making things feel effortlessly pretty. Yes it may feel slightly contrived to see the perfectly undone bedroom or a meal that feels like nothing you may only see at a restaurant but I like all that prettyness. To me those things say that someone cares thoroughly about aesthetics and the beauty of how things work within the frame of an image and I wan to pin the you know what out of that. So for all of you looking for more of that in your life or really want to know who can set a table well this is your list. These are the ladies who will inspire you for your next dinner party, cocktail hour, lazy afternoon, or anything in between and how to make perfectly pretty with ease.
1. Local Milk: I found Beth from Pinterest actually and I began following her and since then have been obsessed, but one day I got curious and clicked through to her blog and now I am a big fan of her work with food and how effortlessly styled it is all the time. She is a great curator and knows how to make things perfectly pretty in the most down to earth ways. Every posts is gorgeous.
2. Herriot Grace: For many of you this is not new to you, but I had to share Nikole's work. Her styling for the Herriot Grace shop as well as her blog full of great pies and pretty meals is everything I love in a blog. The content is originally, written poetically, and really well put together. I have been reading this one since I began reading blogs nearly 4 years ago and it has continually become more and more beautiful.
3. A Daily Something: Rebecca is majorly talented. Her daily posts have always been some of my favorites and she seems to have the sweetest life just miles outside of NYC on a farm. I love it and her current baby bump. Her dinner parties, table tops, and DIYS are some of my favorite. If I could choose only a few blogs to read weekly this one would be one of them. She does amazing work.
4. House of Earnest: Erin is one of the sweetest things and she packs a serious style punch. She makes her farmhouse in Columbus, Ohio look so beautiful and her DIYS are practical, simple, and applicable. Not to mention every time she posts about a dinner party I want to join because they look so gorgeous and well lit. If you are not reading along make sure you change it.
5. A Merry Mishap: Can we say the modernist's dream? How Jennifer captures and perfectly styles every photo is the perfect example of not just great style but also brand consistancy. I always know that when I need everything in it's place to calm my designy brain I go here. I feel at peace everytime in her space and her instagram.
6. A Blog Named Scout: Jenn is amazing friend and one of the most genuine and honest people I know. She works hard and has one of the most critical eyes for styling. I love seeing the work of passionate people and Jenn's passion for what she does shows her gorgeous work. Not only that she is a collaborator through and through and people like that are my kind of people. I mean for example her new series Fortunate Feast is the PERFECT example of her amazing work.
Happy Wednesday you all! We are knee deep in work so I am sorry for the late posts but I wanted to keep inspiring because I love you all 😉 Also Mike has not stopped blogging just been busy! Cheers friends!! Make it a good one!