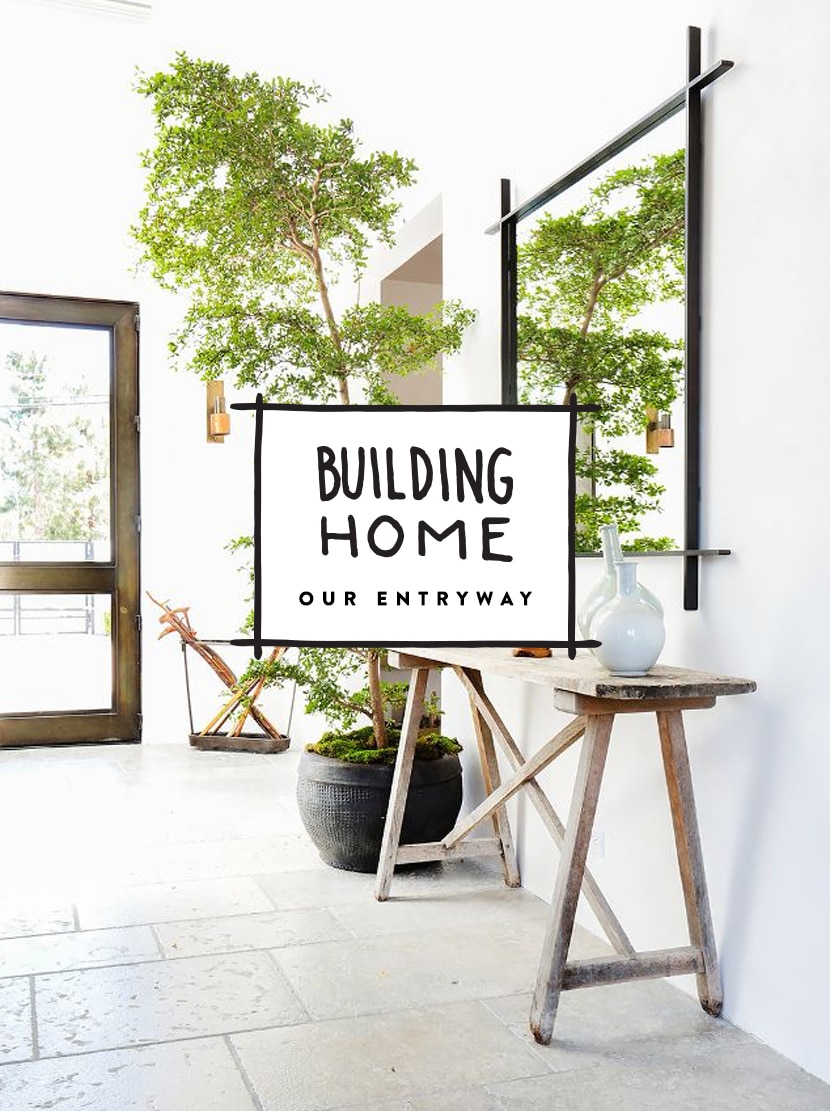 Woo hoo! This is the first post I get to share about our design on the interior of the house. I have been excited about these posts as they are forcing me to think through every inch of the house little by little. So to get things rolling on the designs, I thought we would start off by talking about entering our home. We have yet to talk anything about the finishes inside the house so this will be a great way to kick into the design starting right where we come into the home.
As you know from this design post our entry is a great size. We have a large 3/4 glass wood door that is 42×96 from Simpson going in. This will be the entry to our home and is perfectly centered on our Ultimate Windows in the dining area. My goal here from a design perspective was that right when you walk in you see through the house out to the views we have on the hill. You immediately will eventually see where we will hold gatherings and feel welcomed to the table. That was how I wanted to center our home from the start. So far we are achieving the dream. We're planning to install roller shutters Concord for an extra layer of sun protection from harmful UV rays.
I originally wanted a dedicated mudroom area, but we couldn't find the right way to do it without closing in the entry so instead, we have a large wall just to the right when you come in for a bench with storage, hooks, curb painting stencil and more to leave the outdoors by the door.
If your windows no longer provide a waterproof barrier between indoors and out, pursue immediate repair or replacement from the best window installation companies in Leesburg VA.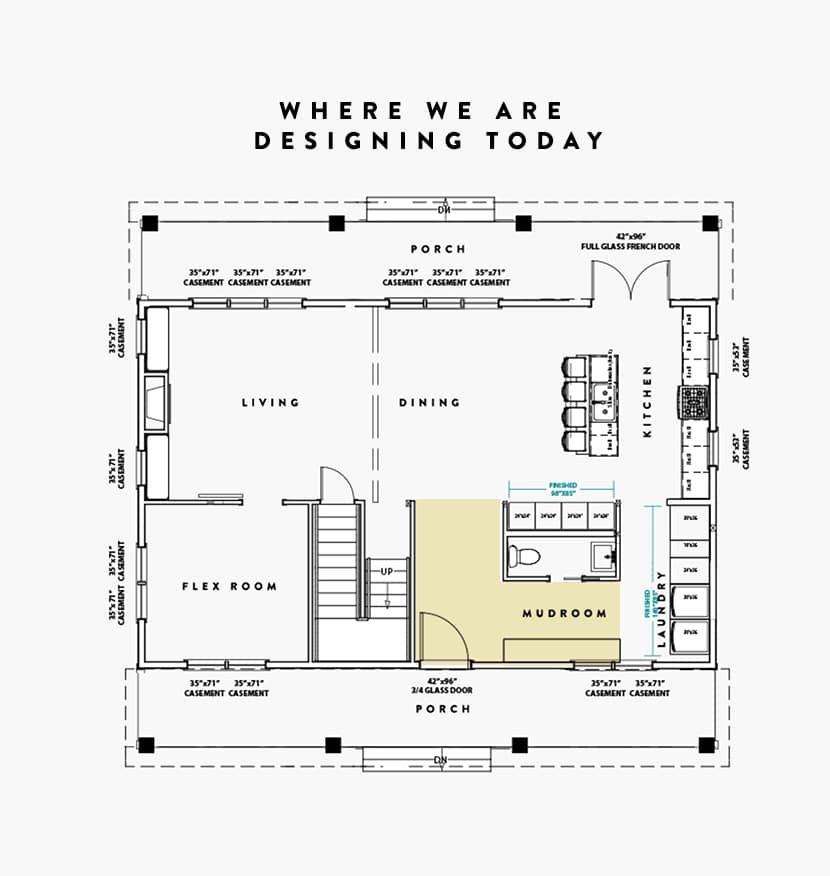 As you walk through you will see a half bath and full wall of closets to your right. We will go over the half bath another day, but this entry is open, flowing, and accommodates a family full of activity.
Our floors we will use for the entry will be the maple floors that are carried throughout the house. Though I debated about doing tile here because of winter and more. I have learned after living up here, that as long as you have a great rug and a good tray for your boots. All is good!
Below, I have arranged a look at all of the finishes in the space for you so you can get the idea of what it will look like.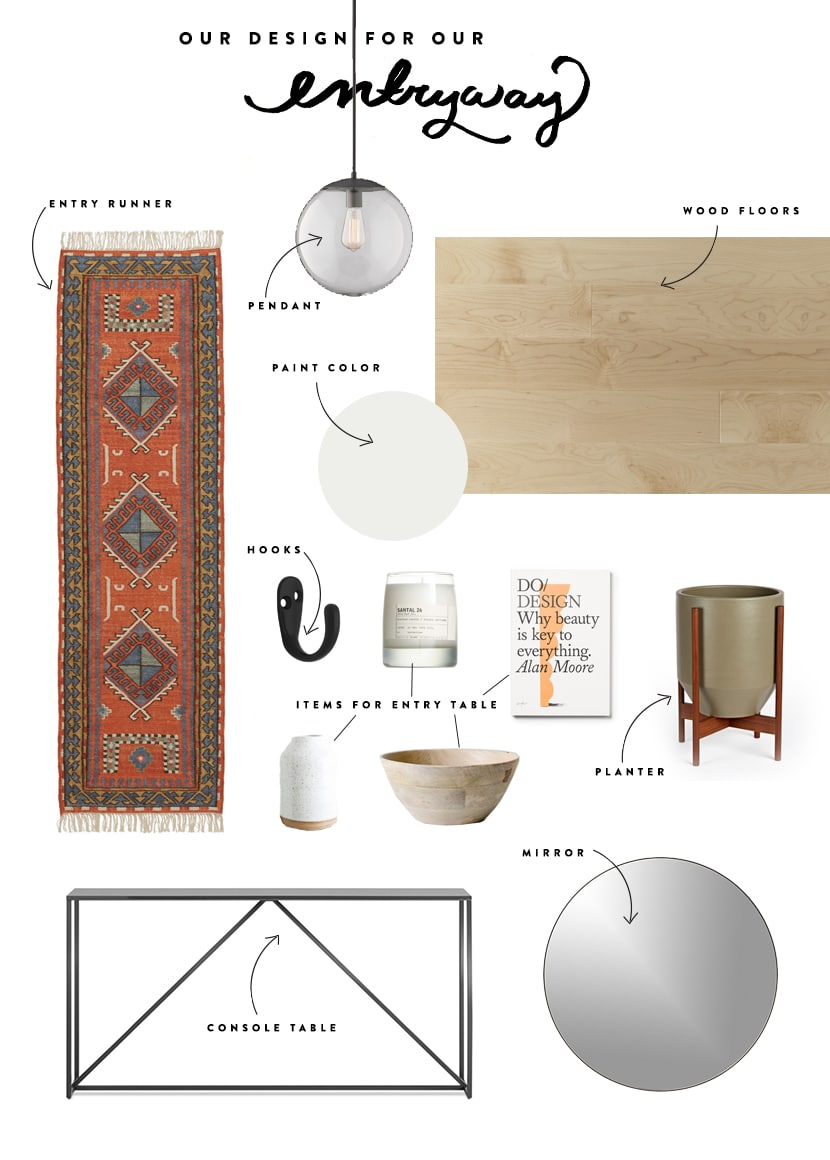 Rug via Rejuvenation | Pendant Light from Schoolhouse Electric | Natural Maple Floors from Mercier | Extra White Paint from Sherwin Williams | Black Hook from Amazon | Candle from Le Labo | Design Book from Old Faithful Shop | Vase from Sam Nichols Pottery | Wood Bowl from Mur Lifestyle | Planter from Rejuvenation | Console Table from BluDot | Round Mirror from CB2
Do you have a favorite way to style your entryway? What do you think of the design?! Anything I should think about? I would love to hear your thoughts.