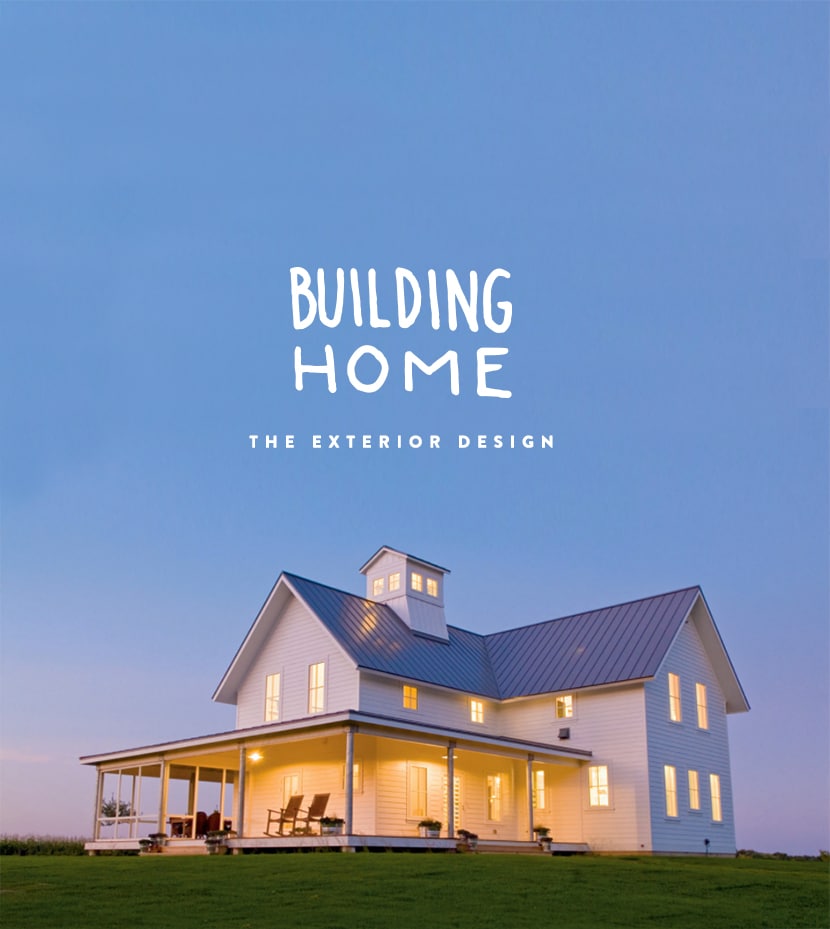 Home image via: Rehkamp Larson Architects
We have been moving and grooving on the house if you haven't caught up on our Instagram lately. It is so cool to start to see it take shape. There was one night I swung up to the jobsite just to check on it. I was alone and it was at the end of the day when the light was perfectly golden. The floor of the main level had gone in so I stood on the edge and took in the view. It was unreal to see what life would feel like standing in our living room. After months and years of dreaming of this place, it felt nearly unbelievable to be able to take in the actual view in person. Continually I feel so lucky we find ourselves here even though I know the work it has taken to get here. No doubt this is a labor of love.
But enough about my feelings about this place, we have other posts for that. Today, I wanted to share about our exterior. Now that the design won't be shifting since the second floor is about to go on, there are NO more major adjustments happening. This means we can talk seriously about all of our exterior and interior design decisions now, especially since all of them are being ordered in the next month or so. WHAT?!
So we will start with our first post all about the exterior. I have a roundup of what we have chosen. You can see inspiration here for the exterior if you need a refresher. Below I am explaining why we chose it all. A lot of it came down to budget, but there were things we chose because of practicality and function as well. More on that below.
When we first designed the home we thought we wanted to go more modern, but as we worked through what would fit in our budget and what kind of life we would be living at our home, we decided a farmhouse was more of what we wanted. So we have taken on the project of tackling a mix of modern and farmhouse and obviously, we will be swinging a little more modern than farmhouse. Everything outside and inside has been about maintaining that aesthetic. The design serves the function of our land well and it fits in with the surrounding homes considering our neighbors have a very cool Scandinavian style home across the hill from us.
With all these ideas in our head, we went to the roofing, siding, window, and door stores that supply to our builder. Though our builder has a more traditional taste than us, many of the places he sent us had a wide selection of options like this roof replacement in South Carolina and roof replacement in Elkridge, MD. Locally we worked with a contractor for our roofing, siding, decking, porch ceiling, asphalt maintenance, soffits, fascia, and front door. If you need additional guidance, visit Precision Roof Crafters. We also had to get in touch with a commercial dump truck service for the construction work. And if you need work zone equipment for the safety of the workers, make sure to coordinate with a professional work equipment company.
For all of our other exterior doors and windows, we worked with Pella Windows and Doors. My dad used to sell Pella windows and doors and installed them in nearly every house he has built so I knew the quality behind them. They have recently added a contemporary line and they helped us choose windows that were all standard sizes so we could have the amount of glass we wanted in the house for a reasonable price. That said, here is what we decided on: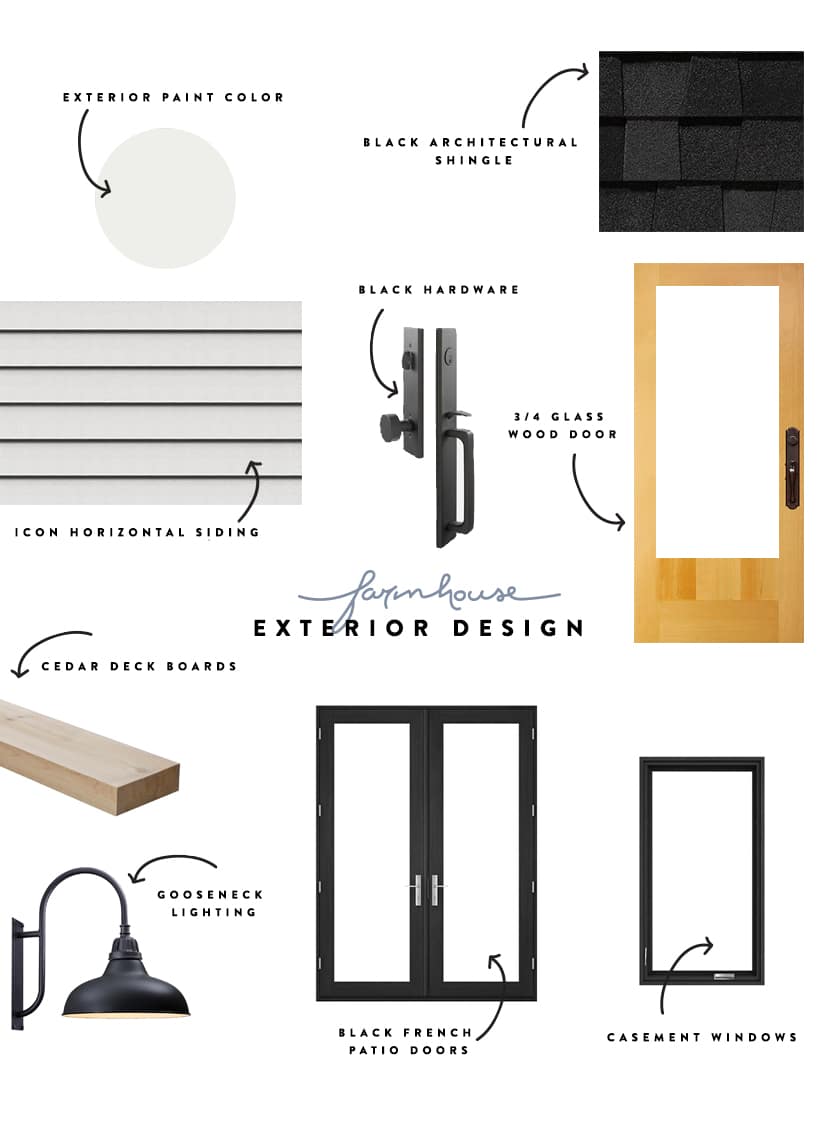 Siding: CertainTeed ICON Composite Siding with Cedar Trim all done in Sherwin Williams Extra White
This was recommended to us by our builder. In our area, we have a lot of rain and snow throughout the year so we need a product that will stand up to high levels of moisture that sits against it for months on end. They no longer were seeing other composite sidings hold up, till ICON came on the map. This product is 100% made of PVC so there is no swelling or warping that happens. It is still maintenance involved since we will need to paint it every 10 years, but other than that it should stand the test of time. We went with a classic horizontal look for a few reasons. 1. It is traditional and classically farmhouse. 2. It repels water. Since we live in a climate that has a lot of dripping and water, we wanted to make sure the water would be pushed away from the house and horizontal promises that. Also, since we are more exposed on the hill, we wanted to have the highest level of defense.
Roofing: CertainTeed Landmark Pro Asphalt Roof in Black
We had a metal roof for months. We even closed our loan with the metal roof included. The metal roof was our dream, but when we went down the route of deciding to change the height of the windows and doors on the main floor we realized we wanted that more than a metal roof. Eliminating it meant opening up the money we needed to have a larger front door and hard woods in all the rooms we wanted. Ultimately we know we will be happy with the decision. The house will still be amazing with or without it was what we finally came to. We also knew we would be building a garage at some point and have to pay a similar price again to put a matching roof on it as well, so an asphalt roof felt like the best choice. These days an asphalt really has some strength and lasts longer than they ever used to. Though they don't have the look of a metal, they still wear well in high wind speeds, which was our main concern. It was a huge saving for us that has allowed us some wiggle room to make other design decisions happen. We planned to go with a classic Standing Seam in a silver color. We considered a corrugated, but even though it is cheaper you can have a hell of a time with fixing it down the road if the problem arises. It all just comes down to what you really want in the end.
Deck Materials: Cedar Wood
We kept this simple. We talked about doing poured cement, but there was a huge cost to this as well as some aesthetic issues that would eat even more into our budget. If you do not do a basement you may find this more possible. That said this meant we kept this simple and inexpensive. I don't think we will regret it. Our deck will be very similar to the one in the above photo. We also are still working on a potential front deck idea with our builder that would go uncovered on the south side of the house.
Porch Ceiling: White Washed Pine (the best example I could find)
Another place we saved money. We wanted to keep things really simple here so went with a pine ceiling so we could place can lighting in the ceiling to have nice lighting on the porch when we sat out there in the evenings. We talked about a more open ceiling but there are some code restrictions and a lot of cost involved to do it the way we dreamt of. Though we love the idea, our bigger goal was to have a home we could own outright one day. Every additional cost had to come down to asking if it really was worth it.
Windows: Pella 450 Wood Windows done in white interior and black exterior
Pella is one of the top window makers, but for years they were known more for cottages. Recently, they released a more modern collection and offer tons of options for cladding, painting, and most importantly sizes. We were able to create a window plan that means we have wood windows but requires no painting. All our windows will either be casement or fixed windows with no grills in them. Eliminating the grills will allow for a modern contrast against the other farmhouse features. We also wanted nothing standing in the way of our view. Also, no grills = money saved.
Front Door: Simpson Nantucket 3/4 glass door in Cypress 42×96 with matte black hardware
I tossed for so long about our front door. I wanted something farmhouse, but I wanted it to feel welcoming and modern at the same time. Since we have a nearly .25 mile winding drive through the woods to our house we could have a lot of glass on the door. We also wanted a large door instead of doing sidelights. I had visions of it being open all summer long with kids running in and out and hanging a homemade wreath on the door every season and how it would change with each season. So thankfully after a lot of patience from our builder and our exterior supplier, we found the right door. I cannot wait to see this gorgeous wood door every day welcoming us home. The wreath hung over the glass at Christmas. What a dream it will be.
French Doors off Kitchen: Pella Architect Series Wood Patio Door
These were something I kind of had to have. At first, the goal was that the doors would be directly across from the entry, but a friend of ours made a very good suggestion about flor within the kitchen that resulted in them moving. We love it now especially since the opening for them is nearly the same size as the windows on that wall. The doors will be black on the exterior and white on the interior. They will also lay flat against the house when we have them open. I have ideas for making door stops to hold them open in the summer. The beauty of Northern Michigan is that bugs are minimal during days you would leave doors open. The indoor outdoor life is something we want in our home, thus why these doors were necessary. The best part was they fit perfectly in our budget and could make the dream come true.
Basement Door: Pella Full Glass Exterior Door with black exterior and white interior
We originally had three windows on the lower level walk out but we eliminated one window to leave room in our budget for the enlargement of our windows. So instead we opted for one less window and a full glass panel door for our walk out giving us more light. I think it will be great with kids one day going in and out of there since our bonfire area will be there on the walk out.
Exterior Door Hardware: Matte Black Handles
Our front door is pretty large and so it needs specific locks so we went with the manufacturer ones, but we did ones that look similar to these ones from Schoolhouse Electric. If we had gone with a smaller front door these were the ones I planned to choose. For all of our hardware, we decided to use matte black. You will see this as a continued theme in the house.
Exterior Lighting: Classic Farmhouse Lighting
We debated and debated but we ultimately decided to keep with the farmhouse look though I loved these for each side of the door. We still have time to switch but I think we are going to stay classic and in black here. I love the ones Rejuvenation is making. They are really classic and hand crafted.
Finally, landscaping decisions are still down the line. We have a lot of ideas, but that will be for another day. Thankfully we do not need to complete the landscaping right away both financially and timewise. Moving into the home in the winter will give us time to think about our plans.
There is no doubt every day I think twice about every single design decision. I want it to be wonderful and perfect, but with a budget to think about and our ultimate goal in mind of being able to afford to own this home, we both feel these decisions were the best ones to make. It is easy to look from the other side of the table and come up with ways it could be better and oh how I have in the past, but now going through this process I realize the cost and the weight of every decision when building from the ground up. We have already made decisions and learned from them, but our hope is that if we stick with our design plan and use our guts than we will love where we land.