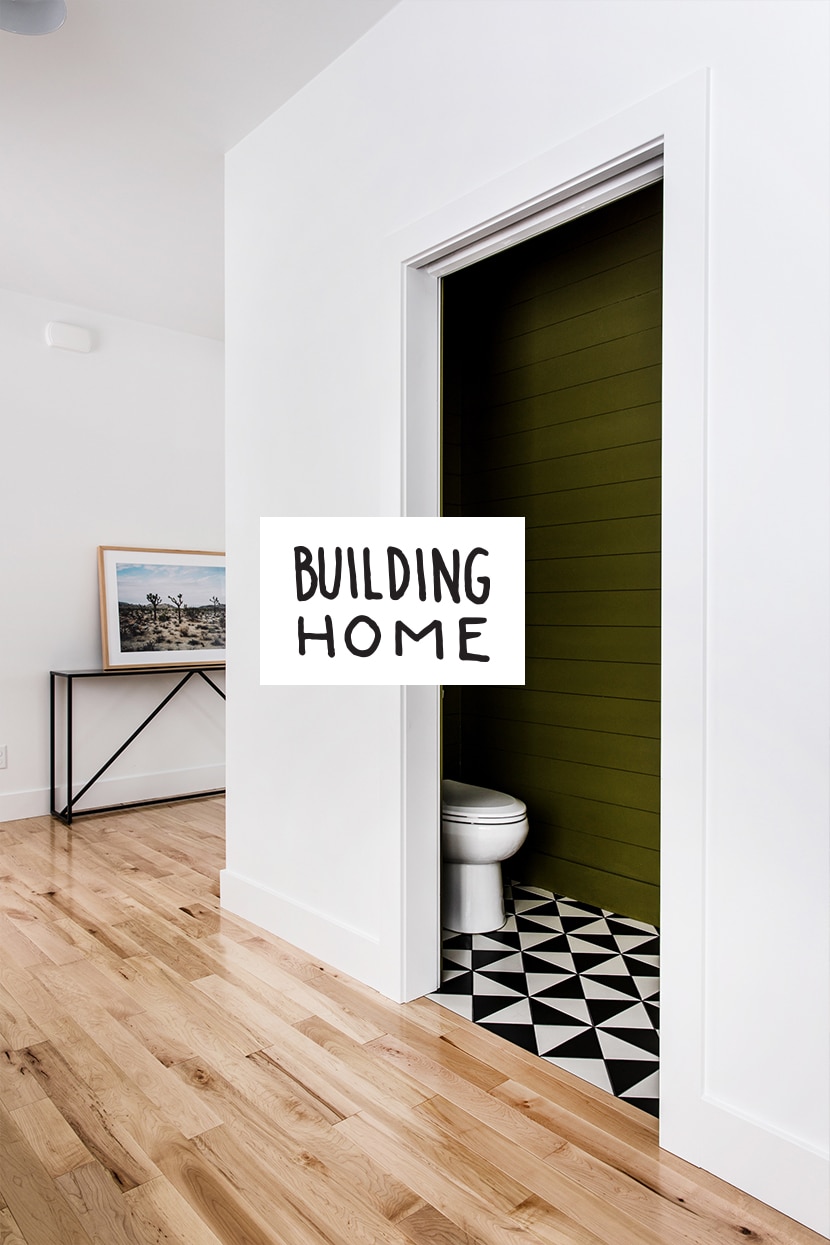 When we were designing these spaces, I lost count of how many times we redesigned these spaces. Thinking about how you approach a home and how to enter it is a big deal. I think of the spaces we fought about in the design process this whole area was a big one. I wanted the entry here so we could look out to the west and over our dining room the moment we walked in. It was a big deal to me. I wanted our house to always feel focused on the table and it is, but how do we adjust the rest of the space?
This space is probably one where we have a lot of confusion about still in our home. We LOVE it, but we also have a lot of question marks left still from what our mudroom/wall hanging area will be like to maybe putting more tile in because we live on acreage and there is a lot of dirt and water that comes in the front door, to decorating. We left these spaces minimal so we could learn these spaces before we went too crazy on the design of it. Honestly, though I have really enjoyed the minimalism of it all. We couldn't be more in LOVE with our half bath or the way our entry feels open to the rest of the house or how everything flows around to the kitchen so smoothly. It is very clean and such a modern take on that farmhouse feeling.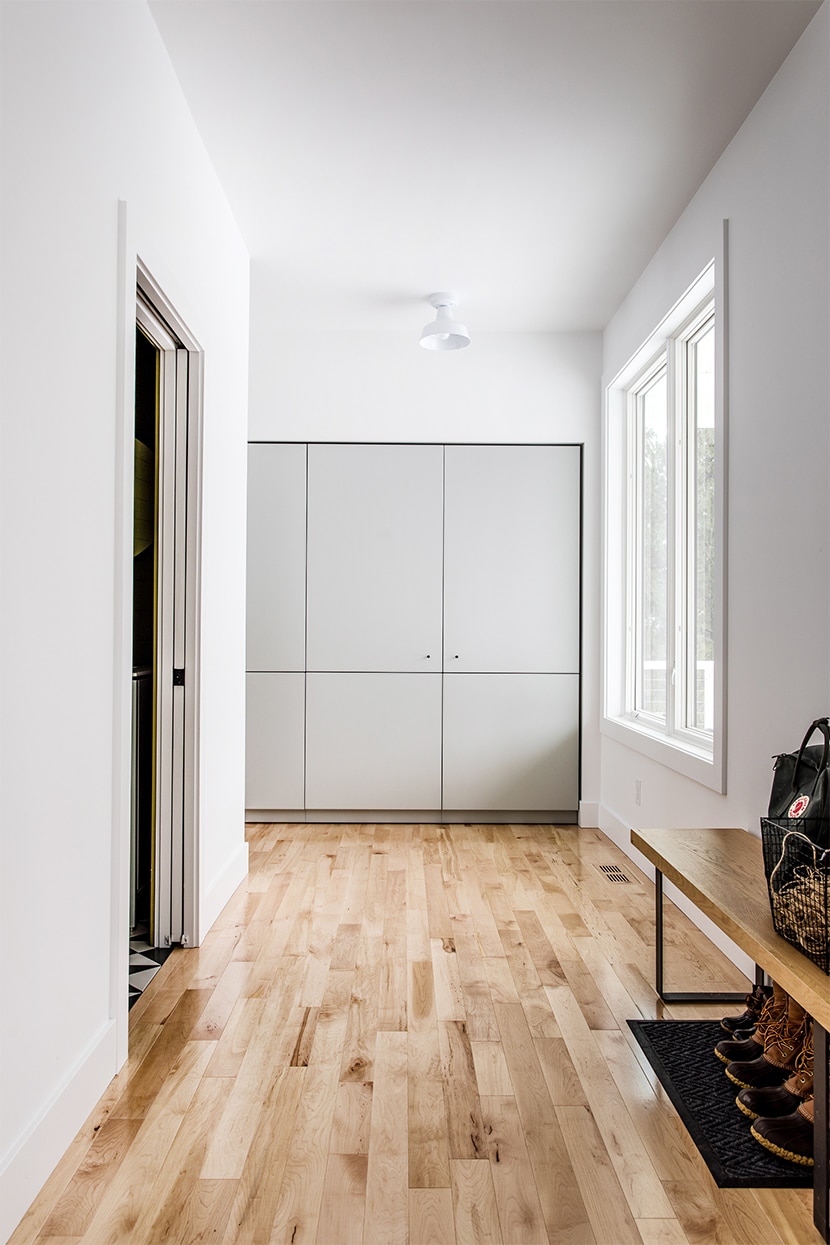 The biggest decision we made was placing our pantry in the cabinets in the kitchen so we could limit the amount of space needed to be used in this area. What resulted was a larger half bath and wider halls, which when we are all trying to get out the door for a hike on the weekends is extra necessary. The pocket door allowed us to not worry about a door swinging out into the hall.
The thing I love the most in our entry/hall area though is our laundry. It wasn't what I planned AT ALL, but I love its accessibility to everything in the house. These cabinets from Hygge Supply worked perfectly in our space to hideaway our laundry and more so it kept our space very open but the dirty life of laundry hidden. The best part? I actually get laundry done and put away, which is saying a lot. I love how it is right next to the kitchen so messes clean up and toss right there for washing, so we got an electrician with this emergency electrician las vegas, nv to help us with all the circuit breakers installation. Thanks also to these trusted experts similar to the ones at electrical contractor in Lafayette, IN who helped us with our entire home electrical needs! I can fold and watch Hayes easily in the kitchen and more. I also love that when I am done, I just close it all and the mess is hidden. We are still trying to figure out a dirty clothes gathering area solution but I am thinking of placing baskets over the washer for dirties. Currently, we just have one dedicated day to laundry from our bedrooms and it is doing the trick.
Do you need an electrician to carry out a project to connect a charging station, install light fixtures, or repair or replace an electrical panel? At Électricien St-Jean-sur-Richelieu, our electricians will intervene in your business, your house, condominium or your apartment block and we are committed to working on your premises as soon as possible and to offering you turnkey services at competitive prices.
I can fold and watch Hayes easily in the kitchen and more. I also love that when I am done, I just close it all and the mess is hidden. We are still trying to figure out a dirty clothes gathering area solution but I am thinking of placing baskets over the washer for dirties. Currently, we just have one dedicated day to laundry from our bedrooms and it is doing the trick.
We keep all of our coats we use daily in a closet between the coffee cabinet and the laundry cabinets. It isn't big but we keep the essentials and it keeps us minimal. We also have our Dyson hand vac mounted to the wall and our mop and cleaning supplies in there. It can be a tight fit in the winter, but some of this will be solved once we decide on our hook and bench solution hopefully before next winter.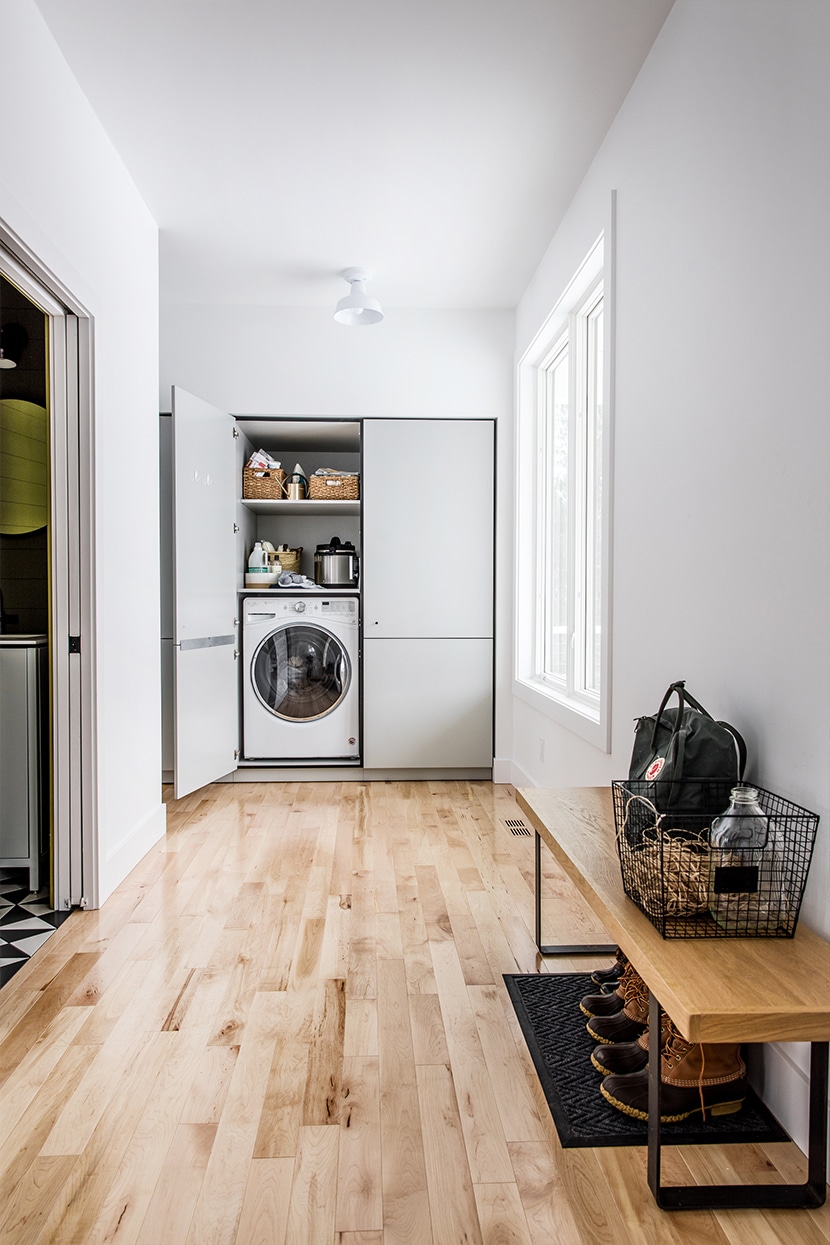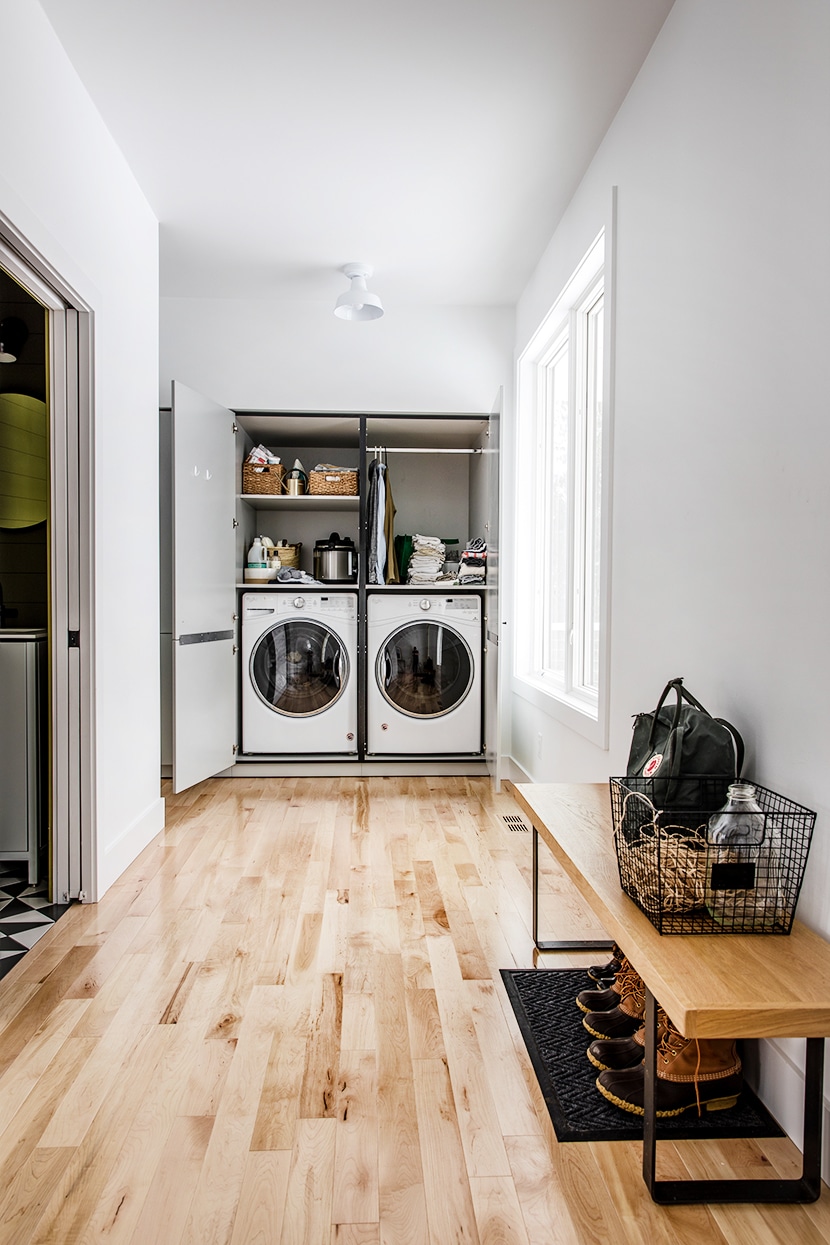 We love that, for now, we can keep all the necessities in this area for running in and out. Now that springs is beginning to approach, we are planning to also create an outside area for boots and things that hold a lot of dirty so we can keep more dirt outside. The biggest regret I have in this space is not thinking about having it be tiled. I just didn't think twice about it but within a few days of living here and having a huge snow storm, I realized we should have thought about it. I assume in the future we will choose to tile this area when the wood finally has seen better days. Though we could refinish the wood, we figure the tiling would be better for our lives at some point.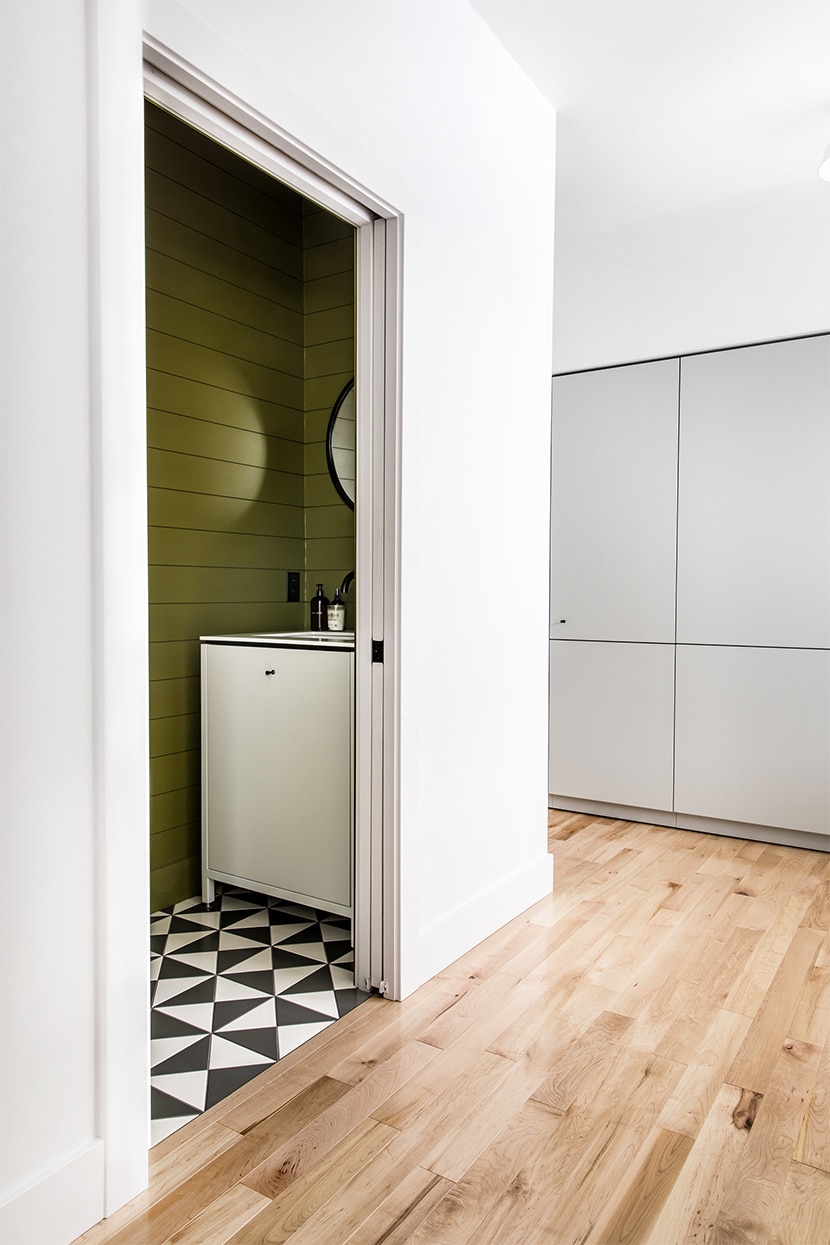 My favorite space in this area though is for sure our half bath! I had so much fun coming up with this space. Since most of our home doesn't have a lot of color it was cool to add in some here. Small spaces are such awesome places to add something a little edgy. Both because it costs less and it is simple if for some reason you get tired of it down the road and decide to change it. You can see my post about the design here, but more or less I wanted to stay classic, but bring in some fresh patterns and colors. Inspired by our travels to boutique hotels in New York and LA, I wanted anyone who came to our home to feel something similar in this space. The room is dark and moody but modern with a touch of farmhouse. We used Nick Gap to create a modern take on Shiplap so it felt clean and minimal but created a visual element in the space. I love textures in spaces that are subtle like this and it worked perfectly.
We then added a Hygge Supply vanity in the space in the same color as all the other cabinets. I love the color of it because depending on the space it really changes and naturally fits in each setting.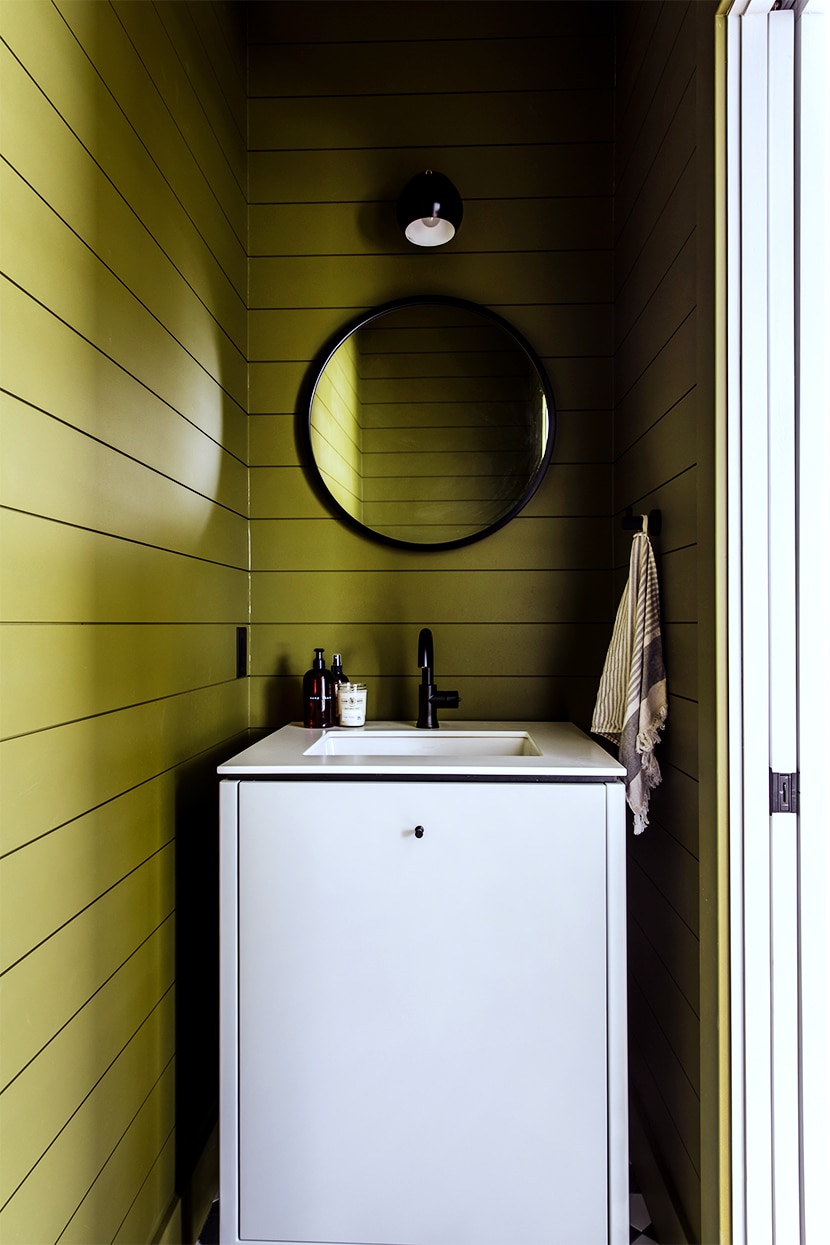 For the floors in here, I went very classic but with a modern twist by doing a modern triangle pattern using Meteorite and Halite from Fireclay. Used in a simple pattern they create a funky yet modern pattern without having to get custom painted tiles. I loved the selections Fireclay had because the options were endless for creating our own patterns. I had first considered using these painted tiles from them, but when the size of the bathroom shifted, I realized we could really make the most of it creating a pattern of our own. We then grouted it with charcoal grout and I will tell you we leave the dogs in here when they get dirty and the dark grout holds up to their dirt. I just sweep and quickly mop and it is clean and brand new looking in minutes. I couldn't be happier with how this little nook in our home came together and the way it really acts as a focal point when it could be such an arbitrary and utilitarian space in our home.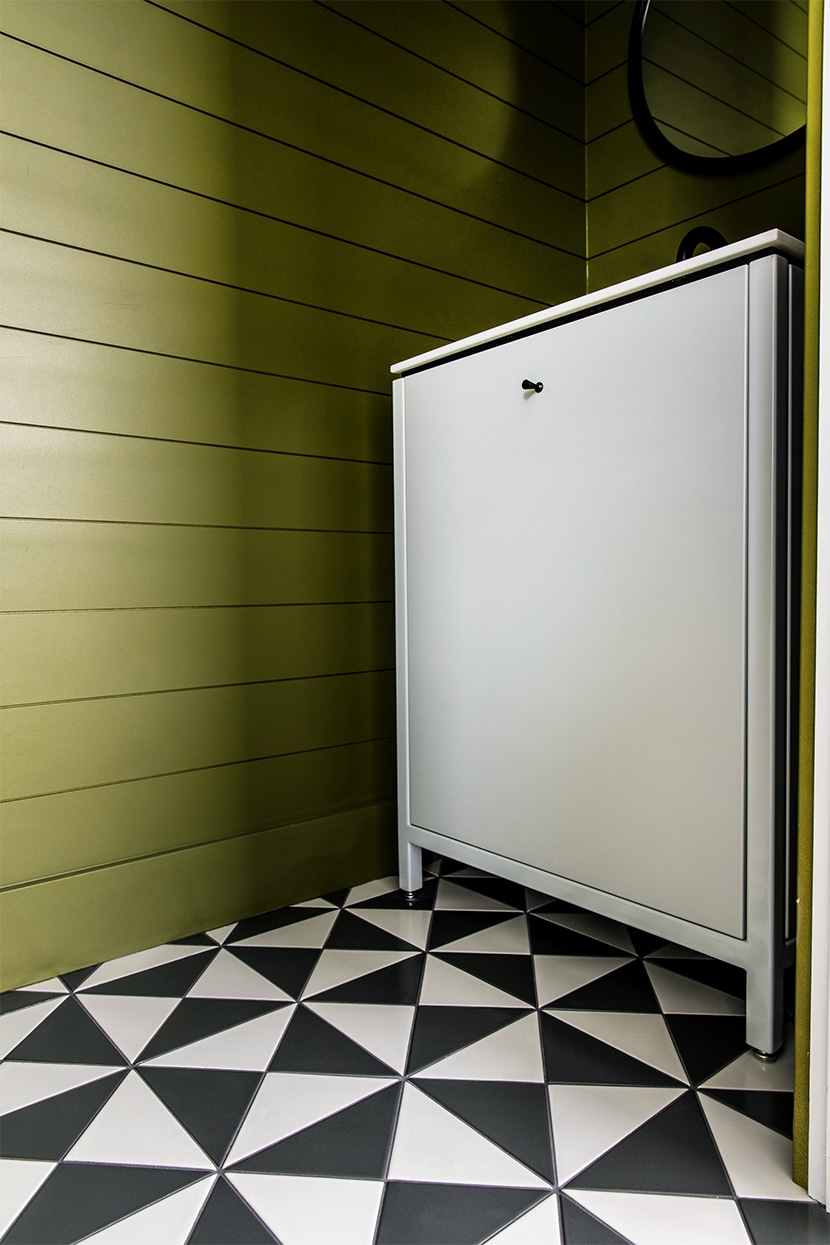 As the entry point of our home, the flow has proven to be wonderful. Even the location of the bathroom has proven to be perfect. Because you don't want to have the bathroom too far from the action but not too close either, having to turn a corner and enter it makes it a wonderful location while still in the thick of the fun in our home. That's one fun factor to consider when you're doing your bathroom remodeling. Next, we're also looking to get a hot tub electric panel upgrade Dupont, WA since our tub's old.
Though this area still has a long way to go in terms of putting in hooks and a permanent bench and storage, we feel it couldn't have come together more perfectly. Soon enough we will choose a rug for the entry space and hang things on the wall, but for now we are loving the simplicity and minimalism that may not always be the case in our home.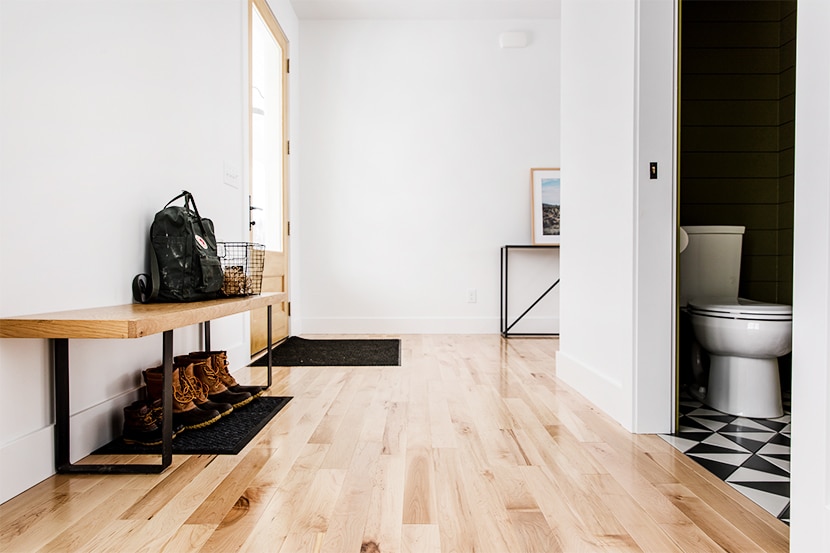 To get all the sources see below.
You can the Kitchen and the Kid's Bathroom reveals as well by clicking the links.
Feel free to ask any questions and even share what spaces you love decorating in a home.
MATERIALS:
White Tile: 6″ Triangle in Halite from Fireclay Tile
Black Tile: 6″ Triangle in Magnetite from Fireclay Tile
Wood Floors: Natural Maple from Mercier Flooring
Half Bath Wall Finishing: Nickle Gap 5 1/4
Wall Color – Half Bath: PPG Green Briar
Wall Color – Rest of Home: Sherwin Williams Extra White
Toilet: American Standard Cadet
Vanity: Hygge Supply
Sink: Kohler
Front Door: Nantucket Series Nootka Cypress from Simpson Doors
Cabinets: Hygge Supply
Windows: 450 Series Windows from Pella
Faucet: Delta Trinsic Collection in Matte Black
Knobs on Cabinets and Vanity: Radcliffe from Schoolhouse Electric
Laundry Machines: Duet with steam function from Whirlpool
Hook for Towel: Black Matte knob from Amazon
DECOR and MORE:
Entry Bench: Handmade by my dad
Backpack on Bench: Fjallraven Backpack
Mesh container on Bench: Old Find but similar here
Rug under boots: Ribbed Mat from Target
Rug in front of Door: TrafficMaster Rug
Hayes Boots: Sperry Duck Boots
Mike and Megan Boots: LL Bean Bean Boots
Hand Towel: Karla Hand Towel from CB2
Console Table: Strut Console Table in Slate from Bludot
Mirror in Bathroom: Rubber Frame Mirror from Umbra
Candle: Farm House Candle
Light over Sink: Isaac Sconce from Schoolhouse Electric (our's was plug-in but we made it a mounted fixture with electricians like MZ Electric)