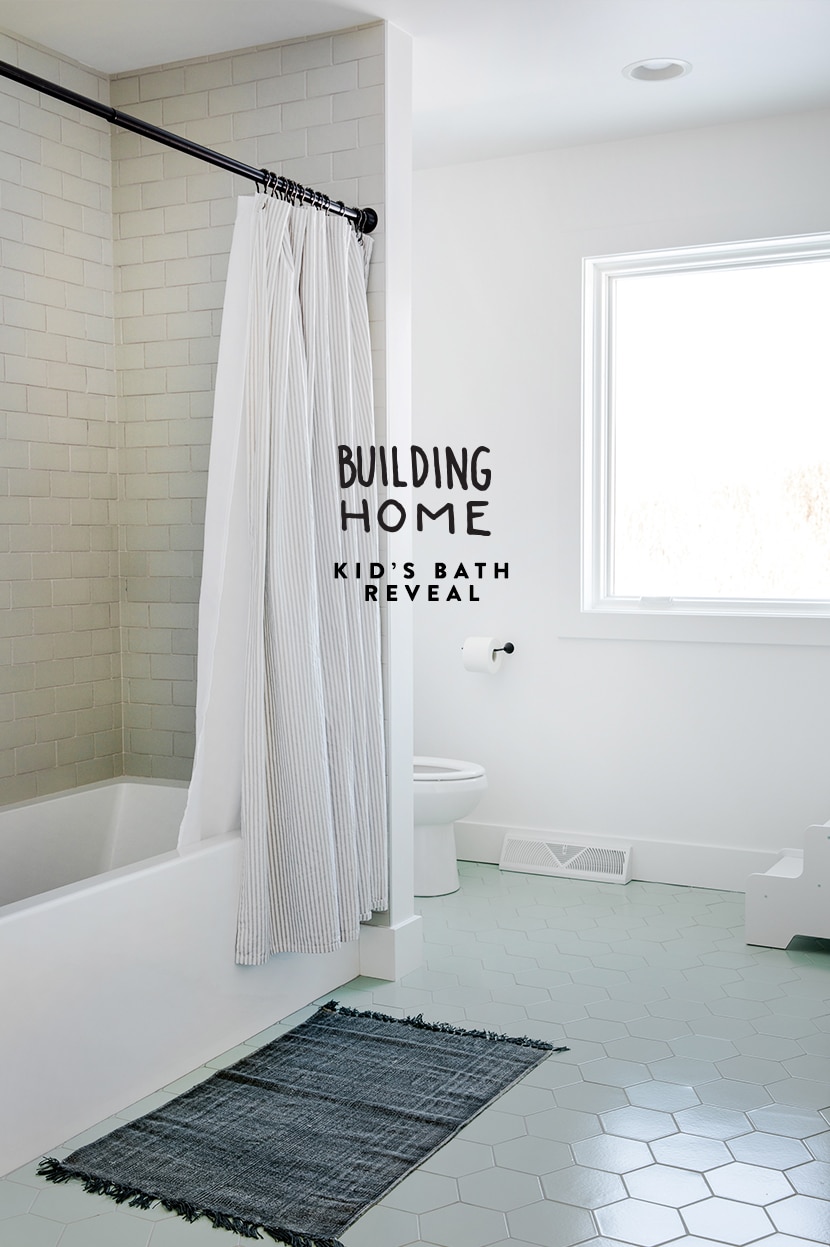 If there is anything I have learned about myself in this process it is that less is more for us. We aren't people of excess. In fact we would rather have less because it allows room for more. We also love spaces to feel real and loved. Since becoming parents this feeling has increased, but we don't feel it means we have to give up design. So when we were designing our Kid and Guest bath in our upstairs we wanted to stick with that theme. At first I wanted to do a lot of things like putting up shiplap and more, but the further we got into the design of our home, the more I realized I wasn't things to be minimal more than I wanted things to have a lot of detail right now. So we kept things simple and left a lot of white space for life to happen in this space.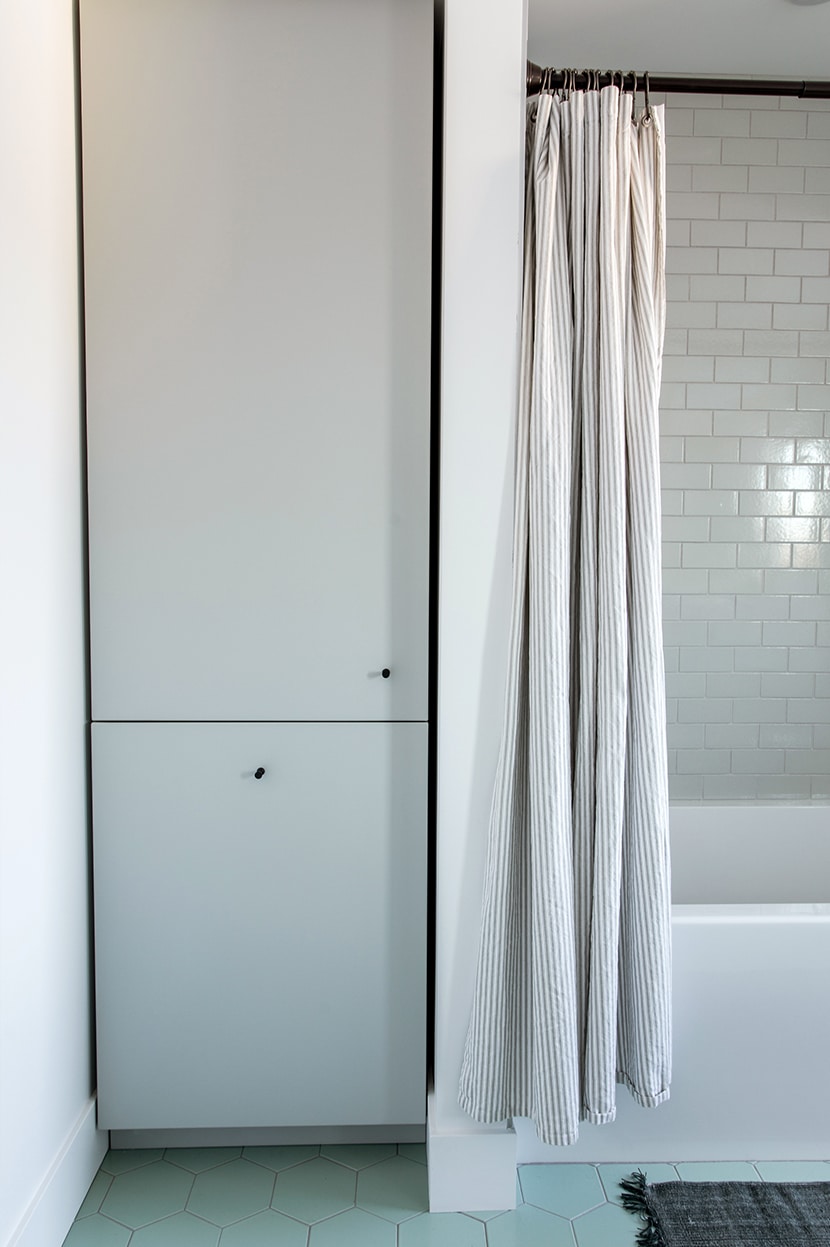 We love that we once again had the chance of incorporating recycled tile from Fireclay in our space. We wanted to bring in color to the space and emulate the feelings of a summer beach day on Lake Michigan. This is a place so many of our memories have happened and will continue to happen as a family. For us that didn't mean creating a traditional theme but instead a palette inspired by those memories. The cool tones of the Sea Glass hexagon tiles for the bathroom brought in the bright tones of the shallow water we love to play in on the warmest days of the year here in Northern Michigan. The cabinets from Hygge Supply kept to their gray color that we have all over our home. The tone played perfect against the blue and brought in the clouds that tend to sit on the horizon that time of year. It all fell together simple and natural.
To keep with those summer cottage vibes that I really wanted to bring in here, I used a tradition 2×6 subway tile but did it in French Linen to pull in with the cabinet colors. I then added a gray ticking stripe shower curtain and left it lightly wrinkled. This is a look I grew up with in Northern Michigan so the feeling brought back memories for me. A simple detail but lots of stories behind it. The rest of the space we filled with black fixtures to keep clean and classic lines in the space that we love.
Finally, a bench with hooks reminded me of days in the summer coming back from the beach. It is simple, but aren't the best places in a home. They allow for a place for life to shift and change throughout the year.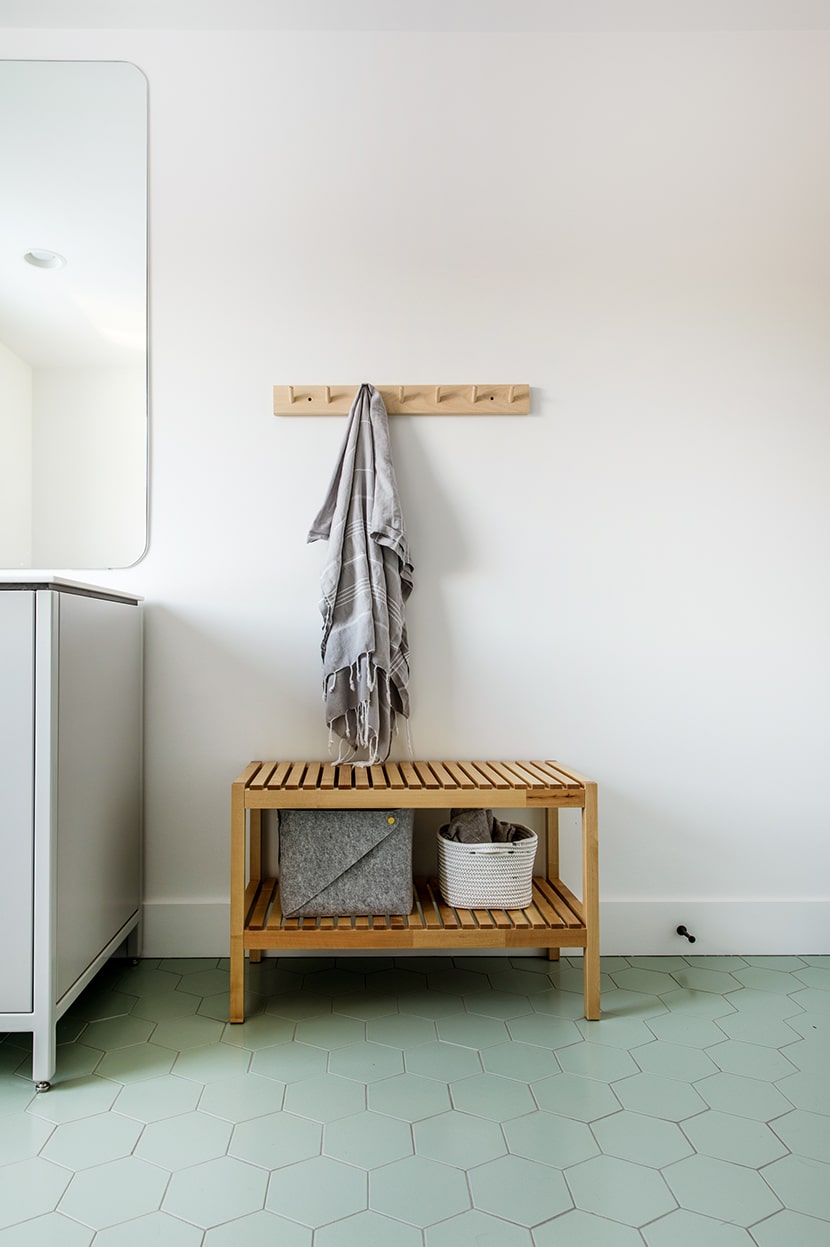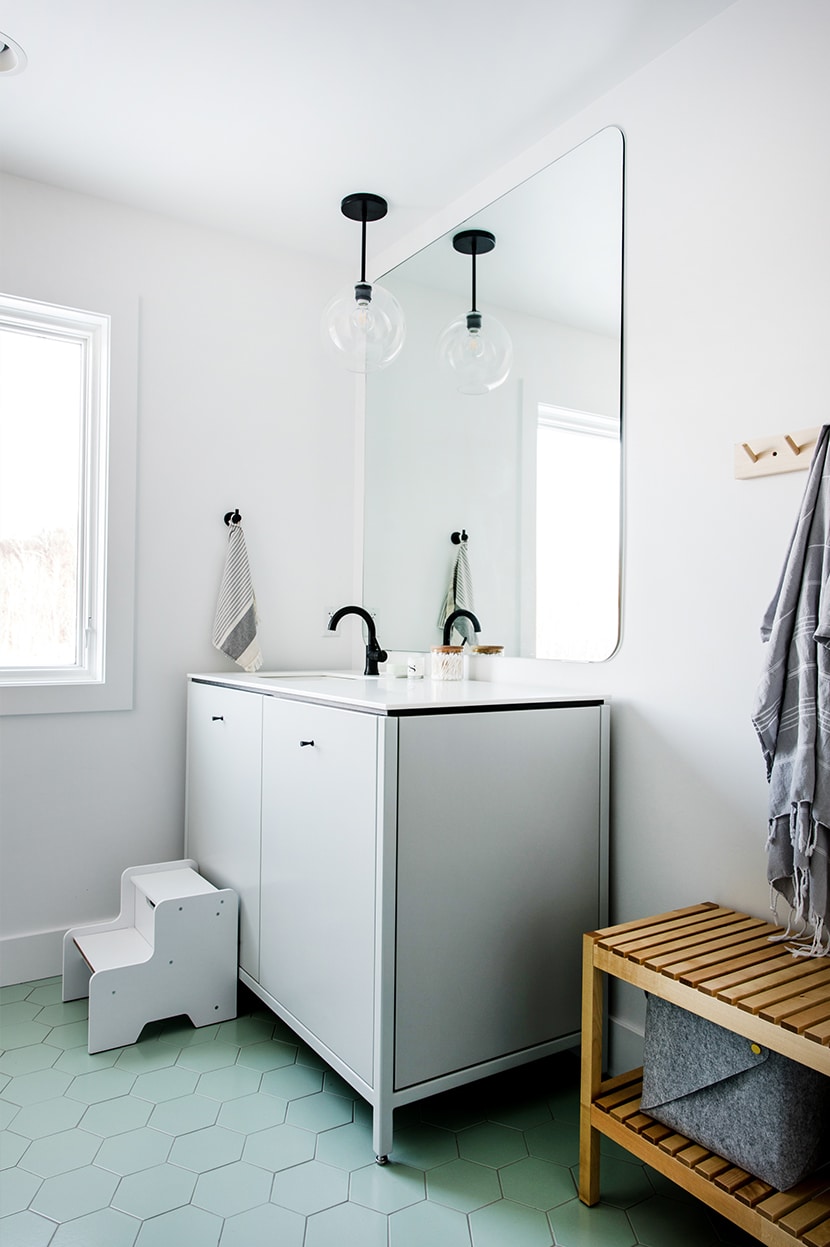 While designing this bathroom I learned a lot. For instance, our tile is a matte tile on the floor so we could eliminate the worry of slipping of little wet feet. The team at Fireclay suggested so many wonderful things while working together, which they offer to all of their customers. Since tile can be quite confusing and overwhelming it was wonderful to have their knowledge to help with things such as grout colors, edging, and even how to instruct our installer. They also suggested to use darker grout on the floor and lighter on the walls. I loved this because so many times I felt light grout looked so dirty. Since I knew this space would see a lot of traffic from kids and guests I wanted to make sure it was easy to clean and to keep looking that way. I don't have a ton of time each week to keep our house clean and in the summer's we are more or less a rotating B&B with friends and family visiting during the warm months everyone wants to be here, so I need a space I could sweep and mop and reset quickly. I wanted the grout to stay looking clean and light colored grout can tend to show dirt quickly. It was a wonderful recommend because I love the tiny bit of pop with the medium gray tone, but it keeps the space looking clean.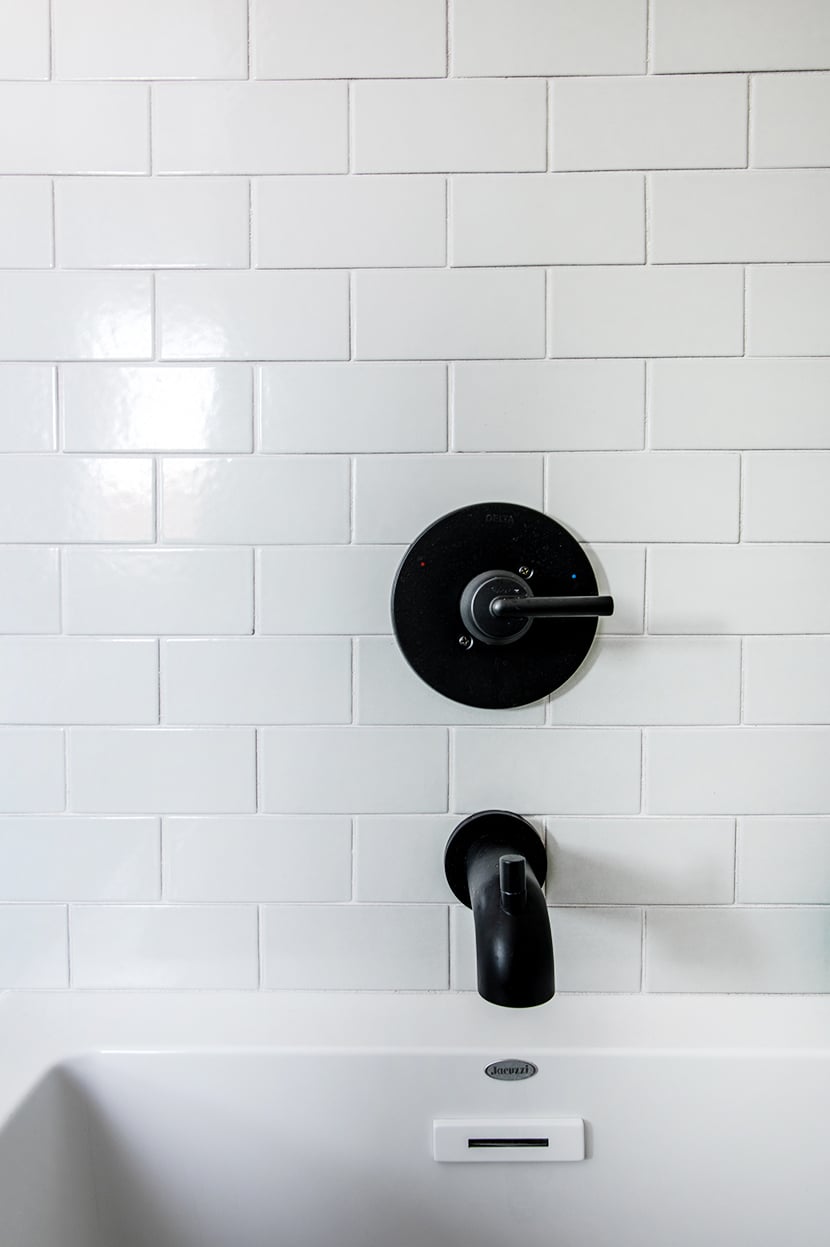 We also loved utilizing built-in cabinets instead of a standard closet in here. This cabinet from Hygge Supply, slid in after the tile and trim were installed just like a piece of furniture. It offers us a ton of storage for towels, soap, toys, etc for guests and Hayes. We then added a custom cut mirror in the space. We found this to be a simple and affordable way to bring a lot of depth into the space. You can do mirrors like this any shape and add frames etc around them. Many times it is cheaper and more affordable as well. For us to do a mirror this size it was far more affordable this way. I find them easy to clean as well, which is great.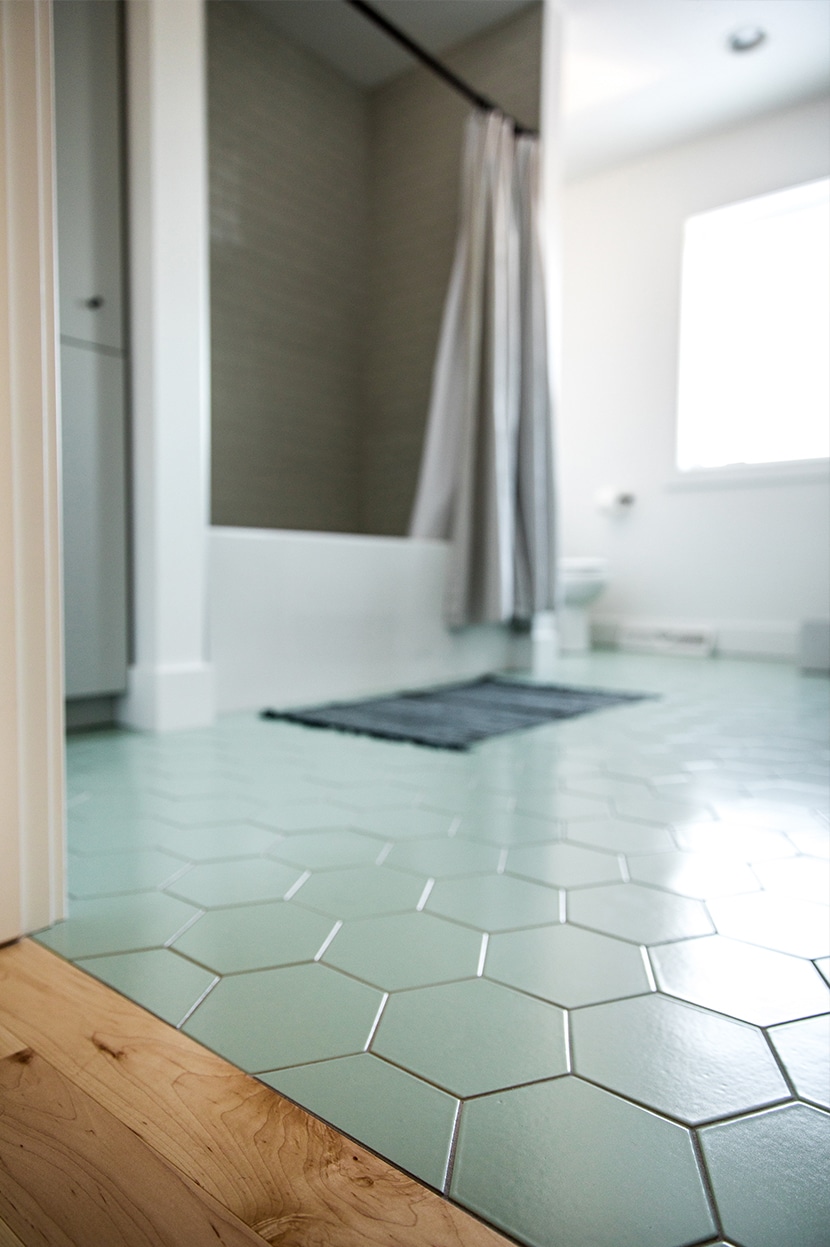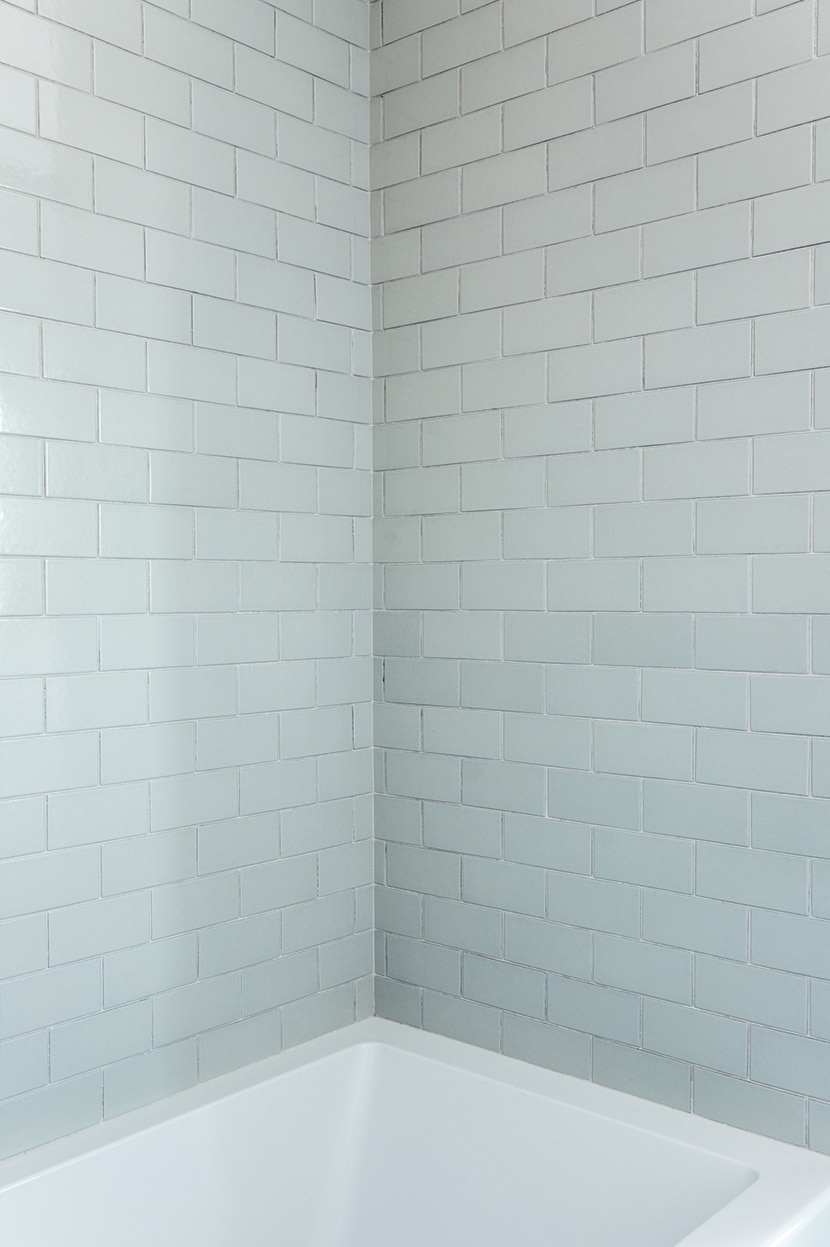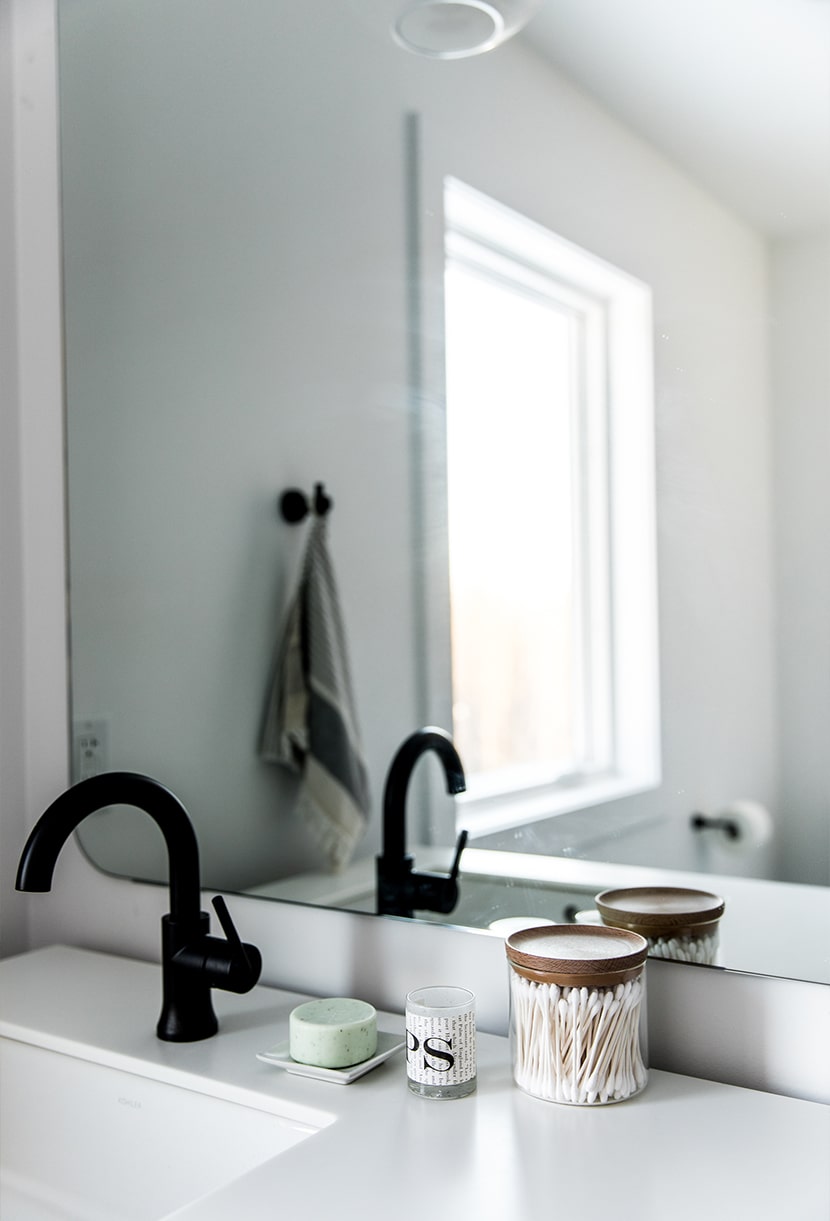 I feel the best choice we made though in this space was making a priority to fit a window with Uniblinds. The window makes a huge difference in here. Our contractor fought hard to make sure we could do this. We almost eliminated it, but he kept telling us it would make the room feel really nice and we couldn't agree more. Natural light is such a key element in creating a space that feels welcoming and comfortable.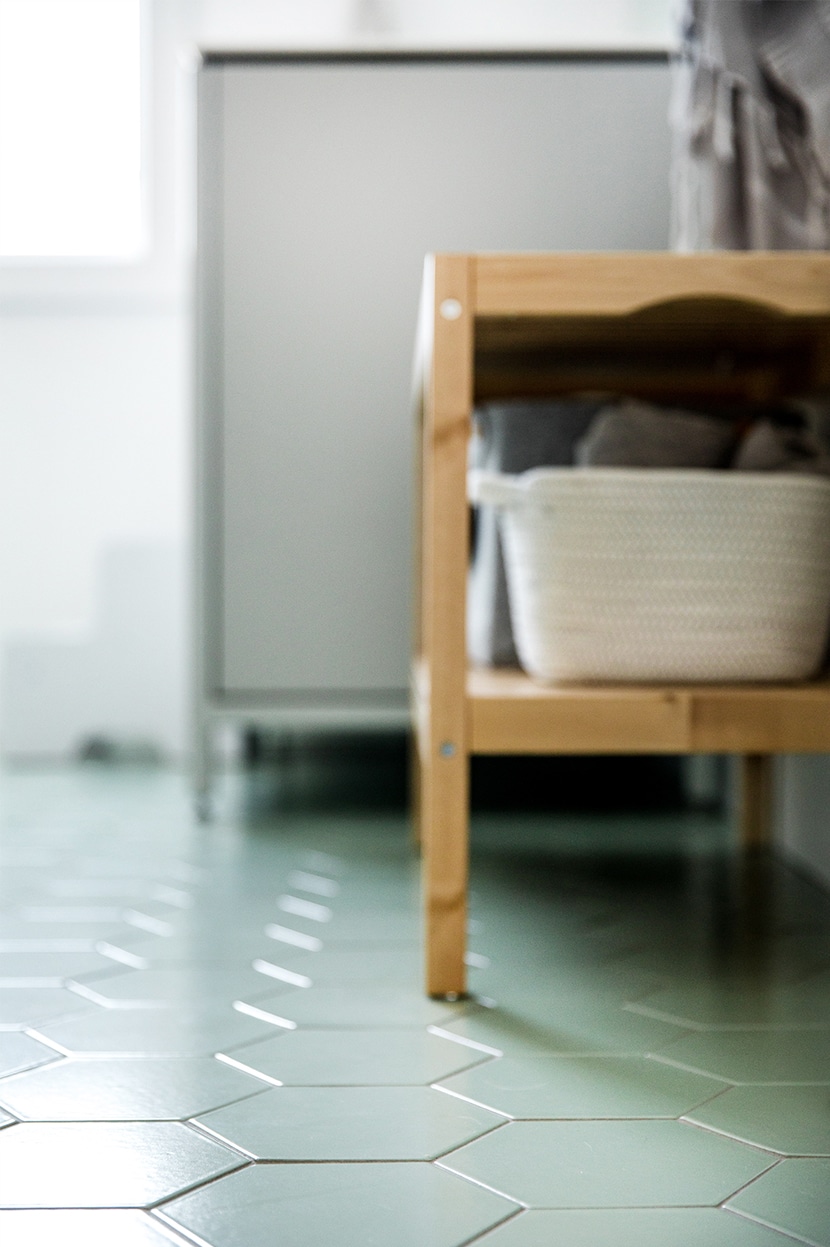 We have a few more of our tiles spaces to share, but keep a lookout for an upcoming feature and more about the house that will be created with Fireclay. Their team is doing something special with us to share the story so watch for the feature coming up!
Feel free to ask questions below if you have them! Always happy to answer.
Materials:
Floor Tile: Sea Glass 6″ Hexagon from Fireclay Tile
Shower Tile: French Linen 2×4 from Fireclay Tile
Wall Cabinet: Hygge Supply in Light Gray
Vanity Countertops: White Corian
Floor Grout: Medium Gray
Shower Wall Grout: Pure White
Wall Paint Color: Extra White from Sherwin Williams
Hardware:
Tub: Linea Tub by Jacuzzi
Shower Head and tub filler: Trinsic Shower Head and filler from Delta in Matte Black
Sink Faucet: Trinsic Bath Faucet from Delta in Matte Black
Sink Basin: Undermount Square Sink by Kohler
Knobs: Radcliffe from Schoolhouse Electric
Toilet:
Furniture/Decor/Fixtures:
Vanity: Hygge Supply
Bench: Molger by Ikea
Pendant: Globe Pendant Medium by West Elm in Oiled Bronze (looks very black)
Mirror: Custom cut from TC Mirror and Shower Door
Candle: Palo Santo Candle from Cali's Boutique
Floor Rug: Cali's Boutique
Wall Hooks : Peg Rail by Mur Lifestyle
White Basket on Bench: Coiled Rope Basket by Target
Container on Vanity: bought at Wood and Cloth (similar)
Soap: Icelandic Soap from Angelica Herb
Hand Towel: Karla Cement Hand Towel from CB2
Step Stool: Step Stool from Melissa and Doug
Felt Basket: Pudda Basket from Ikea
Towel: Turkish Towel from Etsy
Shower Curtain: Ticking Stripe Curtain from West Elm (similar)
Toilet Paper Holder: Simple Paper holder by Cb2
Hand Towel Hook: Black Hook from Amazon
Built by: Shugart Builders