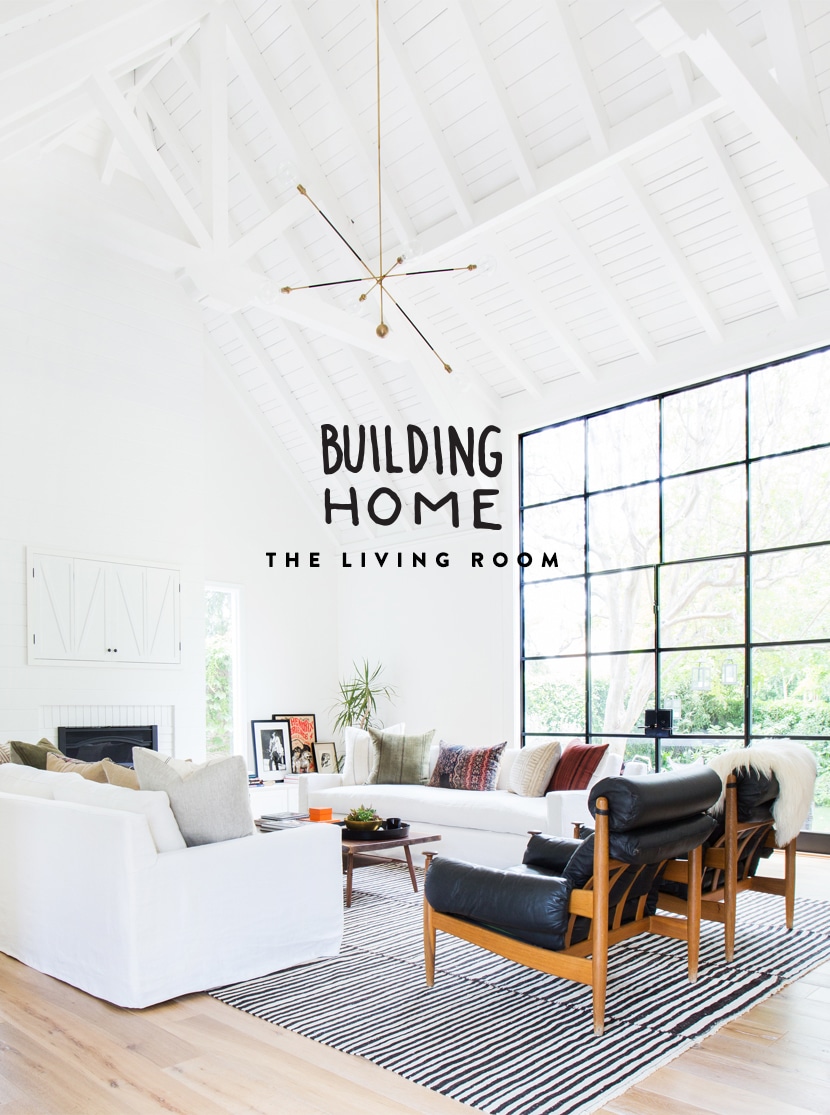 Image and cover image via: Amber Interiors
I have a folder full of variations of our living room. The number of times, we measured, remeasured, searched for couches, and then decided that wasn't right. This room has been a topic of conversation for us over the last few months. Let me tell you though that we finally came to a firm decision so I felt before we rearrange again, which we probably will, I should share what we are thinking. You can give your opinion for the two options we are thinking and then we can go from there, how about that? First, though the below photo gives you an idea where the room exists in our first-floor layout.
By hiring a professional roofer like Steadfast Roofing, you can avoid risking your life and let the experts do what they know best. Moreover, they often insure their roofers to safeguard them and homeowners from liability, read more from the original source.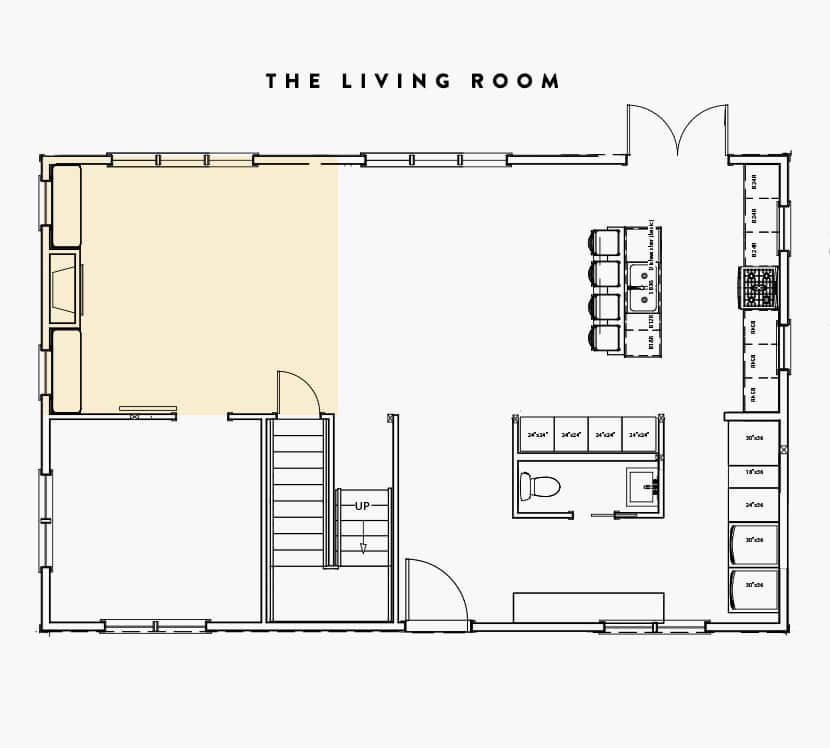 Mike and I were inspired by this room when we were designing our house. Since houses with vaulted ceilings in Michigan have a tendency to be expensive to heat and also weren't in our budget, we decided to opt for a 9-foot ceiling throughout the main floor to give us the bouncing light that high ceilings offer. We still did a fireplace, but since I am allergic to wood smoke (such a sad thing to be allergic to) we went for a propane fireplace. We also liked the cleanliness a propane fireplace offered to us as well. One less thing to clean. As for the rest of the space? We decided to keep hardwoods throughout this room as well and all white everything.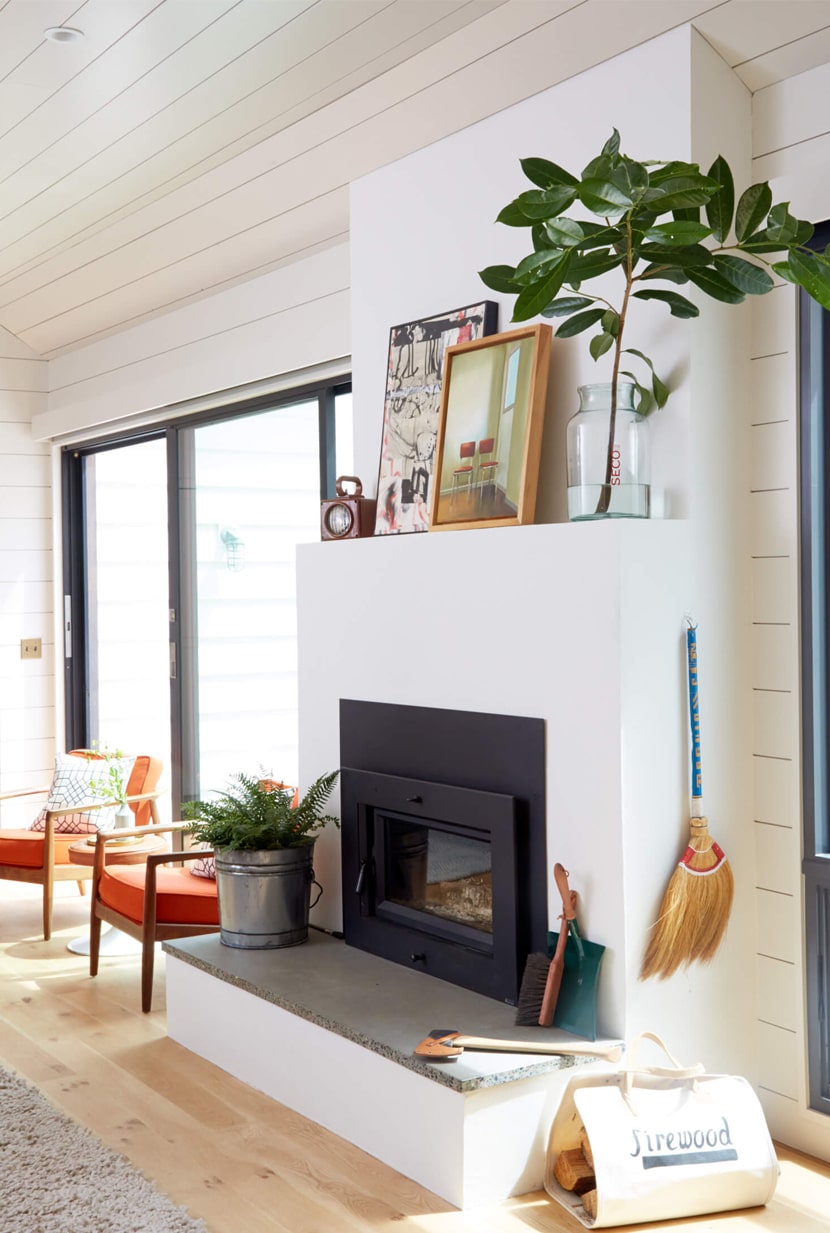 Image via: Emily Henderson of Schoolhouse Electric Owner's Home
Our fireplace we had some hang-ups and I want to talk about it. Since we didn't order a zero-clearance fireplace (a mistake on our part) I had to give up my dream of doing just drywall around our fireplace like this. We had to have non-combustible material around the fireplace insert and particularly above the fireplace because of not having zero clearance available to us. Drywall is combustible so it wasn't going to work the way I had hoped.
That said, Mike and I did a ton of research and Mike discovered we could use smooth Hardie Plank around the fireplace because of the cement in the board it is a non-combustible material. Very cool right? SOOO we talked with our contractor and decided to do a shiplap look around the fireplace with no hearth and just an inset mantel above it. I would still get the mantel I wanted in the least. So think of this fireplace but done in shiplap. I loved it because I wanted our fireplace VERY simple. Doing stone or tile can add up in terms of cost. Plus, I didn't want to look at the fireplace in 4 years and want it redone. Keeping it simple meant it could take on any style as our tastes adjust through the years.
A few other things we did in this space was instead of prepping the TV to be over the fireplace, which we don't plan to have a TV in this space, we opted to place an outlet on top of the mantel so it is still there but hidden visually. This way if we ever sell the home someone has the option and it is available to them if they would like that.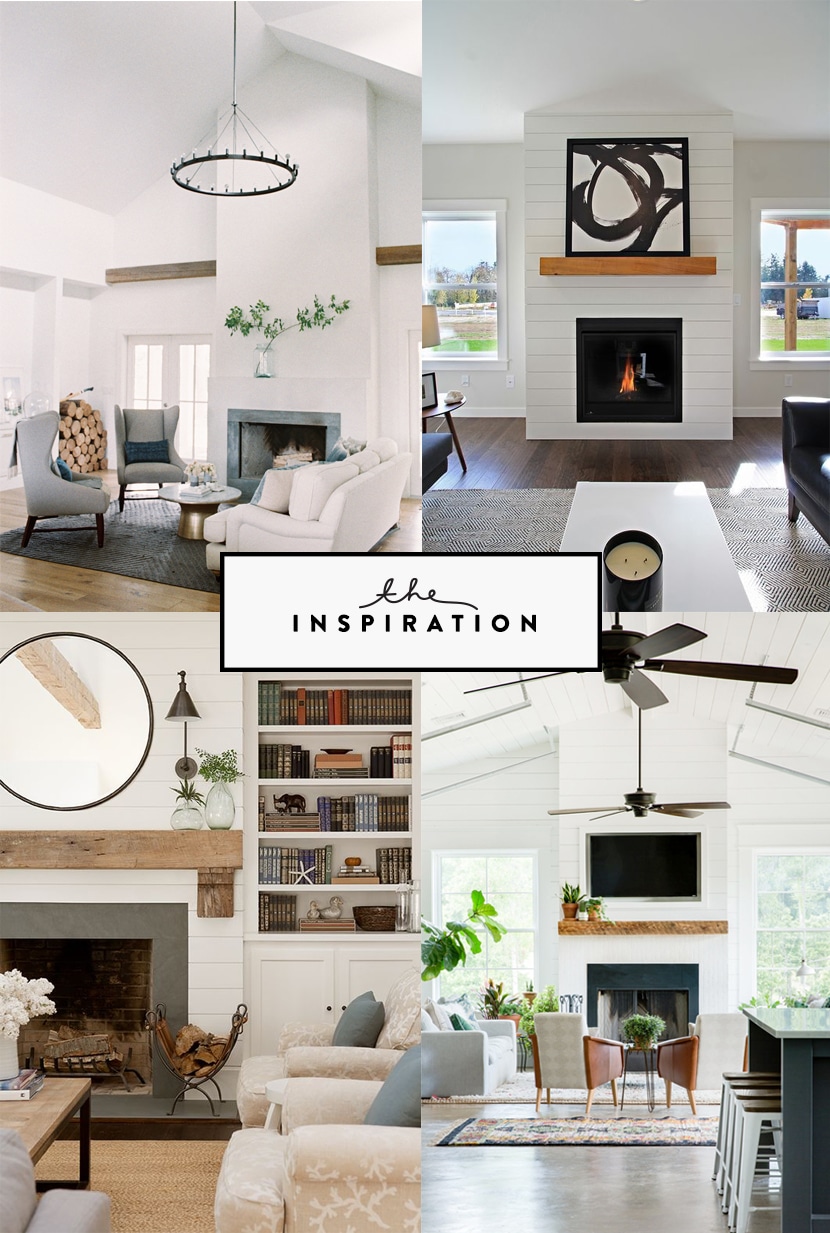 Images via: Cottage Hill Mag (top left) | West Coast Homes (top right) | Anne Chessin Designs (bottom left) | Coco Kelley (bottom right)
The thing I learned over the years from my parents who purchased homes and renovated them, was that even if you plan to be in a home for a long time, you have to think about other people who may eventually purchase the home. You have to always set up your home to eventually be sold. We thought about this a lot even though we plan to live in it for a very long time. The thing is you just never know and someday it will be sold no matter what.
So here are the two layouts for furniture we have been thinking. What do you think? You can see the sofa style and the chairs we would be choosing from in the roundup below. Also, note that the door to the flex room is a barn door that slides and the best view is through that large living room window. Most importantly the couch style will be in leather no matter what. We have learned over time that the best thing in a house with two dogs and a kid is leather. It keeps hair out of the cushions and it just gets prettier with the wear and tear of a family. Very important for us. This means that our chairs will counter the leather by being some sort of fabric surface.
Okay, I will stop rambling. Here is where you get to tell me what you would do!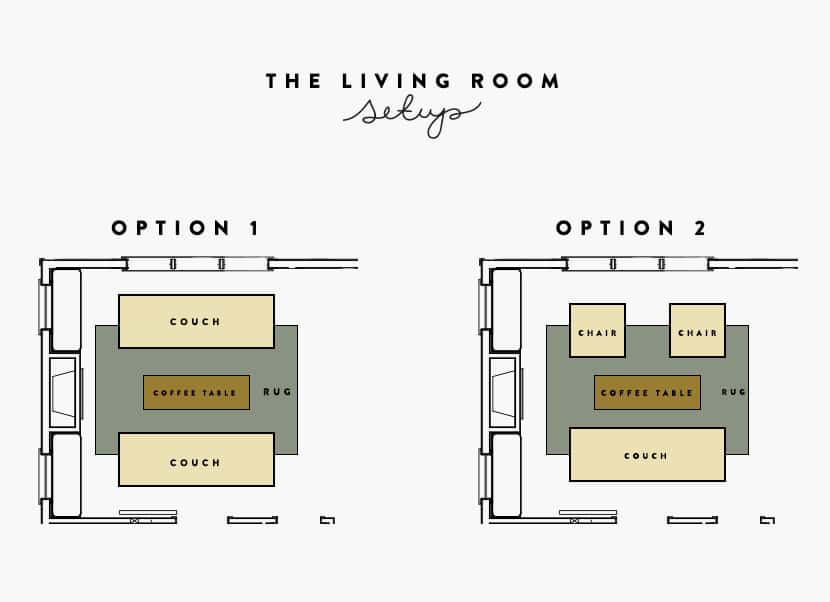 The first setup obviously would be the couch plus two chairs. This is slightly more affordable because we do not need to have two couches. I also like this because I feel it leaves the whole room a little lighter. The downside is that it feels very formal and this is where our family will spend the most time.
The second setup we would have two couches facing each other. This to me feels more relaxed and cozy, but it is a little more of an investment. I would also place two chairs (most likely the end chairs for our dining table we would use when guests come) at the end, but it is not necessary right now so I left them out.
Now, as a note, we did consider a sectional or an L-shape couch. I know some of you will suggest it, but we wanted to keep the couch and room feeling long and open. We don't want anything dividing the spaces so we came down to these two options. I am excited to hear your thoughts though about how we should make the space work well for us.
Below you will find the items and look we plan to have in the area. We also very specifically measured the depths of couches so we knew what would fit comfortably in the space.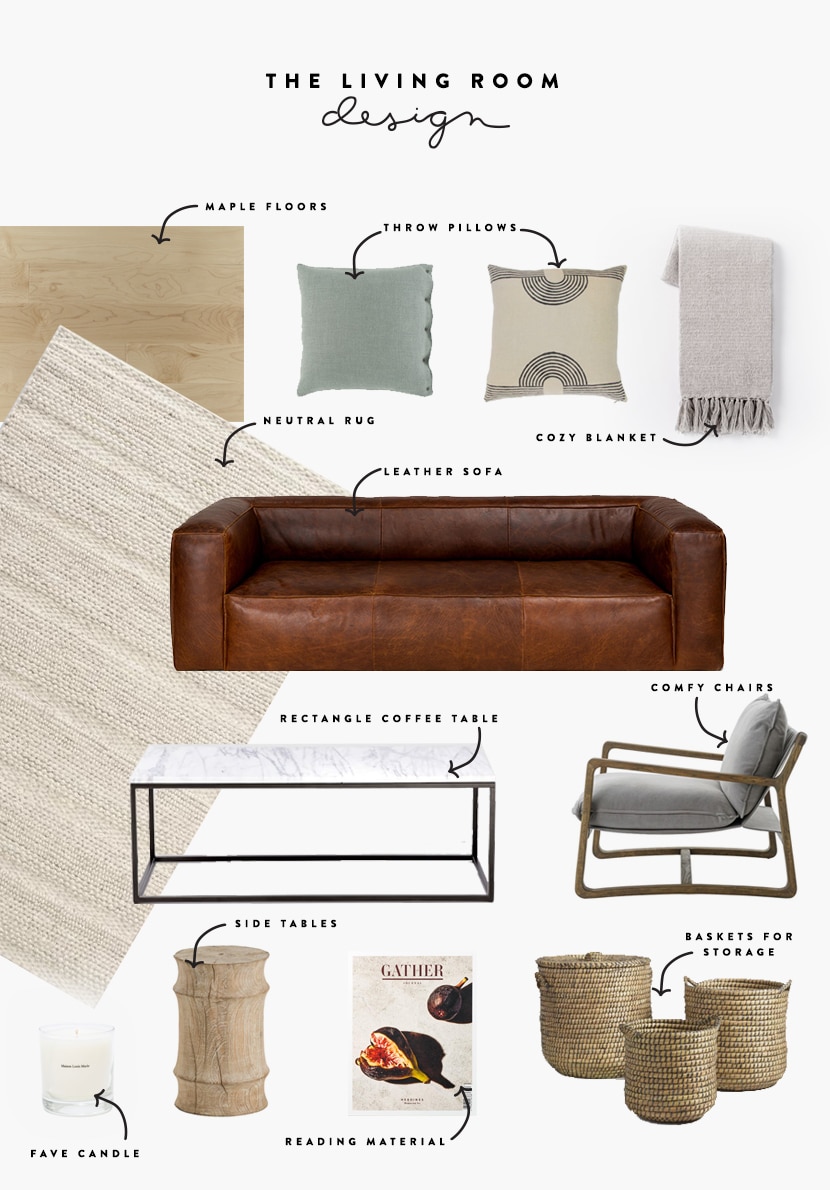 Maple Floors in Natural Finish from Mercier | Sea Glass Linen Pillow from TRNK | Patterned Pillow from Block Shop Prints | Throw from West Elm | Neutral Rug from World Market | Leather Sofa from Article | Rectangle coffee table from West Elm | Chair from Mcgee & Co | Candle from Need Supply | Side Table from Mcgee & Co | Gather Mag from Old Faithful Shop | Baskets from World Market
Excited to hear what you think we should do! This room has been a little bit of an interesting one. It quite possibly is the one space I wish we had thought through a little more in the design, but it is still very functional and open so I think it will be fine.