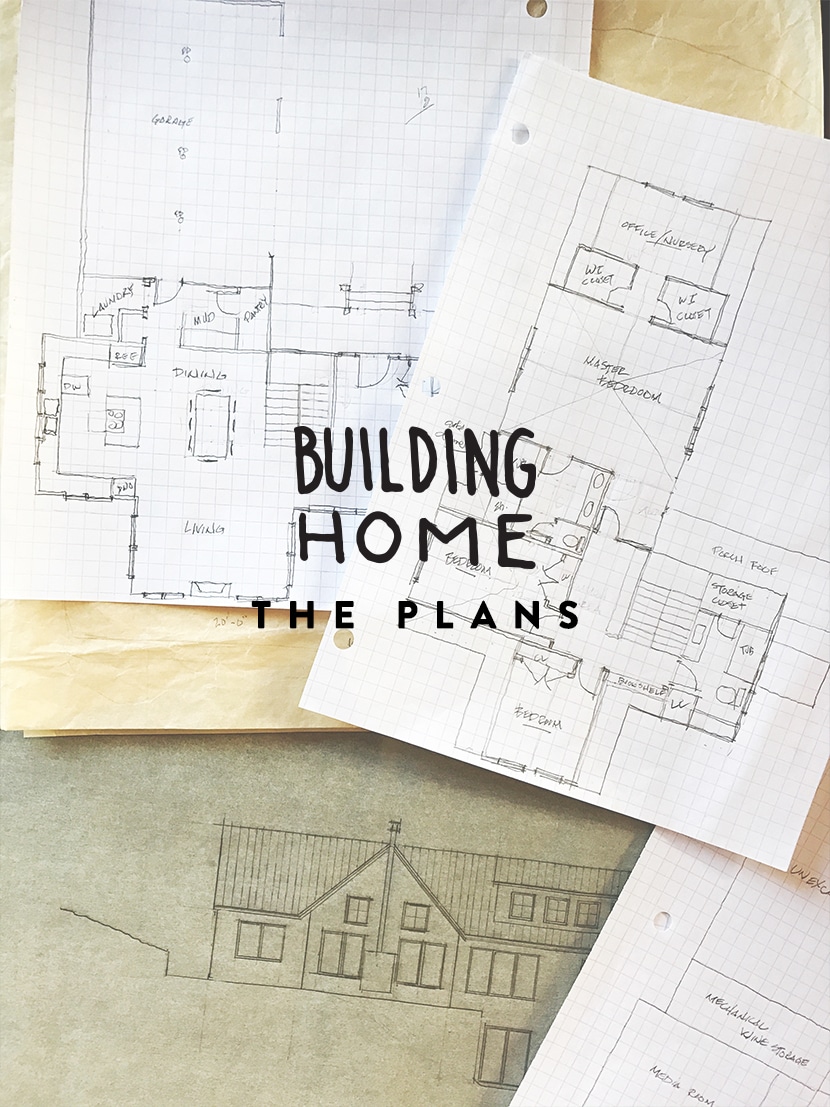 For almost 8 months we have been sketching house plans. Last month I was sure we had it nailed down, and then we started getting bids back and low and behold changes would need to be made to find the perfect balance of budget and design. It is part of the process of building your own home especially when you have a budget to stick within. Now, after those full 8 months, we have finally landed on a design that though simple, has everything we need, leaves room for us to grow, while still hitting the design pieces we are looking for. It has been a journey to arrive here. Since I chatted last week about the balance of design and budget I wanted to show you how we landed where we did in hopes that is both enlightening and gives you hope as you go about designing your home. I am excited to finally catch you up on where our minds have been since buying our land and starting this process.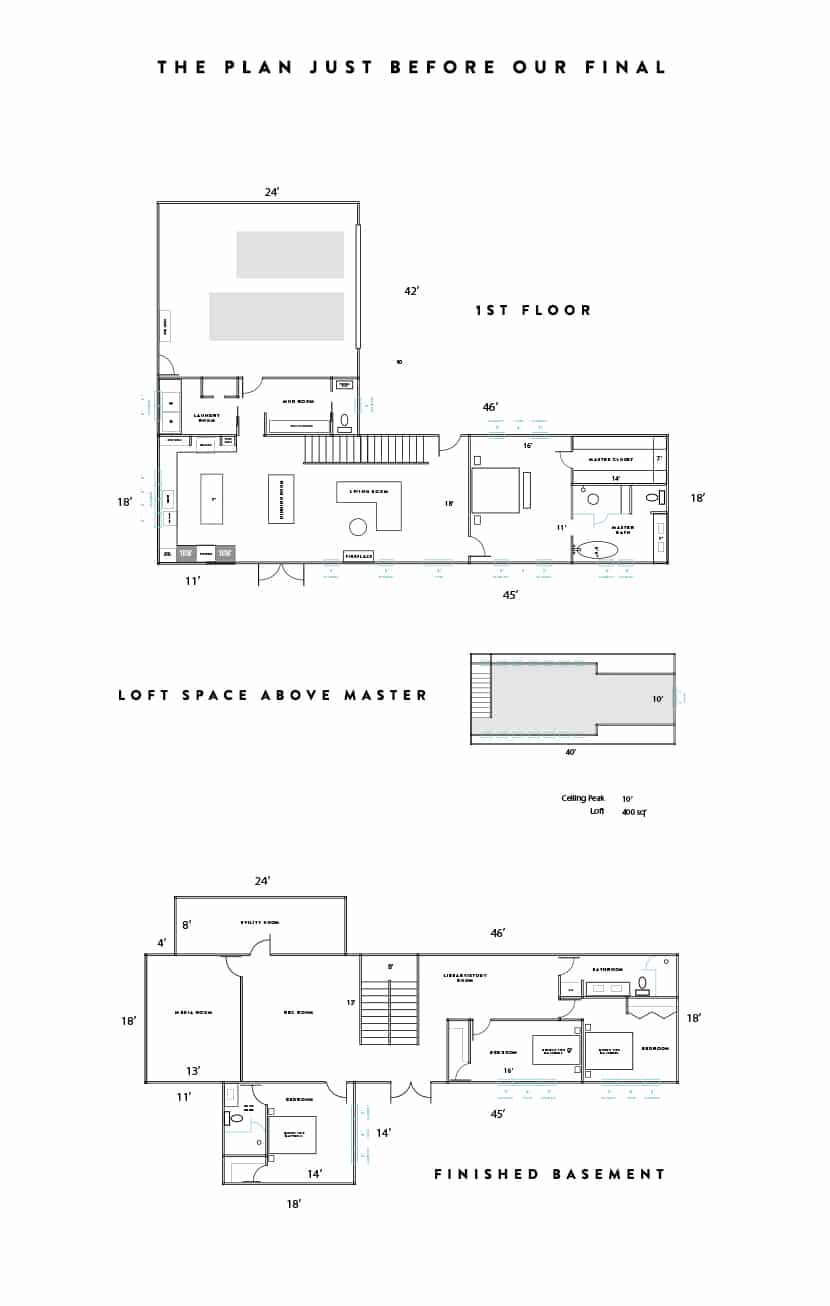 Above you can see the plans we thought were the ones. After about 5 designs (I will save you the full process because it is quite lengthy) each one slowly narrowing in on the gap between the design and our budget, we felt this last design was going to hit the nail on the head. Before this one, we had decided on a really neat 2 story design which you can kind of see the plans for in the cover image at the top. After getting some initial quotes we realized nope this isn't going to work so scaled it back and eliminated the second floor and decided to finish the basement instead, with the aid of services such as basement construction in London. In case you didn't know, basement square footage is some of your cheapest space to build especially somewhere like Michigan where the ground is easy to excavate. Building a second floor on this design was adding significant costs so we decided it didn't make sense to keep it. So we cut it, decided to do a small loft for our office space and then finish the basement instead. The result was right away we cut out $80,000 from our building cost. Crazy, huh?!
That was when we felt we had figured it out and designed the right house. Adding in the loft workspace gave us the chance to finish the main floor and the loft for now and finish the basement ourselves in the coming year or two. I was most excited this meant I could get the big vaulted great room and kitchen I had hoped for (a lofty dream of course). I had all these visions of the fireplace on a cold winter's night, but then after going back to talk with our contractor again, we were still too far from our budget. This was about the time I wrote the Budget and Design post. We scratched the above design completely and realized we needed to go literally back to the drawing board. For a moment we wondered if we would be building this house this year or not. We then started looking into studio pre-fabs we could build with the cash we had saved, live in it for 2-3 years and then build. Yes, we went down all avenues of how we could get out to our land, save money, but still make this happen. That is us and how we work. In all honesty though, hitting this point in the process is simply just that; part of the process. Building a home is a lot like anything monumental in life, it has ebbs and flows, takes a lot of work, and involves asking a lot of hard questions. As anything great in life, it takes hard work.
This was the point though where Mike simply asked our contractor, what is the most economical design we could do so we can build a home within our budget. He told us at that point, you will basically need to build within a square box so everything is as compact as possible. So we thought, let's give it a try. We knew the numbers it cost at that point to build a garage, finish basement square footage and more so we set out designing something from square one now knowing what we had to work within. As I worked through the design, I realized the spaces were better, more us, and came together better and tighter in this design. It was as if we had to go to all the other places to finally land humbly in the place we were meant to be.
I think when we walk down a lot of paths that turn us down or disappoint us we appreciate the path we ultimately end up more than if we had just arrived there to begin with. I am so thankful we walked down all those other paths because now at this design I see it all perfectly. It is nothing outrageous or over the top, it is simple, back to the basics, and everything we need and want mixed together. It just took trying a lot of other things to know this was right.
Currently, I only have our sketched designs using an awesome app like these Procreate brushes for free that will be turned into the actual working drawings. But since we know this now will give or take some small changes will be our we felt it was well beyond time to give you a peak into what we plan to build. Take a look and I will explain more of how we landed here and why we made some of the decisions we did.

First, let me tell you the things we decided to give up and why. I think we go into the idea of building thinking we can do it all, but I think it is better if you can't. A home is a process. A labor of love. The more we must personally invest in it the more we will feel ownership and love for it. That said, we have decided to take some things on ourselves and to wait on other things as well. Here are those decisions we made:
No garage for now:
I know what you are thinking…you are about to have a farm, where will you store equipment? Are you absolutely nuts, there are almost 6 months of winter where you live? But really are you nuts? I know I know. We went through it all. We love the idea of layering the two buildings offset of one another (you will see the rough idea below on our above shot of the land), but ultimately we knew the cost wasn't the priority in our budget. I told you tough questions are asked in this process. We knew we would rather save up money to pay for one in a few years when we REALLY needed it than do it right away. This will be a multi-stage process and we are okay with that. Plus, this leads us to the next decision we made.
We won't finish the basement:
Though this is some of our cheapest square footage we can build, it still costs money. We didn't like the idea of our kids sleeping in the basement space (or at least I didn't) so this gave me far more peace of mind to know we were all safe on the second floor together. Plus, when they are teenagers we can hear them sneak out easier haha. That said, the above design is extremely rough and for now this space will be used for storage of ski equipment, camping gear, and other things we will need for the farm. In the coming months, a firm design will be set so we can at least know where mechanical and storage will go. This is another space will that we will finish and do ourselves with the help of my dad over the coming years. We do not need the space finished at all at this point.
We may not finish our master suite:
I told you this will be a multi-stage process. This isn't totally off the list yet. This will come down to final budget numbers and so on, but that bathroom isn't a cheap thing. All those bathrooms you see on Pinterest, very cool, but also cost a good amount of money and as I have said before there is a lot of unsexy things you pay for so you can at least get some water to that awesome shower. You can't buy that cart before the horse, you know? So, we asked ourselves what spaces don't we need right away and the master suite is a big one we don't need. Eventually, we want it, but right now we just need two bedrooms, a bathroom, and an office/guest room. If we don't finish it, that will be highest on the priority list and then the garage and then the basement. We know we'll be using this Garage Floor Epoxy for our future garage.
There will be projects:
We know not everything will be able to be done exactly to turn key. There is potential we will do that shiplap in the bathroom or do the painting in the house, but that's okay. Not will just be figuring out what things we are okay doing and what we aren't as we work through the final budget with our contractor.
So now that we talked about deciding on things that weren't happening and why, here is what is happening and more about these decisions we made.
Segmenting the house creates a flow:
When thinking about the house, we wanted to think about how it would flow. It was important to us that all of our living/dining/cooking was visible from one side to the other. Knowing our family would be growing in this space, I wanted to be able to cook and see the kids doing homework, eating, playing and more. I love how that worked out in our design.
Know thyself and your lifestyle:
The first few designs we did were going to be amazing spaces, but they also wouldn't have been completely conducive to our lifestyle out on the land. This house will have dirty feet, shoes, and more tracked through it as kids come from the woods and playing outdoors. We will be raising chickens and living a farm lifestyle as a family on the land. There will most likely be a point where a chicken is in the house. I have always loved English country homes so we decided to combine that with our love for Scandinavian lines and design. We wanted to feel connected to the outside and be okay with the outside coming in from time to time. Thus, we embraced our lifestyle goals and made sure our entry wasn't formal but instead was a mudroom ready to take on anything that came through the door, but still stored it away. We a good size laundry so we could tile it and make it a place for dirty dogs, boots, and more to live in there We wanted a big kitchen with windows because we will be spending a lot of time cooking, preserving the seasons, and entertaining. We wanted an office that wasn't too big so we didn't spend too much time at the computer. We wanted room to grow as a family.
We wanted to embrace the outdoors:
Living on our land we plan to have a lot of dinner parties. We plan to eat outside every day we possibly can and when we can't we want to feel we are cozy inside with a view of the beauty outside. Thus, we did double french doors off of the dining room/kitchen so got that feeling very easily. This also will lead straight out to the garden as well so it will make it easy to bring in fresh veggies, eggs, and more every day.
Create welcoming spaces:
I have this vision of cooking in the kitchen and one door slamming from one side of the house as kids run through to the other side of the house, dogs with them, and lots of laughter. I wanted to build a home that felt welcoming and comfortable but light and airy and sort of like a summer's day. I want guests to always feel welcome and so we made sure all of our entry spaces to the house had a view into the home right away. This instantly brings your guests in, gives them a place to hang things and make themselves comfy. This was very important to me. As you can see our entry is all about that. We might need to shop around for a concrete curb forming supplier for the materials we'll need for the exterior and outdoor spaces of your home.
Wall heights:
We love light. It is important to us not just because we do a lot of photography, but in the winter months it can feel very dark without room for the light to bounce around. That said, we decided that on the main floor we will do 9 ft ceilings and on the second floor we will either vault the rooms or do 8 ft walls (one again a cost situation). We also wanted to make sure we picked windows that would give us as much light as possible within our budget.
Next, I want to share with you the elevations (the exterior of the house)…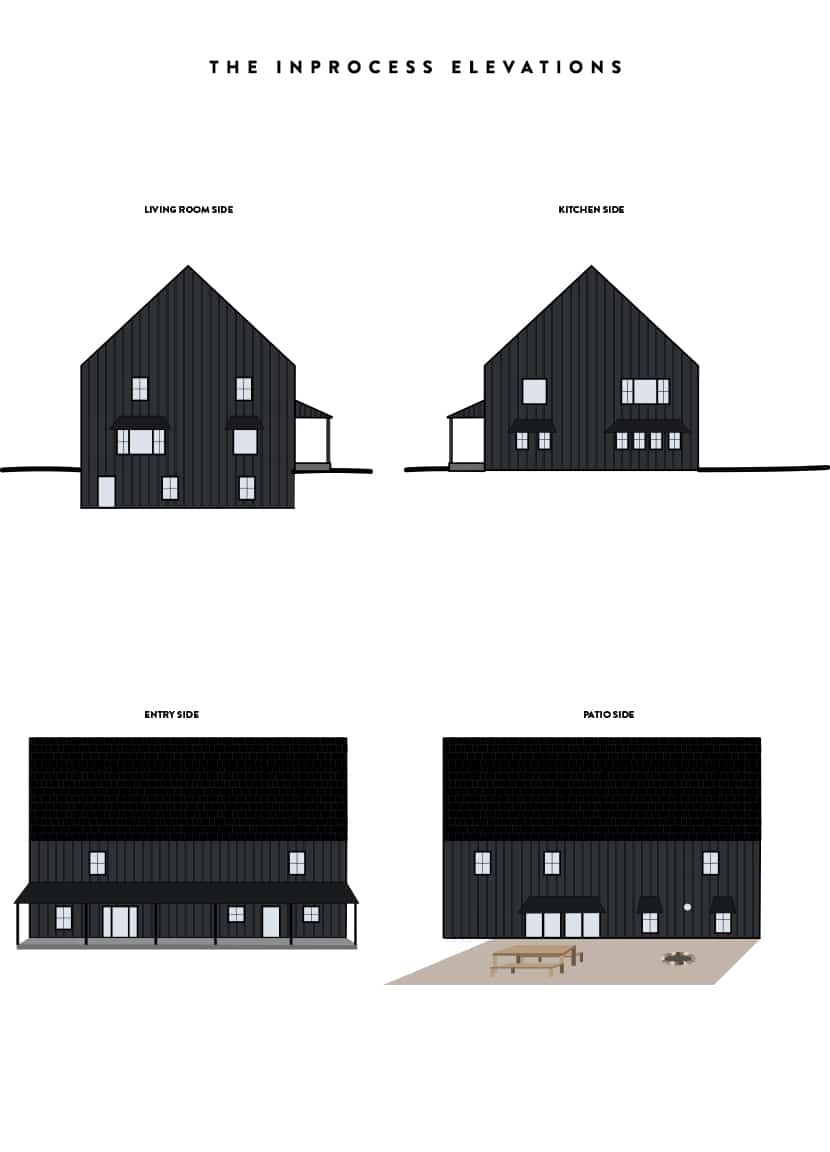 These are the initial concepts for the exterior of the home. These are rough and in process still. We're still deciding on the design and which materials to use for our commercial roofing installation with the help of our roofers. We haven't fully chosen windows or had them laid out properly so to know exactly what the exterior of the home will look like is hard to say at this moment, but we can at least begin the process of having an idea. A complete understanding of the exterior will come in the coming months. We do know that we want to do another dark house. At first, I wanted white, but all winter I have loved how darker homes look in the snow and since half the year we have snow, we decided going dark was what we liked. We also decided to do some kind of verticle siding. We haven't gone down the shopping route fully yet, but we love the look of a board and batten siding has. It feels both modern and farmhouse, which is the look we are wanting to go after with the home.
As for windows, we plan to do a mix of fixed, awning, and casement while also mixing up whether the window has grills or not. We love how it gives the home a barn-like feeling while still being simple and modern. However if our awning gets old, it doesn't mean that it automatically needs to be ripped out and replaced with a new awning or patio cover, as aluminum is very sturdy. My friend told me that I can call an aluminum awning repair expert to give my aluminum awning a brand new look!
Finally, I wanted to give you some idea of where we anticipate the home will be located on the land. This way you have some reference as we go through this process. Now, we haven't walked the land with our contractor just yet so there is good chance the house may move, but for now this is what we are thinking. This shot was taken this summer with our drone and is only about 6-7 acres of the land.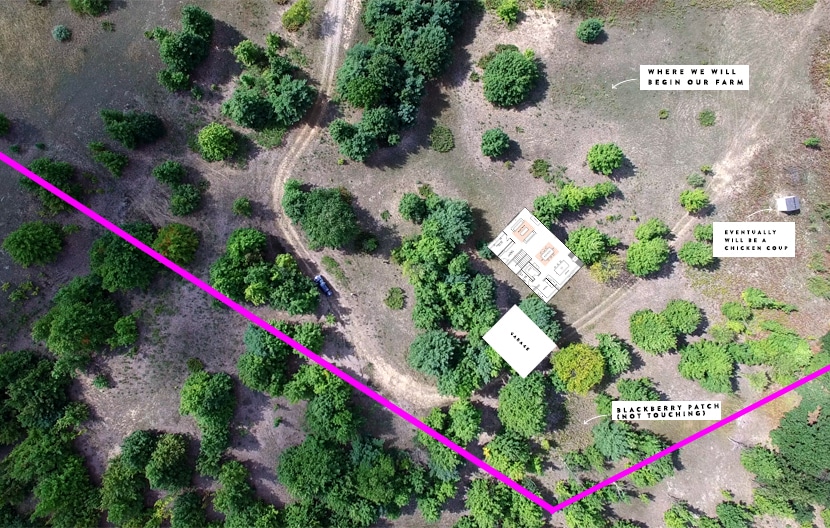 In the image above, the pink lines are the edges of our lot. The lot backups to a few other large acreage lots as well. You cannot see how far we are from the road in the image but the driveway (two-track) winds up the hill about a 1,000-1,500 feet almost to the building location. It is a pretty good driveway and the trees and hill shelter us from exposure to the road even though we are one only two people who will be living in this area. You cannot tell from the photo, but where the farm and chicken coup will be are on a hill that is higher than where the house is, which makes it a great situation for a walkout basement. Positioning it properly is the key, though. More to come on this portion of designing the house.
Originally when we designed this design the walkout was under the kitchen, but when I started playing with it on our land, I realized the walkout had to go under the living room and office window. I actually really like how it came together though.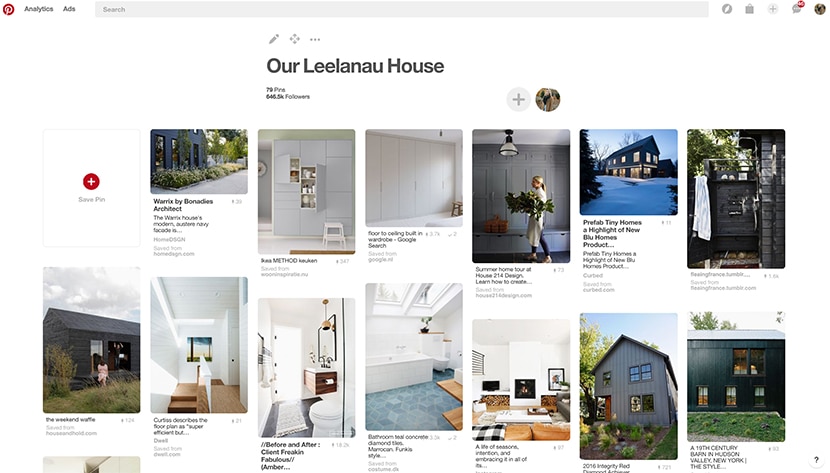 Now that we have a plan, we are finalizing our spec sheet and making all the decisions we possibly can about the house. This is the sheet that helps your contractor price your home and where to give proper allowances to you. I will be sharing more about this in a couple weeks after our's is done. I also will be providing a download for you so you can make your own very easily.
For now, though you can follow our public Pinterest board to see all of our inspiration and plans for the house. Soon we will start divulging the designs of every single space. The fun is beginning friends! Excited to share this process with you.