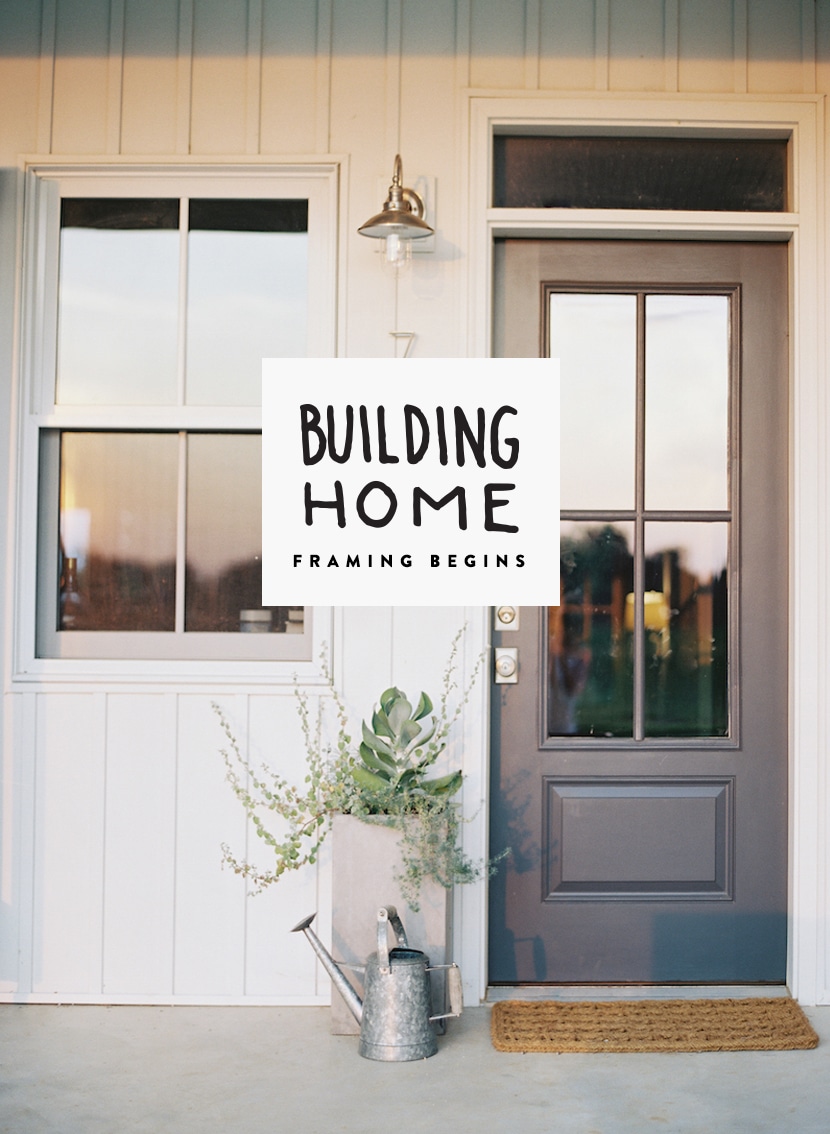 At the end of this week, our house begins getting framed. When we heard last week we were already going to start seeing walls, we had a slight panic attack. We sat at the kitchen table drinking a cocktail to ease the stress of what we felt wasn't decided on. We felt there were hundreds of small decisions we weren't firm enough on to feel good about walls going up. So somewhere in between finishing our work for the week and being parents, we spent the rest of the week and weekend deciding exactly all the details we possibly could.
Our Saturday, was jammed packed running from a window store to a door store to then meeting with our friend, client, and cabinet designer Sean from Hygge Supply. We felt completely overwhelmed, but between suggestions from our builder and Sean we narrowed in on our final -> go to framing design that not only took us off the ledge, but made us feel comfortable and ready for this next big phase to begins.
Before we head down the path of talking about the details of our design and decisions (I know I thought we would be talking design by now too…welcome to building a home!), I wanted to share an updated plan and give you a few details about changes and we made and why.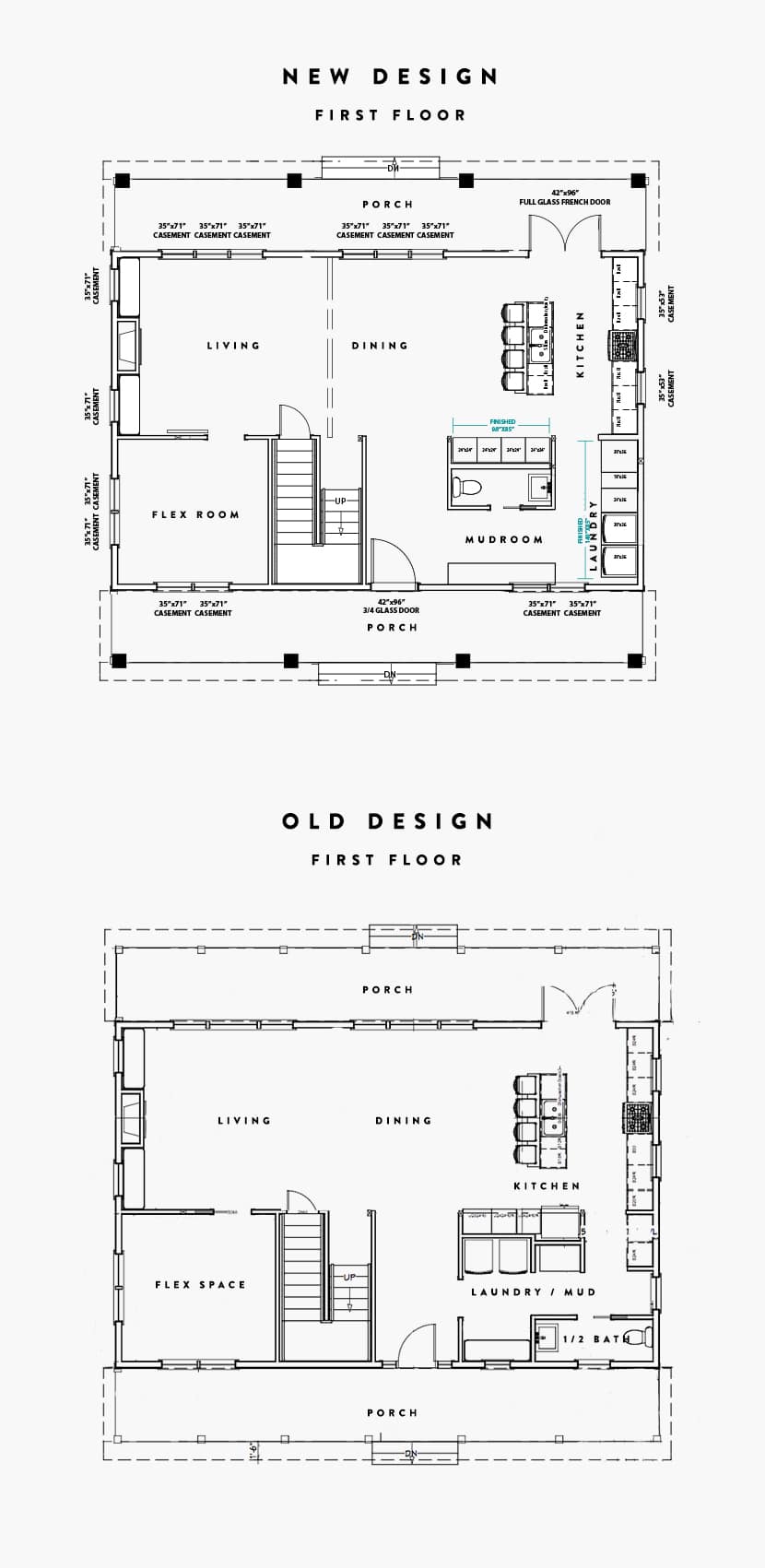 First I will begin with the main floor:
Header Height:
We decided to raise the header height on our windows and doors on the main floor. According to constructors, the ceiling height for a modern home is about 2.4m and since we have 9 foot ceilings on the main floor we wanted to get in as much window as we could. As a reference a header is the piece of wood that is framed in above the doors and windows inside the walls. A header is placed above each door and window. This updated header height will better accommodate 71″ high windows.
Pocket went to Barn Door:
In the office we adjusted the pocket door to be a barn door. We wanted a pocket so it didn't swing into our living room or into the flex space, but with the limits number of walls in our home we needed the interior of the wall to run duck work and more upstairs. So we decided to choose a barn door for the front door installation reston so it can be closed if necessary.
The Laundry/Half Bath/Mud Room:
This was where Sean brought in his vision. He decided to move the laundry to the exterior wall. Our whole laundry will be stored in cabinets he has designed so having them on an exterior wall makes them easier to vent. Then he flipped the half bath behind the pantry and fridge in the kitchen ( I will explain that more in a minute). We then opened up that whole wall on the front East wall of the house by the entry. This allowed us to place a window that mirrors the other one on the opposite of the main floor. I also wanted a larger area for hoooks and a bench. Now that is far more possible than it was. We were struggling with our windows on this side of the house a lot because it was the front of the home.
The Cabinets for Laundry/Mudroom:
All those cabinets on the north wall of the house where the laundry is will be floor to ceiling and about 36 inches deep. This means we will have space above the laundry and to the sides to give us space to store cleaning supplies, coats, and other things. Then the top cabinet in that section that is about 30 inches wide will only be a lower with a counter and open shelving above it. This will give us space to store appliances we don't use often and other pantry items.
The Half Bath Switch:
By switching up the location of the half bath not only did we open up that wall, but we also made it even easier for our contractor to move water and duck work through our walls to this side of the house. We opted to go with two single counter depth fridges that will be hidden in cabinets so that opened up the wall for our contractor to have a nearly 6 inch wall opening between the cabinets and half bath while also having a nearly 2 foot soffit above the cabinets as well. All are really important things to help accommodate moving utilities through the house.
Front Door:
We decided to forego sidelights front door we've gotten from this wide selection of doors in Syracuse. Since we won't be in a busy area we are doing a 3/4 glass door for the front and this will really give it a little more presence.
Fewer and Larger Pillars for the Porch:
The last update we made was to have thicker and fewer pillars on the porch. We are doing a wood porch because it saves quite a bit of cost in terms of cement and flat work needing to be done for the house. So, to keep the look minimal and clean we paired these down, which also helped things be more centered.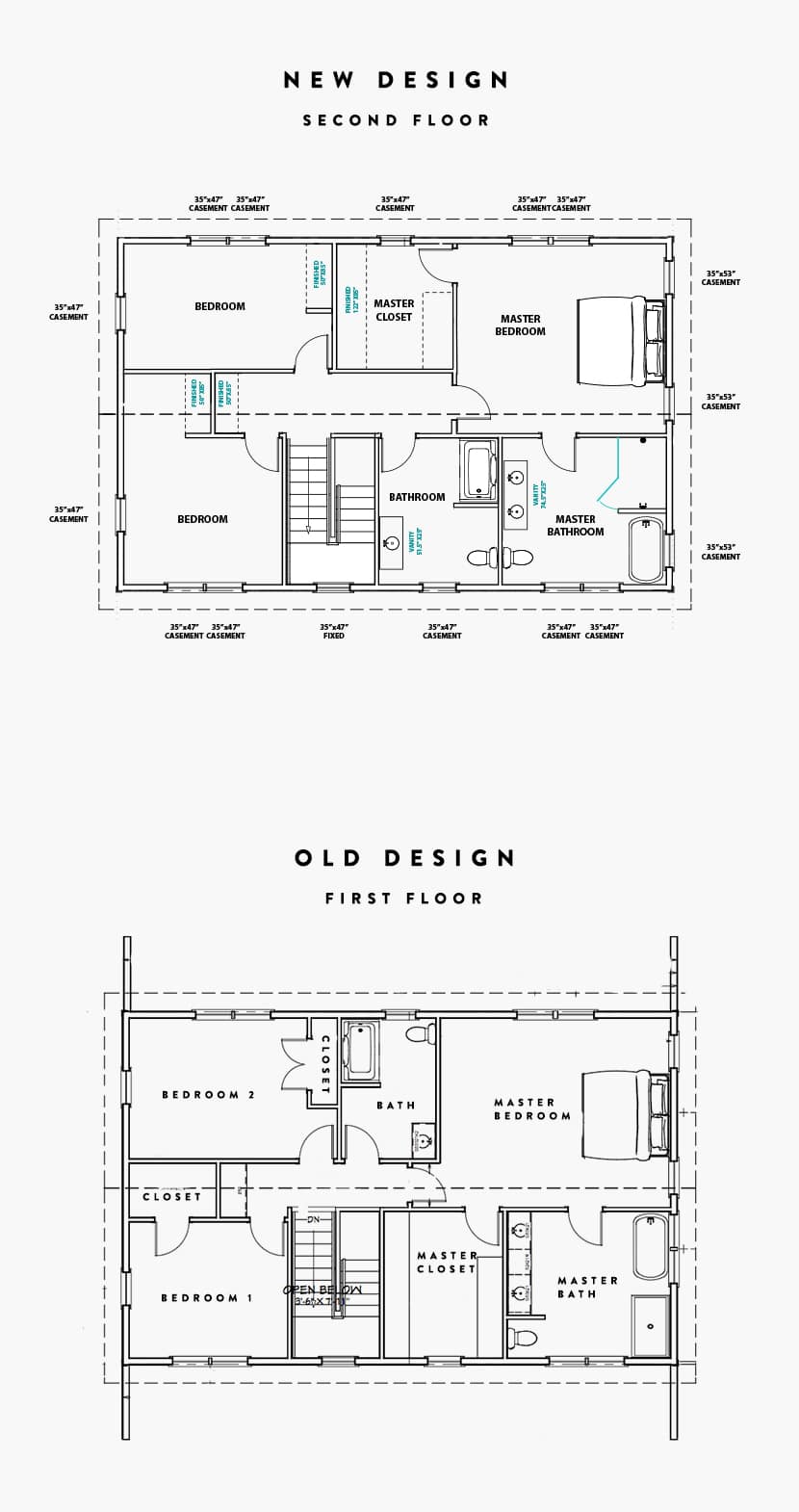 For the second floor these are the changes we made:
Widened Hallway:
We felt the hallway was way too tight. We had plenty of room to open it up some so we went for it. Now, we are really happy with it and dreaming up some ways to bring a farmhouse feel to it.
Adjust Closets in Bedrooms:
We are using closets that are design from cabinets from Hygge Supply and so since they will be floor to ceiling cabinet closets we decided to create a nook in the smaller of the two rooms for a desk or something similar and then left the larger wall in the other bedroom open so a bed could be placed on it and take in the view to the west of the house.
Master Closet and Bath Switch:
This was on Sean's recommend. Our closet was very big. Far bigger than we would ever use so he suggested putting the bathrooms back to back so all the utilities were clumped together and the closet was slightly smaller. We now love the layout of it all. It made things simpler for building as well, which always a plus.
Shower and Bath:
We flipped the shower and bath in our master bath. We debated about doing it all one wet space, but after a lot of discussion feared it would feel cold considering the size. So we opted to do them separately. This also allows us to set the handle for the shower on a separate wall so you can turn it on and wait for it to get warm before getting wet. A little but important feature, I would say. We also hired Menasha plumbing services to make sure the new water heater is hooked in the right way and that it works properly.
Since framing begins at the end of this week the changes we have after this point predominately relate to electrical and finishes for any building.
Though framing can take a few months with inspections needed from our electrician and plumber Sydney before the drywall can go up. We are only beginning, but it is already going quick so it is a little overwhelming.
More to come in the next week! I plan to cover our exterior because I know a few of you have asked what we went with and why. Great questions! We also will be going through all of our finish decisions soon as well.
Top image via: Cottage Hill Mag (this house has a lot of inspiration for our home)