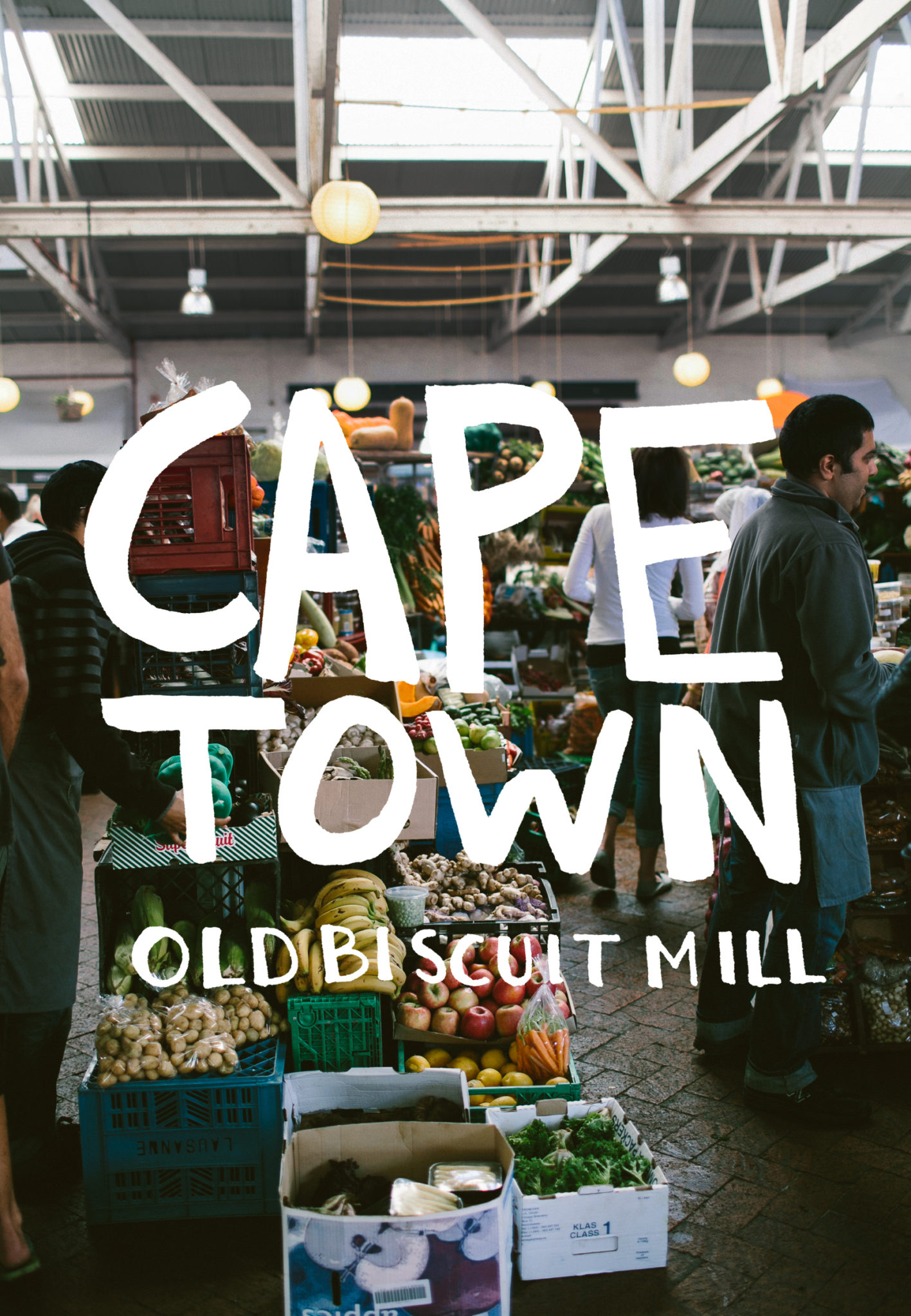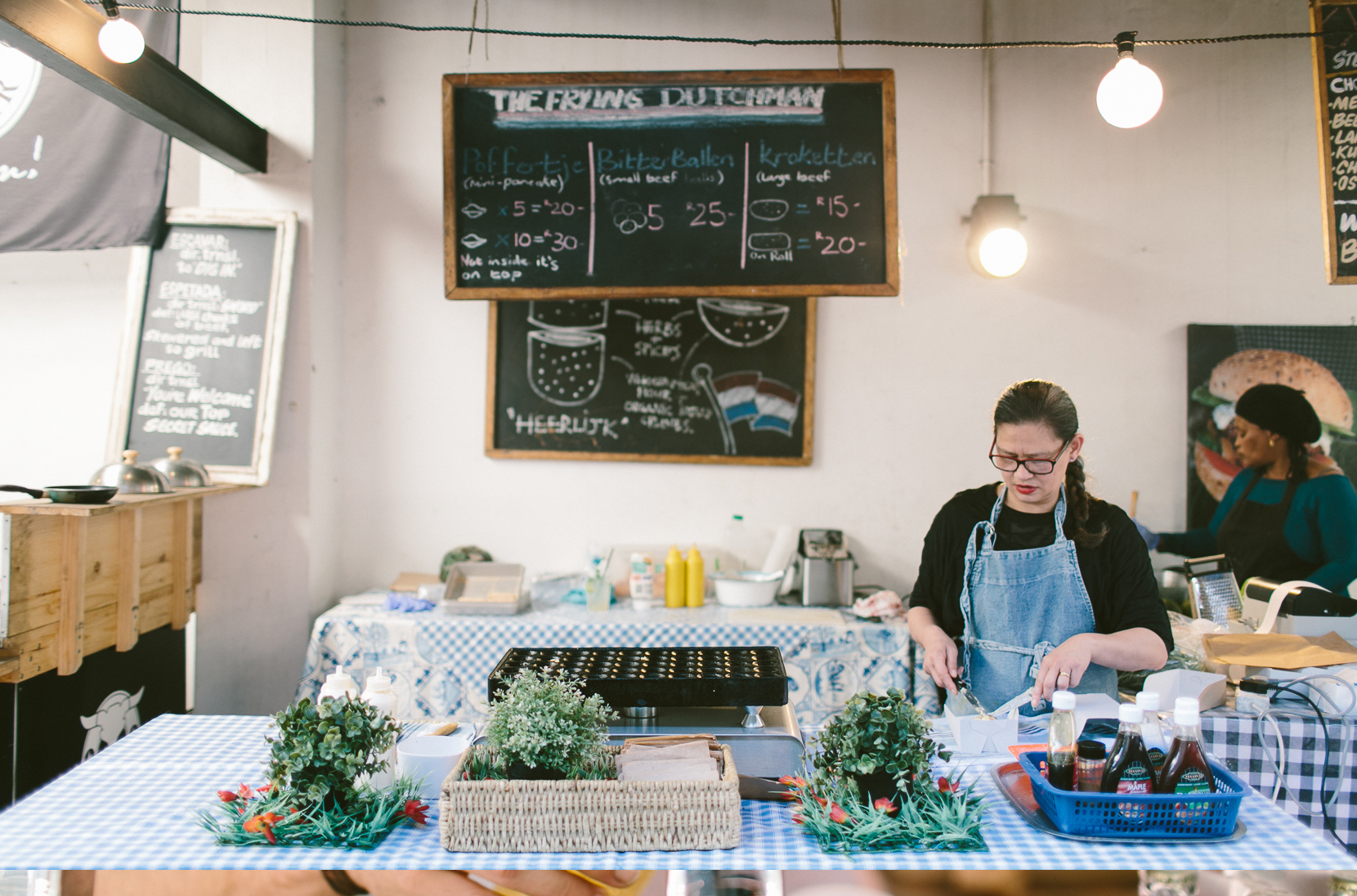 Saturday was the only day we have fully taken to explore and not work so it was quite an action filled day. It actually had a weeks worth of adventures in one day, so we have decided to spread it out over a few days to give y'all the full experience.
We began our Saturday in the Woodstock area of Cape Town at the Old Biscuit Mill for the Neighbour Goods Market. The Neighbour Goods Market is a once a week market that has food stands, coffee stations, mobile bars, boutique fashion pop-ups and everything in-between. As I mentioned in earlier posts, I really didn't do much research so all of this was a beautiful surprise.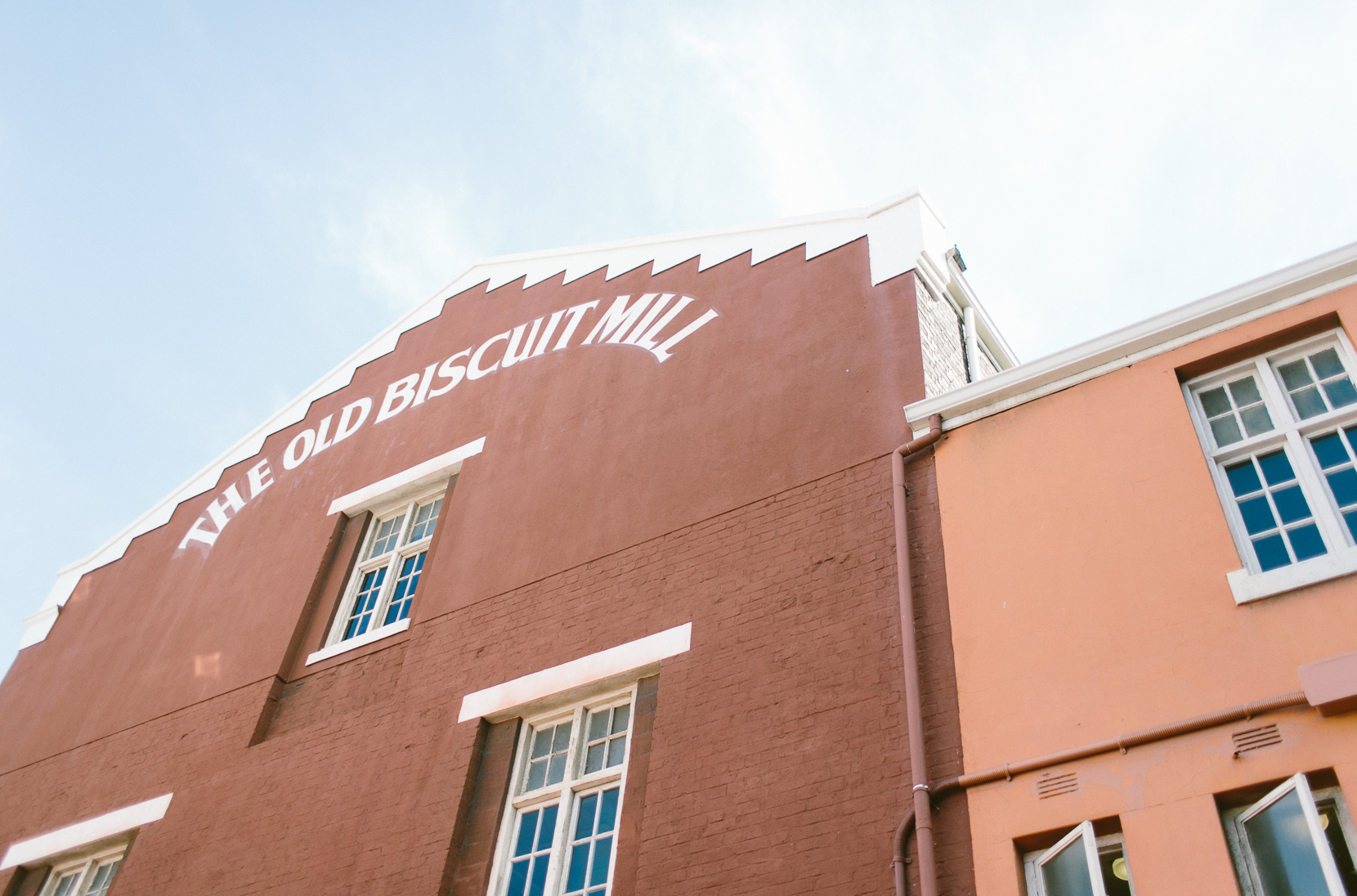 I honestly had no clue what to expect in Woodstock or The Old Biscuit Mill. I only knew we were headed to a market full of artisan food and hand crafted goods. Woodstock is a real up and coming area of Cape Town. It's still a bit ghetto, but that's kind of why you like it. I would compare it much to downtown Detroit in Corktown. There are really unique coffee shops and local designers stores, right next to falling down buildings with roaming animals. So it still has some pretty rough around the edges, but it is totally the next thing in Cape Town. I think it was honestly more of what I expected to experience in Cape Town.
As we walked through the gates into the market I was in complete shock. I have been to markets in Brooklyn, LA, Chicago, Paris, Italy, and Beijing but none come close to this one. This may be the best representation of the Capetonian lifestyle. The array of style, creativity, craftsmanship, and quality really blew me away. I was in love.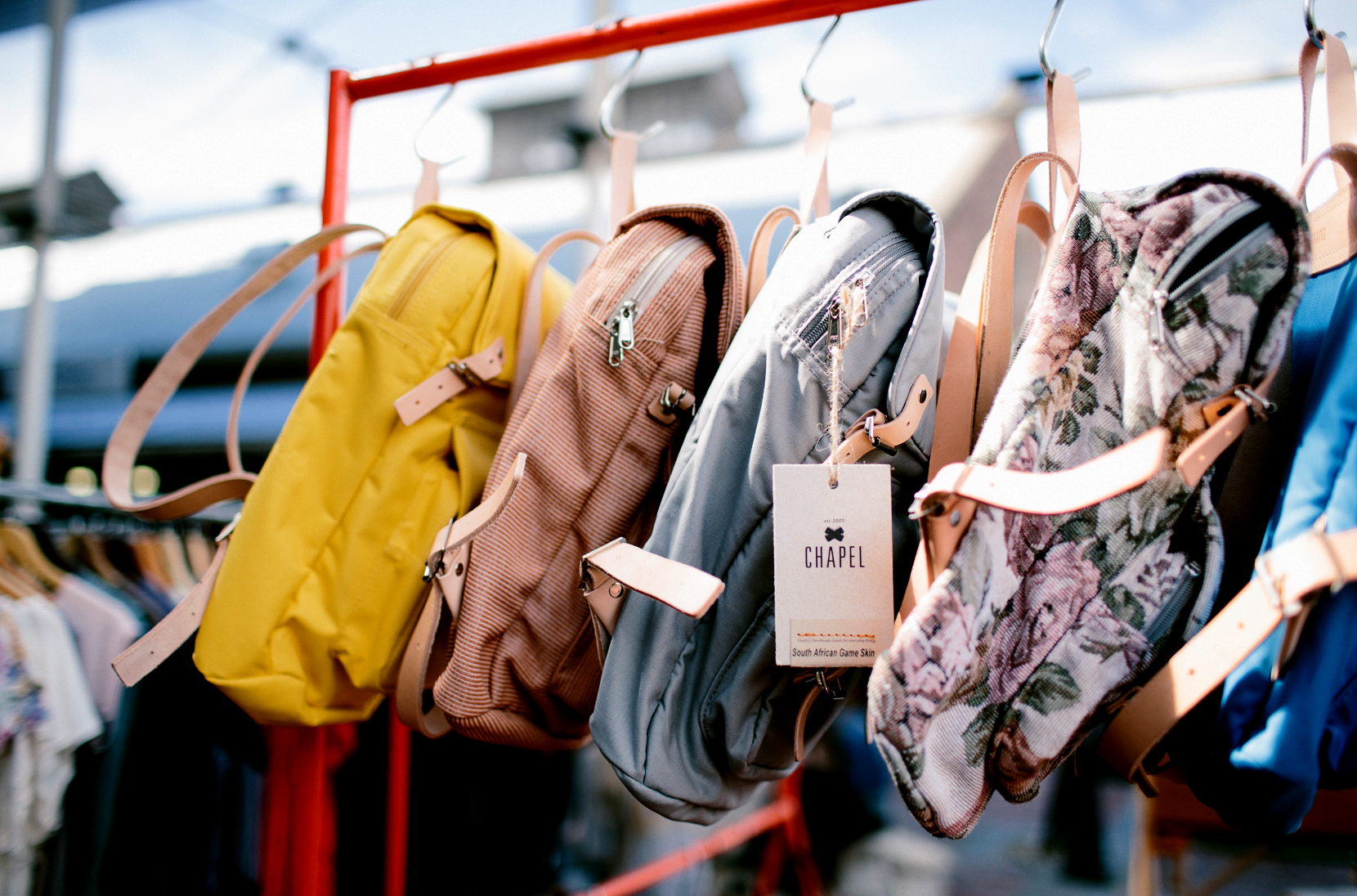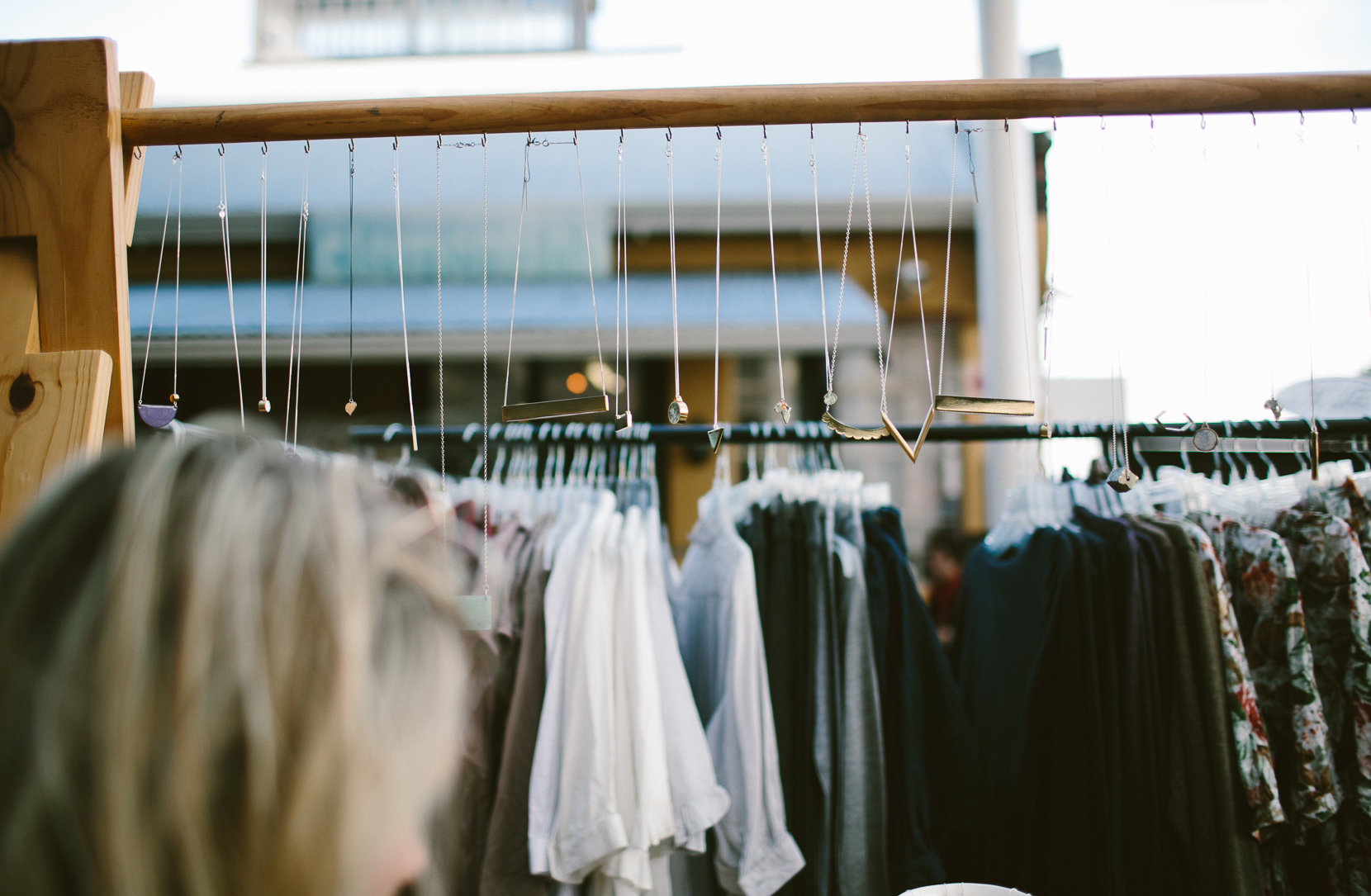 As you walk through the gates the clothing and accessory area is at the front of the market. Now most markets are layered with junk and tacky home made trinkets. Not this one. This was as if a professional curator came through and hand selected everything there. From one of a kind hand made shoes to gorgeous simple jewelry to hand stitched bags and leather goods. It was perfection. I fell in love with Chapel bags and am still dreaming of getting one before I leave. These bags were really cute and the perfect size for everyday use and travel.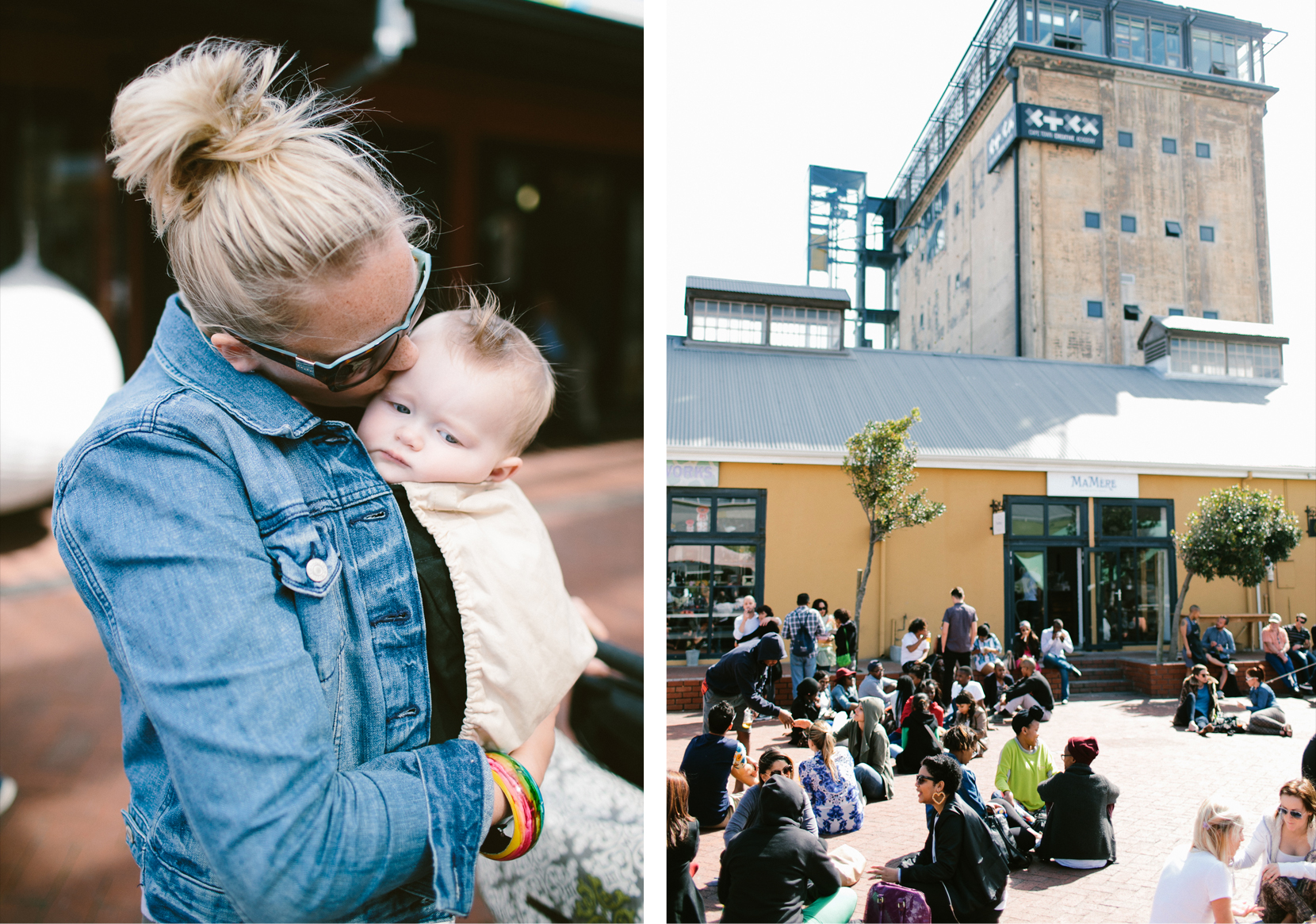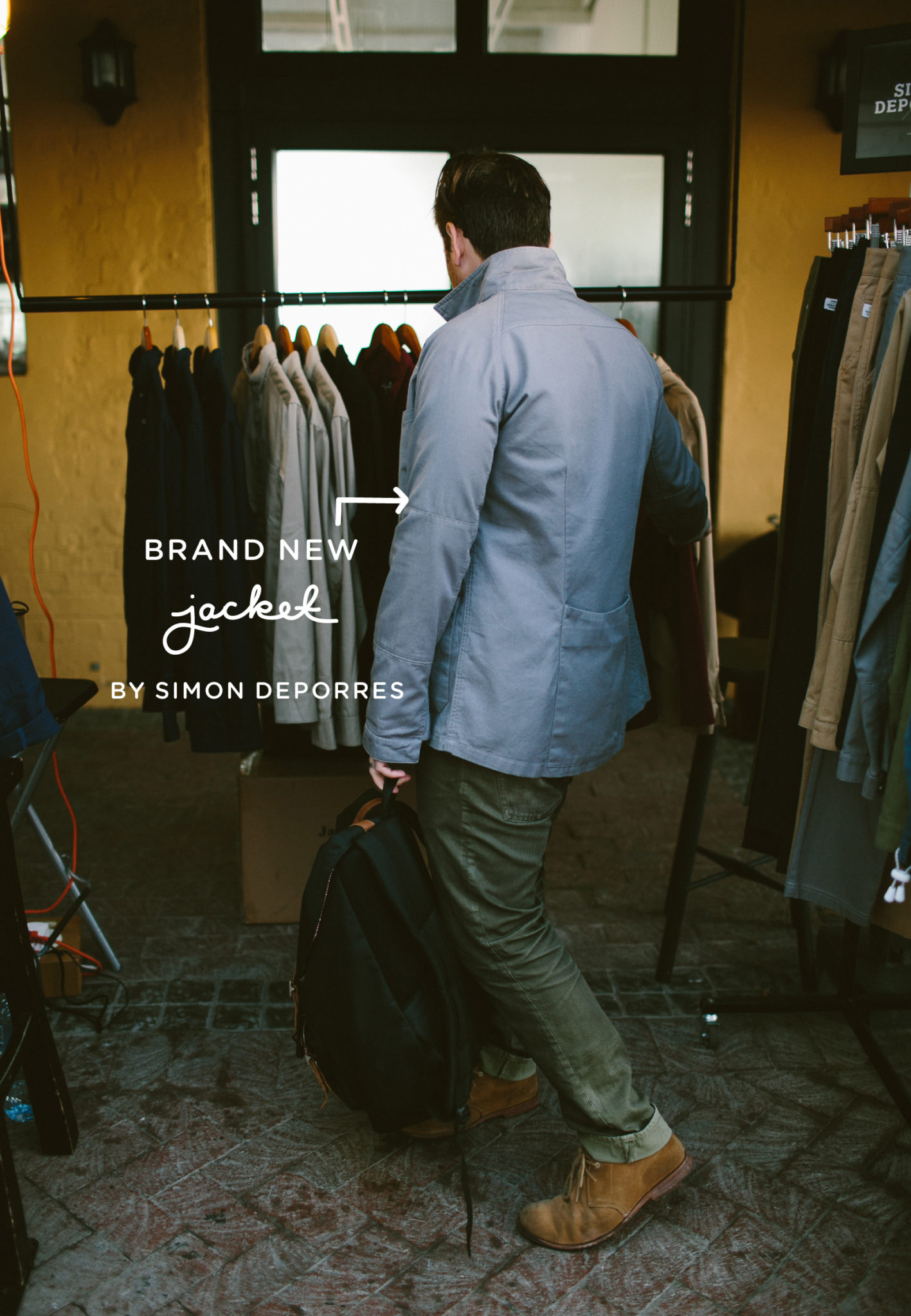 Mike was pretty stoked to come across some great hand crafted men's clothes. He instantly fell in love with Simon Deporres and nabbed one of his new jackets. We were really surprised to find out that the guy helping Mike pick his jacket was Simon Deporres, the designer of the jacket. He was in the market selling his line. How many experiences do you have like that in a market? Very few. We had a hard time not purchasing too many things as we were pretty much obsessed with everything in the market.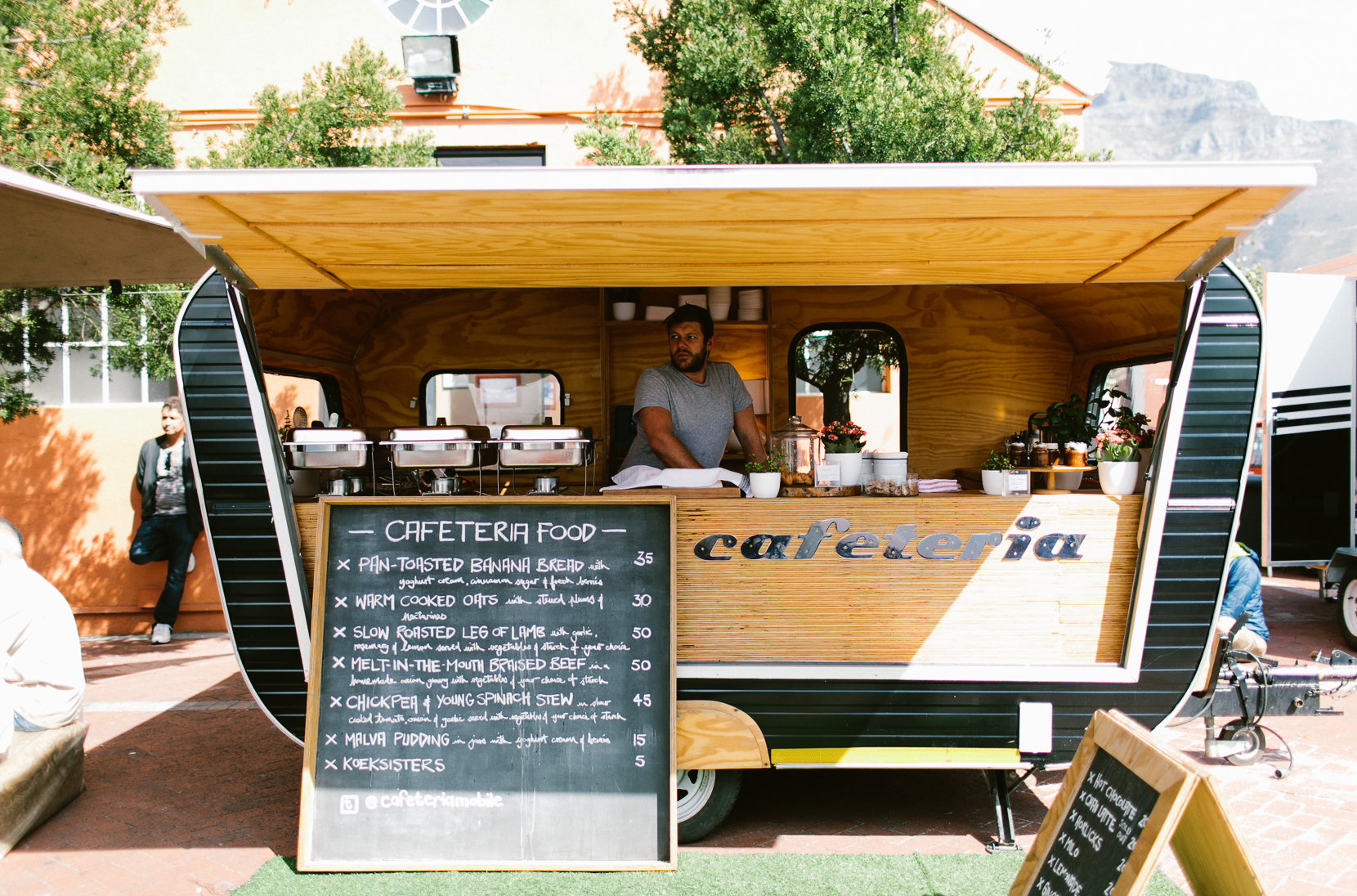 After wandering through the clothing area we worked up quite an appetite and made our way into the food market. I have seen and loved the Neighbour Goods Market branding for quite a while, but I didn't realize I this was it until I saw the sign at the entrance. The market was split up into two huge rooms. The first room is a bright light filled room of gorgeous food and designed home goods. Farther room is basically the greatest small table collection of food vendors you could imagine.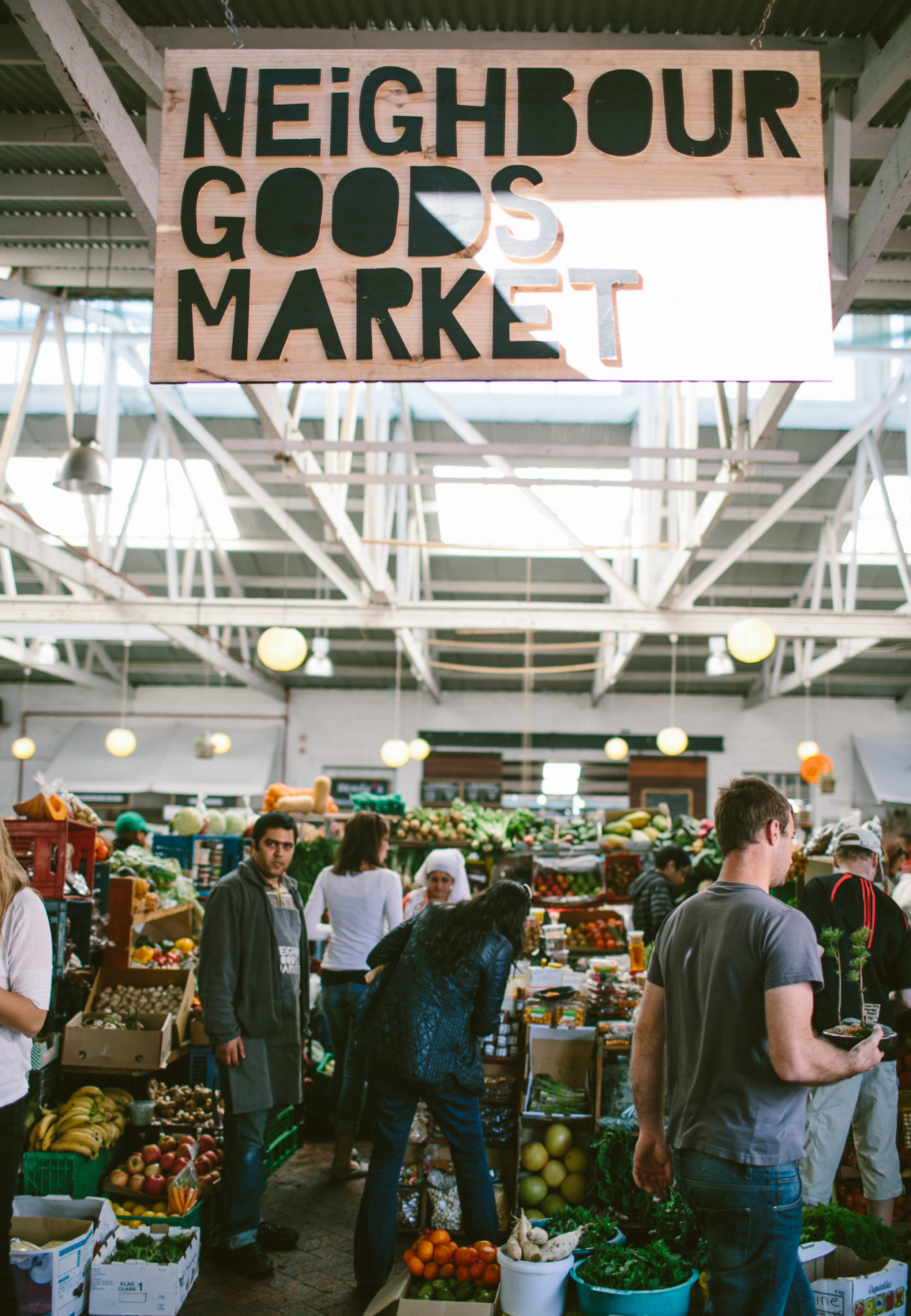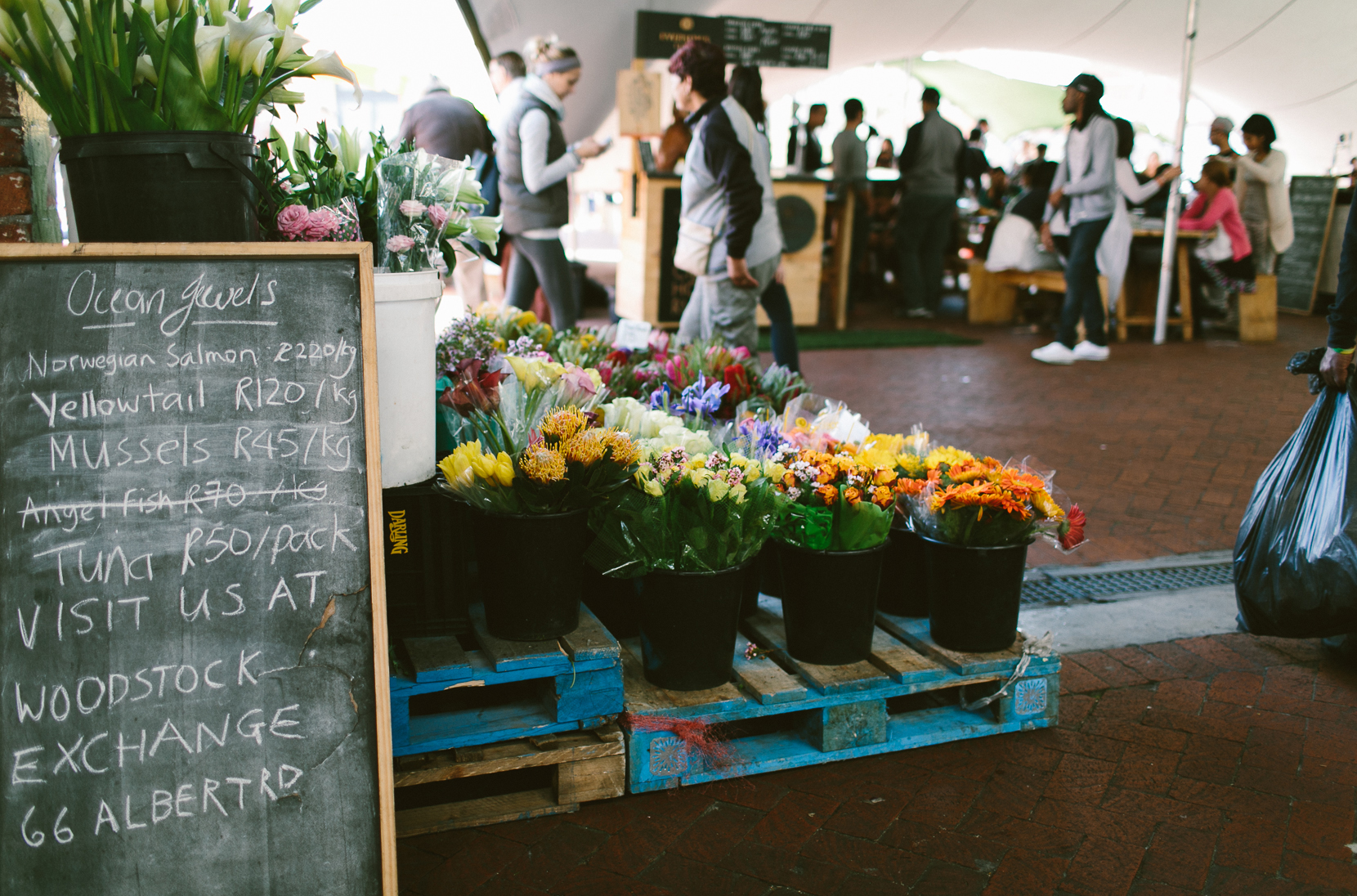 You will find everything from hand crafted beers, freshly prepared Thai food, Parisian-esque sweets, ostrich burgers, wood fired pizza and local coffee and wine bars. I have never been so overwhelmed and literally everything was top-notch as well. We had to take three laps around the food stands before we could finally pick a lunch spot.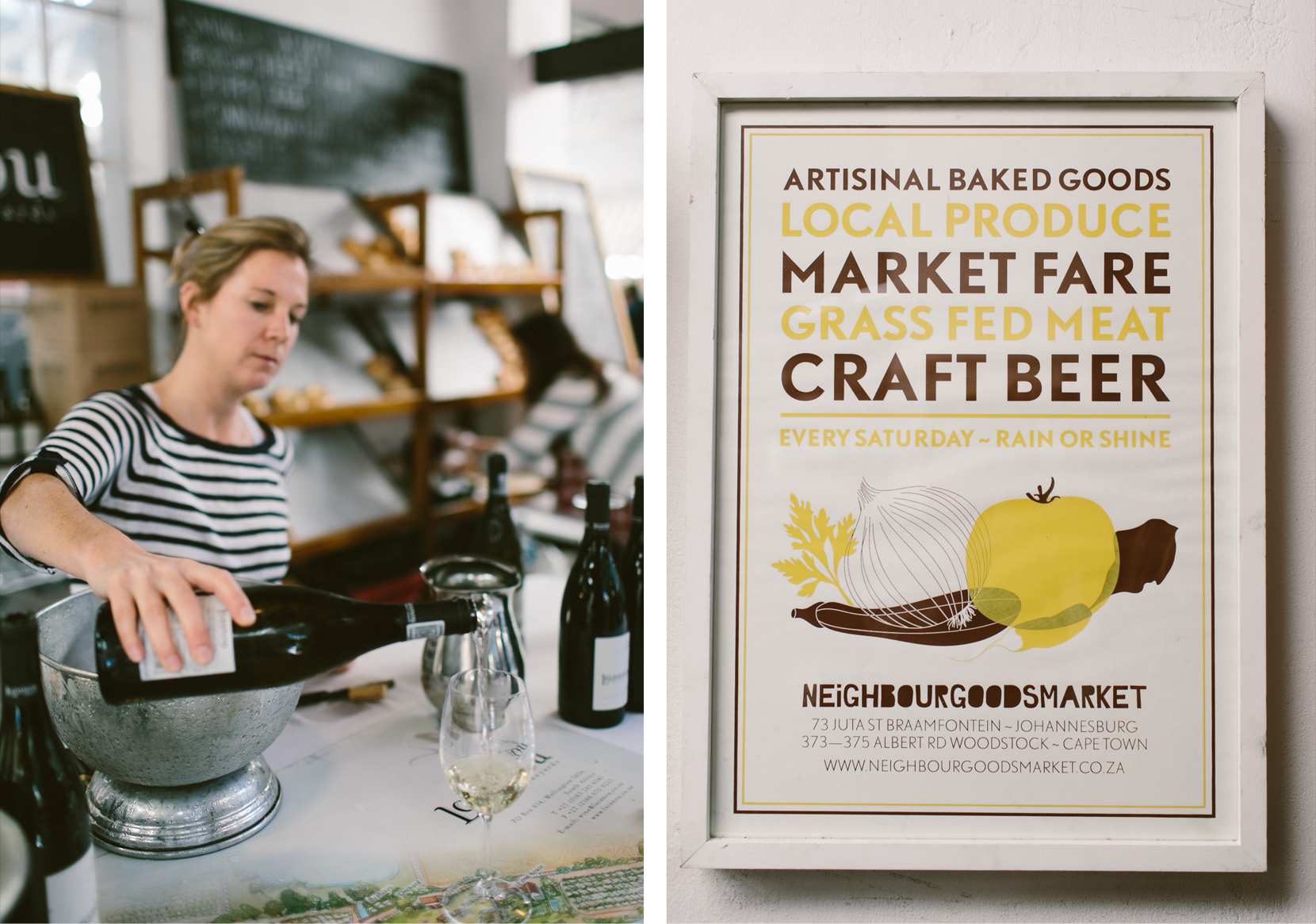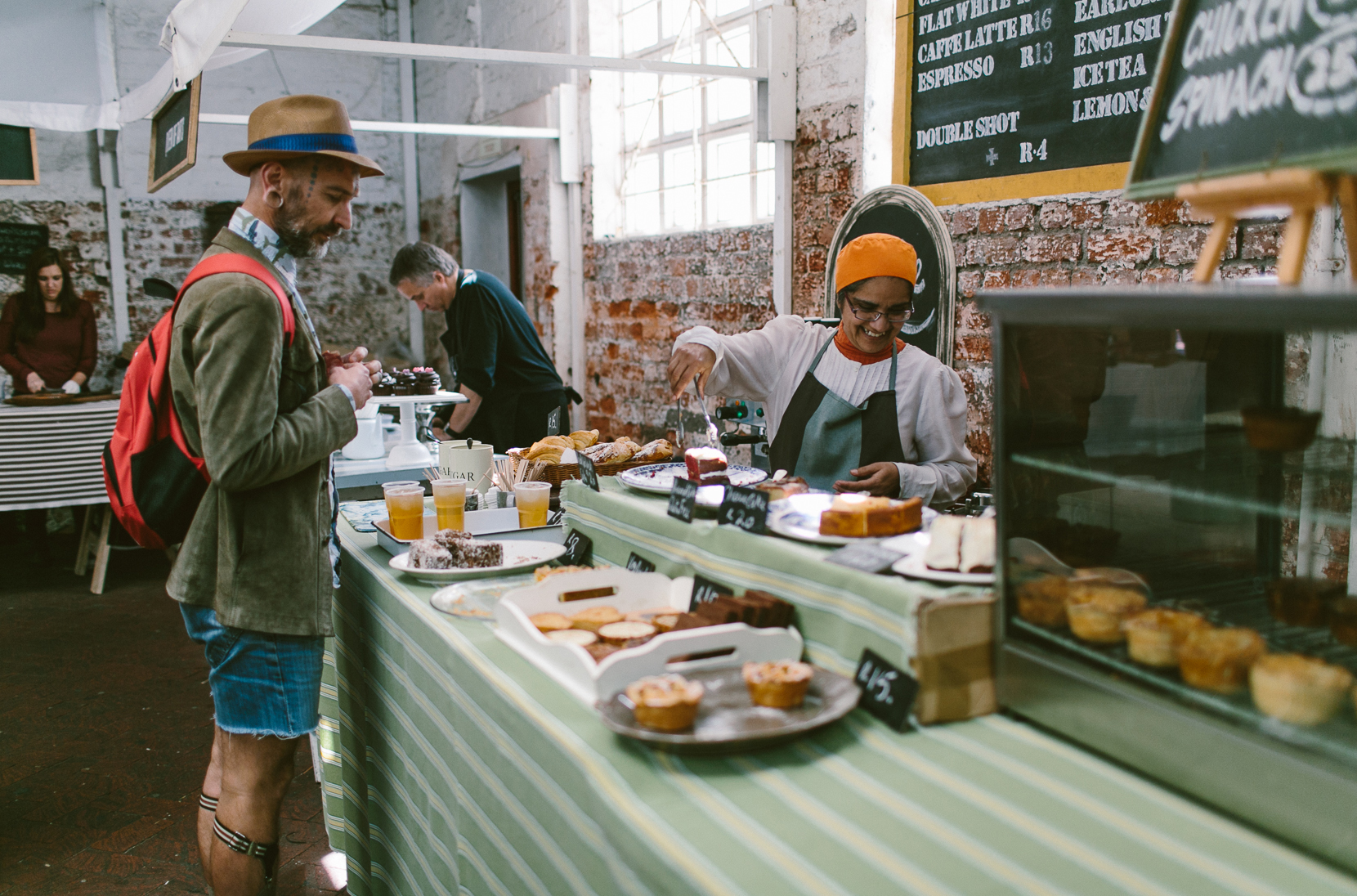 We couldn't settle on food so we started with drinks. I grabbed a glass of wine and Mike nabbed some local pear cider from Everson's and we then did our best to narrow in on a food decision. There are so many things to try and so that is just what we did.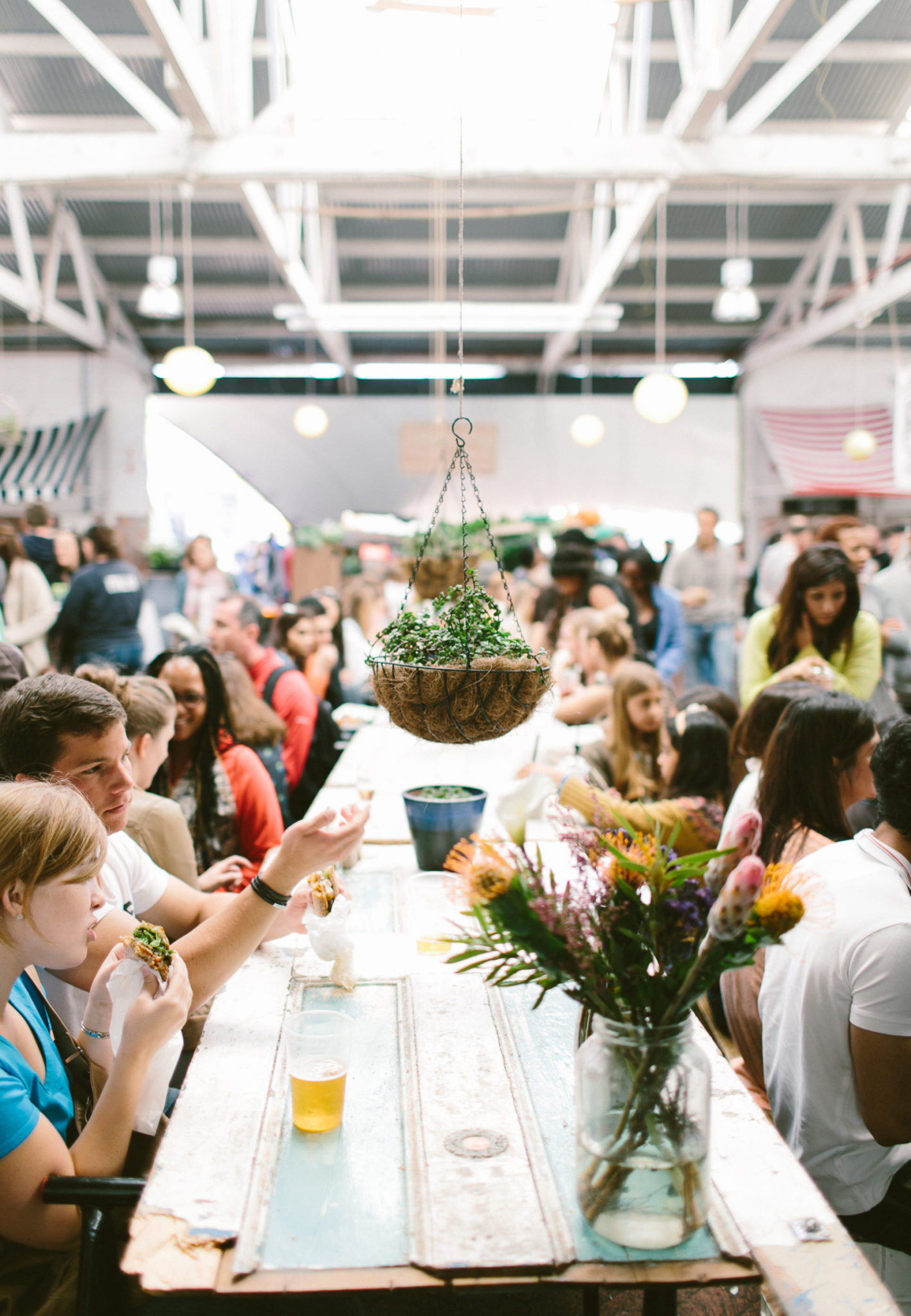 We wandered the whole market checking out every stand. As we walked around I noticed a huge table right in the middle of the front room made entirely of salvaged wood doors, um how cool is that? It was gorgeous. Candles dripped wax on the wine bottles and beautiful people talking about the coming of summer. Local flowers were on every table and natural light lit the entire rooms. It was as if the vendors had set tables for the community to enjoy their hand crafted food then slipped away to create their decadent creations. It was a treat I will not soon forget.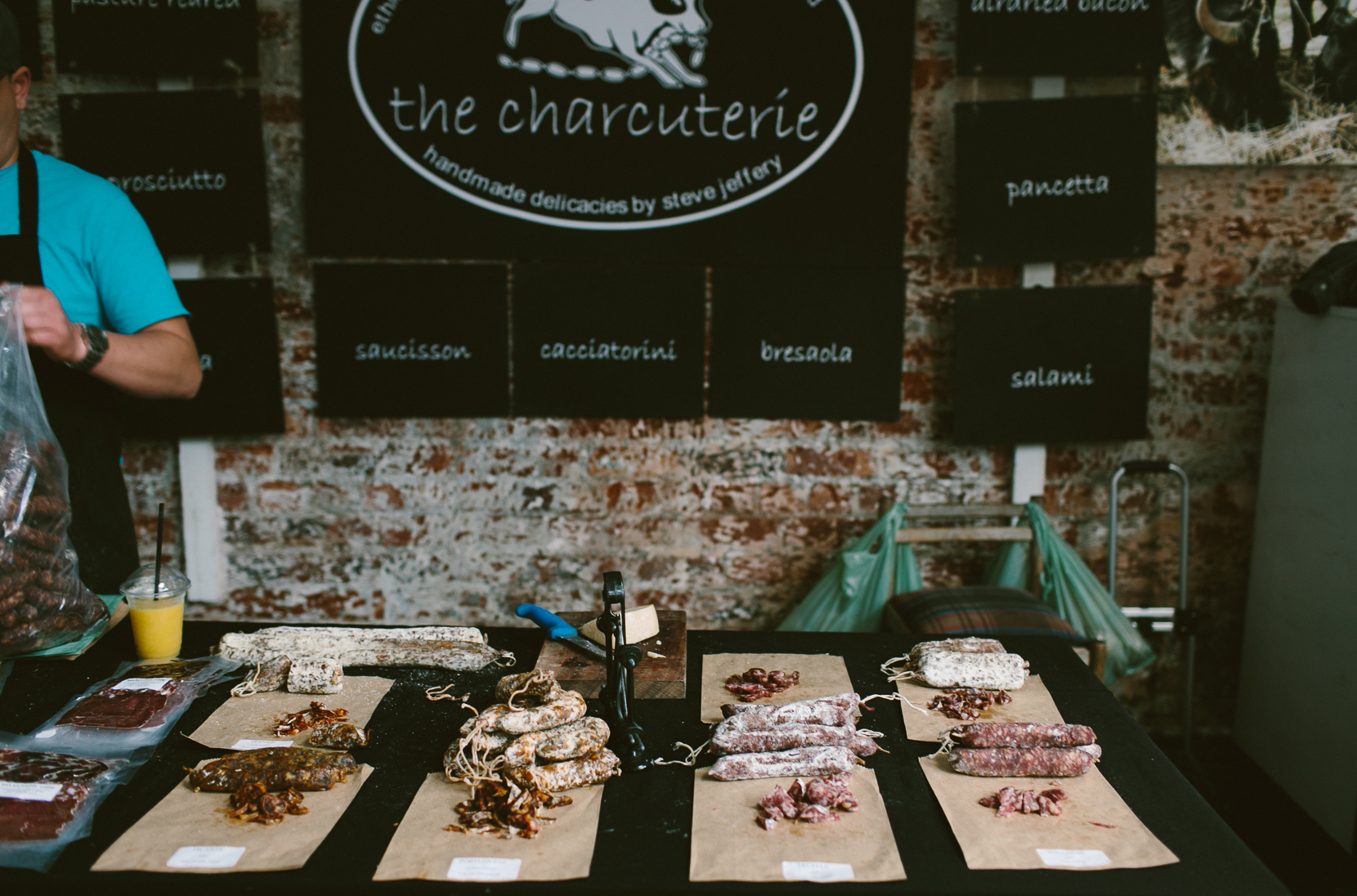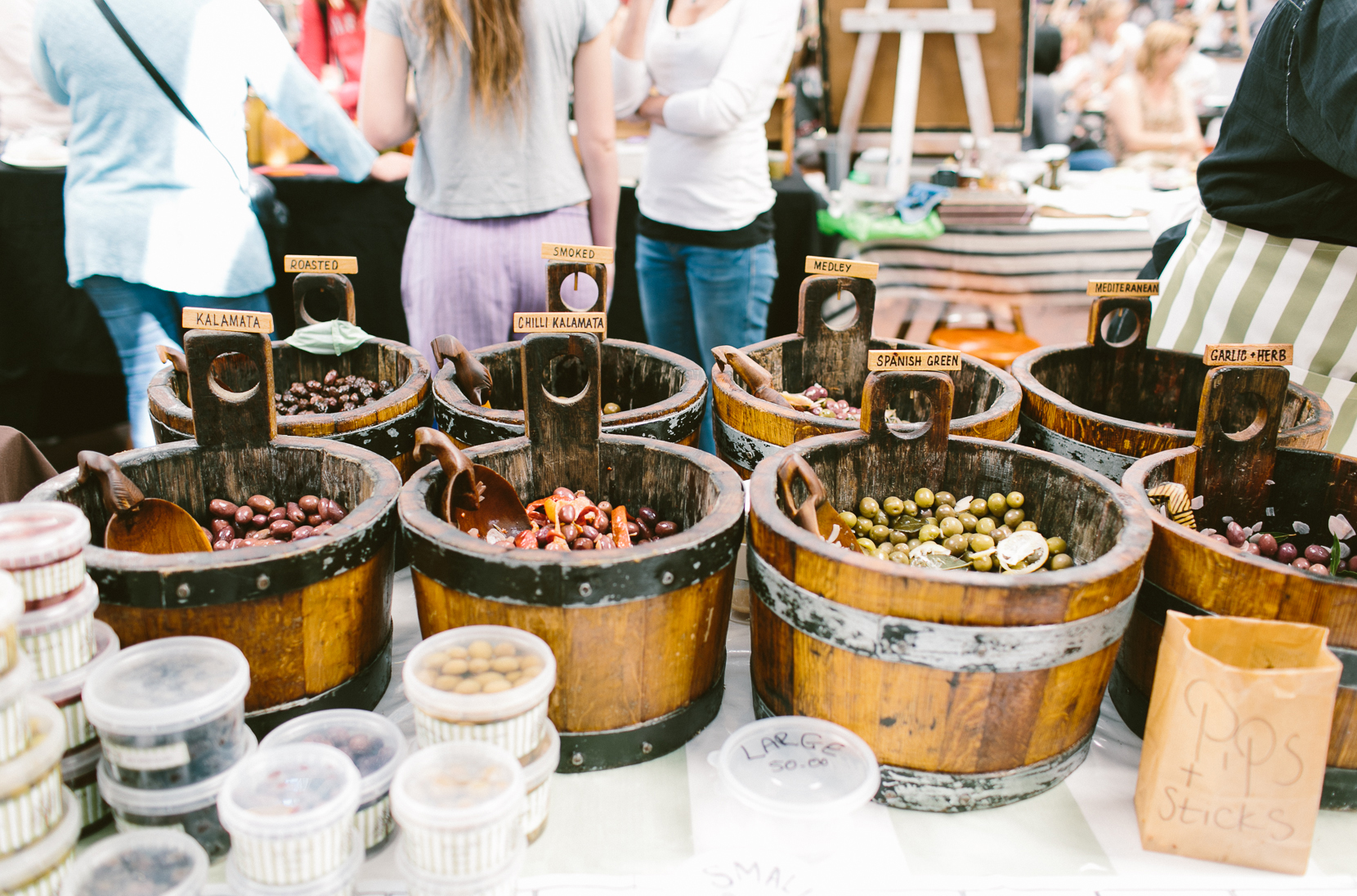 It was really wonderful to watch people wander through the tables and interact with vendors. Each vendor offered something different and unique. I don't think I saw two vendors offering the same thing. There was no going wrong with any choice.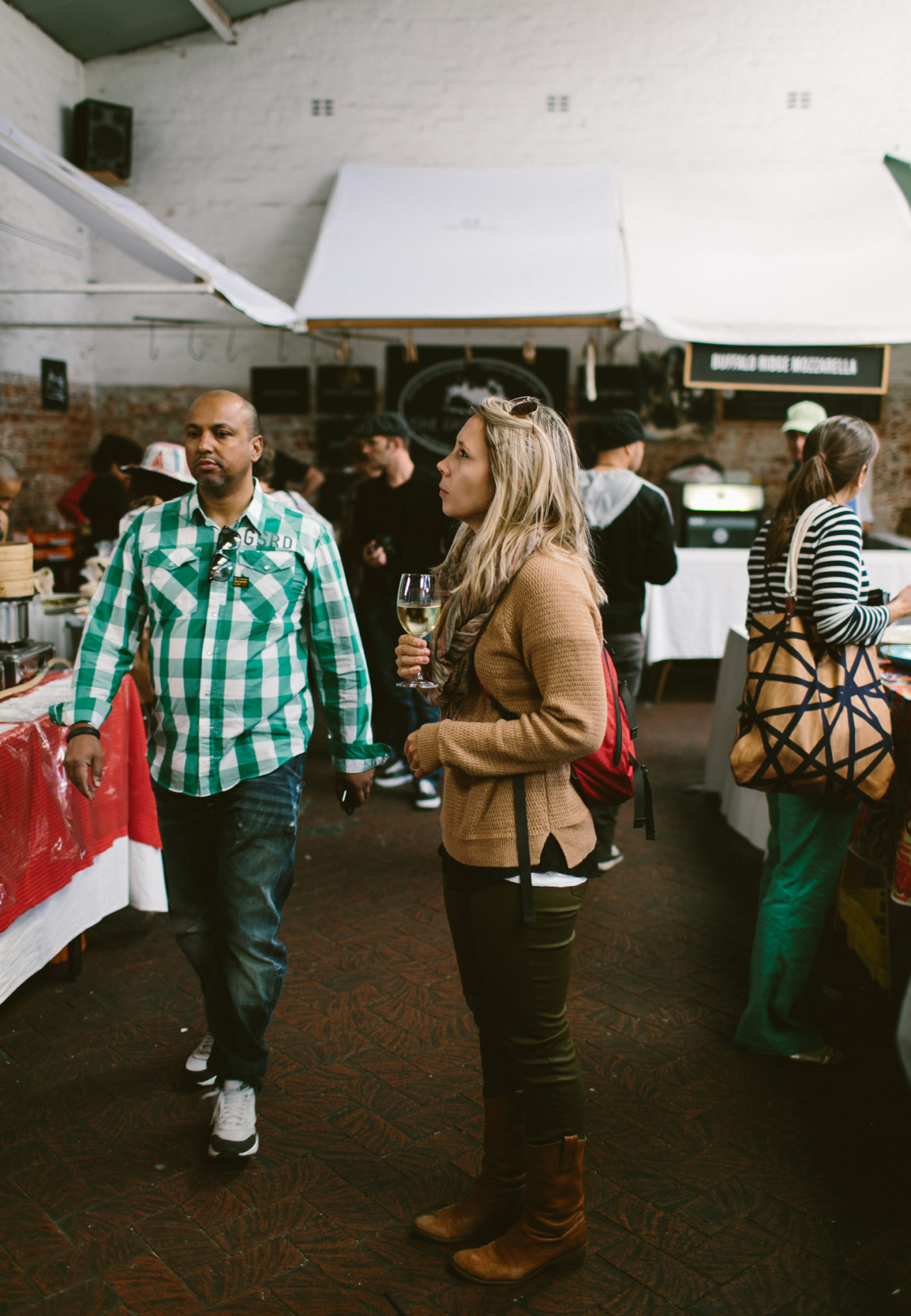 Ultimately I landed on Thai Food and then also purchased a grilled mushroom kabob that was seriously the most amazing thing I have had in a while. It was all recommended by the people of the vineyard where I got some wine. I thought in a room a amazing food it's best to trust the people poring wine for a food recommendation.They did not steer me wrong.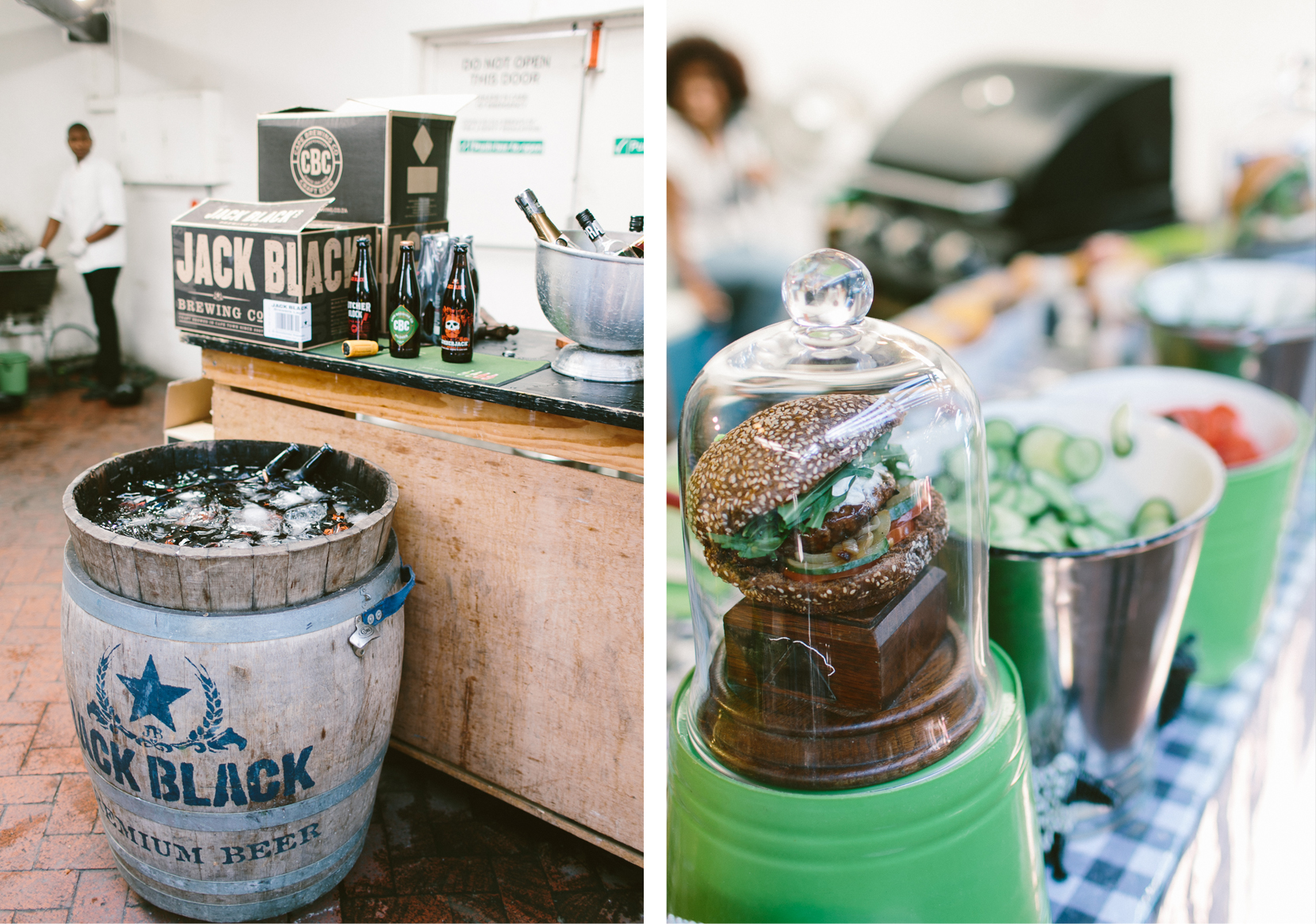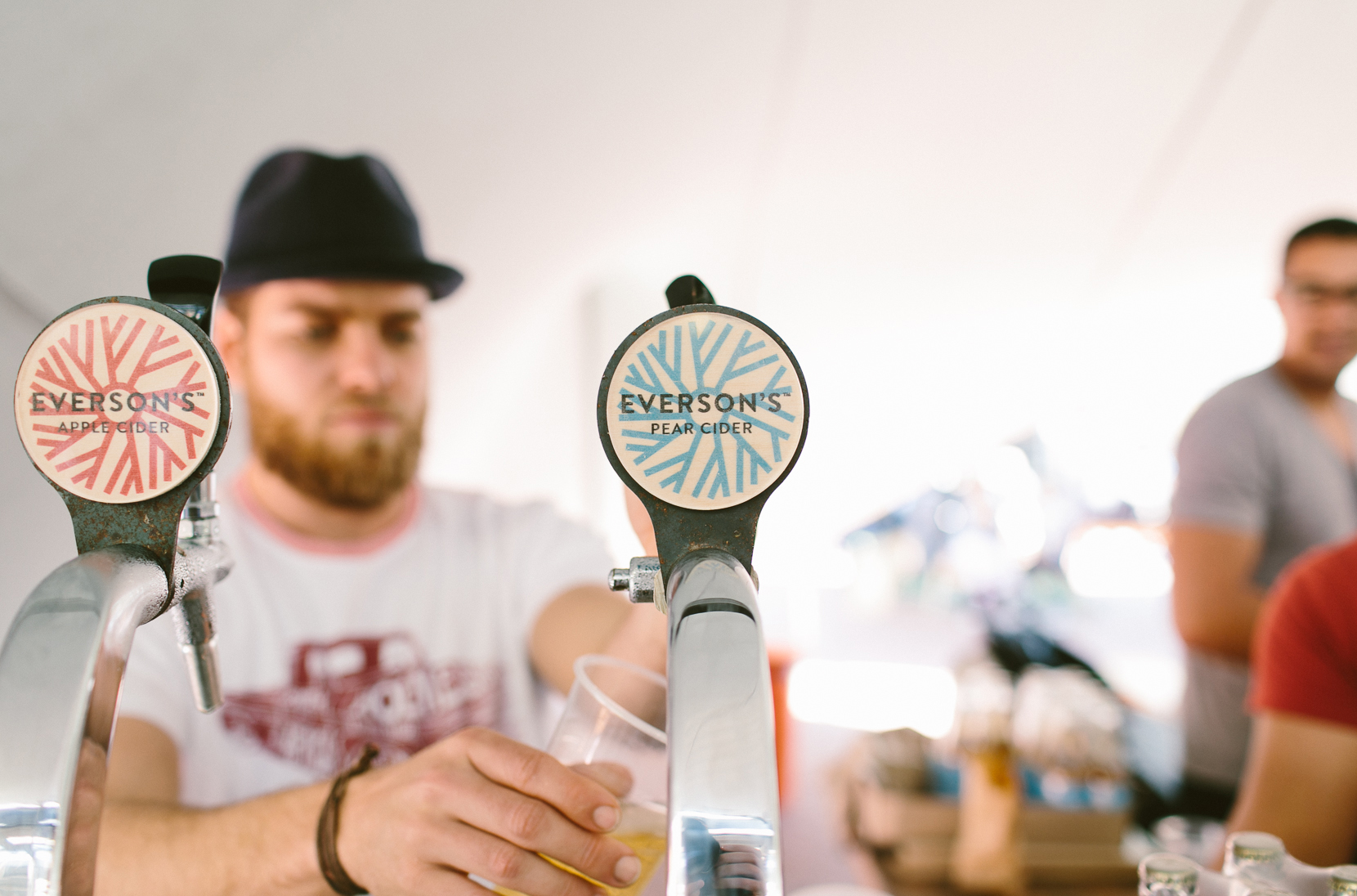 Truthfully I never expected to experience anything like this in Cape Town and especially in South Africa. I am not sure why, but my expectations for this level of design were not anywhere near this high. Maybe that sounds terrible, but the design and quality demonstrated here really inspired me. The level of design here is far better than 95% of many of the other cities in the world.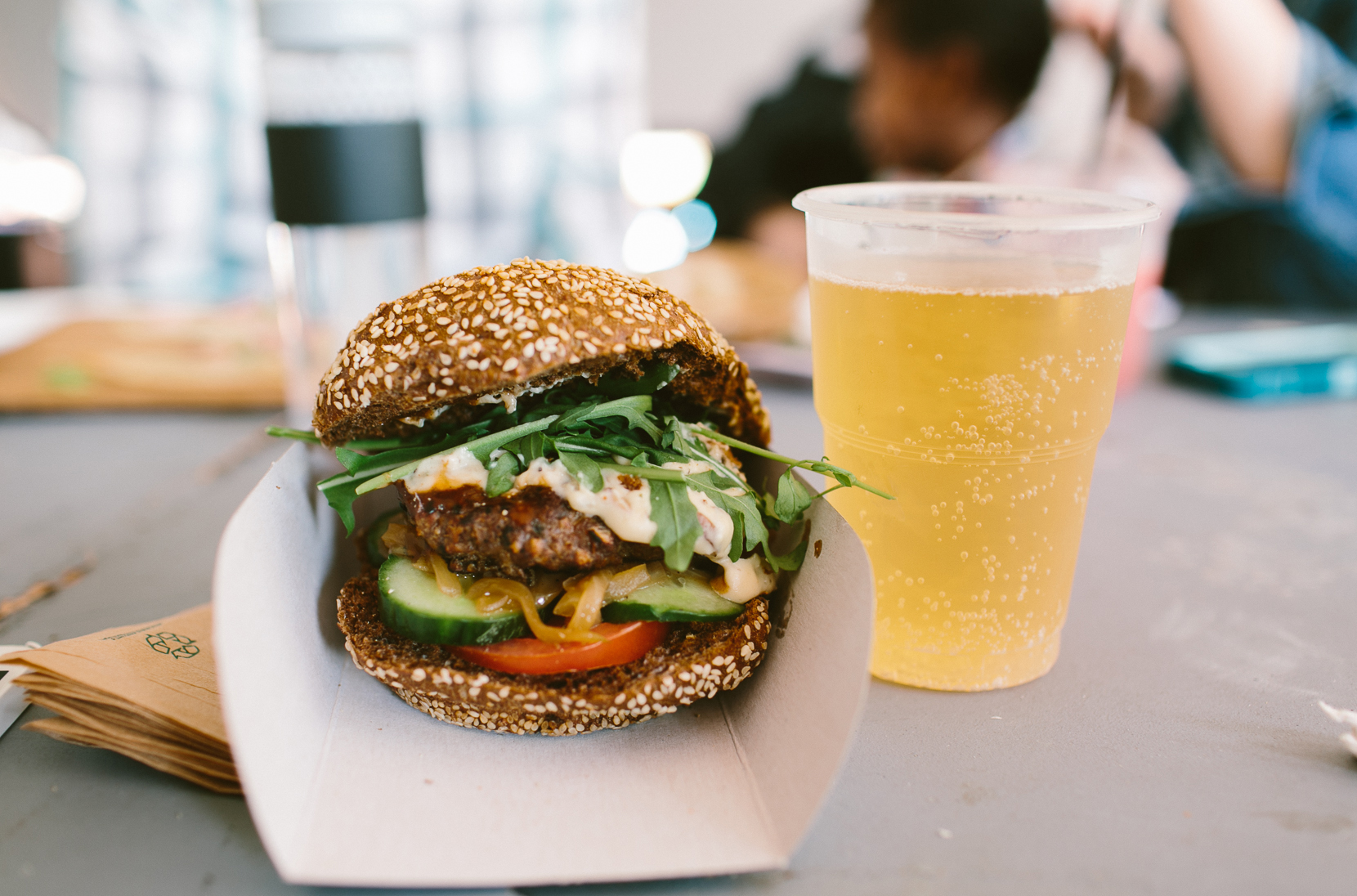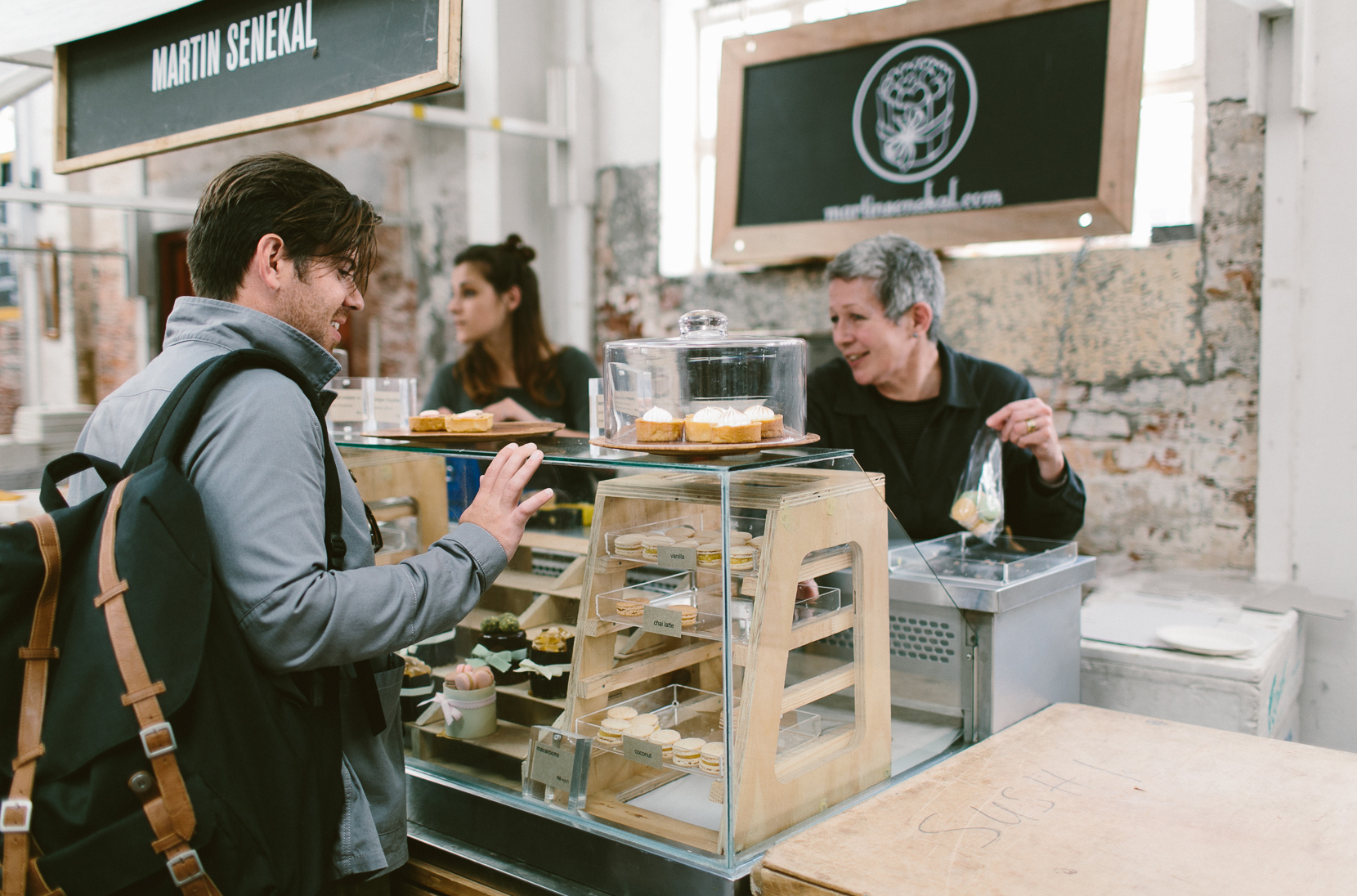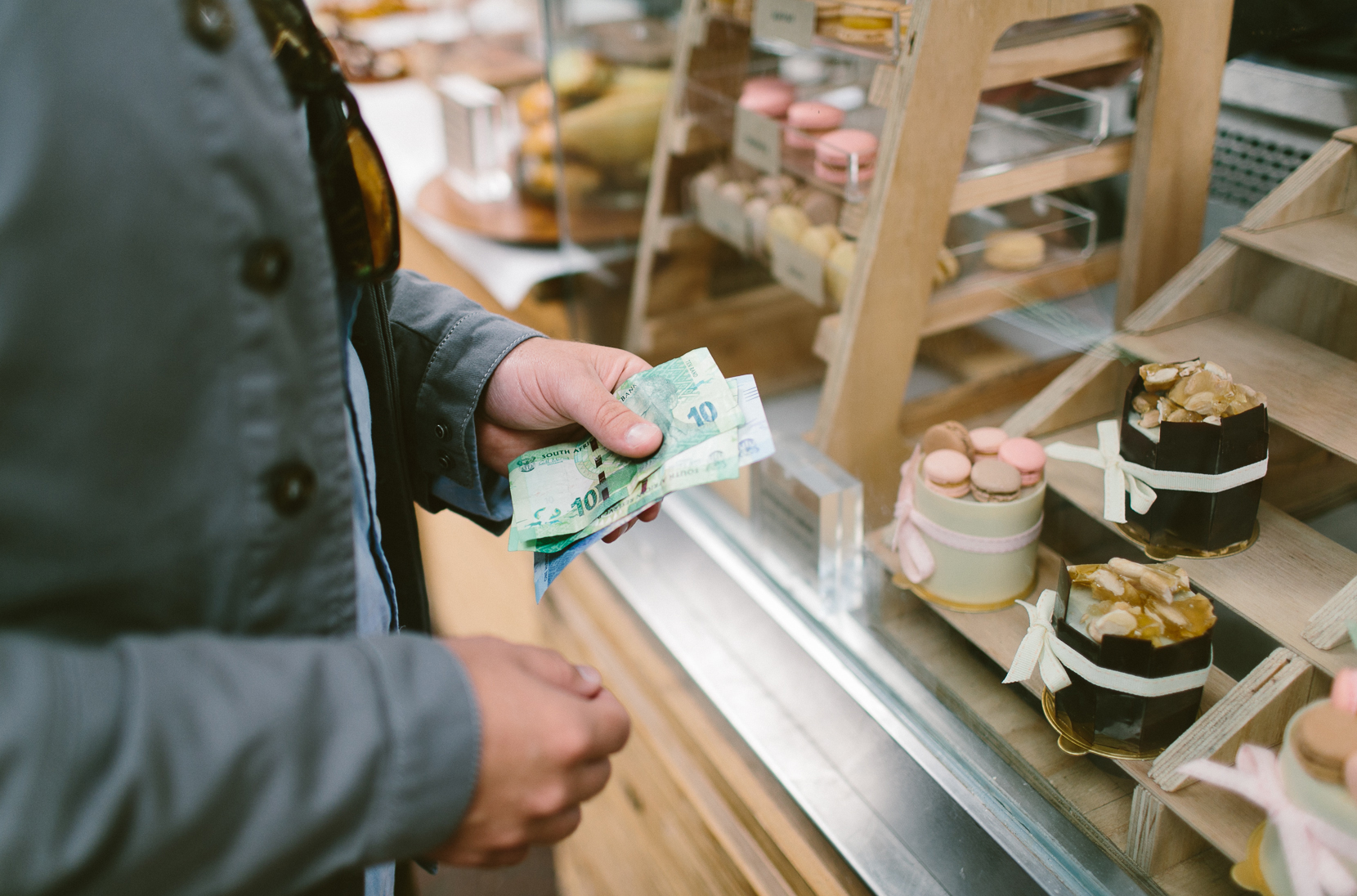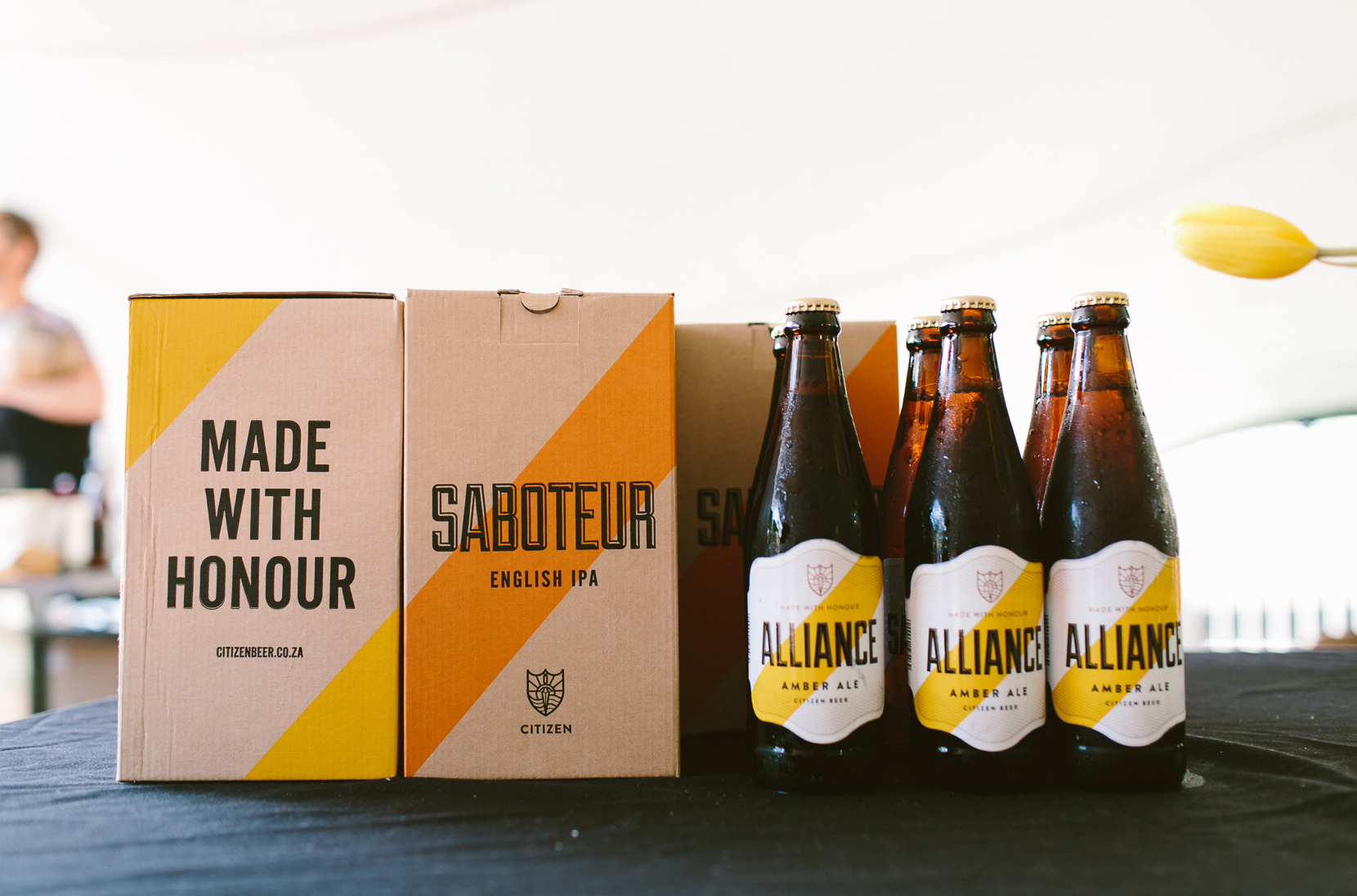 We ended our market trip by nabbing some Alliance English Pale Ale from Citizen Beer (how about that branding, we joked that is was the South African cousin of White Whale?!) and some macaroons for our afternoon treat.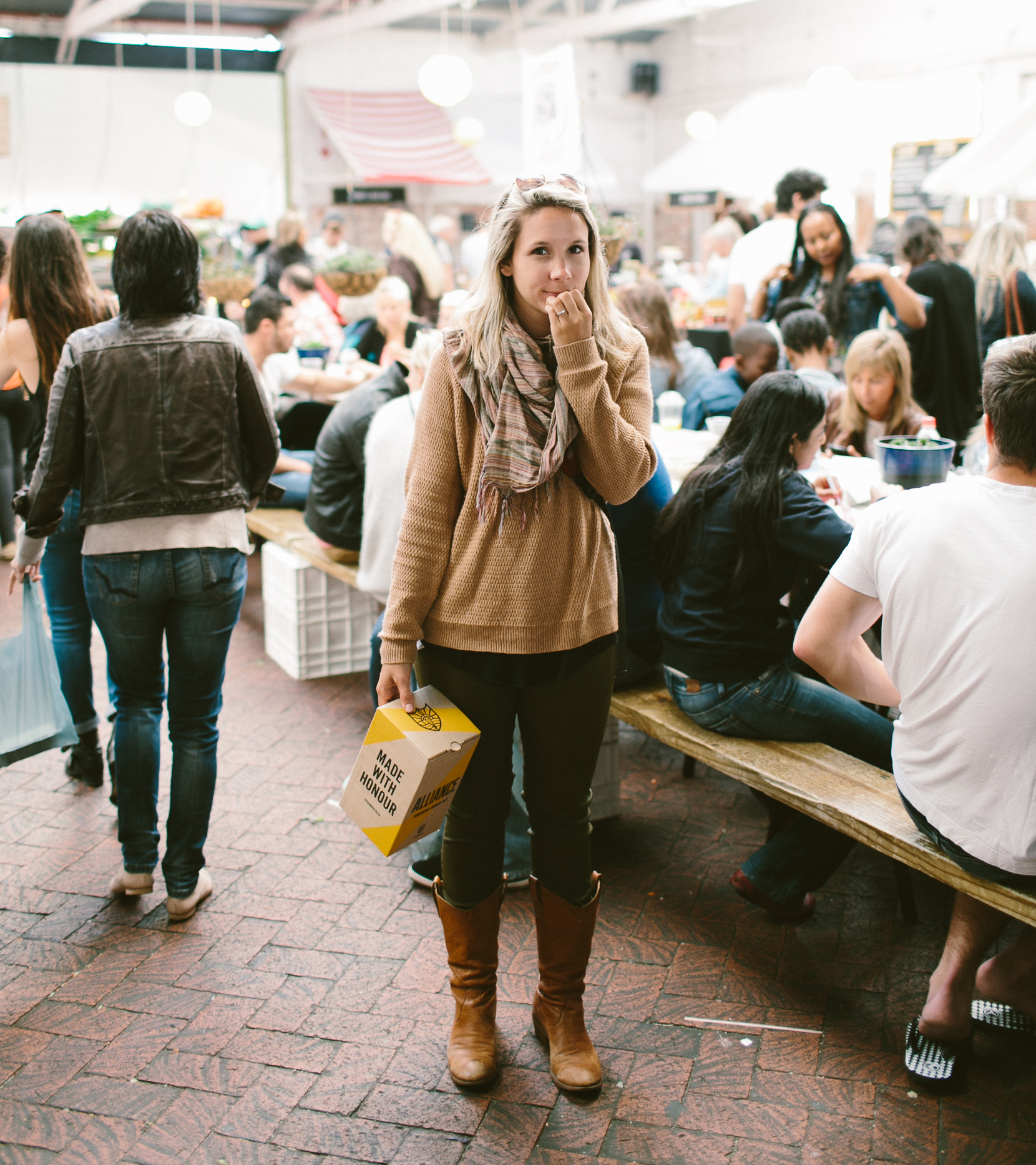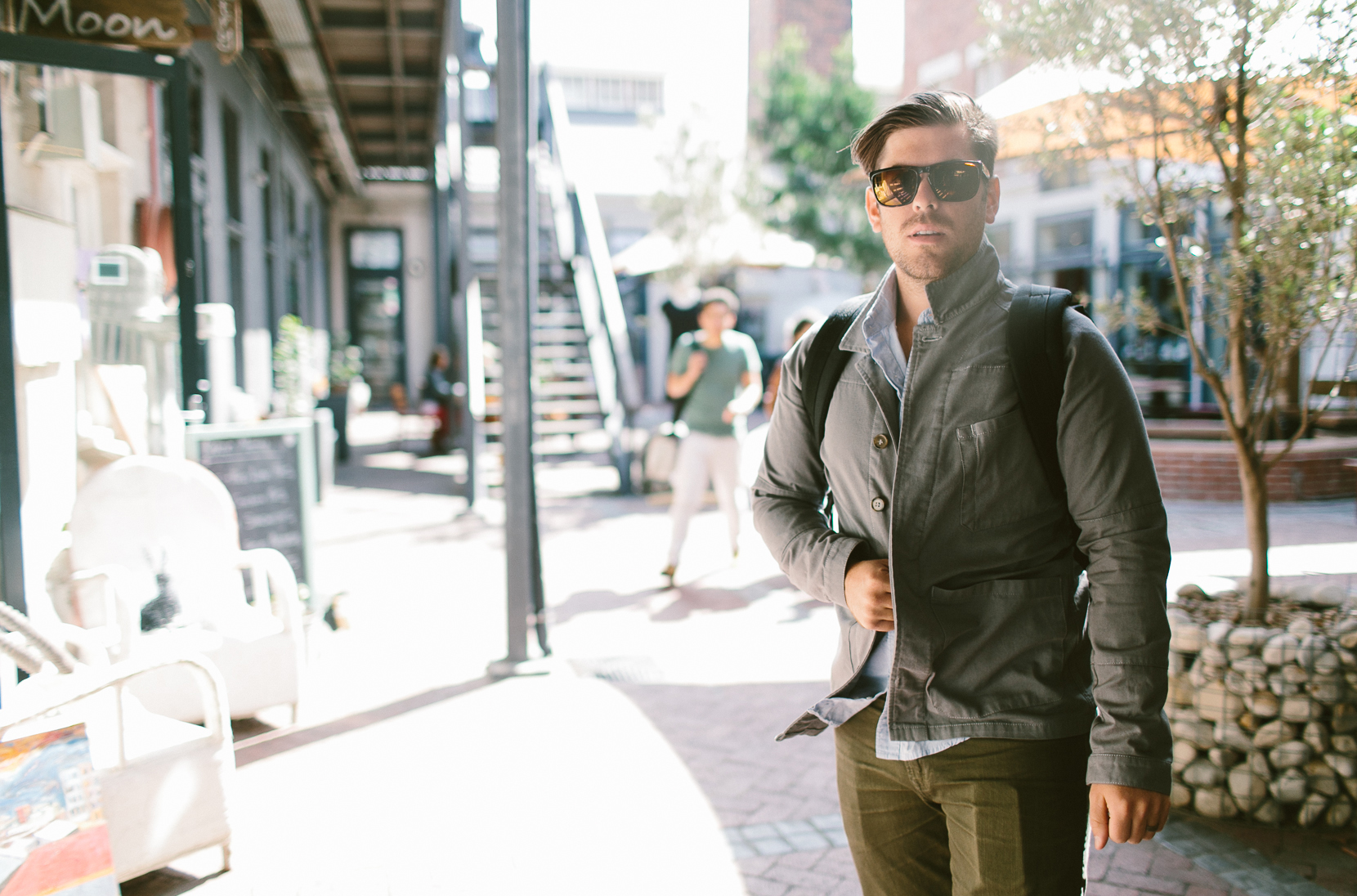 As the market slowly closed and vendors broke down their booths I felt I had found a treasure in a place I never expected to find one. Cape Town is really teaching to never judge a book by its cover. Every new experience in life should have an opportunity to surprise you and be given an equal chance to inspire you. Thank you again Cape Town for another amazing experience.
Tomorrow we will share with you where we got coffee at after leaving the market…