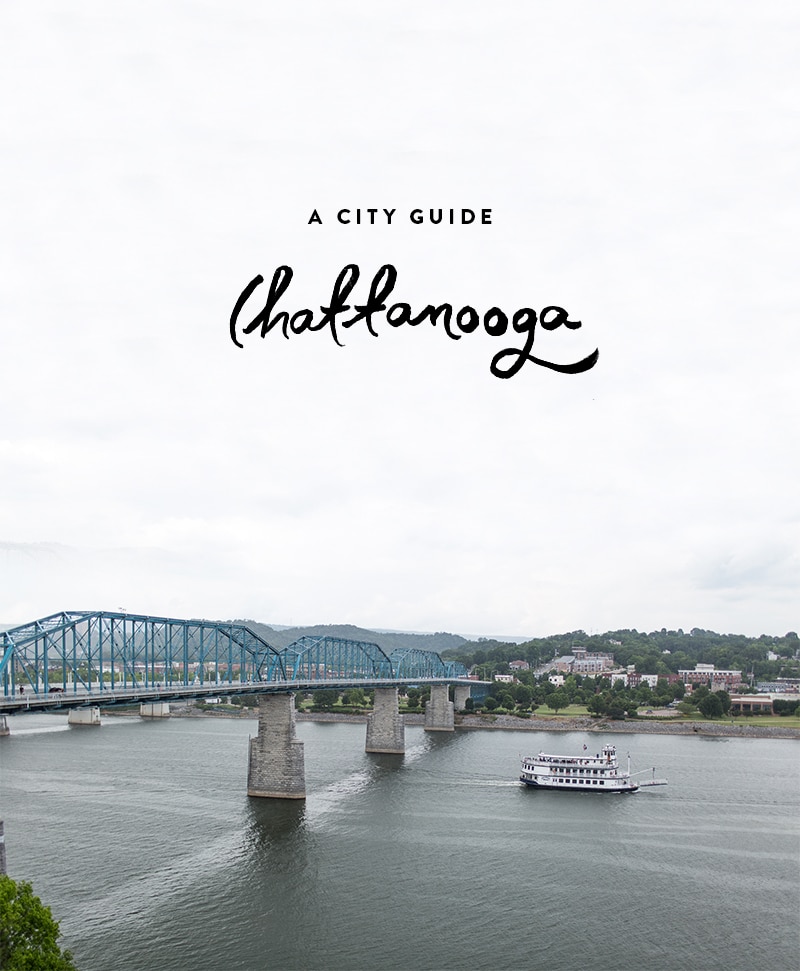 This year, instead of trying to drive half the distance of America with a 4-month-old, Megan and Hayes flew up to Michigan and the pups and I made a road trip north. It can be pretty brutal to try and just drive the 14-20 hours to Michigan, so I decided to pick a midpoint city and made a mini trip out of it. I honestly love this way of exploring. It removes all expectation and makes the entire trip all about discovering new things. For this road trip, my midway point city was Chattanooga, Tennessee. Before arriving in the city, I had only heard great things about the city but honestly didn't know what to expect.
All I can say is that I was blown away. I'm not sure why I didn't know more about this city but it felt like a perfect mix of Durham and Asheville, North Carolina, two of my favorite cities in NC. If you drive from the east coast, you won't be disappointed. The drive through the Smokey Mountains is one only second to Big Sur in beauty. I drove through the mountains just as the sun was setting and made it into Chattanooga close to midnight on my first night.
My plan was to spend two nights and two full days exploring the city before heading out. I'll take you on my path, and give some suggestions on the way. However, my best recommendation is to check the weather and if it is not raining get outside and explore and when the rain comes, check out some of the places I am going to recommend.
First, where you should stay.
With the strongest recommendation I can possibly give, stay at
The Dwell Hotel
. Unfortunately, they don't allow dogs, so I stayed at the
La Quinta
which was actually the nicest La Quinta I have ever stayed at. So thumbs up on hotels.
The Dwell Hotel was just opened this year, but the building has been a hotel since 1909. Literally every piece of this 16 room hotel is thought through and is unique in a refreshing way. It feels fun and quirky, but at the same time sophisticated and classy. All 16 of the rooms are unique and can be booked
individually
. I would recommend making this your homebase.
I began the first day with a much-needed pour-over cup of coffee and raw juice from
The Camp House
 . The raw juice was from the also must visit
Local Juicery
. The Camp House is also a music venue so it has a lot of room. I think it is probably the best place to get a little bit of work done if you need a remote office. I cannot explain how refreshing it was to get a couple of juices and a great coffee after a late night of driving and a full day of packing the day before.
Feeling refreshed and awake I left the car in the parking area around The Camp House and grabbed my camera and began walking. Chattanooga's downtown area is pretty walkable and is really beautiful. The city has a lot of history and it is preserved in it's architecture.
As I began walking through the city I started to notice how easy it was to get around. There is a lot of parking for a downtown area and everything seems to be pretty accessible. On my walk, I didn't really have a plan other than ending up at
Public House
for lunch. So with a couple hours to explore I walked in the
Warehouse Row
.
As I was getting close to the door I noticed a lot of people walking in and out with yoga mats and workout gear. I always try and do some yoga when I travel, it's a great low-impact workout and it keeps you loose. Without much of a plan, I followed a couple yoga mat carrying people up the stairs and ended up at Yoga Landing. I didn't have any workout closes in my camera bag, so I asked if there were any other classes later in the day. None of the later times worked, so I asked if I could borrow some shorts and jump into the next class.
So with a borrowed yoga mat, lost-and-found yoga shorts, and the shirt I wore in, I jumped into a 1 hour 15 minute heated Vinyasa flow class. It was amazing! I have never done hot yoga, but Vinyasa flow is my go to travel yoga. It was the perfect "just say yes to adventure" moment.
When the class let out, I was dripping with sweat and only had the shirt I wore in. So I grabbed a quick shower in the dressing room and quickly ran down to JCrew to pick up a fresh shirt.
With my new shirt on, and feeling cleansed by raw juice and hot yoga, it was time to enjoy some beer and fried food. Balance is an important part of travel. So, I headed to the other side of Warehouse Row and got a table by the window at
Public House
. Which was just in time, right as I got inside the door a huge storm came through.
After a great lunch, I headed over to the
Hunter Museum of Art
in the
Bluff View district
. Before walking in I walked across of the many pedestrian bridges that help bring the two side of the city together.
I was really excited to walk through the Hunter and to explore the collections. The Architecture reminded me of my favorite art museum, the
Bilbao Guggenheim
. The permanent collection is pretty diverse and covers a lot of different movements, it was absolutely worth seeing and the building alone is a piece of artwork.
After walking through the Hunter, I headed back to the hotel to change for dinner.
For dinner, I was planning on going back to the Dwell Hotel to eat at their restaurant
Terra Mae
. To be expected, the restaurant carried through the same 50's vintage pop vibe but kept a low palette of pastels. I just cannot get over how well all of this comes together. After a day of walking, I was absolutely starving so I arrived around 6:30 and realized I was way ahead of the hip crowd. Which was great to get some shots before the seats filled up.
After finishing dinner, I grabbed a drink at the Matilda Midnight cocktail bar also in the Dwell Hotel. It had a different vibe, but I absolutely loved it as well. I kept to the bartenders recommendation and ordered an Air Raid and it was one of the best bourbon cocktails I've ever had. I would absolutely recommend it.
I called it a night after that and headed back to the hotel completely in love with the city I had just seen.
After a full day of city, design lover things, I needed to feed my outdoor adventure side and again started the day at one of the other amazing coffee shops Revelator in town.
With a hot cup of coffee and some trail mix from the car, I headed south to toward the Georgia border to go see Lover's Leap at Rock City. I'm not sure if this area is usually this rainy, but as soon as I got in the car it began raining again. Which made for a beautiful haze in the trees, so I loved it.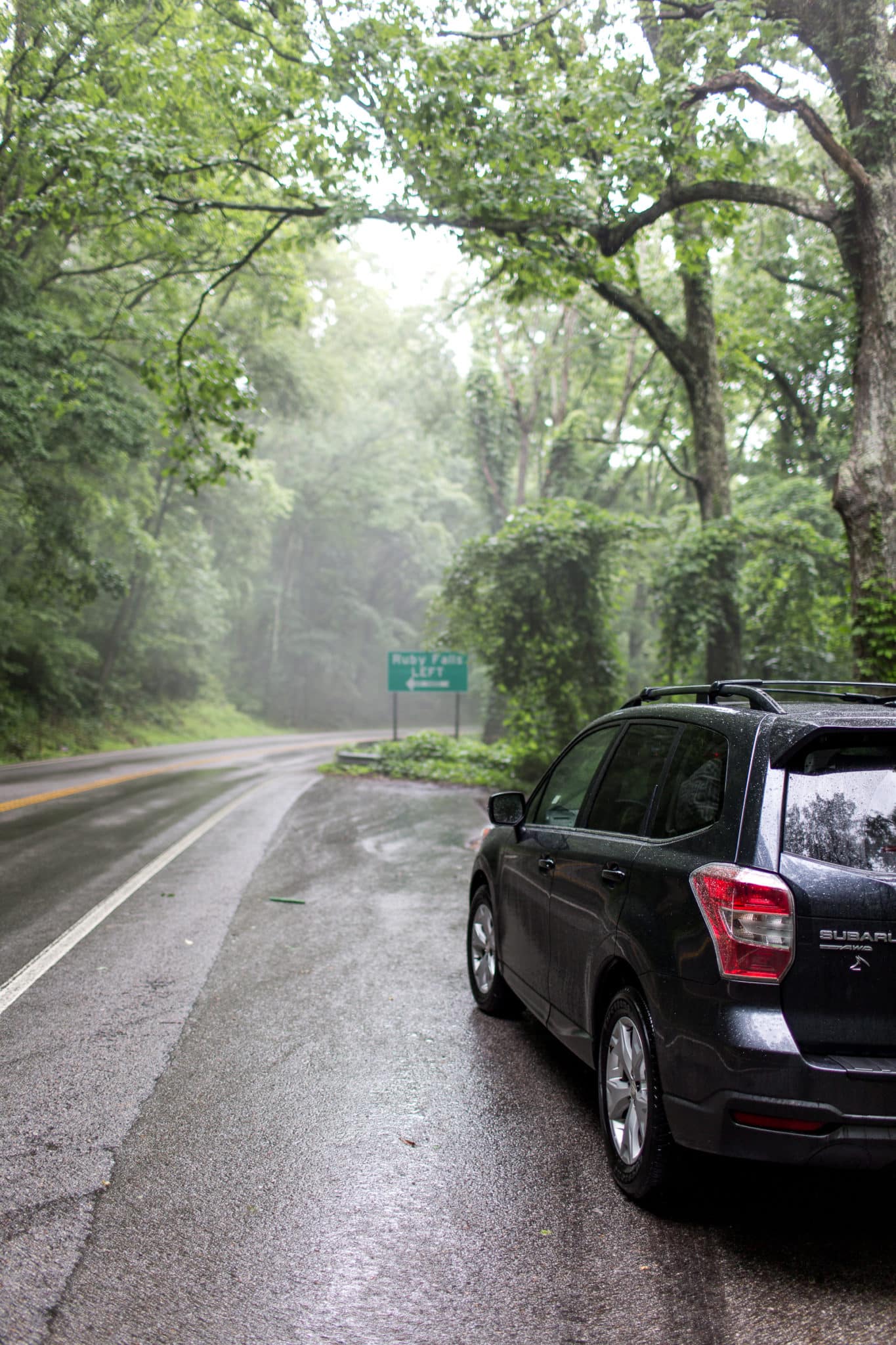 The drive out to Rock City is absolutely beautiful. It is about 20 miles south of the city, but it is on mountain switchbacks so it takes a bit longer than the average drive, but it is worth it.
I didn't know a lot of the background on Rock City, but it is actually the park you have to walk through to get to Lover's Leap. It was raining when I began my walk so it probably felt longer than it usually would, but it takes about 30 minutes of walking to get to the falls. The path to the falls takes you through narrow gaps in between rocks and through underground tunnels. The only thing I didn't expect, and totally loved the oddness of, was the crazy amount of little gnomes all through the path. I have no idea why they were there, but I think it has to do with Appalachian historical mythology. Either way, it weirded me in.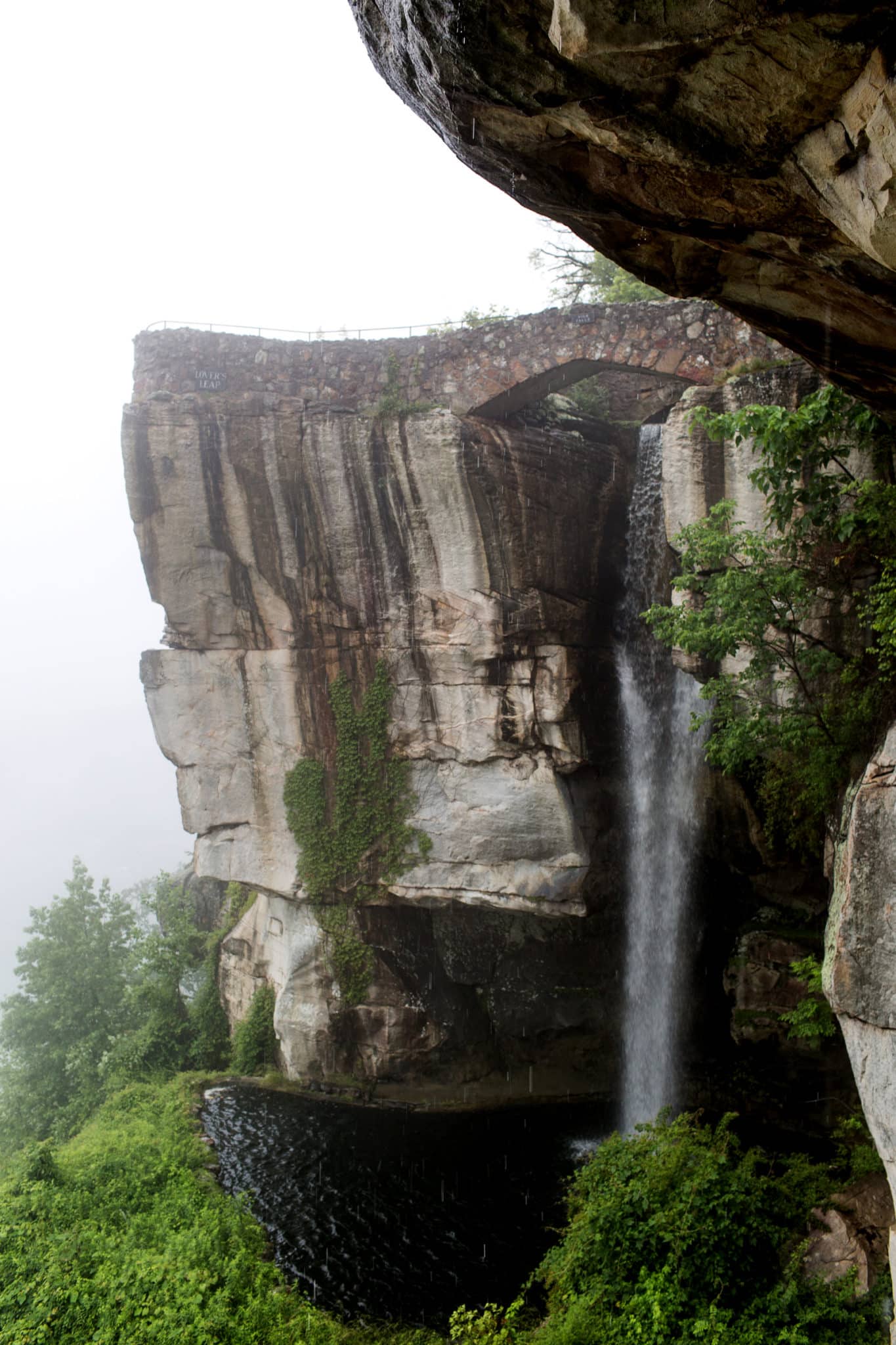 After checking out the falls, and the gnomes, I headed north to grab a sorbet at Milk and Honey before heading onto Michigan. Unfortunately, it was still raining when I got to Milk and Honey so I didn't get to experience it with the windows and doors open, but it was still great to grab a sorbet for the drive.
I really was surprised by how much I loved this city. Next time I will bring an extra shirt for yoga, and try and go on more outdoor adventures in the area.
I would love to hear any Chattanooga travel stories or other places you have visited and loved in the area!
This post was sponsored by Tennessee Tourism. All thoughts and opinions are our own. Thanks for supporting the brands that support The Fresh Exchange.