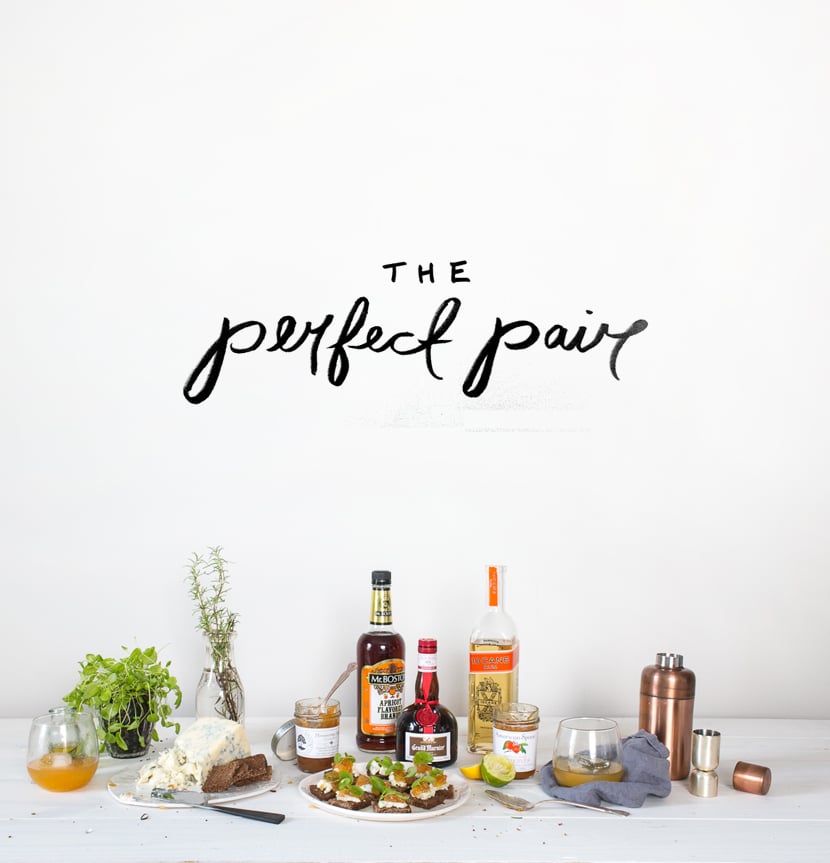 This next week marks the beginning of holiday gatherings. From family arriving in-town to company parties there will be friend gatherings, birthday celebrations, community events, and even just the celebration to simply celebrate. At some point I find myself looking for new and original recipes to either serve at my own party or take to someone else's. Instead of searching the internet for something new, I chatted with one of my favorite food brands, American Spoon, to develop a fun and simple recipe pairing that would make me feel like a pro with very little prep and mess. It was exactly what I was looking for.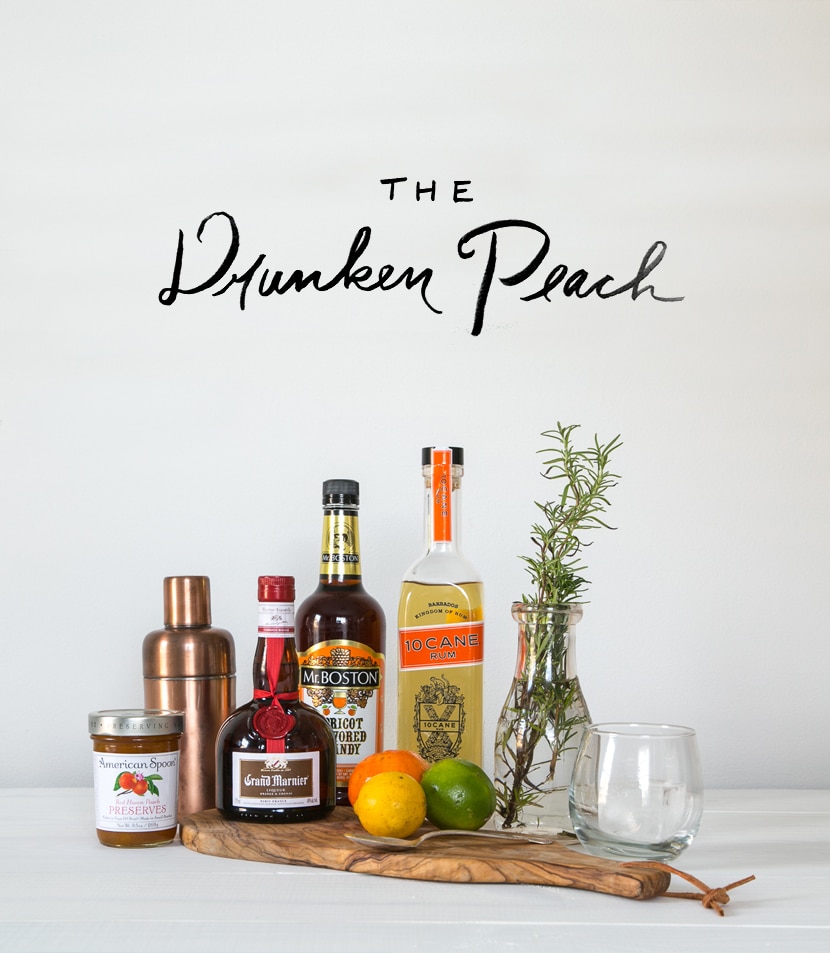 American Spoon handcrafts fruit preserves and condiments in small batches that are focused on the farms and local flavors from the western coast of Michigan. This is a product I grew up on. I adored going to their stores and sampling all the pure and fresh flavors they had to offer. If this sounds a little familiar we held a Simple Evening with them this summer.
Today I am sharing how I am using some of of their new preserves from this season during the holidays. So let's begin with our cocktail, the Drunken Peach. Yes, it is as vivacious as you would expect. The beauty of American Spoon's preserves is that you can reopen the summer's harvest even during the cold months. You then can pair those bright flavors with deeper and richer ones you would expect during the holiday season. This cocktail is a good example of that exact idea.
Here's what you will need per cocktail:
1 oz. Grand Marnier
1 oz. Sour Mix (recipe to make your own below)
1 oz. Apricot liqueur (we couldn't find it so we replaced it with Apricot Flavored Brandy…which also works great!)
2 oz. Rum
1 heaping spoon full of American Spoon Peach preserves (get them here)
Sprig of rosemary for garnish (if desired)
For Sour Mix (makes enough for almost 5 cocktails):
1/4 cup lime juice
1/4 cup lemon juice
1/4 cup tangerine juice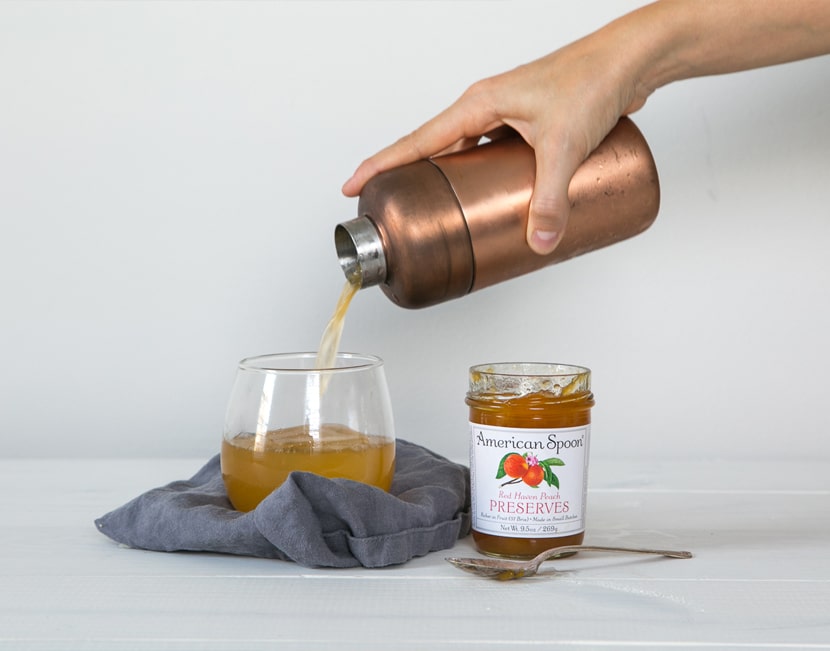 Begin by making the sour mix. All you have to do is juice each fruit until you get the required amount of juice. Mix together and set aside in a mason jar so you can place a top on it if there is any left over.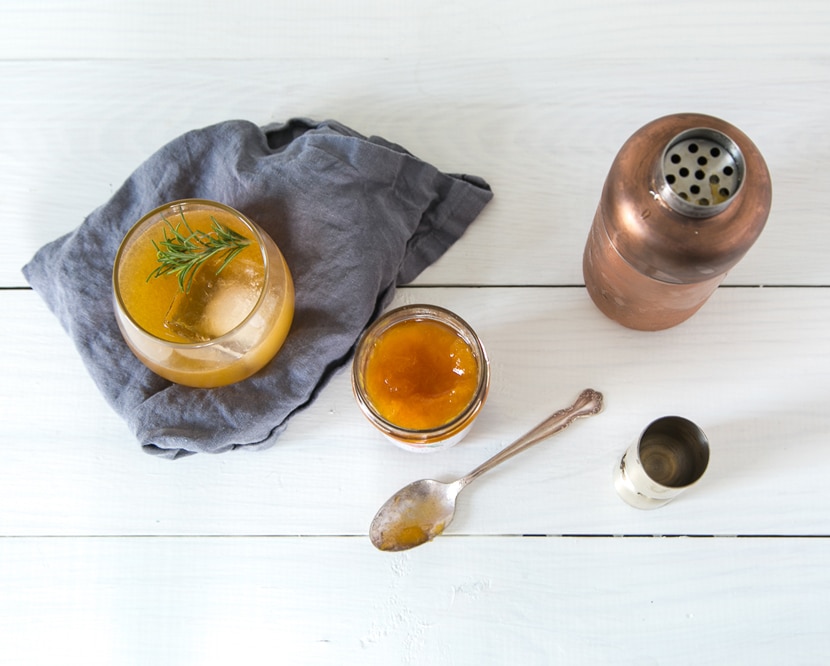 Next, to mix the cocktail place all cocktail ingredients into the shaker with a handful of ice. Place the topper on your shaker. Give it a good dance and shake. Then strain over ice into your desired cocktail glass. Top with a small sprig of rosemary and it is ready to serve to your guests or even yourself.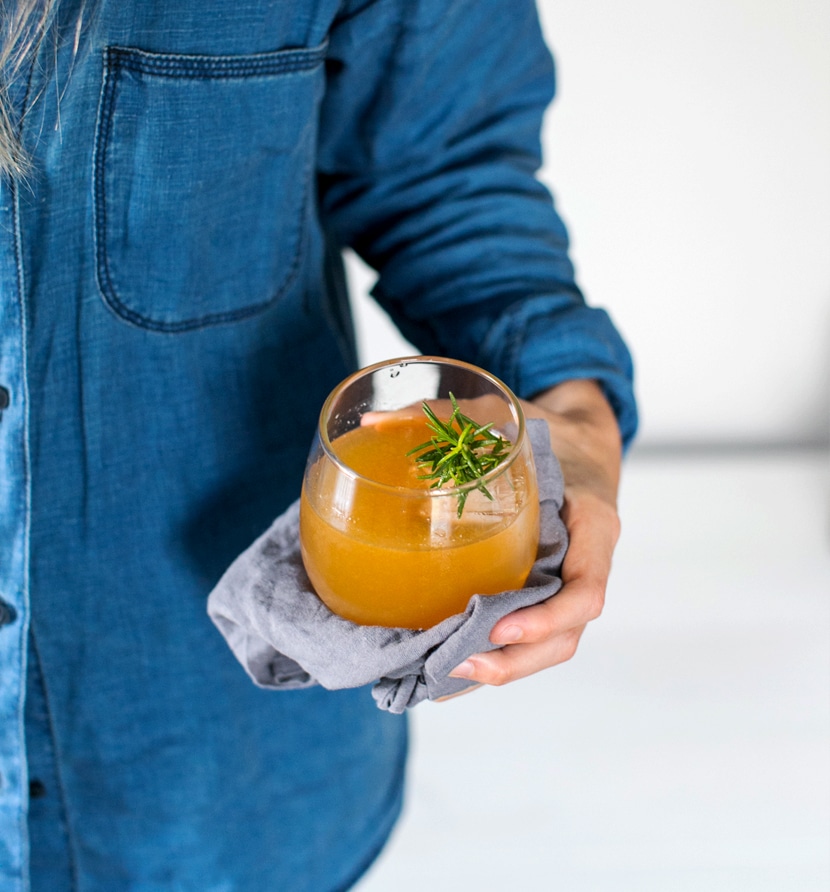 As you are sipping on your cocktail, you can now begin the process of creating your appetizer to enjoy with it. I am a big fan of making the cocktail before you decide to make your food. It always makes the experience a little more fun, don't you think?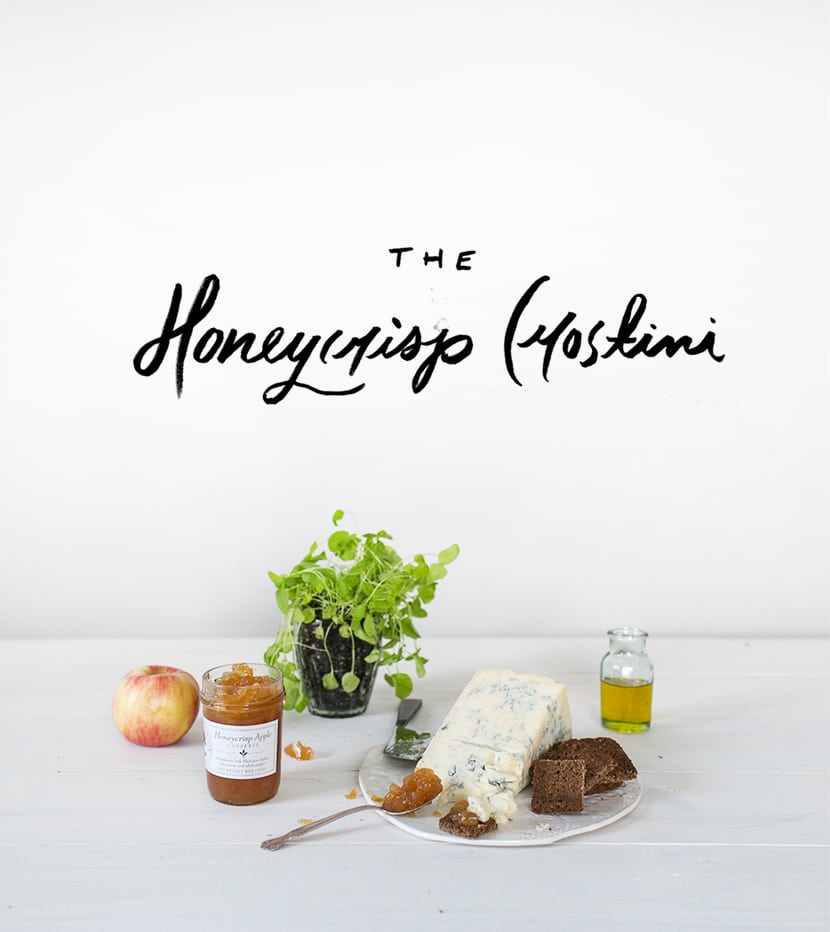 Growing up in Michigan, honeycrisp apples were this treasured treat you were able to enjoy for about four weeks in the fall. I loved it and they were always so good. So, when I saw that American Spoon perfectly preserved the flavor of that honeycrisp I grew up with, I was over the moon. This easy appetizer paired with the cocktail will be all sorts of yum. I promise!
Here is what you need to make enough apps for 4-8 people:
1 jar of Honeycrisp Apple Conserve from American Spoon (get it here)
1/2 pound of creamy blue cheese of your choice
1 loaf of German Pumpnickel bread cut into squares and toasted
1/4 cup of olive oil
1/4 cup of living watercress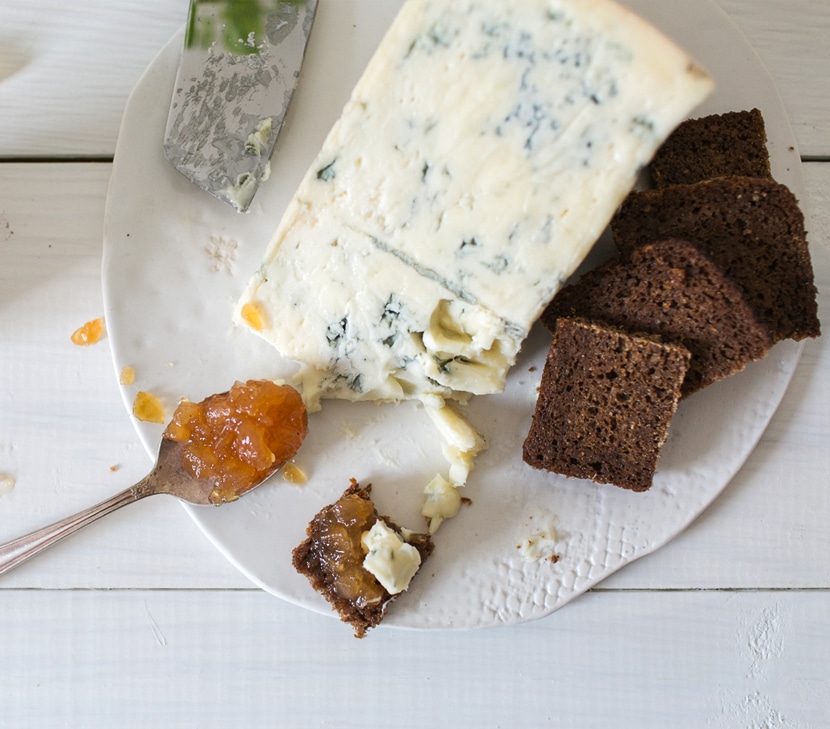 To make this easy and yummy appetizer, simply place all squares of pumpernickel on the serving platter of your choice. Begin by crumbling or spreading the blue cheese (depending on the consistency of your cheese) onto the toasted pumpernickel squares.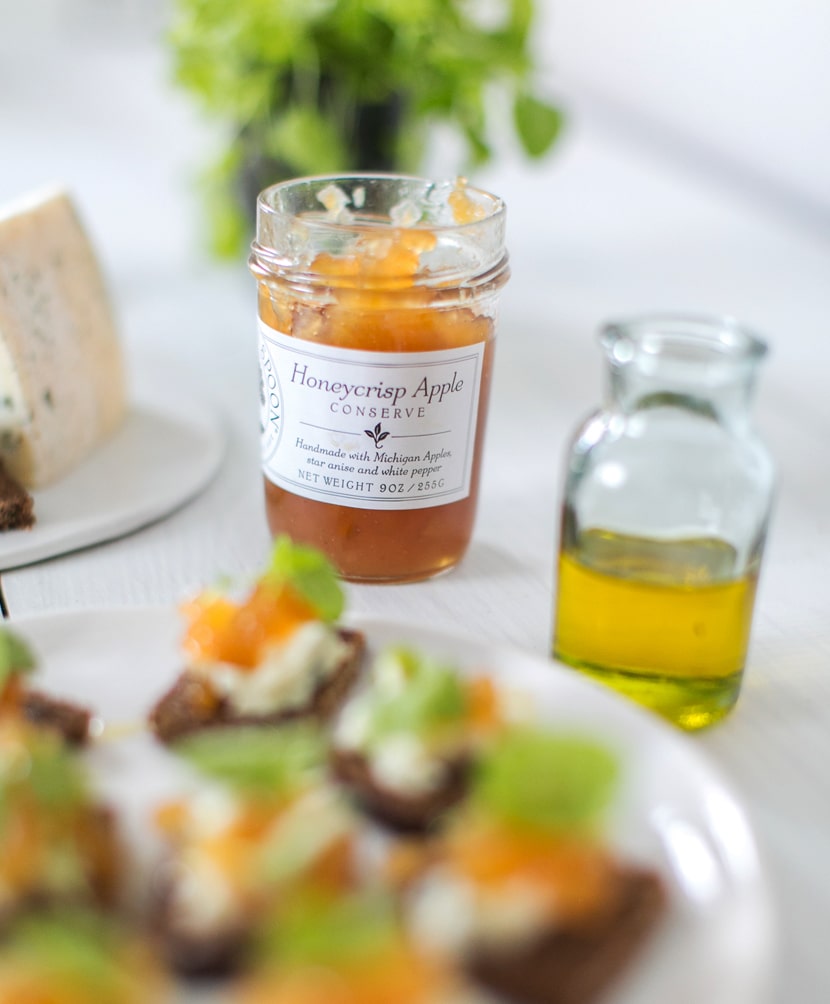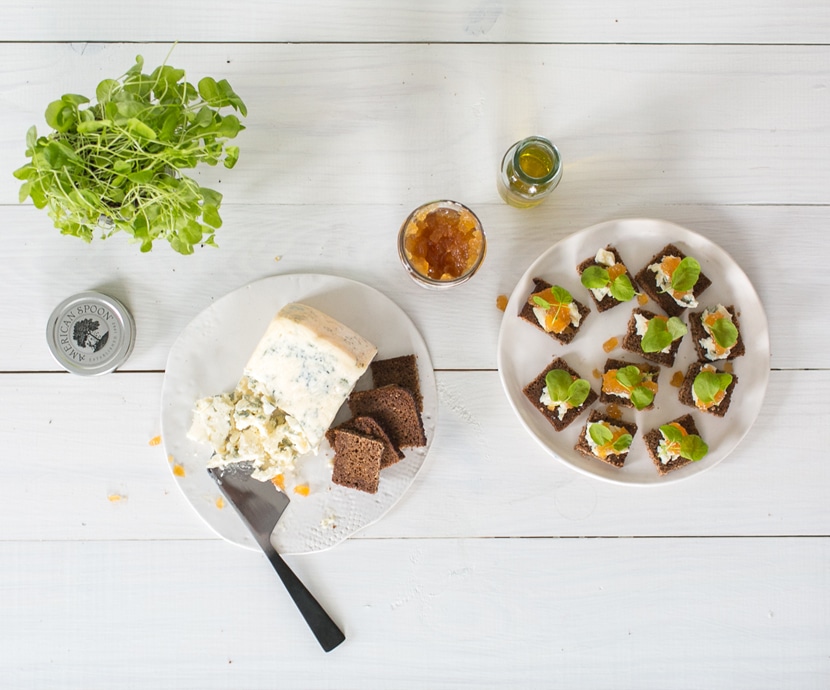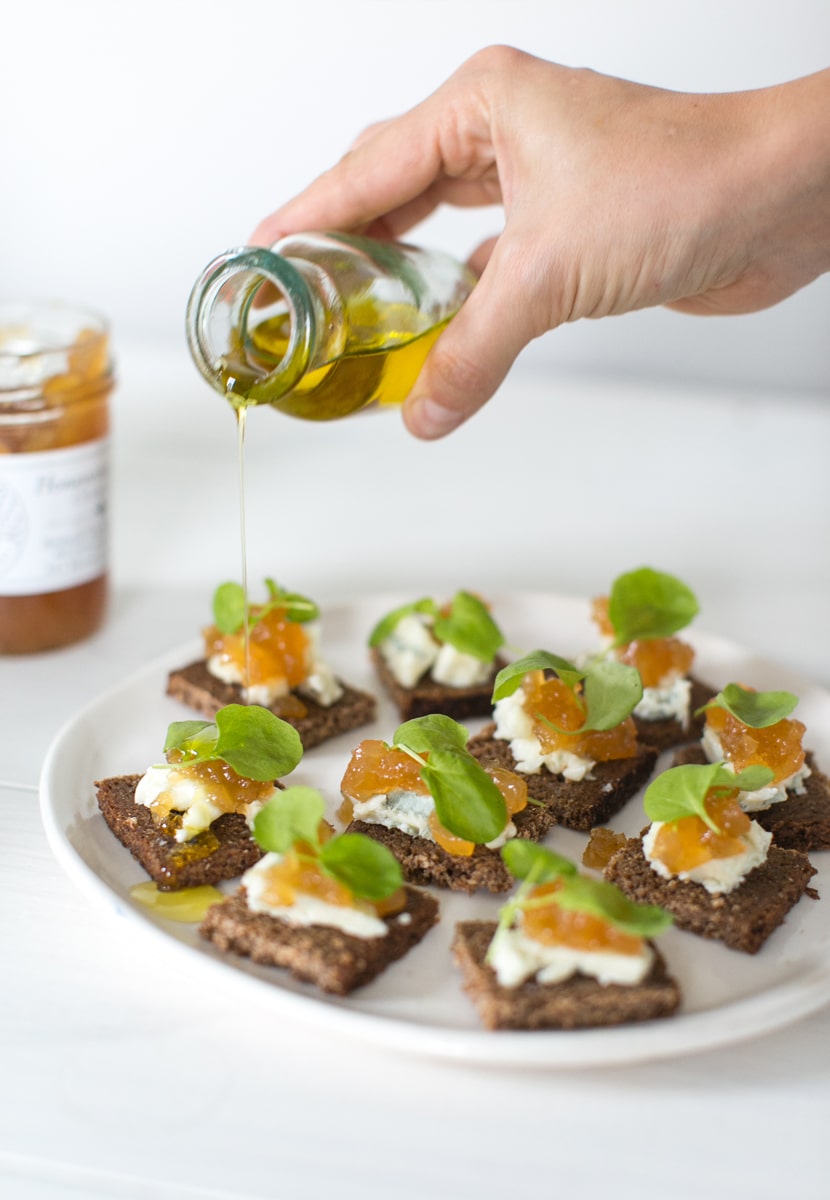 Next, spoon a small dollop of  the honeycrisp conserve on top of the cheese of each crostini. Then place 1-2 watercress leaves as the final layer. Finally, top them off with a drizzle of high-quality olive oil.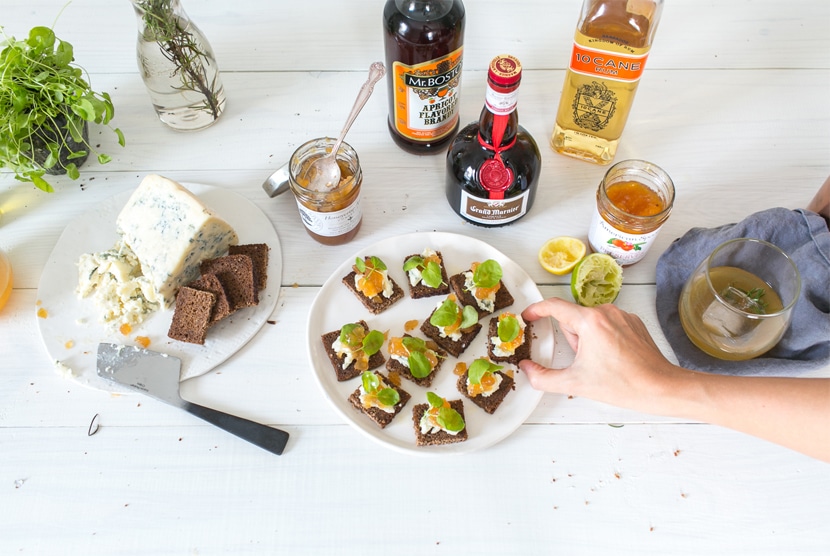 I cannot wait to share this treat with family this week as we prepare to give thanks for life and each other. The simplicity of this dish and cocktail pairing make it a great gathering piece for this upcoming week.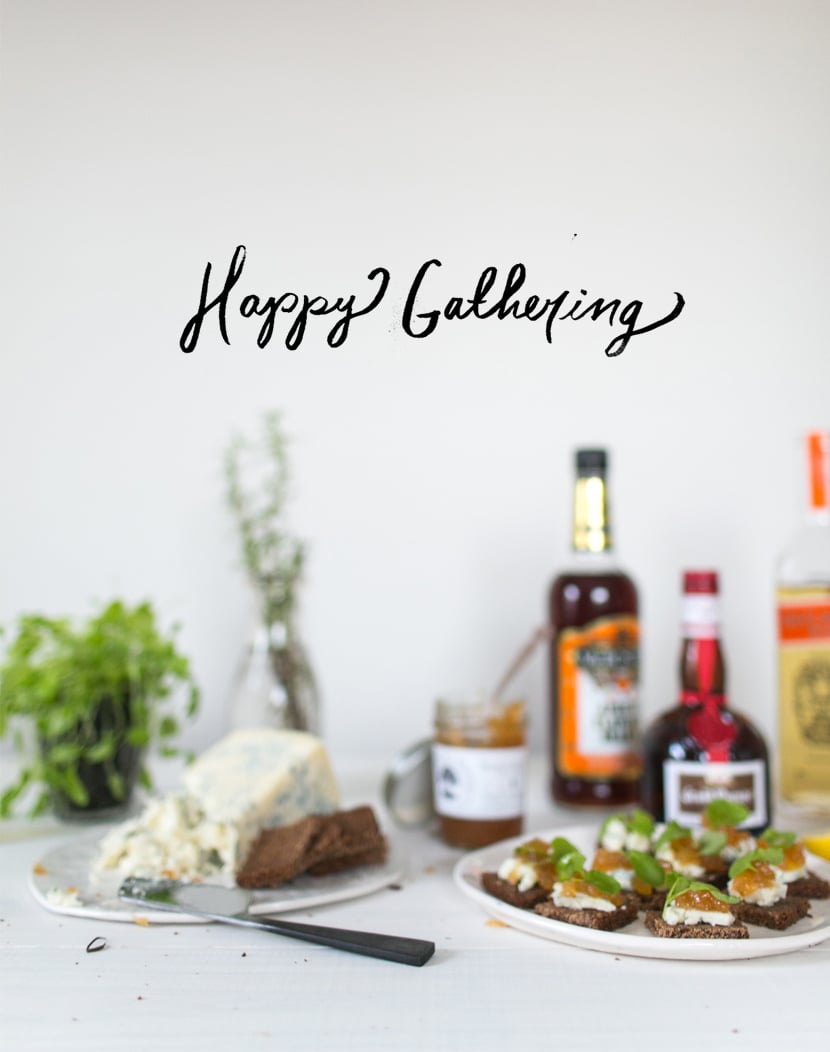 Do you have a favorite recipe you like to serve this time of year? Are you hosting any parties or get-togethers during the holiday season?
This post was sponsored by American Spoon.  All opinions and thoughts in this post are our own.  These partnerships are an important part of us maintaining and keeping The Fresh Exchange kicking.